Slow Cooker Lamb Chili
Dairy-Free | Published on Oct 9, 2018 | Last modified on Sep 21, 2019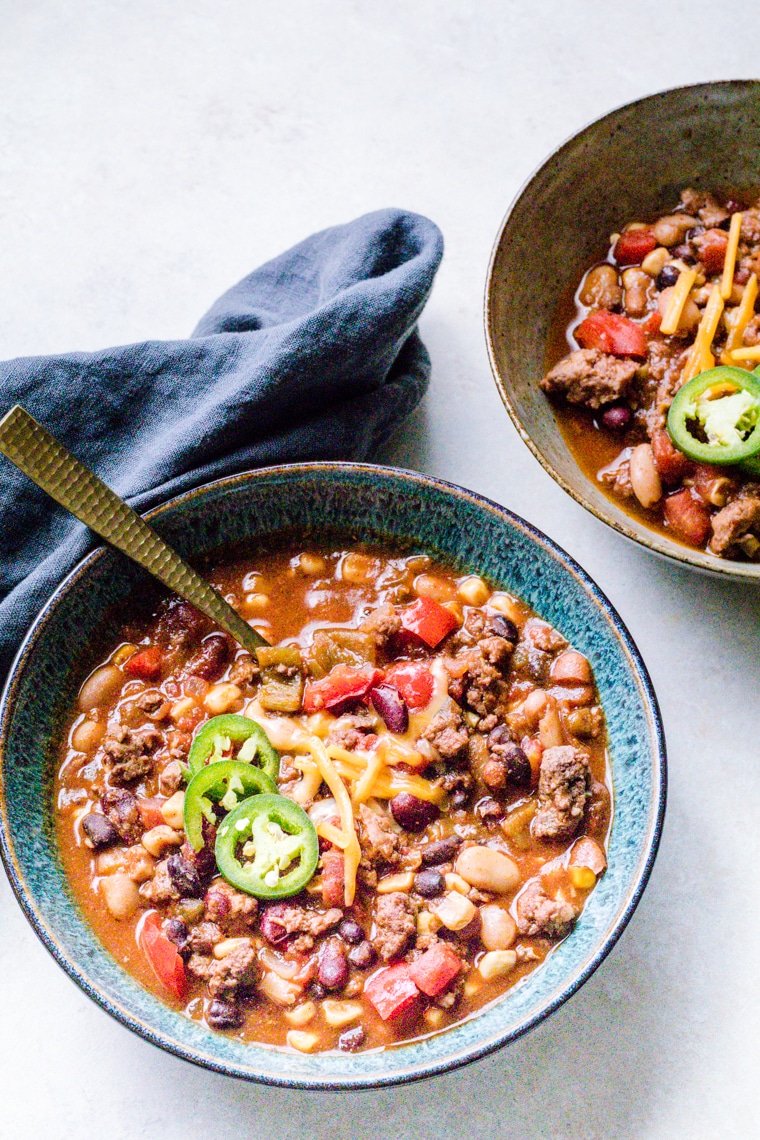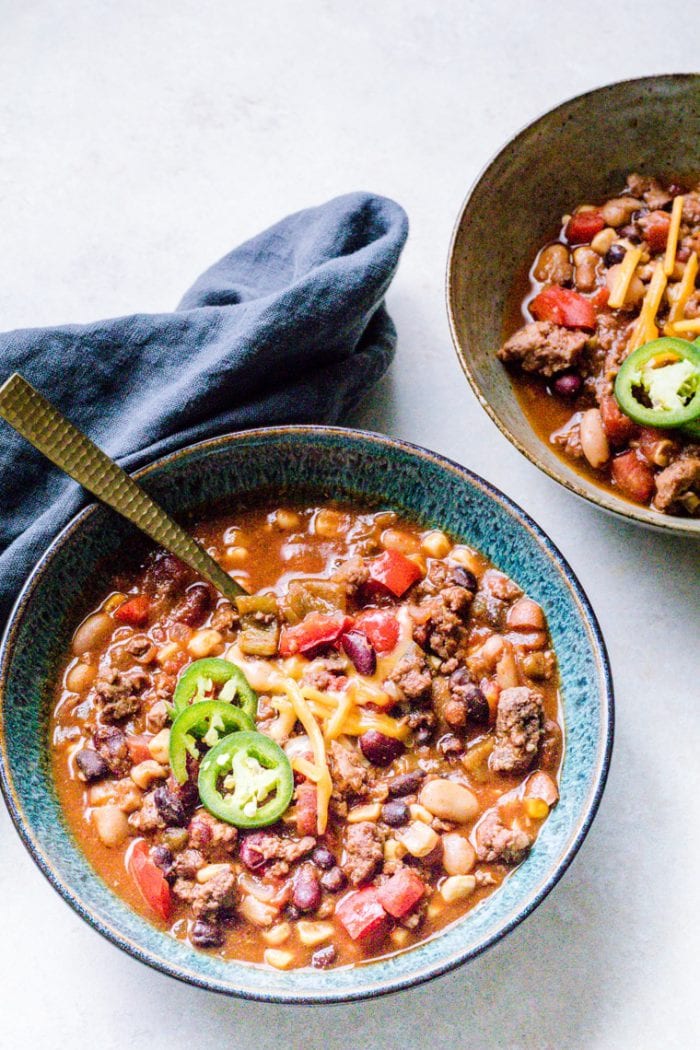 There is no need for complicated ingredient lists or instructors. This Slow Cooker Lamb Chili is a protein rich, flavorful meal that will take minimal effort to make!
A twist on a classic slow cooker chili – using LAMB!
DISCLOSURE: I WENT ON A SPONSORED TRIP TO NEW ORLEANS WITH NOURISH WITH LAMB, BUT WAS NOT COMPENSATED FOR THIS POST. ALL OPINIONS EXPRESSED ARE MY OWN.
I had the opportunity to attend a Culinary Medicine & Lamb Workshop in New Orleans with several other Registered Dietitian Nutritionists around the United States. What an incredible feeling to connect with like minded people who all have the same passion towards nutrition, blogging, health and dietetics.
A big takeaway from the trip for me was, "Why don't I cook with lamb more often!?" I learned in NOLA how delicious lamb is and how easy it is to cook with. People are often intimidated about lamb. They don't know how to cook with it. What flavors go well with lamb. Should you braise it, use it for kabobs or cook it low and slow?
Let's cover some basics of lamb!
While some lamb are finished on wholesome grain, they spend most of their time grazing in pastures on a mixture of greens and legumes.
What about nutritionally? Is lamb healthy?
Lamb is a powerful protein and makes this Slow Cooker Lamb Chili a great protein, fiber packed option. Actually, a single portion (3oz.) of lamb provides over half of your daily protein needs. Personally, this is ideal for me since I am so active. Another reason lamb is great fuel for actives bodies is due to the vitamins and minerals it contains: iron, vitamin B12, niacin, zinc, selenium and riboflavin, as well as omega-3-fatty acids.
Did you know that lean lamb is a source of healthy, unsaturated fats. Nearly 40% of the fat in lean lamb is heart healthy monounsaturated fats!
Can you taste the lamb in this Slow Cooker Lamb Chili? Is it gamey?
It is true that lamb is flavor forward but, in my opinion it is not gamey. At least the ground lamb I used for this recipe was not gamey tasting. Lamb adds a special depth of flavor so you can really add a lot of veggies and beans in this stew for boosting the flavor and nutrition of this dish.
This recipe is a spinoff of my 4 Bean Crock Pot Chili recipe. I did my best to simplify the ingredient list, used the ground lamb instead of ground beef and it's a little less spicy!
Typically slow cooker chili is made with ground meat (like beef or turkey). I was so excited that using lamb turned out so well in this dish!
To make this chili even EASIER for you, be sure to prep this Easy Homemade Chili Seasoning in advance! I like to keep it in a mason jar in the pantry with my other spices so that way it's ready to go for chili time!
Slow Cooker Chili is…
Simple to make
Rich in fiber and protein
Is flavor forward
Spicy but not too spicy
Perfect for Game Day or a chilly Winter night
I used some of my favorite beans in this recipe: cannellini beans, dark red kidney beans, pinto beans and black beans. (All 15 oz. cans) I drain and rinse each can and add the beans to the slow cooker. 
Slow Cooker Lamb Chili is perfect for Game Day or to enjoy on a chilly Winter night! krollskorner.com
Click To Tweet
Before you put the meat in the slow cooker, you will cook the ground lamb in a skillet over medium high heat with the onion and olive oil. That is the only pan you will have to clean besides the slow cooker pot!
It's safe to say this Slow Cooker Lamb Chili will be around with my family for a long time!
Have you cooked with ground lamb before?
What's your favorite meal to make with it?!

I'd love to see what you made!!
Share it with me on Instagram or Facebook and tag me @krolls_korner or use the hashtag #KrollsKorner!