Easy Homemade Chili Seasoning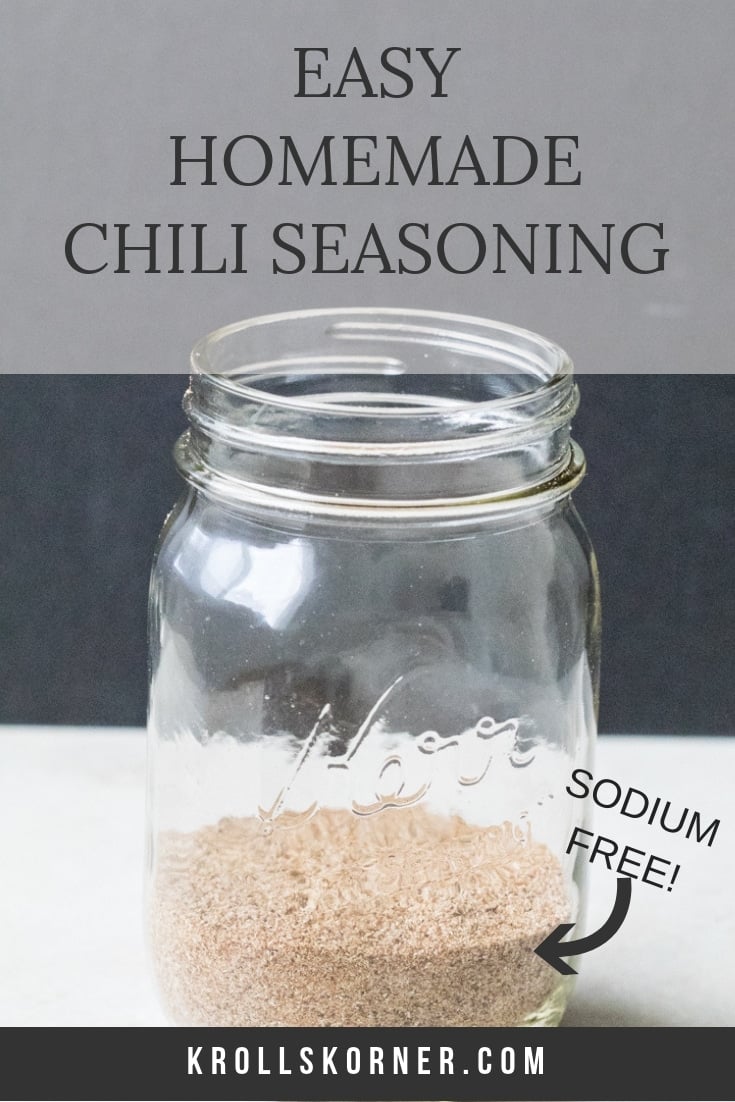 Homemade chili seasoning recipe
One of my favorite memories is being on our traditional family vacations enjoying homemade chili with this homemade chili seasoning mix.
One of my mom's pro tips when we go on family vacations is to pack seasonings in containers/baggies so she doesn't have to haul a bunch of different seasonings to the cabin.
One of the staple seasonings she'd mix up before we hit the road is this homemade chili seasoning. It makes the prep for the chili that much easier too!
Why not just buy one of those packets from the store, you ask? Well, Mom likes to make a lot of things from scratch.
Also, making your chili seasoning from scratch is far cheaper than continuing to buy the packets from the store. Plus, my recipe is salt-free (woo!)
This homemade chili seasoning is great to have in a pinch, so prep it in advance and store with all of your other seasonings.
And make sure you label it! (I often make the mistake of prepping seasonings and then forget what they are).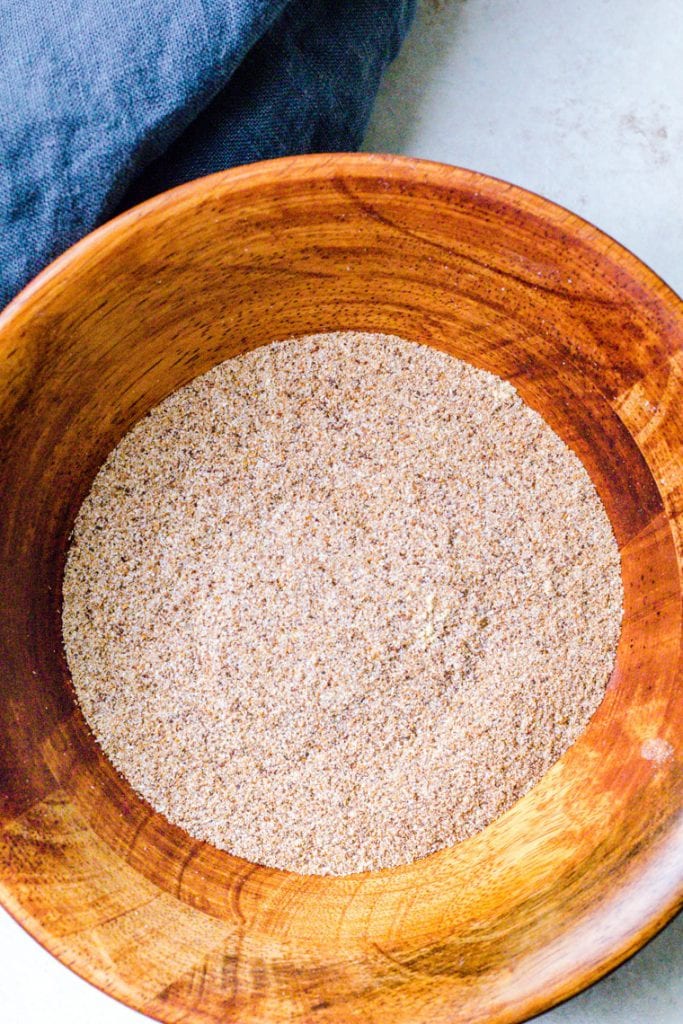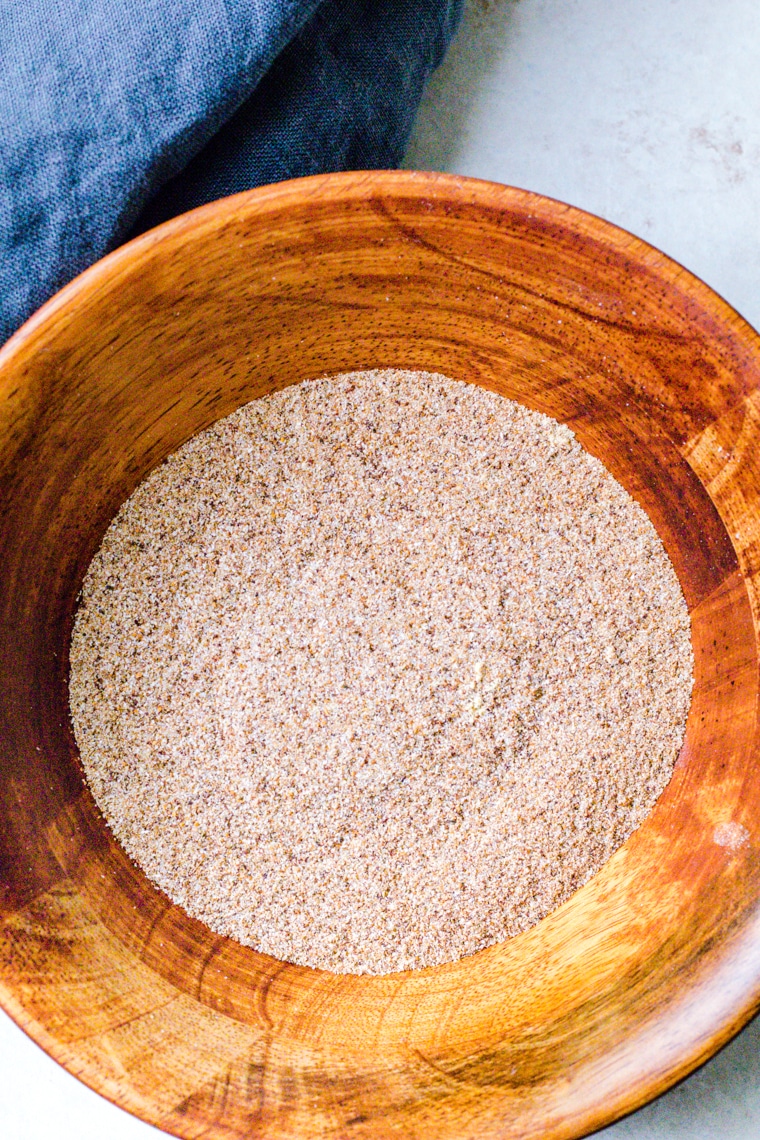 Chili seasoning ingredients
You'll need just 9 simple chili spices to make this chili seasoning mix. Here's what you'll need to make this recipe:
Chili powder
Onion powder
Garlic powder
Granulated sugar
Cumin
Ground mustard
Coriander
White pepper
Cayenne
How to make chili seasoning
Simply stir all the ingredients together, then transfer to an airtight container. This seasoning recipe makes about 1/2 cup seasoning, and the entire seasoning goes into a slow cooker chili recipe serving about 12-15 people.
How to use this chili seasoning
I personally use 4 tablespoons of chili seasoning for every 1 pound of meat (lamb, sausage, beef, ground turkey, etc.) when making tacos, burritos, dips, etc. Play around with your meat to seasoning ratio to find what you like best.
In my slow cooker chili recipes, I use the full 1/2 cup chili seasoning because of the volume of the chili!
I use 4 Tbsp. when I am browning up the meat to use for tacos, enchiladas, etc.
Ways to use chili seasoning
I want to point out that just because this is called chili seasoning it doesn't mean you have to use it for just chili!
It can be used to make roasted veggies (would be delicious on cauliflower), on fish, roasted potatoes/fries, lamb or beef, tacos, casseroles and the list goes on!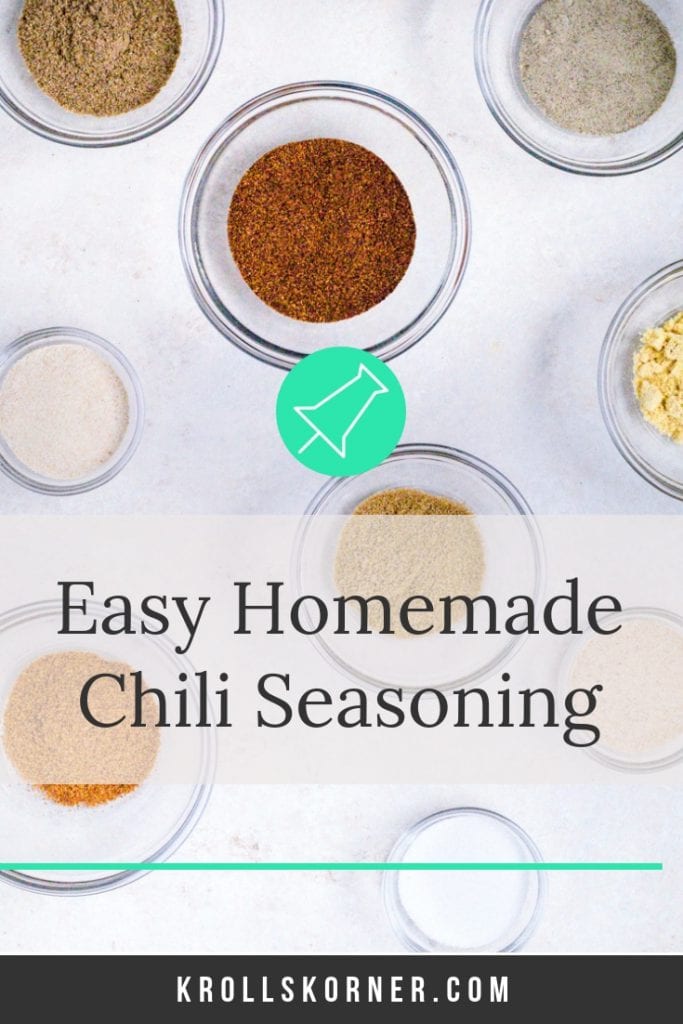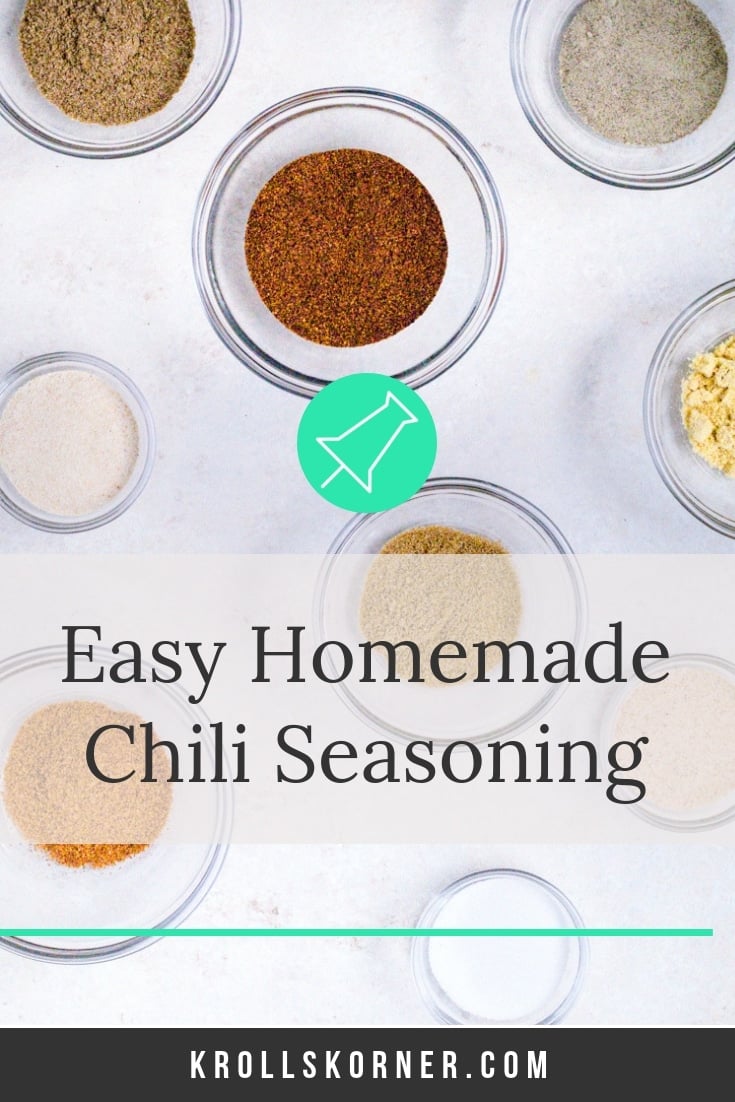 Tips for the best chili seasoning
This homemade chili seasoning is fairly flexible. If you prefer spicier soups and stews, add a little more cayenne than the recipe calls for. If you prefer less spice, scale it back a bit, and so on.
Be sure to store your seasoning blend in an air tight container — I like to use mason jars — and keep with your other spices until ready to use.
If stored properly, this chili seasoning mix will last for months. You're welcome to double or even triple this recipe if you know you'll go through it quickly.
More homemade chili recipes:
Slow Cooker Green and White Chicken Chili
Slow Cooker Spicy Four Bean Chili
Thank you so much for reading & supporting Kroll's Korner! This post includes affiliate links for products I actually use in my own home and personally recommend. Should you make a purchase using one of these links, Kroll's Korner will earn a small commission at no extra cost to you, which helps me continue to bring you great original content. Thank you!
Before You Begin! If you make this, please leave a review and rating letting us know how you liked this recipe! This helps our business thrive & continue providing free recipes.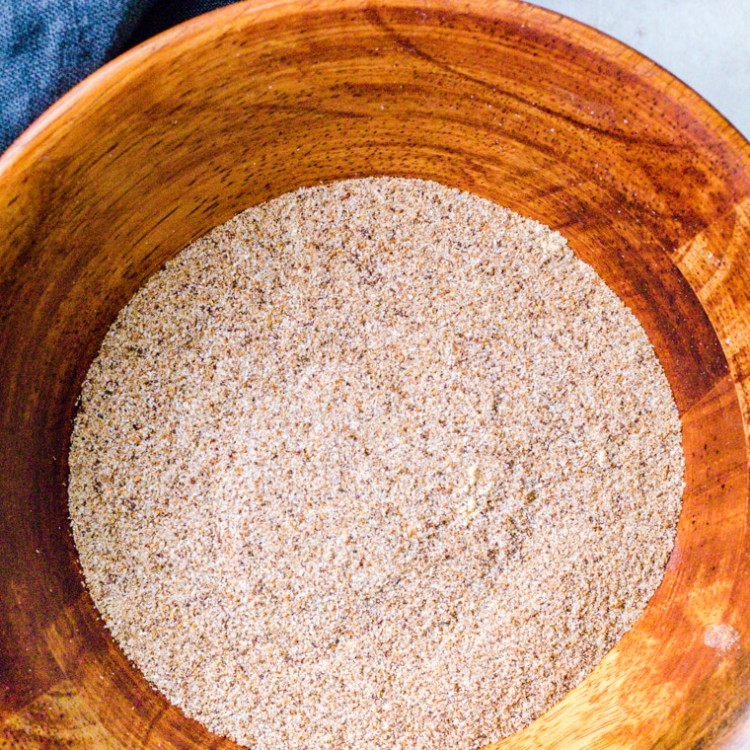 Easy Homemade Chili Seasoning
This homemade chili seasoning will add a lot of flavor to your homemade chili recipes, minus the excess sodium most chili seasoning blends have!
Ingredients
2

Tbsp.

chili powder*

1

Tbsp.

cayenne

1

Tbsp.

coriander

1

Tbsp.

cumin

1

Tbsp.

garlic powder

1

Tbsp.

granulated sugar

1

Tbsp.

onion powder

1/2

Tbsp.

ground mustard

1/2

Tbsp.

white pepper
Last step! If you make this, please leave a review and rating letting us know how you liked this recipe! This helps our business thrive & continue providing free recipes.
Instructions
Mix all ingredients in a bowl. Store in an airtight container until ready to use! Makes ~8 Tbsp. or 1/2 cup of seasoning.
Notes
*Read through the ingredients list to make sure you're buying salt-free chili powder.
PIN THIS EASY HOMEMADE CHILI SEASONING RECIPE FOR LATER!
Do you like to make your own seasonings? What other seasonings or sauces do you prefer to make instead of buy?! Let me know in the comments below!