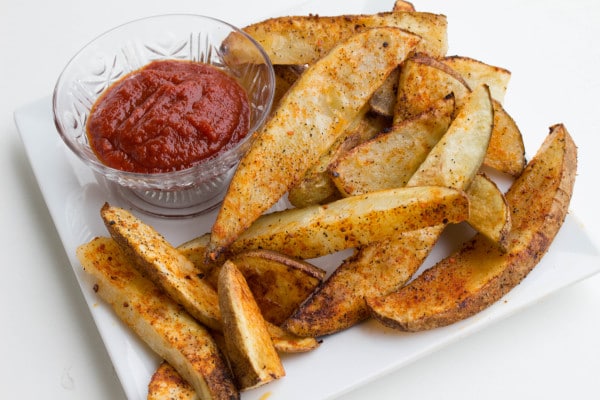 It is no doubt french fries are one of America's most favorite foods…so why not take a traditionally high fat, high sodium, low nutrient dense food and put a healthy twist on it? Plus making homemade fries is just fun in general, dontcha think? If you have kiddos, get them involved! Have them toss the pre-cut potato wedges in your seasoning and set the oven to the proper temperatures. Teaching kids the basic cooking techniques in their younger years will pay off in the future. All in all, making cooking a family event always makes for a fun night.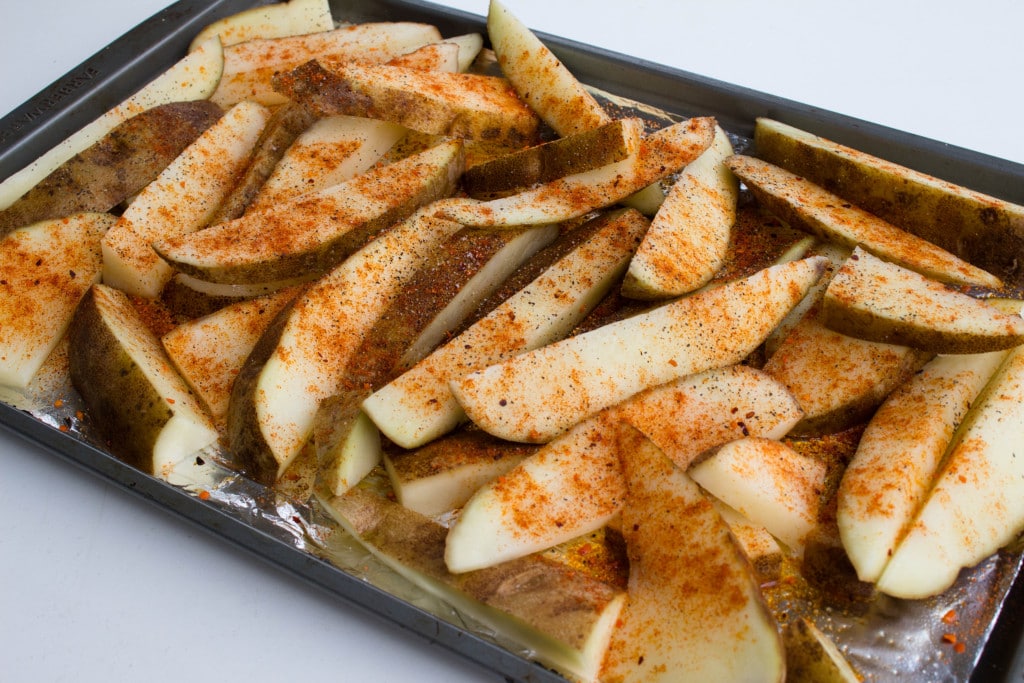 If you think about all the different varieties of french fries out there, it is a little mind boggling. They all have the same concept but each made a little differently. Which is why I wanted to show you yet another yummy way to enjoy your fries…mmm…
Lets not forget about nutrition. What's so healthy about these Russet potatoes anyways? Sometimes the white potato gets dinged for not being as healthy as a sweet potato or another varietal but when keeping portions in check, Russets still remain a nutrient dense vegetable. The Academy of Nutrition and Dietetics claims "Potatoes are high in potassium, a mineral that helps normalize blood pressure. Among vegetables, potatoes are the most affordable, versatile source of potassium. They are also low in calories and naturally fat-free." Additionally, potatoes are plump with fiber which is great because many individuals struggle to reach their daily fiber intake. (Adult males aged 19-50 38g fiber, adult females 25g). Keep in mind that the skin reaps the most nutrition…which is why I left the skin on in this recipe! Instead of throwing the skin away next time you eat a bake potato, try throwing it in salads, soups, stir-fries or even casseroles.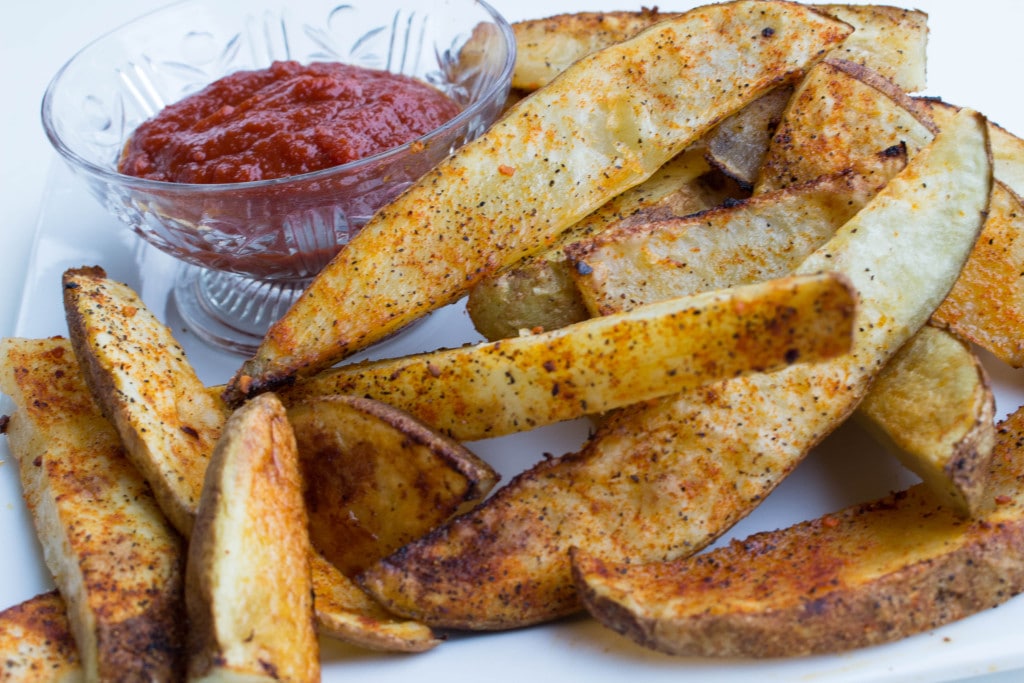 I was so pleased with how these turned out! Don't buy your french fries this weekend…make them with your family and friends! 🙂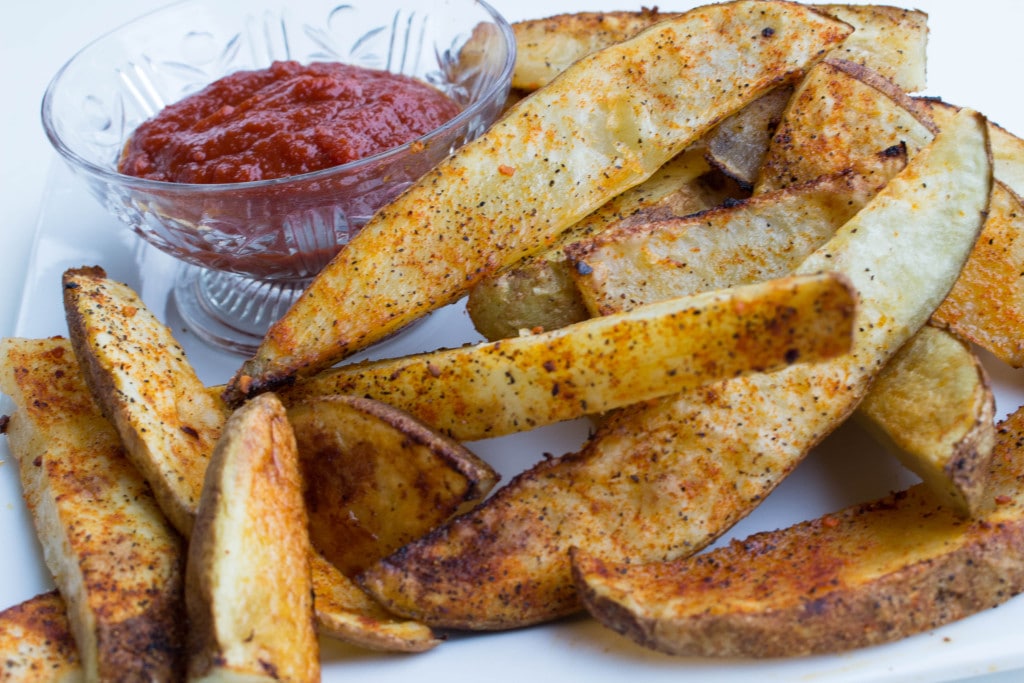 Homemade Sriracha Potato Wedges
2015-07-30 20:20:04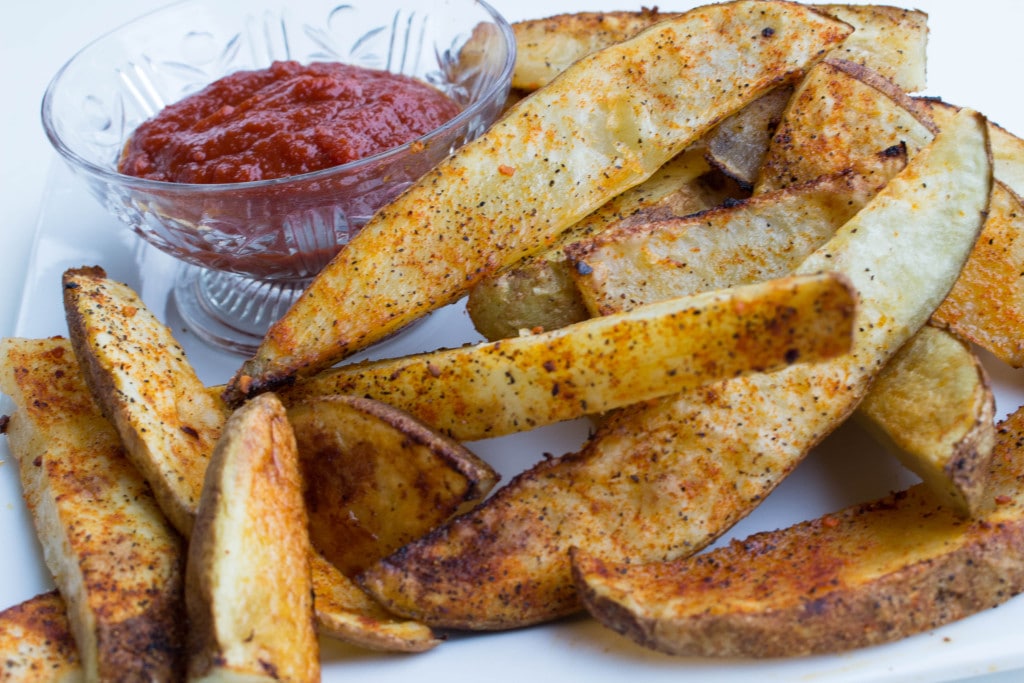 Ingredients
3 Tbsp. dried Sriracha spice
3 large Russet potatoes, washed and sliced in wedges
4 Tbsp. Olive Oil
1 tsp. salt and pepper
Instructions
Preheat oven to 475 degrees F. Place cut up potatoes in a large mixing bowl and fill with warm water. Let the potatoes soak for 20 minutes in the warm water.
While they are soaking, line a baking sheet with aluminum foil and spread 2 Tbsp. olive on evenly on the foil so it coats it nicely. Sprinkle the bottom of the pan with a dash of salt, pepper, and sriracha spice. Set aside.
Once the potatoes are done, remove from water and place on a paper towel and pat dry completely. Dry the large mixing bowl the potatoes were soaking in, and then place the dried potatoes back in it. Mix in the potatoes in the remaining 2 Tbsp. olive oil and place on baking sheet evenly.
Sprinkle with more of the seasonings to your desire. I used more sriracha and less salt in my recipe. Bake for 15 minutes on one side, flip with tongs, and cook for an additional 10 minutes on the other side.
Dip in your favorite sauce. I use a Sun Dried Tomato ketchup and infused it with Sriracha Sauce.
Krolls Korner https://krollskorner.com/