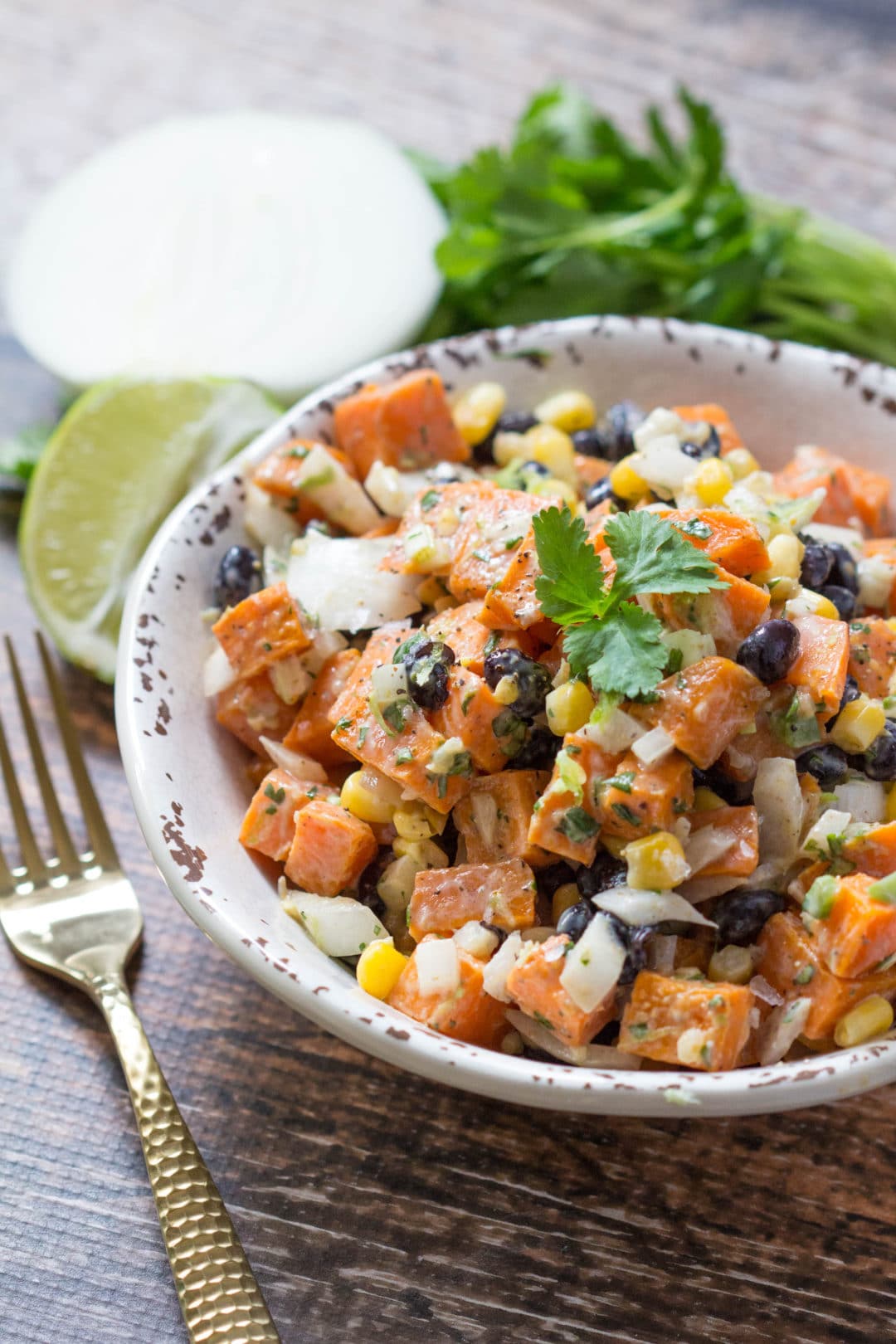 Sweet Potato and Black Bean Salad is perfect for Meatless Monday or, any day of the week to be honest! Simple, easy, and nutritious – what else could you ask for?
This post was originally published 4/2015 and updated 1/2017. Enjoy!
Happy Day 2 of my theme week of healthy salads! I made this salad in May 2014 and thought, hey it has almost been 1 year since I have made that salad! I remembered how yummy it was…saw I had some sweet potatoes in my basket… and threw together this salad yesterday afternoon! With Cinco de Mayo right around the corner, this salad is a perfect alternative to something higher in calories, fat and sodium that you may eat that day!
You can also add some avocados on top of this salad too for some healthy fats. Check it out, how healthy is this salad? The sweet potatoes are roasted for just 20 minutes in the oven with a dash of salt and pepper. These little cubes are proving your body with beta carotene, fiber, vitamin C, iron, biotin and potassium as well. The black beans are great choice for a non-meat source of iron, which is key to sustaining high energy and strong immunity.
This salad is so fun, and very different from other salads out there! I adapted this recipe from the Food and Nutrition Magazine from the Academy of Nutrition of Dietetics. I know many of my readers are not a member of the Academy and are not able to see all of the delicious recipes in our magazine so I had to share! I do not take the fame for creating this! Hope you all enjoy! 🙂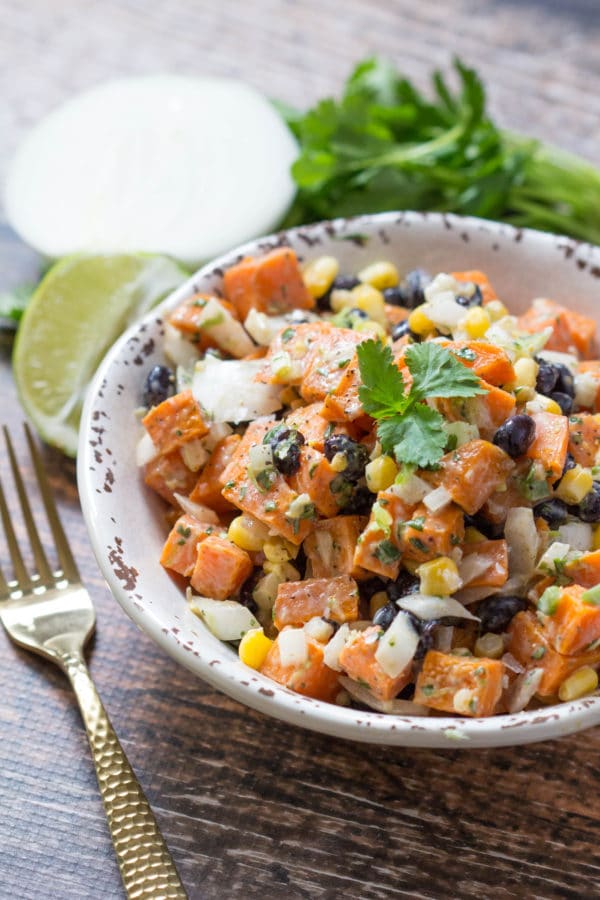 Sweet Potato & Black Bean Salad
2015-04-27 16:53:31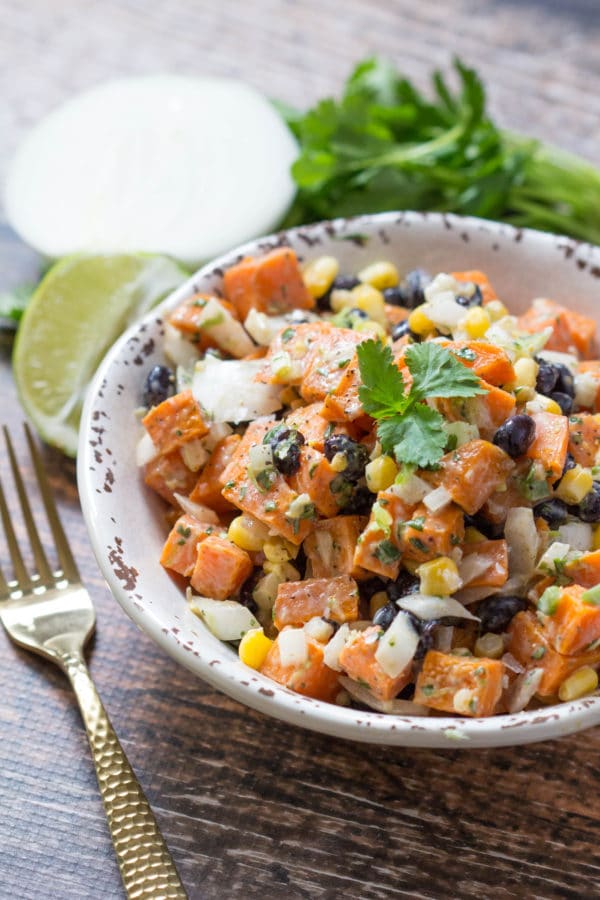 Ingredients
2 large sweet potatoes
2 tsp. olive oil
1 can black beans, no sodium preferably
1 cup frozen yellow corn, thawed
1 small yellow onion
1 jalapeño
2 tsp. minced garlic
1/2 tsp. cumin, ground
1/2 tsp salt
1 Tbsp. lime zest
1/2 tsp. pepper
1/3 cup cilantro leaves, chopped
2 Tbsp. lime juice, fresh
1 Tbsp. Greek yogurt, plain nonfat
1 Tbsp. light mayo
1 Tbsp. honey
Instructions
Peel & Cut. Cut sweet potato into 1/2 inch cubes.
Preheat oven to 400. Toss cubed sweet potatoes with olive oil and place on lined baking sheet. I used aluminum. Roast potatoes for ~20 minutes. Stir occasionally until potatoes are tender.
Combine beans, corn, onion, cumin, lime zest, salt, pepper, and cilantro. For the spicy lovers, add a fresh jalapeño! Add cooled sweet potatoes and gently stir to combine.
Dressing. Whisk together lime juice, yogurt, mayo, honey, and freshly mined garlic. Pour dressing over salad and stir until evenly combined.
And...VOILA! Sweet potato and black bean salad!
Adapted from Food & Nutrition Magazine
Adapted from Food & Nutrition Magazine
Krolls Korner https://krollskorner.com/