Roasted Sweet Potatoes with Honey and Cinnamon
Dairy-Free | Published on Nov 15, 2017 | Last modified on Nov 8, 2019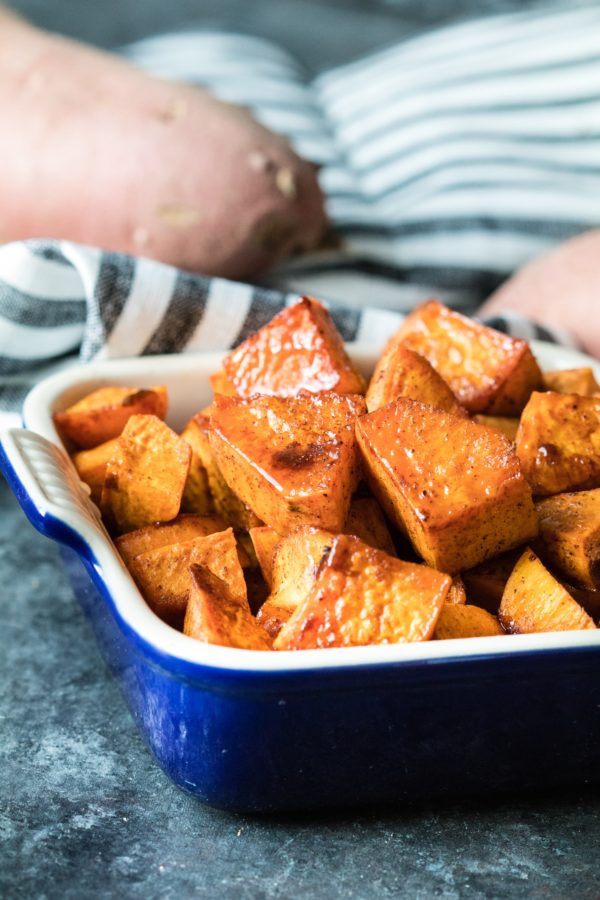 Thanksgiving side dishes can be tough recipes to decide on. I'll help with the decision making for you with these Roasted Sweet Potatoes with Honey and Cinnamon – they are a must on your dinner table!
When I think of sweet potato on Thanksgiving I think of the popular Thanksgiving dish that is the casserole type with marshmallows smothered on top.
I'm going to be honest with you, I've never been a fan of sweet potatoes made with marshmallows!
Call me crazy but I just never could get on board with the marshmallows and sweet potato combination.
That's why I made these roasted sweet potatoes and sweetened them up a bit with honey. They caramelize so well in the oven they taste like pieces of candy!
Sweet potatoes are a staple of many holiday dishes which is great because they are packed with nutrients.
You can make this root vegetable with fewer calories and plenty of flavor by making this recipe. I use honey to sweeten the potatoes and my secret is using pumpkin pie spice – SO good!
You can even add in some fresh thyme or rosemary once you take the sweet potatoes out of the oven to add a fresh fragrant aroma to this side dish.
I just love the simplicity of these and know you will too!
Honey, nutmeg and cinnamon compliment this sweet potato dish perfectly for your Thanksgiving dinner! Kroll's Korner
Click To Tweet
If we want to talk nutrition, sweet potatoes are a great source of vitamin C and a good source of fiber and potassium. All great nutrients to keep your Thanksgiving meal balanced.
PIN these Roasted Sweet Potatoes for later!

I'd love to see what you made!!
Share it with me on Instagram or Facebook and tag me @krolls_korner or use the hashtag #KrollsKorner!