Cornbread Herb Muffins
Breads | Published on Apr 15, 2019 | Last modified on Aug 20, 2019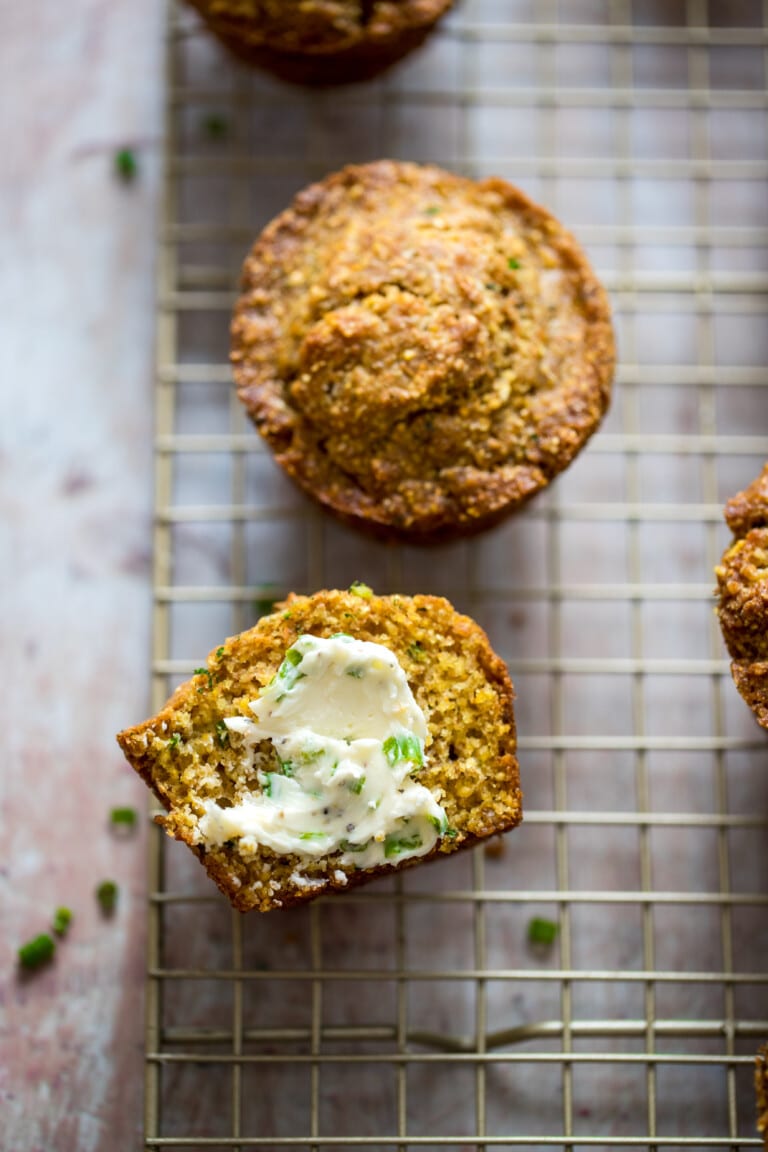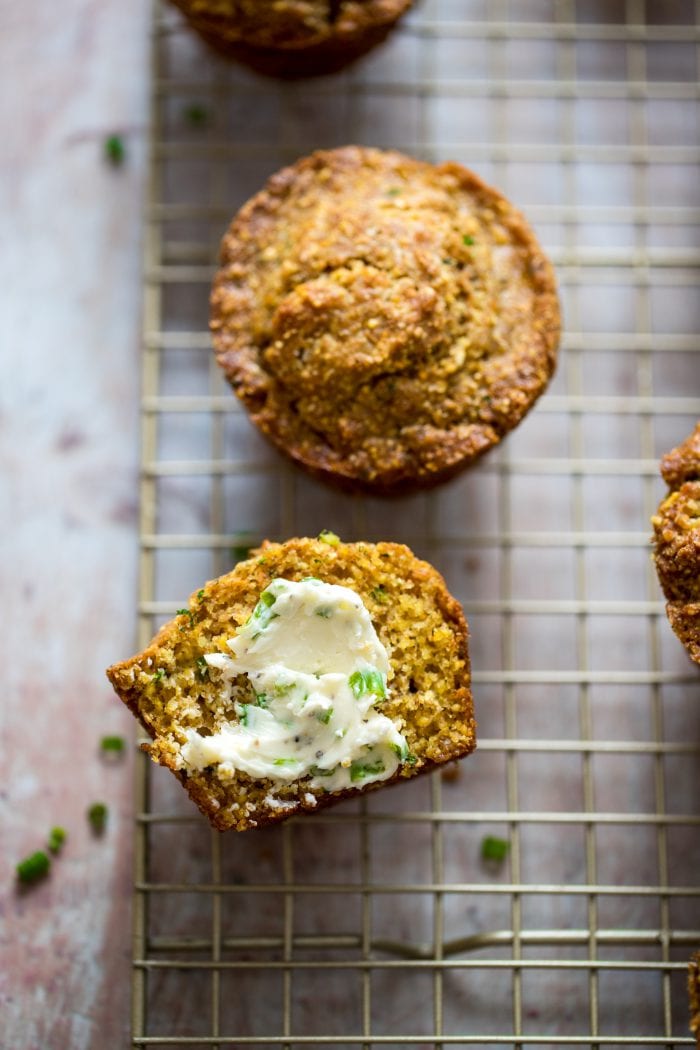 Cornbread Herb Muffins are full of fresh herbs, made with whole wheat flour, and serving them with the chive butter is an absolute must!
Cornbread is by far one of my favorite "comfort foods" and for it being a favorite, I rarely make it!
We are actually having cornbread at our wedding we both love it so much! 🙂
These cornbread herb muffins come together super fast. You will quickly combine all dry ingredients in one bowl, wet in another, combine them and pour into a muffin pan or cupcake pan. In 20 minutes, you'll be taking a hearty cornbread out of the oven!
Fun fact: You can also make this recipe into a loaf by baking in a pan or in a cast iron skillet. Same ingredients, same cooking time! (18-20 minutes)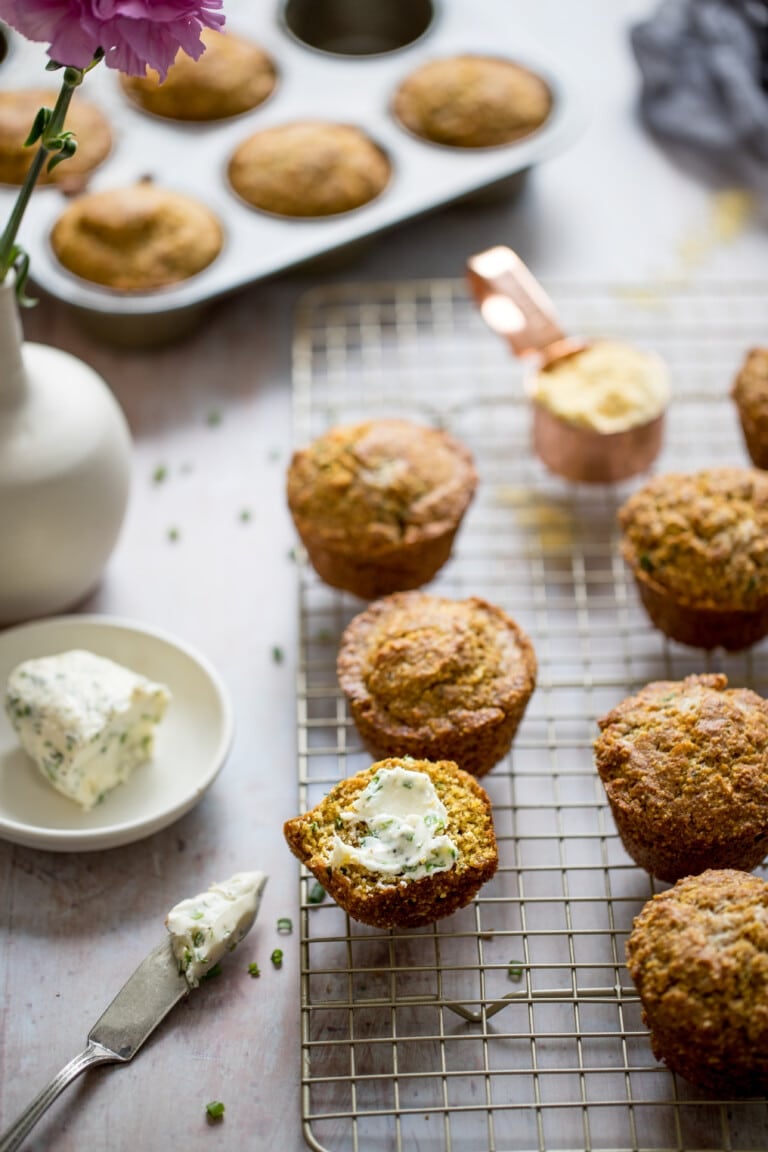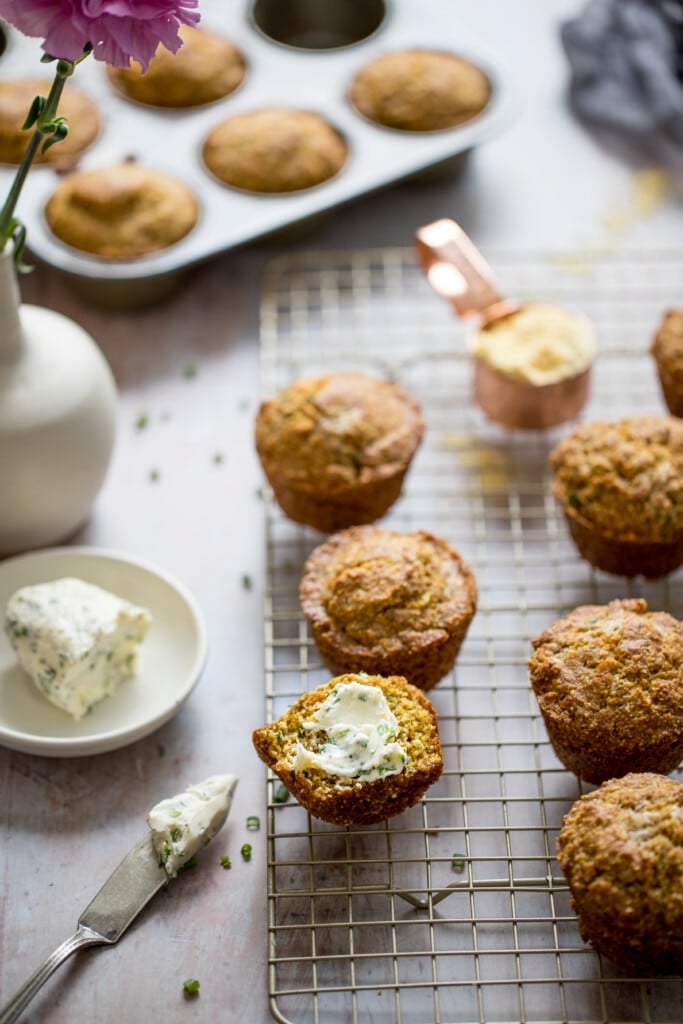 How to make cornbread muffins:
My first step was to add all of the dry ingredients into a medium sized mixing bowl and gently stirring the ingredients together. I used whole wheat flour but All-Purpose flour works as well.
Next, I added the liquid ingredients: eggs, vanilla extract, melted butter and buttermilk. The ingredients were stirred together, then the fresh herbs were folded in just until blended.
Lastly, I filled well-greased muffin wells 2/3 full and baked them at 400 degrees F for approximately 18-20 minutes, or until golden brown. This recipe yields 12 regular size muffins.
The muffins will have a slight brown color due to the whole wheat flour and dark brown sugar. If you use regular granulated sugar and All-Purpose flour they won't be as dark. Also – the sugar is totally optional! If you are not a fan of sweet cornbread, leave it out!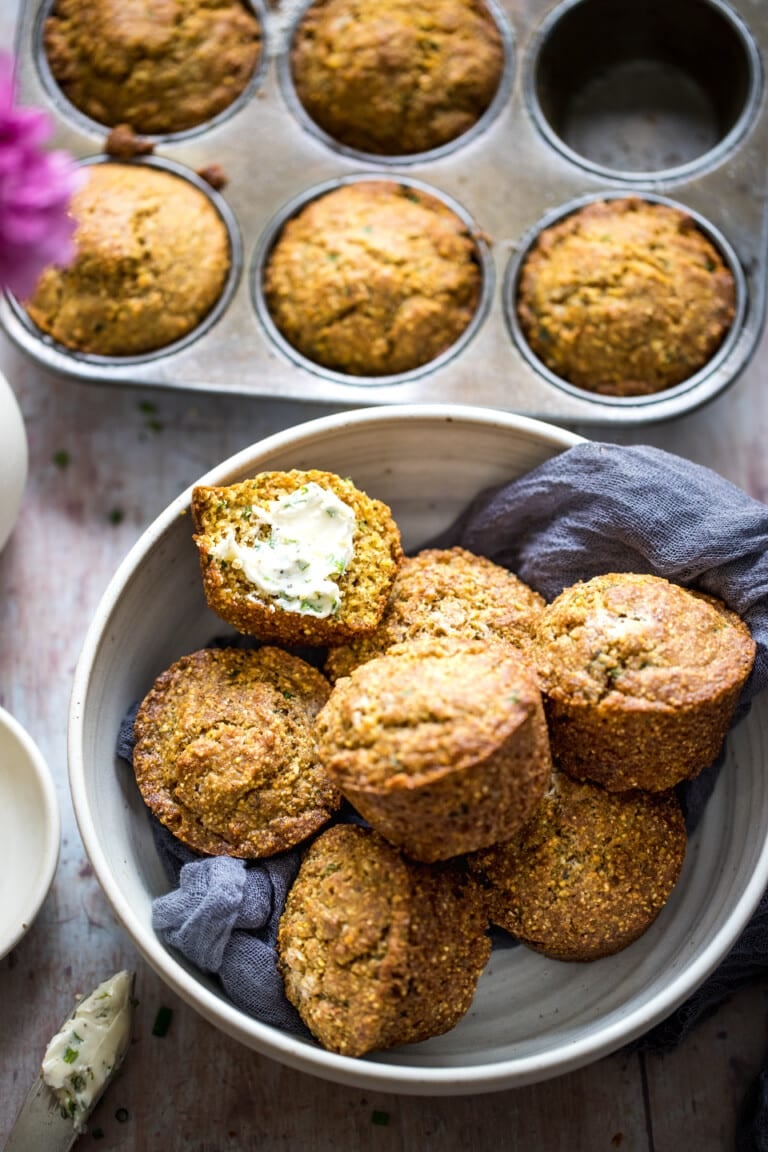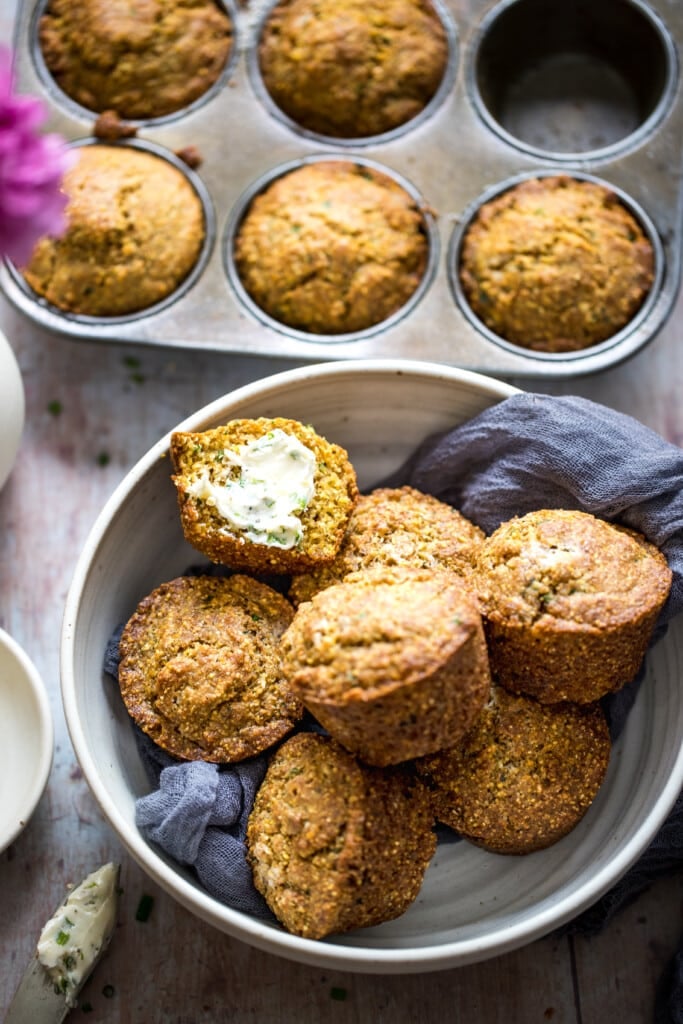 What type of corn meal should I use?
One size fits all doesn't apply to cornbread. Corn meal is available in a variety of grind sizes, ranging from fine to medium to coarse. You will use the fine grain for this recipe in combination with the wheat flour gives the bread a subtle airy lift.
Different colors of cornmeal:
Blue cornmeal is light blue or even violet in color. It is ground from whole blue corn.
Steel-ground yellow cornmeal is the most common one you see in stores.
Stone-ground cornmeal retains some of the hull and germ which offers more flavor and nutrition to recipes.
White corn meal is made from white corn. You can use yellow or white for this recipe!
If you like these savory, slightly sweet muffins you'll be sure to love these breakfast muffins or these taco egg muffins!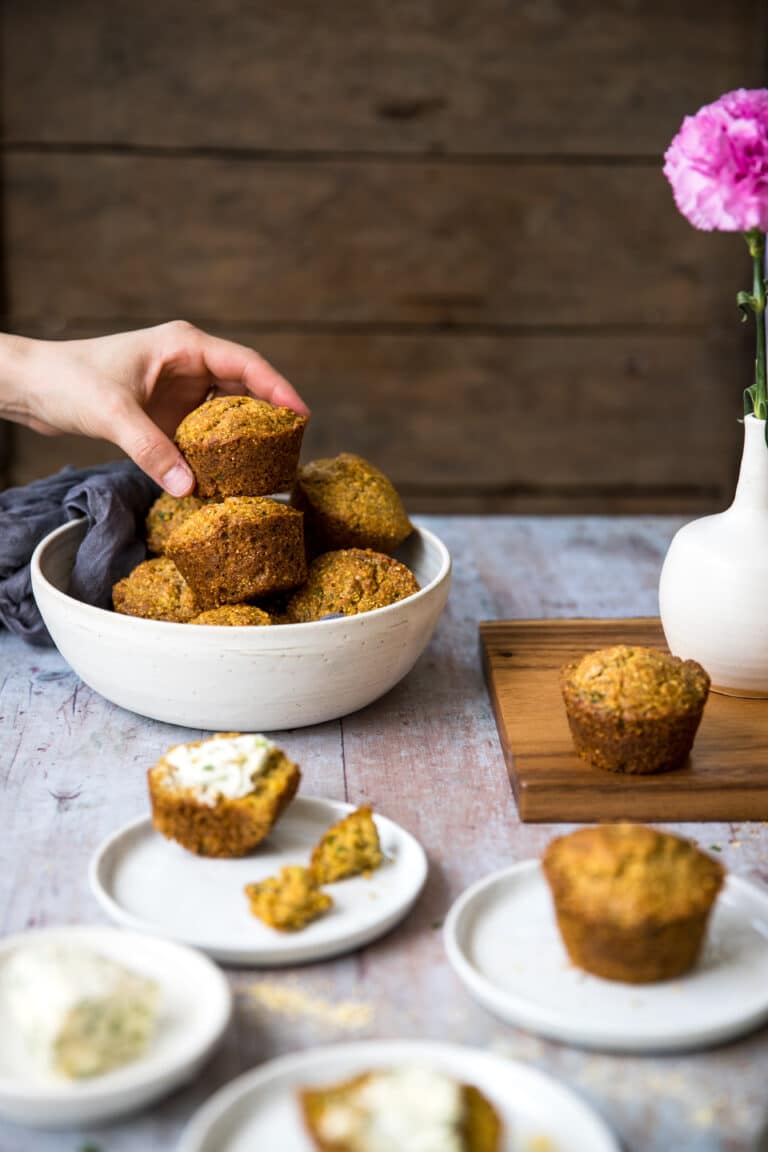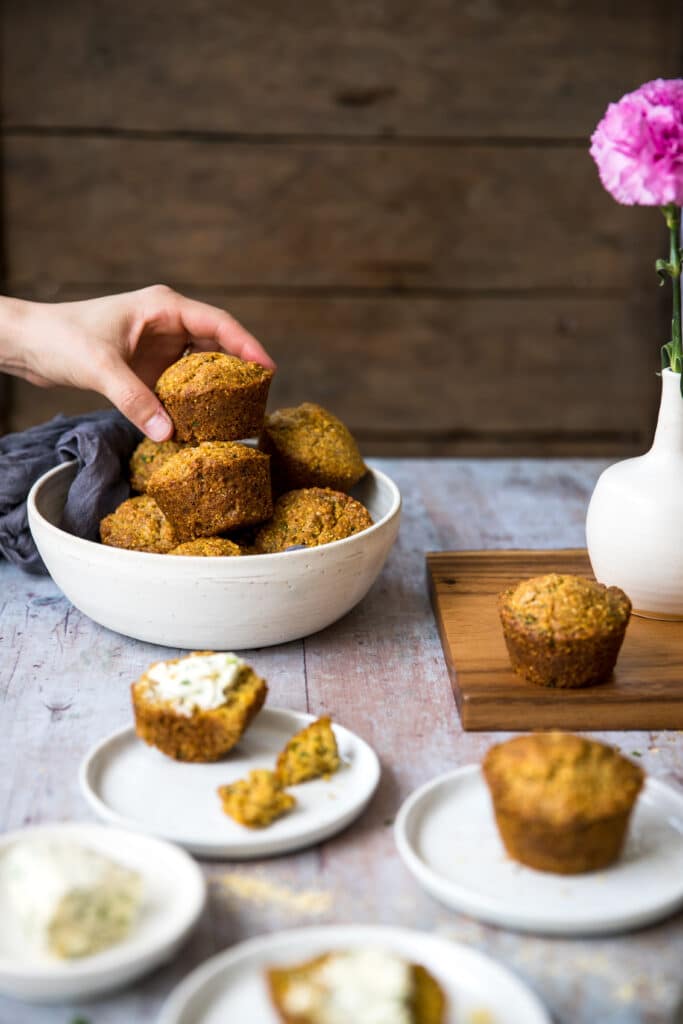 Herbs you will need for this cornbread:
Chives
Parsley
Oregano
Sage
Thyme
(You can use rosemary and basil too in places of any of those herbs too)
How to make chive butter:
I must say…the chive butter is not optional for this recipe! The buttery and herby flavor plays off of the savory and lightly sweetened cornbread muffin.
You will take 8 Tbsp. of unsalted butter, softened and mix it with 3 Tbsp. chopped chives, 1/4 tsp salt, pepper and garlic powder. Mix well.
Then, roll it into a small log shape, wrap in plastic wrap and place in refrigerator until is sets up. About 20-30 minutes. If we are serving the cornbread muffins right away, make this first so it is ready when the muffins come out of the oven!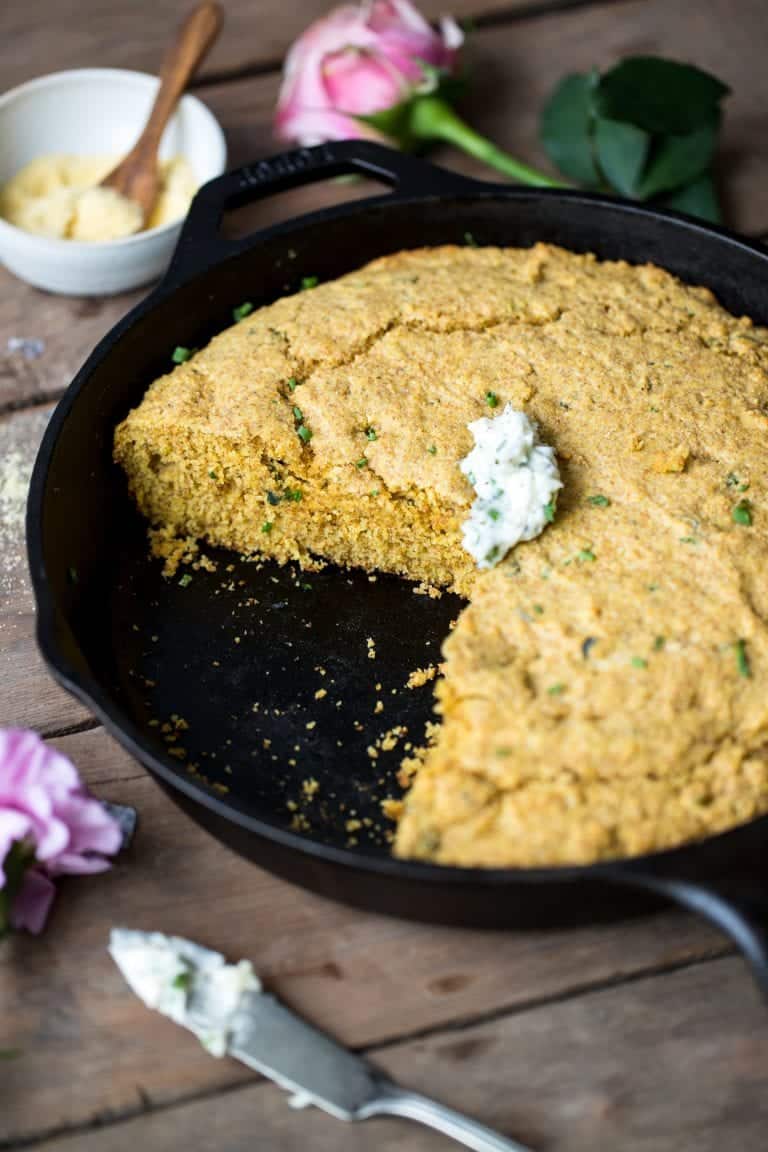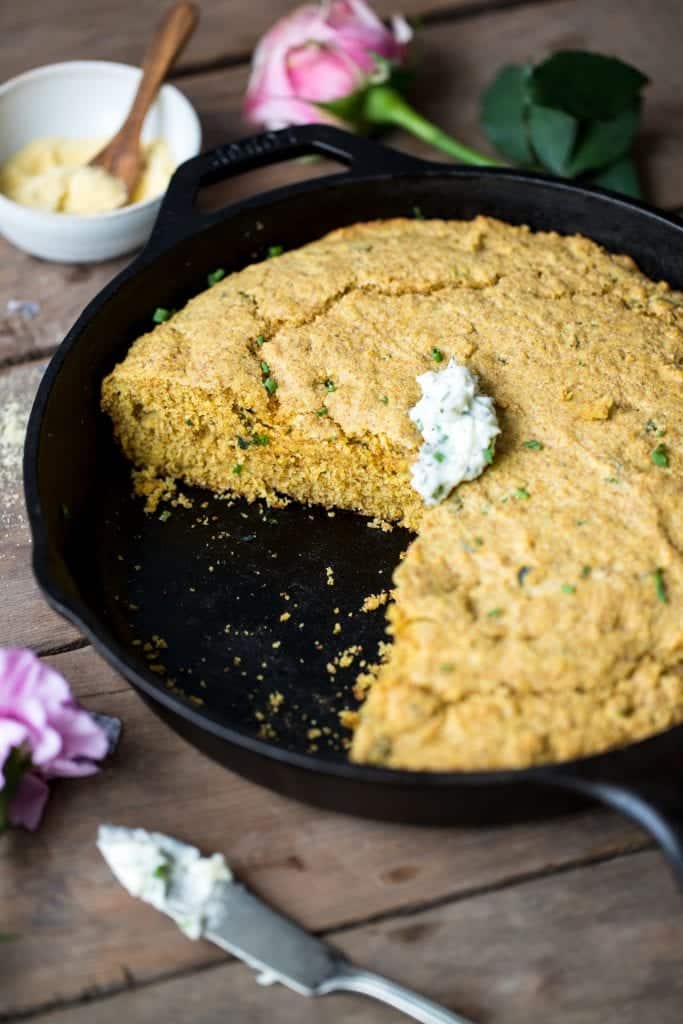 These cornbread herb muffins strike the right balance between tender and crumbly and I've jazzed up the batter with addition of chives, parsley, oregano, sage and thyme. #krollskorner #muffinmonday
Click To Tweet
I hope you enjoy this recipe as much as we did!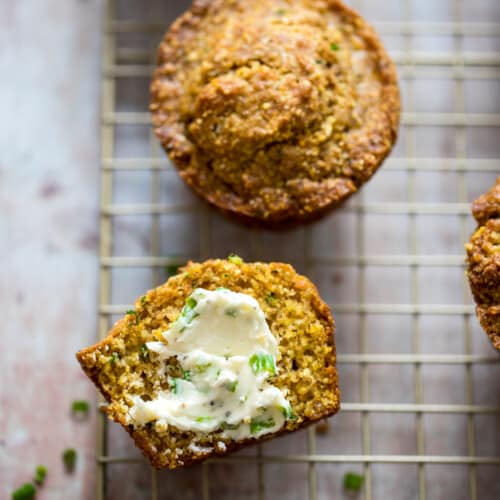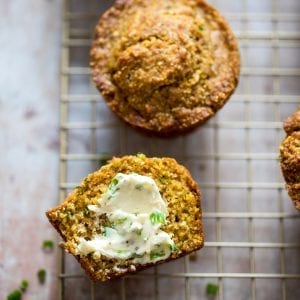 Cornbread Herb Muffins
Cornbread Herb Muffins are full of fresh herbs, made with whole wheat flour, and serving them with the chive butter is an absolute must!
Print Recipe
Pin Recipe
Rate
Ingredients
1 1/2

cup

yellow cornmeal, fine

1

cup

whole wheat flour

2

Tbsp.

brown sugar (optional for sweetness)

1

Tbsp.

wheat germ

1 1/5

tsp.

baking powder

1

tsp.

baking soda

1

tsp.

salt

1

cup

butter, unsalted (1 stick/8 Tbsp.)

1

cup

buttermilk

3

eggs

1

tsp.

vanilla extract
For the herbs:
1

tsp.

thyme, parsley, oregano, sage and chives. Include 1 tsp. of each herb, chopped
For the chive butter:
1

cup

butter, unsalted (1 stick/8 Tbsp.) softened

2

Tbsp.

fresh chives, chopped

1/4

tsp.

salt

1/4

tsp.

pepper

1/4

tsp.

garlic powder
Instructions
First make the chive butter: mix the sofened butter with chives and seasonings. Roll into a small log, and wrap in plastic wrap. Place in fridge until butter hardens, about 20-30 minutes.

For the muffins: In a medium sized bowl mix the cornmeal, flour, sugar, wheat germ, baking soda, baking powder, and salt. In another bowl mix the softened butter, buttermilk, eggs and vanilla extract. Mix the wet ingredients into the dry and then fold in chopped fresh herbs.

Prepare muffin tin by either spraying with cooking spray or grease bottom and sides of tins with butter. Scoop batter into each tin, filling about 3/4 high. Bake in a preheated oven at 400 degrees F. for 18-20 minutes or until toothpick inserted in the center comes out clean.
To Make As A Skillet:
Follow the same instructions but place cornbread batter into a skillet (cast iron preferred). Cooking time is a slightly longer than muffins: 20-25 minutes at 400 degrees F.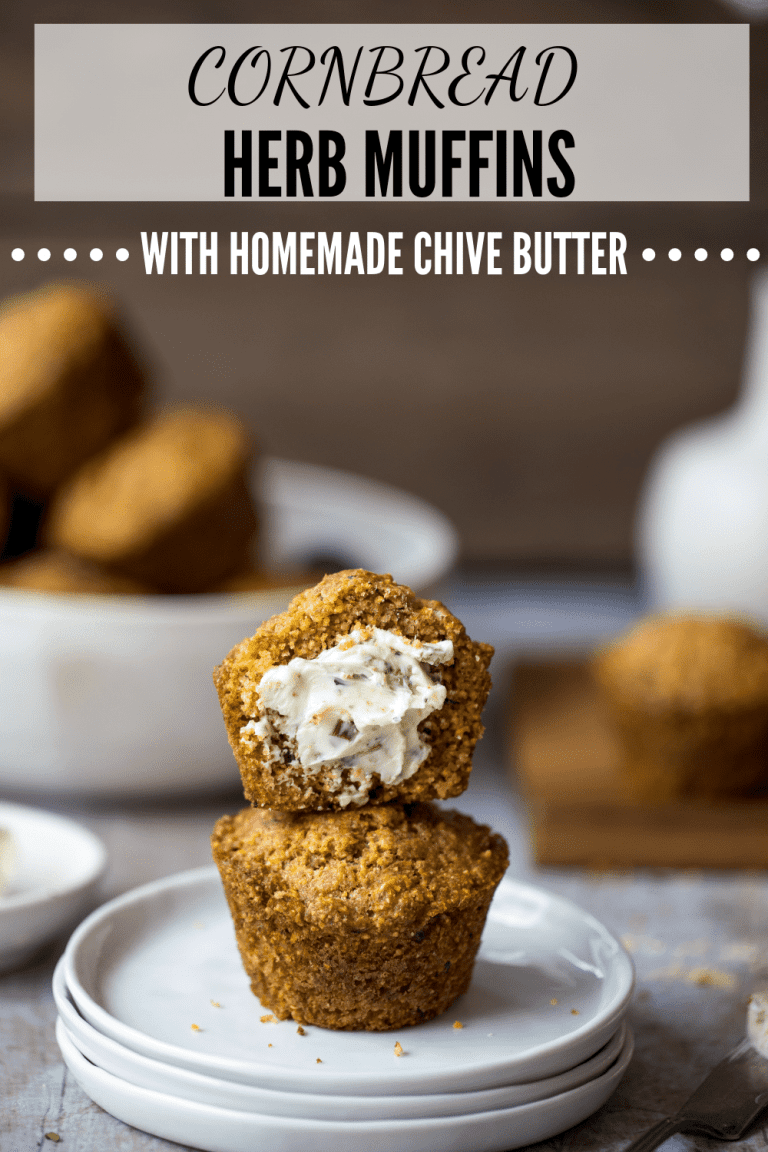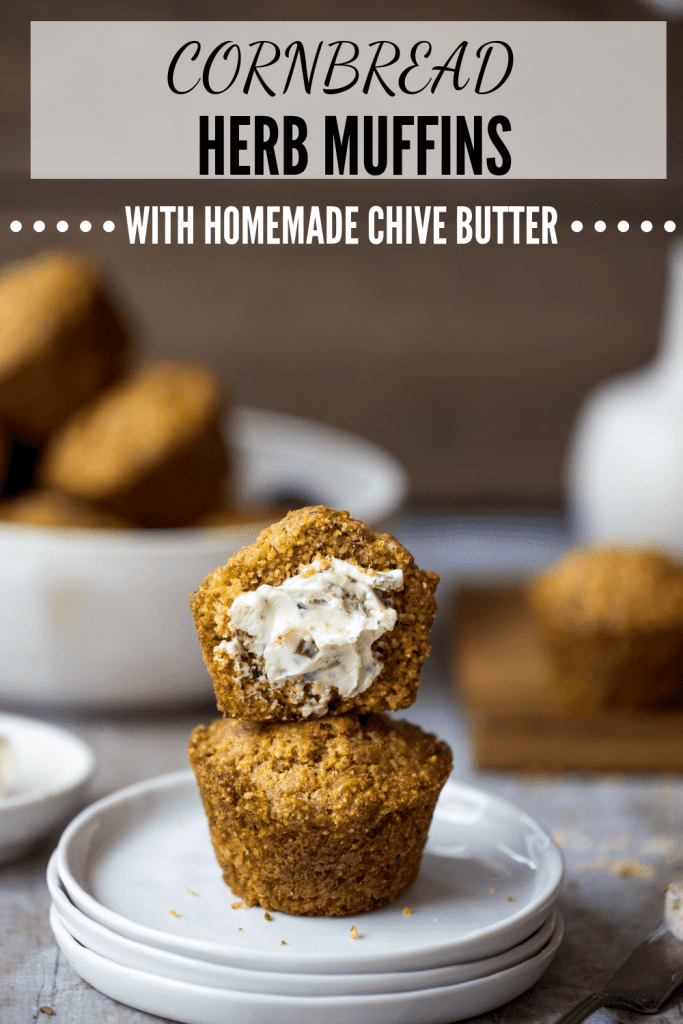 I'd love to see what you made!!
Share it with me on Instagram or Facebook and tag me @krolls_korner or use the hashtag #KrollsKorner!