Spicy Bloody Mary
Drinks & Smoothies | Published Jul 28, 2020 | Updated Jul 30, 2020 | By Tawnie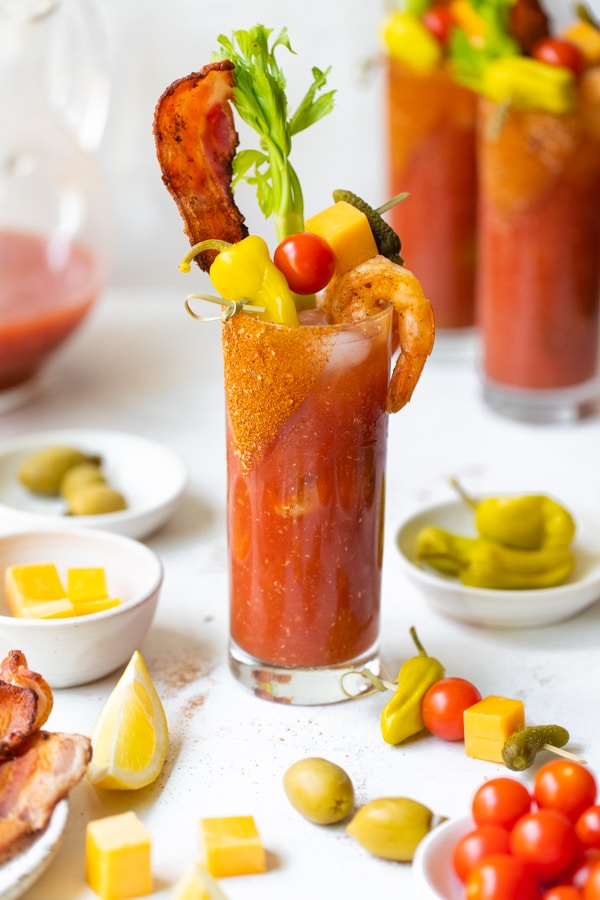 My dad was a huge Spicy Bloody Mary fan.
In honor of him I had to have his recipe on the blog!
My mom has had his recipe written down in one of our family cookbooks and I finally snagged the recipe from her the other day because I had to share it with you all!
This recipe uses Sriracha sauce instead of Tabasco, which gives it a slightly sweeter taste.
Tabasco is more Cajun-inspired and is usually just made of vinegar, red pepper, and salt, and Sriracha has more of a ketchup-y taste with chili, sugar, salt, garlic, and vinegar.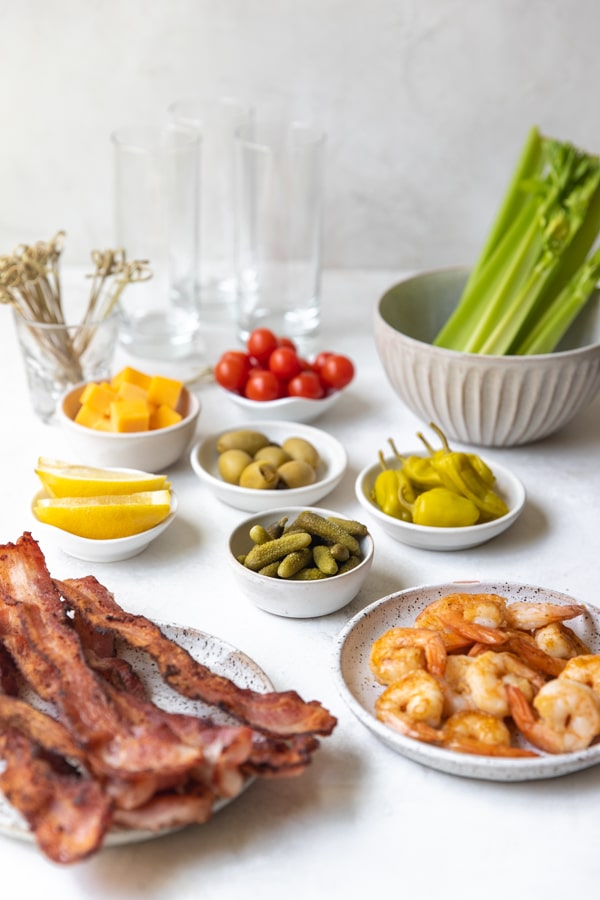 The additional spices in the Sriracha add to the yummy flavor of this Spicy Bloody Mary, and the combination of horseradish adds a nice kick of heat at the end of every sip. (My dad loved his horseradish!)
This recipe is the ultimate way to make a Spicy Bloody Mary – so much better than a store-bought Bloody Mary mix!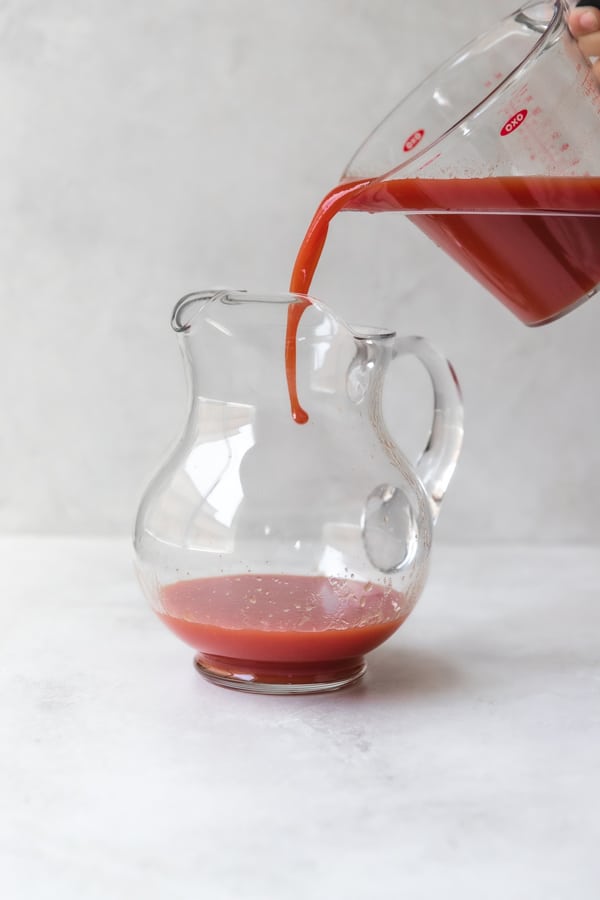 What Is in a Bloody Mary?
Tomato juice: This is the main ingredient of Bloody Mary cocktails and gives it that classic taste. I use 100% tomato juice, found in most juice isles at the grocery store.
You can also clamato juice if you prefer another layer of flavor.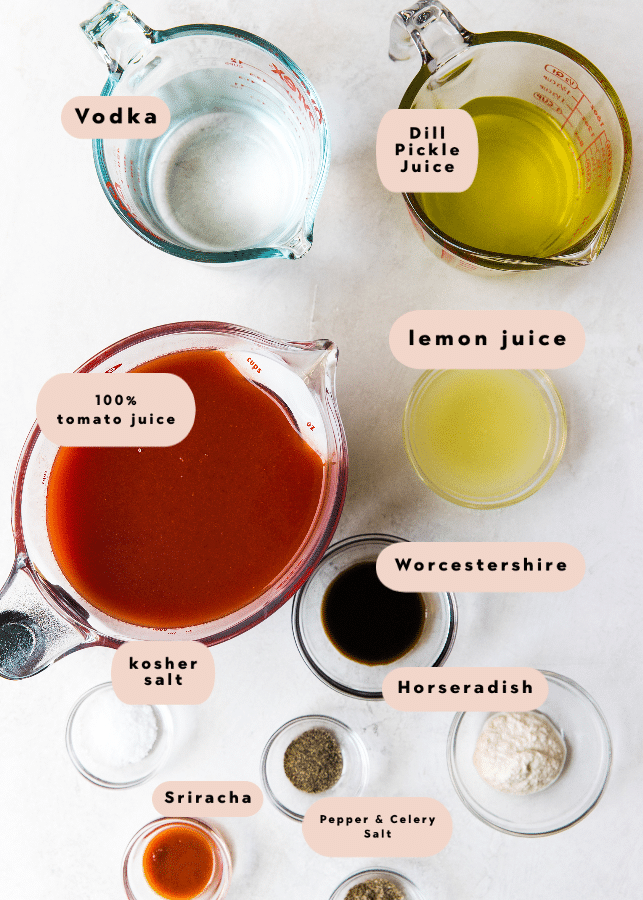 Dill pickle juice: Dill pickle juice adds great tangy flavor with a touch of sweetness. I just snag from the jar we usually have in the fridge!
Fresh lemon juice: This will help give that slightly tart taste to the Bloody Mary.
Horseradish: Horseradish has a distinctive pungent taste that combines well with Sriracha for a nice hint of heat.
Worcestershire: Worcestershire is a fermented condiment made from vinegar, onions, garlic, molasses, and plenty of other seasonings that gives great flavor to this Spicy Bloody Mary cocktail.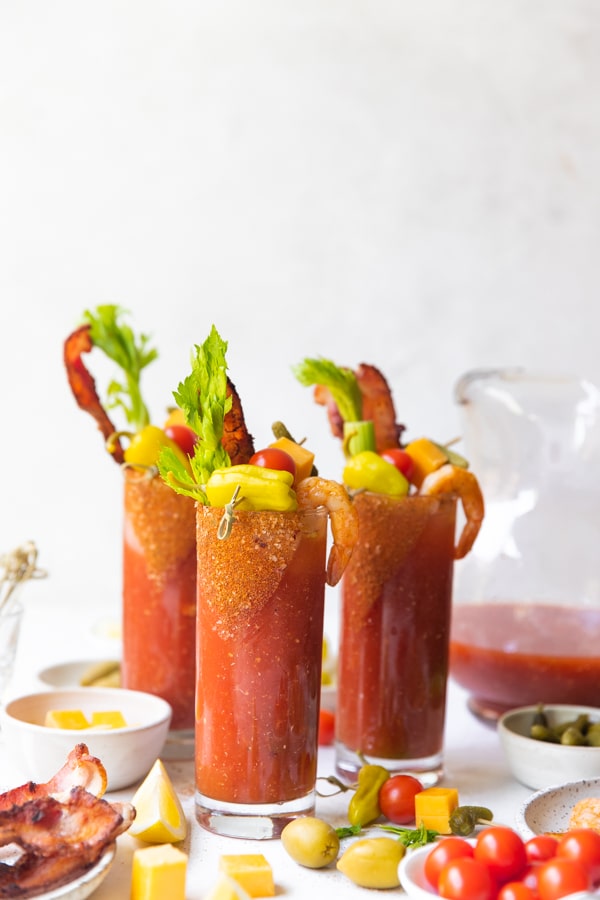 Sriracha: Sriracha helps to add a little bit of spice to your cocktail. You can use any hot sauce you prefer.
Kosher salt: This will help to balance out the different flavor combinations.
Celery salt: Celery salt is stronger than fresh celery and adds a slightly sweet yet bitter flavor.
Black pepper: Black pepper helps to add a little bit of heat to the drink and adds great seasoning.
Vodka: This is essential for rounding out this Spicy Bloody Mary! You will add the vodka in right before serving.
How to Make a Spicy Bloody Mary:
Mix all the ingredients together in a large pitcher (except the Vodka) and chill overnight, or at least 4-5 hours.
This allows all the flavors to meld together and develop for a delicious cocktail.
Once chilled, add the vodka to the pitcher, stir to mix.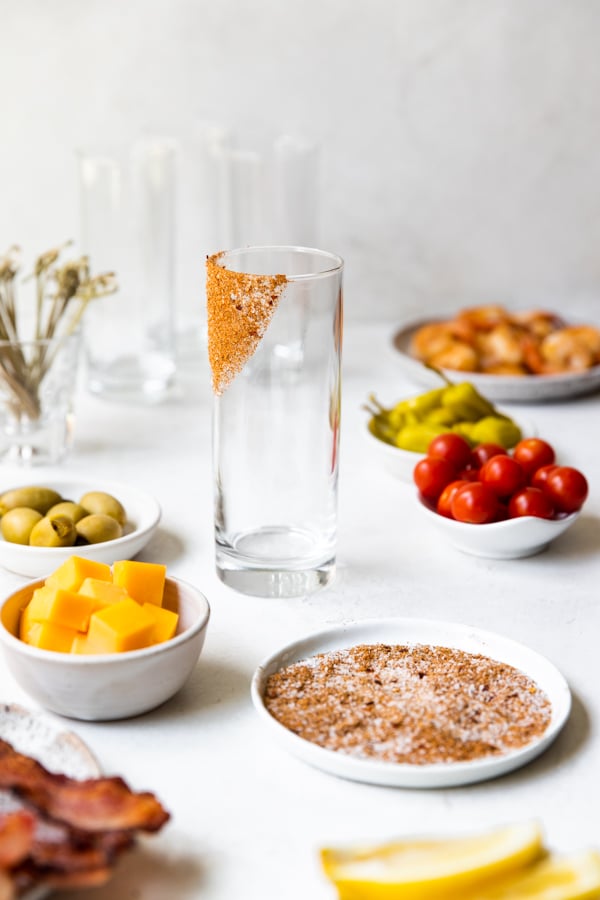 When ready to serve, salt the rim of a highball glass. You can use your favorite rim salt, Tajin or try this recipe:
My favorite Bloody Mary Rim Salt: 1 Tbsp. old bay seasoning, 1 Tbsp. kosher salt, 1 tsp. celery salt and a pinch of cayenne and paprika. Mix together. Run the cut edge of a fresh lemon wedge around the rim. Then turn the glass over and dip the rim into a small plate that contains a good layer of rim salt.
Fill a highball glass with ice.
Pour the Bloody Mary mix into the glass and serve with your favorite Bloody Mary garnishes and toppings.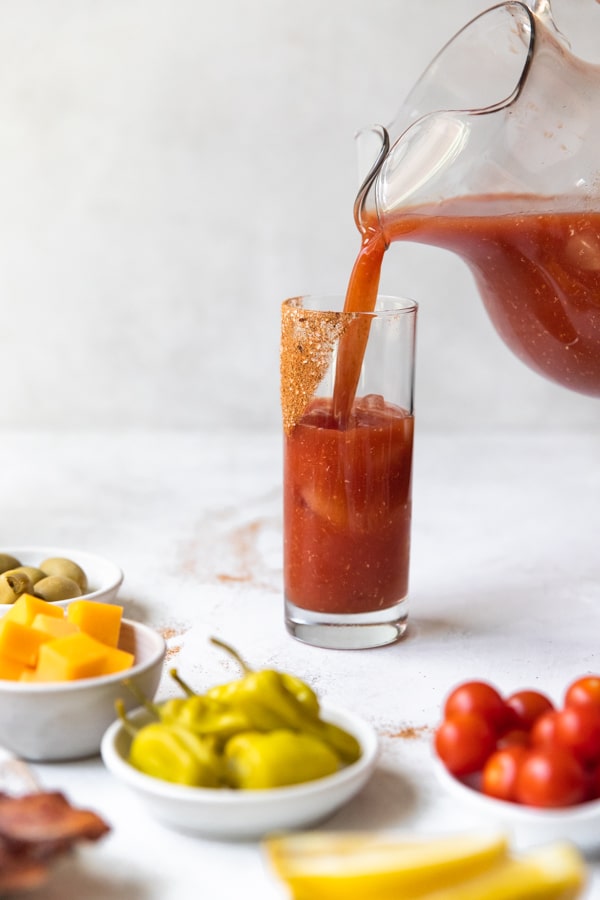 What's the Best Vodka for Bloody Mary Cocktails?
The better-quality ingredients you use to make your Spicy Bloody Mary cocktail, the better it will taste! There is no specific, "best" vodka to use, but make sure to use one that you like and use with other drinks.
Bloody Mary Garnish Ideas:
There are a lot of typical Bloody Mary garnishes. I like to use these bamboo picks to give the drinks a decorative twist. Here are some ideas:
Dill pickle spears
Cornichons
Jalapeño
Celery stick
Lemon slices or lime wedge
Pickled asparagus
Green olives
Spicy dill beans
Bacon
Pepperoncini
Shrimp
Cheese cube
Beef stick
Spicy Pickled Green Beans
Pearl Onions
Pickled Okra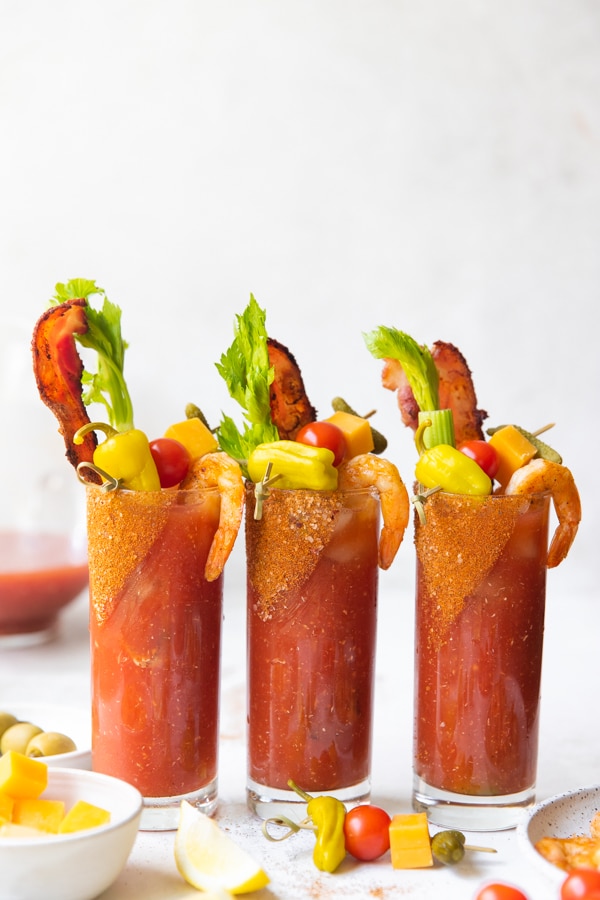 Can I prep the Bloody Mary Mix in Advance?
Yes! That's how the recipe is actually written. It's best to prep the bloody Mary mix in advance to help the flavors develop even more! Just be sure to add in the vodka right before serving.
Tips for Making Spicy Bloody Marys:
Make sure to use the best quality ingredients that you can find, especially for the major ingredients like tomato juice and vodka.
Fresh lemon juice works best for this recipe, but feel free to use bottled lemon juice as well.
Serve the Spicy Bloody Mary ice cold for the best refreshing drink.
Spice it up by adding your favorite garnishes or adding extra heat to the drink with more Sriracha or horseradish.
If you like adding more flavor to your Spicy Bloody Mary, infused vodka is a great way to customize it.
More Easy Drink Recipes: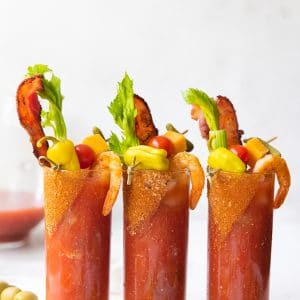 Spicy Bloody Mary
This is the BEST ever Spicy Bloody Mary recipe with a homemade Bloody Mary mix that's so easy to make. Garnish with all of your favorite toppings!
Ingredients
4

cups

100% tomato juice

1

cup

dill pickle juice

1/4

cup

fresh lemon juice

1

Tbsp.

horseradish

2

tsp.

Worcestershire

1

tsp.

Sriracha

1

tsp.

kosher salt

1/2

tsp.

celery salt

1/4

tsp.

black pepper

2

cups

Vodka
Instructions
Mix all of the ingredients together in a large pitcher (except the Vodka) and chill overnight or for at least 4-5 hours.

When ready to serve, salt the rim of your glasses, add ice to the glass. Add Vodka to the pitcher and stir. Pour into glasses and garnish with your favorite toppings. (bacon, celery, pickle, shrimp, lemon wedge, olives, etc.)
Hi, I'm 
Tawnie

!

Welcome to my tiny "korner" on the Internet! I am a Registered Dietitian Nutritionist who loves cookies as much as kale. (OK, maybe I like cookies a little bit more but shh, don't tell anyone). I am so glad you're here! Follow along for hassle free, realistic and approachable recipes.

More about Tawnie

I'd love to see what you made!!
Share it with me on Instagram or Facebook and tag me @krolls_korner or use the hashtag #KrollsKorner!