Whole Wheat Spinach Mac & Cheese Bites
Dinner | Published on Jun 26, 2018 | Last modified on Aug 20, 2019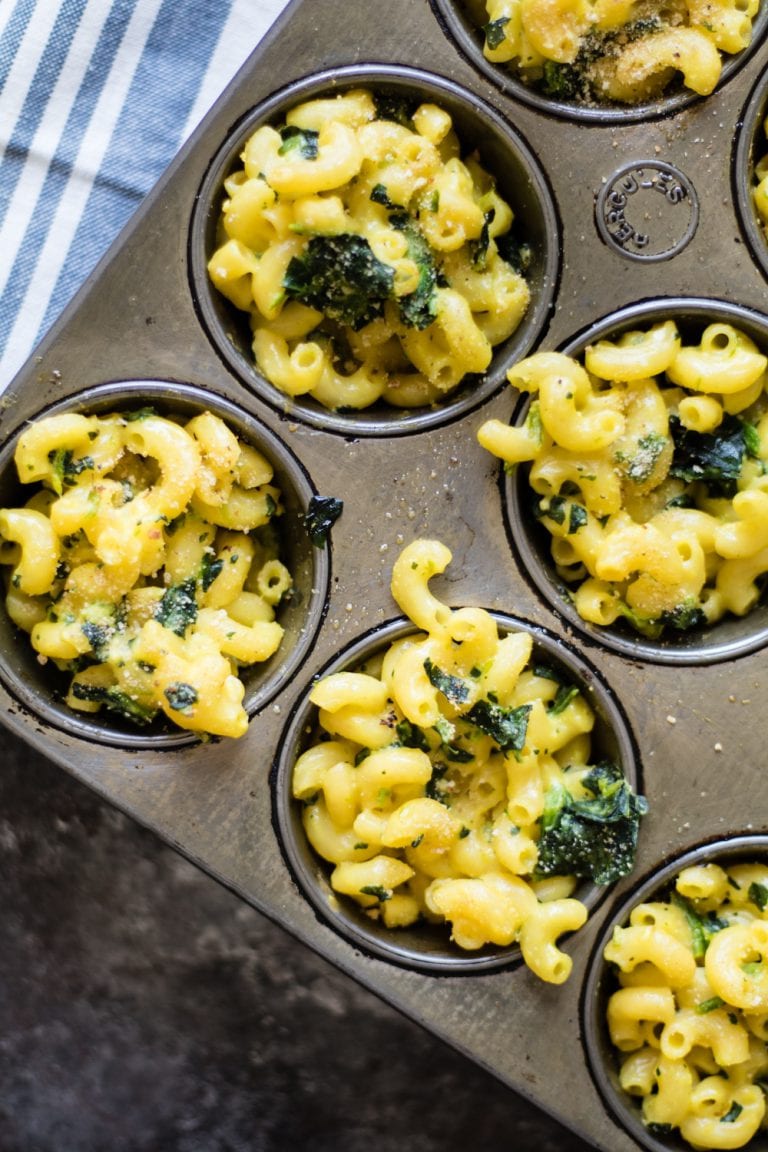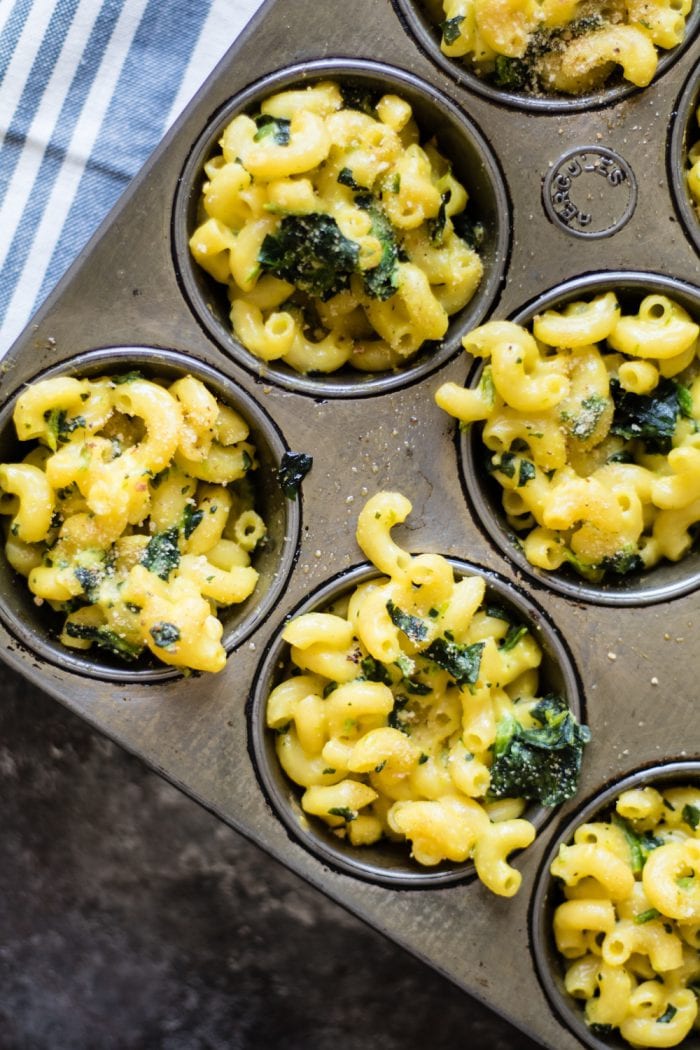 Individual Mac and Cheese Bites are great for summer time BBQs! Kid friendly, easy to make and a convenient size to keep portions in check!
Happy almost July! I hope all of you will be able to take a few days off of work and be able to enjoy the 4th with your family and friends. Typically on the 4th of July my family goes on a traditional vacation to Feather River Park Resort in a small town in California called Blairsden. We have been going on this family trip every year since I was 2 years old, so it is a very special time for all of us. Unfortunately, as we have been getting older and busier the amount of time some of us can stay on the trip has been shortened. I am very bummed to say that I am actually not able to go on the trip this year, and my brother and sister in law cannot attend either. I am positive our family and friends who do attend the trip this year will still enjoy their time! I'll miss them!
I've been filling my days teaching at BEYOND Pilates, Cyclebar and staying on top of blogging duties. I am loving being self-employed…it's crazy that it's already been 2 months since I put in my 2 weeks!
I made these Mac and Cheese bites in cupcake tins, but you can also use muffins tins if you'd like a slightly larger portion!
Be sure to let the mac and cheese cool after removing from oven so the bites hold their shape. If you take the mac and cheese out of the tin right when removed from the oven they will not hold shape because they're steamin' hot!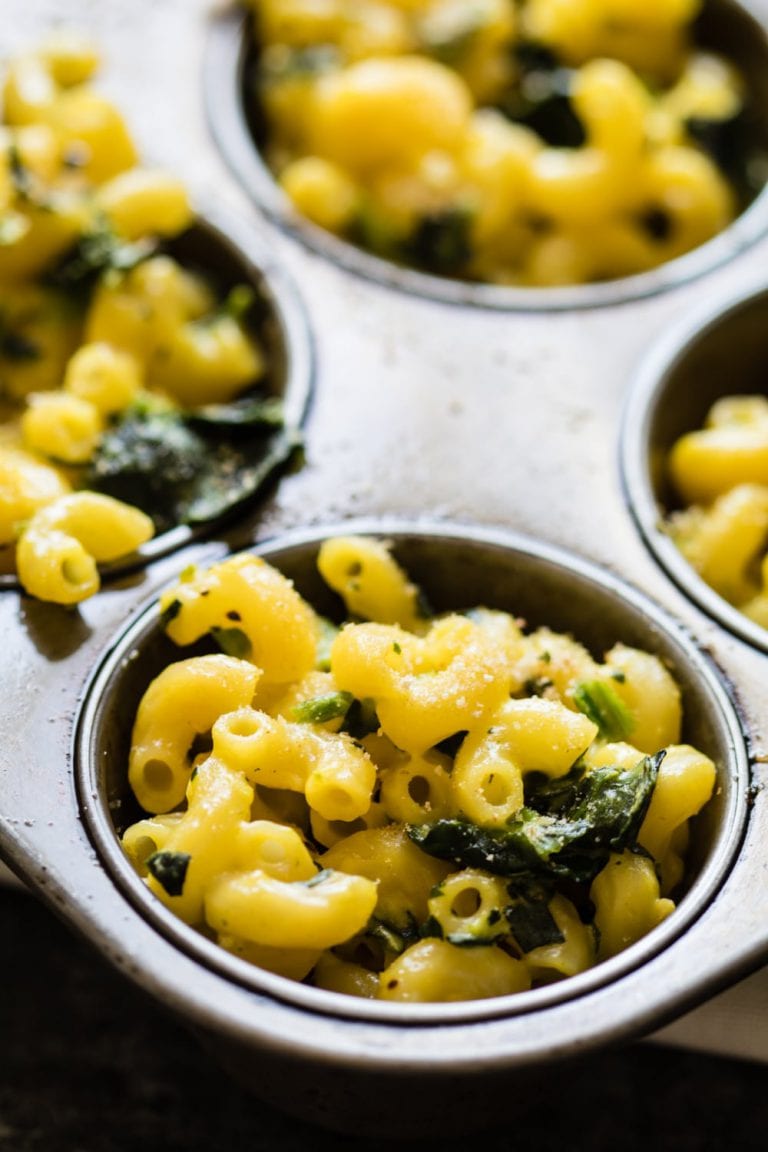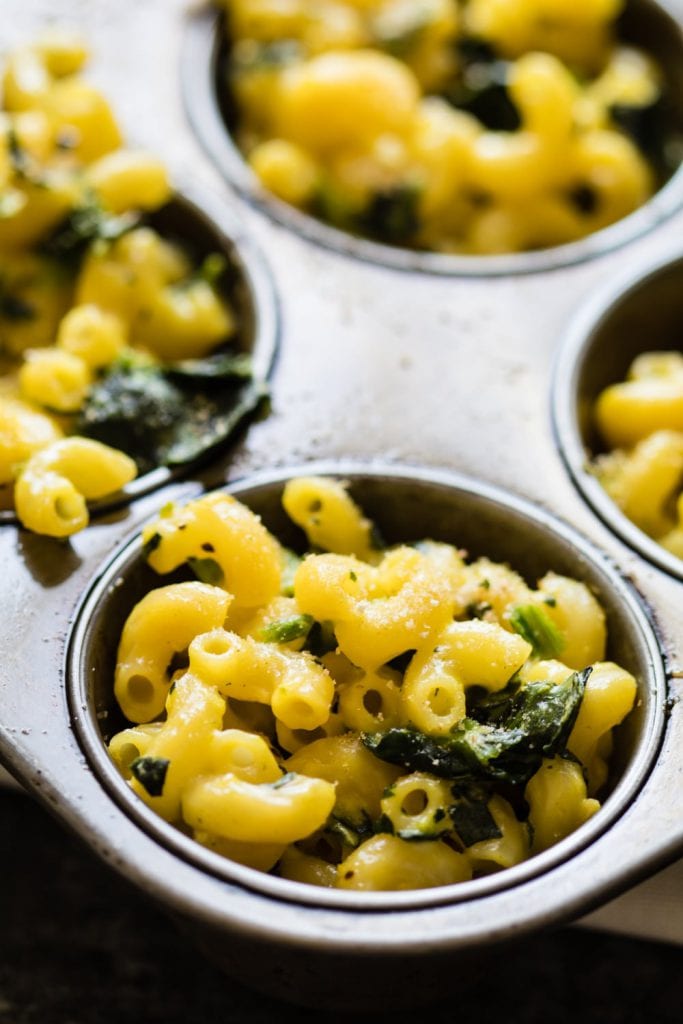 Fourth of July screams BBQ and snack foods and of course some type of beverage to slurp down all of the yummy food. At your fourth of July this year I want to challenge you to take a favorite side and make a healthy version of it. (Hint: Try this mac and cheese) 😉 It has just the right amount of cheese and you can sneak in frozen spinach or frozen kale for a little boost of Vitamin K!
I made this mac and cheese with whole grain elbows, sharp cheddar, spinach, and whole milk. It is so light and satisfying and I love how the cupcake pan keeps the pasta in perfect portions. If you cook your pasta off the night before this dish can be whipped together in less than 20 minutes! I hope you all enjoy the holiday and keep portions top of mind! <3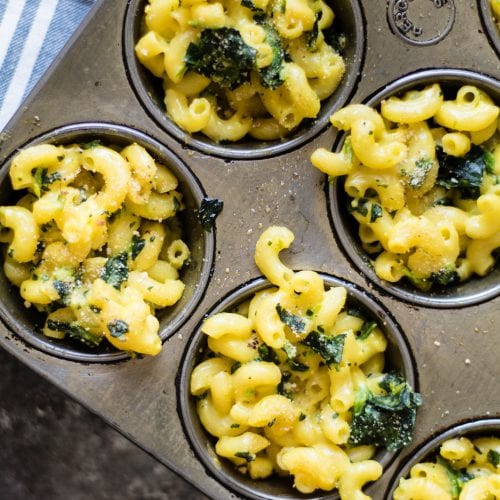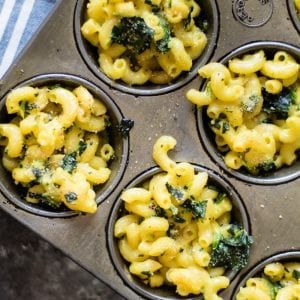 Whole Wheat Spinach Mac and Cheese Bites
Individual Mac and Cheese Bites - perfect for summer time BBQ, kid-friendly and easy to make!
Print Recipe
Pin Recipe
Rate
Ingredients
1 box

16 oz.

Whole wheat macaroni noodles

cooked

4

Tbsp.

butter

2

Tbsp.

+ 2 tsp. flour

1 1/2

cups

whole milk

1.5

cups

shredded cheese

1.5

cups

frozen spinach, chopped

pinch

turmeric

1/8

tsp.

garlic powder

salt and pepper to taste
Instructions
Preheat oven to 400 degrees F and lightly mist a cupcake pan with cooking spray, set aside.

Boil water for pasta if you have not precooked it. While pasta is cooking, make the cheese sauce. In a small saucepan, melt the butter. Then add in the flour and whisk until thick. Gradually stir in the milk until sauce begins to thicken. Then add spices and bring to a slight boil. Immediately add in the shredded cheese and stir to combine. Remove from heat.

Once pasta is cooked, place in a large bowl and add in the cheese mixture and thawed spinach. Stir to combine and then spoon the mixture into the prepared cupcake pan.

Bake for 10 minutes and let cool for 5 minutes. Enjoy!

Optional: may top with bread crumbs prior to baking and garnish with Parmesan cheese and red pepper chili flakes.
Notes
Can make with lentil noodles or gluten free pasta if you are gluten free/sensitive.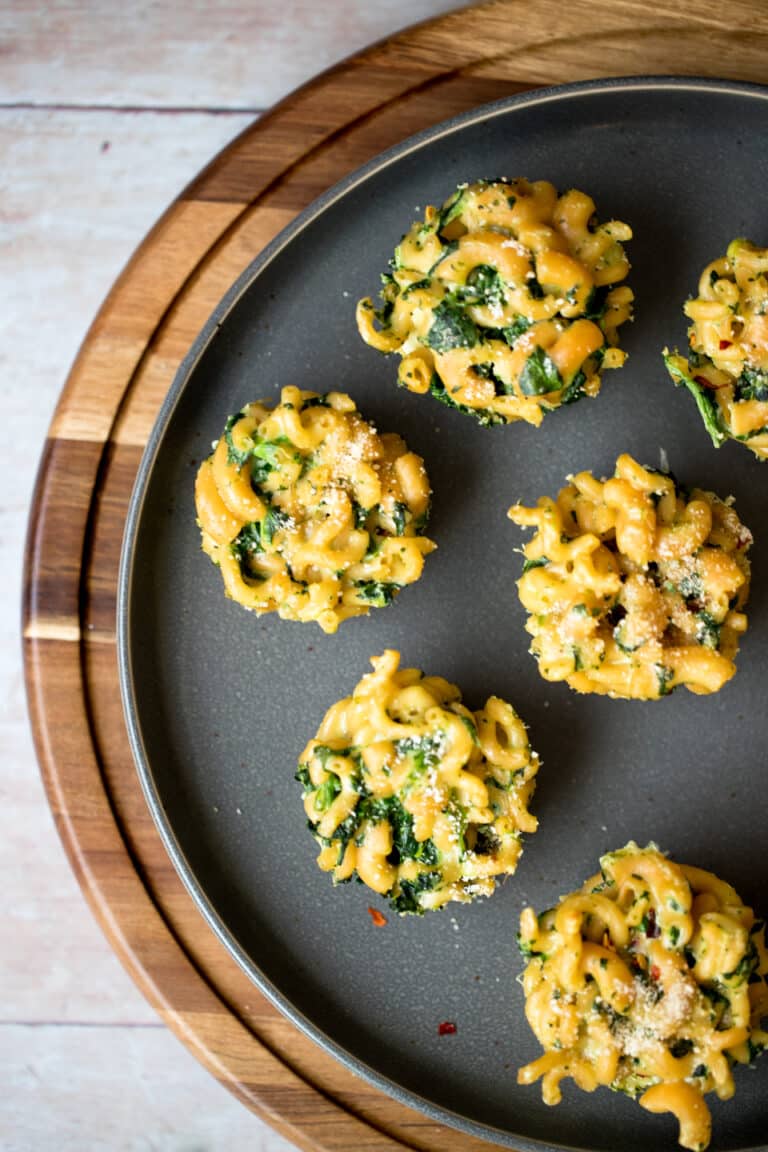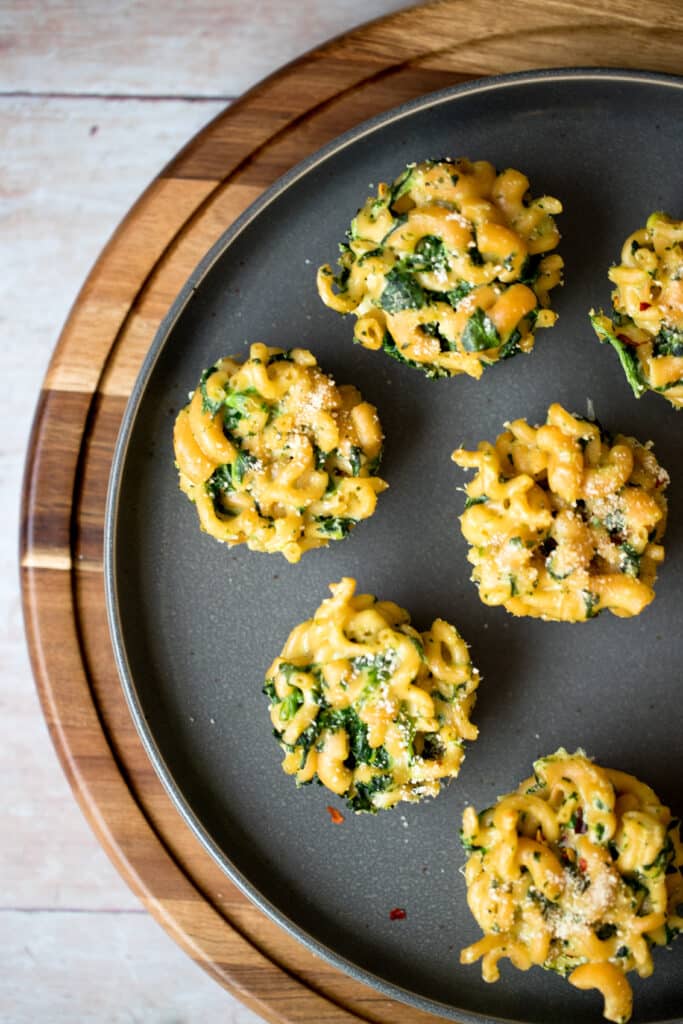 Individual Mac and Cheese Bites – easy to make for a summer time BBQ and kid-friendly! You'll love how the cupcake tin keeps your portions in check! KROLLSKORNER.COM
Click To Tweet

I'd love to see what you made!!
Share it with me on Instagram or Facebook and tag me @krolls_korner or use the hashtag #KrollsKorner!