Dinner
Roasted Tomato & Bell Pepper Pasta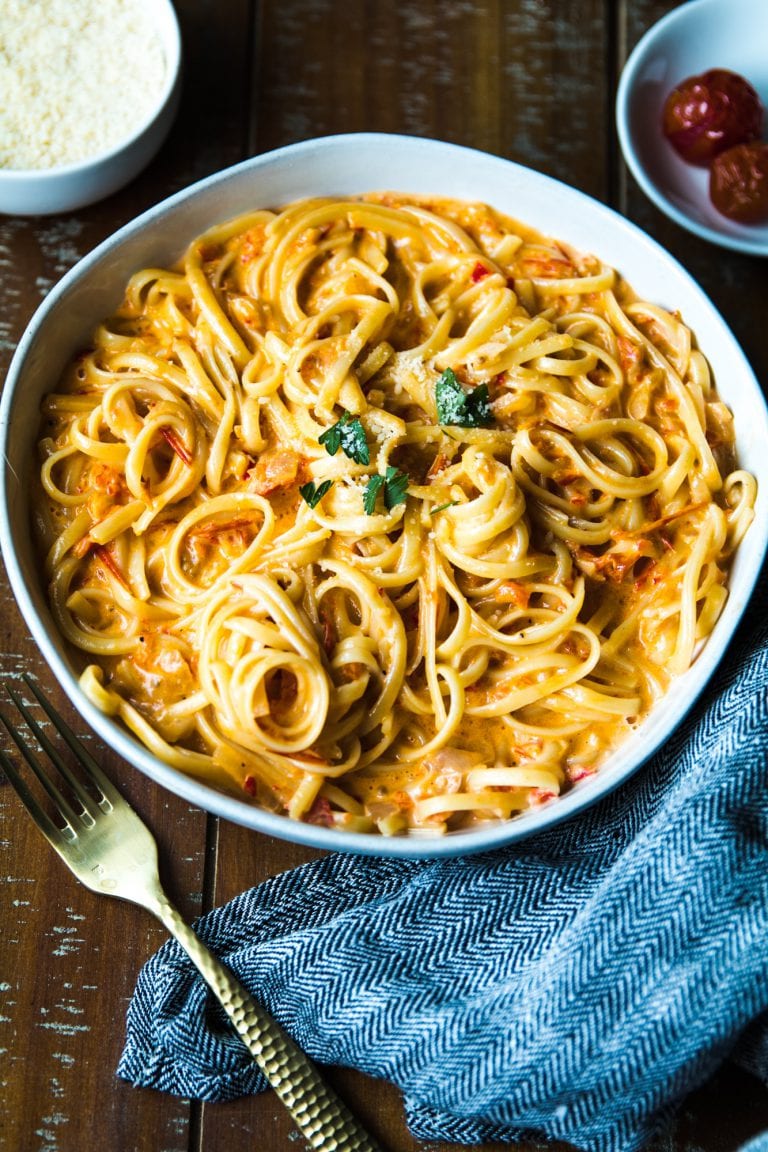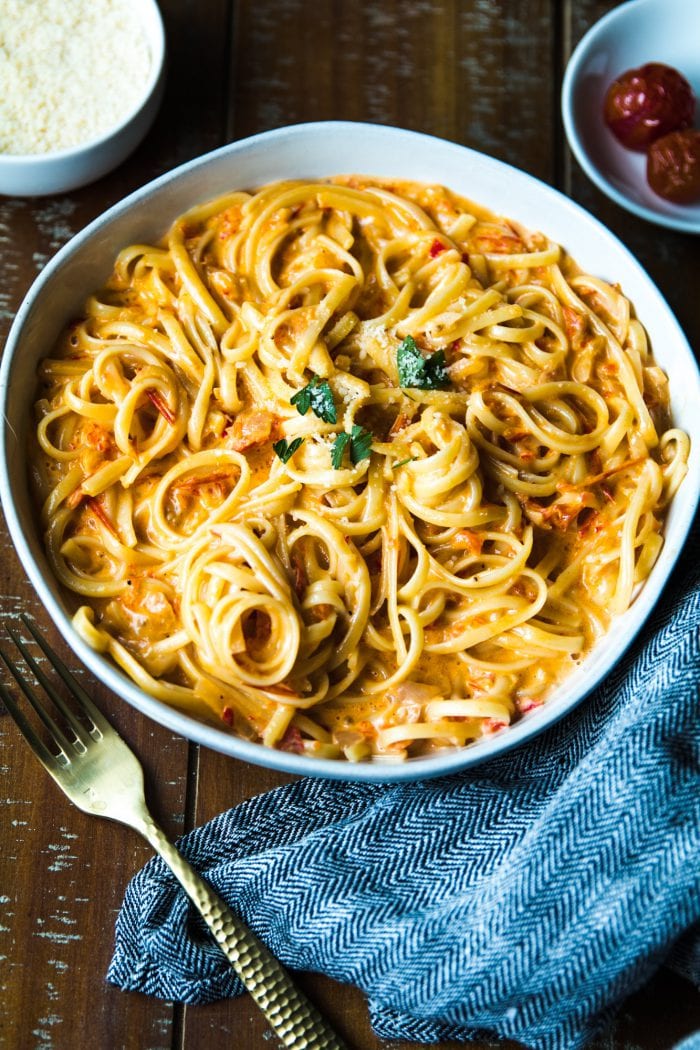 This Roasted Tomato and Bell Pepper Pasta is an easy weeknight pasta! You can whip up the sauce in 30 minutes and have a delicious dinner in less than an hour!
One of my biggest goals for 2019 is to offer you all more dinner recipes. I figured why wait until 2019, just start NOW Tawnie! Plus, if I get the in rhythm of making dinner recipe for you starting today, hopefully it will feel more natural to do some come the new year.
Today was one of those days where I wanted ALL carbs. I had a bagel at breakfast, pasta at lunch and pizza for dinner. No regrets! It was a yummy carb filled day. And who knows, tomorrow might be the same or maybe all I will want is veggie soup!
Maybe you're having a carb craving type of day today too and I'm happy you stumbled across this recipe!
I have been cleaning out the fridge this week – trying to eat what's in the freezer and use up produce that is going to go bad soon if I don't eat it soon. Do you have those kind of weeks too, where grocery shopping isn't an option until you can get creative enough to use what you already have?!
It reminds me of a cooking project I had in college. The chef told us we had access to all of the ingredients in the fridge and any pantry/spice items we needed and we had to come up with a full menu: Appetizer, Salad, Main Entree and Dessert. It was HARD but also very fun to see how creative each group was.

Apparently that professor was getting us ready for REAL LIFE situations!
The other reason I wanted to clean my fridge out this week is because this weekend is busy and we won't be home much to eat everything. We have venue tours for the wedding at 3 different locations and I am hoping by Monday I will have a venue chosen! Why is this the hardest decision ever for me?! Fingers crossed we fall in love with one of these venues!
Back to the pasta! Main items you will need:
Linguini
Cherry tomatoes
Red Bell Pepper
Heavy Cream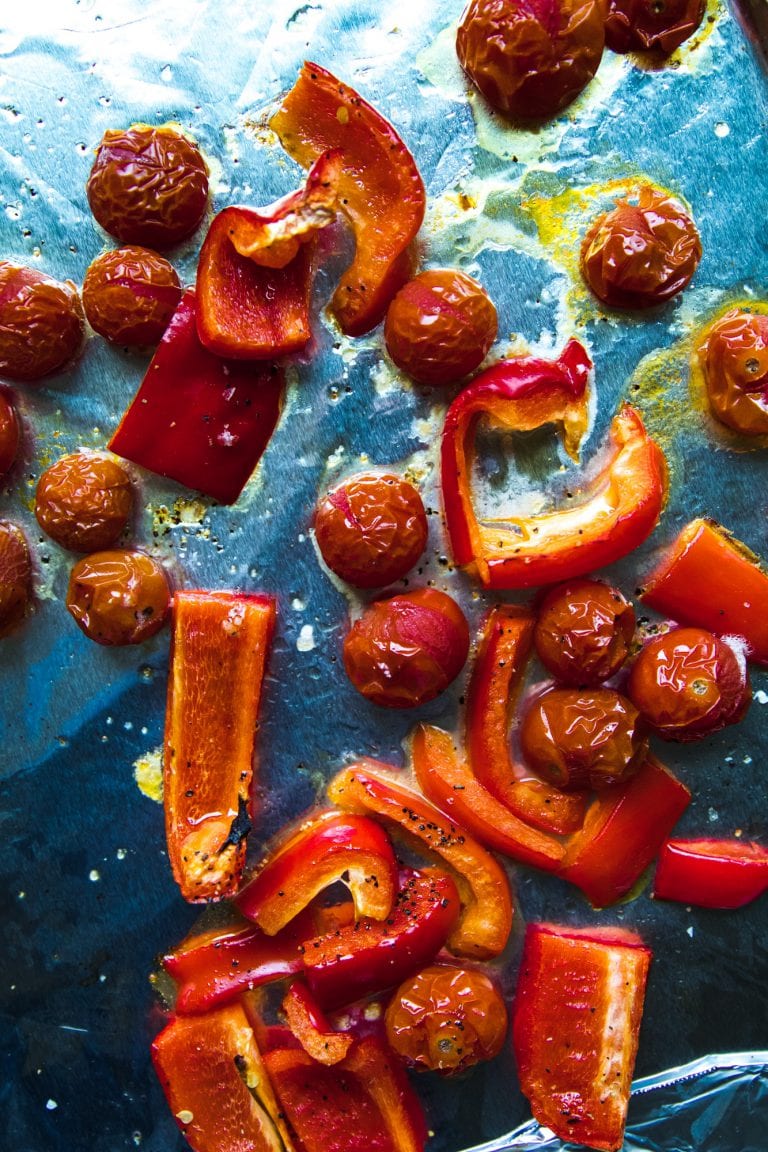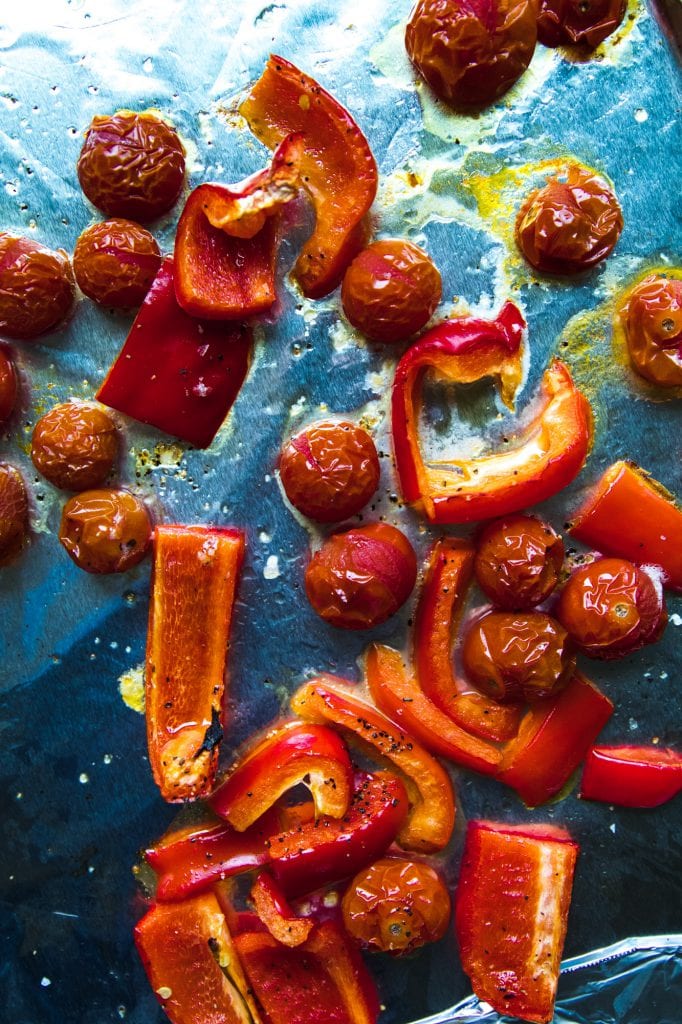 You'll first roast the tomatoes and bell peppers with a little olive oil, salt and pepper in the oven a 400 degrees F for about 25 minutes. If you don' have cherry tomatoes, that's OK – you can use really any tomato varietal!
While the veggies roast, you can boil off the pasta. Or if you want to make this recipe even more speedy, you can prep by boiling off the noodles in advance!
What to pair this pasta with:
It's incredible on it's own or…
Meatballs
Shrimp/fish
Grilled chicken
Tofu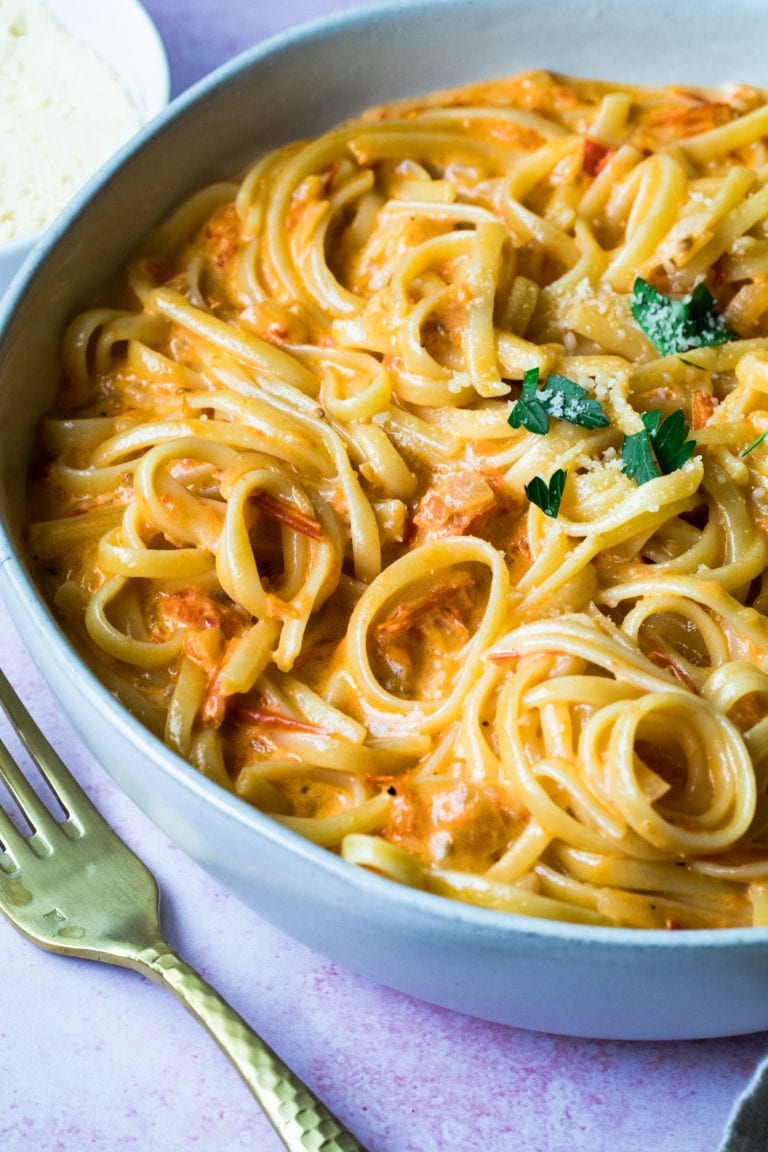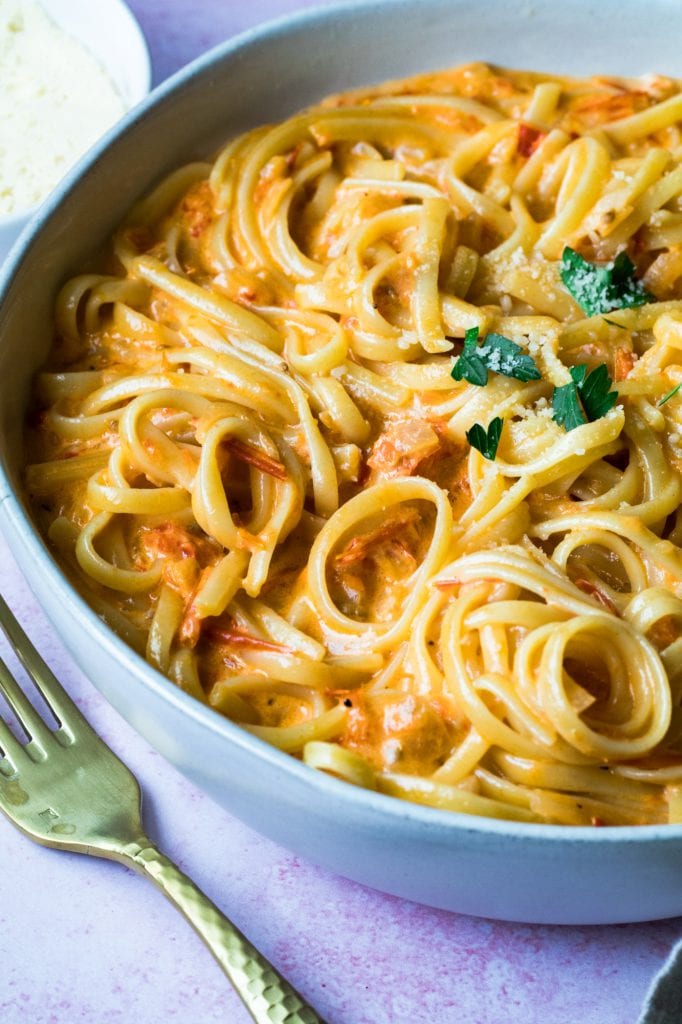 This pasta is:
Creamy, yet not too rich
An easy weeknight dinner
Takes 30 min to make
Has simple ingredients
Satisfying and flavorful
If you love this weeknight pasta recipe, you'll be sure to love my Kung Pao Pasta dish, Fresh Herb Pasta with California Green Ripe Olives, or this comforting class Pot Pie Pasta Casserole.
PIN THIS ROASTED TOMATO AND BELL PEPPER PASTA FOR LATER!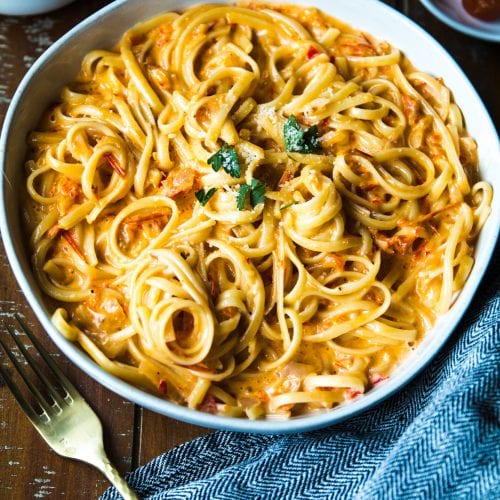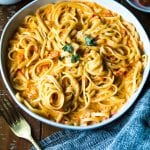 Roasted Tomato and Bell Pepper Pasta
Try this easy weeknight roasted tomato and bell pepper pasta dish for your next dinner in. You'll love the fresh flavors in this light, creamy sauce!
Print
Ingredients
1

lb (16 oz.)

linguini

10.5

oz.

cherry tomatoes

1

medium

red bell pepper, roughly chopped

4

Tbsp.

Extra Virgin Olive Oil (divided)

1

shallot, chopped finely

1

cup

heavy cream

salt, pepper, red pepper chili flakes to taste
Instructions
Preheat oven to 400 degrees F. Line a baking sheet with foil. Toss cherry tomatoes onto sheet pan (no need to cut them). Add bell peppers to the pan and toss veggies with 2 Tbsp. olive oil. Bake for 20-25 minute, or until veggies become tender.

Meanwhile, boil water for linguini and add a dash of salt to the water. Cook off pasta according to package directions.

In a deep pan or skillet, add shallot and remaining olive oil and cook over medium heat for about 3 minutes, stirring occasionally. By this time, the tomatoes and veggies should be finished. Pulse them in a food processor until it becomes a "sauce." Pour this sauce into the shallots and add in heavy cream. Let it come to a simmer.

Add in cooked noodles and season with salt, pepper and red pepper chili flakes. Garnish with parsley and Parmesan if desired.

I'd love to see what you made!!
Share it with me on Instagram or Facebook and tag me @krolls_korner or use the hashtag #KrollsKorner!