Dinner
Easy Shell Pasta with Ground Turkey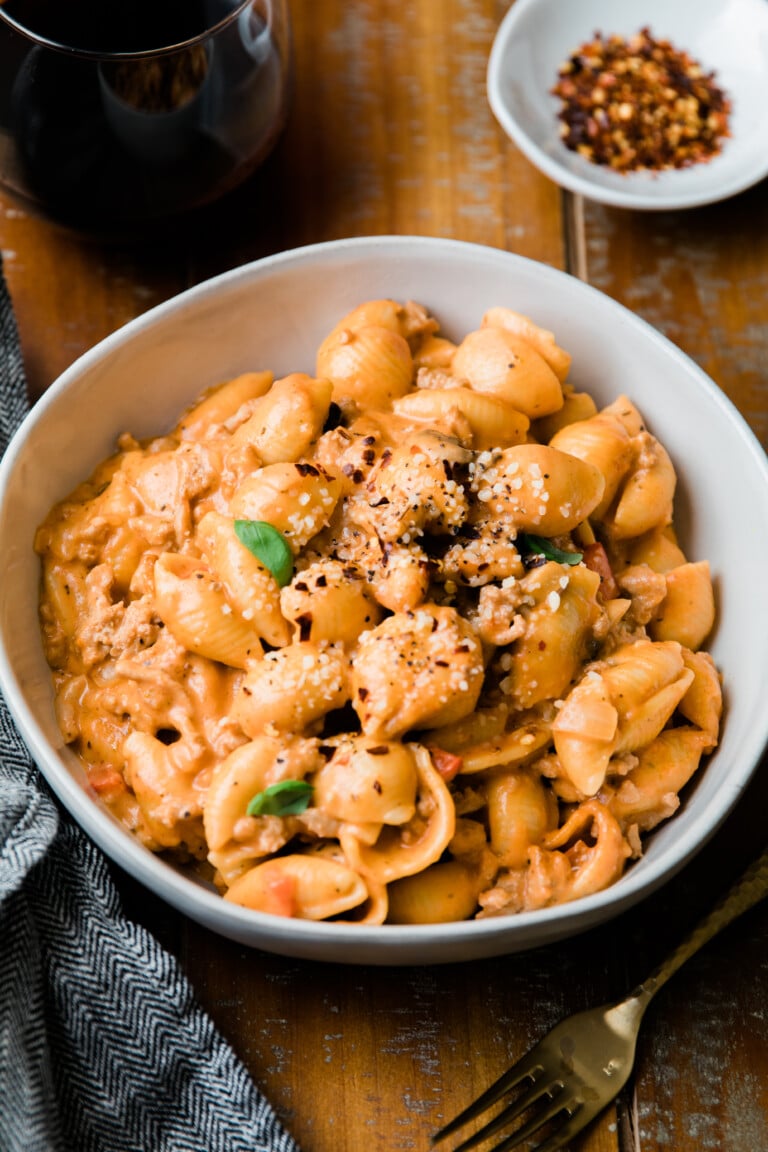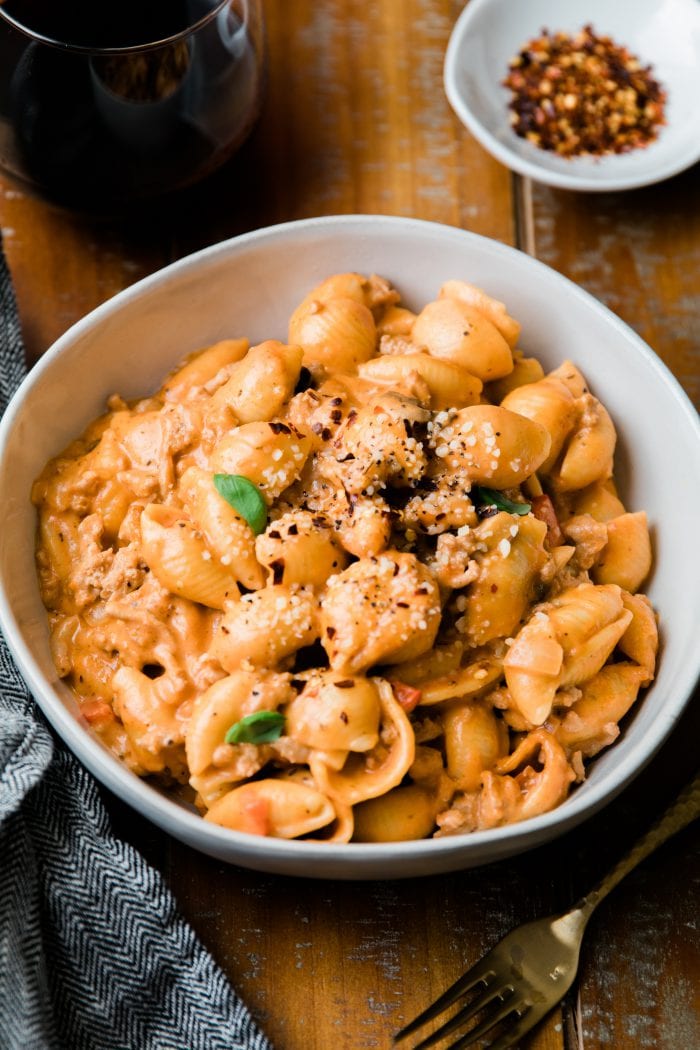 This healthy and easy Shell Pasta with Ground Turkey is a true crowd pleaser!
When I am in a pinch and don't know what to make for dinner, easy shell pasta is typically the answer. It's easy, quick, perhaps better than running to get fast food, and tastes good! Paired with a veggie and a glass of wine, I'm a happy camper.
Growing up when my mom would work late nights and my dad was on dinner duty, we had 3 options: Pizza, Chinese (takeout), or he'd make pasta. I don't think he ever made anything like this easy shell pasta, he was more of a bag of frozen ravioli's and a jar of red sauce kind of guy. My dad was quite the chef, (*wink, wink*).
Now a days, there are so many great pasta alternatives too if you want to switch it up (or are gluten free), lentil pastas, chickpea pastas, black bean pastas, etc. These pastas typically provide more protein and fiber which is great. But, for a dish like this I like to use the real thang!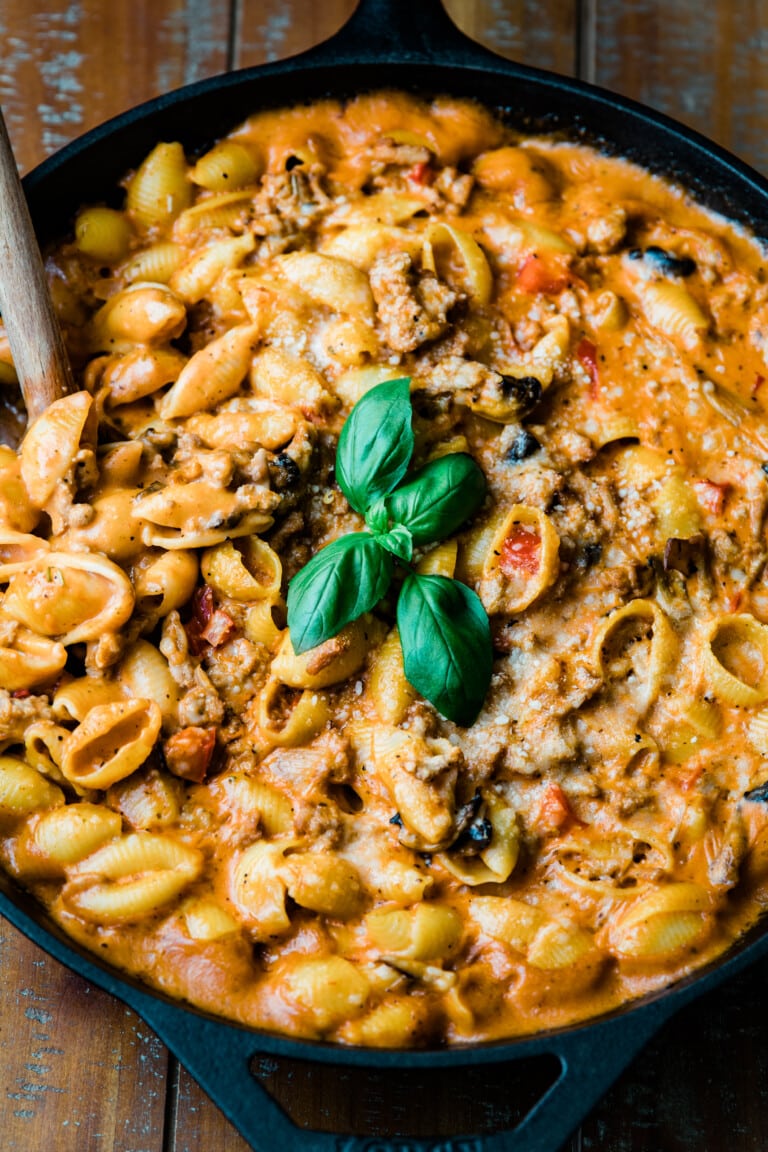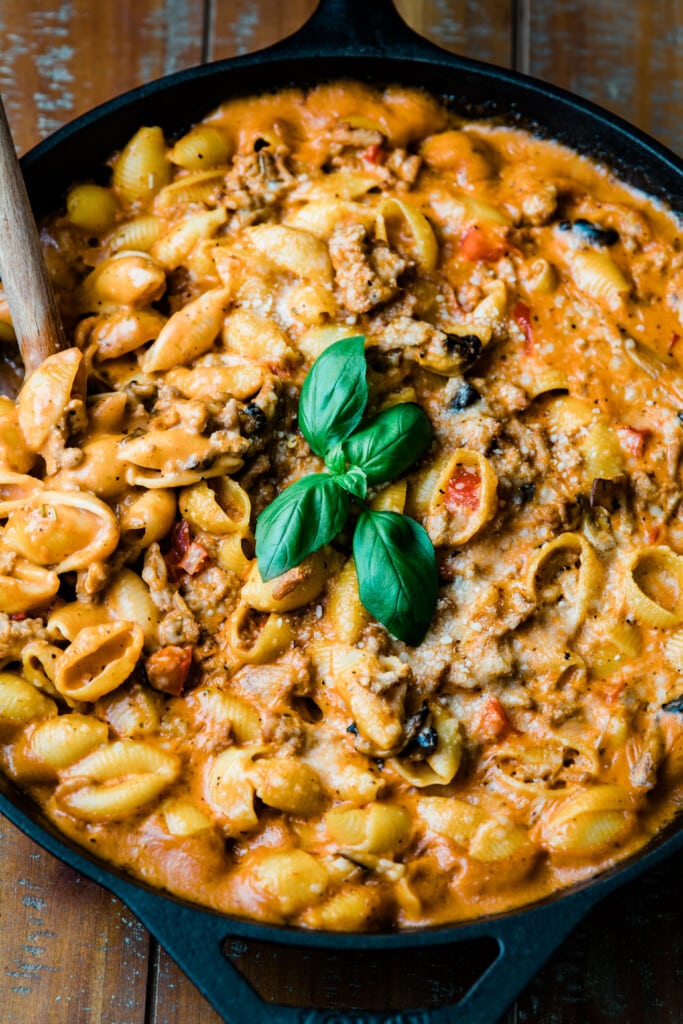 Speaking of shell pasta, I need to make stuffed shells again too! I haven't had them in soo long! I am a huge lover of ricotta cheese! How bout' you?!
This recipe is easily made with fridge and pantry staples and is a restaurant quality pasta. To balance out this easy shell pasta, serve with a yummy side salad.
To cook this dish, you'll need one large pan to make everything in. Get the water boiling for your pasta and cook it according to the package directions. Then you'll cook your ground turkey in a few tablespoons olive oil and then set aside. You can also opt for ground beef or Italian sausage too if you prefer.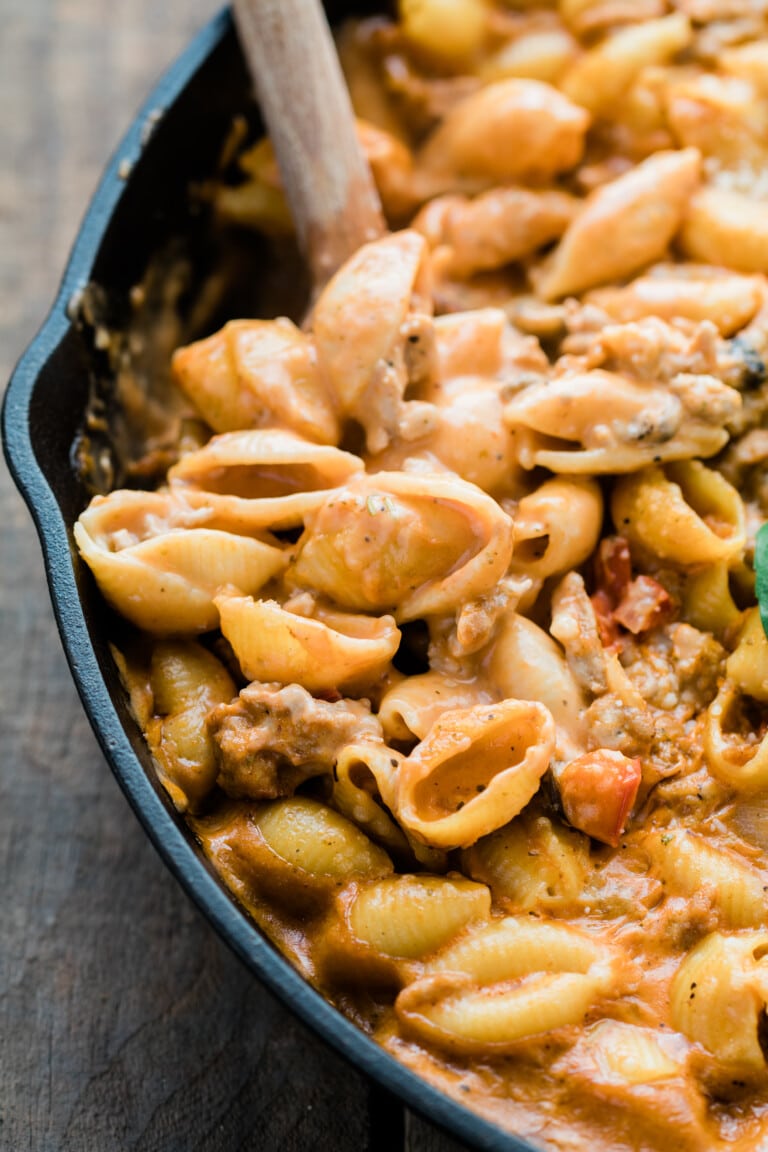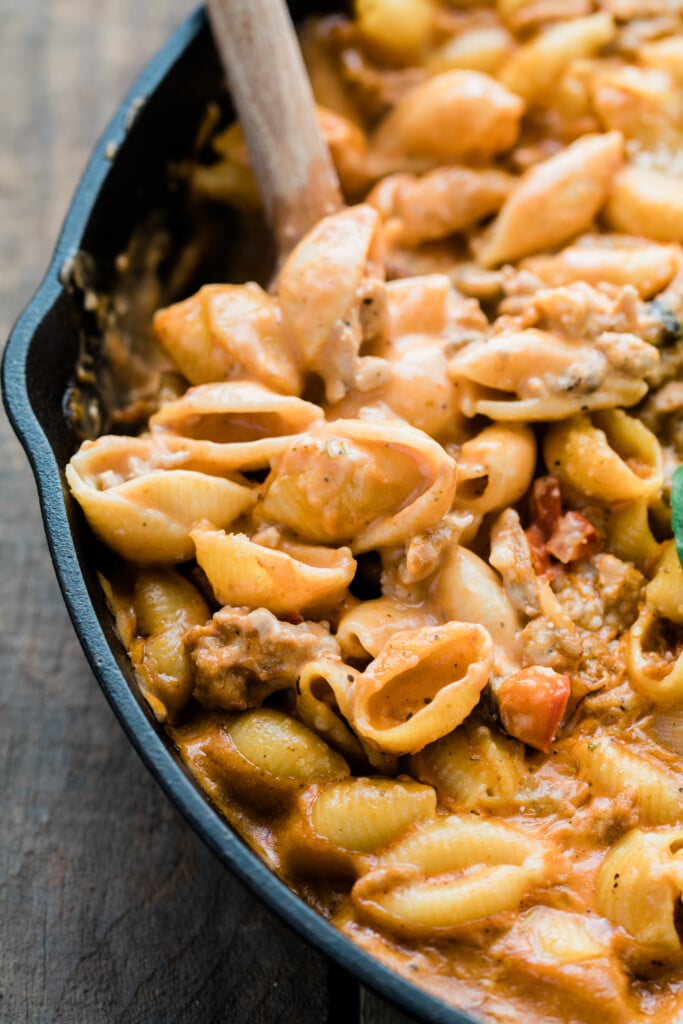 Then you'll sauté fresh minced garlic in a little bit of extra virgin olive oil with bell peppers, mushrooms, and onion. Season and cook for about 5 minutes or until onions become translucent. You'll then thicken with flour (gluten-free if you need it,) beef broth and tomato sauce and summer until thick and bubbly. So far so good right?
This creamy pasta is made with all of your fridge and pantry staples and is a perfect family pleasing meal! #krollskorner #weeknightdinner
Click To Tweet
Stir in cooked pasta with heavy cream, 1/2 cup Parmesan and you've got a winning, really delicious, easy dinner! Note: Sometimes I have placed my pasta in the oven at 350 degrees F in a oven safe dish to get it nice and bubbly. If everyone isn't ready to eat yet – keep it in the oven! 🙂
Sometimes I feel we all think we need to overcomplicate dinner. Cooking is only as hard as you make it out to be. It's a mindset, right? "I don't want to cook. I don't want to have to clean the dishes or go buy ingredients at the store." It's something you may need to take time to plan for and make time for. If it's important to you, it'll happen!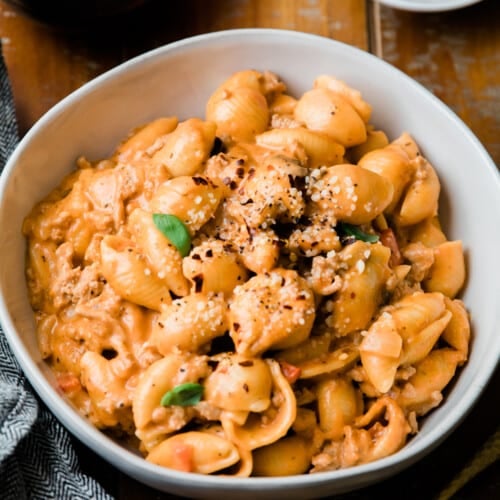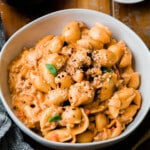 Easy Shell Pasta with Ground Turkey
This Easy Shell Pasta is made with ground turkey, peppers, mushrooms and onions smothered in a cream tomato sauce!
Print
Ingredients
12

oz.

medium shells

1

lb (16 oz.)

Ground turkey

3

Tbsp.

Olive Oil

2

cloves

garlic, minced

1/2

large

red bell pepper, diced

4

oz.

white mushrooms, sliced

1/2

large

white onion, diced

1/2

tsp.

salt

1/2

tsp.

pepper

1

tsp.

Italian Seasoning

2

Tbsp.

flour

2

cups

beef broth

1

can (15oz.)

tomato sauce

1

cup

heavy cream

1/2

cup

Parmesan cheese
Instructions
Boil water for pasta and follow directions on the shell pasta box. Typically 12-15 minutes to cook the medium shells.

In a dutch oven or wide stock pot, heat 2 Tbsp. of the olive oil over medium heat and cook ground turkey. Once cooked, place ground turkey in a bowl and set aside.


Then place remaining tablespoon olive oil in the pan. Saute the garlic, bell pepper, mushrooms and onions with seasonings until fragrant (about 5 minutes). Then whisk in the flour. Pour in the broth and tomato sauce and let it come to a simmer. Then add in the cooked ground turkey!

Pour in your shells, heavy cream and Parmesan and stir. Taste and adjust salt and pepper if needed. *Optional: place pasta in a cast iron skillet (or leave in dutch oven) and bake at 350 degrees F. for and additional 20 minutes. You can top with more Parmesan if desired. Enjoy!!
Recipe Notes
Add red pepper chili flakes for a little heat!
Some of my other favorite pastas include: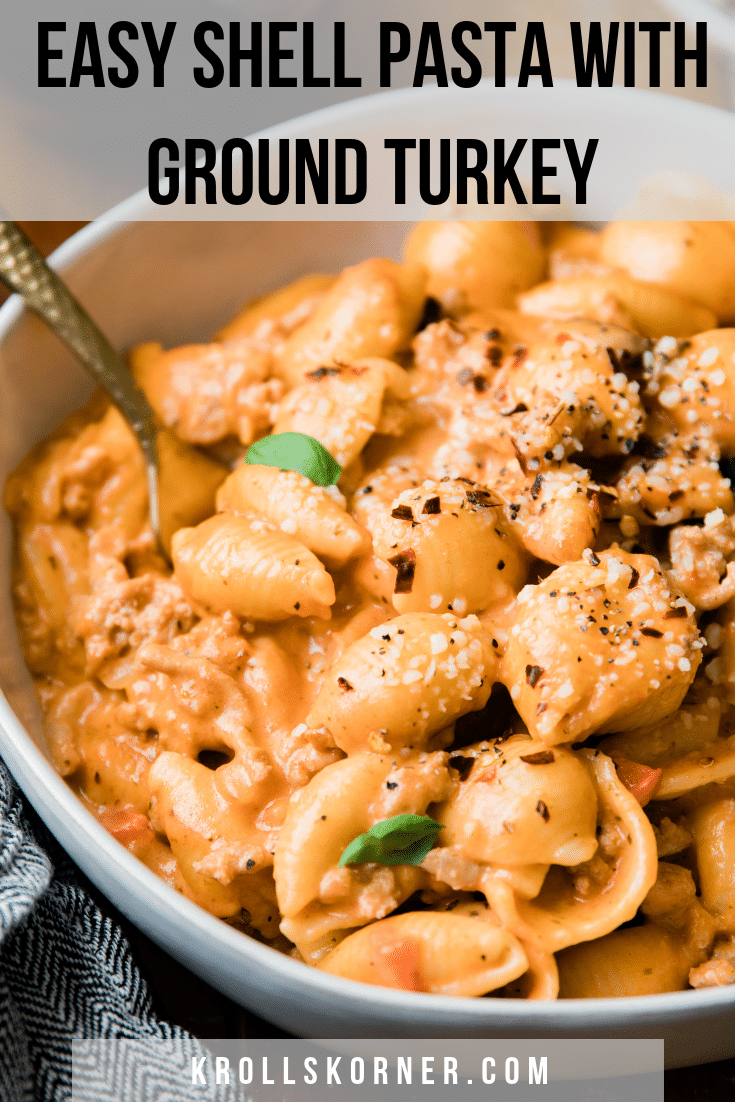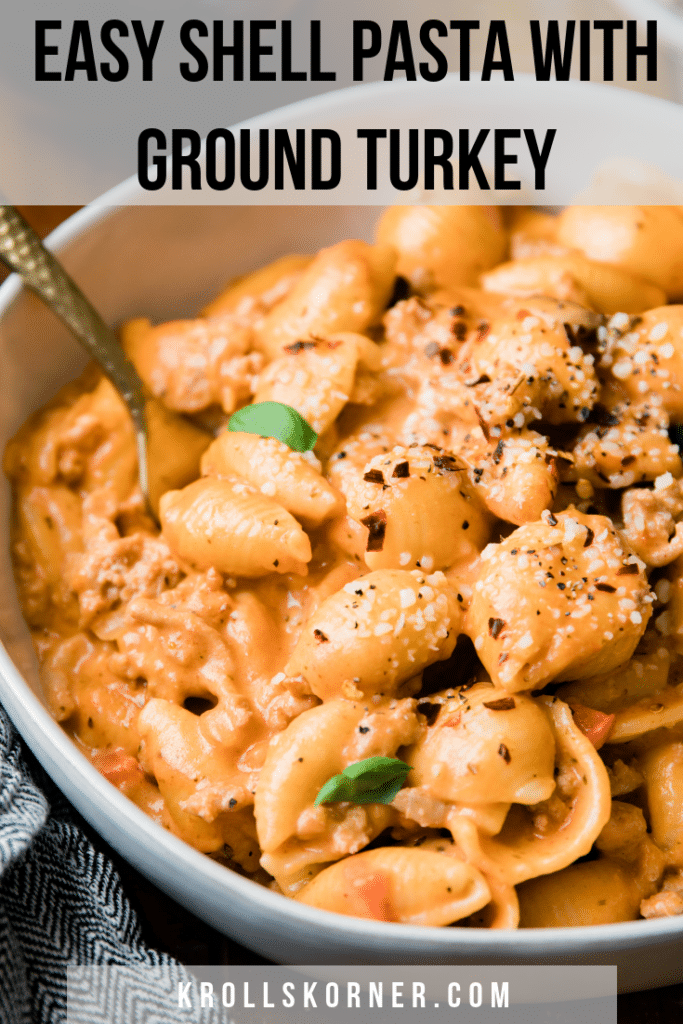 I hope this dinner makes life a little easier for you – let me know what you think of it in the comments below or by tagging me on social media! @krolls_korner

I'd love to see what you made!!
Share it with me on Instagram or Facebook and tag me @krolls_korner or use the hashtag #KrollsKorner!