Ground Turkey Swedish Meatballs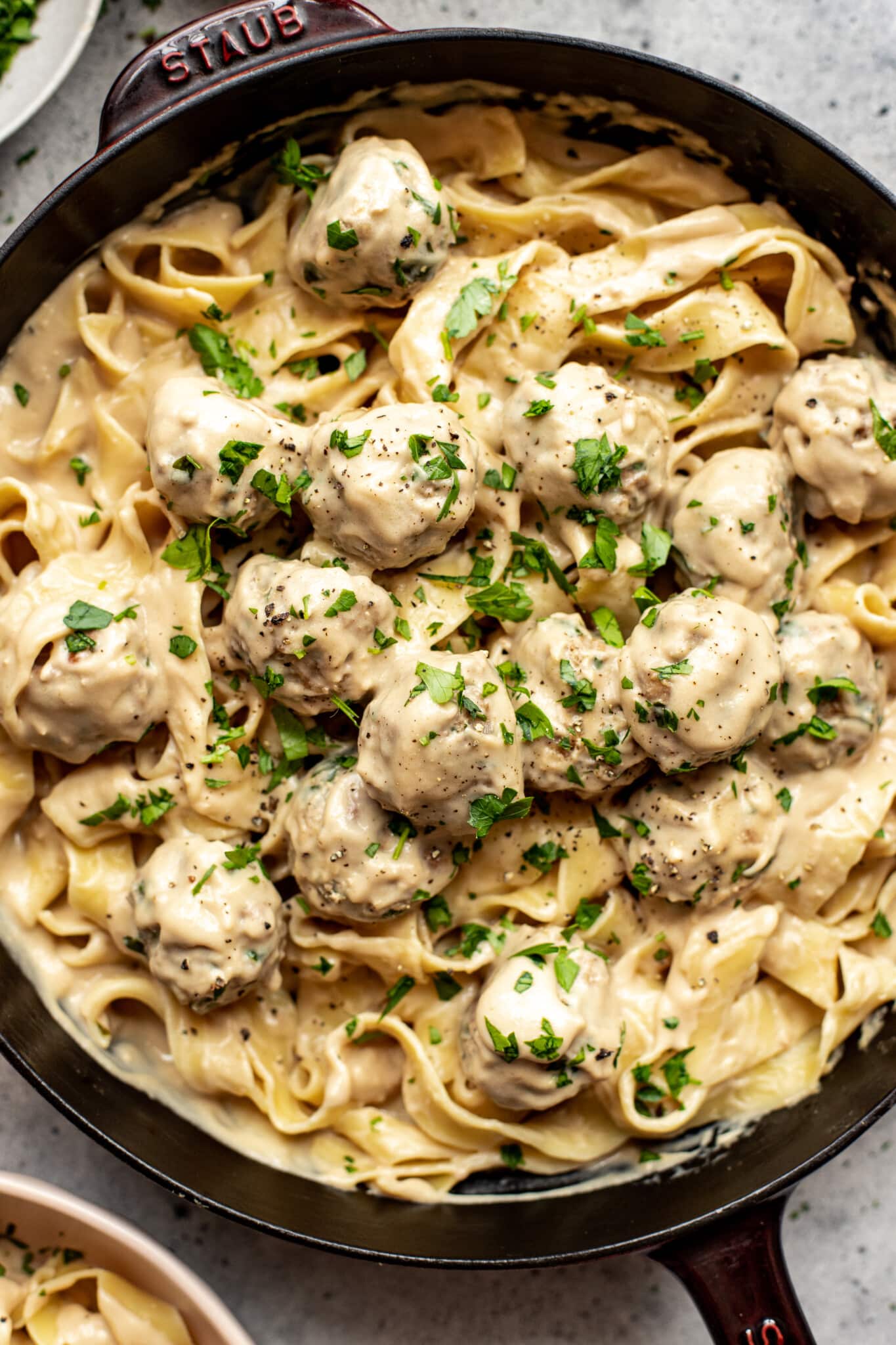 If you are not hungry when you start making my Turkey Swedish Meatballs, you certainly will be once you pop them into the oven!
The fragrance of the allspice, nutmeg and cardamom is hypnotic. You will be craving these Swedish meatballs every minute they are baking!
If you're looking for a more traditional Italian meatball recipe, I have you covered with this Baked Meatballs and Pasta recipe, or the classic Spaghetti and Meatballs.
For these meatballs, I like swapping out the traditional pork and beef for lean turkey so they are on the lighter side, yet still feel rich and very flavorful. You can of course use pork and beef and they'll turn out great, too. 😉
I love food that makes you feel cozy, and this meal definitely checks that box. Plus, they are so easy to make, and I love the scratch homemade gravy that is so creamy and tangy.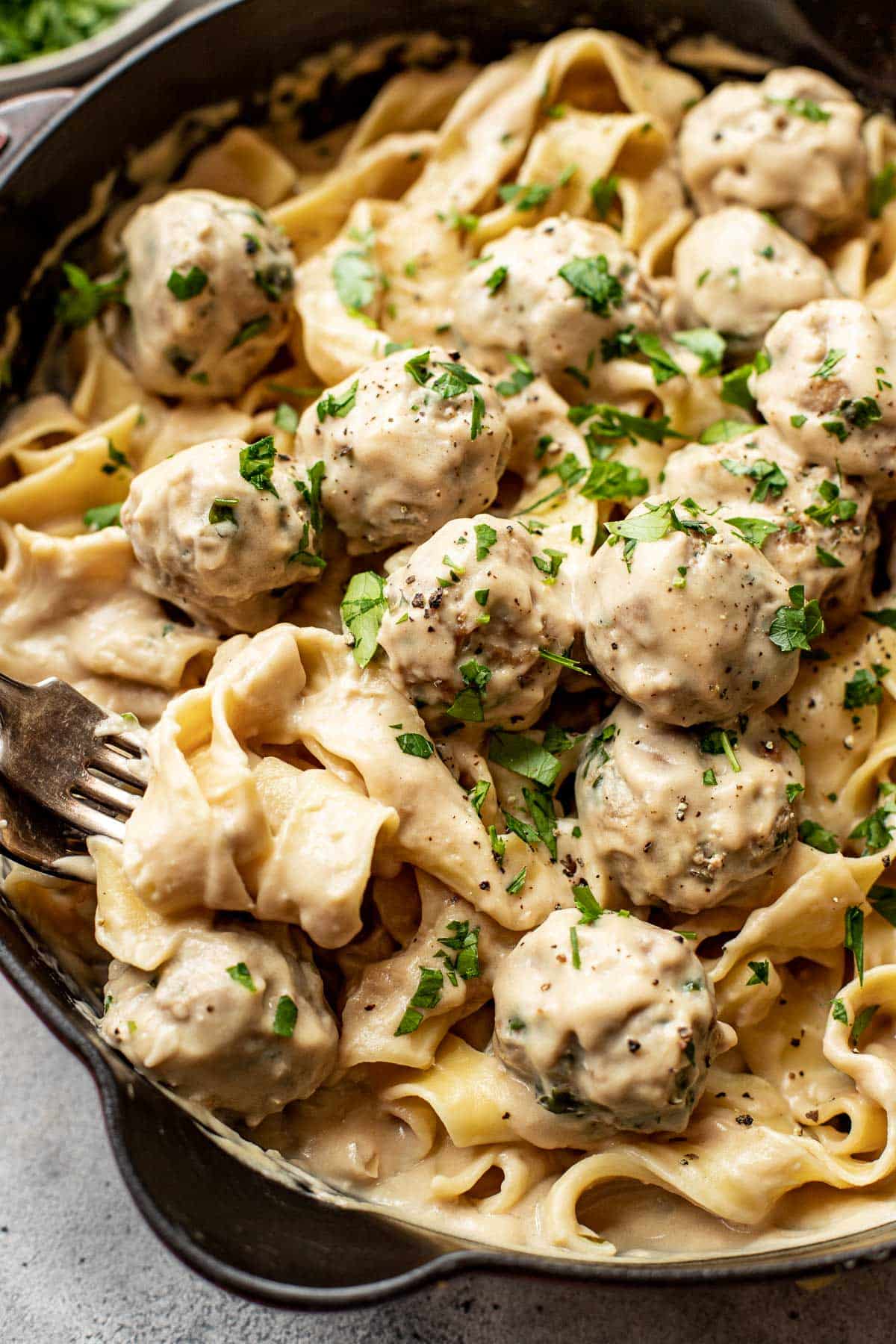 This is what makes Swedish Meatballs so different from a traditional Italian meatball. Instead of cheese in the meatball, there are the warm, unique flavors of allspice, nutmeg and cardamom. Instead of a tomato based sauce, Swedish Meatballs are usually served in a creamy white sauce.
Once you have made the gravy, simply toss the meatballs into the umami flavors of Worcestershire mingled with the tanginess of yogurt, heavy cream, and a hint of soy sauce for sweet and salty notes.
Now, this is where the fun begin because you have so many options. I love serving my Turkey Swedish Meatballs over extra wide egg noodles or pappardelle, but you can also serve them with rice or mashed potatoes for an ultra comforting meal. And of course you can round out the meal with your favorite veggie or salad. If you want to serve them like IKEA does, be sure to serve with some lingonberry jam!
Maybe I've been eating too many salads lately, but these Turkey Swedish Meatballs are so good they should be called, 'Anyway- you-want-to-eat-them meatballs'.
Make tonight the night that you treat yourself to dinner under 30 minutes, an easy clean up and a meal that everyone loves.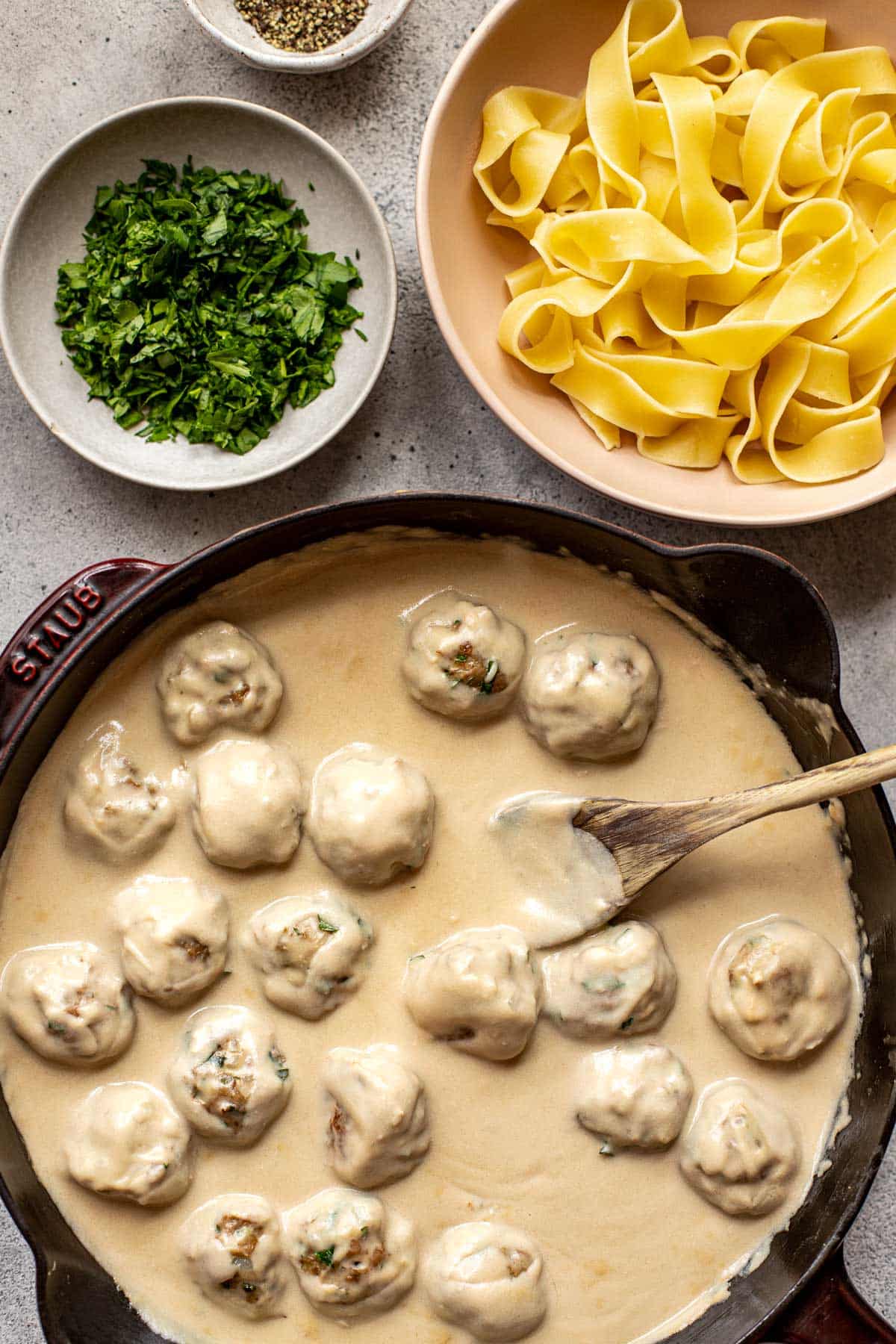 WHY THIS RECIPE WORKS (pantry ingredients, from scratch, easy to make, meal prep..)
The homemade gravy is easy to make, plus the rich umami flavor is sweet, sour and a little spicy.
These meatballs make for great meal prep. like to double and even triple the recipe and then freeze the extra meatballs.
This is a 30- minute meal. While the meatballs are cooking you can boil the pasta and make the gravy. You are just minutes away from serving up dinner once the meatballs are done!
Perfect comfort food!
This pantry staple recipe keeps you from making a special trip to the grocery store.
Ground turkey Swedish meatballs ingredients
For the ingredient measurements and entire recipe, be sure to scroll down to the bottom of the blog post where the recipe card is located.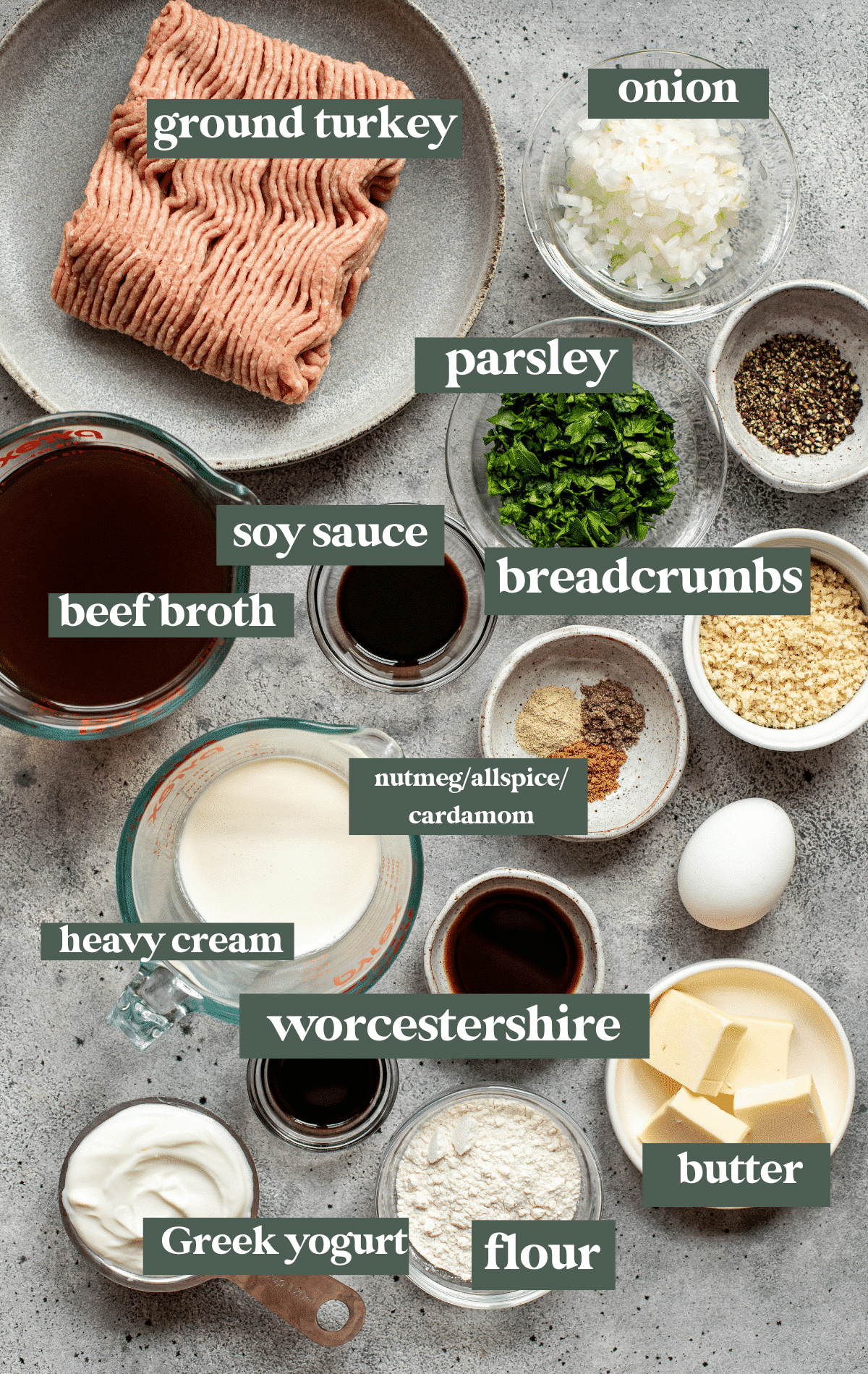 Ground turkey: Lean turkey offers a lighter version to the traditional pork and beef mix.
Plain breadcrumbs: I usually have plain Panko breadcrumbs on hand that works great but you can also use plain white bread (2 slices, crust removed). I like to mix the bread with the onion until the bread becomes soggy and then add in the remaining ingredients. Do not use Italian breadcrumbs, it will change the flavor of the meatballs.
White onion: yellow onion works well too. Be sure to grate it into small bits or very finely dice. If the onion is diced too large, it may make the meatballs fall apart.
Soy Sauce: I love the saltiness and flavor the soy sauce adds to the meatballs and the gravy, but feel free to use 1 tsp. kosher salt in its place.
Egg: the egg helps bind the meatballs together.
Spices: allspice, cardamom, nutmeg, white pepper, salt, and black pepper. The combination of these spices is what gives Swedish meatballs their signature flavor.
Greek yogurt: or you can use sour cream.
Worcestershire sauce: adds delicious umami flavor.
Beef broth: be sure to slowly and gradually add the beef broth to the roux when making the gravy.
How to make ground turkey Swedish meatballs
For the full recipe instructions, scroll down to the bottom of the blog post to the recipe card.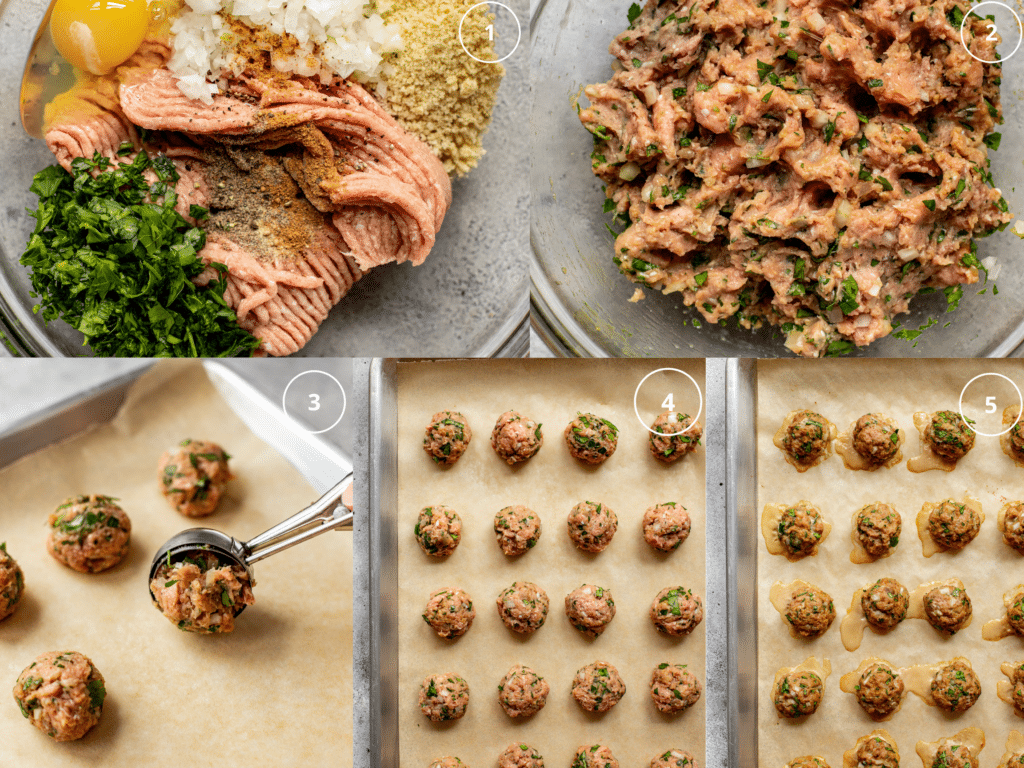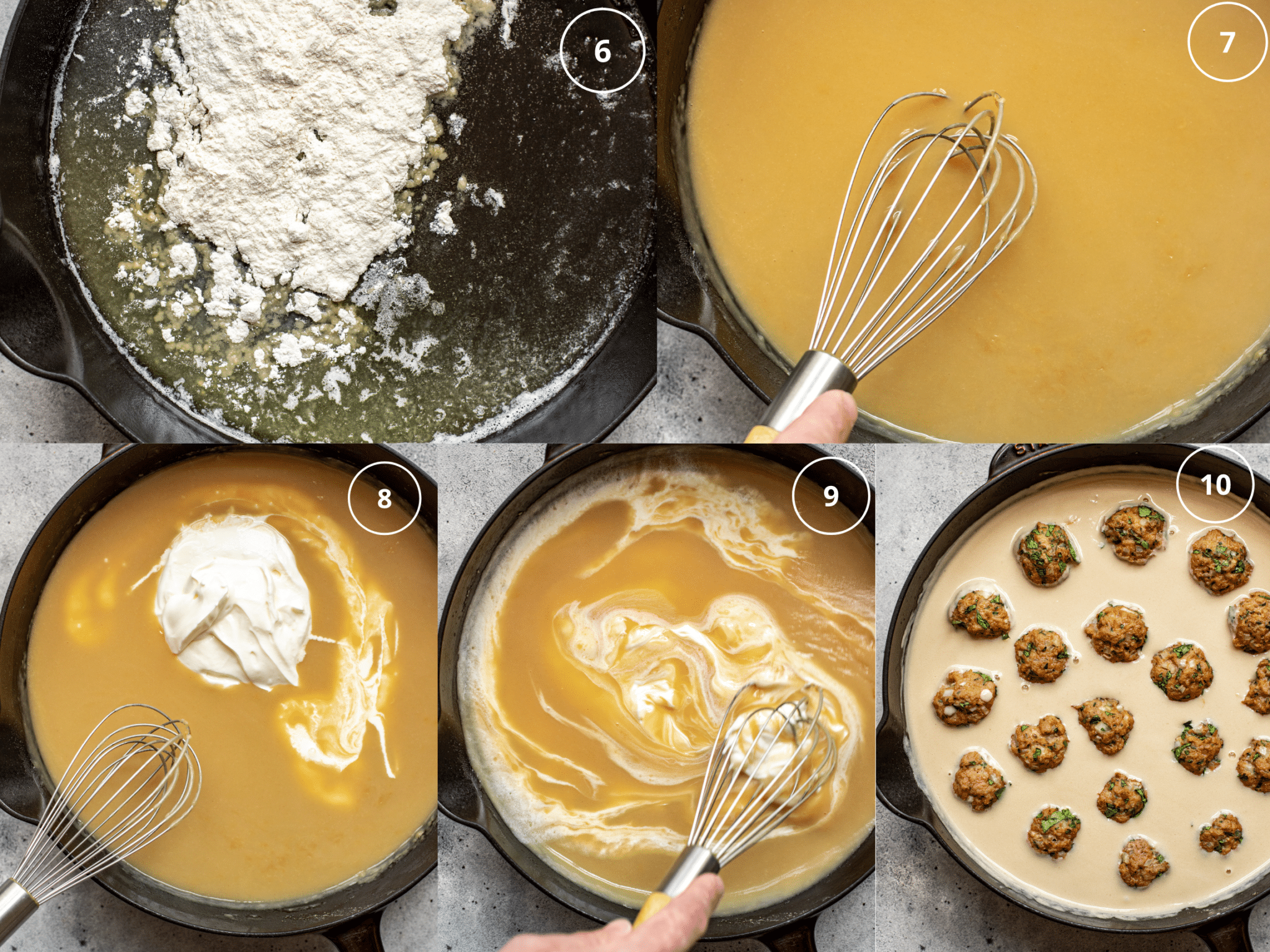 Add all ingredients for the meatballs in a bowl and mix to combine.
Roll into balls and place on a baking sheet lined with parchment paper and bake.
Make the gravy and boil the water for the pasta while the meatballs cook.
Transfer cooked meatballs to the gravy and coat in the sauce. Serve with pasta.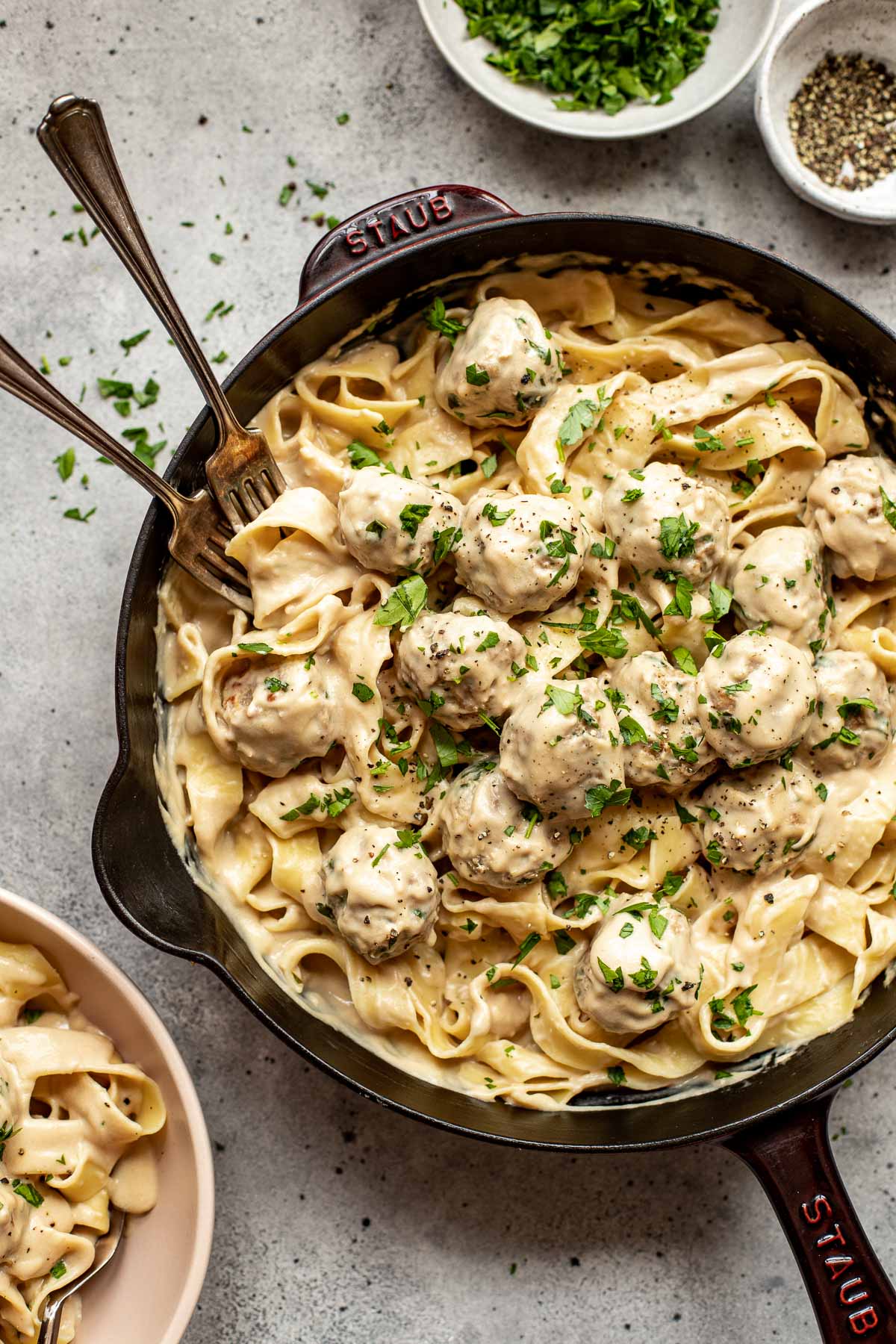 Expert Tips and Variations
For the best flavor, pick a ground turkey with a little extra fat in it. Turkey is naturally quite lean, but that additional fat will add flavor to these meatballs.
Careful not to over work the meatball mixture. Mix just until ingredients are combined. Over mixing = tough meatballs.
Cook the meatballs in the oven for ease and minimal clean up. You can cook the meatballs on the stove with some olive oil, but sometimes things get messy and the meatballs can fall apart.
The smaller your meatballs are, the quicker they'll cook. Be careful not to overcook the meatballs in the oven, otherwise they'll become tough and dry.
If reheating on the stove, if the heat is too high the sauce can break or separate.
You can substitute sour cream for Greek Yogurt at a 1:1 ratio.
I love grating onions for my meatball recipes using a box grater. The tiny pieces of onion melt into the meatball and you never have any large chunks of onion ruining the consistency of the meatball. It's such a great hack and you can grate the onion into tiny bits in seconds!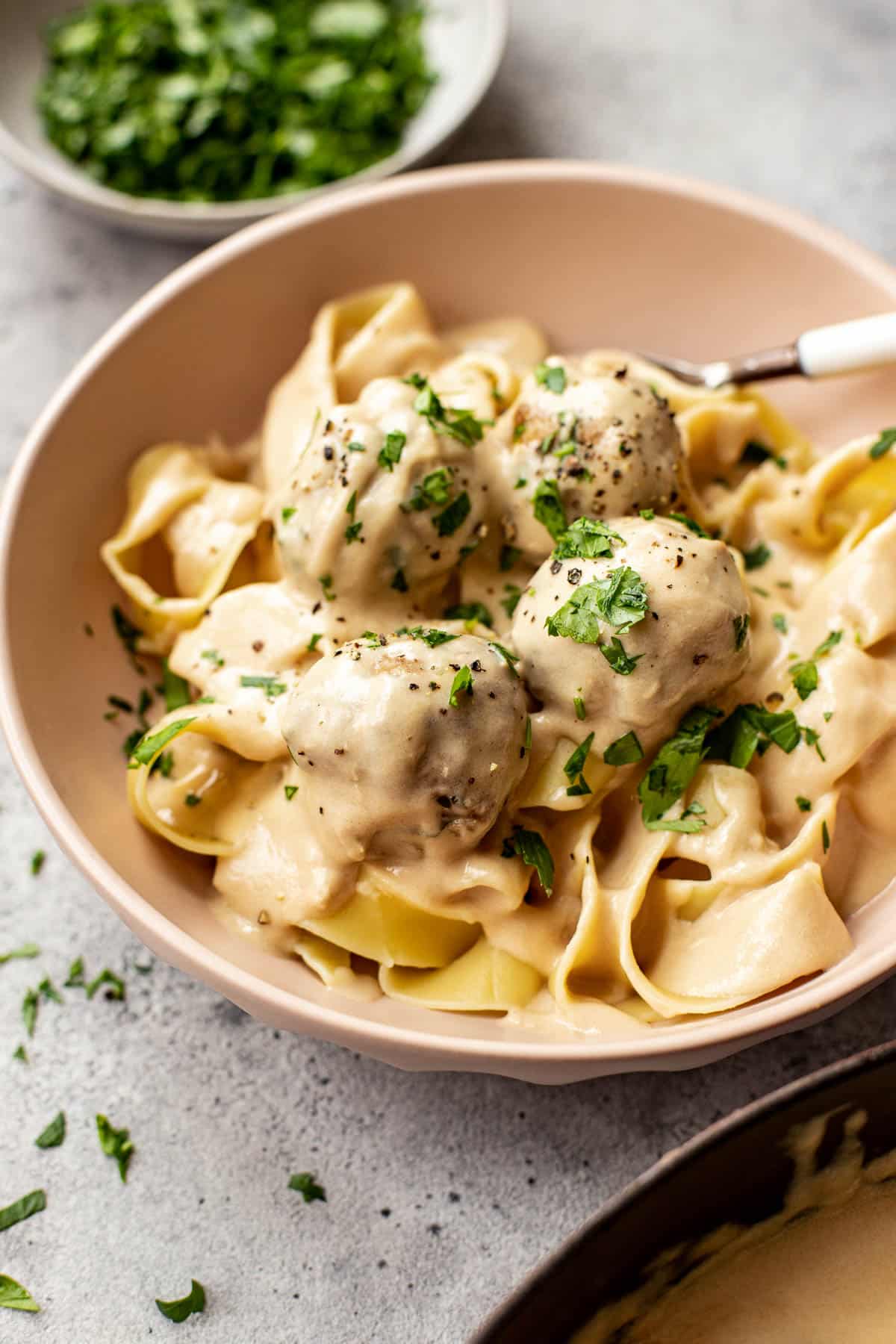 FAQ
What makes Swedish meatballs different?

The warm spices of all spice, nutmeg and cardamom make a big difference in flavor plus these flavorful meatballs are always served in a creamy, beef broth based white sauce.
The breadcrumbs help bind everything together, and if you omit it the meatballs may fall apart. You can also use 2 slices of white bread with the crust trimmed off.
Can I use another type of meat?

If you don't have ground turkey on hand, you can use plain ground beef, ground chicken or ground pork (avoid any meat that's spiced, like Italian sausage, as that would alter the flavor of these meatballs).
What should I serve with Turkey Swedish meatballs?

There are so many fun food options with this recipe. Serve them with mashed cauliflower, mashed potatoes, orzo, rice, or as an appetizer with the rich and flavorful gravy,
Why are my meatballs rubbery?

If you have overcooked the meatballs or packed them to densely when forming the ball that might be why. I recommend using a meat thermometer to check the internal temperature (these should reach 165°F) and to use a cookie scoop to form the meatballs so you don't overpack them.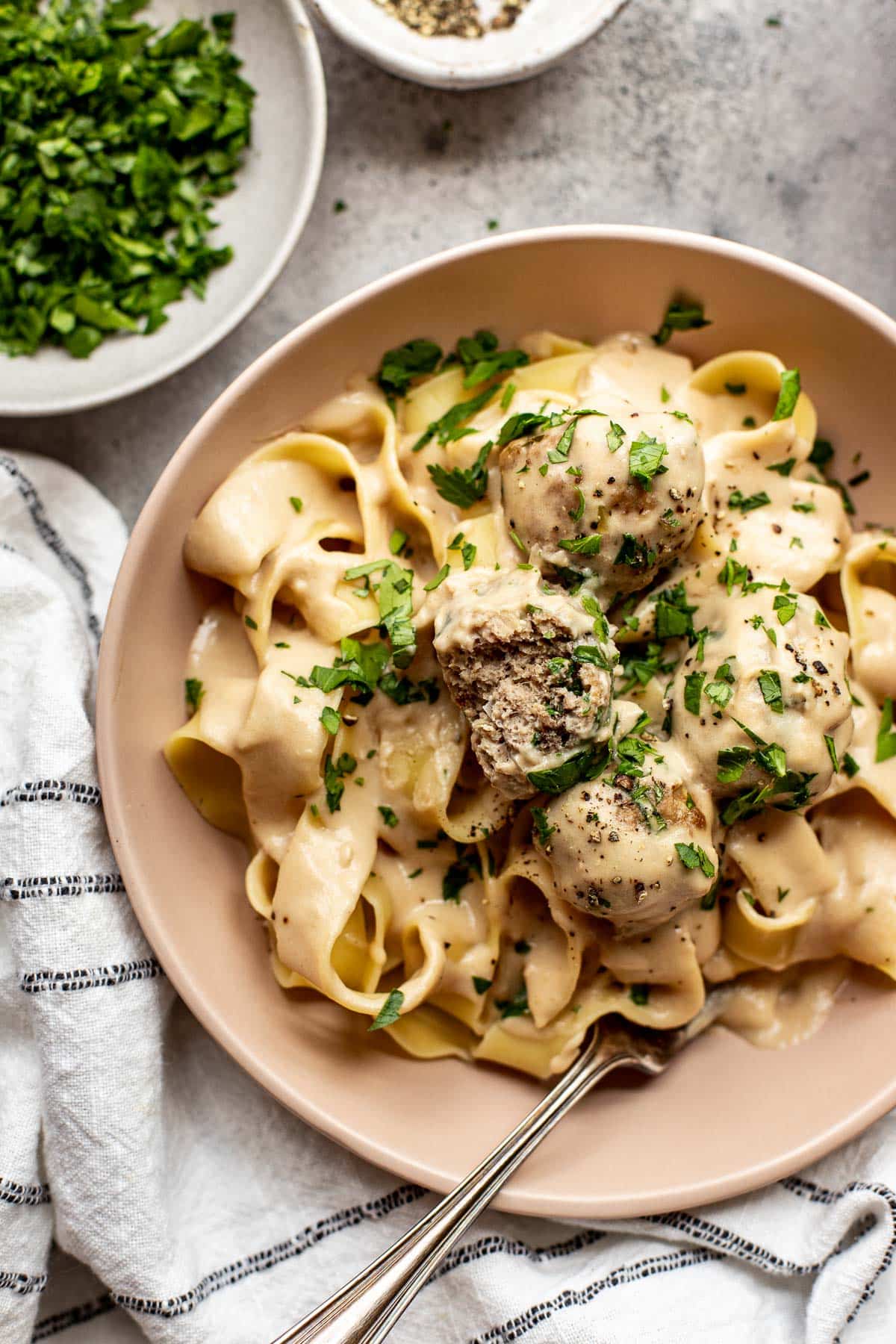 Before You Begin! If you make this, please leave a review and rating letting us know how you liked this recipe! This helps our business thrive & continue providing free recipes.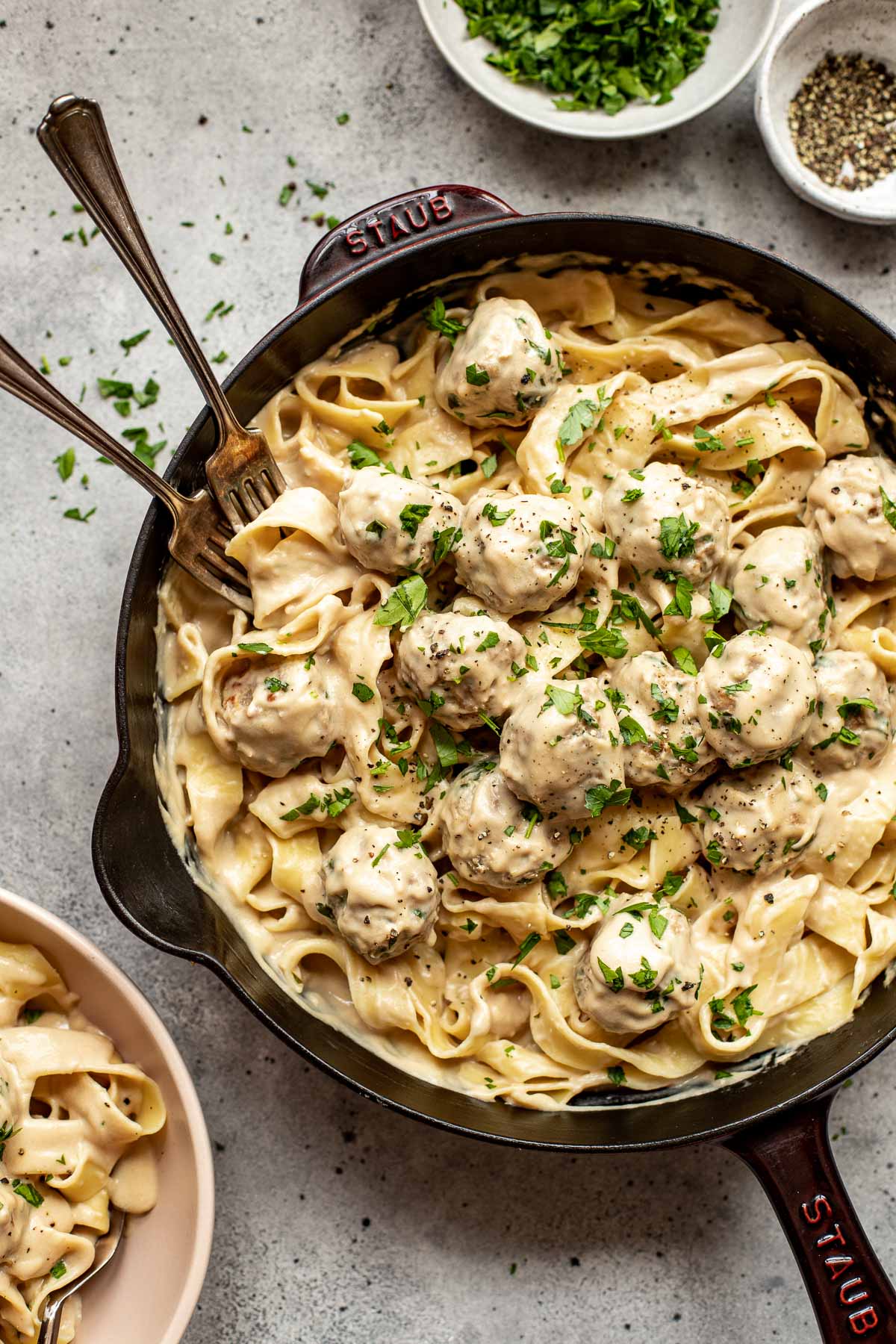 My Turkey Swedish Meatballs are super juicy, smothered in a rich and creamy gravy and perfect for a weeknight dinner. They are delicious served over pappardelle pasta or a wide egg noodle or mashed potatoes for something more hearty and comforting.
Ingredients
Meatballs
1

lb.

ground turkey

1/3

cup

plain breadcrumbs

1/2

small

white onion, finely diced or grated using a box grater (~1/3 cup)

1

Tbsp.

soy sauce (or 1/2 tsp. salt)

1/4

cup

fresh parsley, chopped (or 2 Tbsp. dried)

1

large

egg

1/4

tsp.

nutmeg

1/4

tsp.

allspice

1/4

tsp.

white pepper

1/4

tsp.

cardamom

1

Tbsp.

water

salt and pepper, to taste
Sauce
4

Tbsp.

butter, unsalted

4

Tbsp.

all-purpose flour

2

cups

beef broth

1/2

cup

Greek yogurt, plain (or sour cream)

1/3

cup

heavy cream

1

Tbsp.

soy sauce

1

Tbsp.

Worcestershire sauce

garnish: fresh parsley or fresh chives and black pepper
Last step! If you make this, please leave a review and rating letting us know how you liked this recipe! This helps our business thrive & continue providing free recipes.
Instructions
Preheat the oven to 400°F.

In a medium sized bowl, combine ground turkey, breadcrumbs, white onion, soy sauce, parsley, egg, spices and water until combined. Roll meatballs into a small/medium size. Using a cookie scoop helps to make uniform meatballs and use a little olive oil on your hands if the meatballs are sticky. You should have ~20 meatballs.

Place the meatballs on a baking sheet lined with parchment paper. Bake in the oven for 15 minutes or until the meatballs reach an internal temperature of 165°F.

Next, make the gravy. Using a nonstick skillet or cast iron, start by making the roux: over medium heat, allow the butter to melt and then whisk in the flour. Whisk for about 30 seconds or so to get rid of the floury taste. Then in increments, slowly whisk in the beef broth. Let the roux and broth adequately mix before adding in more broth.

Next, whisk in the heavy cream and yogurt until smooth. Then add in the soy sauce and Worcestershire sauce and simmer until sauce thickens, ~2-3 minutes.

Lastly, transfer the cooked meatballs to the sauce and spoon the sauce over the meatballs. Taste and adjusting seasonings, adding more salt or pepper as desired. Serve with pappardelle pasta, wide egg noodles, mashed potatoes, etc. and garnish with parsley or chives and freshly ground black pepper.
Notes
Use 1/2 lb. ground pork and 1/2 lb. ground beef in place of ground turkey.
Use2 slices of white bread with the crust trimmed if you don't have plain or Panko breadcrumbs.
Storage: stored in an air-tight container for up to 3-5 days in the fridge.
Nutrition Information
Serving:
5
meatballs
,
Calories:
426
kcal
(21%)
,
Carbohydrates:
19
g
(6%)
,
Protein:
36
g
(72%)
,
Fat:
23
g
(35%)
,
Saturated Fat:
13
g
(81%)
,
Cholesterol:
163
mg
(54%)
,
Potassium:
510
mg
(15%)
,
Fiber:
1
g
(4%)
,
Sugar:
2
g
(2%)
,
Vitamin A:
749
IU
(15%)
,
Vitamin C:
1
mg
(1%)
,
Calcium:
73
mg
(7%)
,
Iron:
2
mg
(11%)
Nutritional information is provided as a courtesy and is automatically calculated. It should only be construed as an estimate rather than a guarantee. Ingredients can vary and Kroll's Korner can't make any guarantees to the accuracy of this information.
Photography: photos taken in this post are by Megan from The Broke Girl Table.