Walnut Crusted Scallops with Basil Oil & Toasted Walnut Mushroom Sauce
Dinner | Published on Jun 11, 2016 | Last modified on Aug 20, 2019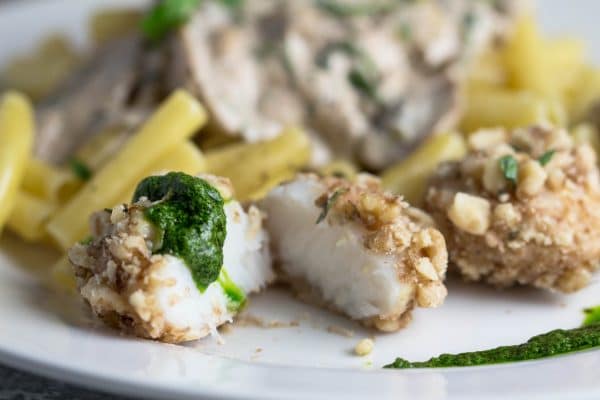 "I received free samples of California walnuts mentioned in this post. By posting this recipe I am entering a recipe contest sponsored by the California Walnut Commission and am eligible to win prizes associated with the contest. I was not compensated for my time."
The various ways you can cook and bake with seeds and nuts has always been so cool to me! In preparation for this recipe my mind was racing through baked items, breakfast foods, salads, pastas, smoothies…you name it. After some serious thought I landed on scallops because I have seen many other varieties of fish crusted with walnuts…but I have never experimented with walnuts and scallops. Just a little secret: it is amazing.
With that said, California walnuts are a delicious and versatile ingredient that is the perfect complement to other whole foods for nutritious, tasty meals…such as this one I am sharing with you all today. 🙂 Not only are they yummy and fun to cook with, they also provide important components of a healthy diet. One ounce of walnuts has 2.5 grams of the essential plant-based omega-3 alpha-linolenic acid (ALA), and 4 grams of protein and 2 grams of fiber to keep you filling full. Here is another secret: I probably ate enough walnuts while making this recipe to consume enough ALA for a whole week! (haha, oops! They are so good!)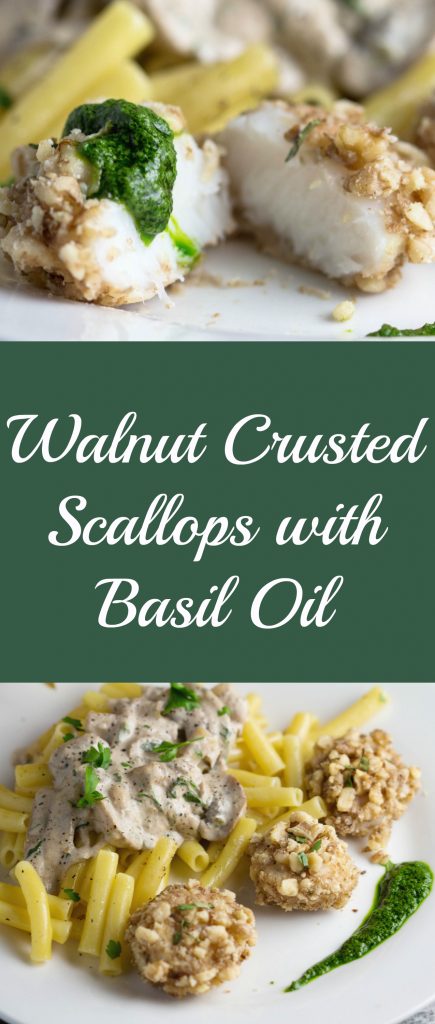 Like I mentioned above, California walnuts are so versatile and easy to cook and bake with. You can use walnuts in simple ways such as topping on a salad with some feta cheese. Or, if you have a sweet tooth you can make a walnut tart, such as this Walnut, Cherry-Apricot Tart from the CA walnuts website. Call me crazy, but walnuts kind of remind me of mitochondria. Mitochondria are the powerhouse of the cell, so I like to think of walnuts as a powerhouse as well! Not only are they rich in ALA, protein and fiber but they also contain magnesium and phosphorus which are important minerals for the body. Boom! Powerhouse 🙂
[Tweet "Walnut Crusted Scallops with Basil Oil plus a bonus Toasted Walnut Mushroom Sauce recipe! | Krollskorner.com #Sponsored"]
Not only did I incorporate walnuts into the crust for the scallops, I also made a mushroom walnut sauce for the pasta side dish. It turned out so yummy and flavorful. I hope you find time to make this recipe for your family or friends. Enjoy!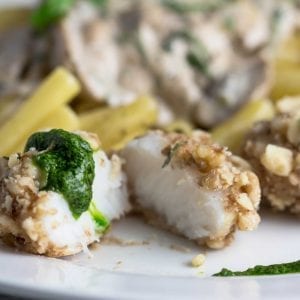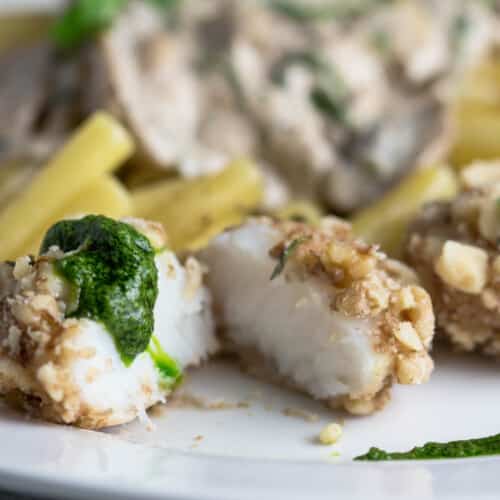 Walnut Crusted Scallops with Basil Oil + Toasted Walnut Mushroom Sauce
Print Recipe
Pin Recipe
Rate
Ingredients
For the scallops
1/2

lb.

fresh scallops

1

cup

All-Purpose flour

1/2

cup

Italian breadcrumbs

2

eggs

1/2

fresh lemon juice

1

cup

California walnuts

roughly crushed
For the basil oil
1.5

cups

fresh basil

3/4

cup

EVOO
For the mushroom sauce
1

cup

toasted California walnuts

1

pint

heavy cream

2

Tbsp.

EVOO

1

Tbsp.

unsalted butter

1

small white onion

thinly sliced

4

cloves

fresh garlic

minced

8

oz.

button mushrooms

thinly sliced

2

Tbsp.

water

1/3

cup

fresh parsley

chopped

1/4

cup

fresh Parmesan cheese

for topping

salt and pepper TT

red pepper chili flakes: optional

noodles of your choice
Instructions
Preheat oven to 400 degrees F.
For the scallops
In a medium bowl, mix flour and breadcrumbs. In a small bowl, whisk 2 eggs and add in lemon juice. Place the crushed California walnuts in a third bowl. For each scallop repeat the following: coat scallop in flour/breadcrumb mixture, dredge in egg mixture, and coat with walnuts. Place in a baking dish sprayed with PAM and repeat until no more scallops remain. Bake for 6-12 minutes (depending on size of scallop).
Basil Oil
Meanwhile, prepare the basil oil. Blanch basil: Bring a pot of water to boil and add in basil leaves for 5 seconds and then remove with a slotted spoon. Put directly into a water ice bath. Pat dry with paper towels and transfer to a blender. Add EVOO and blend until smooth.
Lastly for the walnut mushroom sauce
In a blender, mix toasted walnuts and heavy cream until smooth. Set aside for now. In a large skillet, heat oil and add onion, salt and pepper. Cook until for ~6-8 minutes and then add in garlic and mushrooms. Cook this mixture for ~3 minutes. On low heat, add in 2 Tbsp. water, cover, and let simmer for 10 minutes. Then add in parsley and walnut/cream mixture. Simmer and when served top with Parmesan and optional red pepper chili flakes. Serve with pasta of your choice.

[inlinkz_linkup id=629277 mode=1]
Hi, I'm 
Tawnie

!

Welcome to my tiny "korner" on the Internet! I am a Registered Dietitian Nutritionist who loves cookies as much as kale. (OK, maybe I like cookies a little bit more but shh, don't tell anyone). I am so glad you're here! Follow along for hassle free, realistic and approachable recipes.

More about Tawnie

I'd love to see what you made!!
Share it with me on Instagram or Facebook and tag me @krolls_korner or use the hashtag #KrollsKorner!