7-Ingredient Roasted Beet Salad with Feta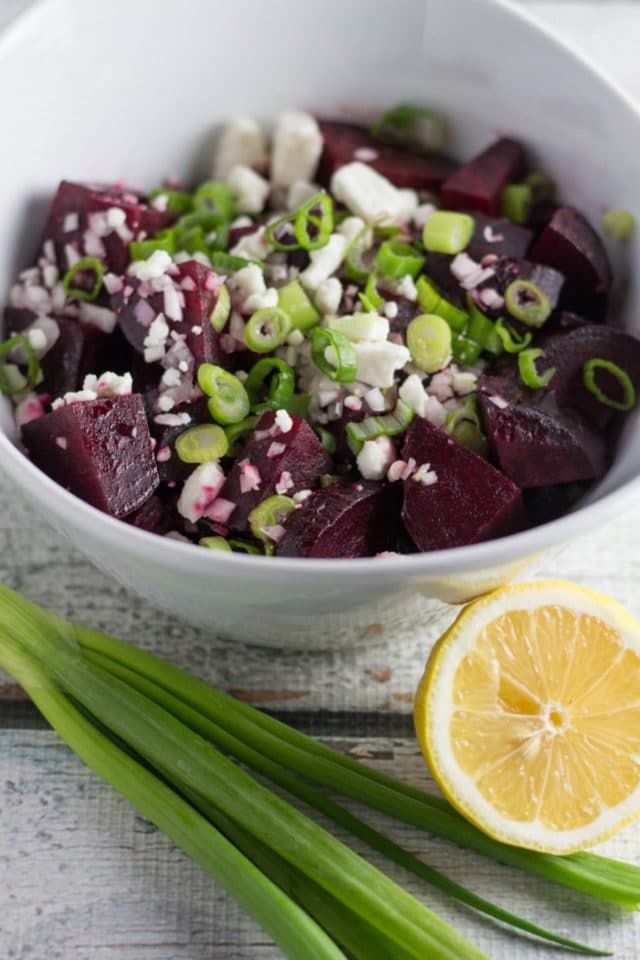 Oven roasted beet and feta salad
Happy Spring! Crazy, right? Feels like it was just Christmas! Until recently, I have not given beets the chance they deserve. They've always been one of those intimidating veggies that I always wonder what to make with it! Well for this month's Recipe Redux post I am sharing this roasted beet salad.
Roasted beet salad ingredients
To make this oven roasted beet salad with feta, here's what you'll need:
Beets
Lemon juice
Feta cheese
Olive oil
Balsamic vinegar
Shallot
Green onions
How to roast beets
Preheat oven to 425° F. Rinse beets and cut off the beet greens just about 1 inch from the stem. Discard or save to cook them later! I typically discard them.
Line an oven-safe baking dish with foil and place beet in the dish.
Drizzle them with olive oil and then place more aluminum foil on top, pressing aluminum foil loosely down and around each beet.
Place beets in the oven on the middle rack and roast until tender. 1-2 hours.
Let beets rest until they are cool enough to handle, and then peel the skin off. It's more of a pressing motion rather than peeling.
If you can't seem to get the skin off, this means the beets need more time in the oven to roast. You can use gloves or paper towels to help assist.
Lastly, cut the beets into the size chunks you'd like for the roasted beet salad.
How long to roast beets
Depending on the size, the beets will need to roast for about 1 hour to 90 minutes. Pierce the beet with a fork to check if they are done after 60 minutes.
Are roasted beets keto-friendly?
Yes! If you are trying out the keto diet, consume beets with care as they do contain more carbohydrates compared to others veggies (like spinach for example!)
How long do roasted beets last?
If properly stored in an airtight container, they'll last 3 to 5 days in the fridge.
Do I have to roast the beets?
No, you can use pre-cooked beets to skip the roasting process. You can find baby beets or cooked beets in most local grocery stores.
How do I cook beets in the pressure cooker or Instant Pot?
Rub and wash the beets. Trim off & discard the roots.
Pour 1 cup water in the pressure cooker. Place a trivet or steamer basket in the Instant Pot, then place 6 medium beets (7 inch circumference) on the trivet.
Close the lid and cook at High Pressure for 24 minutes (firm and a little crunchy) – 28 minutes (soft with some chew) + Quick Release (immediately release the pressure by turning the venting knob to venting position).
Carefully open the lid. Peel the skin off and cut up for your salad!
Note: if your beets are smaller, 5 inch circumference cook for ~12-15 minutes, if very large cook for 35 minutes.
Tips for making roasted beet salad
When making this roasted beet salad with feta, I highly recommend using smaller beets so they take less time to roast in oven.
I used feta in this roasted beet salad, but goat cheese would pair nicely here as well.
If desired, you could substitute freshly squeezed orange juice for the lemon juice as well.
More easy salad recipes:
Thank you so much for reading & supporting Kroll's Korner! This post includes affiliate links for products I actually use in my own home and personally recommend. Should you make a purchase using one of these links, Kroll's Korner will earn a small commission at no extra cost to you, which helps me continue to bring you great original content. Thank you!
Before You Begin! If you make this, please leave a review and rating letting us know how you liked this recipe! This helps our business thrive & continue providing free recipes.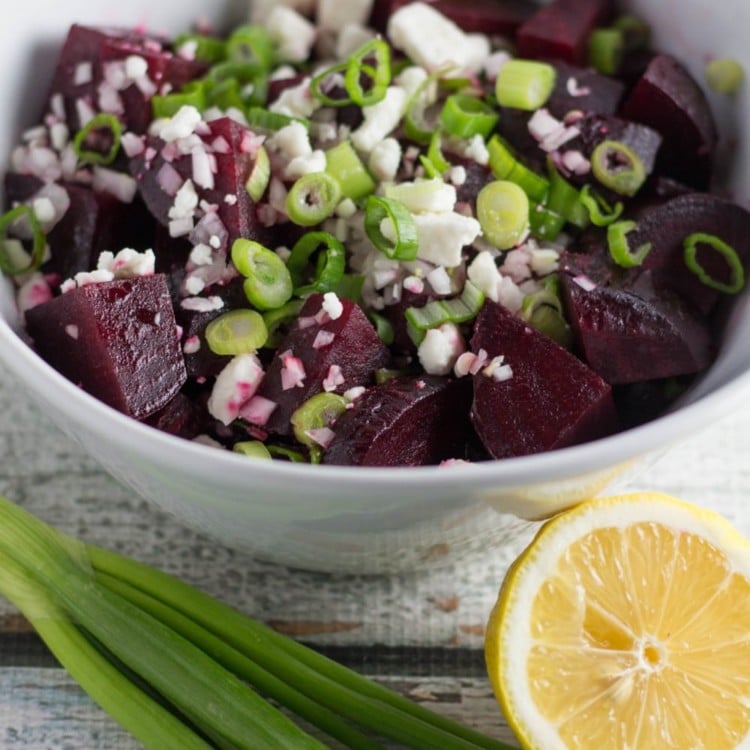 Roasted Beet Salad with Feta
This simple, healthy and easy roasted beet salad is packed with nutrition and is delicious when accompanied with grilled chicken!
Ingredients
5

medium red beets

1

lemon juice

((about 3-4 Tbsp.))

1/2

cup

feta cheese

1/4

cup

extra virgin olive oil

1/4

cup

balsamic vinegar

1

shallot

(, minced)

2

green onions

(, chopped)
Last step! If you make this, please leave a review and rating letting us know how you liked this recipe! This helps our business thrive & continue providing free recipes.
Instructions
Roast the beets
Preheat oven to 425°F. Wash beets well and place in an oven-safe dish and cover with foil.

Roast beets in oven for 1-2 hours, depending on size. Once done, you should be able to stick a fork or toothpick in easily.

Let roasted beets sit for 30 minutes before you remove the skin. Be sure to use a paper towel or gloves to peel off the skin!
Assemble the salad
Chop the beets and let marinate in 2 Tbsp. of olive oil and balsamic vinegar for 10 minutes.

Toss in the remaining ingredients and stir. Serve cold. Enjoy!
Notes
Beets are like sponges — they soak everything up! This is why I let the beets marinate for a few minutes in the olive oil to get extra tasty.
You may also use parsley instead of green onions as a substitute.
Also, if you don't have time to roast the beets, you can buy baby beets or pre-cooked beets (I like the brand Love Beets).
Nutritional information is provided as a courtesy and is automatically calculated. It should only be construed as an estimate rather than a guarantee. Ingredients can vary and Kroll's Korner can't make any guarantees to the accuracy of this information.