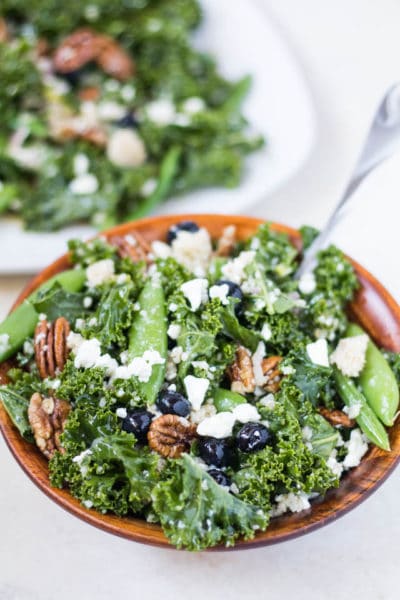 Kale me crazy…but this is probably one of my favorite salads EVER. The flavor combo is to die for and it has the perfect crunchiness and sweetness! I know many of us are tired of hearing about kale in the media and how it reaps so many health benefits, but it's true. Kale is loaded with antioxidant vitamins A, K, and C and is a good source of essential minerals such as potassium, copper, iron, and phosphorus. To top it off, just one cup of this super food is only about 40 calories. woo-hoo!
PIN this recipe for later!

I love everything going on in this salad from the feta cheese to the bulgar and I hope you do too!. Other grain substitutions for the salad could be quinoa, wheat berries, farro, or wild rice. I am a big fan of Southern Living Magazine and I adapted the recipe from there. I encourage you all to browse the rest of my blog for more healthy (mostly) recipes!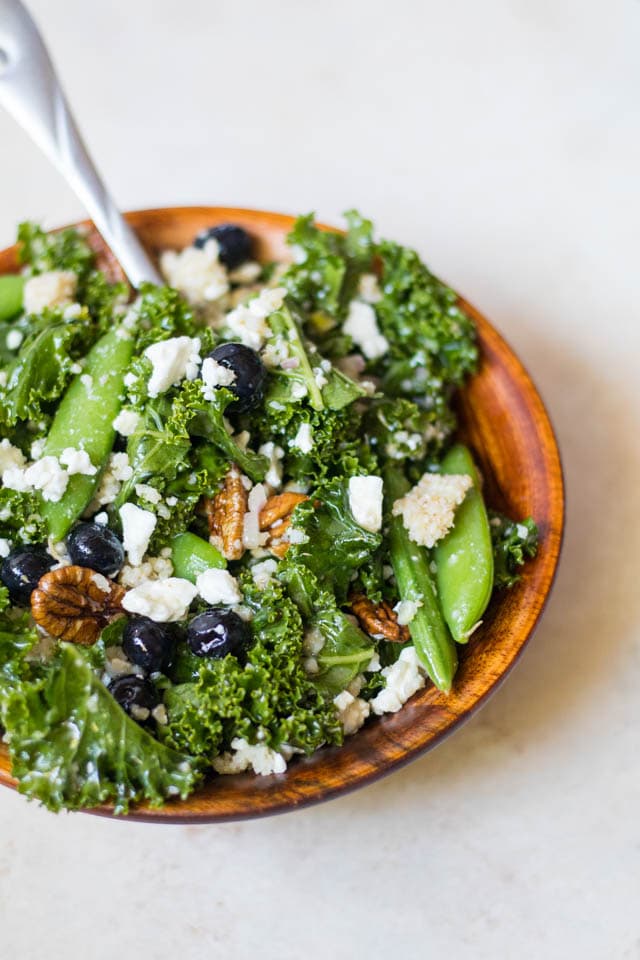 Kale and Blueberry Spring Salad
2015-04-28 22:28:40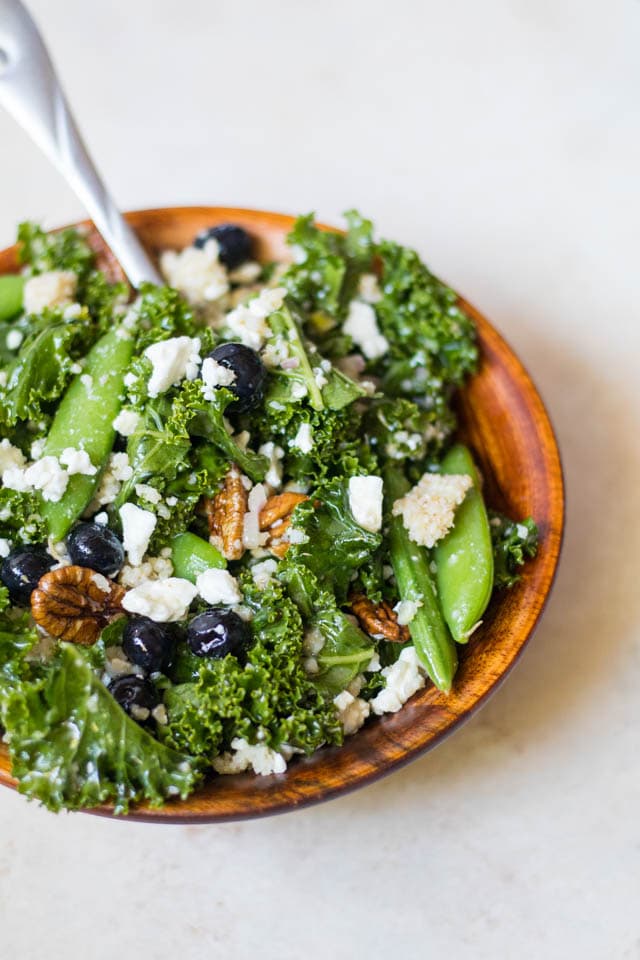 Ingredients
1 cup bulgar
1 teaspoon table salt
1 (8-oz.) package sugar snap peas
4 cups coarsely chopped kale
1/2 cup red wine vinaigrette (ingredients below)
2 cups fresh blueberries
1/2 cup chopped toasted pecans
3/4 cup crumbled feta cheese
Vinaigrette
1/3 cup red wine vinegar
1/2 large shallot, minced
2/3 cup extra virgin olive oil
2 tablespoons honey
2 teaspoons coarse-grained Dijon mustard
For the salad
Cook bulgar according to package. Once cooked, drain and rinse under cold water until bulgar is cool. Place in large bowl.
Then, bring water to boil in a medium sauce pan and cook peas in boiling salted water for ~2 minutes or until crisp-tender; drain. Plunge into ice water; drain and pat dry. Slice some of the peas in half.
Toss together kale, bulgar , and 1/4 cup vinaigrette in a large bowl. Let stand 30 minutes. Stir in blueberries, pecans, and sugar snap peas. Add salt and pepper. Sprinkle with cheese. Serve with remaining vinaigrette.
For the dressing
Stir together red wine vinegar and minced shallot; let stand 10 minutes. Whisk in olive oil and remaining ingredients. Add salt and pepper to taste. Refrigerate in an airtight container up to 1 week.
*I also like to add in avocado and red pepper chili flakes to top the salad off. Get creative!
Adapted from Southern Living Magazine
Adapted from Southern Living Magazine
Krolls Korner https://krollskorner.com/
Did you make this recipe? Tag
@krolls_korner
on Instagram or send me a pic, I'd love to see!
Let's Connect!
Looking for easy and healthy recipes? Head over to my Pinterest page to get inspired!