Massaged Kale Blueberry Salad
Dinner | Published on Mar 28, 2019 | Last modified on May 14, 2020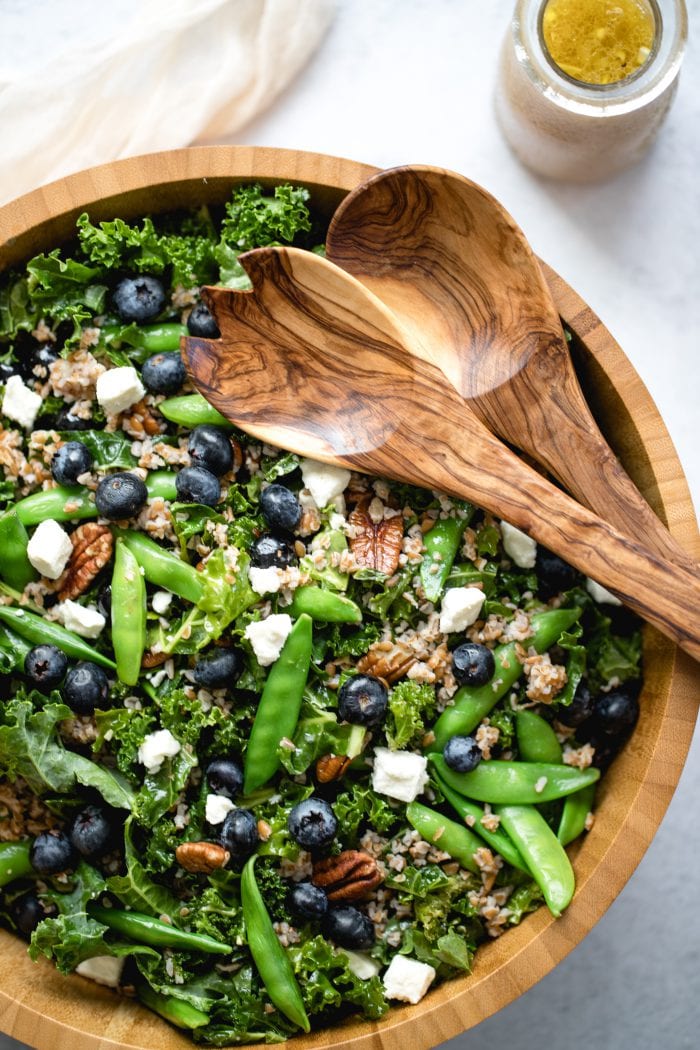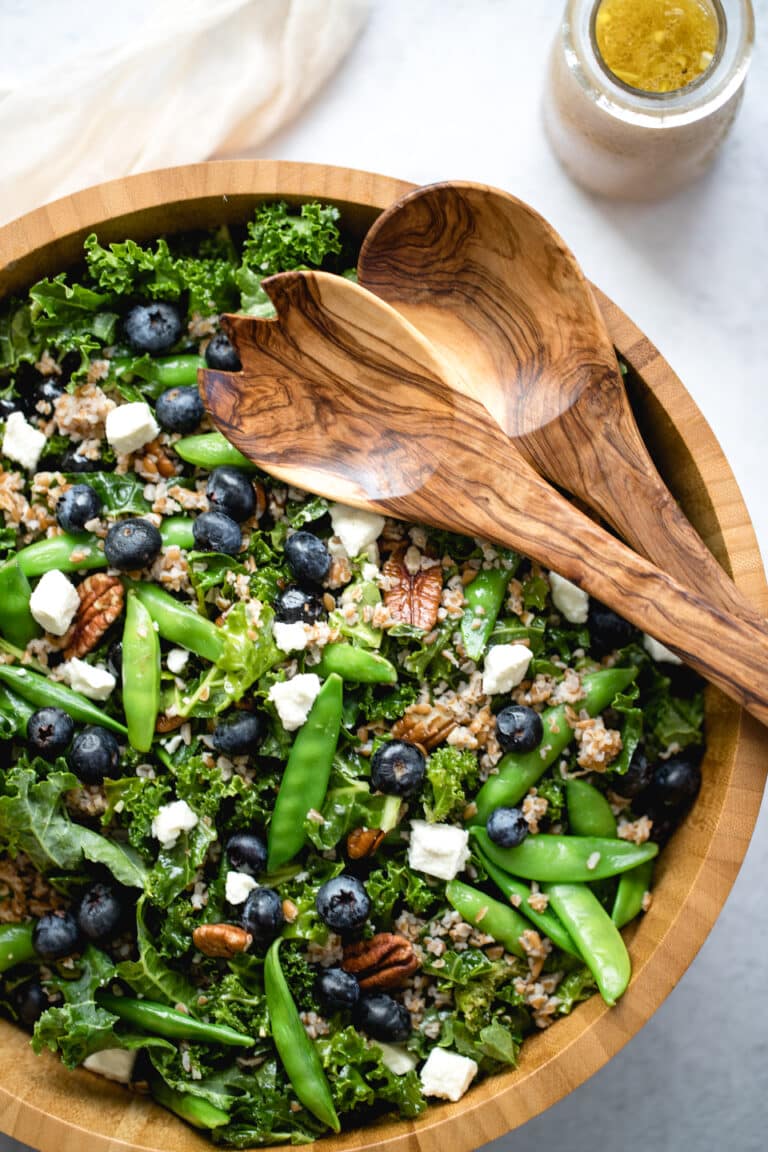 Massaged Kale Blueberry Salad: Superfood kale salad with a homemade vinaigrette, plump blueberries, bulgur, feta cheese, and pecans! It is the perfect antioxidant rich side dish for any time of year!
This is one of the most popular salads on the blog…and the most popular in my own kitchen too!
Let's get right to it…
Why and how do we "massage" kale?
Kale is a stubborn green. It needs a little TLC! You'll use your hands to work the greens which renders them tender enough to make for an enjoyable salad.
The easiest way is to make the dressing first and pour a little bit of the dressing over the chopped kale and working the dressing into the kale for ~2 minutes and them let the kale rest while you make the rest of the salad.
It can be easier to digest when you massage as well!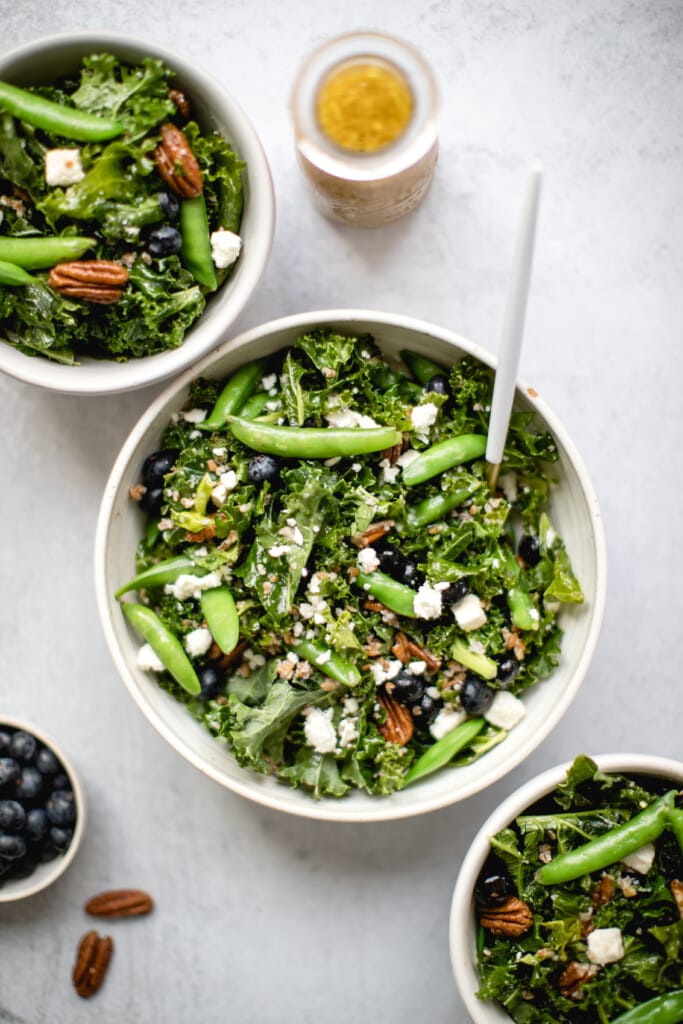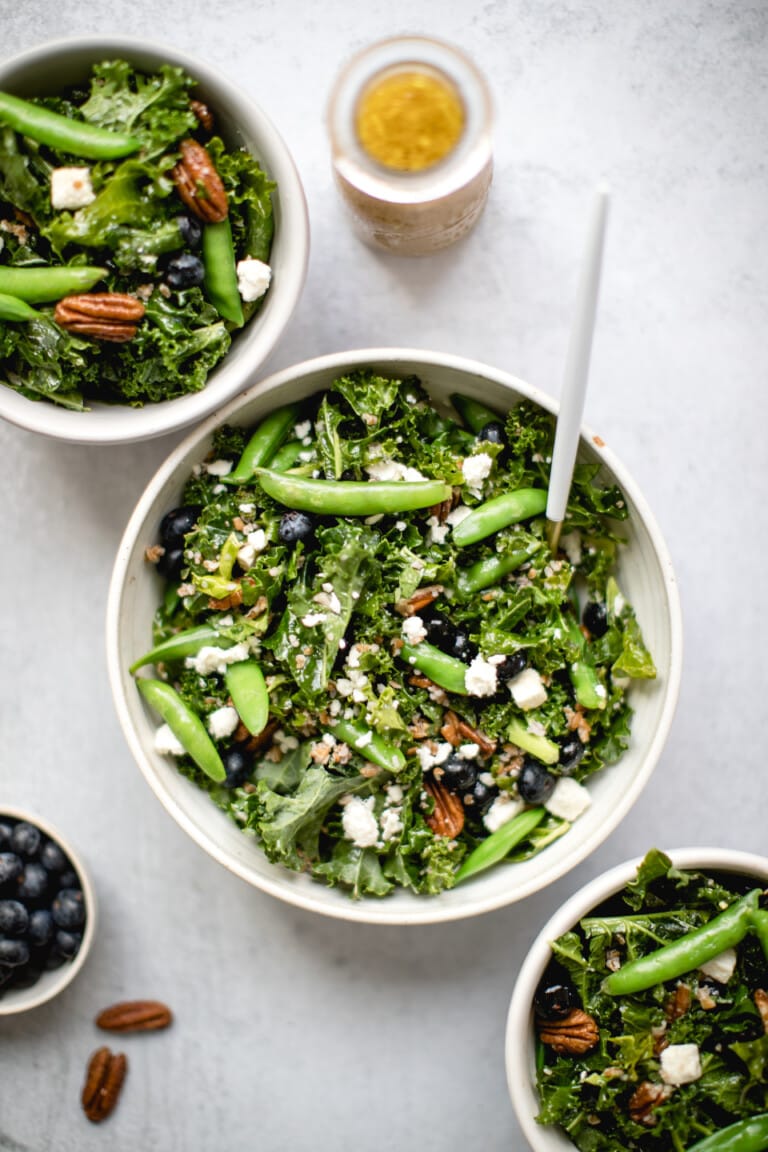 I've heard kale is good for me. Why is kale healthy?
Kale is loaded with antioxidants, Vitamins A, K, and C and is a good source of essential minerals such as potassium, copper, iron, and phosphorus.
One cup of this super food is only about 40 calories.
What is the best way to remove the stems?
The best way to destem kale: Grip the bottom of the stem with one hand and use the other hand to rip the leaves away from you. Discard stem.
De-ribbing the leaves doesn't have to be cumbersome. Make it easy for yourself!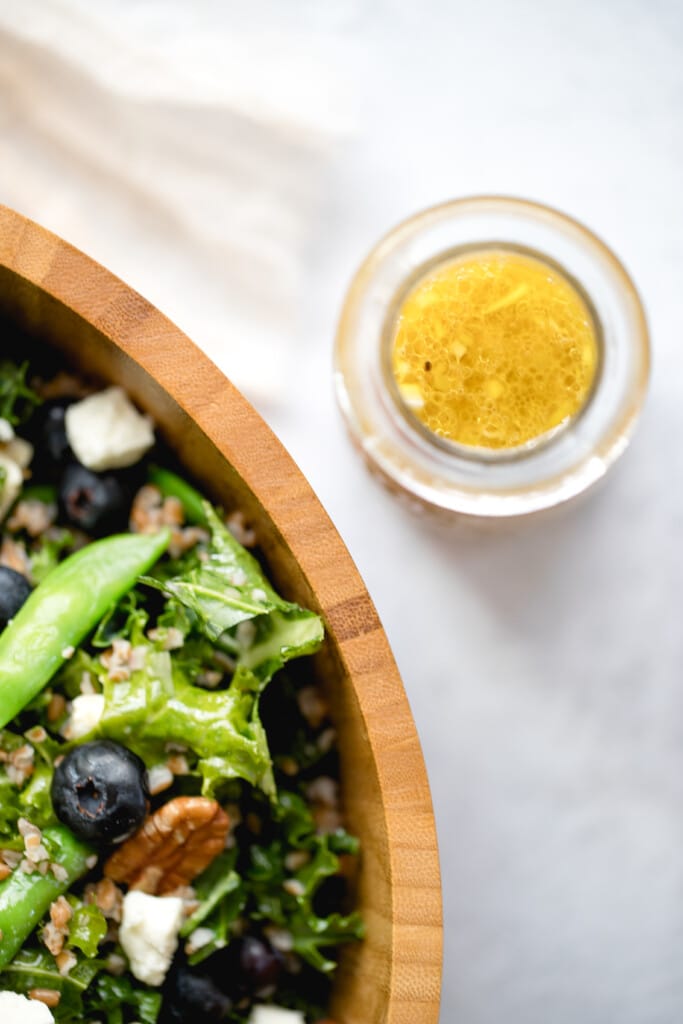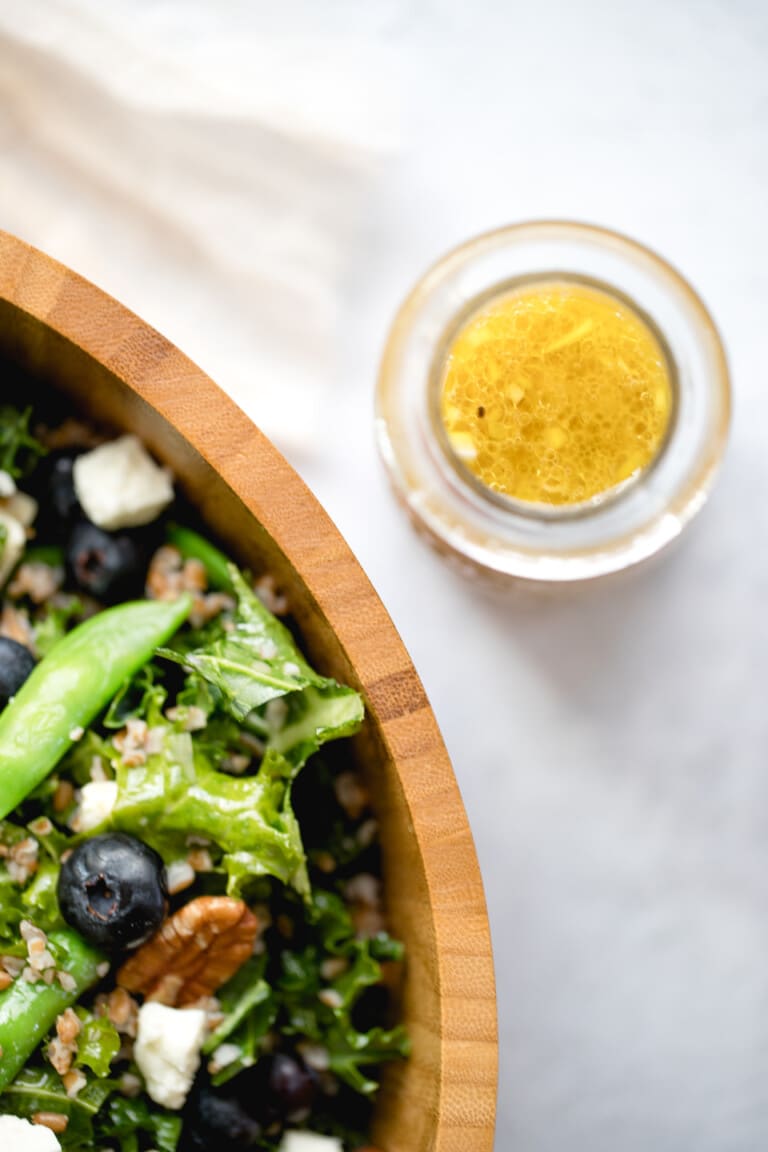 How long does massaged kale keep?
It will keep in the fridge for up to 3 days!
This Massage Kale Blueberry Salad is:
Simple to make
Healthy
Full of flavor and superfoods
Vegetarian
A wonderful side dish or can be an entree with a protein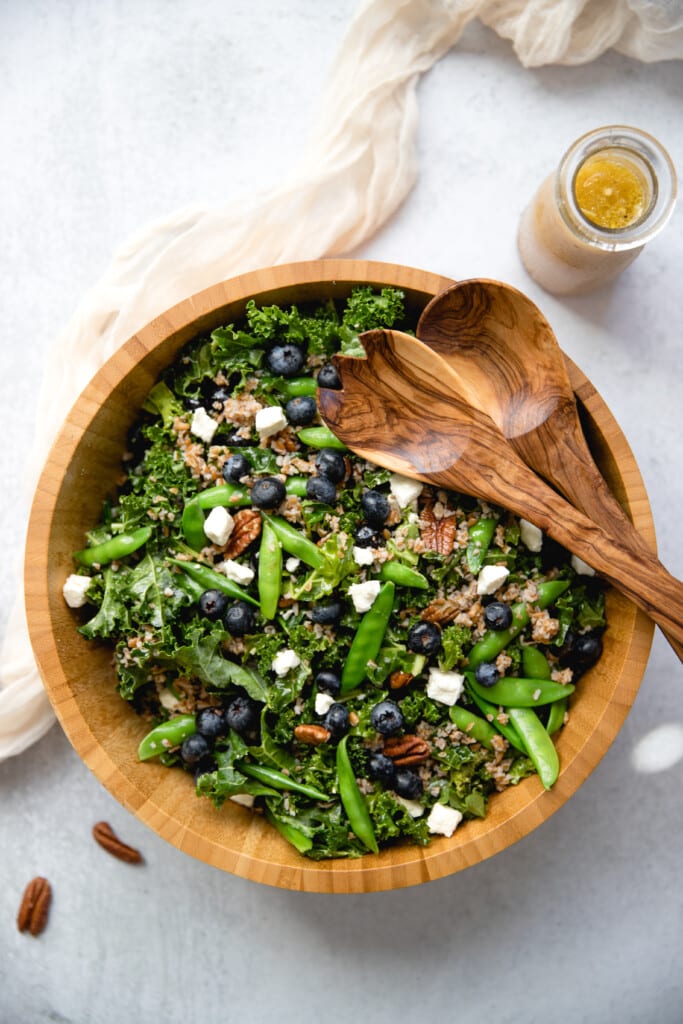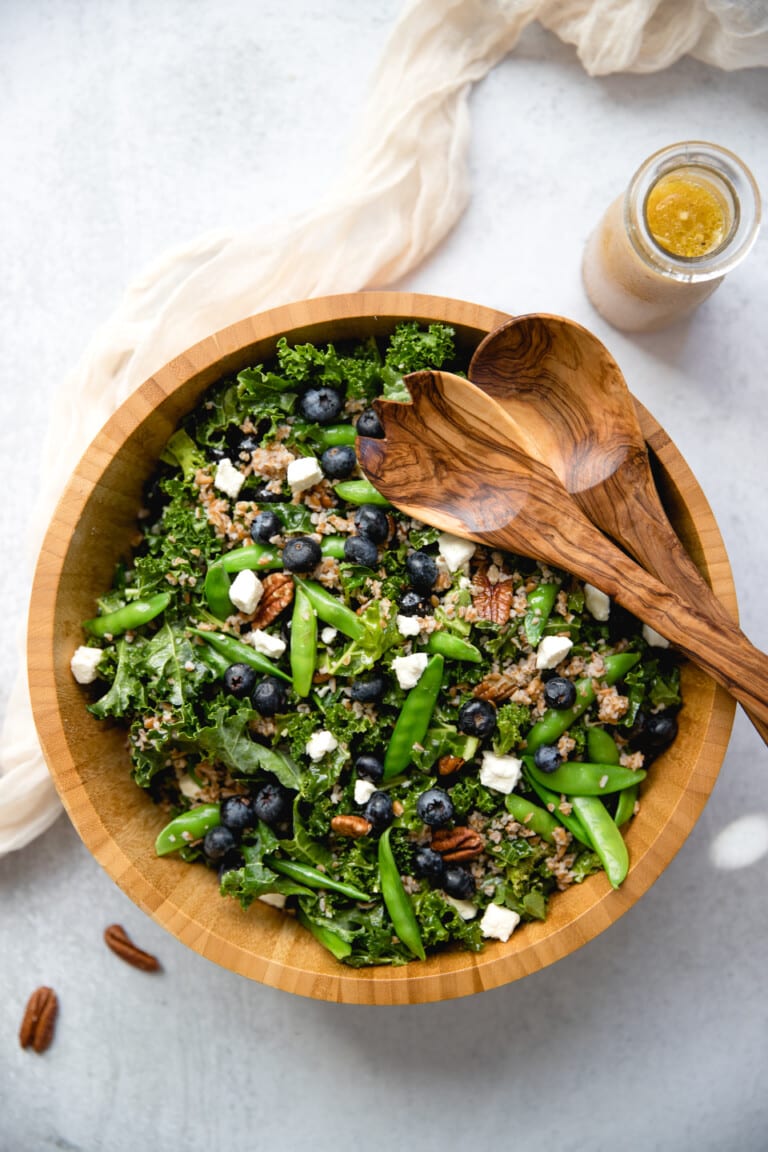 Other grain substitutions for the salad could be quinoa, wheat berries, farro, or wild rice. If you would like to make this salad vegan friendly, omit the feta (or use a vegan cheese) and use date paste, coconut nectar, agave nectar, maple syrup or bee free honey instead of the honey in the dressing.

Kroll's Korner on Pinterest
Tap here to pin recipes from Kroll's Korner for later! You'll find healthy (mostly) recipes that are realistic and easy to make. Happy Pinning! xo

Free eBooks: Muffin But Goodness & Instant Pot Dinner Recipes
Thank you so much for reading & supporting Kroll's Korner! This post includes affiliate links for products I actually use in my own home and personally recommend. Should you make a purchase using one of these links, Kroll's Korner will earn a small commission at no extra cost to you, which helps me continue to bring you great original content. Thank you!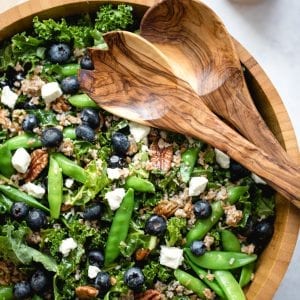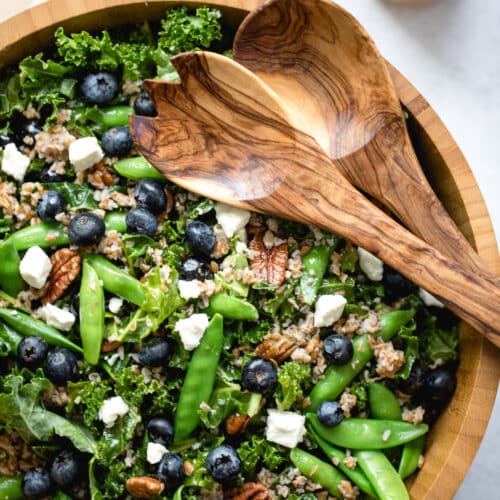 Kale and Blueberry Spring Salad
The BEST massaged kale salad you'll ever make. Salty, sweet and it has the perfect crunch from the sugar snap peas and pecans.
Print Recipe
Pin Recipe
Rate
Ingredients
1

cup

bulgar

1

tsp.

salt

1

8 oz.

package sugar snap peas

4

cups

kale, roughly chopped

2

cups

blueberries, fresh

1/2

cup

pecans

1/3

cup

feta cheese
Instructions
For the dressing: Whisk together red wine vinegar and minced shallot. Whisk in olive oil and remaining ingredients. Add salt and pepper to taste. Refrigerate in an airtight container up to 1 week.

Cook bulgar according to package. Set aside to cool.

Then cook snap peas in boiling salted water for 2 minutes or until crisp-tender; drain. Plunge into ice water; drain and pat dry. Slice in half or leave them whole.

Toss together kale, bulgar, and 1/4 cup vinaigrette in a large bowl. Let stand 30 minutes to let the kale marinate. Stir in blueberries, pecans, and sugar snap peas. Add salt and pepper. Sprinkle with cheese. Serve with remaining vinaigrette.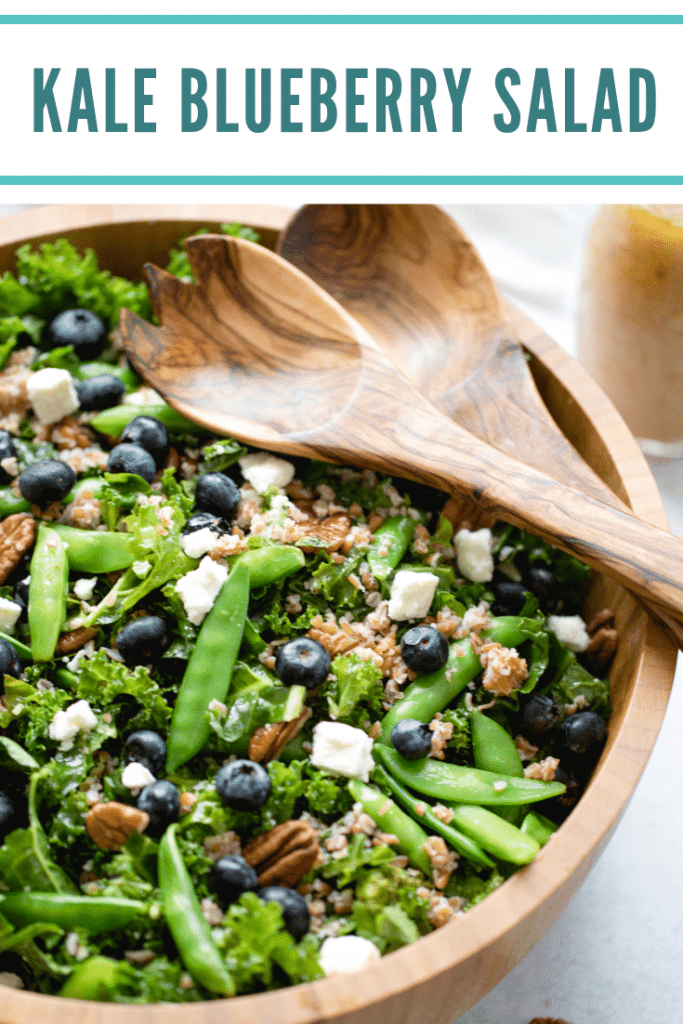 I'd love to see what you made!!
Share it with me on Instagram or Facebook and tag me @krolls_korner or use the hashtag #KrollsKorner!