Healthy Beet Salad with Feta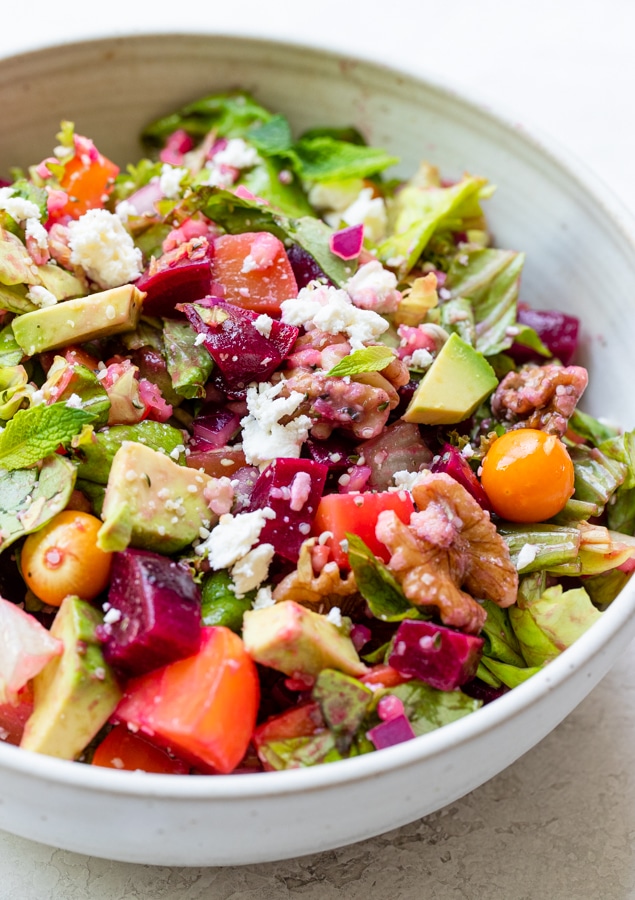 I kind of sort of can't stop thinking about this beet salad with feta recipe!
This post has been sponsored by Sprouts. All thoughts and opinions are my own. Thank you for supporting the brands that keep Kroll's Korner running!
Here's who will enjoy this colorful, summer-y, healthy beet salad:
People who just can't stand turning on the oven right now. SO hot.
People who are obsessing over all the summer salads like us.
People who love trying new foods – like goldenberries and beets!
People who are into fresh, vibrant, throw it all together salads
Beet and feta-loving people! Can't get enough.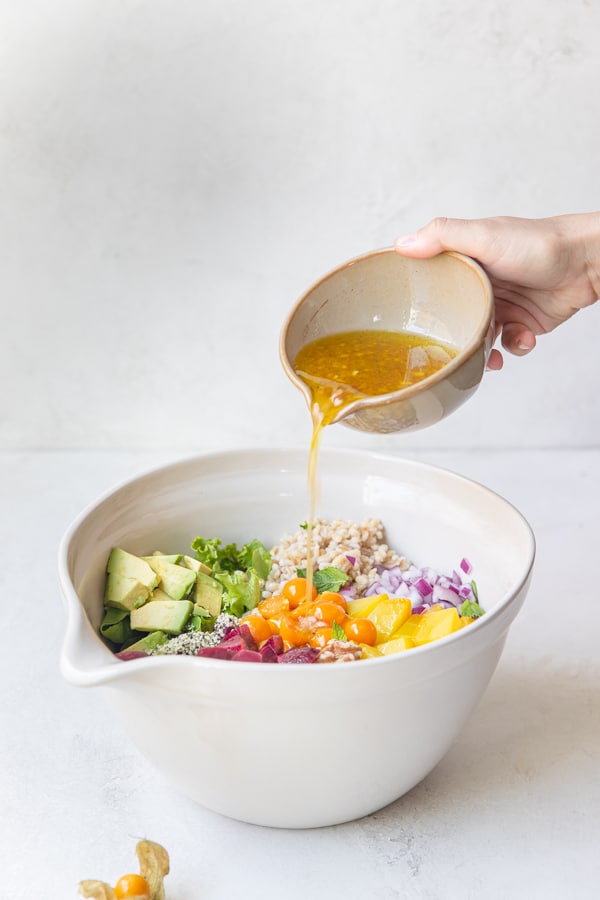 If any of the above criteria apply to you, I am happy you're here!
I adore all of the different flavors and textures in this salad and the homemade champagne vinaigrette really brings it all together.
I shopped for all of my fresh produce at Sprouts Farmers Market AKA my favorite store I can spend hours in!
My personal favorite thing about Sprouts is their seasonal produce department. I am always finding new things to try, my go-to favorites and a variety of options all at affordable prices.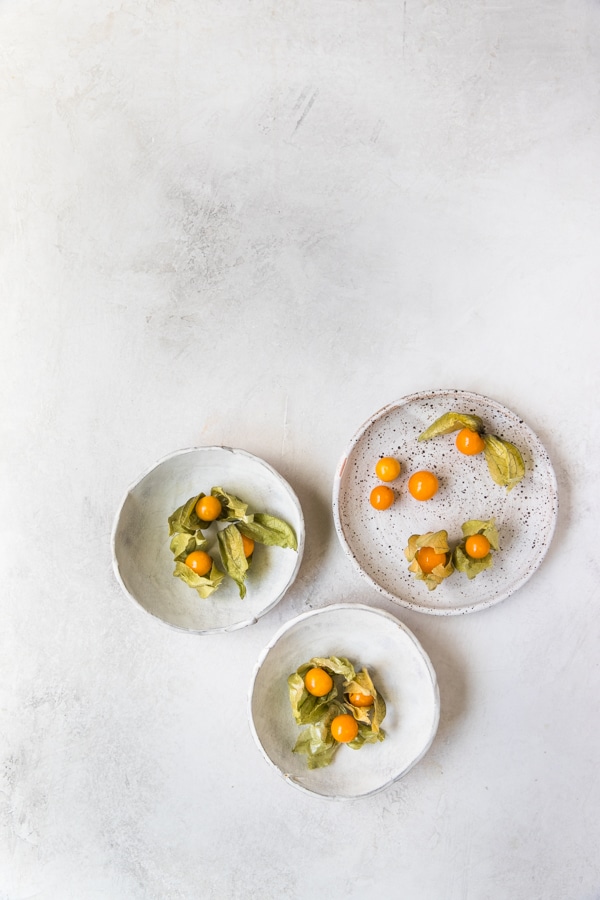 One of the newest finds are these flavorful, bite-sized fruits called golden berries. They are a fun addition to salads but also can be eaten in desserts, jams, pie fillings, sauces, or even as garnishes for plates and beverages too.
They are part of the tropical fruit selection you'll be able to find at Sprouts right now. It's fun to branch out from your normal tropical fruit routine (think kiwi and pineapple) and add something different to the mix!
Here is what you'll need for this dreamy beet salad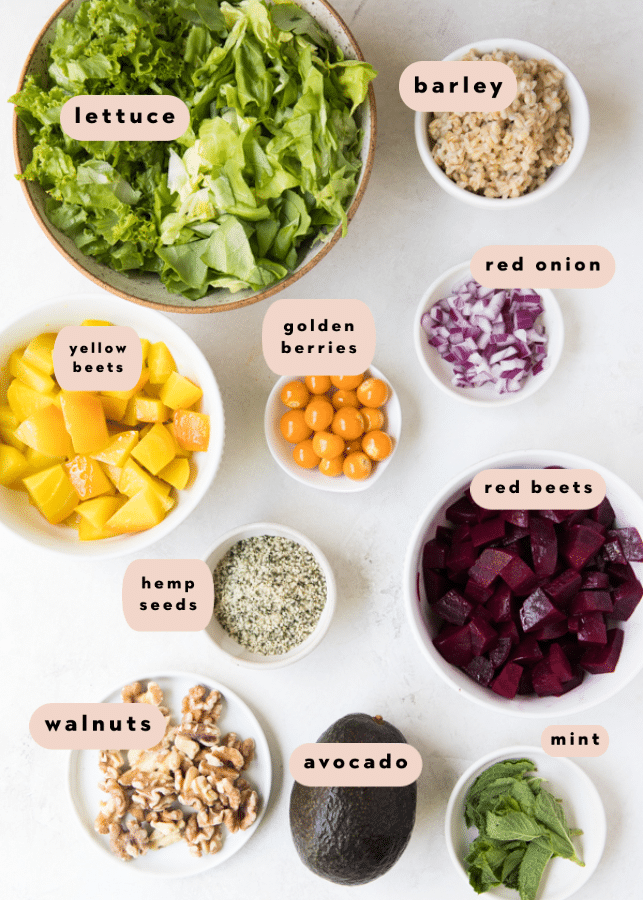 Lettuce! I like to use a combination of leaf lettuce and butter lettuce but you can feel free to use your faves. Kale, arugula, baby spinach, mixed greens, etc.)
Golden berries: These are bright orange fruits that like tomatillos, are wrapped in a papery husk (remove this before you eat them!). They are a little smaller than a cherry tomato and have a sweet-tart flavor. You might be able to pick up notes of pineapple, mango or lemon!
Red and golden yellow beets: I love the various culinary possibility of beets, but also simply adore them in salads. Be sure to use fresh beets for this recipe and see recipes notes on how to boil beets on the stove. (takes anywhere from 30-45 minutes depending on their size).

Beets are a good source of potassium and folate. They contain other essential vitamins and minerals, including magnesium, iron, phosphorus, and B vitamins.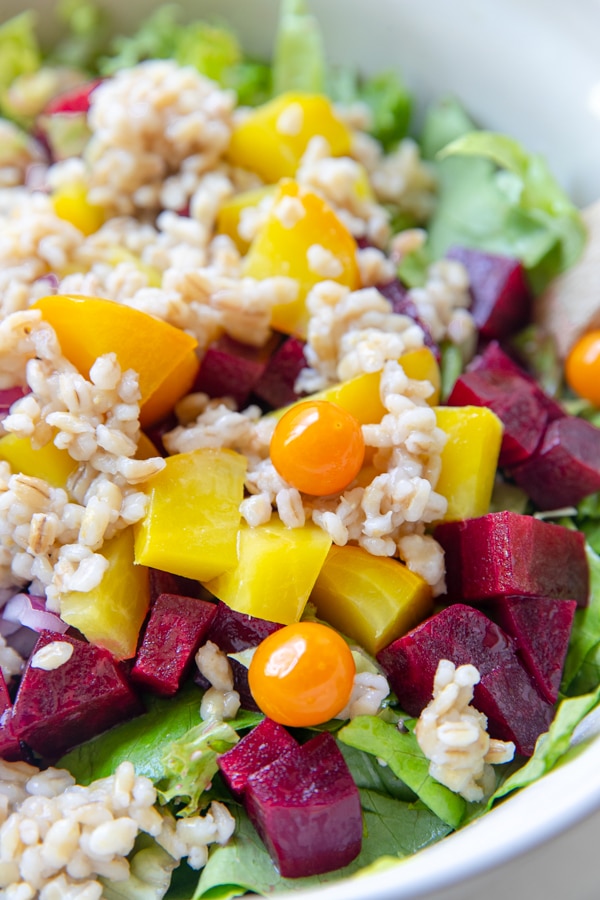 Barley: I like to cook my barley in the Instant Pot (1 cup barley, 2.5 cups water, 20 minutes high pressure). Give the barley some extra flavor with a squeeze of lemon and fresh parsley if you have it.
Avocado: cubed or sliced into the salad, whichever you prefer
Walnuts: If you have the time, you can toast them!
Red onion: diced or sliced
Feta cheese: Add as much or as little as you like, just be aware it is a little salty so I wouldn't go overboard. (can sub goat cheese if you don't prefer feta)
Hemp seeds: I love topping hemp seeds on salads because they are high in protein and antioxidants. They are relatively soft seeds and once mixed into the salad you don't even really notice they are there but still reap their nutritional benefits.
Mint: optional for garnish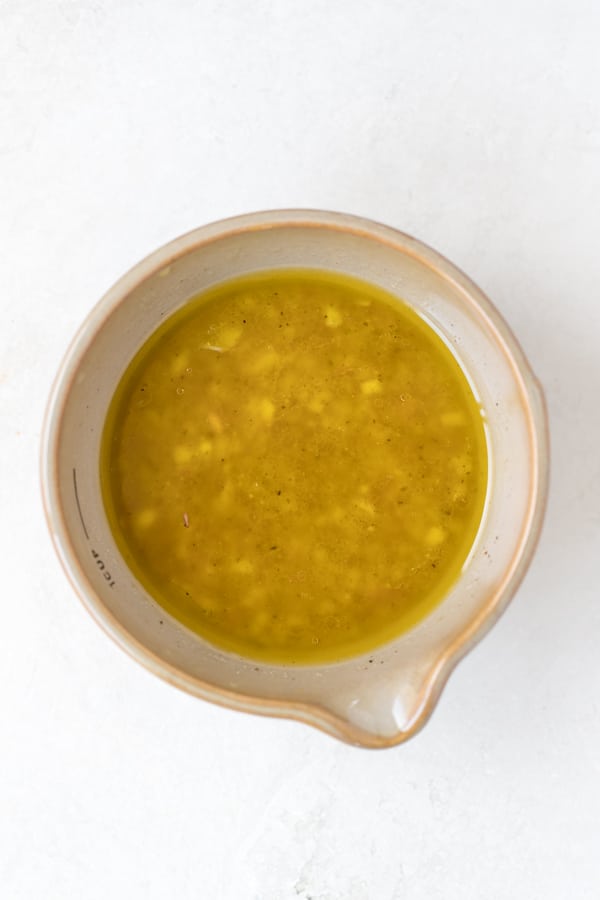 Champagne Vinaigrette Dressing:
Most often, beet salad recipes contain some type of balsamic dressing but this champagne vinaigrette really adds a light, summery touch to this salad.
You'll need:
Extra Virgin Olive Oil
Honey
Fresh lemon juice
Diced shallots
Salt and Pepper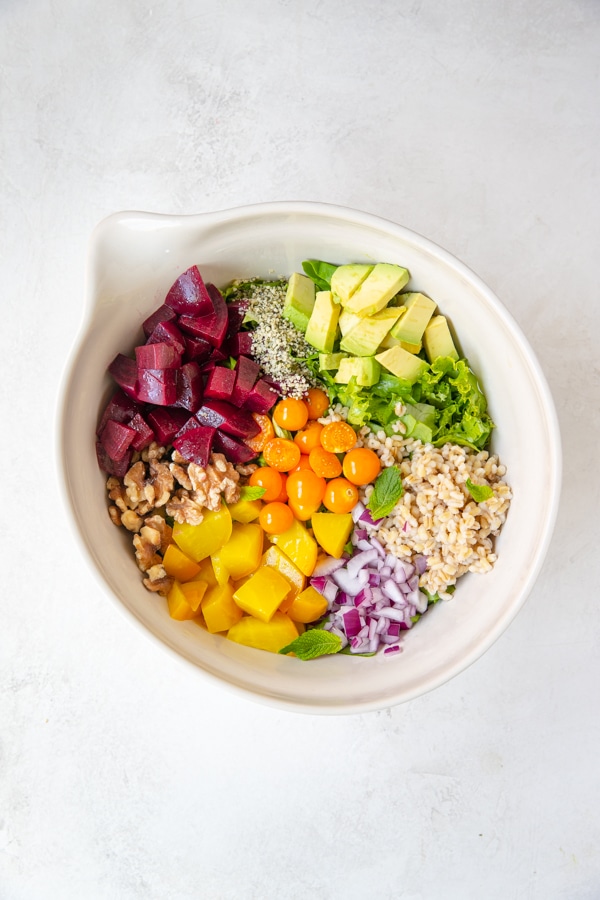 How to make this beet salad with feta:
Make the dressing: In a small bowl or mason jar, combine all dressing ingredients and mix well to combine.
Toss all ingredients in a large bowl and drizzle with dressing.
Garnish with crumbled feta cheese, hemp seeds and mint. Serve immediately!
Tips for making beet salad with feta:
Boil the beets in advance! Since this takes ~30 minutes it can cut into prep time. Boil, cool, peel and dice them ahead of time.
Prepping the beets in advance also gives you the time to marinate the beets as well. I like to marinate them in a touch of white balsamic vinegar, salt and pepper in the fridge. Before adding into the salad you can also drizzle with olive oil.
Once the beets are fork tender, place them in an ice water bath to cool more quickly.
Use disposable gloves when handling the beets cooked beets to remove the skin. This makes it much easier…and less messy!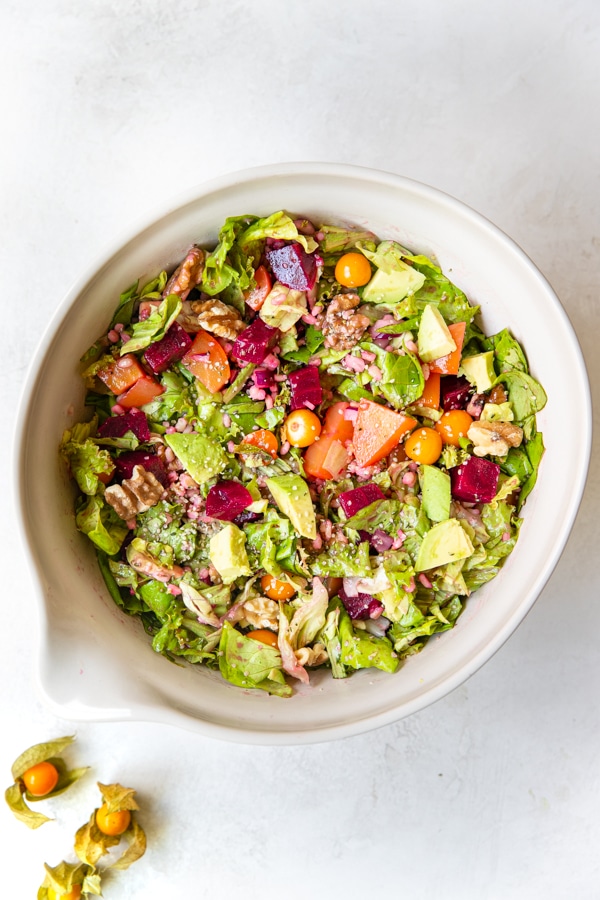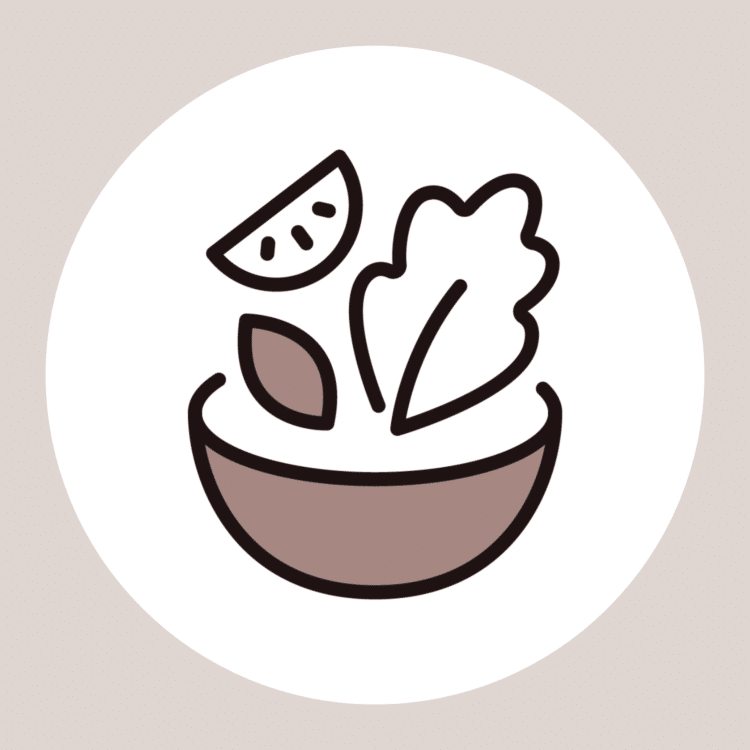 Before You Begin! If you make this, please leave a review and rating letting us know how you liked this recipe! This helps our business thrive & continue providing free recipes.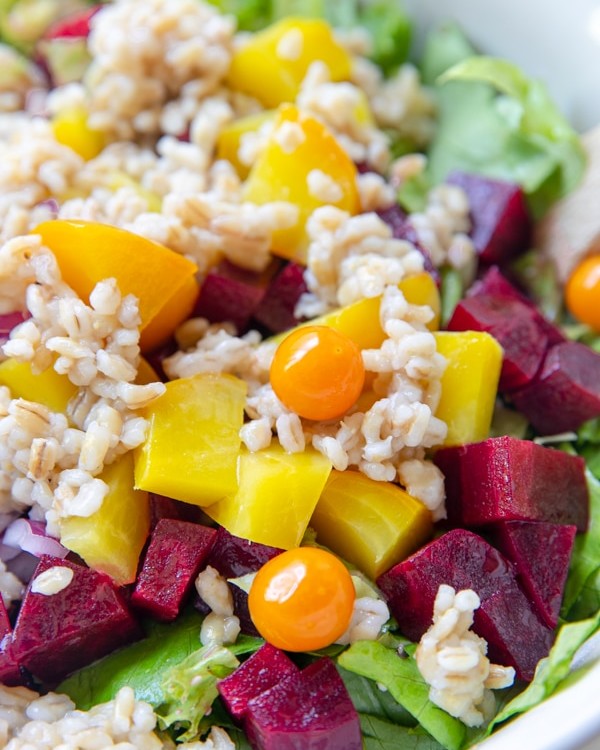 Healthy Beet Salad with Feta
This crave-worthy beet salad with feta is full of nutrient rich red and yellow beets, avocado and walnuts, all tossed with greens in a homemade champagne vinaigrette dressing.
Ingredients
1

head

butter lettuce, washed and chopped

1

head

green leaf lettuce, washed and chopped

(sub arugula, mixed greens, kale, etc.)

3

oz.

golden berries

3

small/medium

red beets, cooked and diced*

3

small/medium

golden yellow beets, cooked and diced*

1

cup

barley, cooked

1

large

avocado, peeled, pitted and cubed

1/2

cup

walnuts, roughly chopped

1/3

cup

red onion, diced or sliced

1/3

cup

feta cheese, crumbled

1/4

cup

hemp seeds

Mint for garnish
Dressing
1/3

cup

champagne vinaigrette

1/4

cup

Extra virgin olive oil

1

Tbsp.

shallot, minced

1

Tbsp.

honey

1

Tbsp.

lemon juice, fresh

pinch of salt and pepper
Last step! If you make this, please leave a review and rating letting us know how you liked this recipe! This helps our business thrive & continue providing free recipes.
Instructions
In a small bowl or mason jar, combine all dressing ingredients and mix well to combine. This will get drizzled over the salad to taste. If not serving right away, keep the dressing on the side.

Transfer the washed, chopped salad greens into a large mixing bowl.

Add in the golden berries, diced beets, barley, avocado, barley, walnuts and red onion.

Drizzle with desired amount of dressing and toss to combine.

Garnish with feta cheese, hemp seeds and mint.
Notes
How to boil beets Trim off the tops of the beets, leaving about a 2 inch stem. Add beets to a large stockpot or Dutch oven and fill with water so beets are covered. Bring to a boil, reduce to a simmer and cook for 30-45 minutes (depending on size of beets) or until fork tender. Carefully remove beets and place in a large both filled with ice water. Peel beets using a pair of disposable gloves to rub the skin right off, or you can use paper towels. Be sure to slice off the root end before dicing beets. *I like to boil the yellow and red beets separately so the colors don't bleed.
Nutritional information is provided as a courtesy and is automatically calculated. It should only be construed as an estimate rather than a guarantee. Ingredients can vary and Kroll's Korner can't make any guarantees to the accuracy of this information.