Plum Perfect Breakfast Muffins
Breads and Muffins | Published on Mar 19, 2017 | Last modified on Aug 20, 2019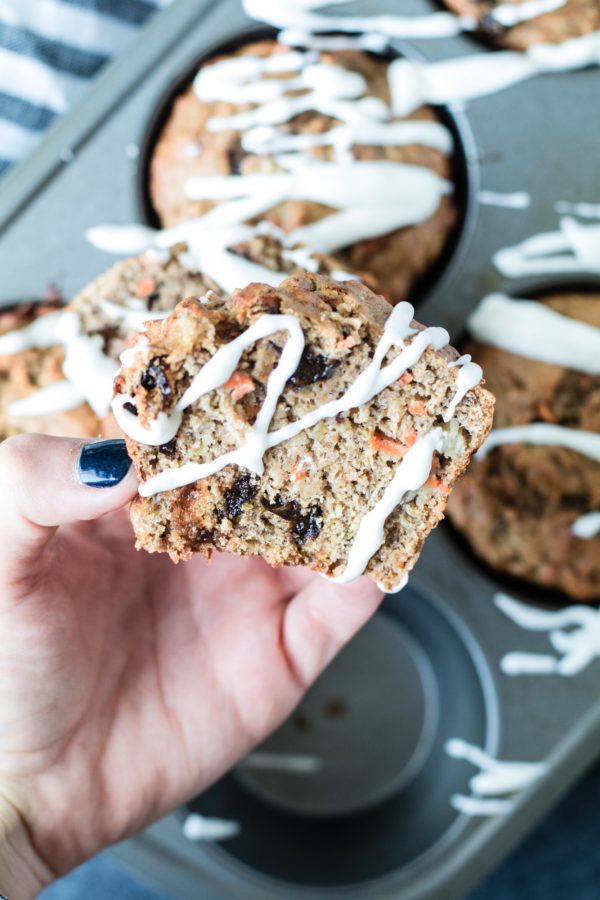 "I received free samples of California Dried Plums mentioned in this post. By posting this recipe I am entering a recipe contest sponsored by California Dried Plum Board and am eligible to win prizes associated with the contest. I was not compensated for my time."
Plum Perfect muffins, a delicious and healthy treat for breakfast with your coffee or to enjoy as a dessert!
As part of the Recipe Redux, I was shipped samples of California Dried Plums to recipe test for this contest! At first I was thinking of making some type of sauce/glaze to pair with a protein but then started to think how yummy these would be use as a sweetening agent in muffins! I am all about baked goods, but without all of the sugar and high fat content. Which is why with these muffins I used shredded carrots, bananas, and these nutrient packed plums to make plum perfect muffins!
(PS: I made this recipe in May 2015 and I re-took these photos March 2017).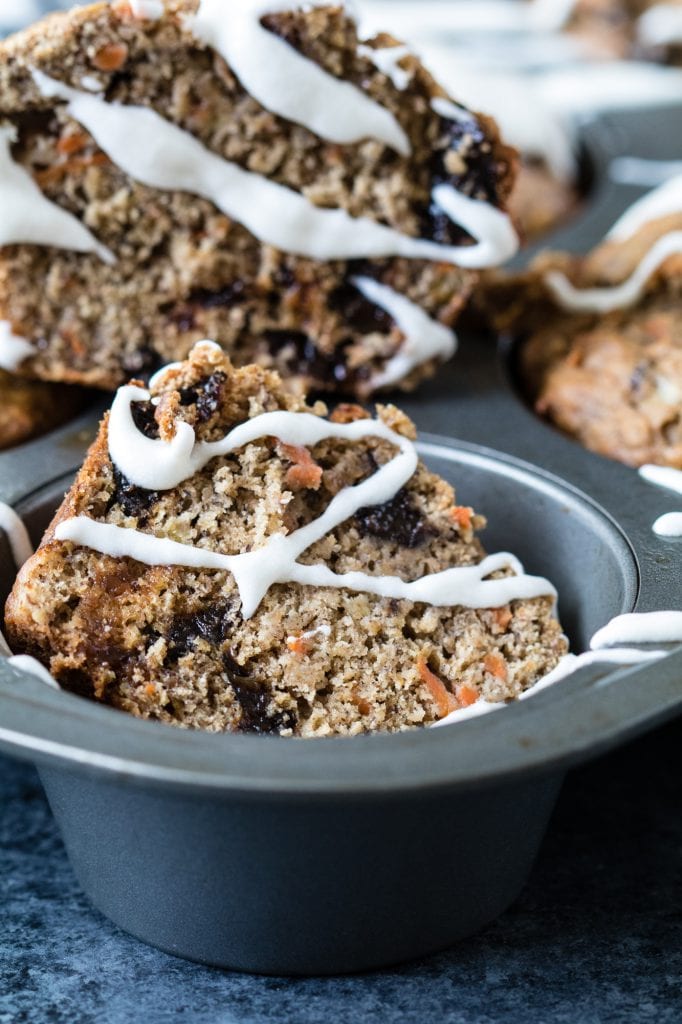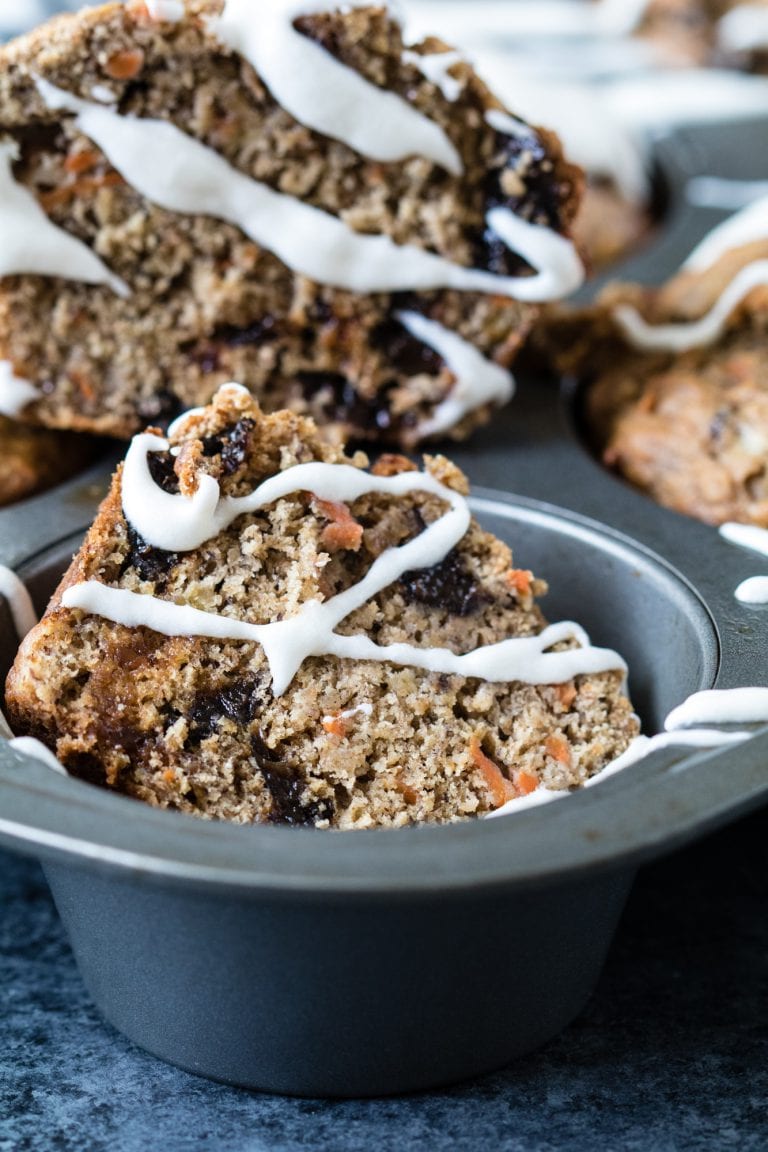 People sometimes may be turned off by dried plums because "they look gross" and are more commonly referred to as prunes… which makes you think of your grandma (haha). But have those people every really given prunes AKA dried plums the attention they deserve?! They are sooo tasty and provide our bodies with so many health benefits. The California Dried Plums board refers to these as, "nature's tasty, bite-sized nutrition powerhouses." These description could not be any more true! Dried plums are great for improving your bone health and maintaining a healthy digestive system due to the high fiber content. Plums also contain B vitamins, potassium, magnesium, and antioxidants which all promote good health. Plums are even great for weight management! About 4-5 dried plums contains 3g of fiber and ~100calories. Try to enjoy these as a snack to help curb your hunger and prevent overeating later on.
[Tweet "Plum Perfect Muffins – PERFECT for brekkie on the go, healthy and nutritious! Krollskorner.com"]
For more information about dried plums nutrition content, visit: http://www.californiadriedplums.org/nutrition
Pin this recipe for later!




I challenge you all to try our dried plums this weekend! Make these muffin's with/or for mom for Mother's Day, I guarantee she will love them! 🙂 Happy Mother's Day to all of the mommy's out there, you all deserve special love for all you do…and not only 1 day of the year but each and every day!! xoxo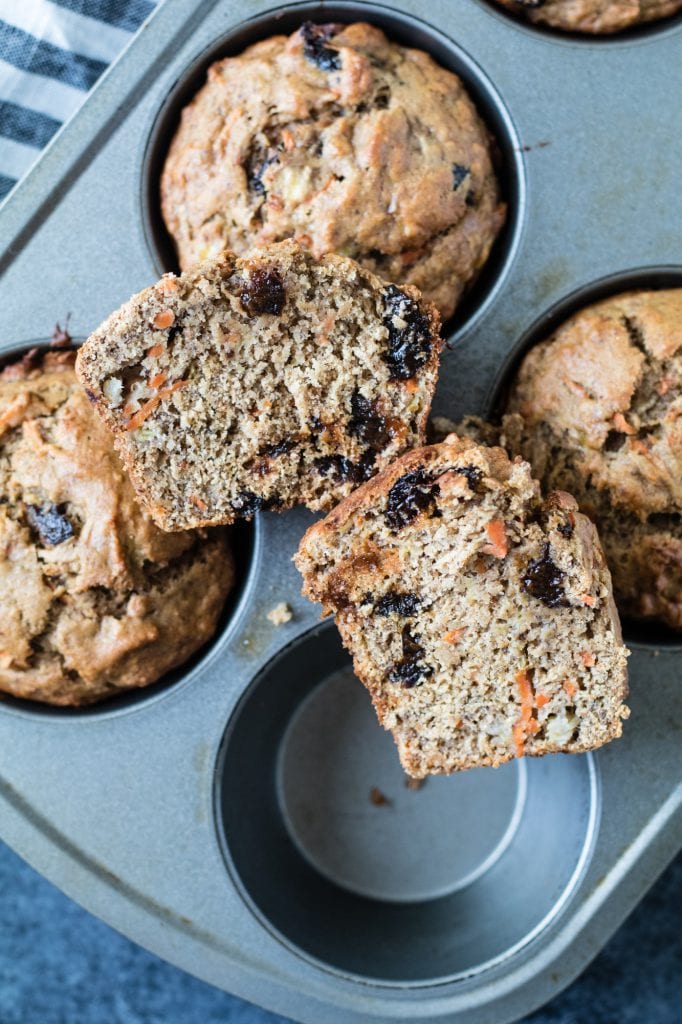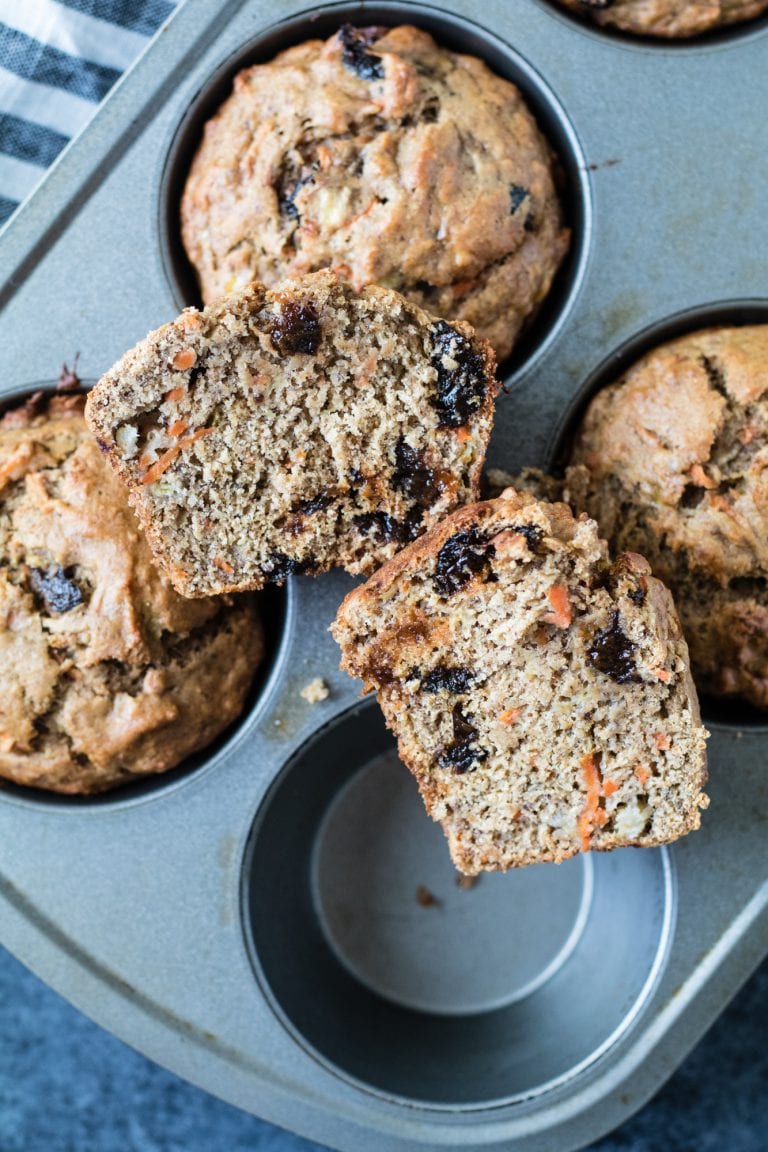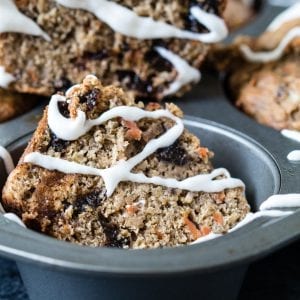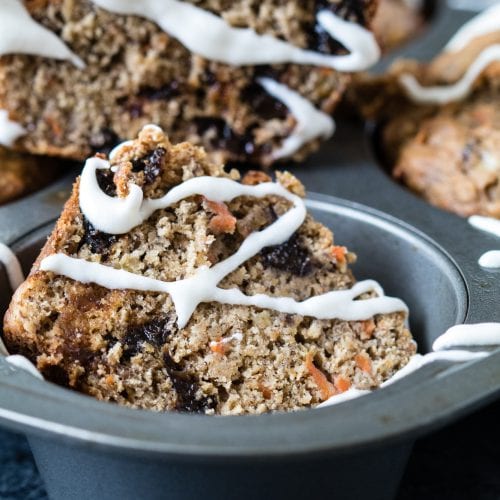 Plum Perfect Muffins
Perfect breakfast muffin full of nutrients and fiber!
Print Recipe
Pin Recipe
Rate
Ingredients
1/4

cup

canola oil

1

egg

3

medium-sized ripe bananas

mashed

1

tsp.

vanilla extract

3/4

cup

all-purpose flour

3/4

cup

whole wheat flour

1/4

cup

dark brown sugar

1

tsp

baking powder

1/2

tsp.

baking soda

3

Tbsp.

flax seed meal

1/4

tsp.

salt

1/4

tsp.

cinnamon

3-4

carrots

shredded and chopped

1

cup

dried plums

pitted and quartered
Instructions
Preheat the oven to 400 degrees F. Grease your muffin pan and set aside.

In a large bowl, whisk the 2 flours, baking powder, flax seed, baking soda, cinnamon, and salt. In a separate medium sized bowl, mix the bananas, brown sugar, oil, vanilla, and egg with a whisk or fork. Once mixed, stir in the carrots and the prunes gently. Add this mixture to the flour mixture and fold until all ingredients are combined. Do not over mix.

Spoon the batter into the prepared muffin pan. Bake for about 23 minutes, or until toothpick inserted into the center of the muffin comes out clean. Remove the muffins from the oven, and serve warm.
Notes
For me - this made 6 large muffins, and 6 mini muffins (cupcake size). Enjoy!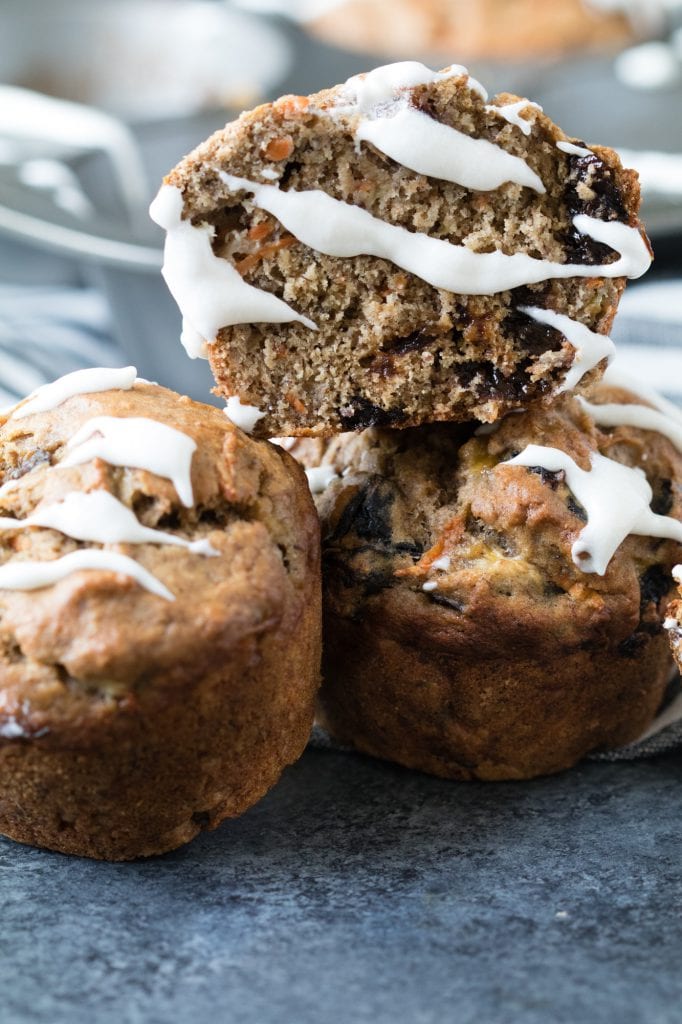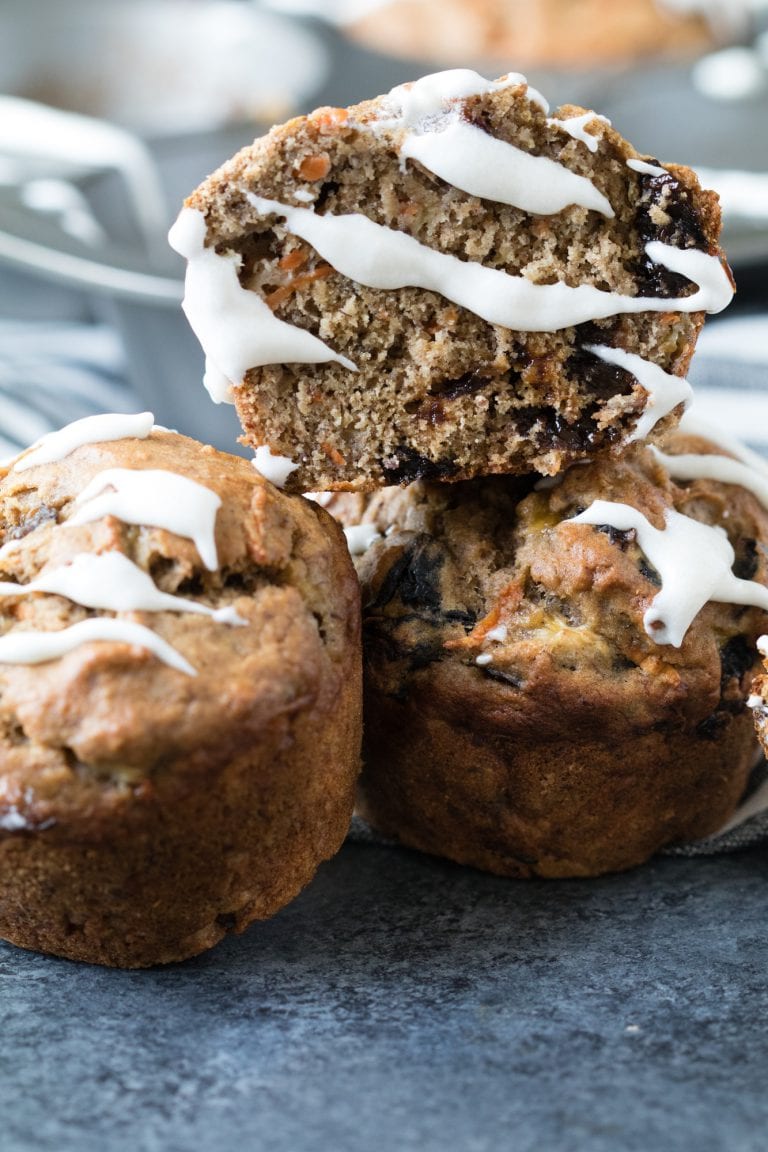 I'd love to see what you made!!
Share it with me on Instagram or Facebook and tag me @krolls_korner or use the hashtag #KrollsKorner!