Creamy Homemade Almond Milk
Breakfast | Published on Aug 7, 2017 | Last modified on Jan 30, 2020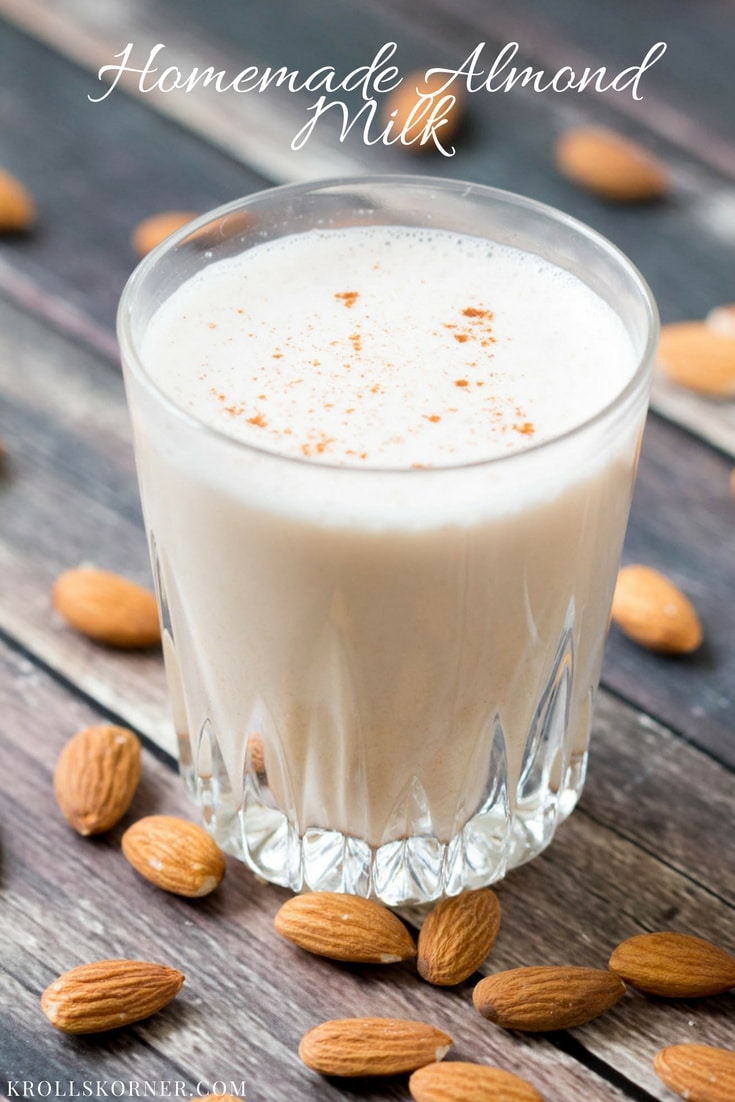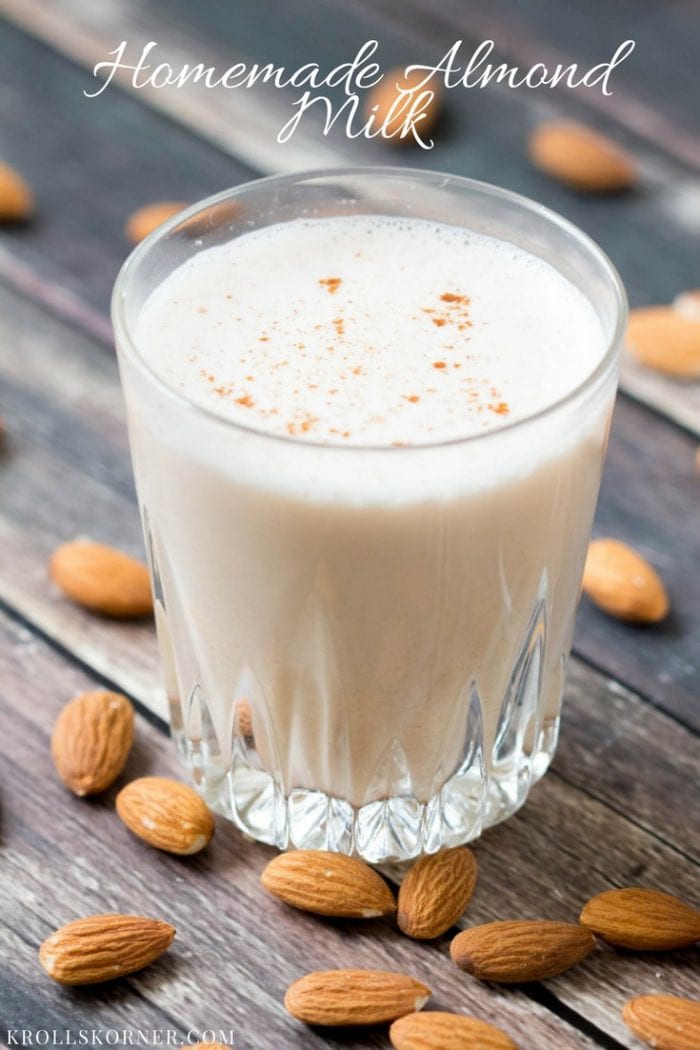 Homemade Almond Milk is fun to make and the taste is out of this world! Compared to store bought almond milk homemade is in its own league! Well, most homemade anything is downright delicious but seriously, this almond milk is delish!!! Mmmm
A lot of people are choosing non-dairy alternatives nowadays…whether it be because they are vegan, have an allergy, or simply a taste preference.
How similar are milks and non-dairy "milks?"
Well it just depends. Soy milk is a healthy option because it has similar amounts of potassium as cow's milk.
Rice milk can be very high in carbohydrates, so that is something to watch out for.
Almond milk is also a great option, but it does not come close nutritionally like soy milk does.
But, for people who do not care for the taste of soy and are not allergic to nuts, this almond milk is a wonderful option.


Here is a breakdown of 6 Non-Dairy Milk Alternatives
(Information based from the Academy of Nutrition and Dietetics Food & Nutrition magazine)
Almond: Often lower in calories and sugar than other milk alternatives, it is high in vitamin E and low in protein. (You will find more protein in cow's milk, and only about 1g protein in a serving of almond milk).
Soy: This is thicker than other non-dairy milk alternatives, it has the most protein of non-dairy milks and can make as a good creamer in coffee! Try swapping out the milk in your Starbucks latte for soy milk next time.
Coconut: As you may assume, this has a higher fat content and contains some saturated fat. Coconut beverage in the carton is best for drinking.
Oat: Provides fiber and iron, but is low in protein. It contains phytochemicals which may help prevent heart disease.
Hemp: This is good in baked goods because it doesn't have an obtrusive flavor. Good source of omega-3 fats.
Rice: This is cholesterol free and a good alternative for people with nut or soy allergies, but it is also low in protein and high in carbohydrates.
Tips:
Choose unsweetened or plain varieties of milk alternatives for savory dishes
Do not freeze non-dairy milk
Look out for carrageenan…some people are sensitive to this seaweed-based thickener
Be aware of the added sugars
Shake the beverage before serving because some of the nutrients settle at the bottom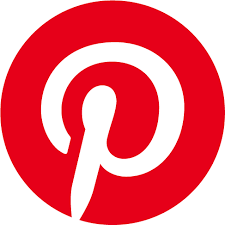 Kroll's Korner (KrollsKorner)
Kroll's Korner – Healthy recipes that are simple, tasty and easy to make all made by Registered Dietitian Nutritionist Tawnie Kroll. krollskorner.com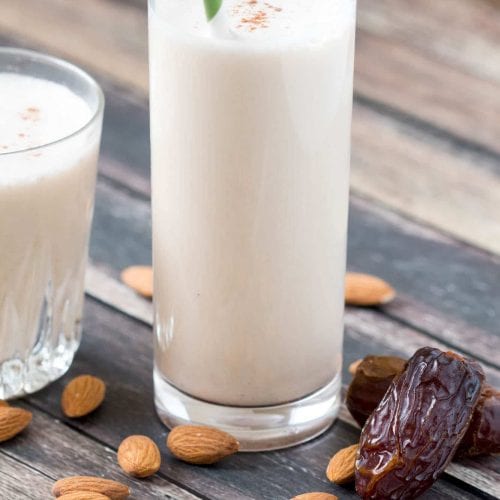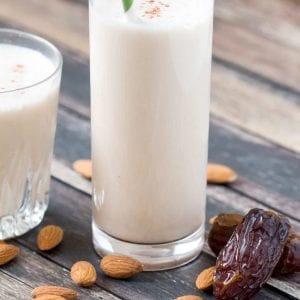 Homemade Almond Milk
Homemade almond milk is a fun and rewarding milk to make, and it is so fresh and nutritious – it really knocks the store bought milks off the shelf!
Print Recipe
Pin Recipe
Rate
Total Time:
8
hours
20
minutes
Ingredients
2

cups

almonds

6-8

cups

Filtered water

4-5

dates

pitted *these are optional for added sweetness

2

tsp.

vanilla

Cinnamon

Maple syrup, other flavorings are optional.
Instructions
Soak almonds in 3-4 cups of filtered water overnight in the fridge. Really just enough so they are fully covered.

Drain almonds (optional to remove skin from almonds – I recommend for a creamier milk!) and add to a powerful blender. Add filtered water into the blender, how much you use depends on the desired thickness. (I usually do 3 cups filtered water)

If using dates, soak them in water for a few minutes to soften then add them into the blender.

Start blender on low setting and gradually move it to high. Once almonds turn white liquid, stop the blender (1-2 minutes).

Place Ellie's Best Nut Milk Bag (or a cheesecloth) over a bowl and begin to pour the liquid over the bag/cheesecloth.

Squeeze to remove the liquid and the bag/cloth will hold the remaining almond pulp. Set the pulp aside.

Once almond milk is strained, add milk back into blender and add in the vanilla and other flavorings you like. Store in fridge in closed jar for up to 5 days.
Notes
Don't throw away the almond pulp! Use it to make energy balls or bake with it!
This recipe make 4 cups almond milk.
Use code "Kroll10" for 10% off a nut milk bag from Ellie's Best!

I'd love to see what you made!!
Share it with me on Instagram or Facebook and tag me @krolls_korner or use the hashtag #KrollsKorner!