How To Make A Breakfast Sweet Potato
Breakfast | Published on Nov 9, 2018 | Last modified on Oct 2, 2019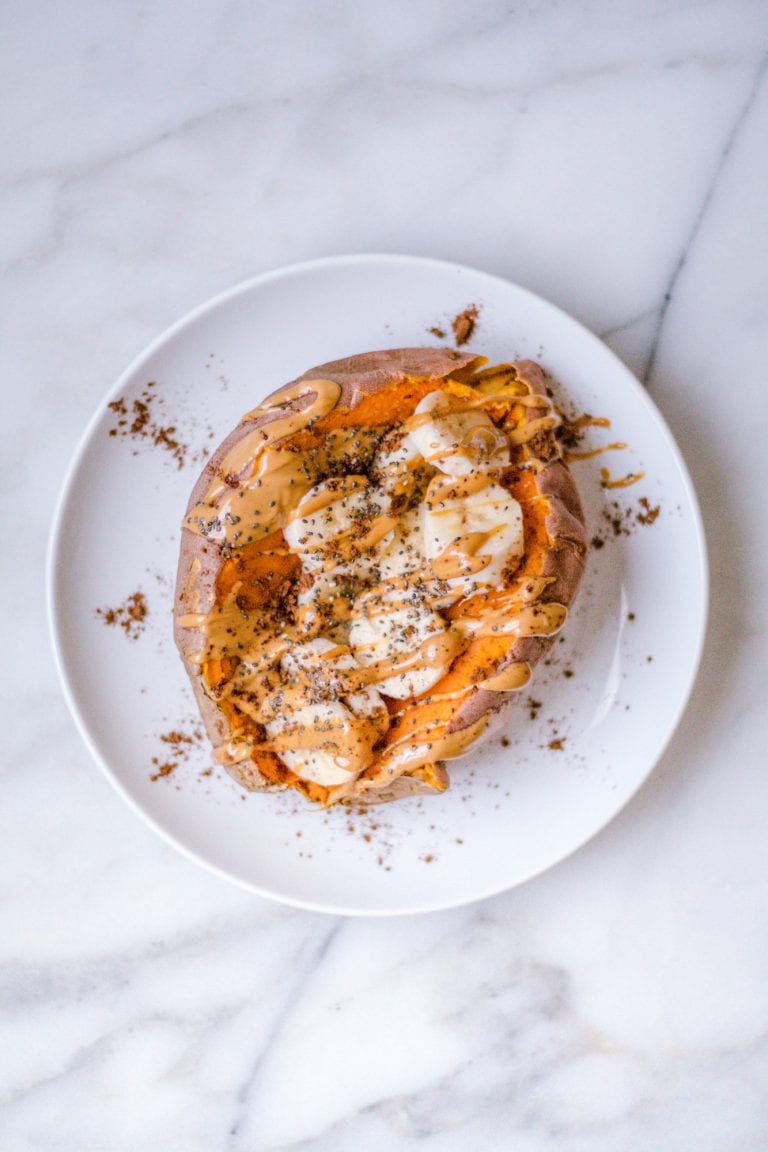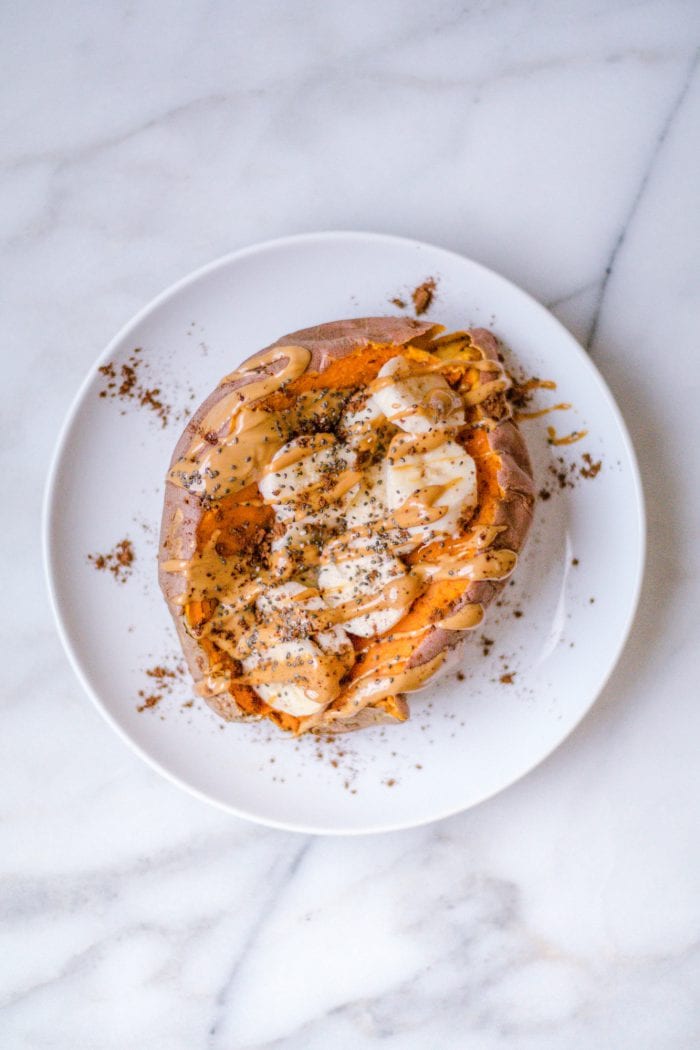 This breakfast sweet potato is simple, satisfying and SO delicious!
I make this breakfast sweet potato at least once a week! Why? Let me tell you…
You know those days when you wake up ravenous and you need something more than yogurt with granola and fruit? This breakfast sweet potato will have your back.
It's full of Vitamin C, fiber and protein.
The sweet potato and peanut butter combination is to die for. Especially since the sweet potato is warm and the peanut butter becomes melty!!
I'm getting a vegetable in first thing in the morning. Yes, it's a starchy, sweet-tasting veggie but hey, still a veggie!!
In addition to the veggie at breakfast – this breakfast is a great source of protein first thing in the morning. Many cereals or other breakfast options are lacking protein, which makes this breakfast a great option! (Plus, it's plant-based!)
I try to eat this breakfast more during the winter months since sweet potatoes can bolster the immune system. (Keep that cold away!)
With all of the screen time we get these days (computer, phones, tv, etc.) sweet potatoes are great to include in the diet since they may slow aging by promoting good vision.
I love finding ways to add peanut butter to my breakfast because I find I am fuller longer, and not ravenous 2 hours after breakfast. Thanks to the fiber, protein and good fats in the peanut butter, it will keep you satisfied too!
How To Make A Breakfast Sweet Potato – vegetarian, gluten free and oh-so delicious! #krollskorner | krollskorner.com"
Click To Tweet
This list goes on and on why I love this recipe breakfast so much!
And so far, you can see how simple this is to make!
Grab a sweet potato. Wash it and dry it.
Poke holes in it with a fork and wrap it in a paper towel and cook in the microwave until you can stick a fork all the way thru and it feels done (soft).
Carefully cut the sweet potato in half and place banana slices on the sweet potato.
5. Grab your favorite peanut butter and drizzle it on top of the banana slices. Sometimes if my peanut butter is hard – I place some in a microwave safe dish and heat it for 30 seconds so it's easier to work with for a drizzle.
6. Last but not least, top with chia seeds and ground cinnamon! Sometimes I top with a drizzle of honey, but it's naturally sweet on it's own!
I hope you love making this breakfast as much as I do!
The neat thing about break sweet potatoes is that they are 100% customizable!
You don't like peanut butter? Try cashew butter or almond butter. Allergic? Soy nut nutter of sunflower butter a great options too!
Top with chocolate chips, crushed walnuts, other fruits, flaxseed, honey, maple syrup.
Add protein by topping an egg on the sweet potato and saving the banana and peanut butter for a snack. Mix it up – breakfast does NOT have to be boring!
If you do not want to cook your sweet potato in the microwave, you can cook it in the oven or use your Instant Pot if you have one! I made a quick video on how to make your sweet potatoes in the Instant Pot and my friend also wrote an entire post on it too!
Loving this recipe?
If you are looking for other sweet potato favorite of mine, let me help you out!

I'd love to see what you made!!
Share it with me on Instagram or Facebook and tag me @krolls_korner or use the hashtag #KrollsKorner!