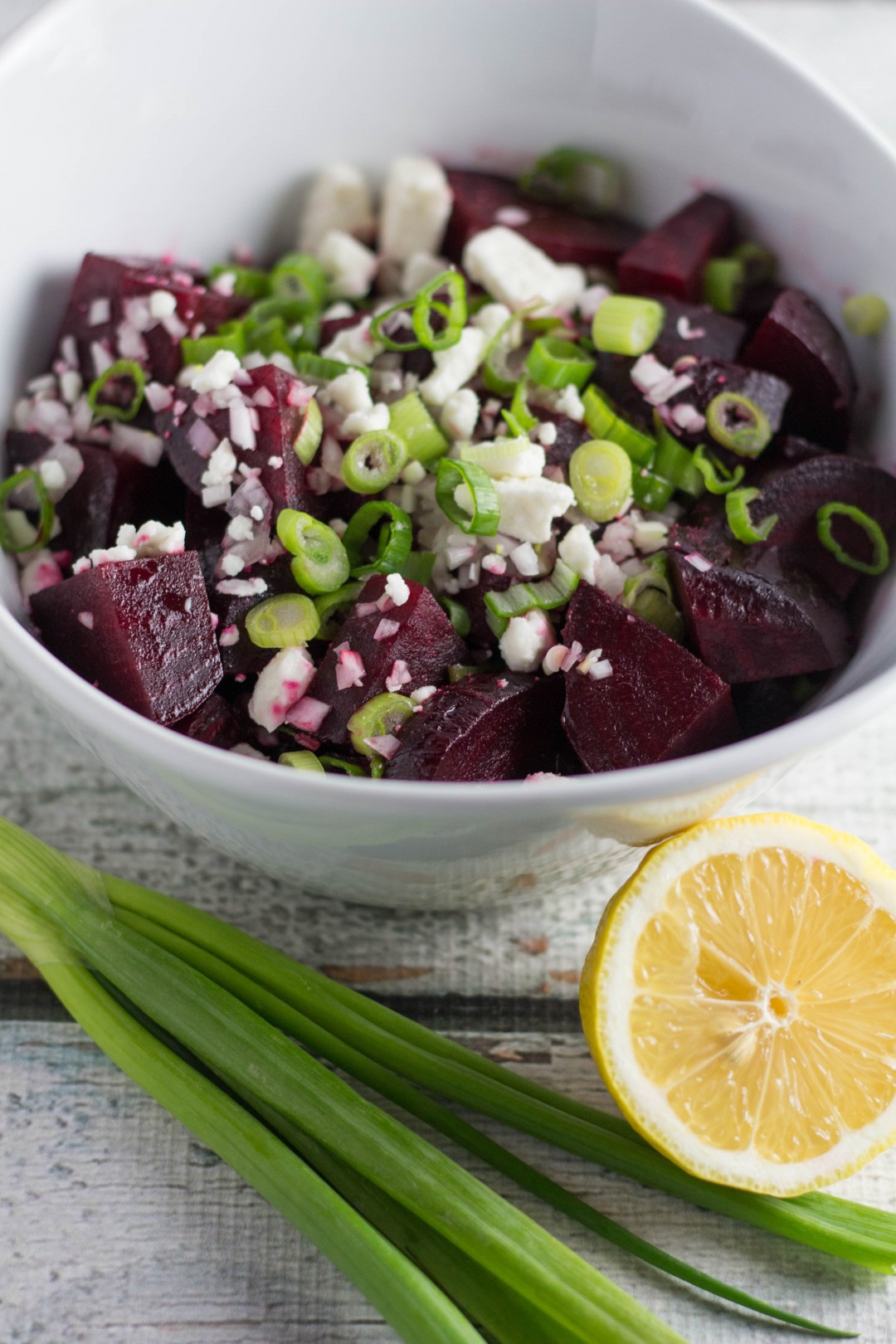 Happy Spring!! Crazy, right? Feels like it was just Christmas! Until recently, I have not given beets the chance they deserve. They've always been one of those intimidating veggies that I always wonder what to make with it! Well for this months Recipe Redux post I am sharing this 7 Ingredient Roasted Beets with Feta Salad!

March 2016 – Theme
7-Ingredient (Or Less) Recipes
It's Income Tax Season, so our brains could use some easy arithmetic; as in seven-ingredient-or-less recipes. Show us the healthy, no-brainer dish you fix for breakfast, lunch or dinner. Think beyond smoothies or drinks, please. (And for those of you living in countries where it's not Tax Season – we're pretty sure you and your readers would still love doing the math for seven-ingredient-recipes!)
Beets are certainly touted for their wide range of health benefits. They may help lower blood pressure, boost your stamina, fight inflammation, and have anti-cancer properties. A couple downfalls is they are indeed messy and take a while to roast in the oven – so be sure you have plenty of time when making this recipe! Or purchase smaller beets so they cook faster. OR buy precooked beets such as LoveBeets. I roasted mine at 425 degrees F and they took 1 hour and 30 minutes. Then I let them cool for 30 minutes and removed the skin with a paper towel…don't wanna get caught red handed! 🙂
(I made this recipe in March of 2016, and in July 2017 made this video for it! I've been told the videos make the recipes seem less intimidating so I am hoping to publish videos more often for you all!)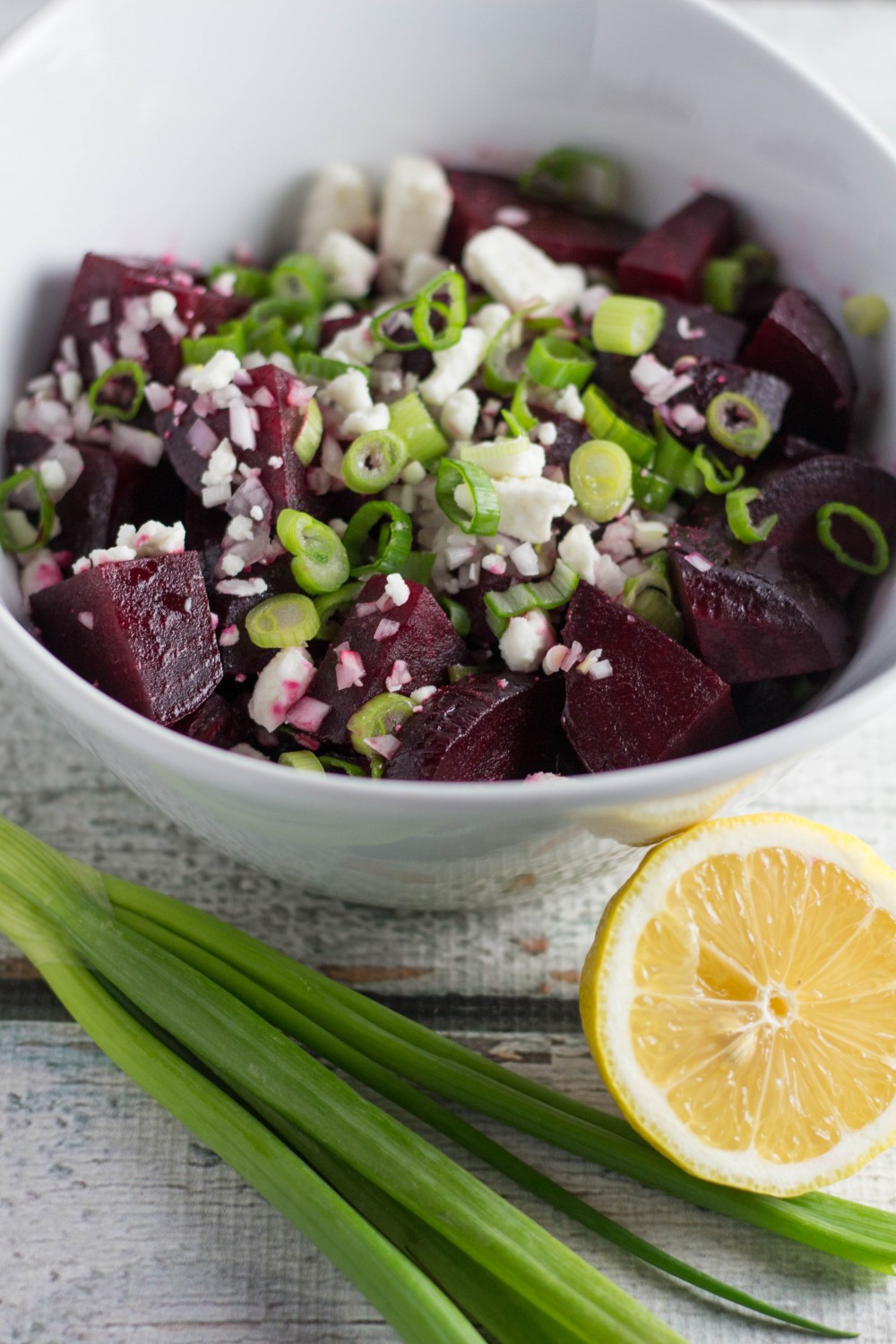 7 Ingredient Roasted Beets with Feta Salad
2016-03-20 18:04:44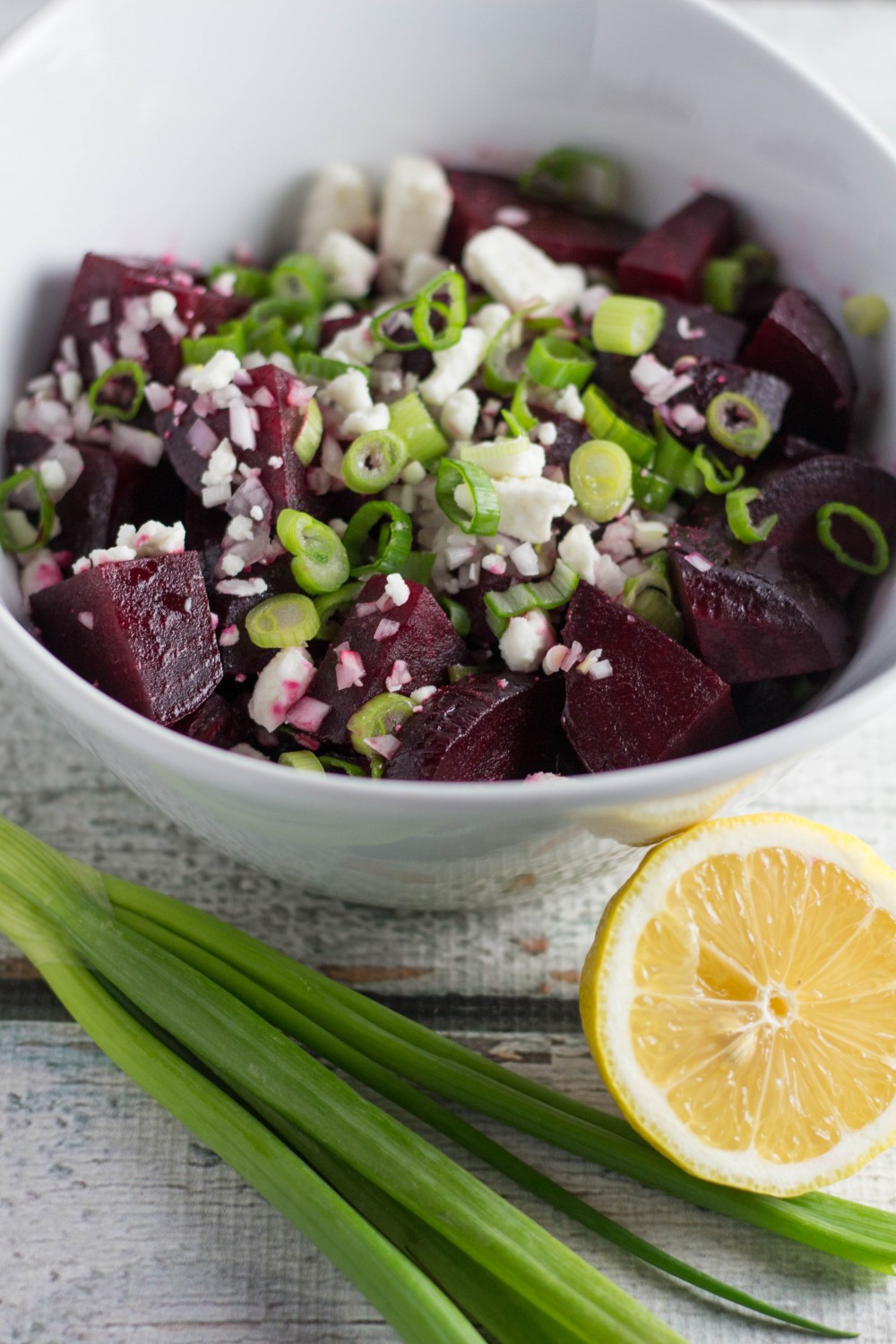 Ingredients
5 red beets
1 lemon, juice
1/2 cup feta cheese
1/4 cup EVOO
1/4 cup balsamic vinegar
1 shallot, minced
2 green onions, chopped
Directions
Preheat oven to 425 degrees F. Wash beets well and place in a oven safe dish and cover with foil. Roast beets in oven for 1-2 hours, depending on size. You should be able to stick a fork or toothpick in easily. Let sit for 30 minutes before you remove the skin. Be sure to use a paper towel to remove the skin!
Dice up the beets and let marinate in 2 Tbsp. of the EVOO and balsamic vinegar for 10 minutes. Then toss in remaining ingredients and stir. Serve cold. Enjoy!
Notes
Beets are like sponges - they soak everything up! This is why I let the beets marinate for a few minutes in the olive oil to get extra tasty!
You may also use parsley instead of green onions as a substitute!
Krolls Korner https://krollskorner.com/
Loading InLinkz ...
Did you make this recipe? Tag @krolls_korner on Instagram or send me a pic, I'd love to see!
Let's Connect!
Looking for easy and healthy recipes? Head over to my Pinterest page to get inspired!