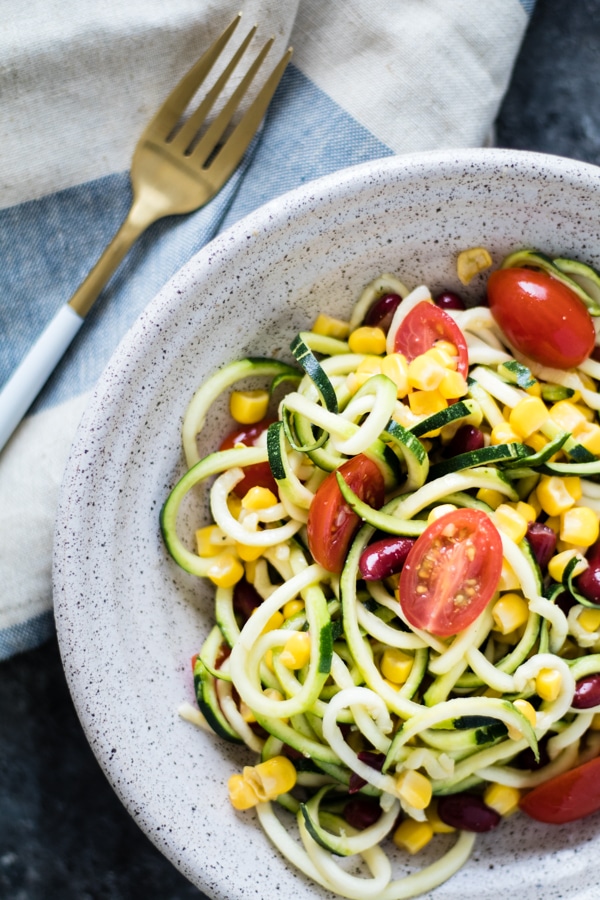 Zucchini and Corn Salad with a delicious 5 ingredient vinaigrette dressing!
This salad is super refreshing and the light dressing compliments the flavors so well. If you have zucchini in the fridge and feel like making something NEW and fun with them here is your chance. 😉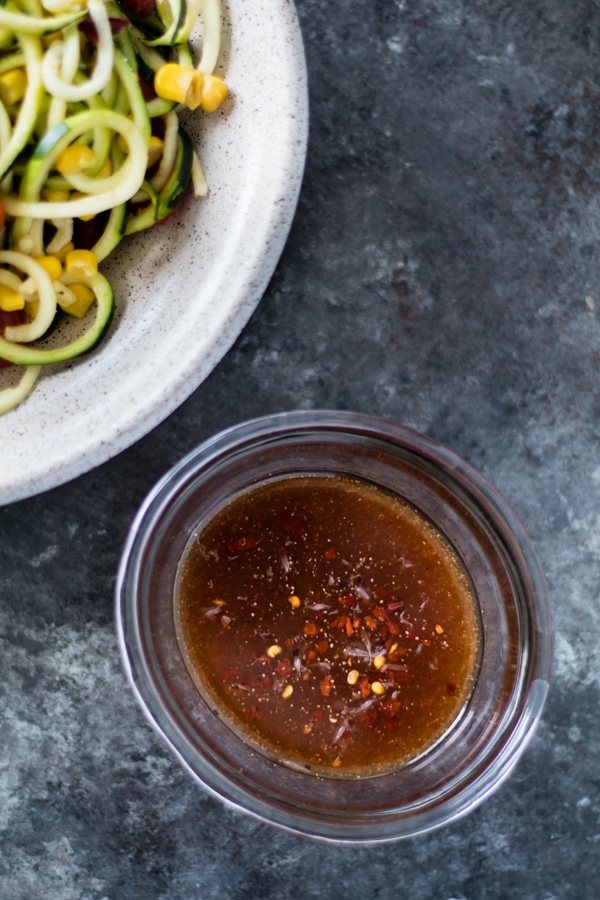 I made an easy dressing for this salad – honey, red wine vinegar, juice and zest of 1 lime, chili powder, garlic powder and red pepper chili flakes (totally optional, omit if you are not a fan of spicy things!).
I showed how to make this salad on KMPH FOX 26 and also made it for a cooking class at Whole Foods in Fresno and it was a total hit both times. It would pair nicely with shrimp, chicken or even salmon! As the weather here in Fresno gets into the 100s, it's salads like this I need to keep on hand! Keep the dressing onside so the integrity of the salads remains! Zoodles hold a lot of water so adding the dressing before you plan on eating it can just cause it to become soggy.
This salad is…
Nutrient Rich
In season
Fun!
Easy to make
Simple ingredients
It's not surprise that 99% of us love an easy and nutritious recipe. That's why I am always trying to find ways as a Dietitian to make nutrient rich and tasty meals for you all to enjoy. This one is a favorite because you can prep it in advance because the noodles hold up very well. (Keep the dressing on the side until you're ready to enjoy it!"
So often people think salads have to be boring. I remember when I first met my boyfriend (he was 22 at the time) and he HATED salads. Never ate them. Until I stepped in…
I slowly started introducing him to new salad-y type foods and now…at his ripe age of 28…he will be REQUESTING salads for dinner. He's a whole new salad eating man, I swear!
One of my other favorite salads for lunch that always keeps me satisfied is this Chicken Salad!
I also have been making this broccoli salad for meal prep lunches and I swear it get's better the longer the flavors soak in!
For a vegetarian salad for Meatless Monday's I love having this Vegetarian Quinoa Powder Salad! If you like cheese, these salad goes really well with feta too!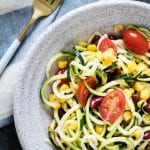 Zucchini & Corn Salad w/ Honey Lime Vinagrette
Full of flavor and fresh ingredients!
Print
Ingredients
1

Zucchini, fresh

spiralized

1

15 oz. can

corn

1/4

cup

cherry tomatoes

cut in half

1

15 oz. can

Kidney beans, low-sodium

rinsed and drained

flat leaf parsley

garnish

Optional: feta cheese
For the vinaigrette
1/2

Tbsp.

red wine vinegar

1/2

tsp.

chili powder

1/2

tsp.

garlic powder

salt and pepper

to taste

zest and juice of 1 lime

1

tsp.

honey

red pepper chili flakes (optional)
Instructions
Bring a large pot of water to a rolling boil. Cook corn for 5 minutes, then remove from water. Let cool and cut corn off of the cob.

Using a spiralizer, spiralize your zucchini using the smallest blade. Toss together with corn in a medium-large sized bowl. Gently mix in tomatoes and kidney beans.

In a small bowl, whisk together all ingredients for the dressing. Pour over zucchini/corn and toss until evenly coated. Use parsley for garnish.