Vegan Chocolate Mousse
Chocolate | Published Jun 25, 2019 | Updated May 13, 2020 | By Tawnie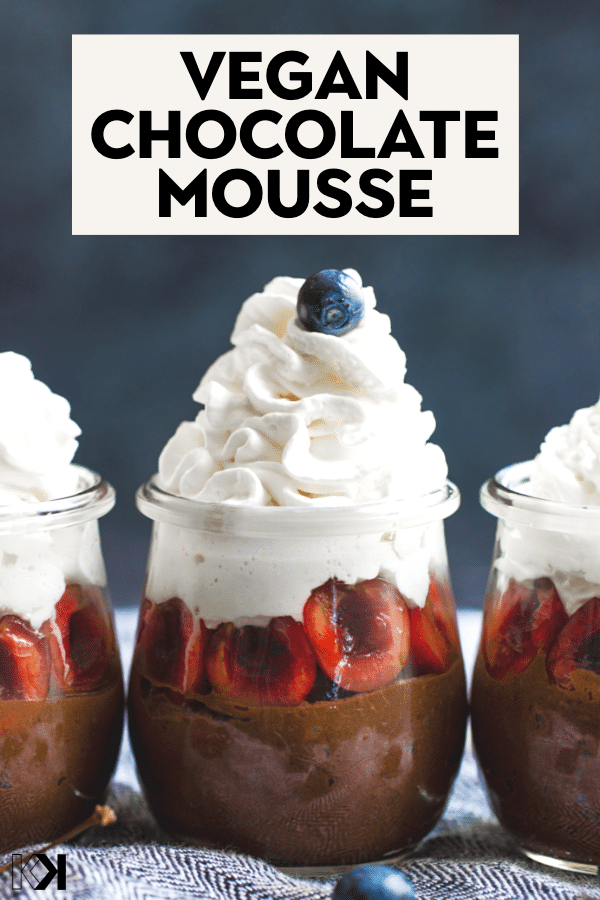 This Vegan Chocolate Mousse is simply fabulous. This vegan mousse is made with Medjool dates so it is also nutrient rich.
Here is what you'll need:
Medjool dates, pitted
Unsweetened coconut milk (canned)
Unsweetened cocoa powder
Vegan chocolate chips
Coconut oil
Water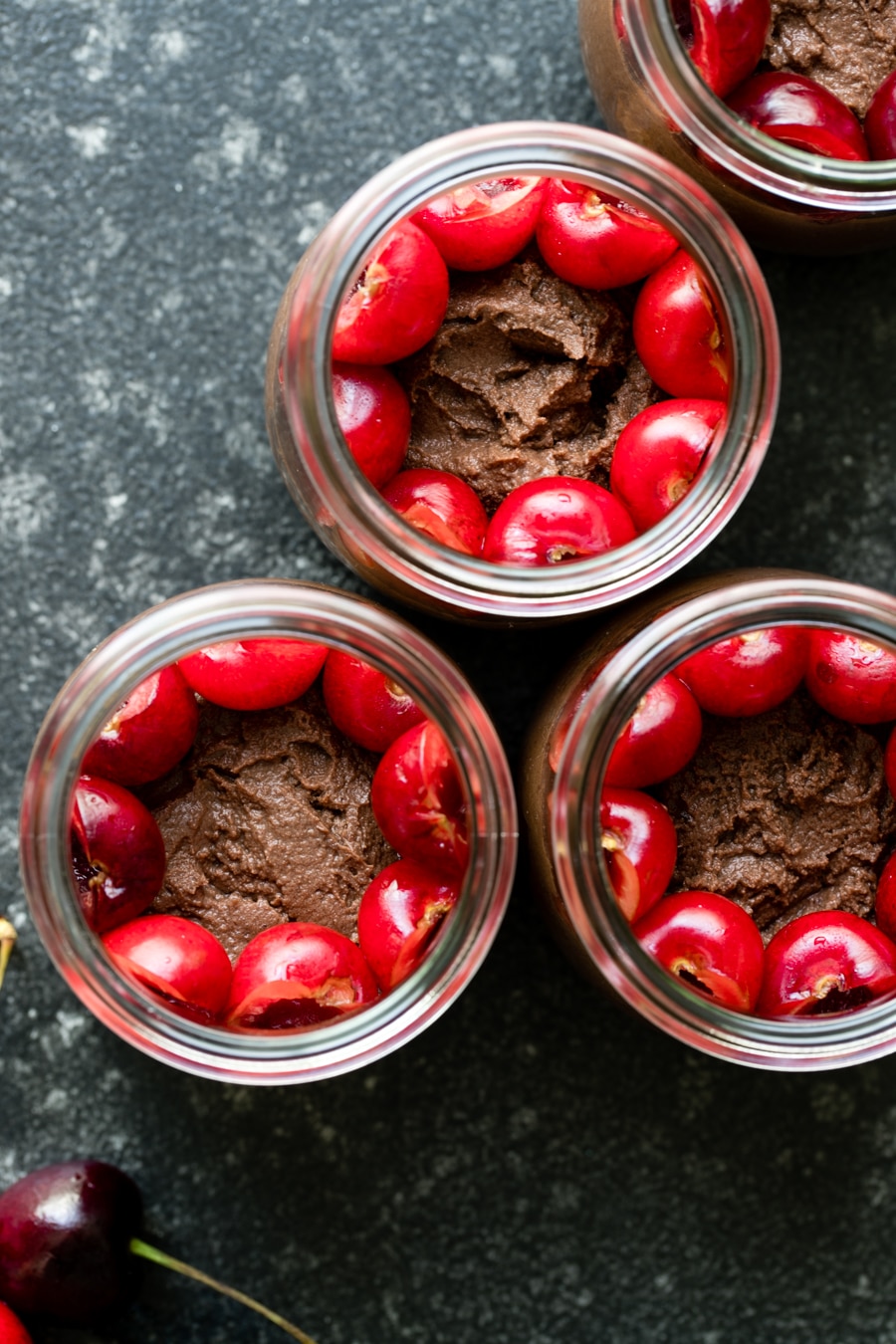 How do you make vegan mousse?
The best part of this vegan mousse? It's so easy to make! Here is how:
Step 1: Make sure your coconut milk has been chilled in the fridge for 1-2 hours (or more is better). The coconut needs to solidify so you can use the full fat coconut cream bliss. The full fat cream will separate from the water and you will use the full fat cream, not the water.
Step 2: Soften the dates if they feel stiff by submerging them in a bowl of water for 10-15 minutes. If your dates are super fresh you won't have to do this step. Also, remove the pits if not already pitted.
Step 3: In a Vitamix or powerful blender, blend the dates with the coconut cream and filtered water. Then, take the melted chocolate & coconut oil mixture and unsweetened cocoa powder and blend into the dates.
Step 4: Sneak a bite or 2, but then place in a bowl in the fridge for 1-2 hours for the mousse to come together.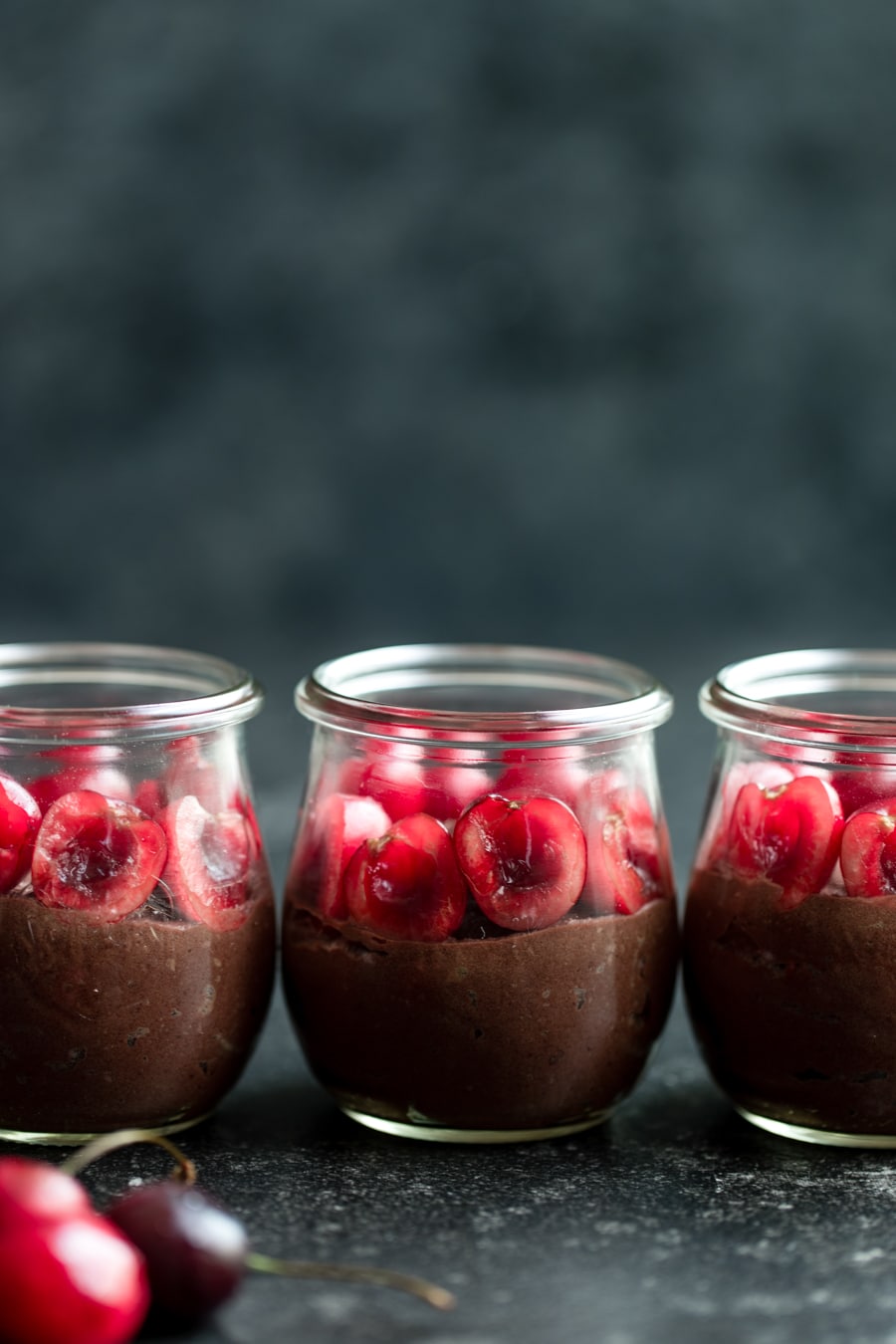 Ideas for serving vegan chocolate mousse:
I love serving with fresh berries: raspberries, strawberries, blueberries or blackberries.
If cherries are in season you can top with cherries too!
Make it into a parfait: grab a jar and place the mousse in, top with fruit and then your favorite vegan (non-dairy) whipped cream: coconut or almond whipped cream.
Health Benefits of Dates:
They are high in potassium, magnesium, fiber and antioxidants.
Some studies have shown dates may promote and ease natural labor for pregnant women when consumed during the last few weeks of pregnancy!
Dates are an excellent natural sweetener. For example if a recipe calls for 1 cup of sugar you can sub it with 1 cup of date paste.
What type of coconut milk should I buy?
Canned, unsweetened coconut milk. 13.5 oz. Our goal is to isolate the full fat cream, so chilled the canned coconut milk so let the coconut cream separate from the water is KEY!
Kroll's Korner tip: Purchase canned unsweetened coconut milk and place it in your refrigerator so the milk can harden. (At least 2-3 hours or overnight).
When you open the can, about half of the can will be the hardened, full fat coconut cream, and the liquid coconut milk left can be discarded or used for another culinary purpose.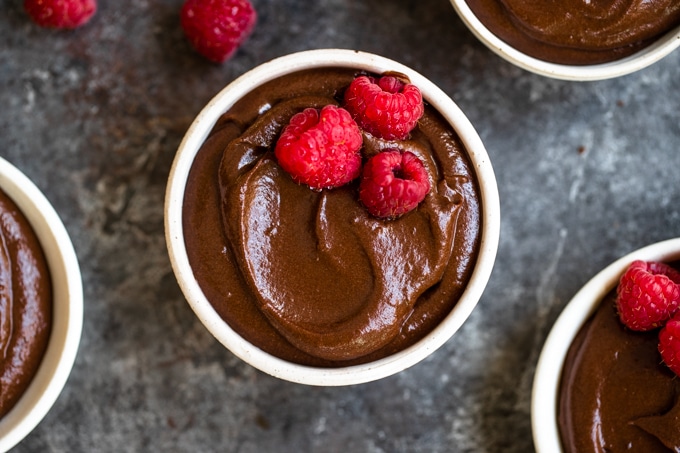 What is the difference between pudding and mousse?
Both are smooth and creamy, so what sets them apart?
Pudding is traditionally made with a mixture of milk and sugar, that's cooked and thickened with cornstarch.
Mousse starts with a base similar to pudding, minus the cornstarch, to which beaten cream or beaten egg whites are folded in. Instead of cream or egg whites, I used the coconut milk to make it healthier. You can also use avocado!
How they are different: They different on how the pudding and mousse is thickened and the textures. Pudding is semisolid and more dense, while mousse has a lighter, airier texture.
Some of my other favorite chocolate dessert recipes are these black bean avocado brownies and Oatmeal Raisin Chocolate Chip Cookie Skillet drizzled with chocolate! mmmm…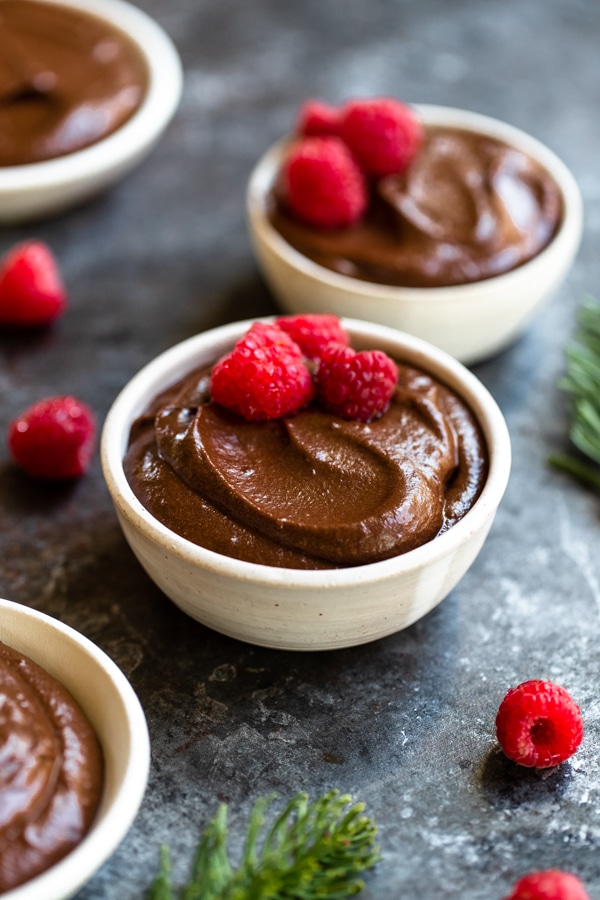 I hope you love this one!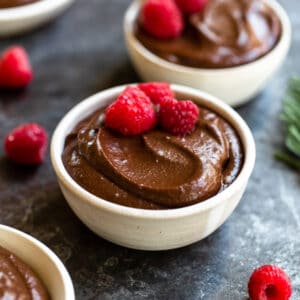 Vegan Chocolate Mousse
Vegan Chocolate Mousse is made with coconut milk and it is creamy, smooth and delicious topped with fresh berries!
Ingredients
15-20

Medjool dates, pitted and chopped*

1,

13.5oz can

Coconut milk, unsweetened

or 1 cup coconut cream

3/4

cup

water, filtered

1/3

cup

cocoa powder, unsweetened

1/3

cup

vegan chocolate chips

1/2

Tbsp

coconut oil
Instructions
First, you will need to place the canned coconut milk in the fridge for 2-3 hours or overnight for the coconut milk to solidify into coconut cream. Then, you can use the coconut cream for the mousse and discard the remaining liquid in the can (or save it for another culinary use).

In a powerful blender or food processor, blend the dates, full fat coconut cream and water together for 1-2 min.

Then, in a microwave safe bowl melt the chocolate chips and coconut oil together. I cover with a paper plate and heat for 1 minute, stir, and then heat for another 30 seconds. It should be melted at this point!

Pour the melted chocolate and cocoa powder into the blender and mix until smooth. You may need to add water (2-4 Tablespoons) to achieve a smooth consistency.

Pour the mousse into individual serving dishes and place in fridge for 1 hour (or if you're like me and can't wait, you can sneak a few bites!)

Enjoy with fresh berries or make it into a parfait layered with mousse, fresh berries (or cherries if in season) and coconut cream on top.
Hi, I'm 
Tawnie

!

Welcome to my tiny "korner" on the Internet! I am a Registered Dietitian Nutritionist who loves cookies as much as kale. (OK, maybe I like cookies a little bit more but shh, don't tell anyone). I am so glad you're here! Follow along for hassle free, realistic and approachable recipes.

More about Tawnie

I'd love to see what you made!!
Share it with me on Instagram or Facebook and tag me @krolls_korner or use the hashtag #KrollsKorner!