Turkey Taco Lettuce Wraps
Dinner | Published May 9, 2019 | Updated Aug 20, 2019 | By Tawnie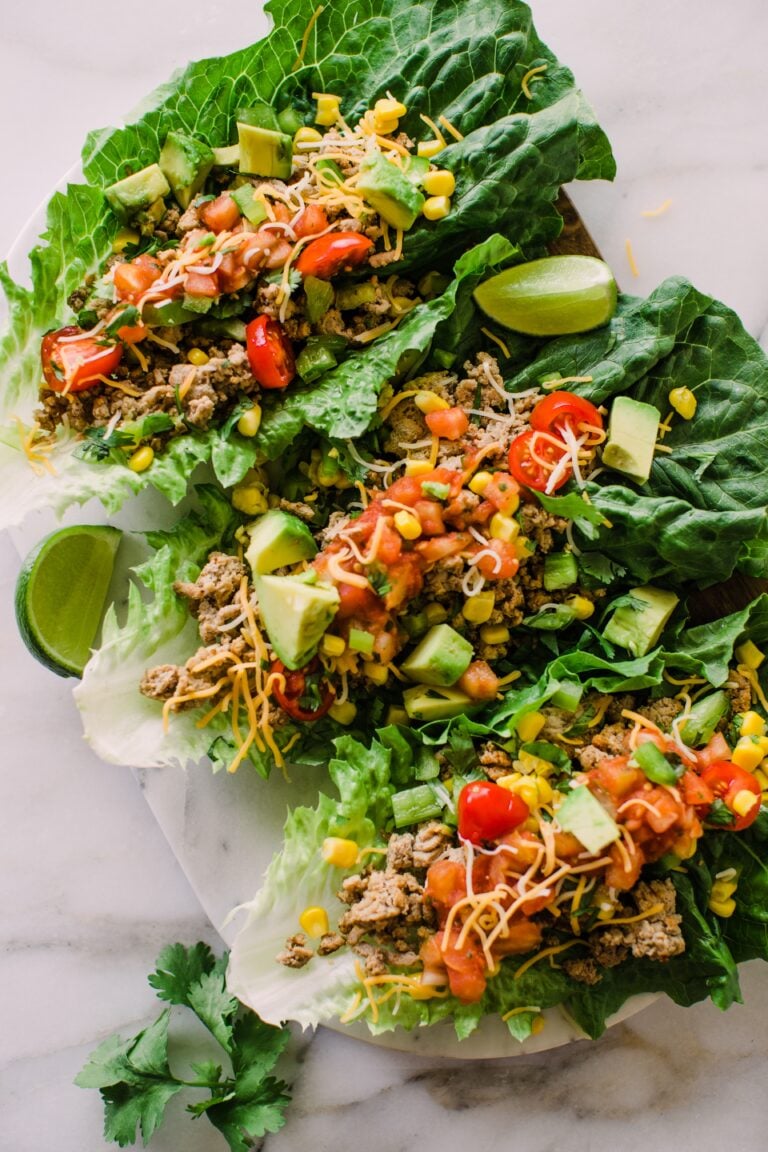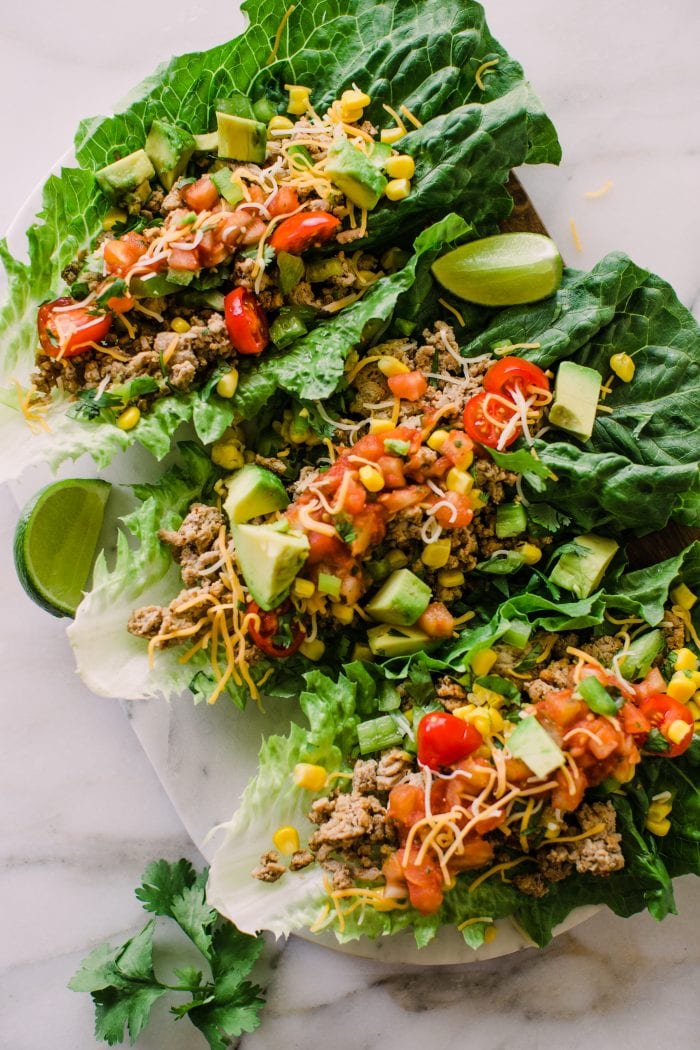 Turkey Taco Lettuce Wraps are light, yet satisfying to enjoy for an easy weeknight dinner and are loaded with your favorite Mexican toppings.
Turkey Taco Lettuce Wraps are what we go for when we want something quick and simple and low in carbohydrates. Some days I want all the pasta and bagels, and other days I want turkey taco lettuce wraps on repeat!
These lettuce wraps are a simple recipe that really anybody can make. They are filled with a ton of vitamins and minerals your body needs to remain functioning and healthy.
Plus, it's a great way to use up any produce in your fridge that is on the verge of going bad at the bottom drawer. (Tomatoes, lettuce, bell peppers, parsley).
Cameron grew up on ground beef but I was raised mainly on ground turkey. I started making these for him and he really loved them! It's a great lean protein and we love including it into our diets.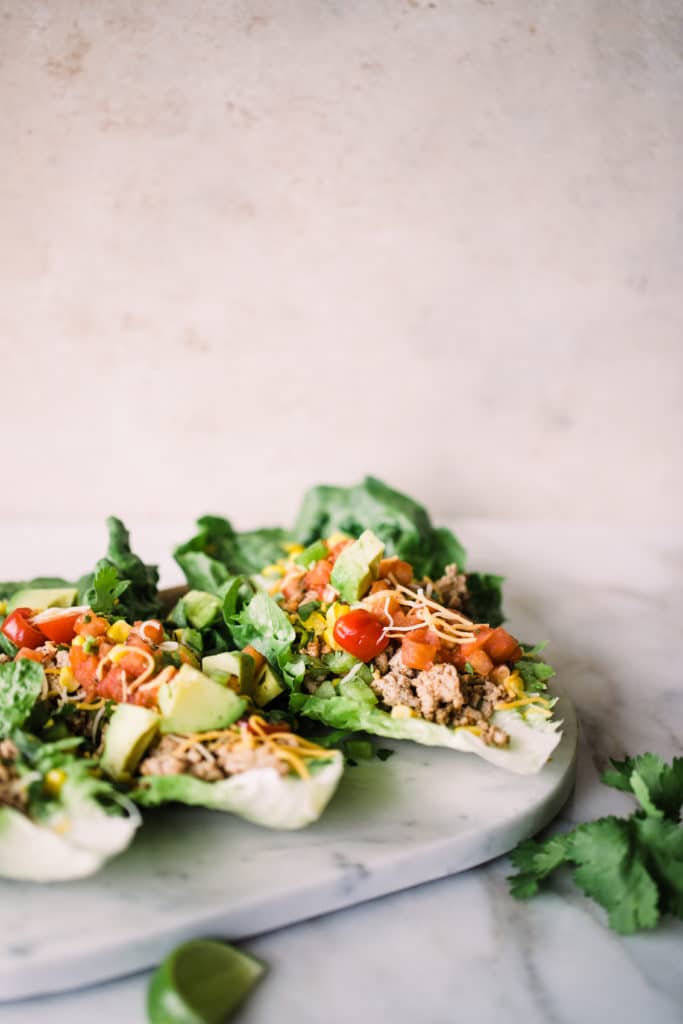 These Asian-Style turkey lettuce wraps are our other go to dinner option using ground turkey!
What you'll need to make these turkey taco lettuce wraps:
Romain lettuce
Olive oil
Ground turkey, lean
Taco seasoning
Toppings: Green onions, Parsley (flat leaf), Green bell peppers, limes, corn, pico de gallo, cheese, avocado, jalapeno.
Homemade Taco Seasoning:
1 1/2 tsp. cumin
1/2 tsp. chili powder
1/2 tsp. paprika
1/4 tsp. dried oregano
1/4 tsp. onion powder
1/4 tsp. red pepper chili flakes
1/4 tsp. salt and pepper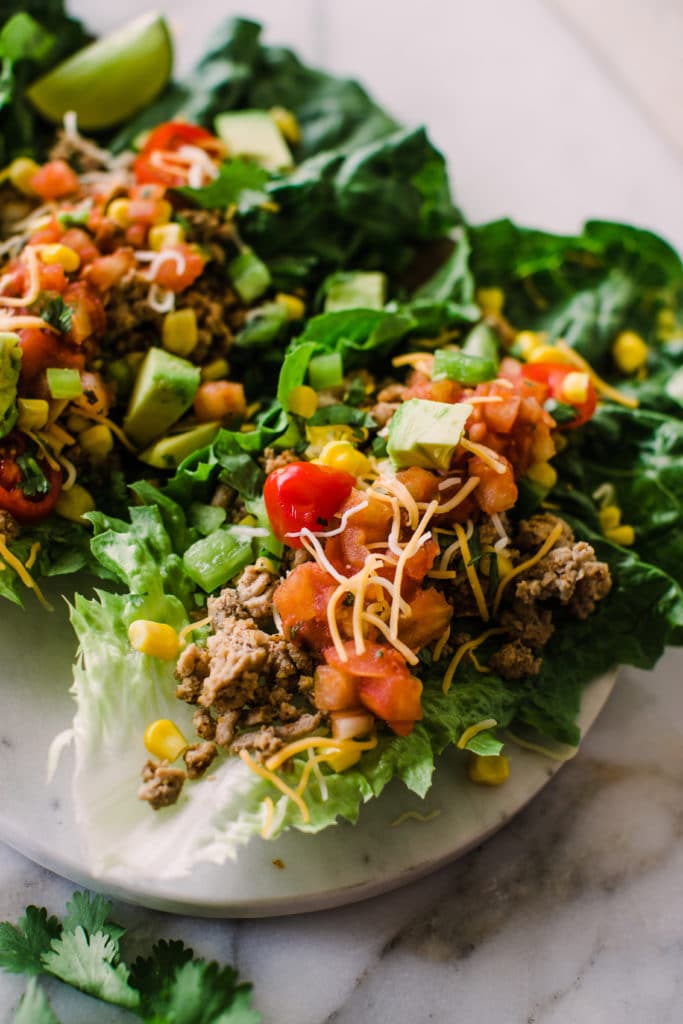 How to make Turkey Taco Lettuce Wraps:
Wash your large romaine lettuce leaves and then lay them out on a paper towel. Gently pat the lettuce leaves to soak up excess water & then let them lay there to fully dry while you prepare the ground turkey.
In a large skillet heat 1 Tbsp. olive oil and cook the ground turkey until no longer pink. Then add in the seasonings, mix and set aside.
Be sure to chop up and dice all the toppings you prefer. The can of corn will get drained and rinsed.
Enjoy with lots Pico de Gallo and lime!
Type of lettuce to use for lettuce wraps:
Romain lettuce is my pick for these lettuce wraps. You can also use Bibb lettuce, butter lettuce, Swiss chard, or collards. Whichever you choose, each green is sturdy enough to hold all the fillings & toppings!
More ground turkey recipes to try: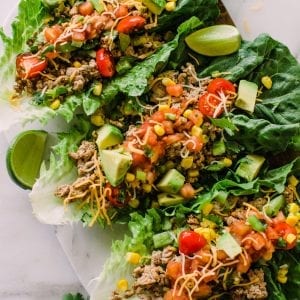 Turkey Taco Lettuce Wraps
Turkey Taco Lettuce Wraps are light, yet satisfying to enjoy for an easy weeknight dinner and are loaded with your favorite Mexican toppings.
Ingredients
4-6

large leaves of romaine lettuce for taco shell

1

package ground turkey

lean

3

green onions

chopped,

1/8

cup

chopped flat leaf parsley

1

green bell pepper

chopped

1-2

limes for garnish

2

ears of corn

peeled and washed

1/2

cup

Pico de Gallo

Shredded cheddar cheese

for garnish

1/4

tsp.

onion powder

1/4

tsp.

red pepper chili flakes

1/4

tsp.

dried oregano

1/2

tsp.

paprika

1 1/2

tsp.

ground cumin

salt and pepper to taste
Instructions
Bring a large pot of water to boil for the corn. Wash large lettuce leaves, and set aside on paper tower to dry.

In a medium satue pan, cook ground turkey. Once it is about half way cooked, add in your seasoning - onion power, red pepper flakes, oregano, paprika, cumin, salt and pepper. I made up my own taco seasoning, but to make it easier you can buy the packets of pre made seasonings. However, I recommend controlling your sodium intake and have fun creating your own!

While the meat is finishing cooking, your water should be coming close to a boil. Boil your washed corn for 5 minutes, then remove from water. Once cooled down, cut the corn off like you would do if you had braces.

Now, you are ready to assemble your tacos however you would like. I put my seasoned ground turkey first, corn and bell pepper next, Pico de Gallo, parsley and green onion and cheese on top and garnished with the lime. Enjoy just like a taco, or if you prefer cut up and eat like a taco salad. Enjoy!
Notes
I had left over red bell pepper and tossed them in my tacos as well.
Also, if you happen to have any avocados on hand, make a little guacamole to top off your tacos for a boost of monounsaturated fat!
Hi, I'm 
Tawnie

!

Welcome to my tiny "korner" on the Internet! I am a Registered Dietitian Nutritionist who loves cookies as much as kale. (OK, maybe I like cookies a little bit more but shh, don't tell anyone). I am so glad you're here! Follow along for hassle free, realistic and approachable recipes.

More about Tawnie

I'd love to see what you made!!
Share it with me on Instagram or Facebook and tag me @krolls_korner or use the hashtag #KrollsKorner!