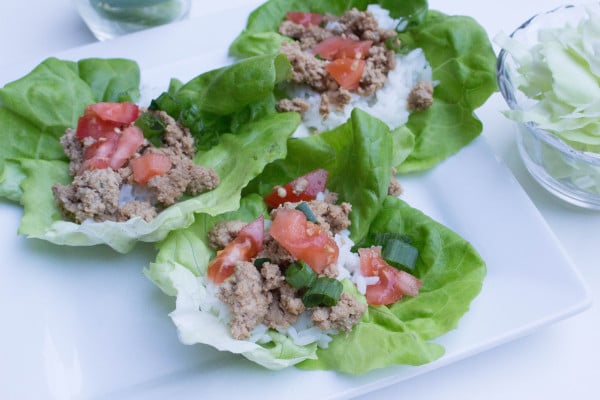 I am just LOVING what 1st Quality Produce is doing with their Farm to Families Produce Boxes! I feel like each week gets better and better! Last week 1st Quality was featured on KSEE 24 promoting the produce boxes – such a blast! This weeks delicious recipe was inspired from someone at 1st Quality actually and I wanted to run with his idea! Butter lettuce wraps make for great appetizers or even your dinner. With the holiday season approaching, these wraps are something to keep in mind for when friends and family gather in your kitchen 🙂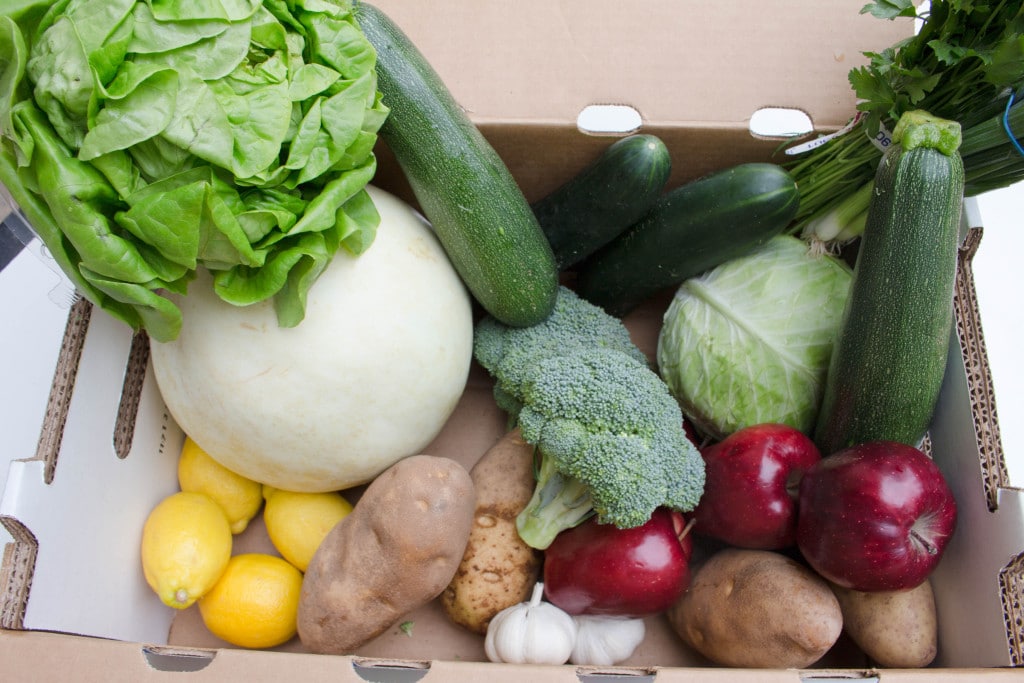 NOW AVAILABLE at 1st Quality: Seasonal Fall items such as Pumpkins – Mini Pumpkins – Big Mac Pumpkins – Gourds – Dried Indian Corn – Corn Stalks – and Dried Strawberry Corn. To shop for Farm to Families boxes and these fall items AND more click here.
You can prepare these lettuce wraps already all made or line it up taco bar style and have everyone build their own! Have some fun with it! These are just so great for keeping your portions in check and is satisfying as a snack or for making it your main entree. I turned mine into an entree by chopping more butter lettuce and making a "burrito bowl" out of mine. YUM!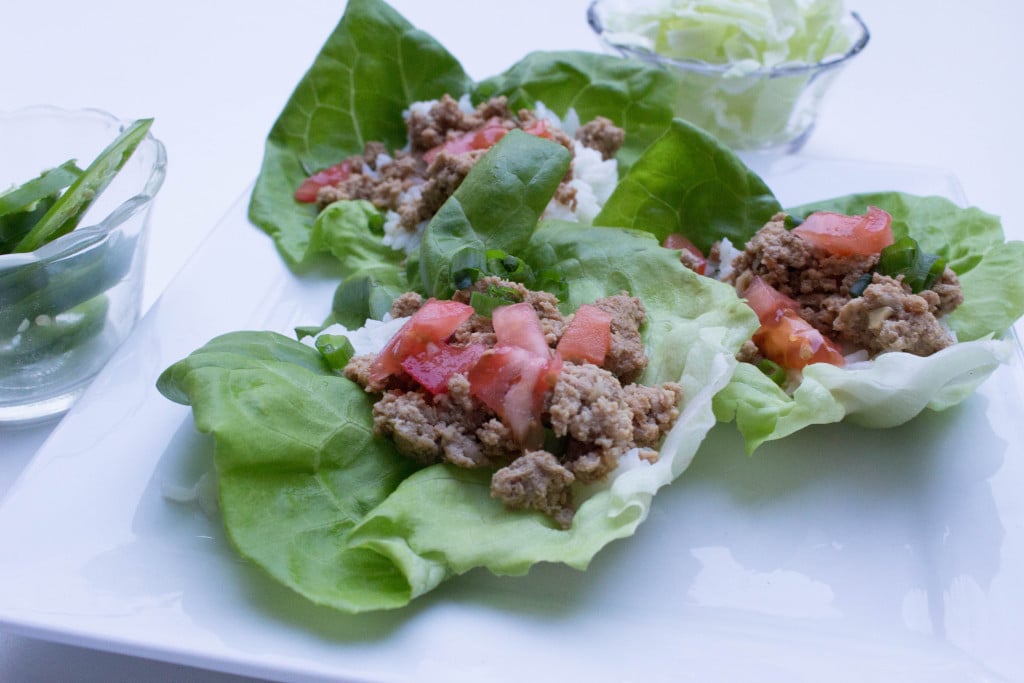 Hope you enjoy!!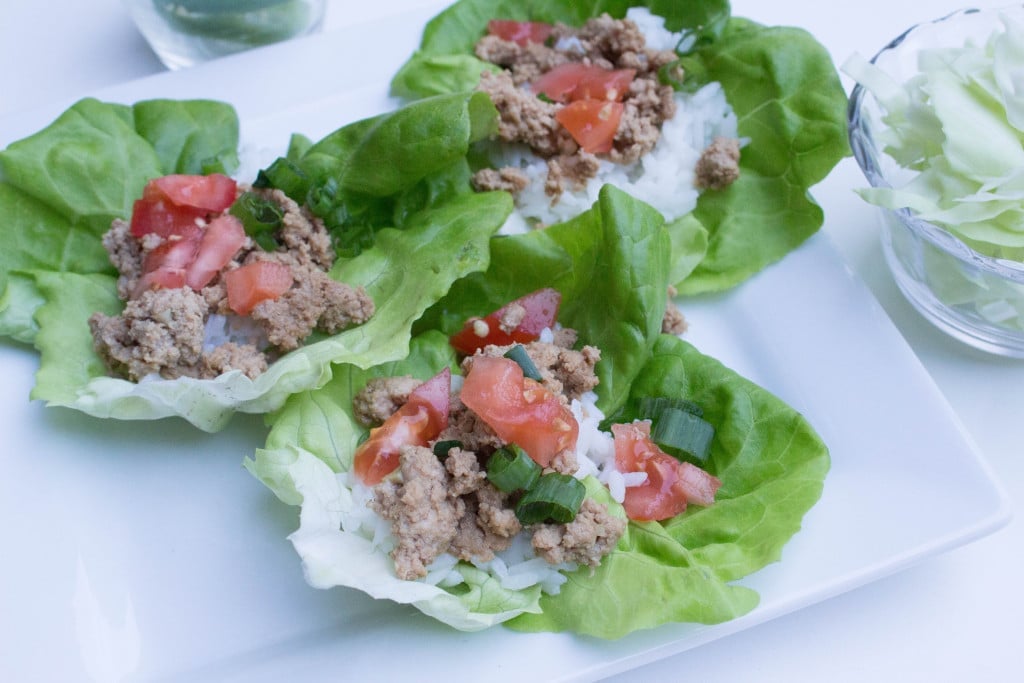 Asian Style Butter Lettuce Wraps
2015-10-03 08:23:56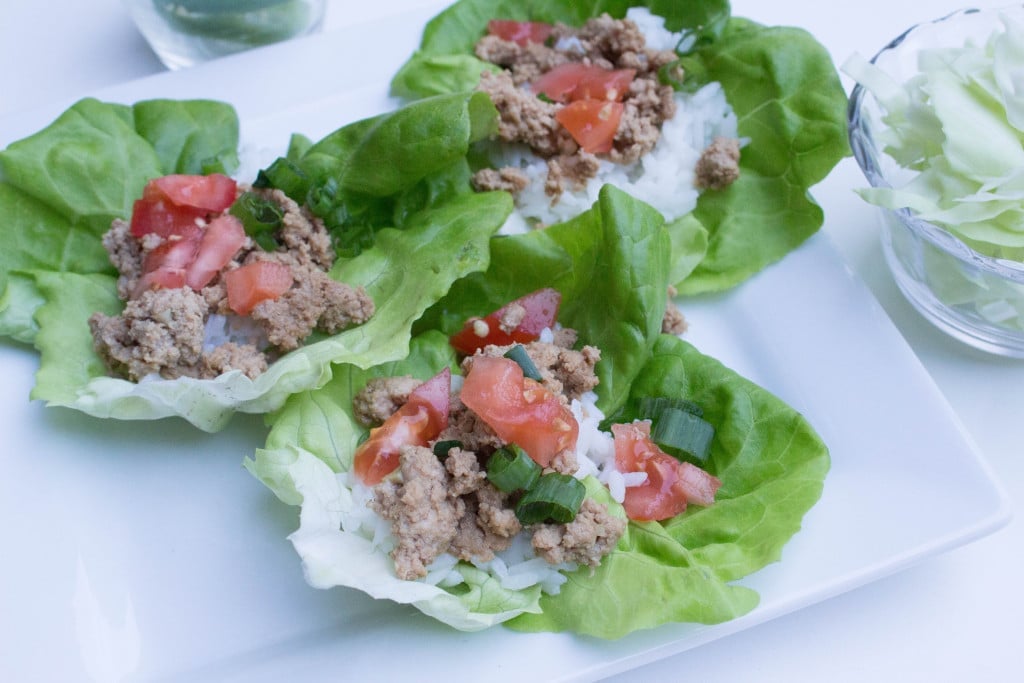 Ingredients
1 lb. lean ground turkey
1 head butter lead lettuce
1 cup white rice, cooked according to package
2 green onion, diced
1 jalapeno
1/2 cup cabbage, chopped
2 cloves garlic, minced
1-2 tomatoes, diced
salt and pepper to taste
2 Tbsp. EVOO
For the sauce
1 T Sriracha
3 Tbsp. Low Sodium Soy Sauce
2 tsp. Sesame oil
1 tsp. rice vinegar
2 tsp. Hoisin sauce
Instructions
In a frying pan over medium heat, heat the EVOO. Add the ground turkey and fresh garlic. Season with salt and pepper. While ground turkey is cooking, make sure you have started cooking your white rice (1 cup white rice to 2 cups water).
Next, mix all of the ingredients for the sauce together in a small bowl. Once the ground turkey is finished, pour 1/2 of the sauce mixture onto the meat and stir. Set the remaining sauce aside.
Clean each butter lettuce leaf, and pat dry with paper towel. At this point, rice should be ready and you can begin to assemble the tacos.
On each butter lettuce leaf first layer the rice, then the meat. Layer the remaining toppings to your liking. (Cabbage, tomato, green onion, and jalapeno). Feel free to also garnish with remaining sauce, it's SO good!
Krolls Korner https://krollskorner.com/
Don't forget to order YOUR
Farm to Families
box Monday-Thursday by 3PM by calling 559.442.1932, e-mail info@firstqualityproduce.com, or NOW ONLINE ORDERING is available!
Disclosure: I was compensated for my time by 1st Quality Produce to write this post. All opinions of content are my own. Thank you for supporting the brands and companies I collaborate with through Kroll's Korner.