Make Ahead Thanksgiving Mushroom Sausage Stuffing
Beef & Pork | Published on Nov 8, 2018 | Last modified on Nov 15, 2019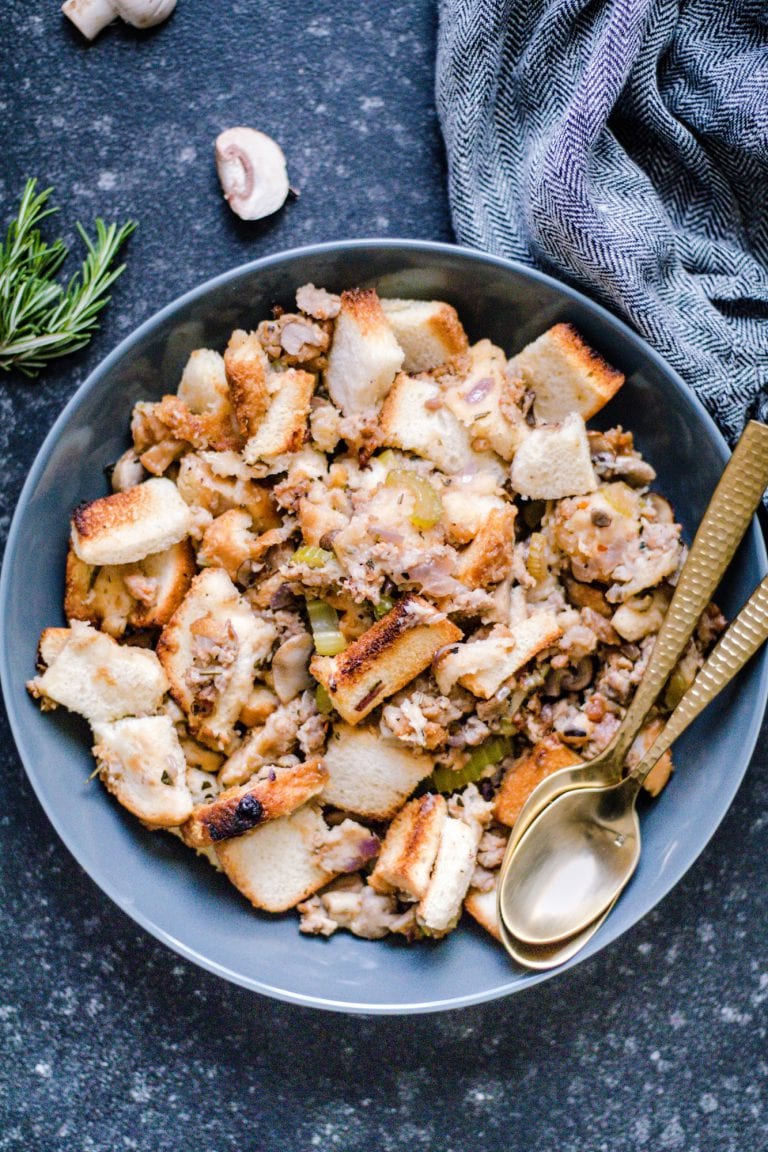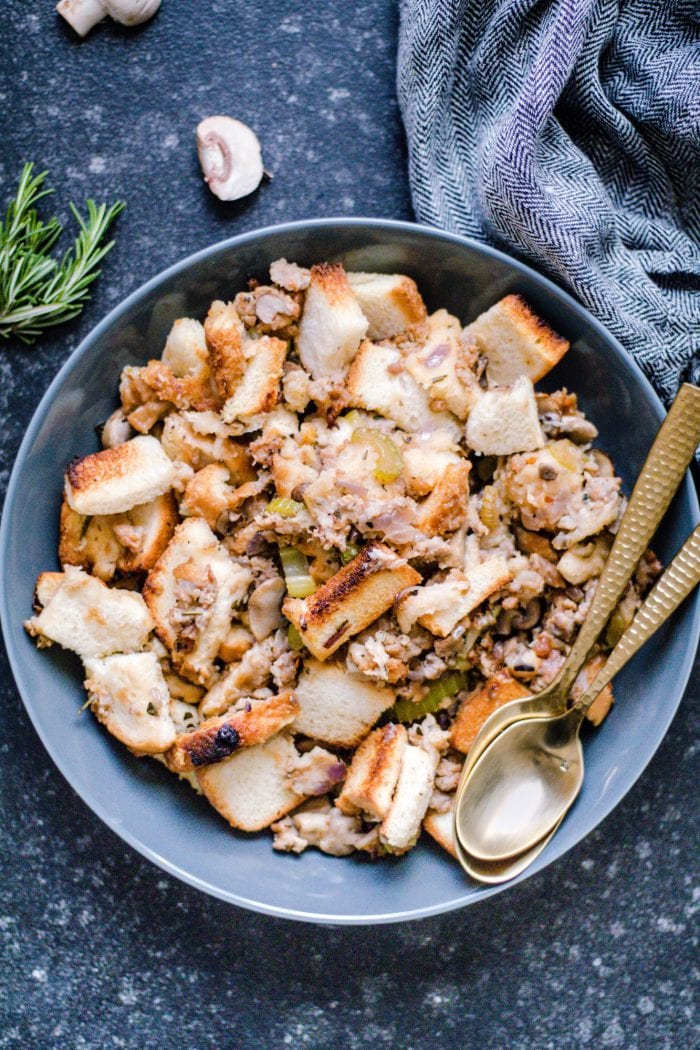 Many of us are tasked with bringing a dish to the family feast when Thanksgiving arrives. I've been making this Make Ahead Mushroom Sausage Stuffing every year for 8 years now and my family always expects it, and yours will too!
BEFORE YOU MAKE THIS RECIPE: Plan ahead! You need to prep this dish and let it sit covered in the fridge overnight – or up to 6 hours. This is a crucial step to ensure all flavors soak into the bread.
If you are anything like me, you are planning out your Thanksgiving spread early. Let's be honest, we all know how time can fly by!
For the past few years, my mom has tasked me with taking more and more control of Thanksgiving dinner. My first reaction: fear.
"How do I time everything out to be hot and ready on the table for 15 people?"
"When do you get all the grocery shopping done and where do you store it all?"
"Who is going to set the table?"
"How many minutes per pound do I cook the turkey again?! 20? 30?!"
In the spirit of Thanksgiving, I am forever thankful & grateful for my mother's help and guidance during this time. Even though she wants me to take control of the family holiday dinners – she still helps A LOT. (Who else can relate?!)
If you feel overwhelmed by all things Thanksgiving, you can start here with this recipe.
While everyone makes a big fuss over the turkey (which don't get me wrong, I LOVE a good turkey), BUT I feel like people always go crazy of the stuffing. The dressing. The most classic Fall flavors with delicious bites of herby bread, mushrooms and sausage.
I'm excited to show you how easy it is to make the exact stuffing you crave and dream of at your Thanksgiving table.
The mushrooms also add an extra depth of flavor to this satisfying Thanksgiving side dish. The combination of fresh herbs make this aromatic dish stand out. The fresh rosemary, sage, and oregano will make it a memorable stuffing!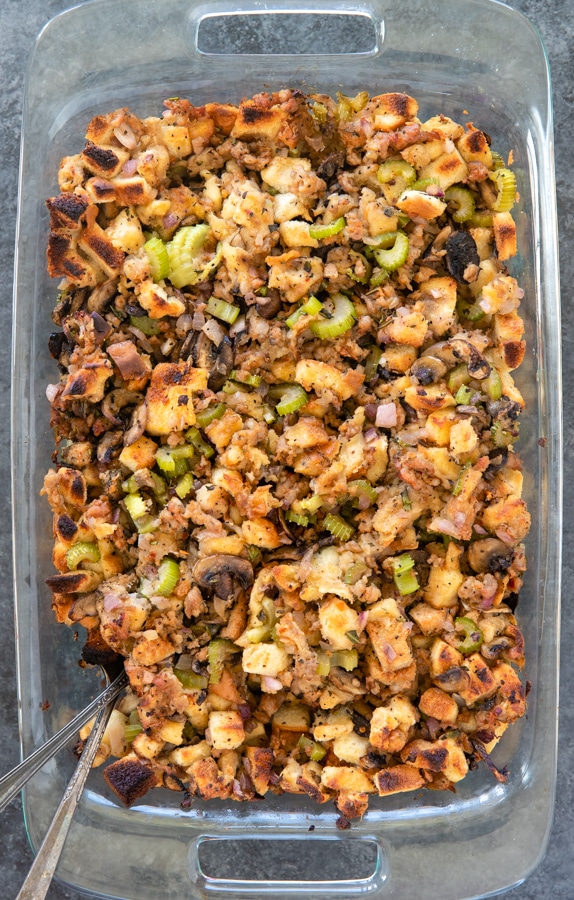 The entire loaf of bread might seem like a lot, but keep cutting into small squares and folding it in!
This make ahead stuffing is herby, so simple to make and your families will be asking for it EVERY year after you make it! #krollskorner | krollskorner.com
Click To Tweet
What is the best bread to use for Thanksgiving stuffing?
White bread. Simple, delicious white sandwich bread gives stuffing a wonderful texture and flavor.
It has a fluffy texture, it absorbs the flavors in this stuffings so well and it has a crispiness on the outside, but a gooey inside texture.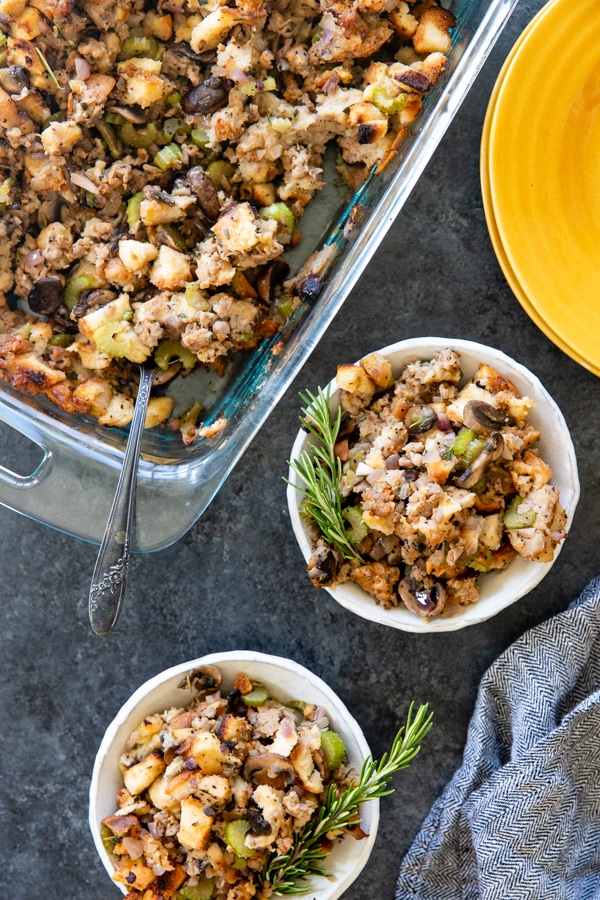 Can I make the stuffing the day before?
YES. This recipe recommends making it the day prior/night before Thanksgiving.
If you're loving this recipe, you'll need to check out my other famous Thanksgiving side dish and Silky Sweet Potato Pie for dessert!
If you're not a fan of sweet potatoes, Homemade Apple Pie is always a hit too! 
Loving this recipe?
WHAT'S YOUR FAVORITE PART OF THANKSGIVING? LET ME KNOW IN THE COMMENTS BELOW!

I'd love to see what you made!!
Share it with me on Instagram or Facebook and tag me @krolls_korner or use the hashtag #KrollsKorner!