Mason Jar Salad with Tortellini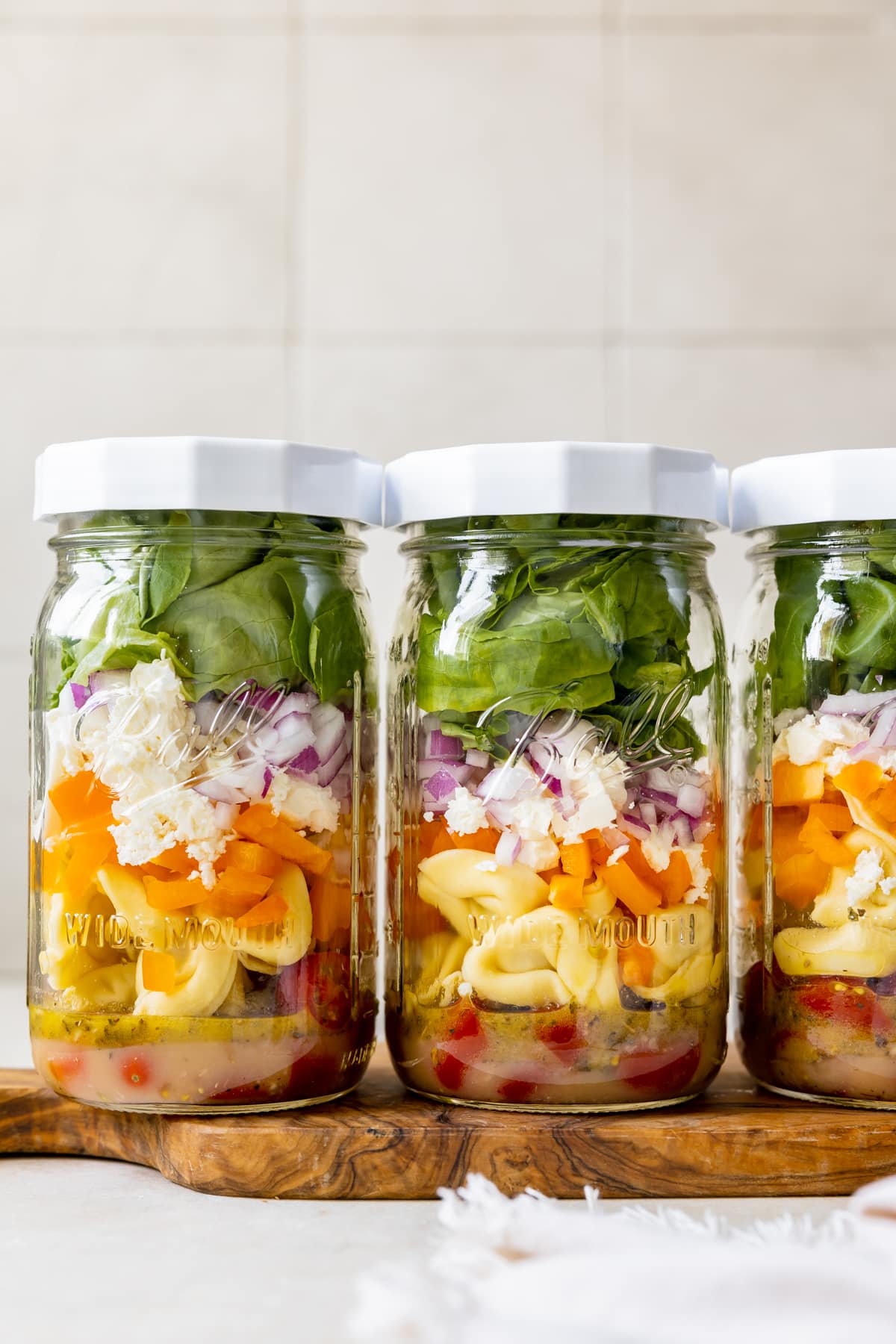 Mason jar salads are a low budget, vegetarian, and nutrient-rich lunch. And they are just so pretty, aren't they?!
During the warmer months, I crave all the salads. From this Chicken Cobb Salad and Avocado Corn Salad to this Cold Noodle Salad and Italian Pasta Salad, I'll take a salad in just about any form!
These mason jar meal prep salads can help you plan better for what you want for lunch or can be an easy lunch to pack for the kids to take to school. Trust me when I say this cold tortellini salad in a mason jar is going to be your newest obsession. Seriously!
Make these mason jar salads the night before and grab one out of the fridge as you're headed out for your day. You can eat them straight out of the jar but sometimes it's a little difficult – try to remember to bring a Tupperware container or bowl to invert your salad into!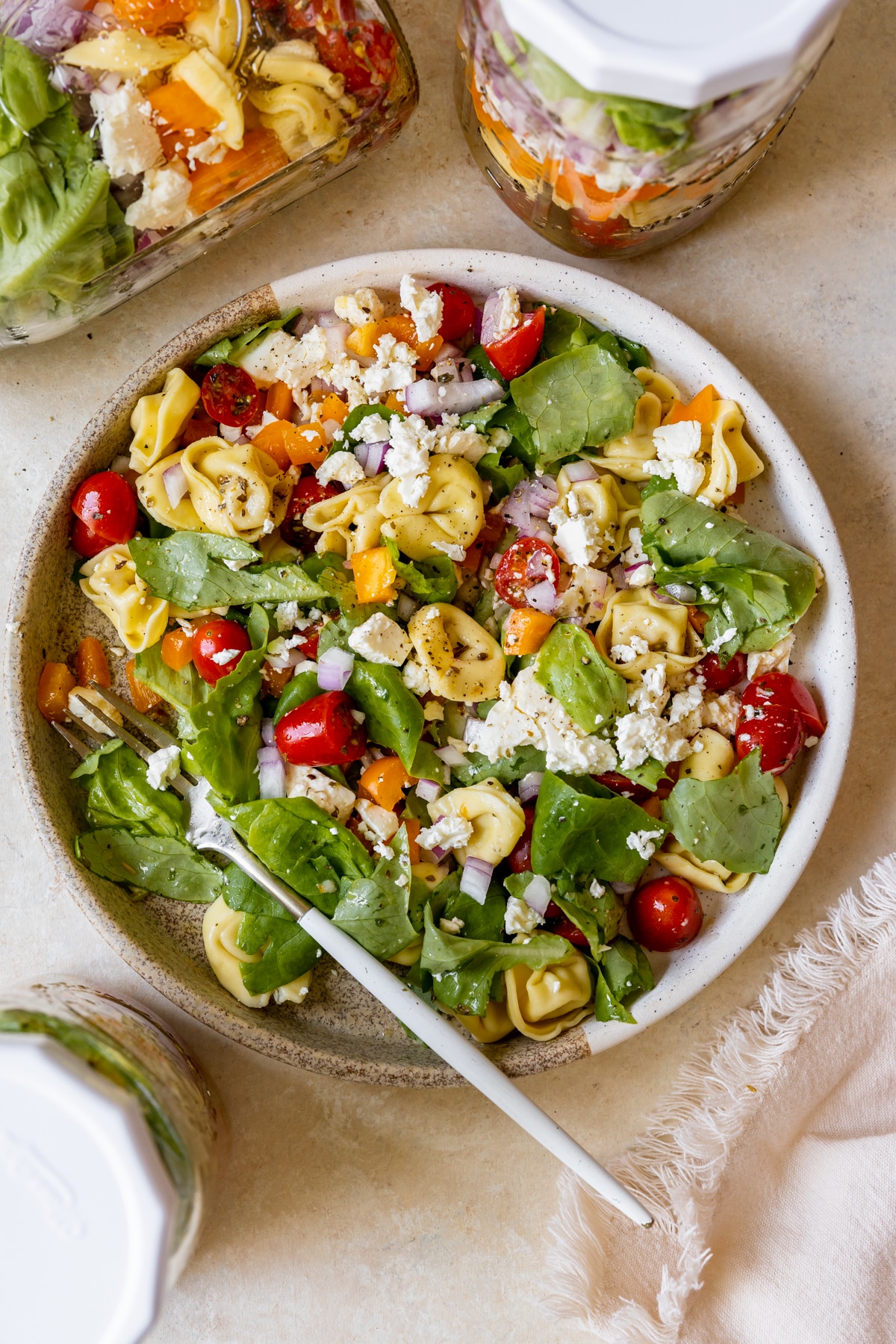 This recipe is simple and fresh. Sometimes there's no need to fancy things up when simple works. Make a few of these jars, stick them in the fridge, and they will stay fresh for up to 5 days.
Why should I make my salad in a jar anyways?
It kind of lasts forever – OK – well, not forever. But 5 days! The lettuce stays nice and crisp and it tastes just as fresh as if you made it the same day.
You have lunch prepared and ready to go right at your fingertips. If you're anything like me, I often find myself playing the, "What should I have for lunch today?" game, so mason jar salads take the guessing out of it for you.
They're budget friendly.
Each jar is a single serving meal and totally filling!
They're filled with nutrients to keep you satisfied until dinner. I like to pair mine usually with a protein of choice – grilled chicken or a hard boiled egg and with a pear or apple.
It only takes 30 minutes to make lunch for the entire week!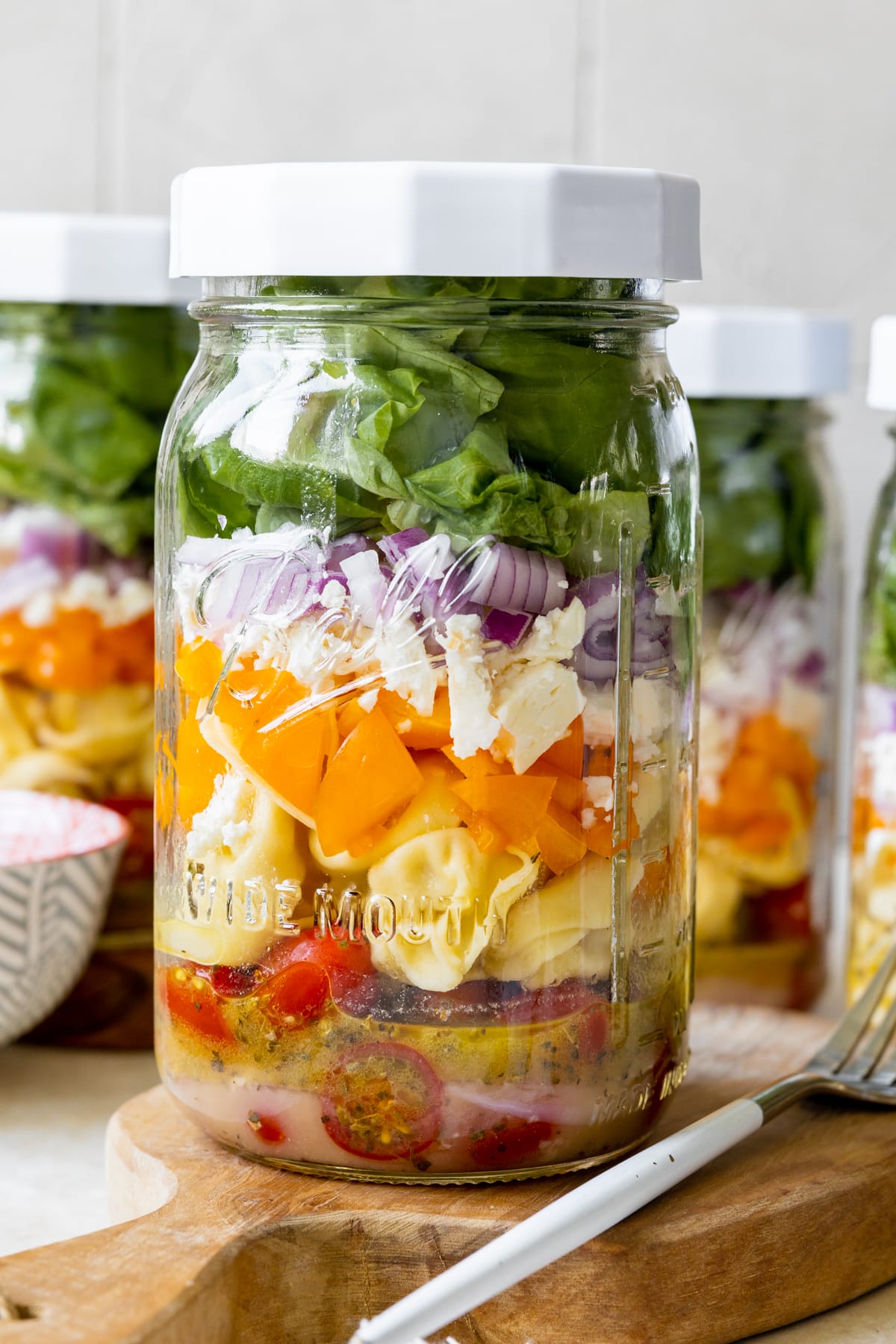 Ingredients
For the ingredient measurements and entire recipe, be sure to scroll down to the bottom of the blog post where the recipe card is located.
Salad dressing: this recipe uses a vinaigrette similar to my Mediterranean dressing recipe with a few tweaks. The full recipe is in the recipe card down below. But you can use any vinaigrette dressing you like!
Veggies: cherry tomatoes, orange bell peppers and red onion. A rainbow of ingredients!
Cheese tortellini: I love this salad with tortellini, but feel free to use any pasta you enjoy most!
Feta cheese: mini mozzarella balls are also a great option.
Butter leaf lettuce: I love how butter leaf lettuce has a silky soft, melt-in-your-mouth texture. You can also use romaine lettuce, spinach, arugula, etc.
How to make mason jar salads
For the full recipe instructions, scroll down to the bottom of the blog post to the recipe card.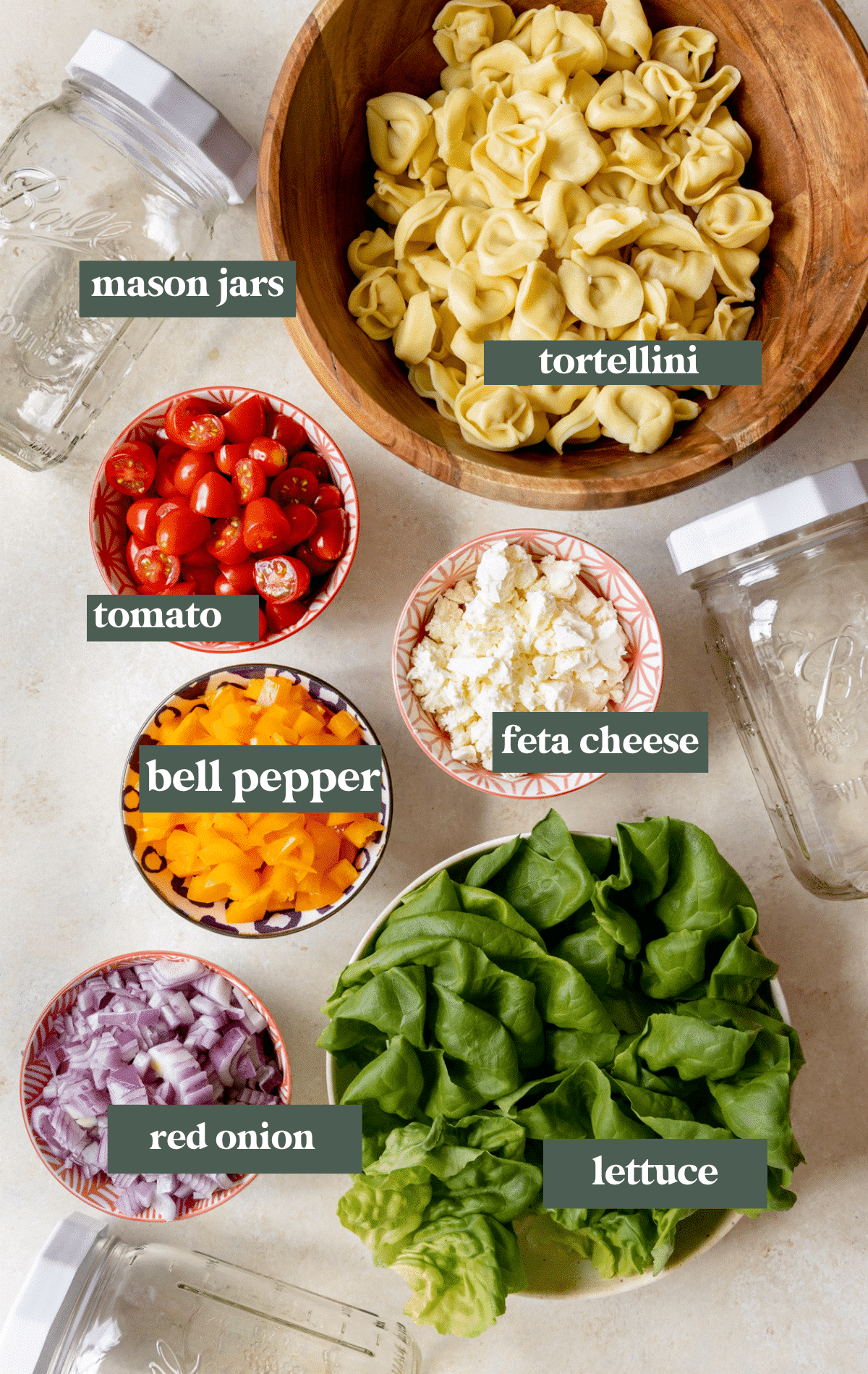 As with any salad, you'll first need to whisk together the homemade salad dressing or shake it all up in a sealed jar until emulisified.
Chop up the veggies.
Cook the tortellini according to package instructions.
Assemble the jars: the best way to assemble a mason jar salad is to put the salad dressing at the bottom and lettuce at the top. This way, when you dump the salad into a bowl or invert onto a plate, the lettuce is on the bottom of the bowl and the dressing is poured over all of the goodies!
Everything in between the dressing and the lettuce doesn't have to go in a particular order, but I usually layer them in this fashion: dressing (first/at the bottom), cherry tomatoes, tortellini, orange bell pepper, feta cheese, red onion, lettuce (last/at the top).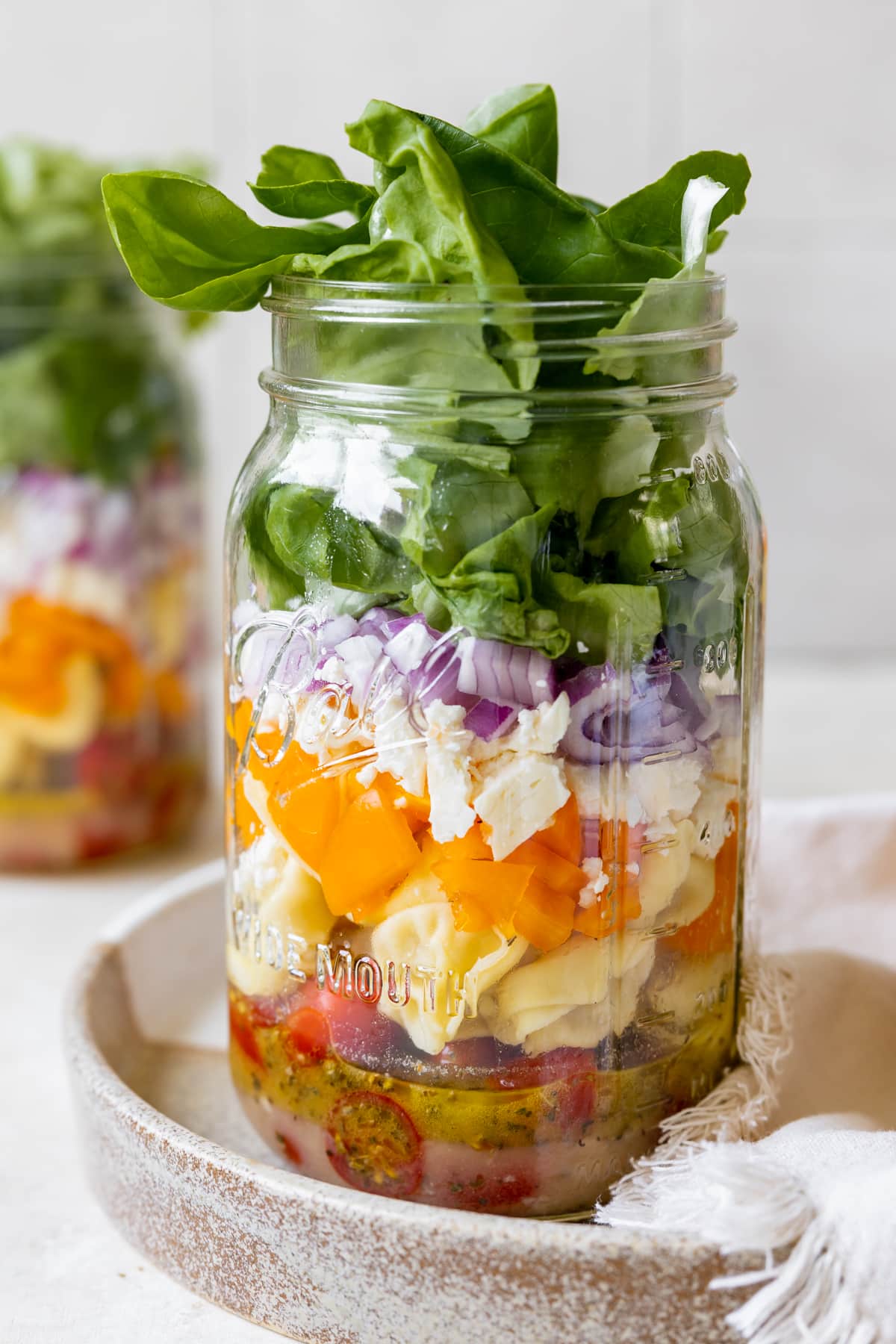 Tips for making mason jar salads
I like to use a wide mouth mason jars for these mason jar salads. The wide mouth makes it easier to stuff in all the ingredients, and if you wind up having to eat the salad straight from the jar it's more convenient to do so with a wider opening.
I also recommend prepping all of the salad ingredients at once instead of chopping up the veggies and layering them into the jars as you go. It makes the whole process much easier if you cut everything up all at once!
Although I much prefer making homemade salad dressings whenever possible, I know using store-bought vinaigrettes are a serious time saver. In a pinch, store-bought dressings will work for these mason jar salads, but just try making your own salad dressing first — you'll see how easy it really is!
Store the jars upright so the dressing stays at the bottom.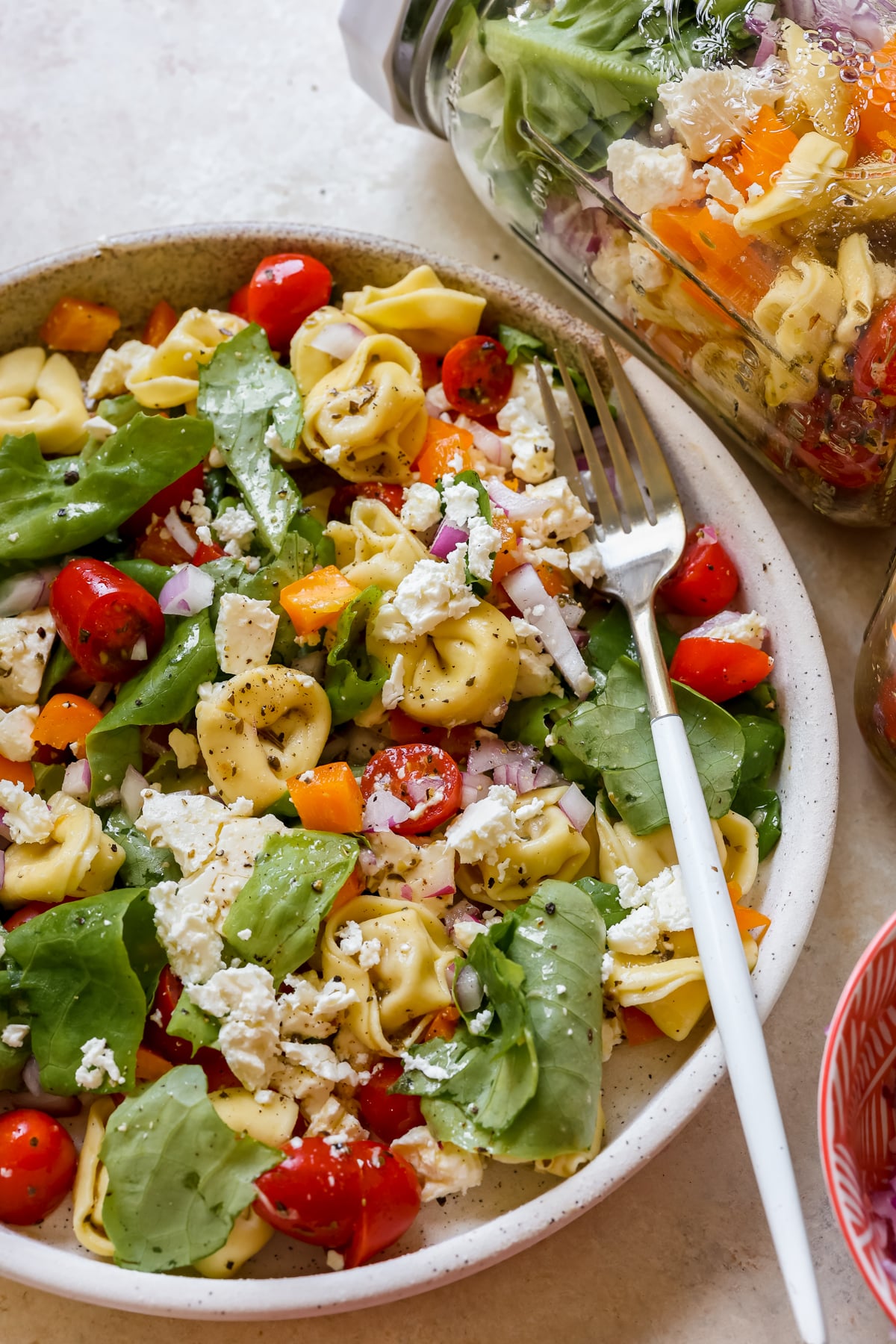 Variations
There really are no rules to making your lunch in a jar. If you don't have all of the ingredients I list in this recipe, you can add some variety with these suggestions below.
Add in almonds, walnuts, pine nuts or your favorite nut/seed. I usually keep these on the side so they maintain their crunch!
Add in kidney beans, garbanzo beans, cubed tofu or lentils for a plant protein punch.
Add in quartered cucumbers, mushrooms, carrots, corn or even asparagus.
Keep it vegetarian, or add an animal protein (such as chicken or steak).
If you don't want to use tortellini, you can try it with another pasta, rice, quinoa or couscous.
You can add a chopped hard boiled egg on the side if you are a fan of egg in your salads!
Play with the greens: I use butter leaf lettuce, but you can use spinach, arugula, romaine, kale, etc.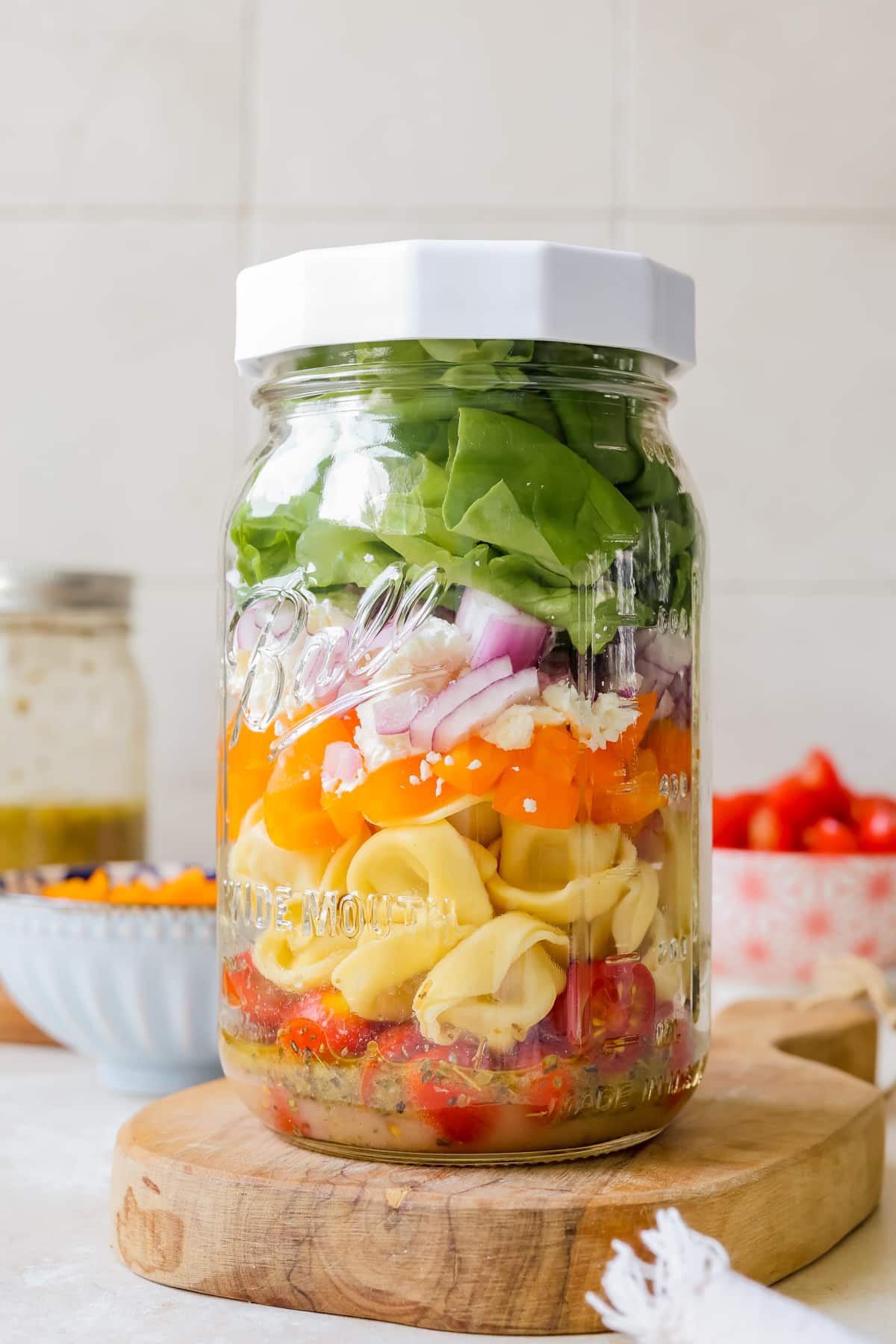 FAQ
How do you eat a mason jar salad?

Simply unscrew the lid or cap, then dump the jars contents into a bowl and stir to combine the dressing with all of the fixings. Or shake the jar to mix the dressing all around and eat straight from the jar, or invert the "tossed" salad into a bowl or plate.
How long do they last?

Up to 5 days in the fridge.
What size mason jar should I use?

I recommend a large 32 oz. wide mouth mason jar.
Are there any ingredients I shouldn't add into mason jar salads?

Anything that will oxidize or not hold up well, such as avocado, croutons, apples, pears, nuts, tortilla strips. I would also keep bacon or hard boiled eggs on the side.
Before You Begin! If you make this, please leave a review and rating letting us know how you liked this recipe! This helps our business thrive & continue providing free recipes.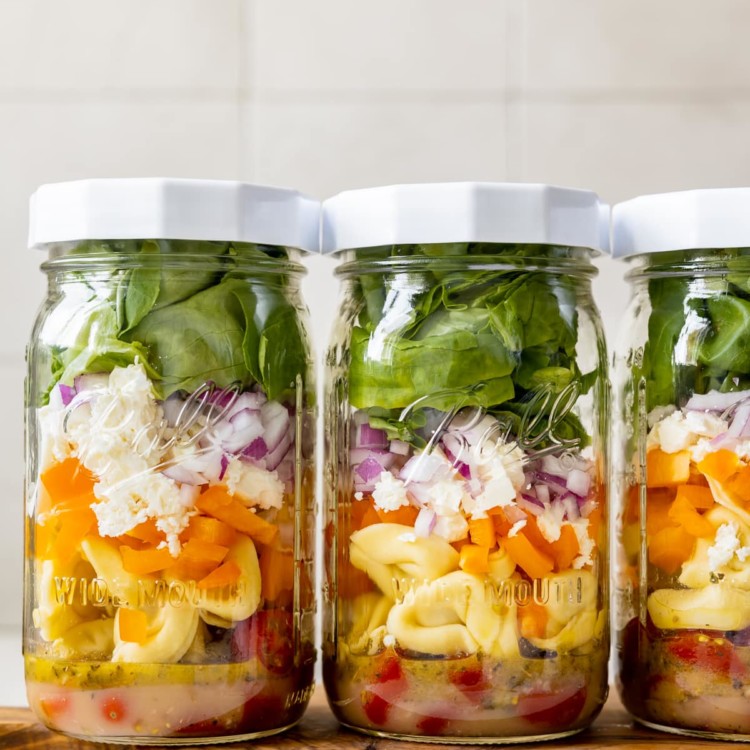 Tortellini Mason Jar Salads
Mason Jar Salads are going to be your new favorite lunch in a jar! They're loaded with fresh veggies, homemade vinaigrette salad dressing, and cheese tortellini. Perfect for lunches on the go, picnics, back to school, or meal prep.
Ingredients
Salad
4

wide mouth mason jars with lids

2

cups

cherry tomatoes, washed and halved

1

small

red onion, diced

1

large

orange bell pepper, diced

1

lb.

tortellini, cooked

4

cups

butter leaf lettuce, washed and patted dry (or lettuce of choice)

1/2

cup

feta cheese (or mini mozzarella balls)

salt and pepper to taste
Vinaigrette
1/2

cup

olive oil

1/4

cup

red wine vinegar

2-3

Tbsp.

lemon juice

2

cloves

garlic, minced

2

tsp.

Dijon mustard

1

tsp.

dried basil

1

tsp.

dried oregano

salt and pepper to taste
Last step! If you make this, please leave a review and rating letting us know how you liked this recipe! This helps our business thrive & continue providing free recipes.
Instructions
Pasta: Cook tortellini according to package directions, drain and run under cold water to stop the cooking process.

Dressing: Shake all salad dressing ingredients in a sealed mason jar or bottle until combined. Taste and adjust (you can add a little honey for a sweeter dressing, if desired).

Step 2: Place the halved cherry tomatoes right on top of the dressing.

Step 3: Place the cooked tortellini on top of tomatoes and then layer the next 3 ingredients in really any order you'd like: orange bell pepper, feta cheese, and red onion.

Step 4: Gently tear the butter leaf lettuce (or lettuce of choice) and place on top! Put the lid on, and refrigerate until ready to enjoy.

Invert mason jar salad contents onto a plate and dig in!
Notes
You may have leftover tortellini depending on how much you layer in your jars. I repurpose by making more salads or eating with meat sauce and a veggie!
Storage: refrigerate mason jar salads for up to 4-5 days.
Nutrition Information
Serving:
1
jar
,
Calories:
383
kcal
(19%)
,
Carbohydrates:
44
g
(15%)
,
Protein:
18
g
(36%)
,
Fat:
19
g
(29%)
,
Saturated Fat:
9
g
(56%)
,
Polyunsaturated Fat:
3
g
,
Monounsaturated Fat:
21
g
,
Cholesterol:
70
mg
(23%)
,
Sodium:
834
mg
(36%)
,
Fiber:
6
g
(25%)
,
Sugar:
5
g
(6%)
,
Vitamin C:
77
mg
(93%)
,
Calcium:
375
mg
(38%)
,
Iron:
5
mg
(28%)