Mason Jar Salad with Tortellini
How-To's | Published Jun 18, 2019 | Updated Aug 20, 2019 | By Tawnie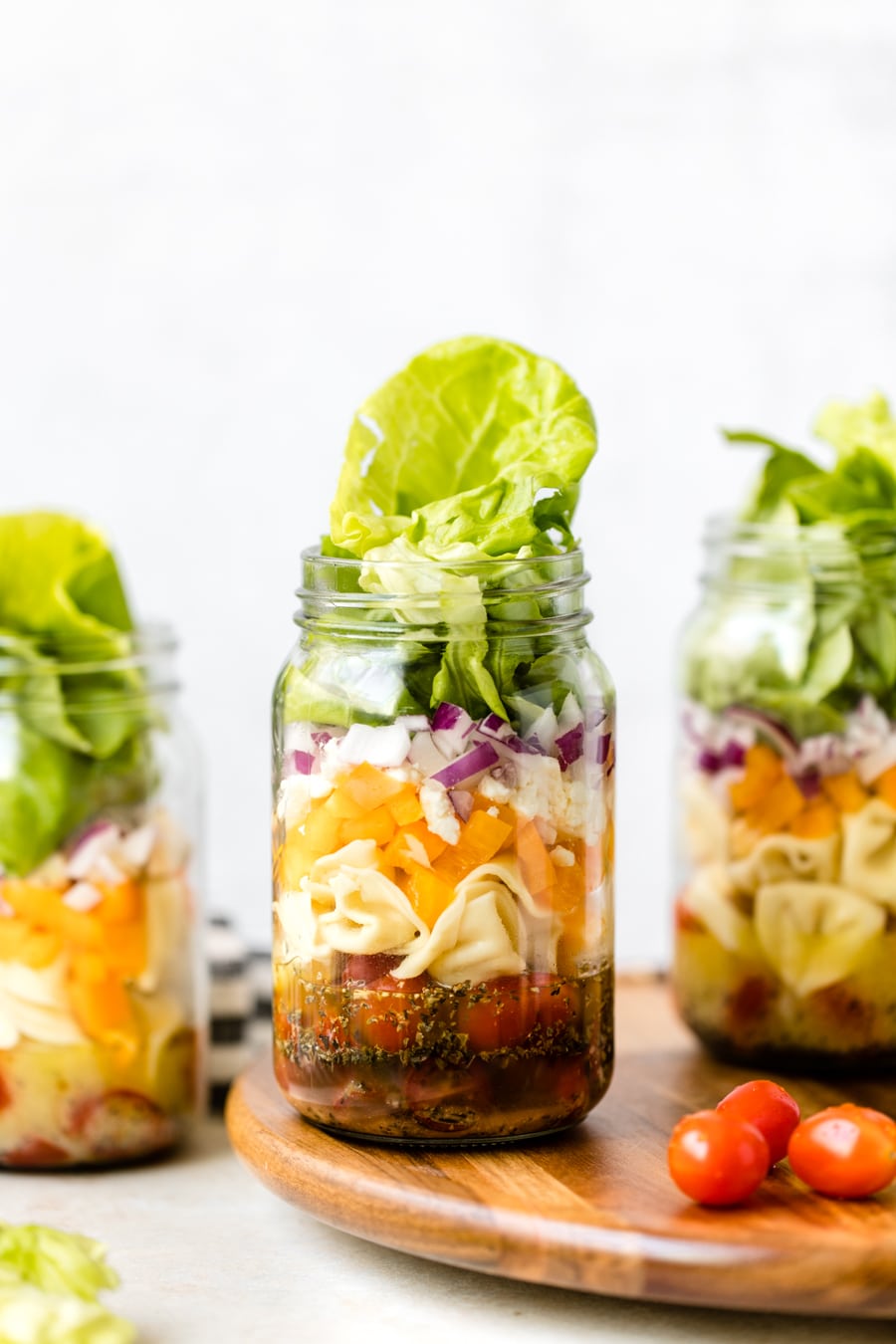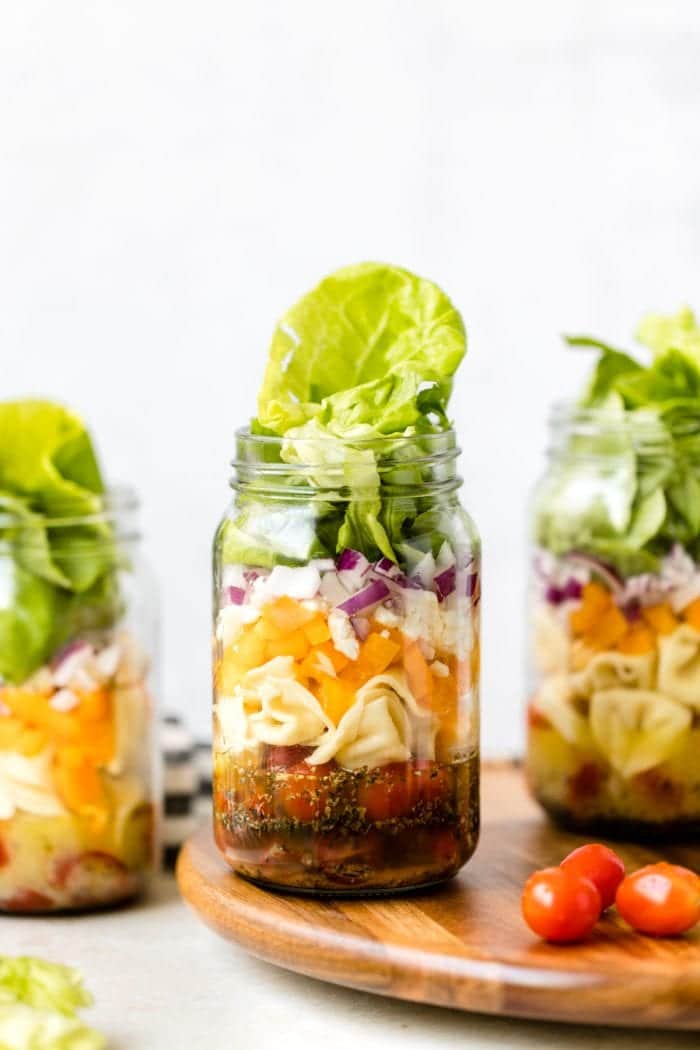 Mason Jar Salads with Tortellini is your new favorite lunch in a jar! They're loaded with fresh veggies, homemade salad dressing, and cheese tortellini. Perfect for lunches on the go, picnics, back to school, or meal prep.
Mason jar salads are a low budget, vegetarian, and nutrient-rich lunch. I often find myself wanting a good salad for lunch but don't want to purchase one at a fast food restaurant and don't have the time to get to a sit down restaurant, so a salad in a jar helps solve that problem!
These mason jar meal prep salads can help you plan better for what you want for lunch or can be an easy lunch to pack for the kids to take to school. Trust me when I say this cold tortellini salad in a mason jar is going to be your newest obsession. Seriously!
Make these mason jar salads the night before and grab one out of the fridge as you're headed out for your day. You can eat them straight out of the jar but sometimes it's a little difficult – try to remember to bring a Tupperware container or bowl to dump your salad into!
This recipe is simple and fresh. Sometimes there's no need to fancy things up when simple works. Make a few of these jars, stick them in the fridge, and they will stay fresh for up to 5 days. Personally I like to prepare 3 at a time and then switch up the dressing when I make my next 3!
Why should I make my salad in a jar anyways?
It kind of lasts forever – OK – well, not forever. But 5 days! The lettuce stays nice and crisp and it tastes just as fresh as if you made it the same day.
You have lunch prepared and ready to go right at your fingertips. If you're anything like me, I often find myself playing the, "What should I have for lunch today?" game, so mason jar salads take the guessing out of it for you.
They're filled with nutrients to keep you satisfied until dinner. I like to pair mine usually with a protein of choice – grilled chicken or a hard boiled egg and with a pear or apple.
It only takes 30 minutes to make lunch for the entire week!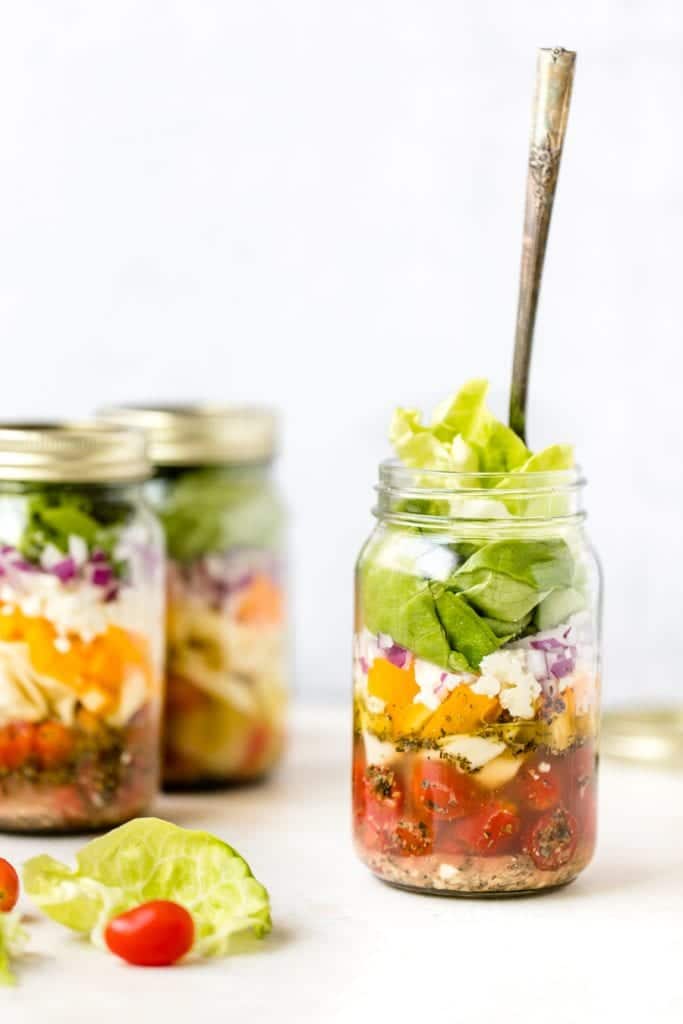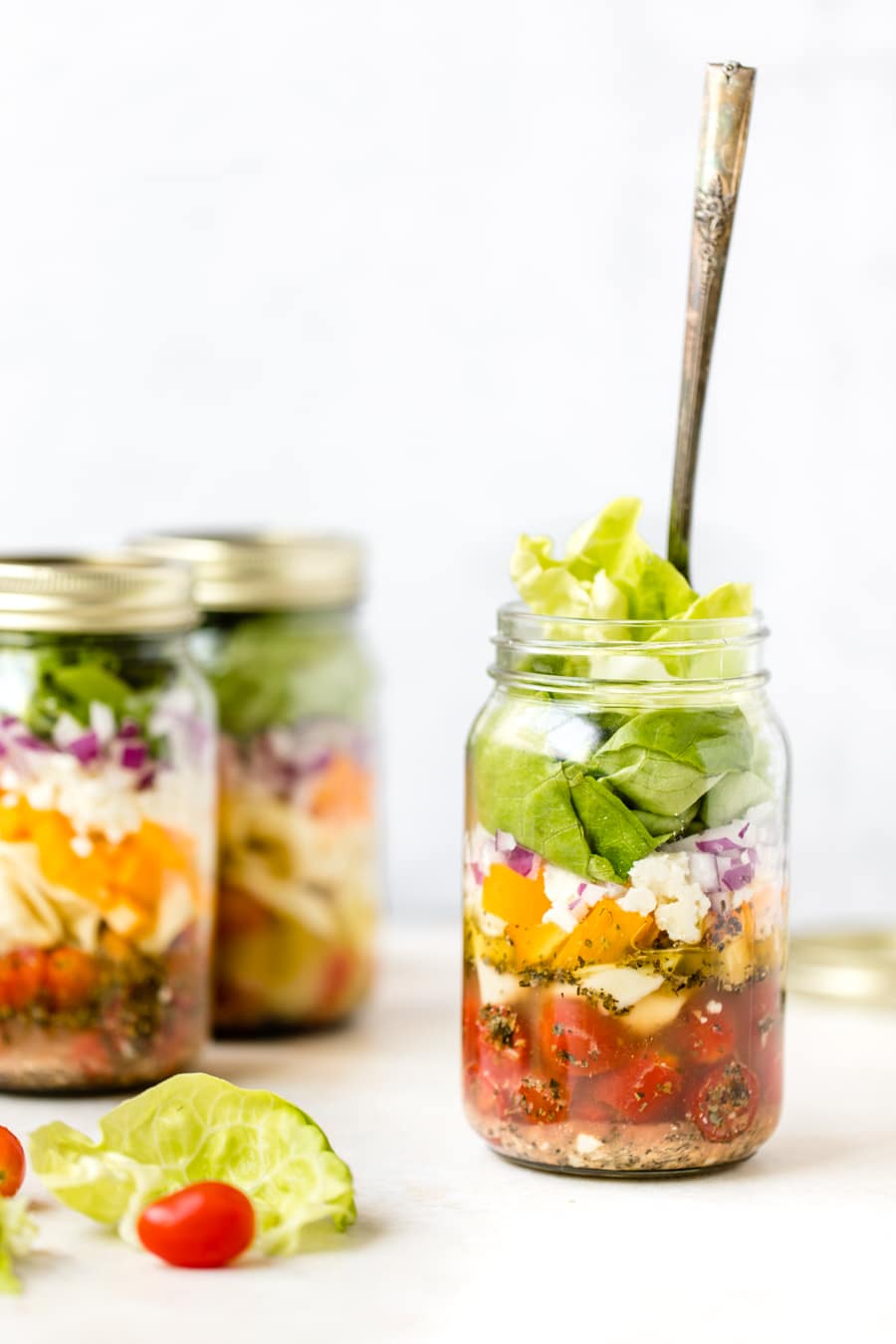 Mason jar salad ingredients
To make this cold tortellini salad in a jar, you'll need:
Salad dressing
Cherry tomatoes
Cheese tortellini
Orange bell peppers
Feta cheese
Red onion
Butter leaf lettuce (or lettuce of choice)
For the homemade salad dressing, check out my post on 6 Staple Summer Salad Dressings. I recommend using the lemon poppyseed or the Greek/Mediterranean dressing for these mason jar salads, but any vinaigrette dressing works well!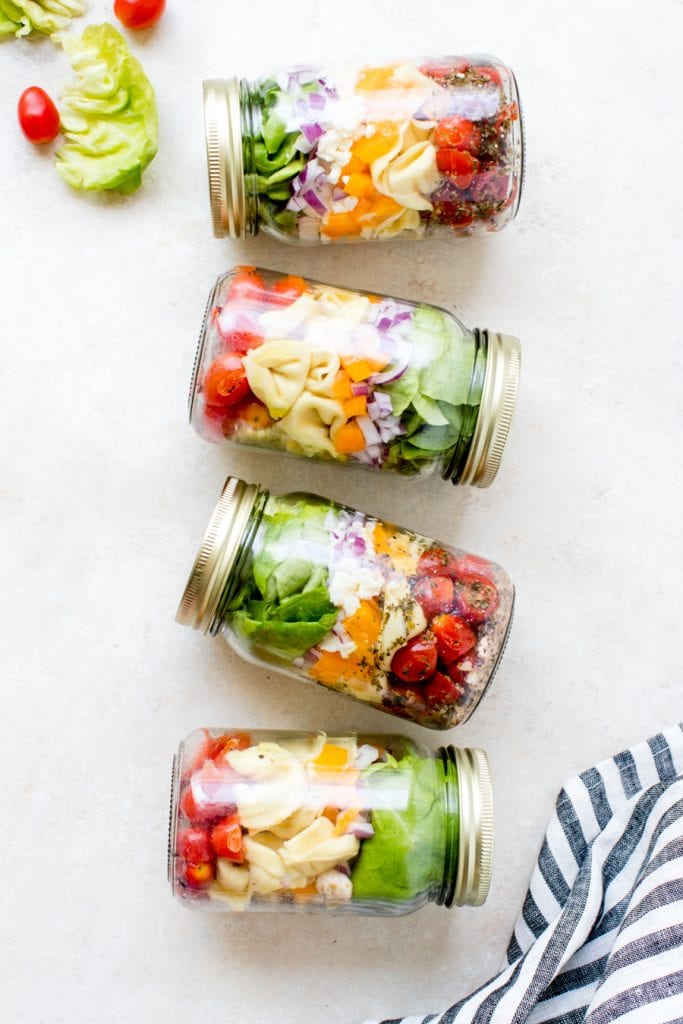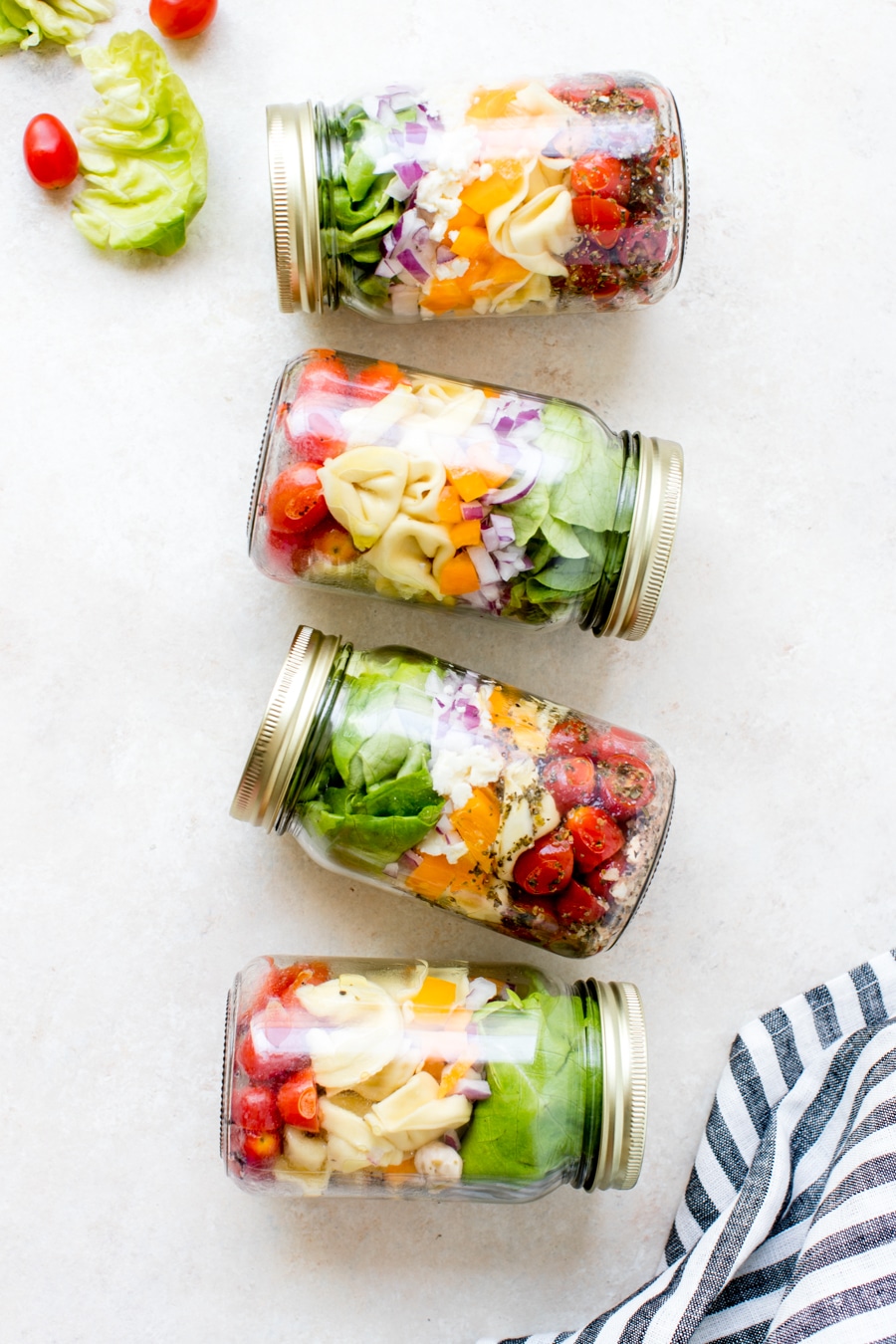 How to make mason jar salads
As with any salad, you'll first need to whisk together the homemade salad dressing and chop up your veggies. You'll also need to cook the tortellini according to package instructions. Once that's all done, you can assemble the salads in jars.
The best way to assemble a mason jar salad is to put the salad dressing at the bottom and lettuce at the top. This way, when you dump the salad into a bowl, the lettuce is on the bottom of the bowl and the dressing is poured over all of the goodies!
Everything in between the dressing and the lettuce doesn't have to go in a particular order, but I usually layer them in this fashion: dressing (first/at the bottom), cherry tomatoes, tortellini, orange bell pepper, feta cheese, red onion, lettuce (last/at the top)
Keep it vegetarian, or add an animal protein (such as chicken or steak).
How do you eat a mason jar salad?
Simply unscrew the lid or cap, then dump the jars contents into a bowl and stir to combine the dressing with all of the fixings. Or shake the jar to mix the dressing all around and eat straight from the jar, or dump the "tossed" salad into a bowl!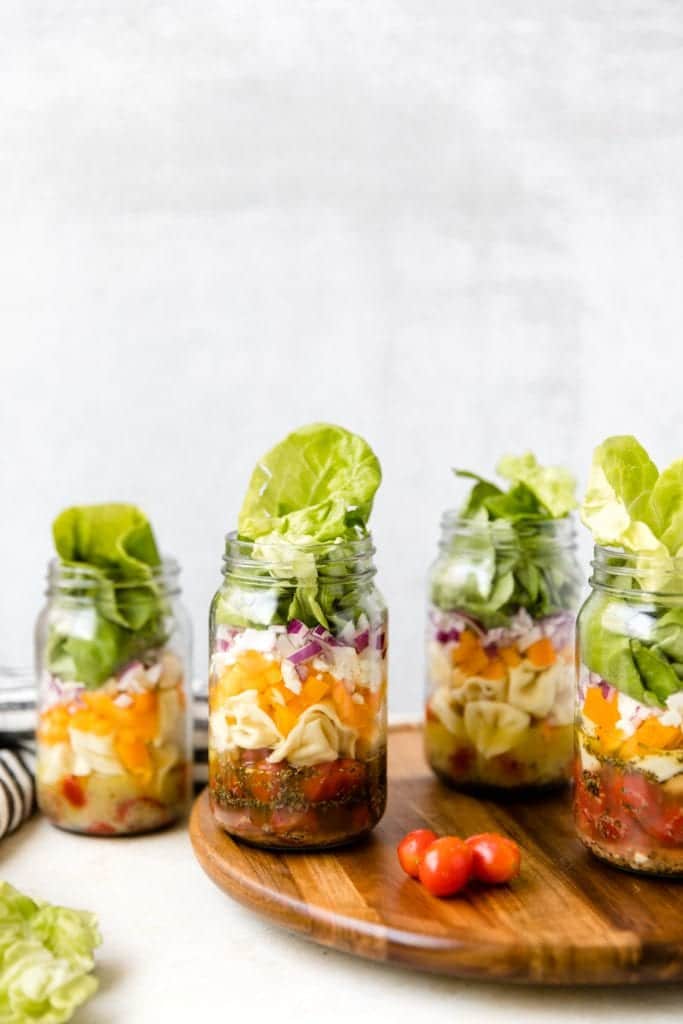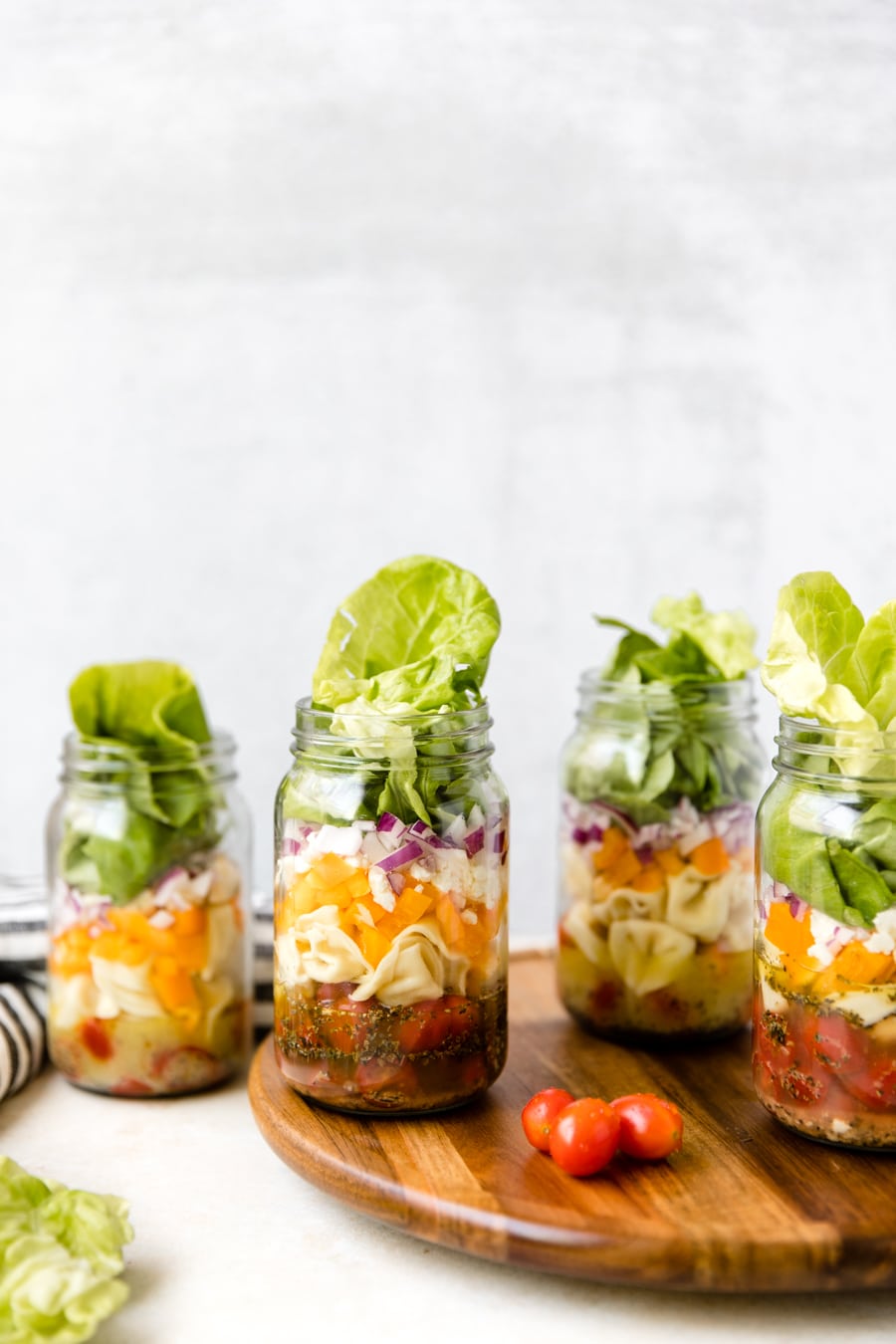 How to customize mason jar salads
There really are no rules to making your lunch in a jar. If you don't have all of the ingredients I list in this recipe, you can add some variety with these suggestions below.
Add in almonds, walnuts or your favorite nut/seed. If I have pine nuts on hands I'll usually throw them in too!
Add in kidney beans, garbanzo beans, cubed tofu or lentils for a plant protein punch.
Add in quartered cucumbers, mushrooms, carrots, corn or even asparagus.
If you don't want to use tortellini, you can try it with another pasta, rice, quinoa or couscous.
You can add a chopped hard boiled egg if you are a fan of egg in your salads!
Play with the greens: I use butter leaf lettuce, but you can use spinach, arugula, romaine, kale, etc.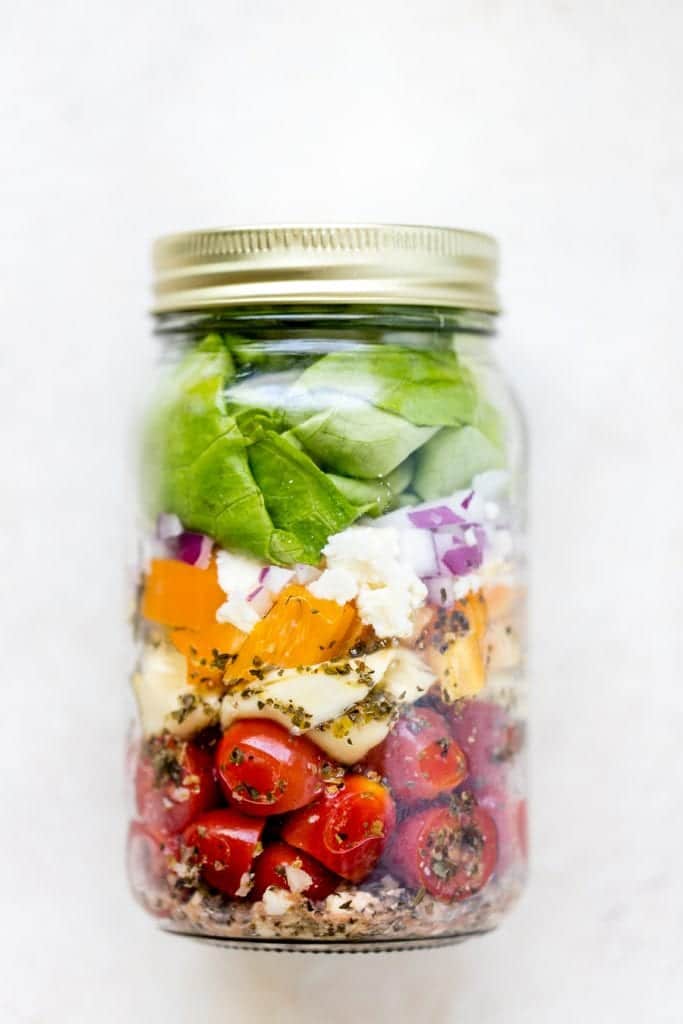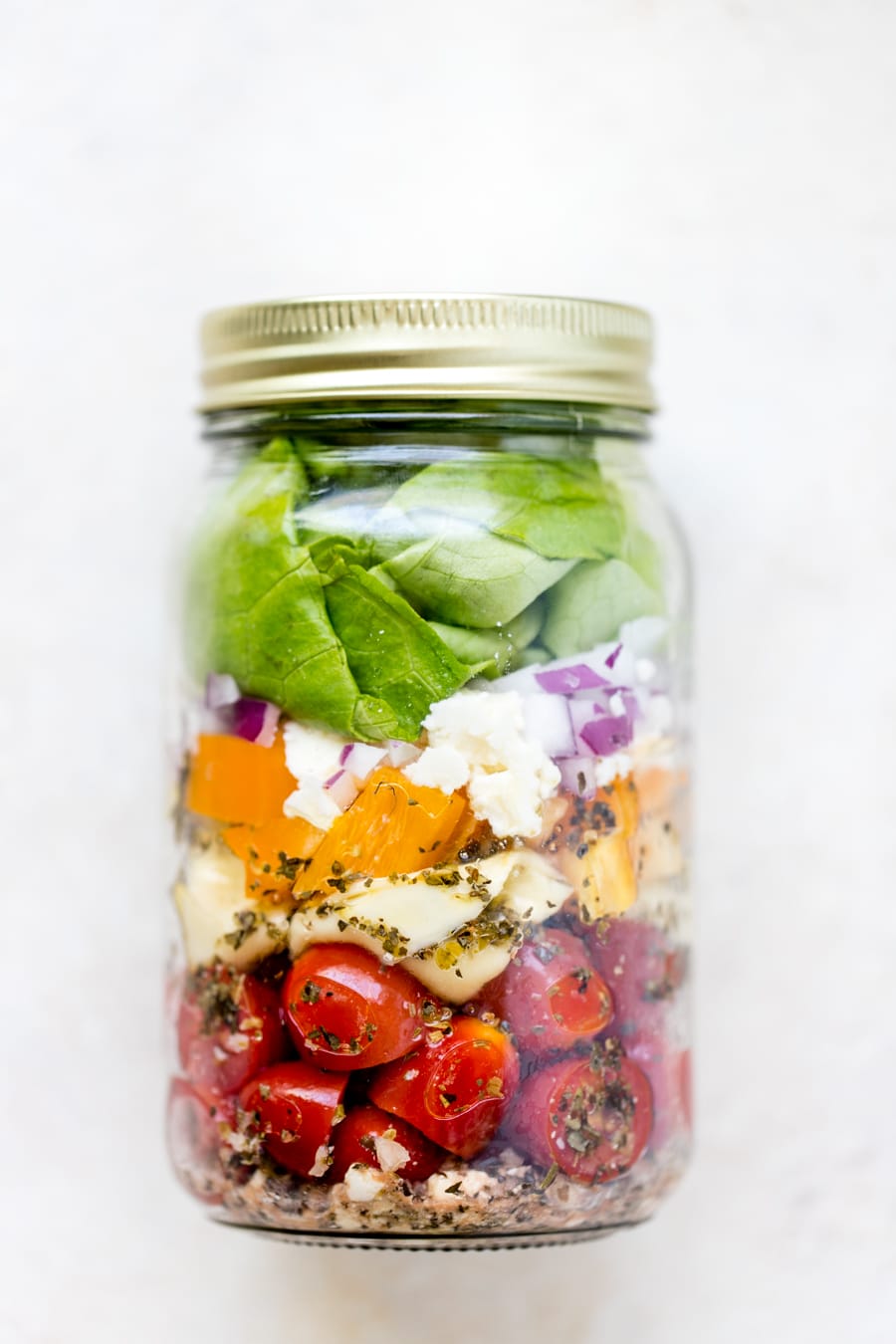 Tips for making mason jar salads
I like to use a wide mouth pint jar or mason jar for these mason jar salads. The wide mouth makes it easier to stuff in all the ingredients, and if you wind up having to eat the salad straight from the jar it's more convenient to do so with a wider opening.
I also recommend prepping all of the salad ingredients at once instead of chopping up the veggies and layering them into the jars as you go. It makes the whole process much easier if you cut everything up all at once!
Although I much prefer making homemade salad dressings whenever possible, I know using store-bought vinaigrettes are a serious time saver. In a pinch, store-bought dressings will work for these mason jar salads, but just try making your own salad dressing first — you'll see how easy it really is!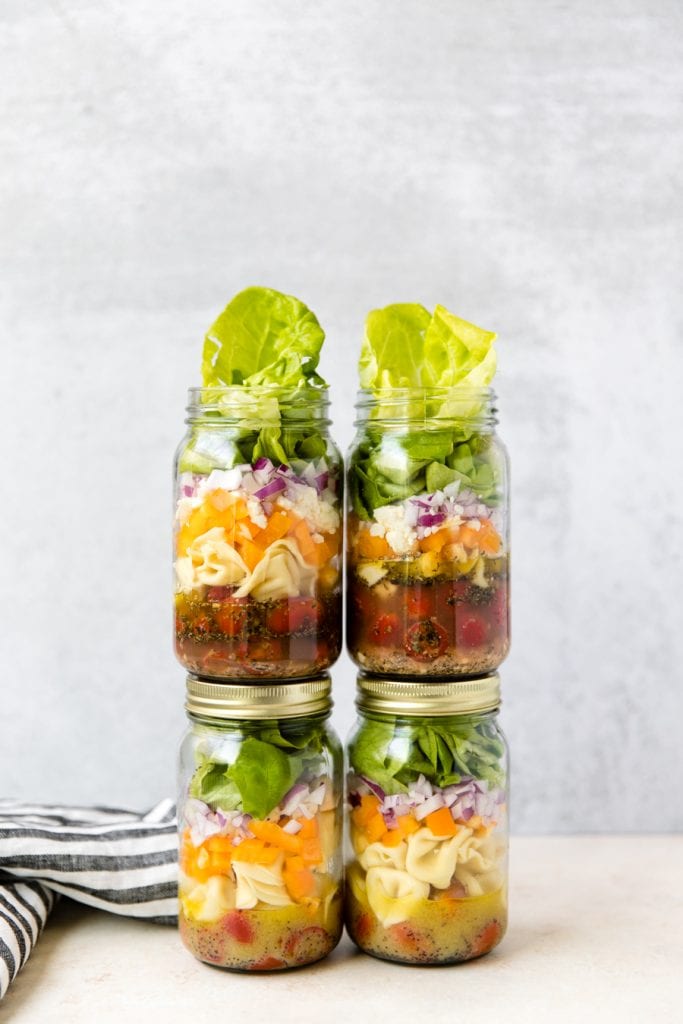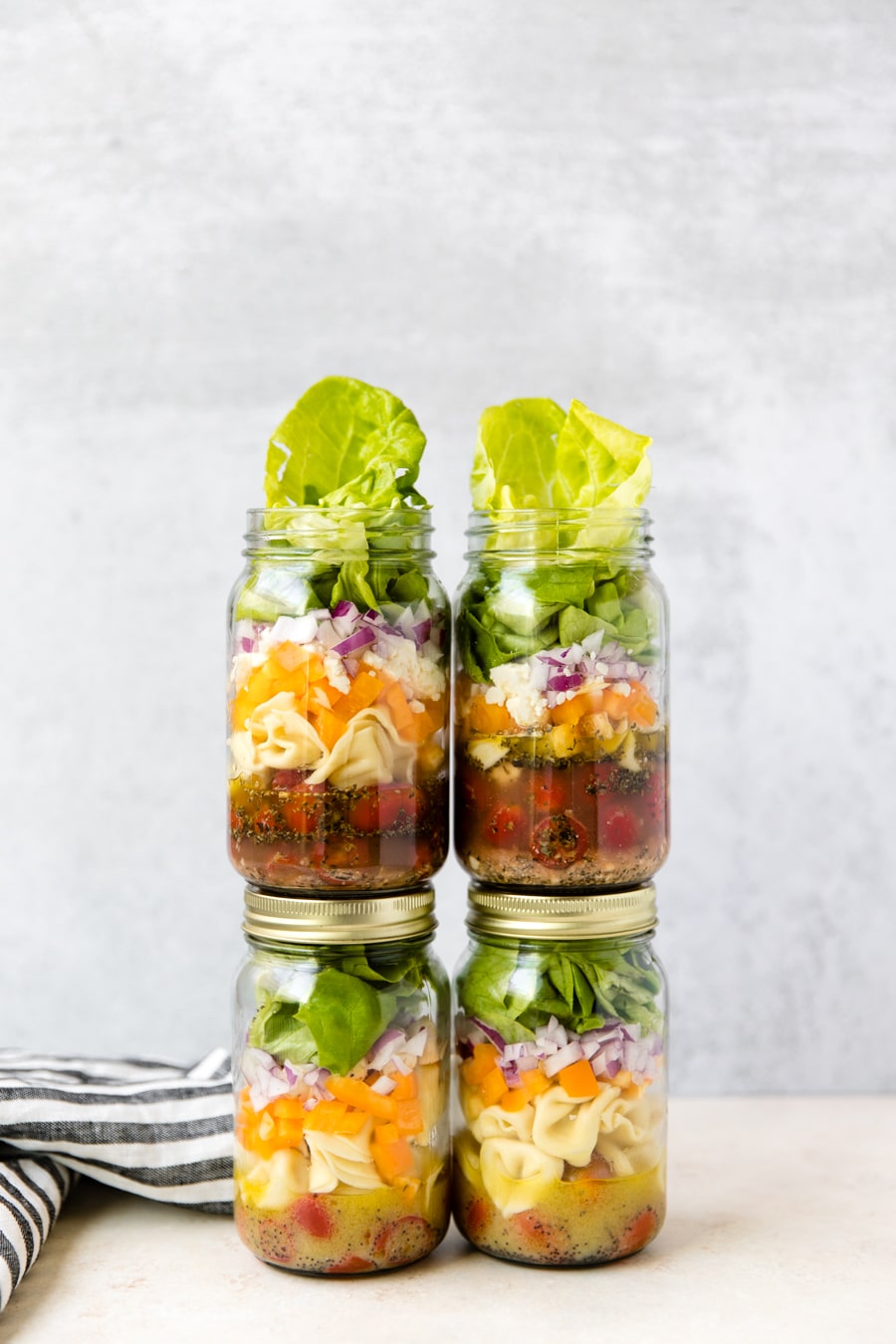 More easy salad recipes: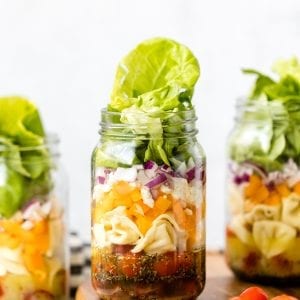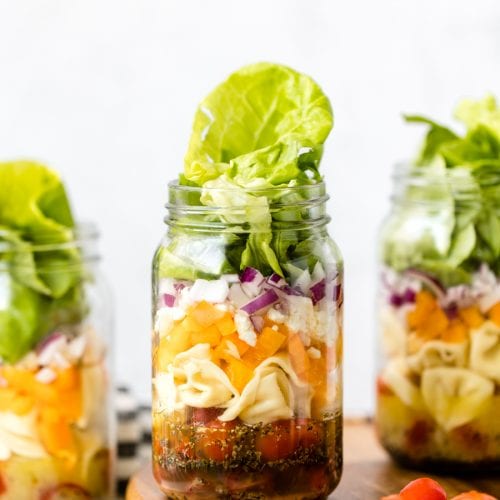 Tortellini Mason Jar Salads
Never have time for lunch? Prep ahead with these easy tortellini mason jar salads to ensure a nutrient rich meal!
Ingredients
4

mason jars with lids

2

cups

cherry tomatoes, washed and halved

1

small

red onion, diced

1

orange bell pepper, diced

1

lb

tortellini, cooked

2-3

cups

Butter leaf lettuce, washed and patted dry

1/2

cup

feta cheese

1/2

cup

Vinaigrette dressing

Salt and pepper to taste
Instructions
Cook tortellini according to package directions, drain and run under cold water to stop the cooking process.

Then start to build your mason jars!

Step 1: Pour the dressing in the bottom of the jar first. I like to use a wide mouth pint jar or mason jar. Pouring the dressing in first helps prevent the lettuce from getting soggy and when you pour the salad into a bowl, the dressing coats everything in the saladSome of my favorite dressings for this salad are my lemon poppyseed and Mediterranean
Vinaigrette.Step 2: Chop the cherry tomatoes and place right on top of the dressingStep 3: Place cooked tortellini on top of tomatoes and then layer the next 3 ingredients in really any order you'd like: orange bell pepper, feta cheese (or mozzarella balls), and red onion,Step 4: Take your gently torn butter leaf lettuce (or salad of choice) and place on top! Put the lid on, and store in the fridge until ready to eat.
Notes
You may have leftover tortellini depending on how much you layer in your jars. I repurpose by making more salads or eating with meat sauce and a veggie!
Hi, I'm 
Tawnie

!

Welcome to my tiny "korner" on the Internet! I am a Registered Dietitian Nutritionist who loves cookies as much as kale. (OK, maybe I like cookies a little bit more but shh, don't tell anyone). I am so glad you're here! Follow along for hassle free, realistic and approachable recipes.

More about Tawnie

I'd love to see what you made!!
Share it with me on Instagram or Facebook and tag me @krolls_korner or use the hashtag #KrollsKorner!