Raspberry Cheesecake Cookies
American | Published Dec 10, 2022 | Updated Dec 10, 2022 | By Tawnie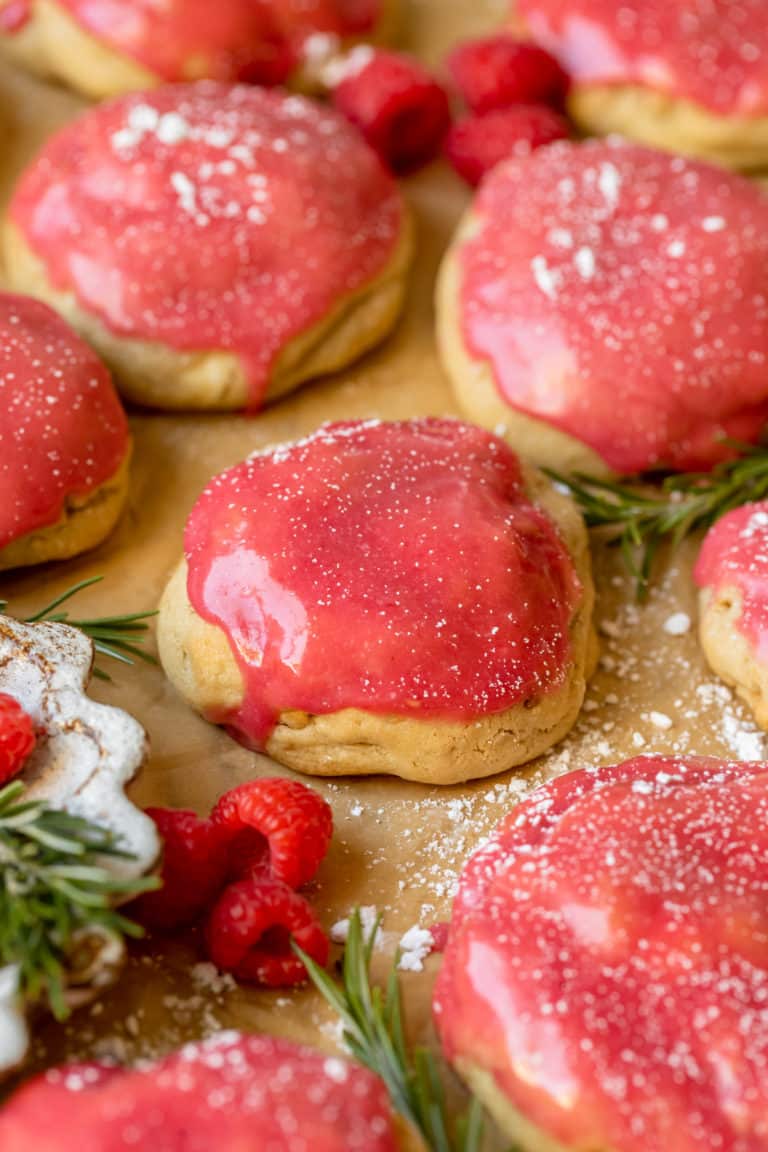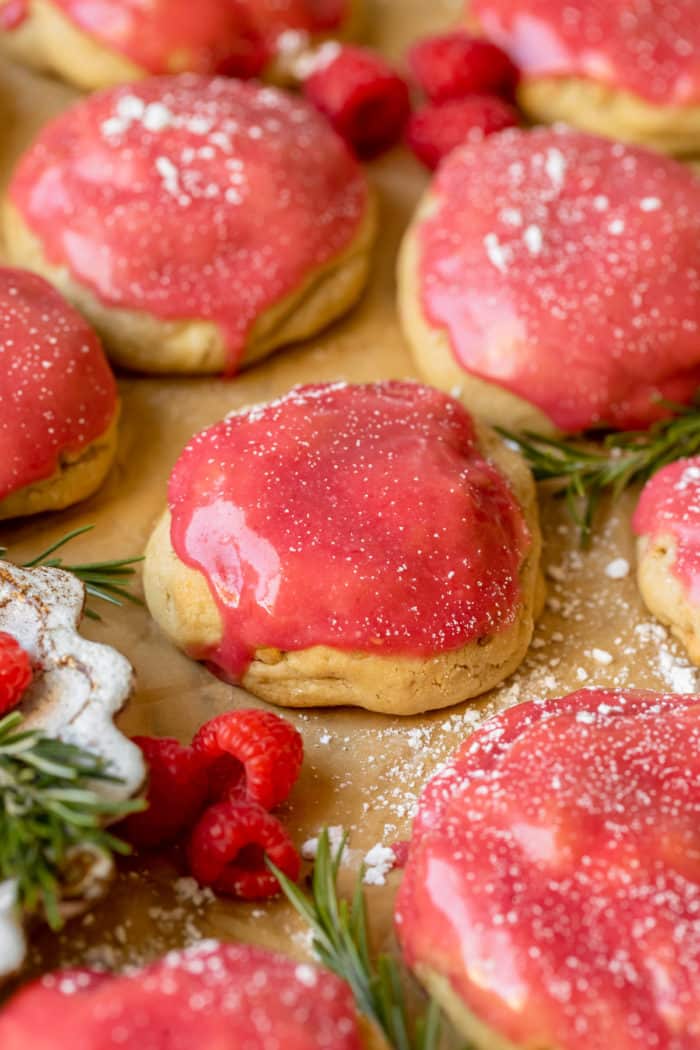 Raspberry Cheesecake Cookies are everything the name says. The sweet white chocolate chip-filled cookie dough surrounds a creamy cheesecake filling that melts in your mouth with the first bite.
I know I say this every time but this really is my favorite cookie I have made in this cookie series! If you've missed my other new cookie recipes this week, check out these options: gingerbread biscotti, iced oatmeal cookies, drop sugar cookies, buckeye cookies, hot cocoa cookies, and eggnog cookies!
This recipe uses the same cookie base as my strawberry shortcake cookies. It's my classic cookie base with a few extra mix-ins. The cookie base is where all things started with Kroll's Kookies.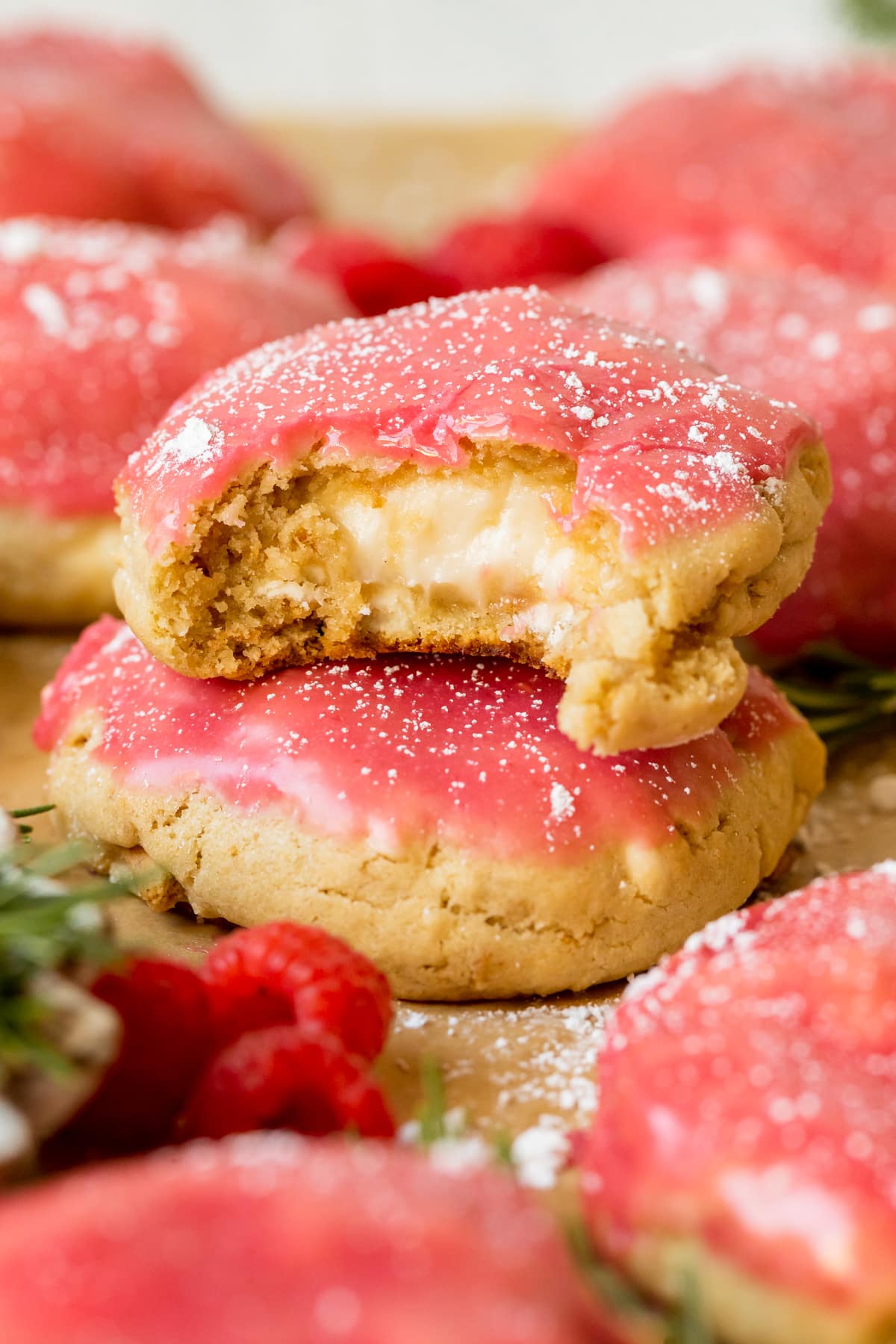 A lot of raspberry cookies online use either fresh or frozen raspberries folded into the cookie dough. I tested that out and felt it was messy and I didn't really like the texture or how the cookie held up.
So this cookie gets its raspberry name from the homemade raspberry glaze that each cookie is dipped into. After the glaze sets, you'll dust the tops with powdered sugar for the perfect finishing touch. It's like a light snow on top of the cookies!
Making the glaze is of course an extra step but it makes these cookies really special and delicious. I mean, just look at how pretty they are!
Why you'll love these cookies
They are stuffed with a cheesecake filling so each bite is like a yummy surprise!
You can't resist the gorgeous fresh raspberry glaze.
They're a no-chill cookie!
Raspberry cheesecake cookies are festive for the holiday season but make a great year round cookie, too!
They are soft with a cake-like texture, mmmm!
Ingredient Notes
These cookies have your usual cookie ingredients like butter, sugar, salt, baking powder, flour and eggs. There are a few ingredients I add that set these apart.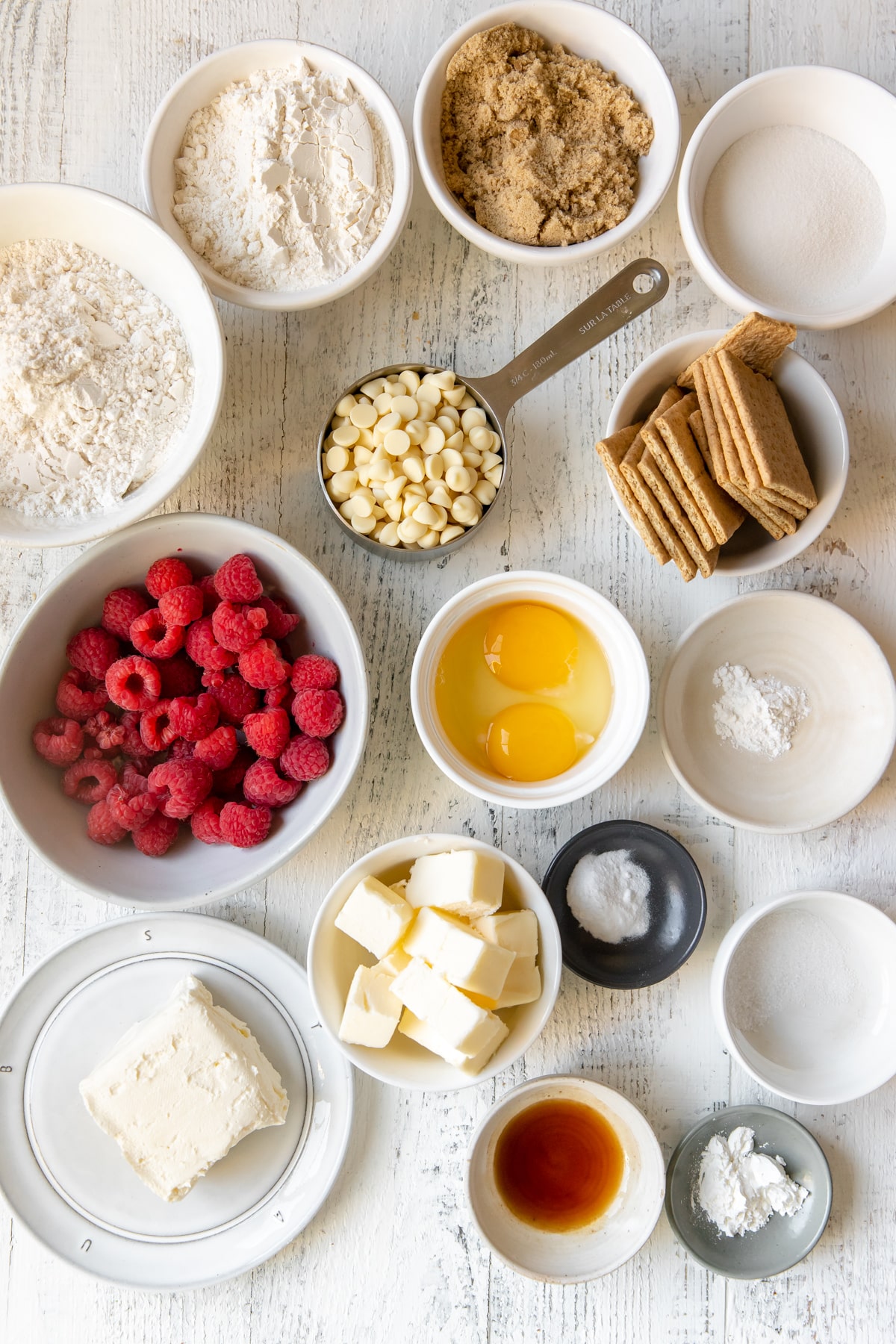 Cake Flour: (spooned and leveled): If you know me and my cookies, you know I love adding cake flour with all-purpose flour to make the perfect cookie!
Graham crackers: You'll be obsessed with the flavor these add to the cookies! It's like the "crust!"
Fresh raspberries: for the glaze, you'll need fresh raspberries. I did not test this recipe with frozen.
White Chocolate Chips: I love using the Ghirardelli white chocolate. The morsels are always velvety smooth!
Corn Starch: key ingredient to making thick, big cookies.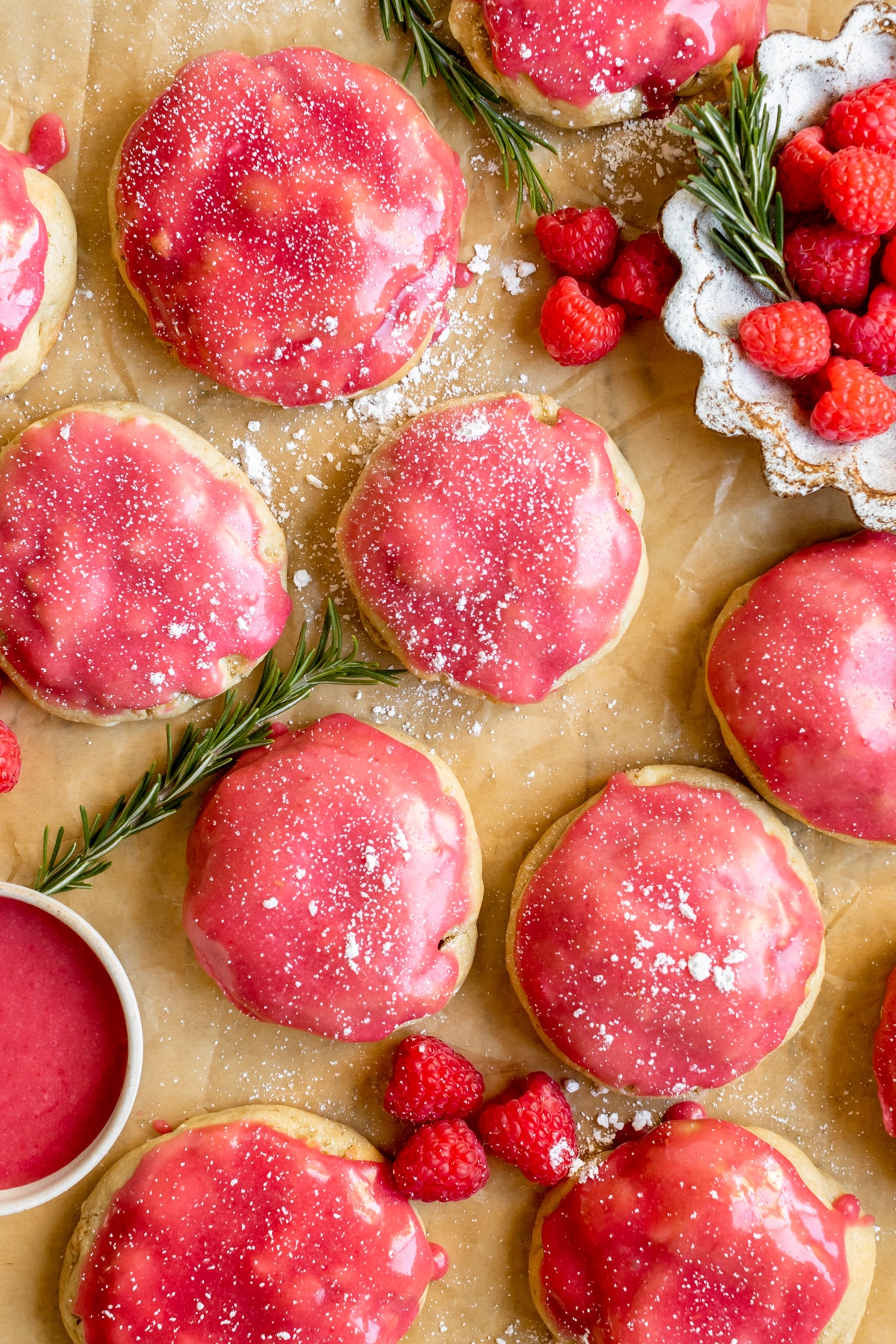 Step by Step Directions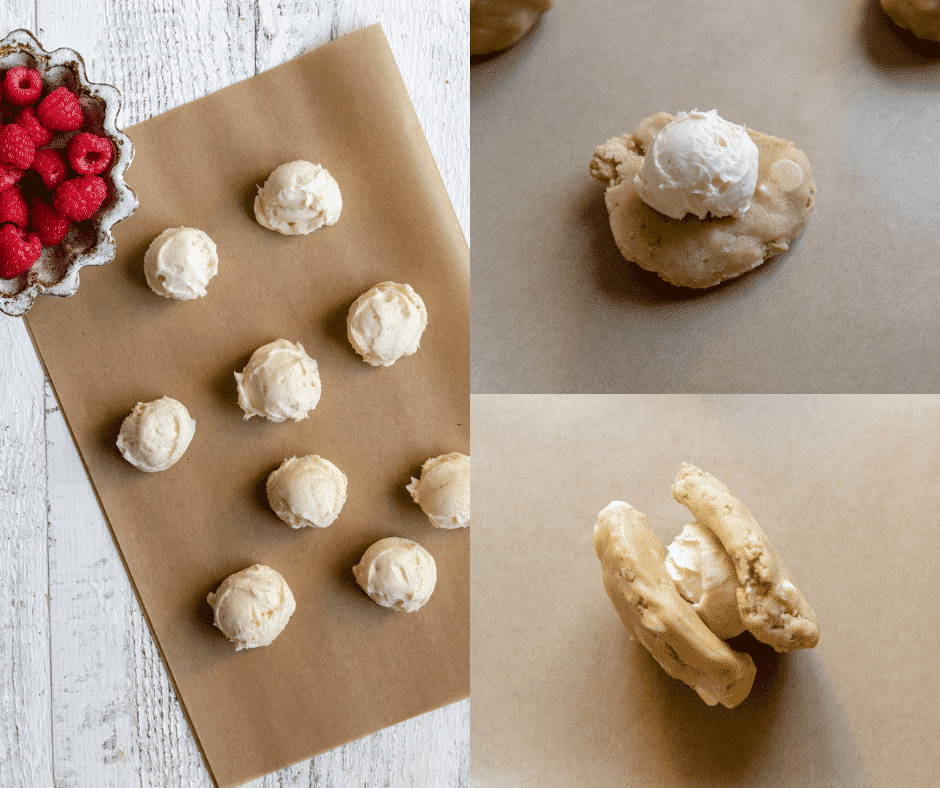 Make the cheesecake filling and freeze for 1 1/2 – 2 hours.
Preheat the oven to 375°F.
Whisk together the dry ingredients in a large bowl.
Using a stand mixer cream together the butter and sugars.
Then add in the egg, egg yolk, and vanilla extract
Gradually add in dry ingredients.
Add in the graham crackers and white chocolate chips.
Place frozen cheesecake filling between two flattened pieces of dough, pinch the sides to enclose the filling. Flatten each dough ball just a little.
Bake and then let rest on the cookie sheet for 5-10 minutes before transferring to a wire cooling rack.
Make the glaze and dip cookies in the glaze and dust with powdered sugar.
Tips and Variations
Let the cookies rest: If your cookies are turning out too gooey, let them rest longer. I recommend at least 5-10 minutes on the cookie sheet and then transfer to a cooling rack to cool completely. Your cookies aren't ruined, just let them rest!
Make the glaze and cheesecake filling in advance so when it's time to make the cookies, everything is mostly prepped and ready to go.
Assemble with care: Be sure to pinch the sides of the dough together so all of the cheesecake filling is sealed in.
Use a mix of both All-Purpose flour and cake flour: I've tested without cake flour and the cookie is just a little more dense. It's still delicious, but I just love the cake-y center when using a combination of both flours.
Spoon and Level: Make sure to spoon the flour into your measuring cup and level it off with the back of a knife instead of scooping the flour with your measuring cup.
Flatten the cookies just a little, not a lot: Don't flatten out these cookies too much before you place them into the oven so your cookies stay be nice and thick! I keep mine looking like a big baseball!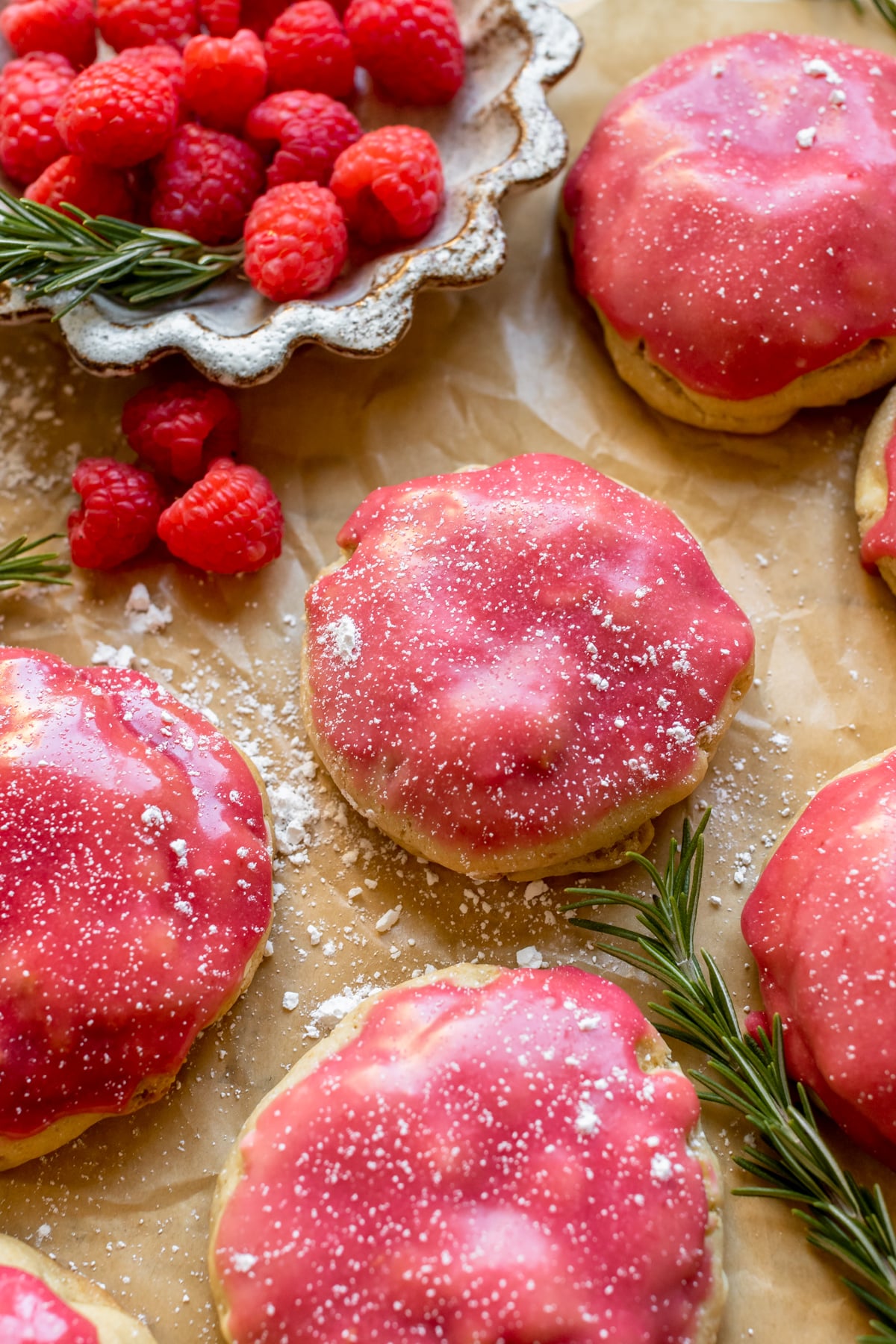 FAQ
Do I have to freeze the cheesecake filling?
Yes. If you skip this step it will be challenging to work with and you'll end up with a gooey mess!
How do you store these cookies?
Since they are stuffed with a cream cheese filling, these cookies will need to be refrigerated in an air-tight container or baggie if not eaten on the same day. Refrigerate for up to 5 days. Bring them to room temperature before enjoying.
Can I freeze raspberry cheesecake cookies?
Yes! Freeze in an air-tight container for up to 3 months.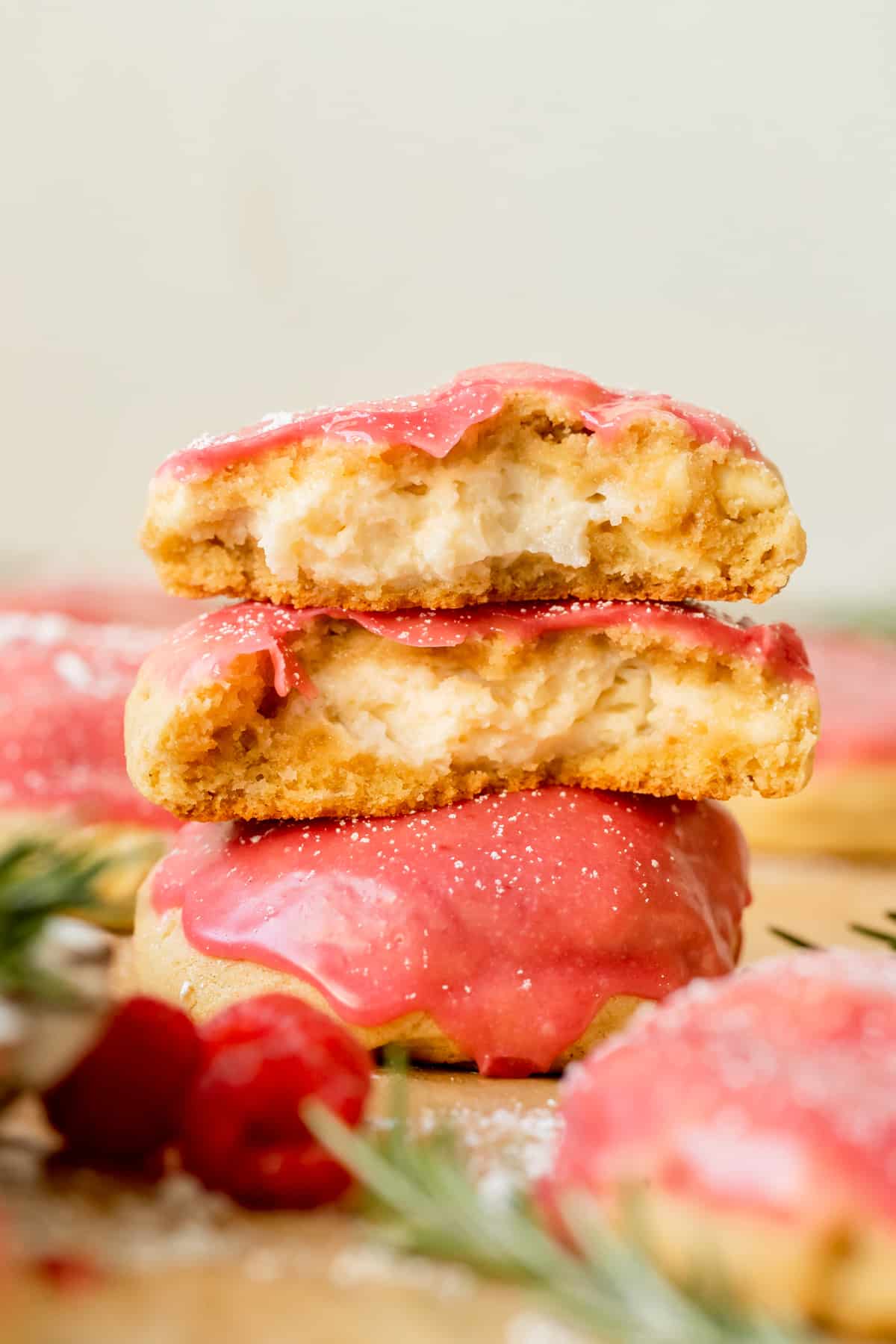 HUNGRY FOR MORE? If you try this recipe, why not leave a star rating in the recipe card right below and/or a review in the comment section further down the page? I always appreciate your feedback! You can also follow me on Pinterest or Instagram. Sign up for my email list, too!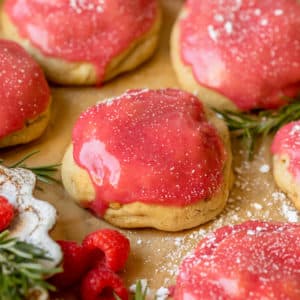 Raspberry Cheesecake Cookies
These Raspberry Cheesecake Cookies are stuffed with a cream cheese filling, graham crackers, white chocolate chips and a raspberry glaze. Dust with powdered sugar for a festive feel!
Ingredients
Instructions
Make the cheesecake filling first. In a medium size mixing bowl, use a hand mixer to beat together the cream cheese, powdered sugar, flour, vanilla and salt until smooth and creamy.

Drop ~1 Tbsp. onto a parchment paper lined baking sheet or plate that will fit into your freezer. Freeze for at least 1 1/2-2 hours or up to 3 days, if needing to make in advance.

Preheat the oven to 375°F. Line two baking sheets with parchment paper or silicone baking mats and set aside.

Whisk together the dry ingredients in a large bowl: All-Purpose flour, cake flour, corn starch, baking soda, baking powder and salt. Set aside.

Using a stand mixer fitted with the paddle attachment, cream the cold butter with the white sugar and brown sugar. Cream for 2-3 minutes until light and fluffy.

Add in the graham crackers (no need to crush them up, just toss them in!) and white chocolate chips and mix just until incorporated.

Assemble the cookies: scoop about 2 tbsp. of dough and roll into a ball and flatten into a thick disk. Place the cheesecake filling on the disk, and then make another disk to go on top. Pinch the edges together and seal the filling inside the dough. Place on the prepared cookie sheet and flatten the cookie slightly. Repeat with remaining cookie dough. (make the cookies smaller if you prefer, just make sure you have enough cheesecake filling for each center)

Bake for 10-12 minutes or until the edges and tops are just golden brown. Let rest on the cookie sheet for 5-10 minutes then transfer to a wire rack to cool completely.

Meanwhile, make the raspberry glaze. Puree the raspberries in a food processor until smooth. Place a fine mesh sieve over a bowl and press the raspberries thru the sieve to remove the seeds. Discard the seeds and add 1/3 cup of water to the raspberry sauce. In a small saucepan, whisk the sugar and cornstarch together and then add in the raspberry mixture. Bring to a boil and cook until it thickens (about 2-3 minutes), stirring occasionally.

Let the raspberry sauce cool for about 15 minutes, then add in the butter, vanilla and powdered sugar. Whisk until smooth, add more powdered sugar if you need a thicker glaze.

Dunk the cooled cookies into the glaze and dust with more powdered sugar on top. You'll most likely have some extra glaze, you can dunk the cookies into them or make more cookies 🙂 ENJOYYY!!!
Notes
Storage: Since they are stuffed with a cream cheese filling, these cookies will need to be refrigerated in an air-tight container or baggie if not eaten on the same day. Refrigerate for up to 5 days. Bring them to room temperature before enjoying.
Nutrition
Serving:
1
cookie
|
Calories:
511
kcal
|
Carbohydrates:
76
g
|
Protein:
6
g
|
Fat:
21
g
|
Saturated Fat:
12
g
|
Polyunsaturated Fat:
1
g
|
Monounsaturated Fat:
6
g
|
Trans Fat:
0.4
g
|
Cholesterol:
80
mg
|
Sodium:
372
mg
|
Potassium:
145
mg
|
Fiber:
2
g
|
Sugar:
51
g
|
Vitamin A:
546
IU
|
Vitamin C:
5
mg
|
Calcium:
83
mg
|
Iron:
1
mg
Hi, I'm 
Tawnie

!

Welcome to my tiny "korner" on the Internet! I am a Registered Dietitian Nutritionist who loves cookies as much as kale. (OK, maybe I like cookies a little bit more but shh, don't tell anyone). I am so glad you're here! Follow along for hassle free, realistic and approachable recipes.

More about Tawnie

I'd love to see what you made!!
Share it with me on Instagram or Facebook and tag me @krolls_korner or use the hashtag #KrollsKorner!