Strawberry Shortcake Cookies
Desserts | Published May 15, 2021 | Updated May 27, 2021 | By Tawnie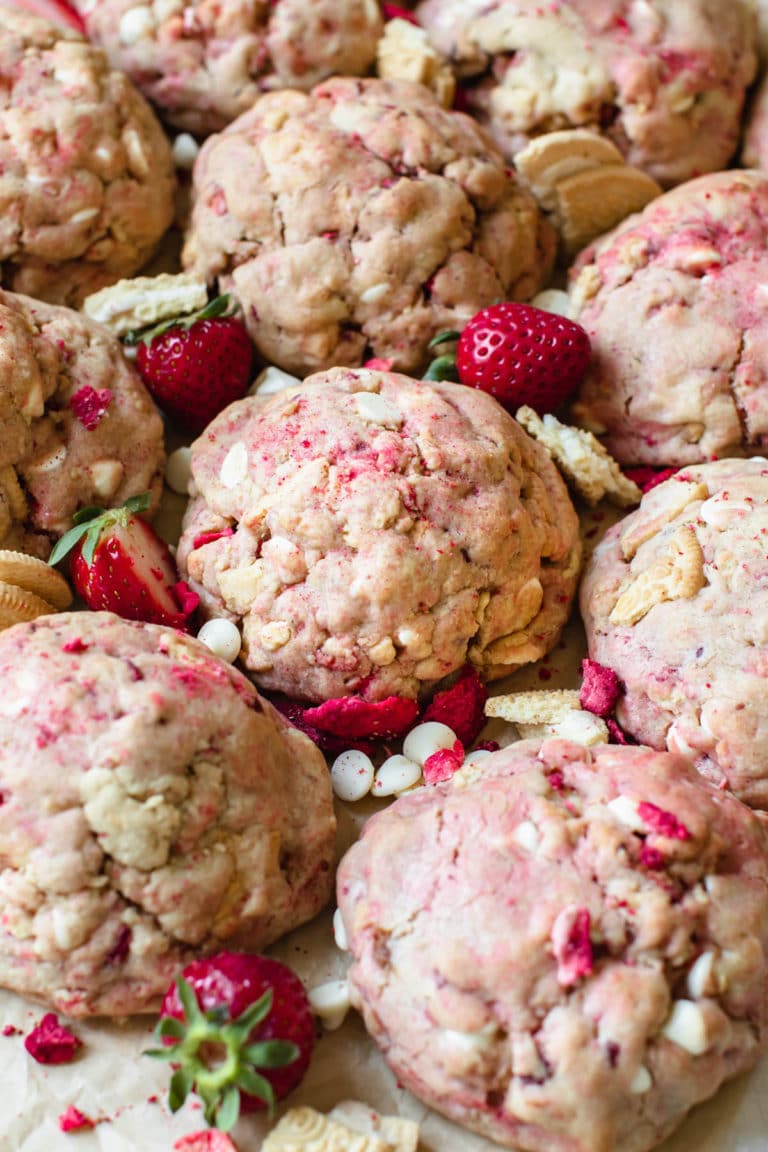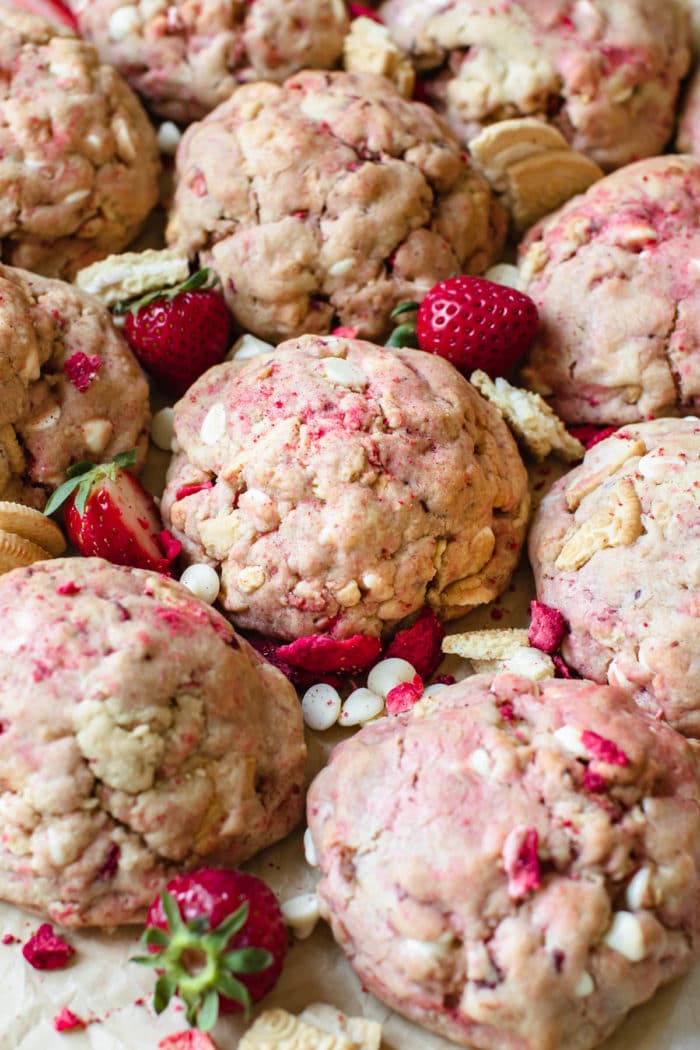 Nothing screams summer more than these Strawberry Shortcake Cookies!
These cookies are super fun and easy to make (especially if you've made some of my cookie recipes before like these Cookies n Cream cookies or giant chocolate chip cookies you'll have no problem with this recipe!).
Strawberry shortcake cookies are a Spring and Summer must-make dessert but really can be enjoyed year round because my recipe uses freeze-dried strawberries and not fresh.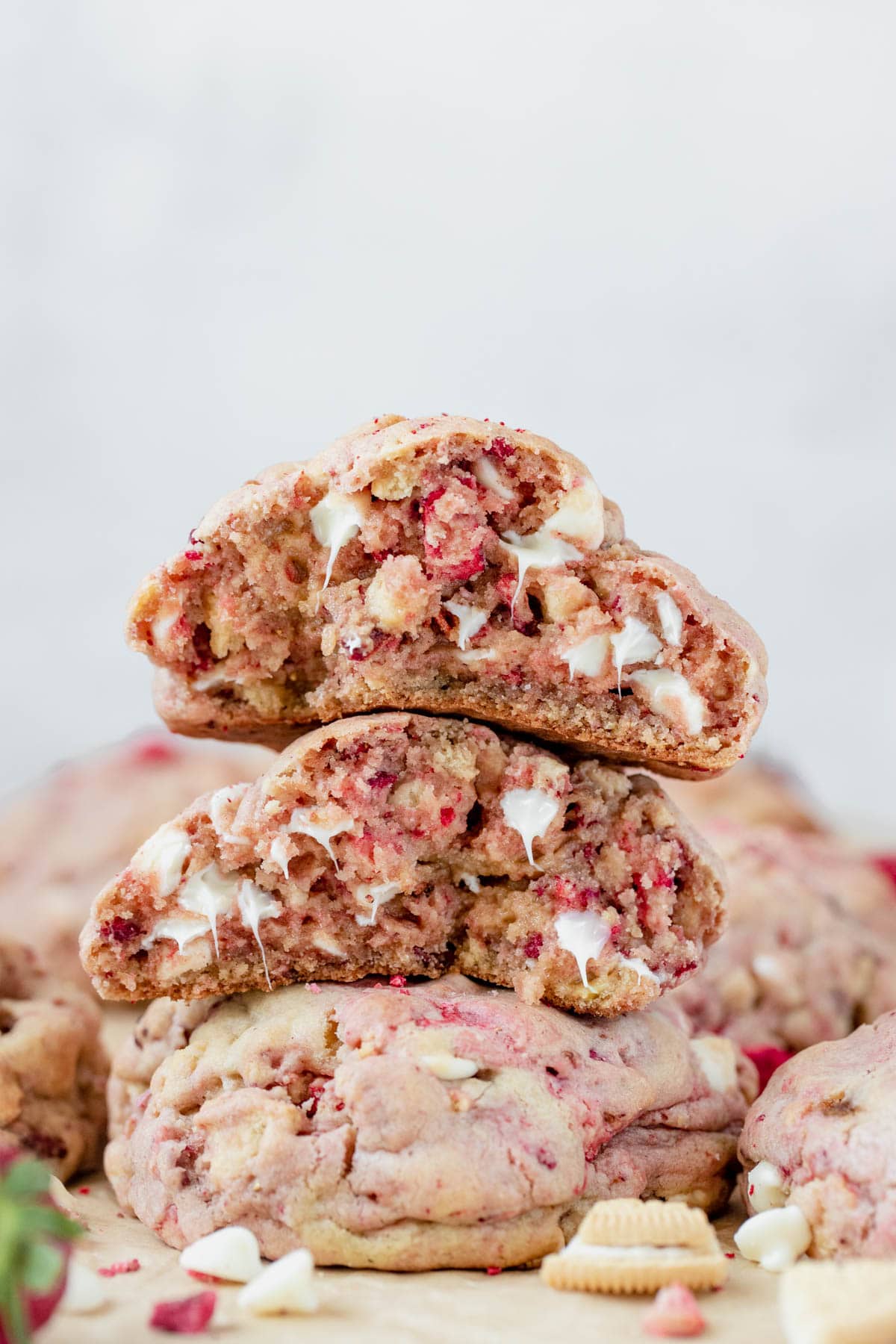 Freeze dried strawberries are great to have stashed in your pantry and bake deliciously into your favorite baked goods like pancakes, scones, muffins or you can top them on yogurt or oatmeal too.
They plump up a little when they bake into the cookies and have a surprisingly yummy chewy texture. But if that's not your thing you can easily grind them into a fine powder in a food processor and then add them into the cookies.
You'll love these cookies because…
They are full of strawberry flavor
They are cake-y and soft
They are HUGE
They are loaded with white chocolate chips, chunks of Golden Oreos AND freeze dried strawberries.
They bake beautifully and are freezer friendly
….you'll love them because they're cookies, need I say more?! 😍
Ingredient Notes
These cookies have your usual cookie ingredients like butter, sugar, salt, baking powder, flour and eggs. There are a few ingredients I add that set these apart: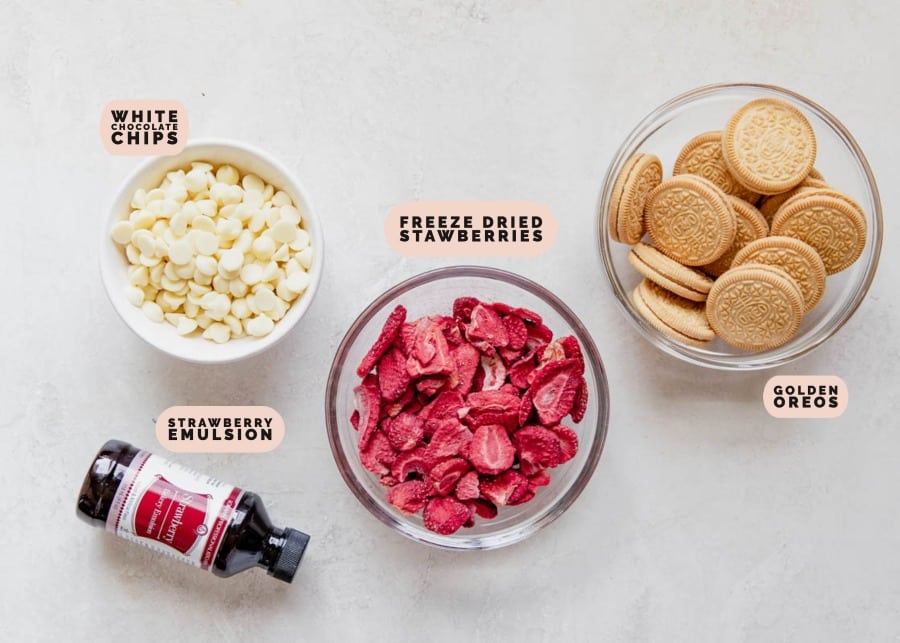 Cake Flour: (spooned and leveled): If you know me and my cookies, you know I love adding cake flour with all-purpose flour to make the perfect cookie!
Strawberry Emulsion: Instead of using fresh strawberries, using this emulsion helps to add a robust punch of strawberry flavor. I like to use it in place of strawberry extract for a stronger strawberry taste.
Golden Oreos: You'll be obsessed with the flavor these add to the cookies!
Freeze dried strawberries: Freeze drying removes water but retains nutrients in the strawberries.
White Chocolate Chips: I love using the Ghirardelli white chocolate. The morsels are always velvety smooth!
Corn Starch: key ingredient to making thick, big cookies.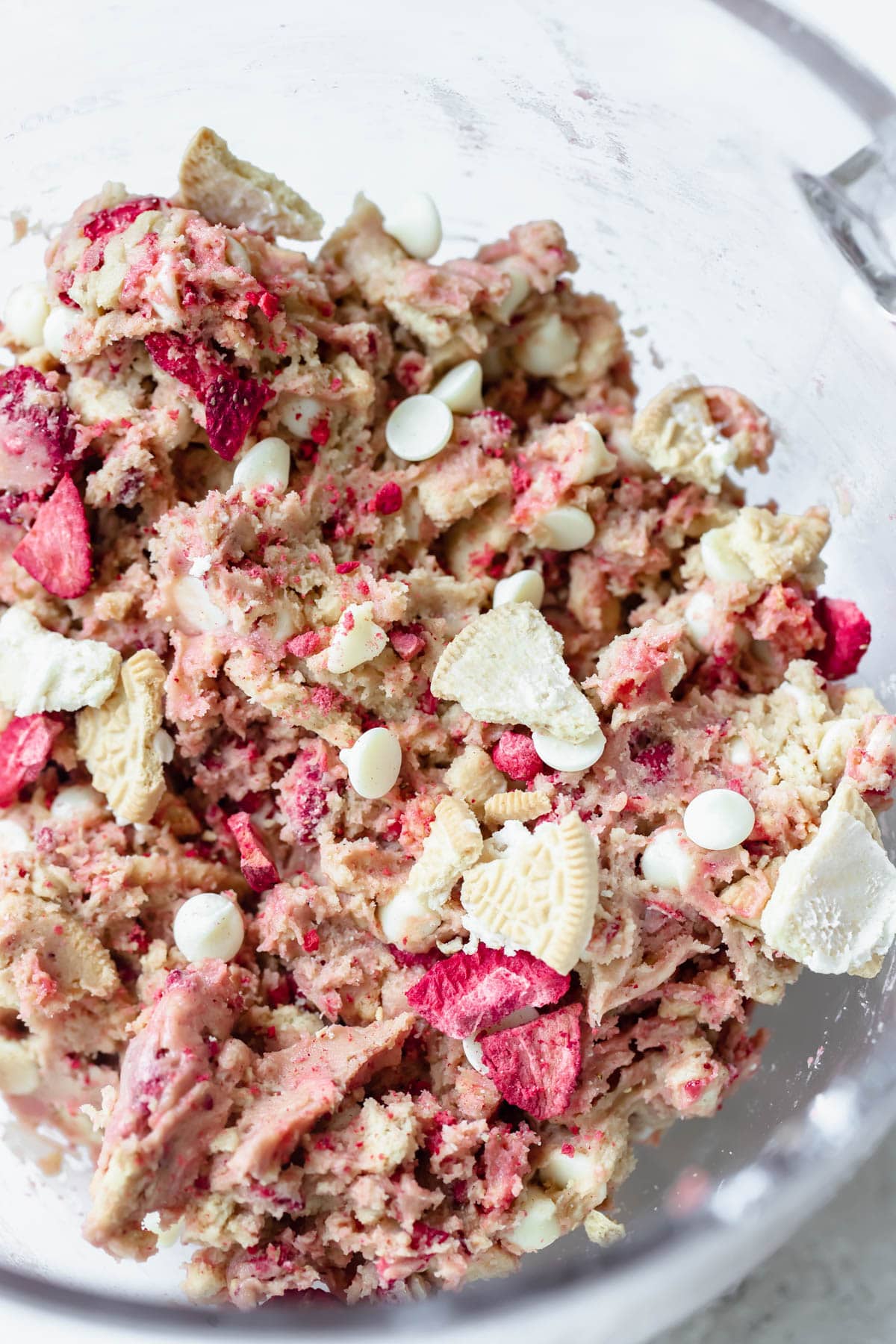 Step by Step Directions:
Preheat the oven to 375°F.
Whisk together the dry ingredients in a large bowl: All-Purpose flour, cake flour, corn starch, baking soda, baking powder and salt. Set aside.
Using a stand mixer cream together the butter and sugars.
Then add in the egg, egg yolk, and vanilla extract
Gradually add in dry ingredients.
Add in the chopped Oreo pieces, strawberries, white chocolate chips and strawberry emulsion.
Portion the cookie dough into 6 large cookies. Flatten each dough ball just a little.
Bake and then let rest on the cookie sheet for 10-15 minutes before transferring to a wire cooling rack.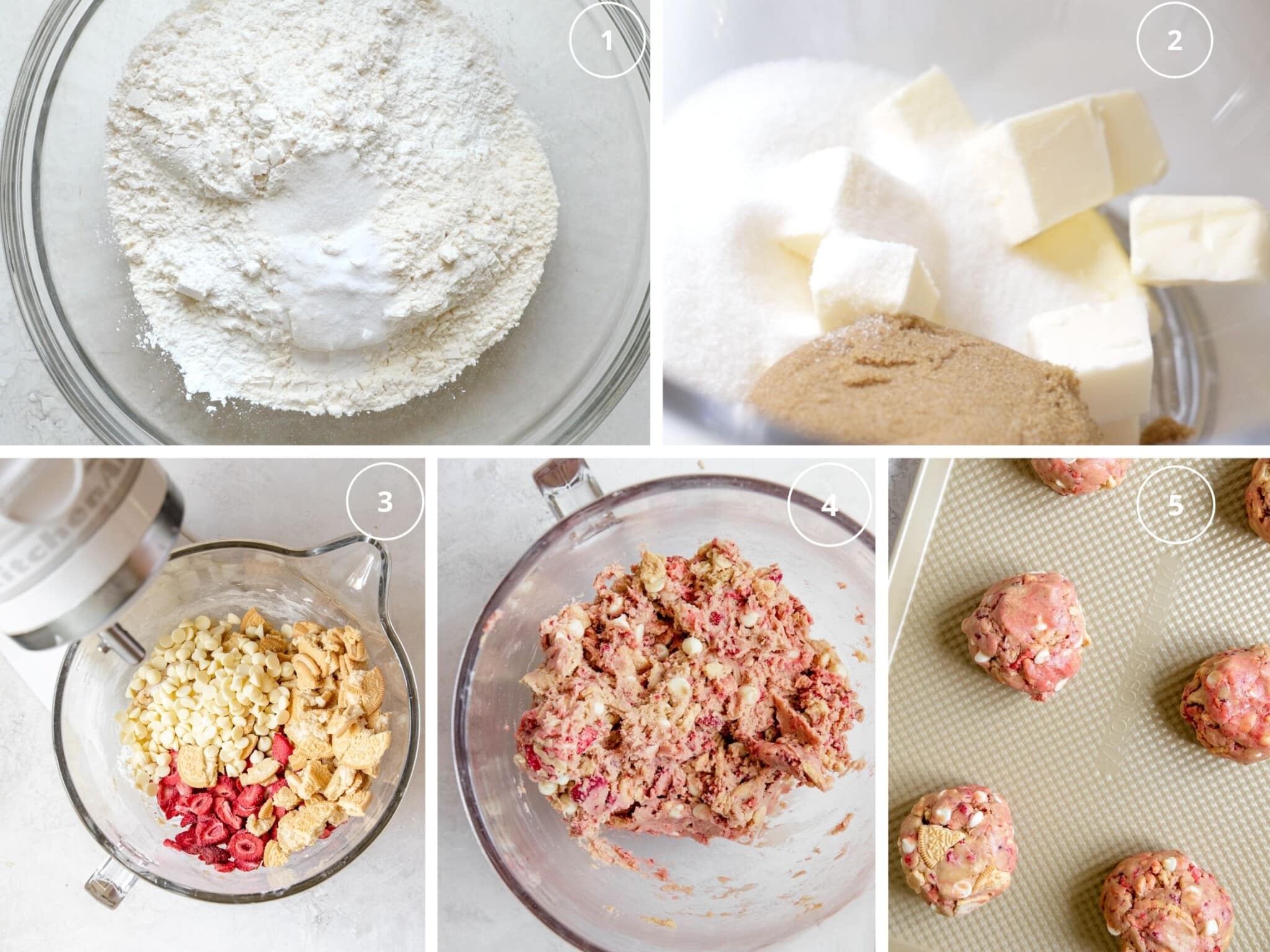 Expert Tips
Let the cookies rest: If your cookies are turning out too gooey, let them rest longer. I recommend at least 15 minutes on the cookie sheet and then transfer to a cooling rack to cool completely. They are even better if you let them sit and enjoy the next day. Your cookies aren't ruined, just let them rest!
Use a mix of both All-Purpose flour and cake flour: I've tested without cake flour and the cookie is just a little more dense. It's still delicious, but I just love the cake-y center when using a combination of both flours.
Spoon and Level: Make sure to spoon the flour into your measuring cup and level it off with the back of a knife instead of scooping the flour with your measuring cup.
Flatten the cookies just a little, not a lot: Don't flatten out these cookies too much before you place them into the oven so your cookies stay be nice and thick! I keep mine looking like a big baseball!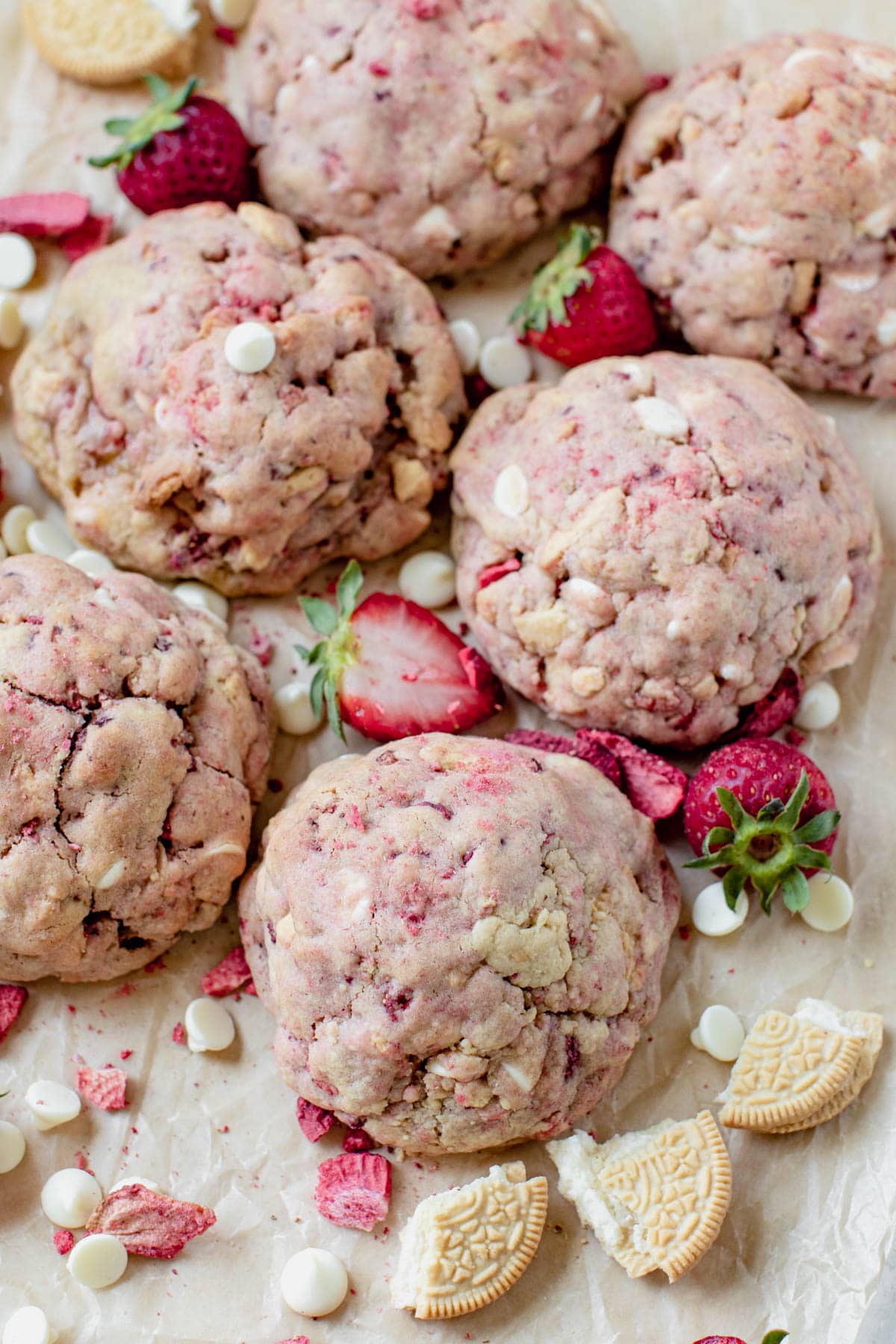 FAQ
Can I use fresh or frozen strawberries?
I have not tested this recipe with fresh or frozen strawberries. I would imagine it changing the texture quite a bit.
Can I freeze the cookies?
– Yes, these strawberry shortcake cookies freeze beautifully! Freeze them once they have cooled in a Ziplock baggie, Stasher bag, or freezer friendly container.
– They will freeze for up to 3 months.
– To thaw, I like to leave them out on the counter for 30-60 minutes. Or to speed things up you can pop them in the microwave for ~30 seconds
Can I make them gluten free?
To make them gluten free: Replace both the All-Purpose flour and Cake flour with: Bob's Red Mill Gluten Free 1-to-1 Baking Flour .
Can I use a hand mixer if I don't own a stand mixer?
Yes! Mixture may seem crumbly, keep mixing.
How do I prep my baking sheet?
I use the gold baking sheets from Williams Sonoma and I don't need to use anything on them, I place my cookies straight on the pan! However, parchment paper or Silicon baking mats are very common and work well.
HUNGRY FOR MORE? If you try this recipe, why not leave a star rating in the recipe card right below and/or a review in the comment section further down the page? I always appreciate your feedback! You can also follow me on Pinterest or Instagram. Sign up for my email list, too!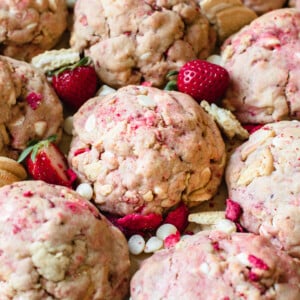 Strawberry Shortcake Cookies
Strawberry Shortcake Cookies are filled with strawberry flavor thanks to the freeze dried strawberries and strawberry emulsion! These cookies are huge, have a soft, cake-y center and are perfect for Spring and Summer!
Servings:
6
large cookies
Ingredients
1 1/4

cup

All-Purpose Flour

3/4

cup

Cake flour

1

tsp.

cornstarch

1/2

tsp.

baking soda

1/2

tsp.

baking powder

1/2

tsp.

salt

8

Tbsp.

unsalted butter, cold, cubed (1/2 cup)

1/2

cup

brown sugar, packed (dark or light)

1/4

cup

granulated white sugar

1

large

egg

1

large

egg yolk (no white)

1

tsp.

vanilla extract

15

Golden Oreos, roughly chopped

1.2

oz.

freeze dried strawberries (34 grams)

3/4

cup

white chocolate chips

2

tsp.

strawberry emulsion
Instructions
Whisk together the dry ingredients in a large bowl: All-Purpose flour, cake flour, corn starch, baking soda, baking powder and salt. Set aside.

Using a stand mixer fitted with the paddle attachment, cream the cold butter with the white sugar and brown sugar. Cream for up to 4 minutes until light and fluffy.

Gradually add in the dry ingredients and then add in the chopped Golden Oreo cookies, freeze dried strawberries, white chocolate chips and strawberry emulsion. Mix just until combined.

Shape dough into 6 large cookies and place on a cookie sheet. You can use a silicone baking mat or parchment paper if you prefer.

Bake for 10-12 minutes. Let cookies cool on the cookie sheet for 15 minutes and then transfer to a wire cooling rack. Enjoy!!
Notes
Make smaller 2-3 oz. cookies if you prefer, adjust baking time as needed.
I crush the Oreos by placing in a baggie and use my fists to break into chunks. Easy peasy!
Freeze cookies in freezer safe baggie for up to 3 months.
Homemade cake flour: to make homemade cake flour, you'll need 14 Tbsp. All-purpose flour and 2 Tbsp. corn starch. Mix these together and sift them twice to get them fully mixed and aerated. This will make ~1 cup flour. You only need 3/4 cup for this recipe.
Hi, I'm 
Tawnie

!

Welcome to my tiny "korner" on the Internet! I am a Registered Dietitian Nutritionist who loves cookies as much as kale. (OK, maybe I like cookies a little bit more but shh, don't tell anyone). I am so glad you're here! Follow along for hassle free, realistic and approachable recipes.

More about Tawnie

I'd love to see what you made!!
Share it with me on Instagram or Facebook and tag me @krolls_korner or use the hashtag #KrollsKorner!