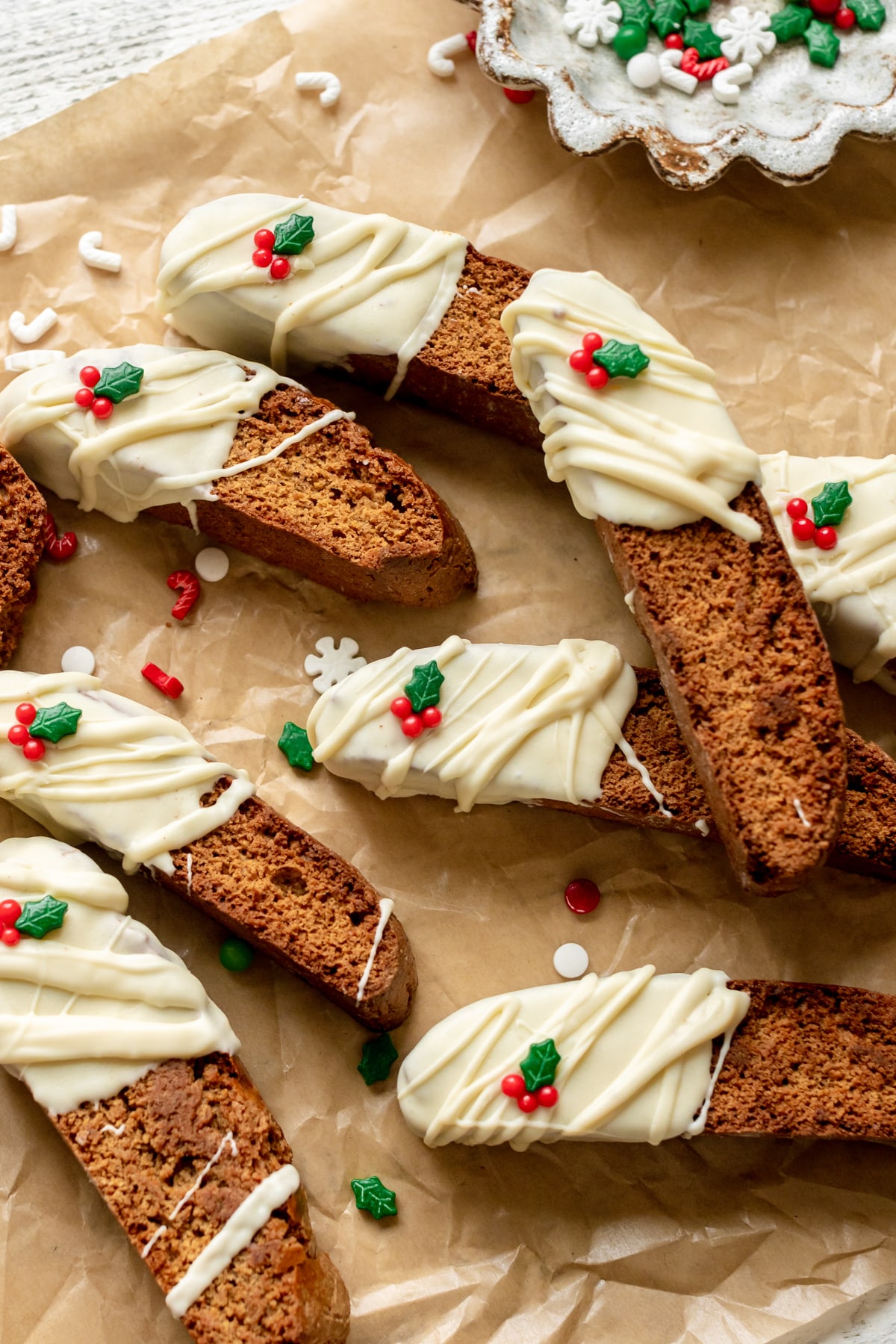 Gingerbread Biscotti might be my new favorite holiday cookie. 😍
I know that's such a bold statement when these hot cocoa cookies and iced oatmeal cookies are also high up on my list but I truly mean it!
This twice baked cookie has an extra crisp outside that gives you that much expected crisp "snap" as you sink into the cookie center. Quite possibly the best part of this Gingerbread Biscotti is that it gets dipped in white chocolate and then given a double drizzle of white chocolate. The white chocolate sweetness is perfectly balanced by the warm spices in the biscotti and you can decorate them with festive sprinkles because fun and cute!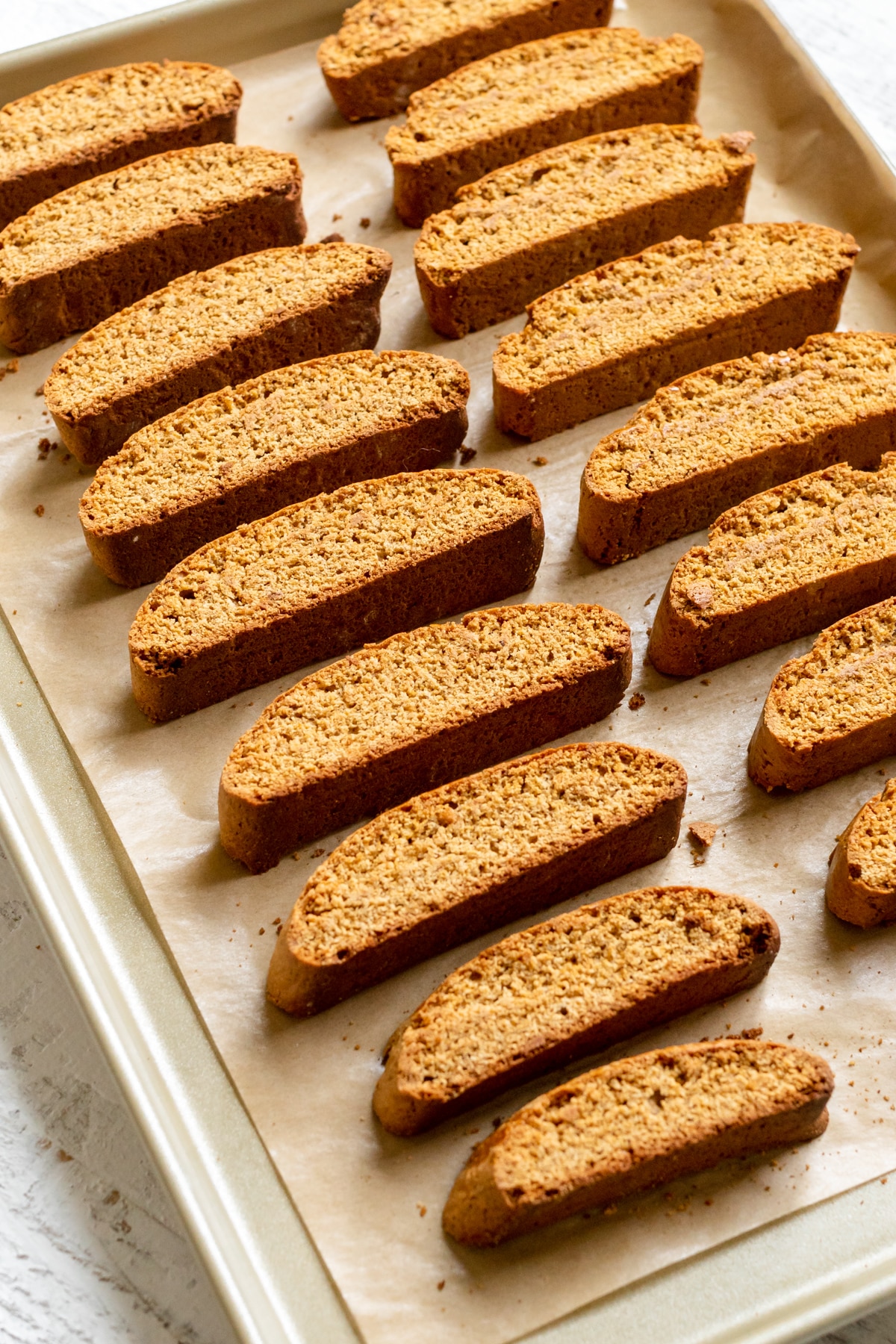 Eating Gingerbread Biscotti is like drinking a fine wine. It's always good to take your time and thoroughly enjoy it. You can start by just looking at the biscotti. You'll notice the slight shine to the crackled tops. Next, let the wonderful aroma of cinnamon, nutmeg, ginger, cloves, brown sugar, and molasses completely overtake your senses to create that desire to take your first bite.
But, there is another reason why I compare this Gingerbread Biscotti to fine wine. Tradition that dates back to the 1400's talks about dipping biscotti in Vin Santo, which is a sweet wine, and over 600 years later that tradition is alive and well in my very own family.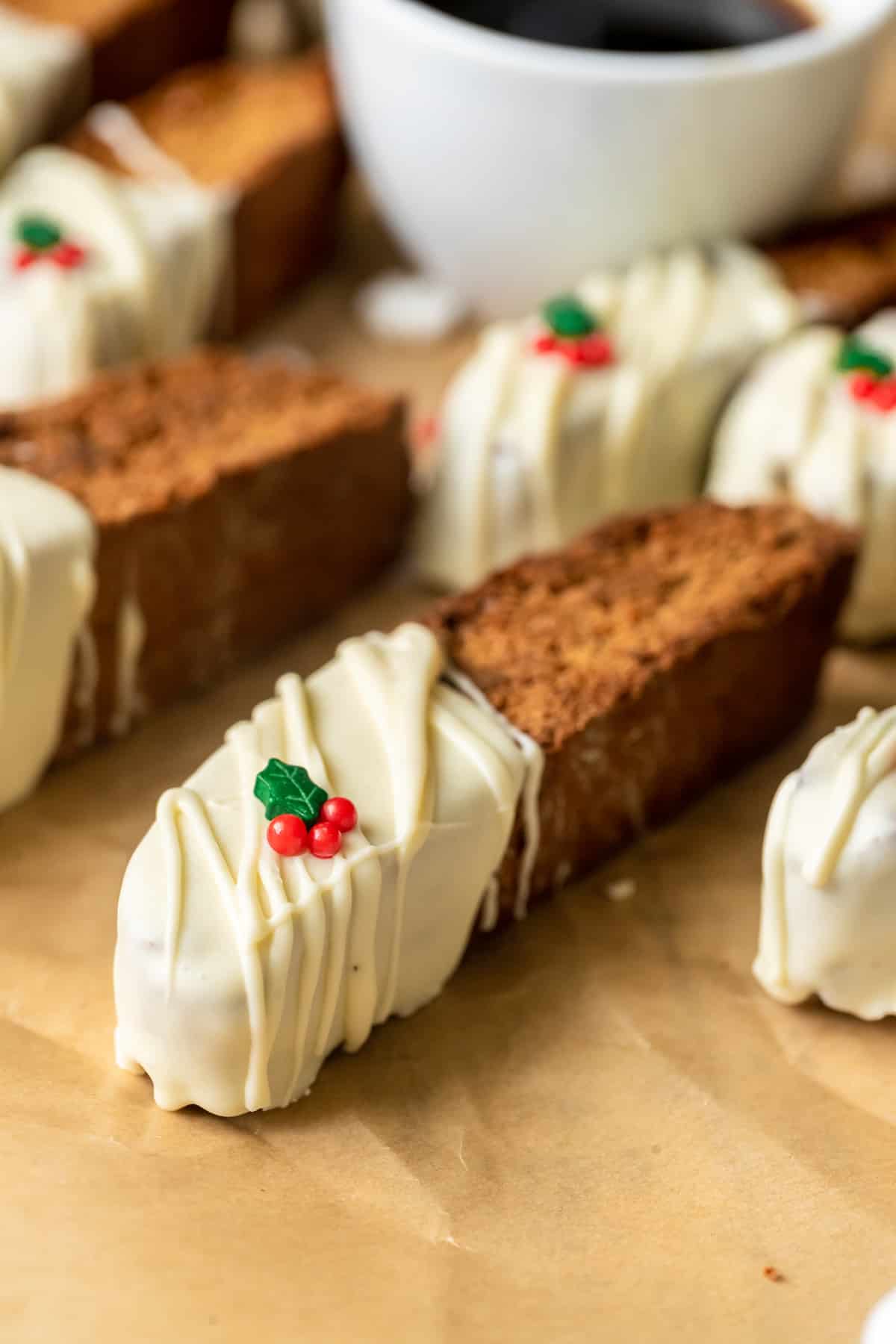 The truth is, no matter how you eat my Gingerbread Biscotti, with a hot cup of coffee, cocoa, tea, a glass of red wine, or on its own, just take time to enjoy the brown sugar sweetness, warm flavors and the crisp, crunchy texture that is wrapped in chocolate-y sweetness.
Reasons You Will Love My Gingerbread Biscotti
The gingerbread spices fill the house with cozy smells while it bakes!
Even though this cookie has an extra step with baking it twice, it is really easy to make. No stand mixer required and no chill time!
It has that classic biscotti crunch we all know and love.
It's a perfect any time of day treat.
Is a great cookie exchange dessert!
Ingredient Notes
I love that this recipe has pantry staple ingredients in it and not anything difficult to find.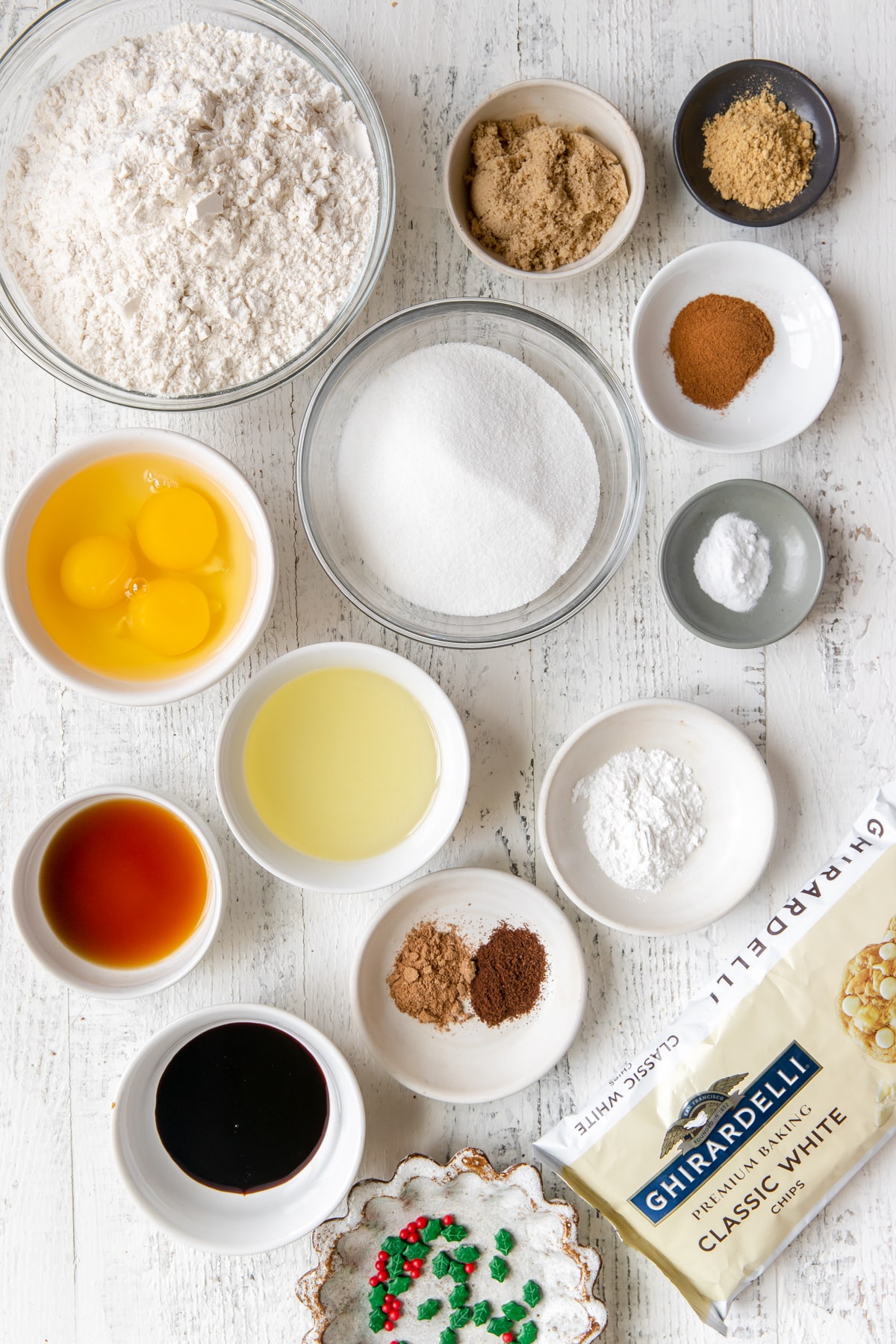 All purpose flour: The perfect flour for cookies and biscotti. Always be sure to spoon and level the flour into the measuring cups.
Baking soda and baking powder: helps the Gingerbread Biscotti rise and spread
Kosher salt: enhances the flavors in the biscotti rather than making it taste salty
Ground ginger: Such a great peppery, slightly sweet flavor and is the foundation spice in this recipe.
Ground cinnamon: This sweet and woody warm spice mixes perfectly with the other spices.
Nutmeg: This is another important aromatic flavor in the biscotti.
Cloves: The last of the aromatic flavors in this biscotti, but it is very intense. The combination of all these spices taste just like a gingerbread cookie!
White sugar: adds sweetness to the cookie
Brown sugar: The brown sugar adds to the molasses flavor of these cookies.
Eggs: binds and leavens the biscotti.
Molasses: I use the classic Grandma's brand.
Vanilla extract: Never leave out this "team-player" ingredient, as it enhances all the flavors in the biscotti.
Coconut oil: use this to help with melting the chocolate to get the right consistency
White chocolate chips: this is the perfect compliment to the biscotti and gives them a festive touch.
Holiday sprinkles: The sprinkles complete the holiday look for these tasty biscotti cookies.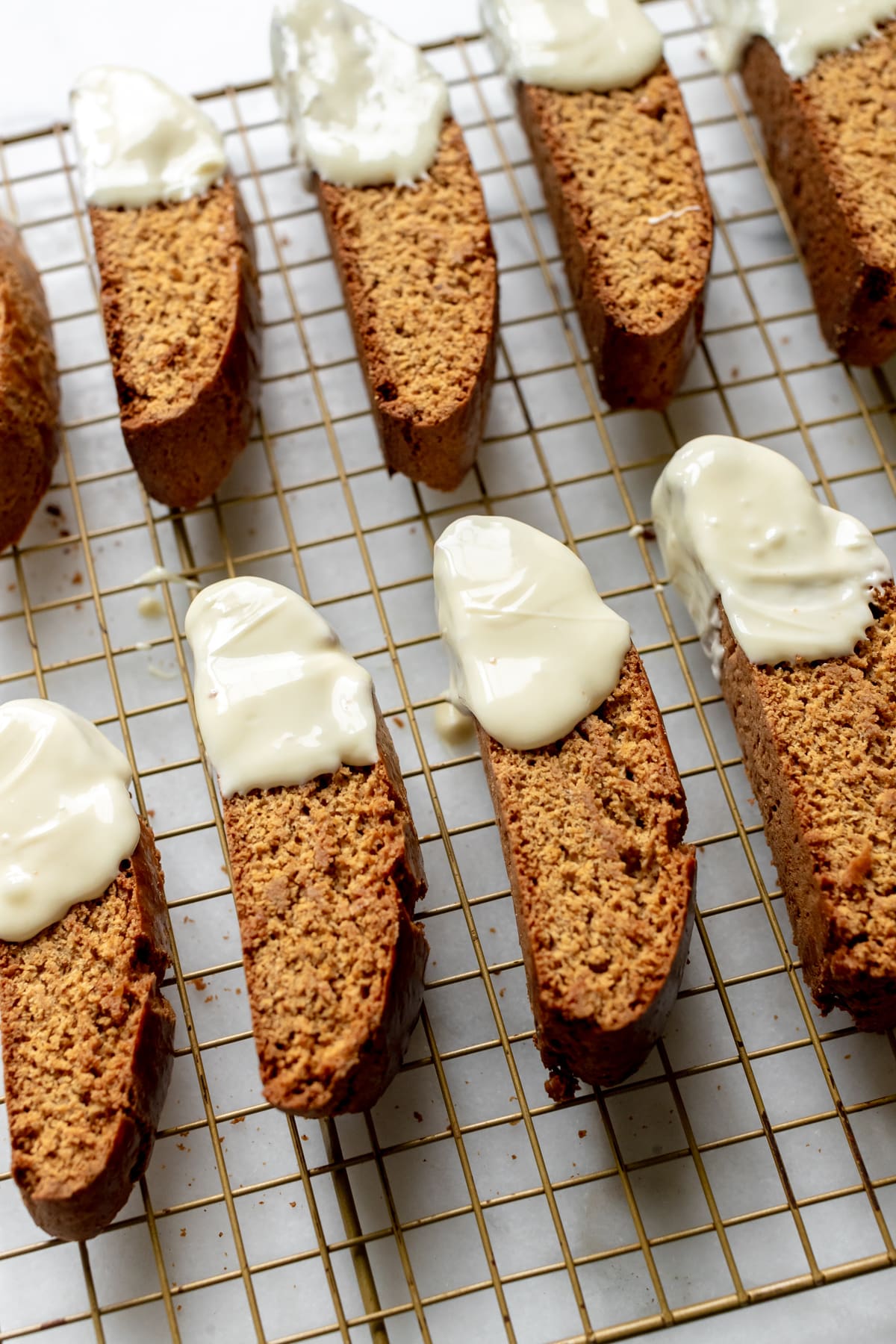 Step by Step Directions
I was always intimidated by biscotti and I have no idea why, it's EASY! This biscotti recipe is fool-proof, I'm telling you. No stand mixer, it's an easy to work with dough, and the double bake time is really simple!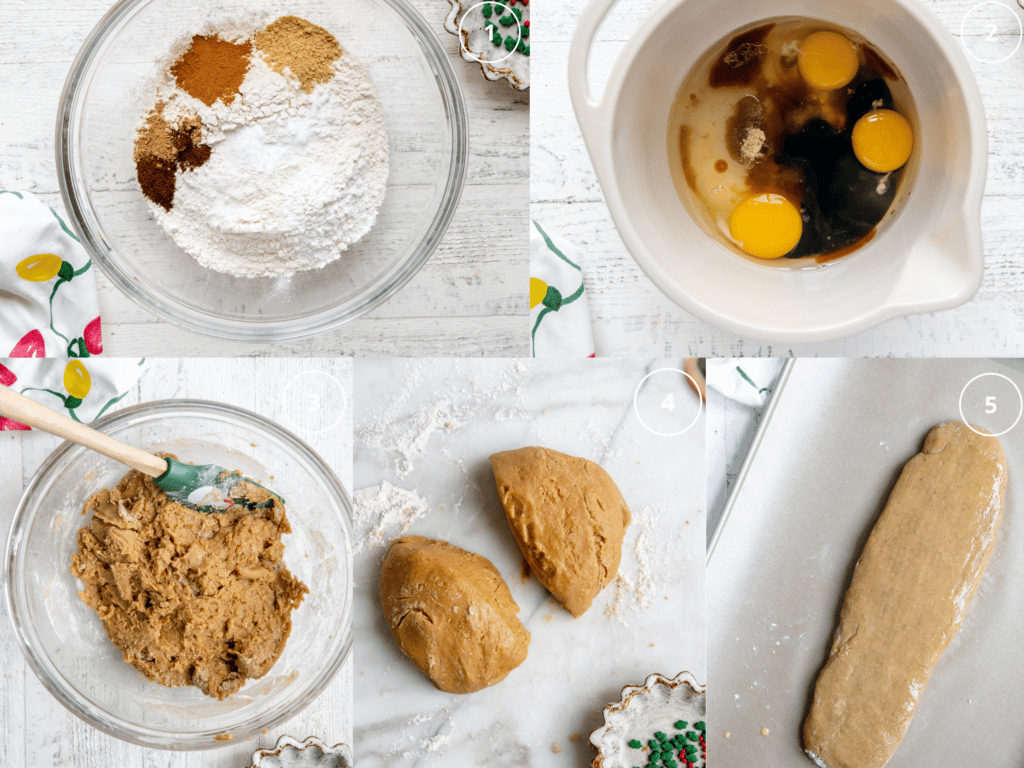 Whisk together the dry ingredients.
Whisk together the wet ingredients.
Add the wet into the try and fold.
Knead the dough just a few times.
Divide into 2 equal sections.
Shape into logs, about 1 inch thick and 10 inches long.
Bake for 25 minutes.
Cool for 5-10 minutes, then cut into 1 inch strips and place on their sides.
Bake again at a lower oven temp for 10 minutes on each side.
Cool then dip in melted white chocolate.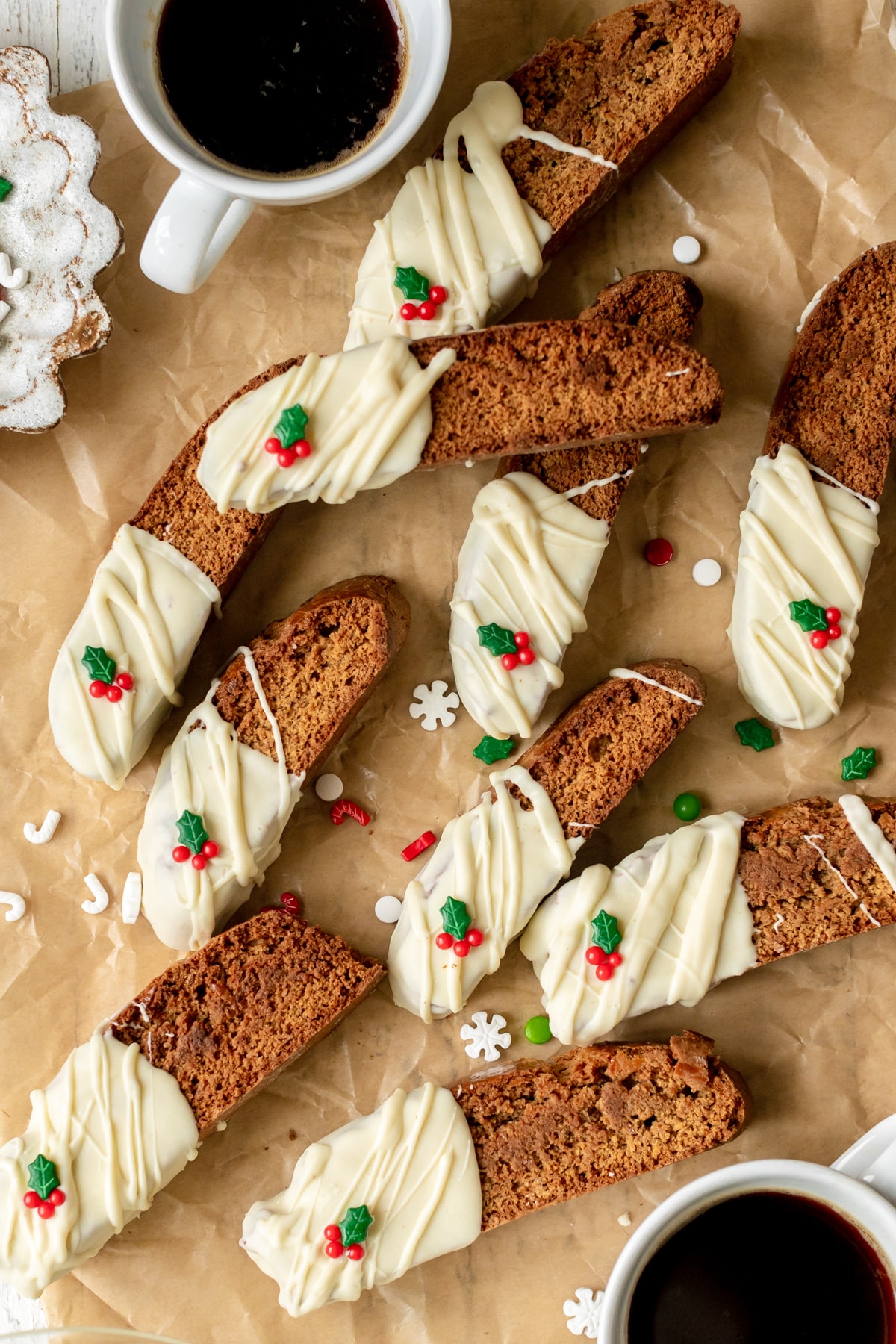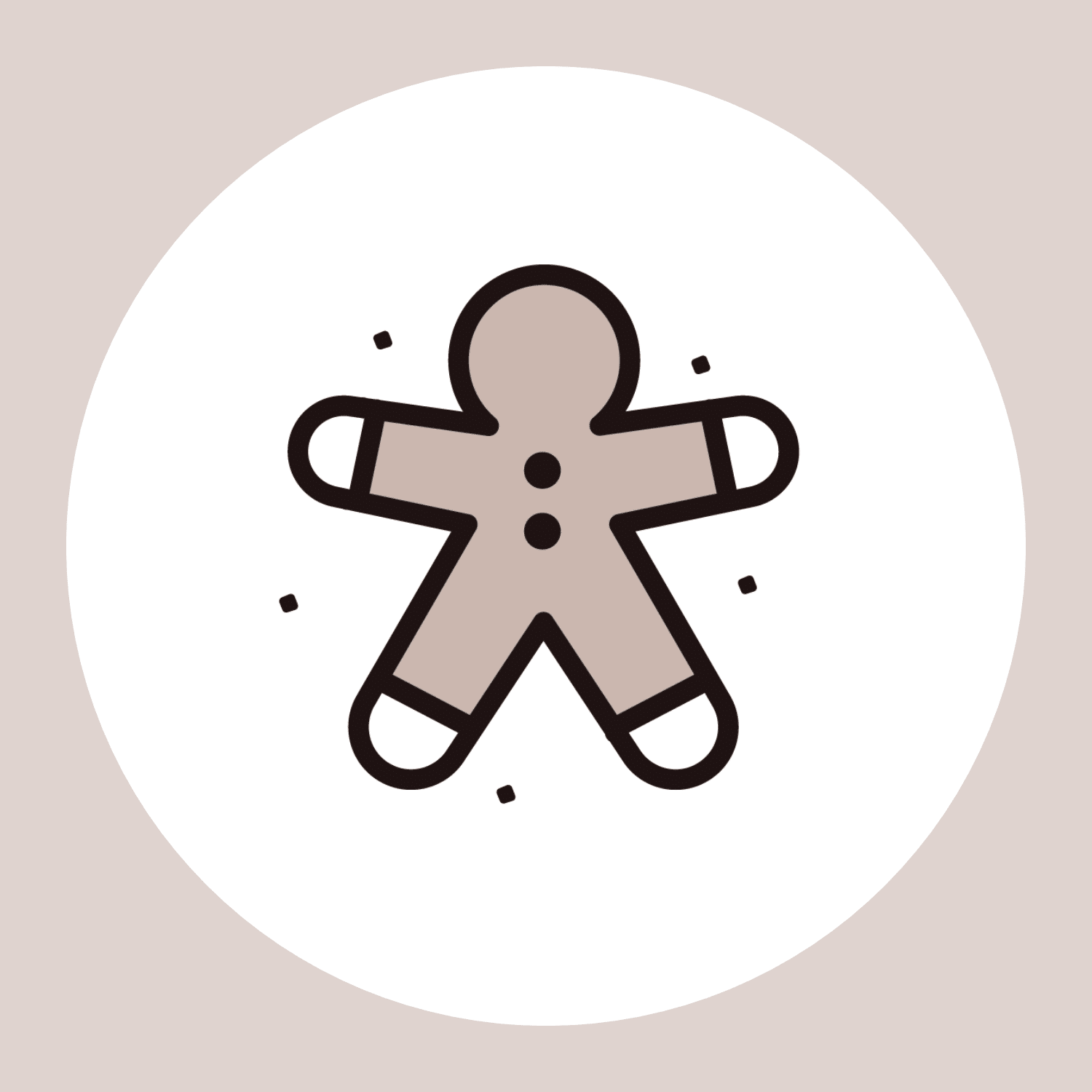 Looking for more cookie recipes for your holiday parties and cookie exchanges? Look no further than my Holiday Cookie Series!
Show Me More
Tips and Variations
Use a serrated knife when cutting the biscotti to get a clean cuts.
To help with setting the first "dip" of chocolate: After dipping the gingerbread, place on a cookie sheet and place in the refrigerator for 10 minutes. This should help set the chocolate so you can easily do the second drizzle.
Feel free to use milk chocolate instead of white chocolate. Although white chocolate is sweeter, the milk chocolate is a nice compliment to the spices since it has cocoa powder in it.
Be sure to reduce the oven temperature to 300°F for the second bake. This will help prevent the biscotti from getting too dark in color and dry out the cookie at a lower temp.
Allow the cookie to rest for 5-10 minutes after the first bake, but not any longer than that. It will get challenging to cut.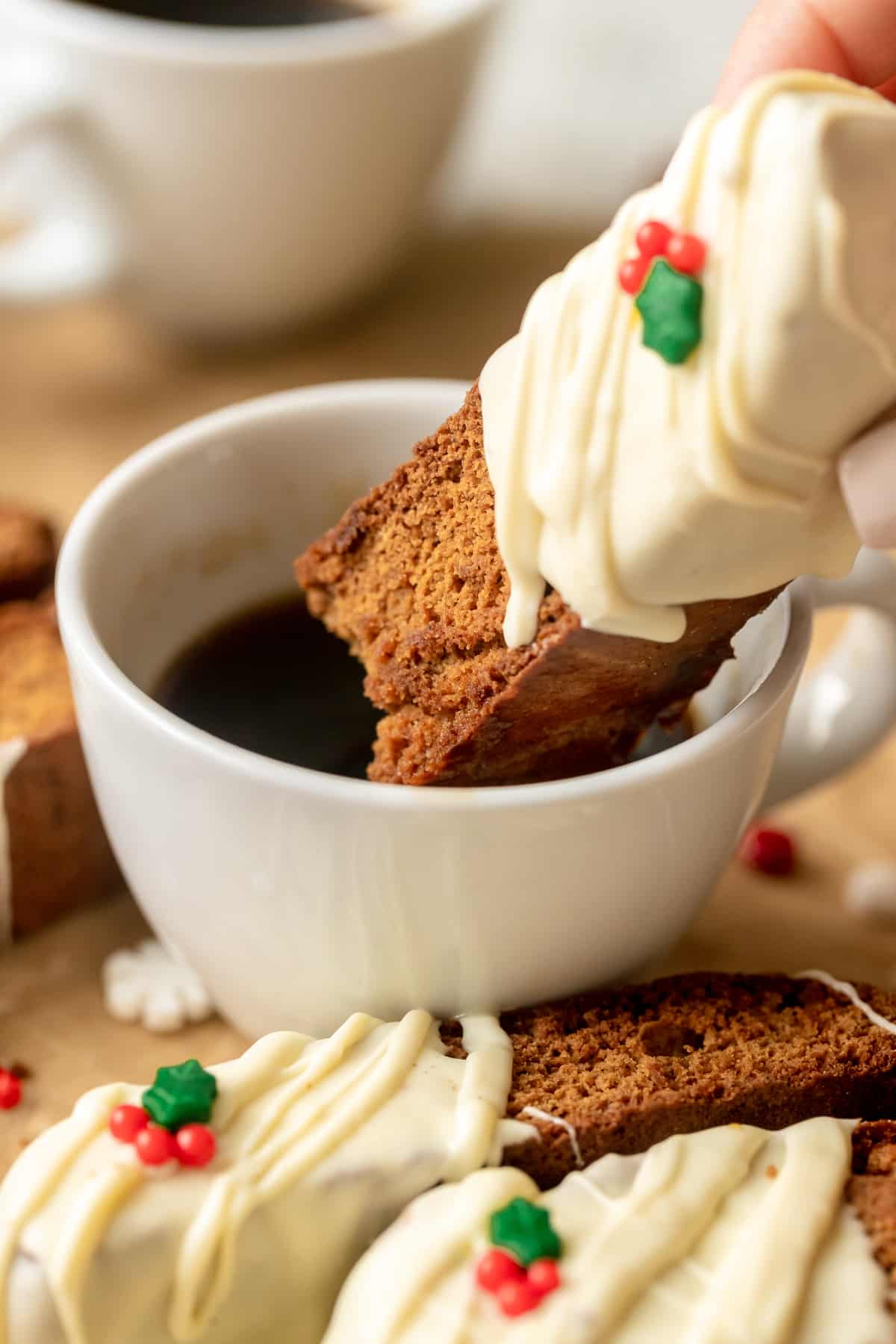 FAQ
How long can I store the biscotti at room temperature?

They can be stored at room temperature for up to 1-2 weeks. Keep them in a cookie tin with parchment paper to separate the layers of biscotti.
Can I freeze the biscotti?

Yes you can. I like to freeze them in glass or metal airtight containers, and make sure you line each layer with parchment paper so the cookies do not stick.
Can I skip the second bake in the oven?

No, you won't get a crisp crunchy biscotti if you skip this step.
How do I keep biscotti crisp?

Store completely cool biscotti, preferably in a metal tin as it will help maintain the biscotti crispness. If you place the biscotti too quickly in paper or plastic bags, the biscotti will soften.
Before You Begin! If you make this, please leave a review and rating letting us know how you liked this recipe! This helps our business thrive & continue providing free recipes.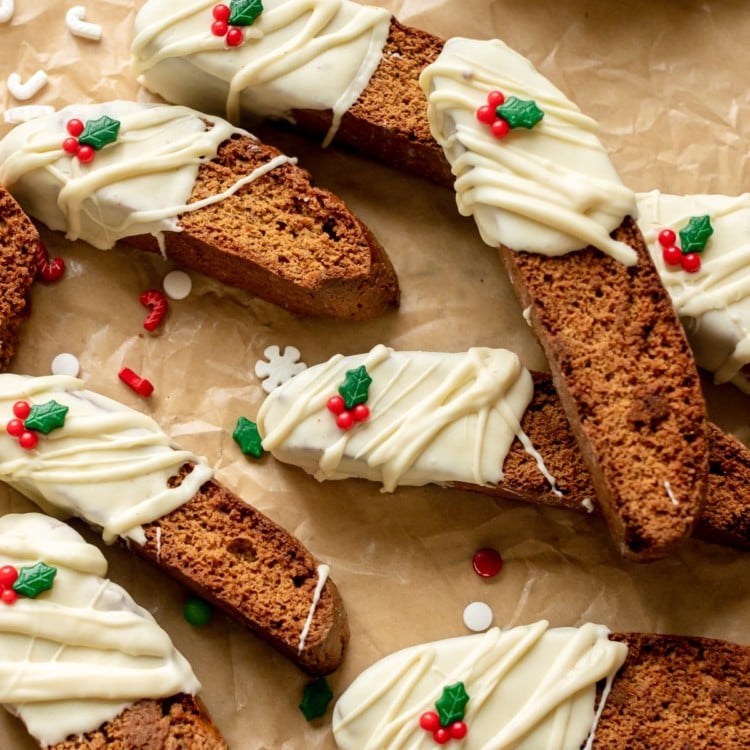 This festive Gingerbread Biscotti is perfectly spiced, has a crunchy and slightly hard texture and sweetened with brown sugar and molasses. Dip in white chocolate and decorate with holiday sprinkles and dive right into this holiday goodness with a hot cup of coffee or cocoa!
Ingredients
3

cups

all purpose flour

2

tsp.

baking powder

1/2

tsp.

baking soda

1/2

tsp.

kosher salt

2

tsp.

ground ginger

1 1/2

tsp.

ground cinnamon

1/2

tsp.

cloves

1/2

tsp.

nutmeg

3/4

cup

white sugar

2

Tbsp.

brown sugar

2

Tbsp.

molasses

4

large

eggs, room temperature, divided

1/3

cup

canola oil

2

tsp.

vanilla extract

1 1/2

cups

white chocolate chips

1

Tbsp.

melted coconut oil

holiday sprinkles
Last step! If you make this, please leave a review and rating letting us know how you liked this recipe! This helps our business thrive & continue providing free recipes.
Instructions
Preheat the oven to 350°F. Line 2 baking sheets with parchment paper or silicone baking mats and set aside.

Whisk together the dry ingredients in a large bowl: flour, baking powder, baking soda, salt, ginger, cinnamon, cloves and nutmeg.

In another medium sized bowl, whisk the sugars, molasses, 3 eggs, canola oil, and vanilla together.

Pour the wet ingredients into the dry and fold to combine. The dough will be a bit shaggy, and that's perfect.

Turn out dough onto a clean, lightly floured surface and knead the dough with lightly floured hands just a few times until it comes together. Divide the dough in half.

Place each half on their own baking sheet and shape into logs, about 1 inch thick and 10 inches long. (see video and photos for guidance).

Brush the tops of the dough with an egg wash. (this is just 1 egg, whisked)

Bake for ~25 minutes, it should be slightly firm to the touch but not hard.

Remove from the oven and allow to cool for just 5-10 minutes. Lower the oven temperature to 300°F. Then, slice into about 1 inch strips using a serrated knife. (Keep the end slices for yourself to snack on!) Dough will be soft so work carefully.

Place the biscotti cut side down and bake again for 10-15 minutes. Flip the biscotti on the other side and bake again for another 10-15 minutes. The biscotti may still be a little soft when you take it out of the oven but will crisp as it cools.

Microwave the chocolate and coconut oil in 30 second increments, stirring in between, until smooth and silky. Dunk half of the cooled biscotti in the chocolate and place on a wire rack and repeat with remaining biscotti. Allow the chocolate to set for about 20 minutes, then add another drizzle of chocolate over the top and decorate with holiday sprinkles. ENJOY!
Notes
This gingerbread biscotti is crunchy and slightly hard but perfect enough to take a bite into easily. For an extra crunchy and dry biscotti, bake them longer during the second bake and for softer ones bake them for less time. Just keep an eye on them, they have a tendency to get too dark if left in too long.
Nutrition Information
Serving:
1
biscotti
,
Calories:
254
kcal
(13%)
,
Carbohydrates:
37
g
(12%)
,
Protein:
4
g
(8%)
,
Fat:
10
g
(15%)
,
Saturated Fat:
4
g
(25%)
,
Polyunsaturated Fat:
2
g
,
Monounsaturated Fat:
4
g
,
Trans Fat:
0.02
g
,
Cholesterol:
34
mg
(11%)
,
Sodium:
176
mg
(8%)
,
Potassium:
115
mg
(3%)
,
Fiber:
1
g
(4%)
,
Sugar:
20
g
(22%)
,
Vitamin A:
51
IU
(1%)
,
Vitamin C:
0.1
mg
,
Calcium:
81
mg
(8%)
,
Iron:
1
mg
(6%)