Mini Cheesecake Bites
American | Published Jan 1, 2023 | Updated Dec 30, 2022 | By Tawnie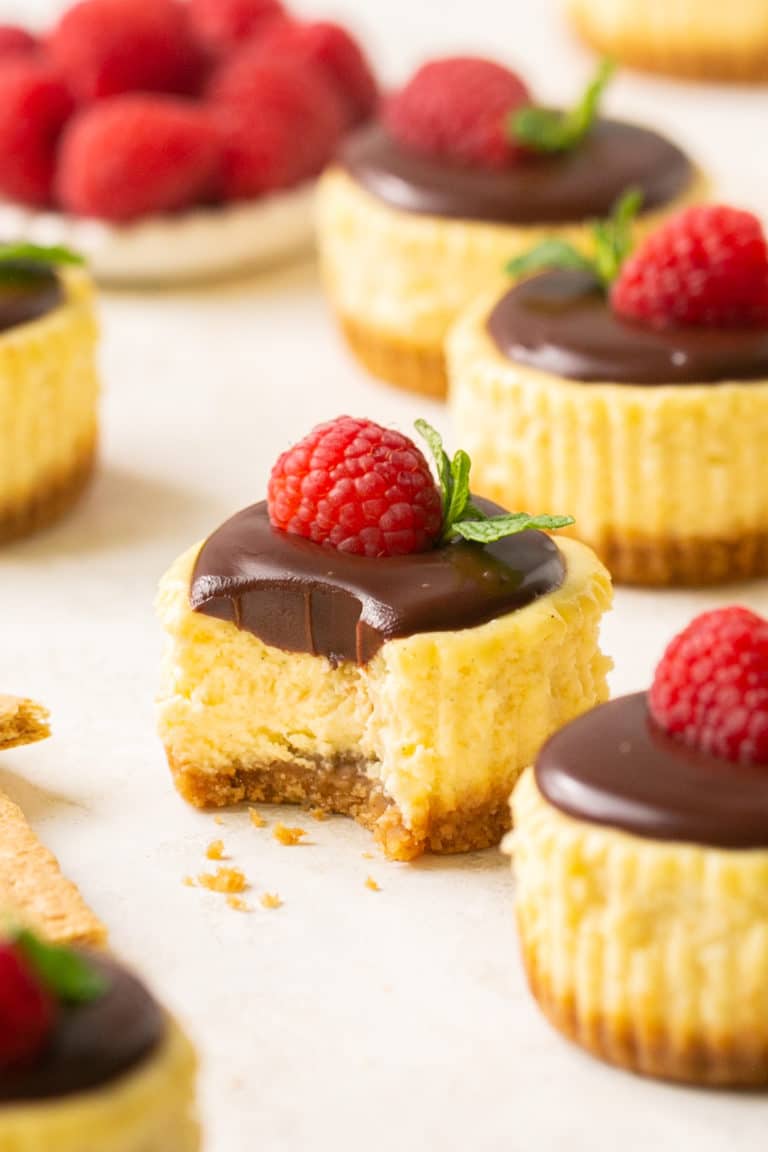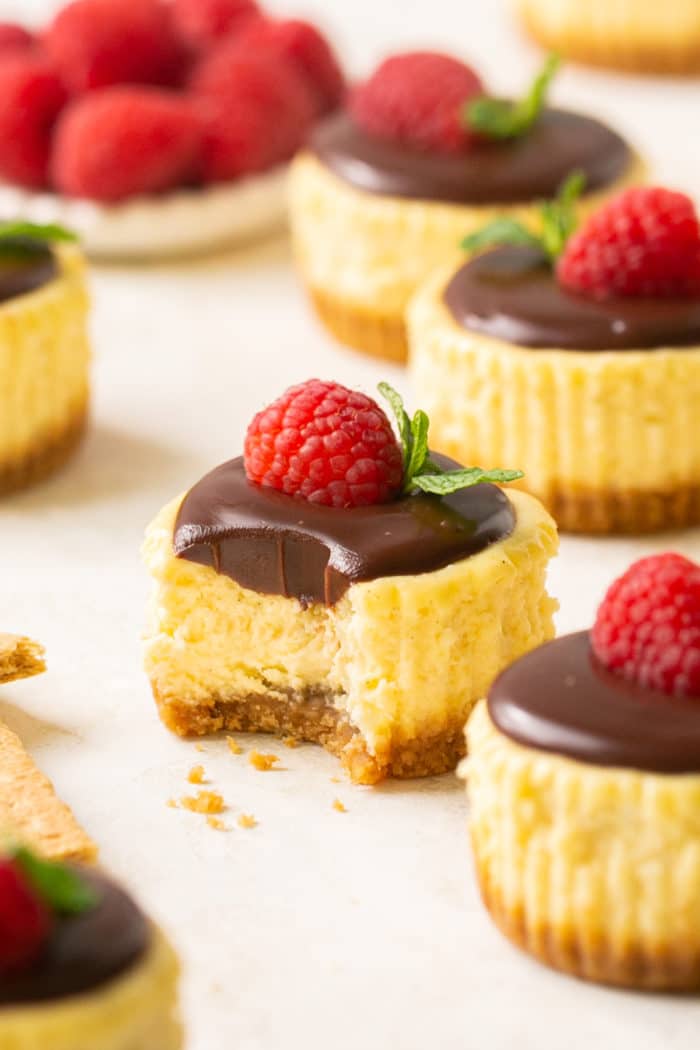 It is hard to resist the flavors of my Mini Cheesecake Bites. With just one bite you will taste the buttery, honey-sweet flavor of the graham cracker crust that is filled with a rich, creamy, vanilla bean cheesecake and finished with chocolate ganache. You guys… I am in love!
*And this recipe kicks off something exciting here on Kroll's Korner: A Monthly Baking Challenge! All details can be found on how to enter the challenge on my monthly baking challenge page and you can sign up for the baking challenge emails so you never miss a challenge! To give you the quick gist of it, if you make this recipe, leave a star review with a photo in the comments below, you'll be entered to win a $150 Amazon Gift Card! I'm so excited to start this monthly challenge and can't wait to see your cheesecake bites!*

---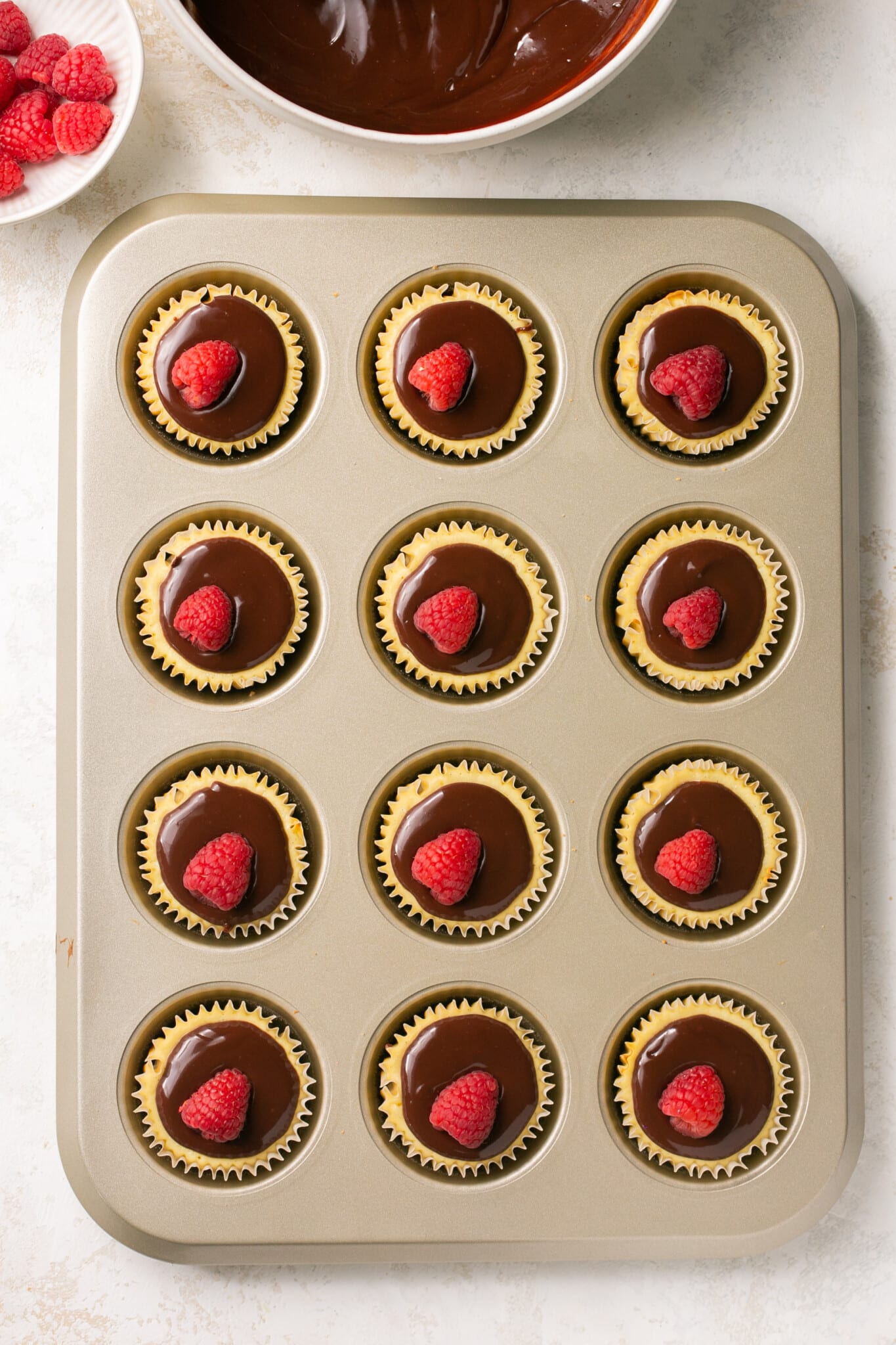 Every step in making these mini cheesecake bites is really easy. The only real "challenge" to this recipe is that it is a little time consuming because of the chill times. Plus, I thought it would be a fun recipe to make if you're intimidated to make an entire cheesecake, you can start with these instead!
You'll start by mixing up the homemade graham cracker crust right in a food processor. The next step is to make the cheesecake filling. The combination of cream cheese and sour cream makes these bites extra creamy and the rich, intense flavor from the vanilla bean paste makes them so delicious. But the crowning glory of these decadent bites is the chocolate ganache topped with a fresh raspberry. The rich, sweet, dark chocolate is the perfect finishing touch, and again so easy to make.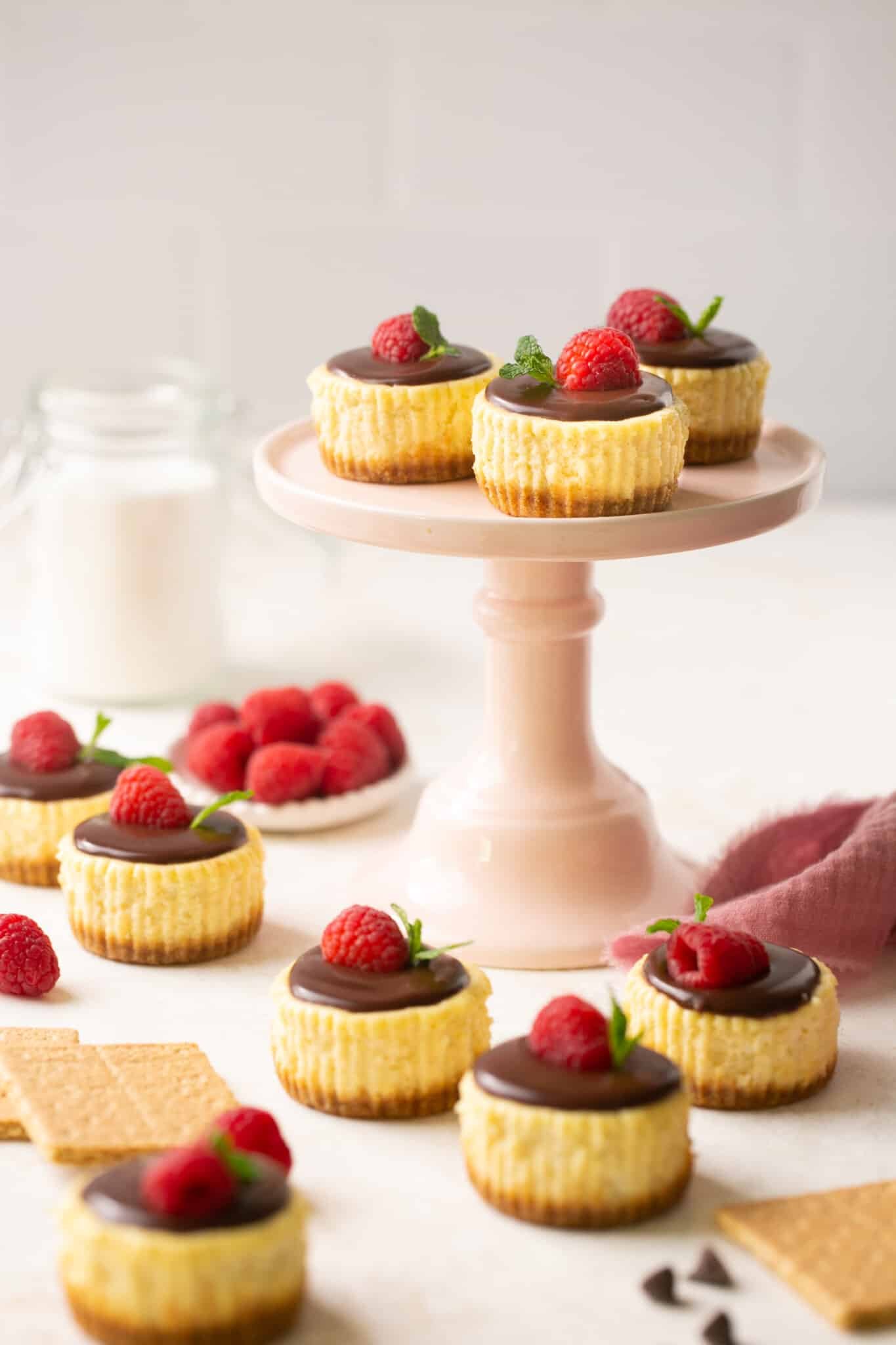 Cheesecake was a favorite in my family when I was growing up. My dad, being from New York, absolutely loved cheesecake, and my mom and my grammy were always trying to make the perfect cheesecake for my dad. I think he would love these mini cheesecake bites but knowing my dad….he wouldn't have just one!
Reasons You Will Love My Mini Cheesecake Bites
These Mini Cheesecake Bites are so creamy that they will melt in your mouth.
Sometimes trying a new recipe can be intimidating. That is not the case with this recipe. Every step is super easy.
Chocolate ganache….need I say more?
The specks from the vanilla bean paste are the tell-tale sign that the vanilla flavor is going to be amazing.
Ingredient Notes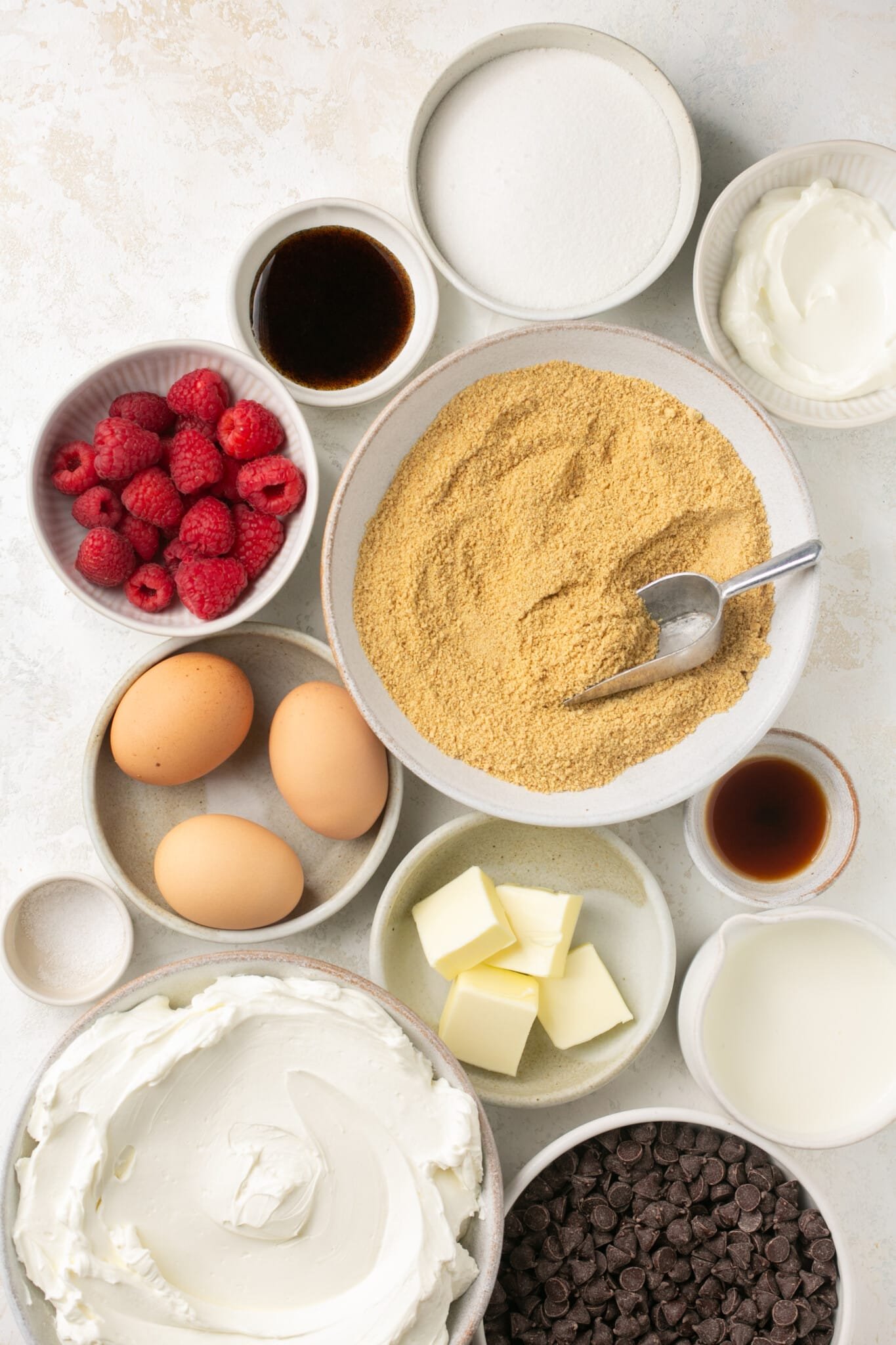 Graham crackers: classic honey flavored are my favorite
Granulated sugar: use granulated sugar for a more crisp texture
Butter: Melted butter prevents the crust from falling apart. It moistens every crumb to make the perfect crust.
Kosher salt: Is essential to bring out all the wonderful flavors in the graham cracker crust
Cream cheese: be sure it's softened to room temperature and always use full-fat cream cheese for the best texture of your cream cheese filling.
Sour cream: Full fat recommended. I love adding in a bit of sour cream to help with the airy, soft texture.
Granulated sugar: superfine granulated sugar or regular granulated sugar works well.
Large eggs: be sure to also use room temperature eggs. The eggs will blend with the other ingredients much easier when you remove the chill and blend them into the filling when they are at room temperature.
Vanilla bean paste: I buy my vanilla bean paste on Amazon!
High-quality chocolate: always use a nice dark chocolate for ganache, a cheap chocolate will make the ganache grainy.
Fresh Raspberries: the contrast of sweet and fresh berries with chocolate is a great combination and it's the perfect finishing touch!
Step by Step Directions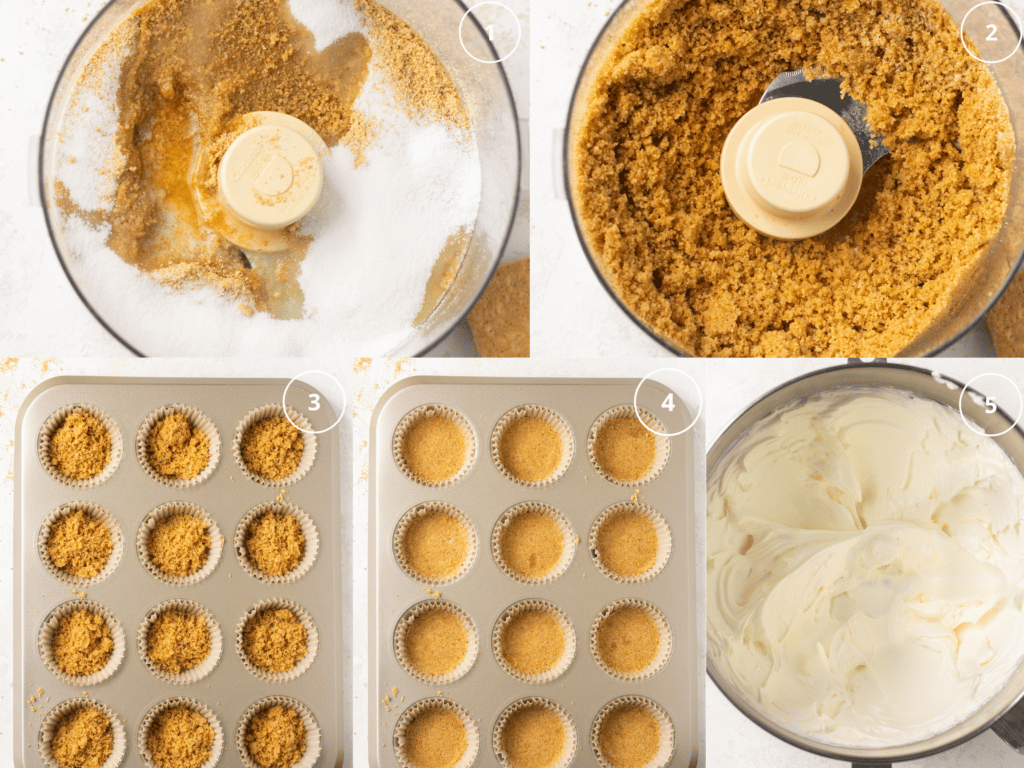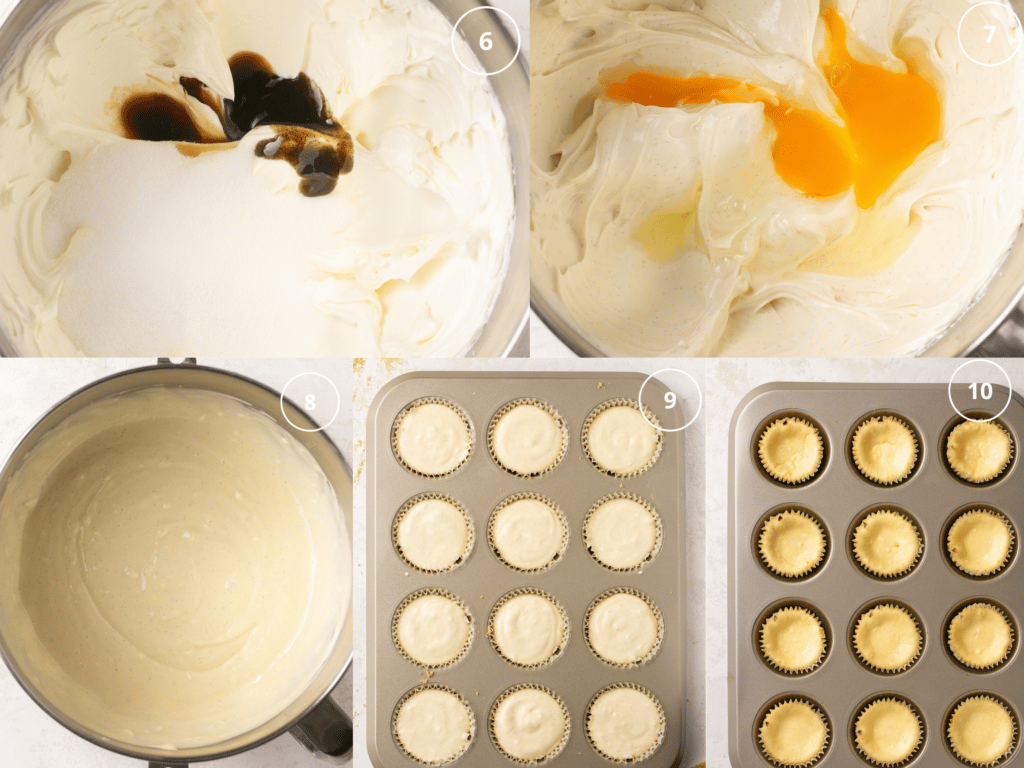 Mix the graham cracker crumbs with butter, sugar, and salt.
Press the crumbs into the bottoms of 18 paper lined muffin cups.
Make the cheesecake filling.
Scoop the filling or spoon it over the crust.
Bake until the centers are almost set.
Cool then refrigerate for 2 hours or overnight.
Make the ganache and top each cheesecake bite with ganache.
Garnish with a raspberry.
Chill again until ganache is set up.
ENJOY!
How to make ganache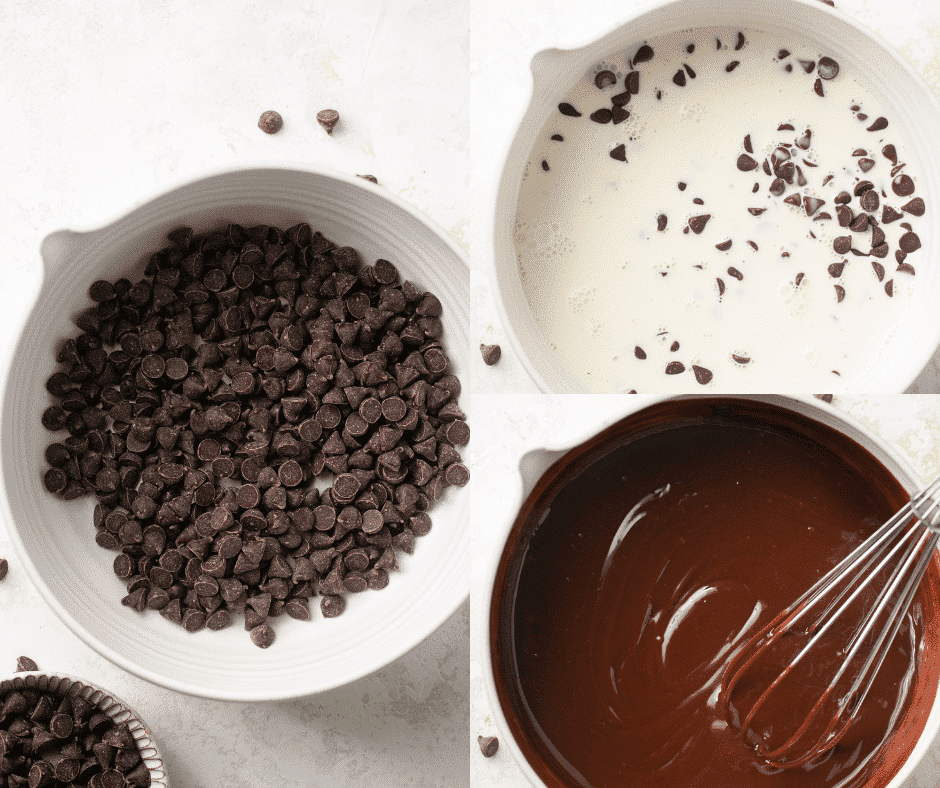 Place the chocolate in a heat-proof bowl.
Heat the cream on the stove just until warm, you do not want it to boil.
Pour the cream over the chocolate and let it sit for 3 minutes.
Gently stir until combined. The warm cream will melt the chocolate.
Let it sit for another 3 minutes. I will be thick and perfect to spoon over mini cheesecakes!
Tips & Variations
Careful not to over beat: Make sure you do not over beat the cheesecake filling. Over mixing can cause the cheesecakes to collapse and leave cracks on the tops.
Add the ganache once the cheesecake cools completely: Don't rush adding the ganache. The cheesecake needs to be cooled off completely for the ganache to be set up properly.
Room temperature is always key: Always make sure the eggs, cream cheese, and sour cream are at room temperature. They blend better when they are at room temperature.
Make is festive: Opt for more holiday spice and substitute gingersnaps for the graham crackers and make a gingersnap crust.
Change the toppings: Add caramel, whipped cream, different berries, raspberry sauce, etc.
Real deal vanilla: Be sure to use real vanilla bean in this mini cheesecake recipe for the best flavor.
Strain the cheesecake batter. An optional step to ensure super smooth, silky non-clumpy cheesecake is to run the batter through a fine mesh strainer before pouring on to the crusts. Usually, a few tiny clumps of cheesecake are OK and will melt as the cheesecake bakes. It's the large, huge clumps you want to look out for!
Add the eggs in one at a time. You don't want to over beat the filling and adding in eggs one at a time, just until combined helps. Over beating will lead to cracks. We want to mix the filling enough, but not too much.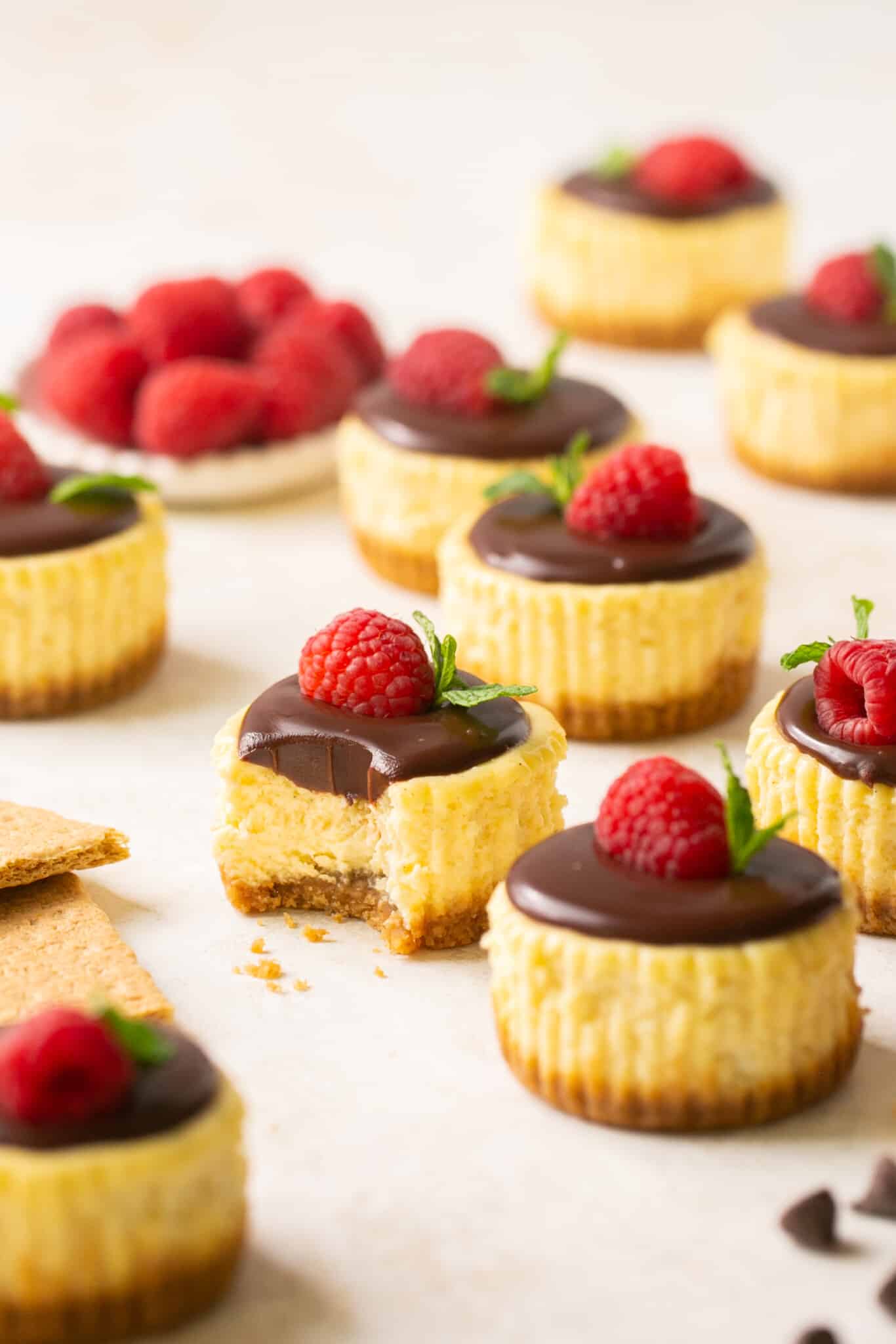 FAQ
Can I freeze the cheesecake bites?
Yes, but I would not freeze them with the ganache. The chocolate will crack when frozen. Once you are ready to serve them, thaw the cheesecake bites in the refrigerator overnight, then once thawed, complete them with the ganache topping.
How long can I store the cheesecake bites in the freezer?
Freeze for up to 3 months properly stored.
What makes the cheesecake sink?
If you overmix the batter, extra air can be whipped into it causing the cheesecake to sink after removing it from the oven. To prevent this, mix each ingredient on low and just until each ingredient is combined.
How do I know when the cheesecake bites are done?
If the center of the bites jiggle, but they look set, they are done. 25-27 minutes for these bites should be plenty of time.
Should I serve them with cupcake liners on?
No, I would remove the liners before serving.
Can I substitute vanilla extract for vanilla bean paste?
Yes you can, but the vanilla flavor will not be as rich and your cake will be missing the vanilla flecks.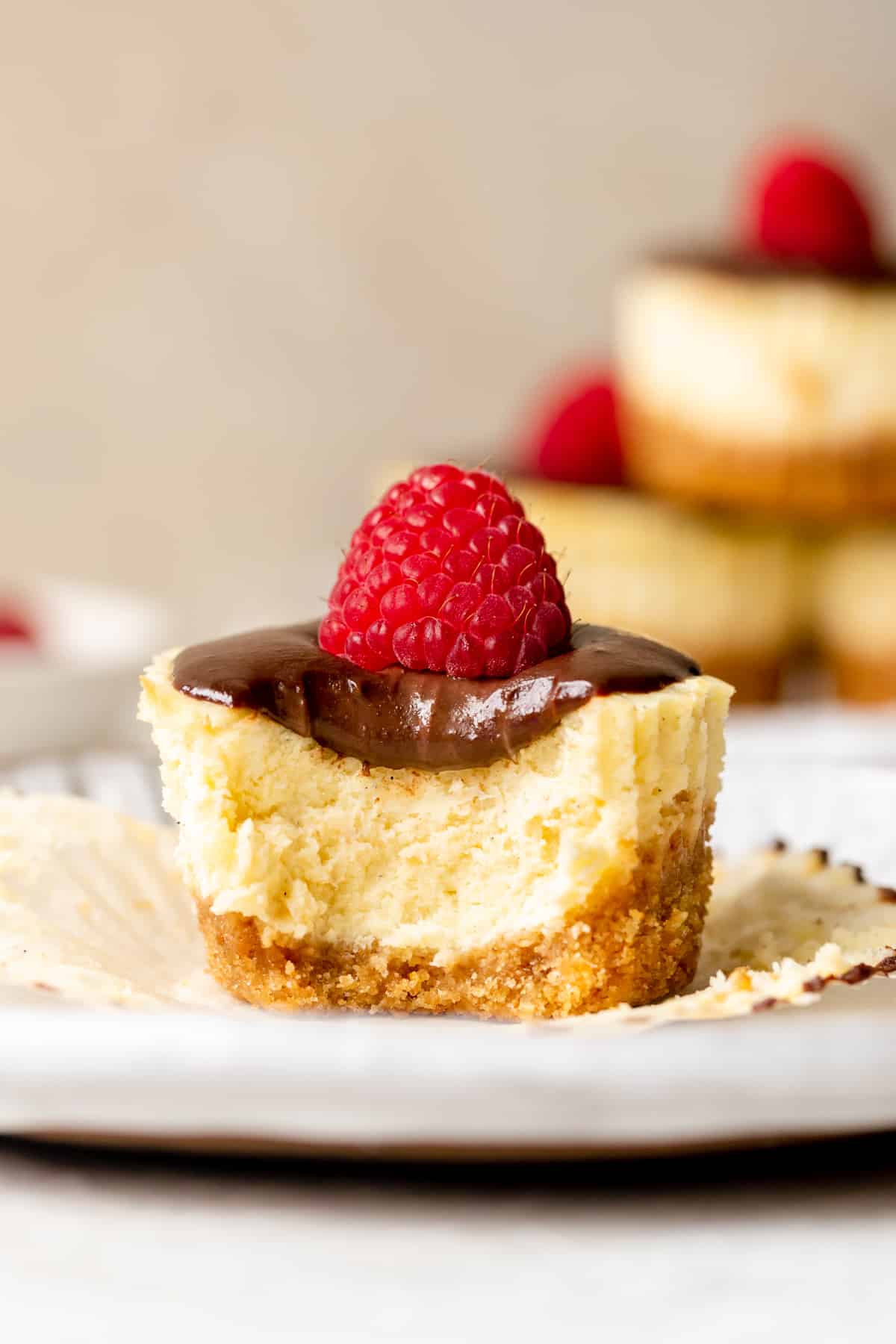 HUNGRY FOR MORE? If you try this recipe, why not leave a star rating in the recipe card right below and/or a review in the comment section further down the page? I always appreciate your feedback! You can also follow me on Pinterest or Instagram. Sign up for my email list, too!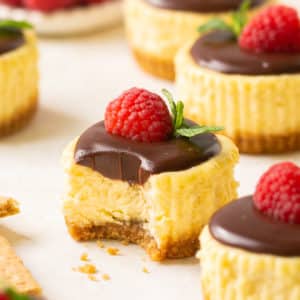 Mini Cheesecake Bites
These mini cheesecake bites are made with a buttery graham cracker crust, a vanilla bean cheesecake filling, and chocolate ganache on top!
Ingredients
For the crust
1 1/4

cup

graham cracker crumbs (about 10 sheets)

3

Tbsp.

granulated sugar

3 1/2

Tbsp.

unsalted butter, melted

pinch of kosher salt
For the cheesecake filling
3,

8 oz.

full-fat packages cream cheese, softened to room temperature

1/4

cup

sour cream, room temperature

3/4

cup

granulated sugar

3

lagre

eggs, room temperature

1

Tbsp.

vanilla bean paste (or scrape 1-2 vanilla beans)
For the ganache
1

cup

high quality dark chocolate chips

1/3

cup

heavy cream

raspberries for garnish
Instructions
Preheat the oven to 325°F. Grab 2 cupcake tins. Line the bottoms of 18 cavities with paper liners and set aside. (You can fill the empty cups with a splash of water)

Pulse the graham cracker sheets in a food processor until crumbly. Add in the sugar, melted butter and pinch of salt and pulse again until combined.

Press into the bottoms of the lined cupcake tins.

Using a stand mixer fitted with the paddle attachment, beat the cream cheese and sour cream together until smooth, ~1-2 minutes.

Add in the sugar and vanilla bean paste and beat again until smooth.

Add in the room temperature eggs one at a time at medium-low speed, beating just until combined. (Make sure to scrape the sides of the bowl periodically). Be careful not to over beat the filling.

Spoon the cheesecake filling over the crusts or I like to use a 2 Tbsp. cookie scoop.

Bake for 25-27 minutes or until the centers are almost set.

Cool completely and then refrigerate for 2 hours or overnight.

Once cooled, make the ganache. Pour the chocolate chips in a heat proof bowl. Heat the cream in a small saucepan over medium heat just until it's warm, do not let it boil. Pour the warmed cream over the chocolate and let it sit for 2-3 minutes. The warm cream will melt the chocolate. Stir or whisk until it is smooth and creamy. Allow the ganache to sit for a few minutes and it will thicken.

Spoon the ganache over the cooled cheesecakes. Garnish with a raspberry on top and place in the fridge again until the ganache is set, about 1-2 hours.

Remove liners from the cheesecake bites and enjoy!
Notes
Store in the fridge in an air tight container for up to 4 days.
Freeze for up to 3 months (without the ganache on top).
Nutrition
Serving:
1
cheesecake bite
|
Calories:
168
kcal
|
Carbohydrates:
22
g
|
Protein:
2
g
|
Fat:
8
g
|
Saturated Fat:
5
g
|
Polyunsaturated Fat:
1
g
|
Monounsaturated Fat:
2
g
|
Cholesterol:
8
mg
|
Sodium:
82
mg
|
Potassium:
84
mg
|
Fiber:
1
g
|
Sugar:
16
g
|
Vitamin A:
192
IU
|
Vitamin C:
0.1
mg
|
Calcium:
43
mg
|
Iron:
0.4
mg
Hi, I'm 
Tawnie

!

Welcome to my tiny "korner" on the Internet! I am a Registered Dietitian Nutritionist who loves cookies as much as kale. (OK, maybe I like cookies a little bit more but shh, don't tell anyone). I am so glad you're here! Follow along for hassle free, realistic and approachable recipes.

More about Tawnie

I'd love to see what you made!!
Share it with me on Instagram or Facebook and tag me @krolls_korner or use the hashtag #KrollsKorner!