Pumpkin Scone Recipe with Sour Cream
Desserts | Published Sep 6, 2020 | Updated Sep 8, 2020 | By Tawnie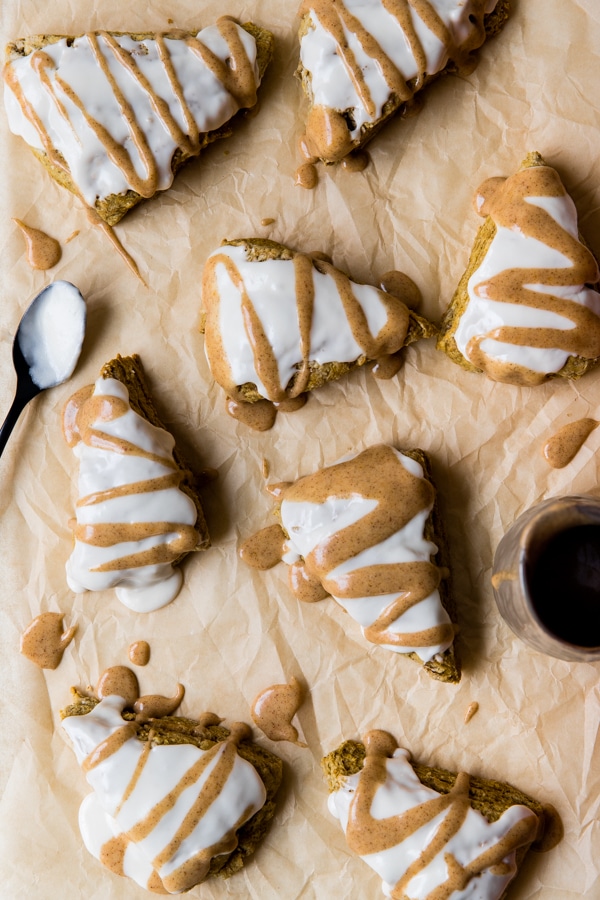 Who doesn't love a homemade Pumpkin Scone Recipe!? Perfect for a Fall morning with a big cup of coffee.
You'll love that they're made with not one but two types of glaze: a classic white glaze and a decadent pumpkin spiced icing. Grab a pumpkin spice latte and you'll be set!
This post has been sponsored by FAGE. All thoughts and opinions are my own. Thank you for supporting the brands that keep Kroll's Korner running!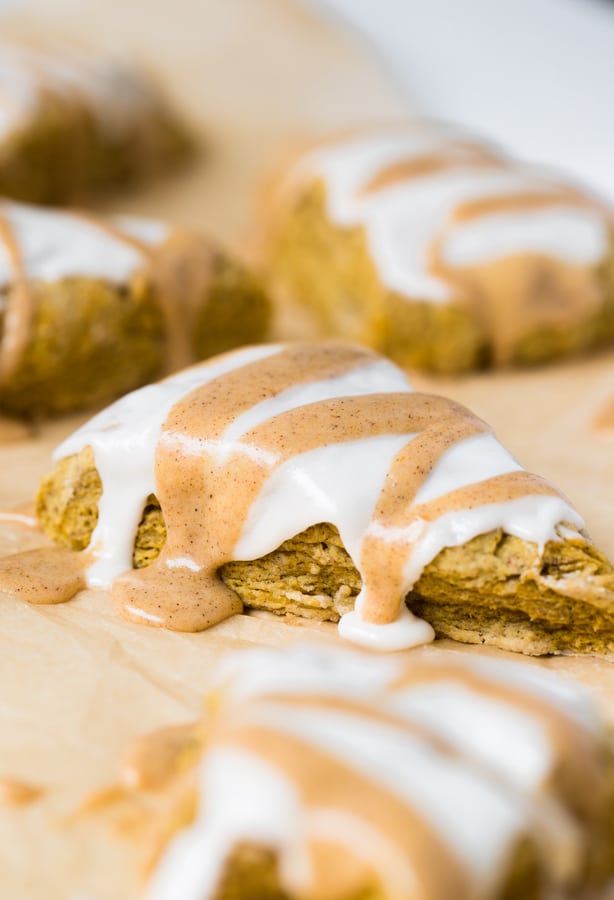 These pumpkin scones are incredibly easy to make, are soft, fluffy and completely drool worthy.
They are are a million times better than store-bought baked goods, and you're going to want to cozy up with them this Fall.
Most scone recipes are made with just one glaze or icing on top, but these are made with two! A classic white glaze and a perfectly spiced pumpkin glaze made with pumpkin puree and pumpkin pie spice. It's SO GOOD.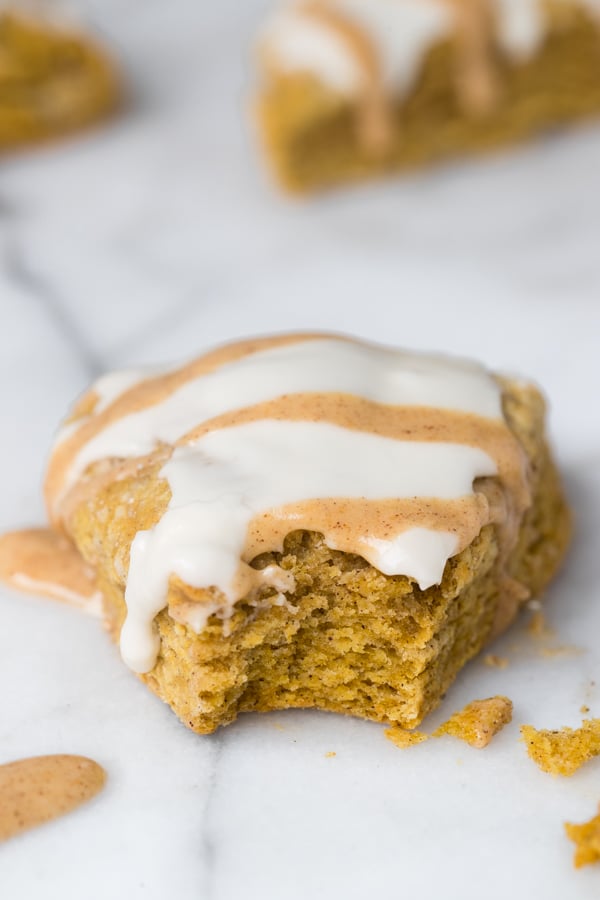 These Pumpkin Scones are:
Full of warm pumpkin spice flavors like cinnamon, cloves and nutmeg.
Taste like they are fresh from a bakery!
Perfect for breakfast, brunch, a snack, dessert…err, whenever you want!
Delicately crumbly
Made with the best glaze (2 glazes to be exact!)
The best pumpkin scone recipe out there!
The ultimate Fall treat
Ingredients you'll need for this Pumpkin Scone Recipe:
While you need your basic baking ingredients such as flour, sugar, baking powder and salt, there are some tricks of the trade when making this pumpkin scone recipe.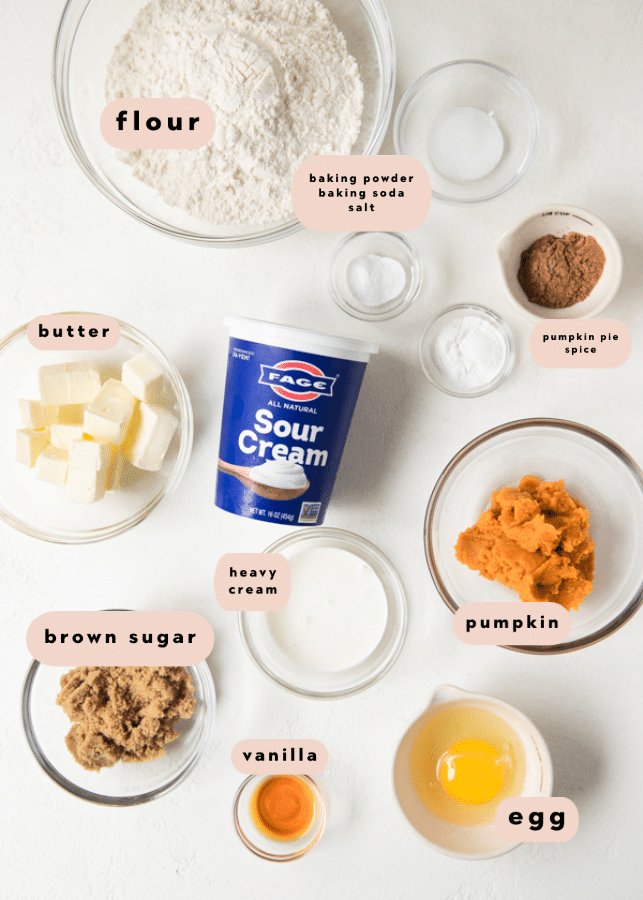 Cold ingredients are a must with scones. (the dry ingredients can be at room temperature).
The FAGE sour cream, butter, pumpkin and egg all need to be cold to get the best flaky scones.
Using cold ingredients prevents the butter from melting before the scones are baked.
Therefore, when the scones do get baked the butter melts in the oven and creates an ultra-flaky, tender, soft pumpkin scone.
FAGE Sour Cream: Yes, sour cream! My recipe uses sour cream instead of buttermilk or heavy cream. Sour cream in baked goods helps them turn out even more tender and flavorful.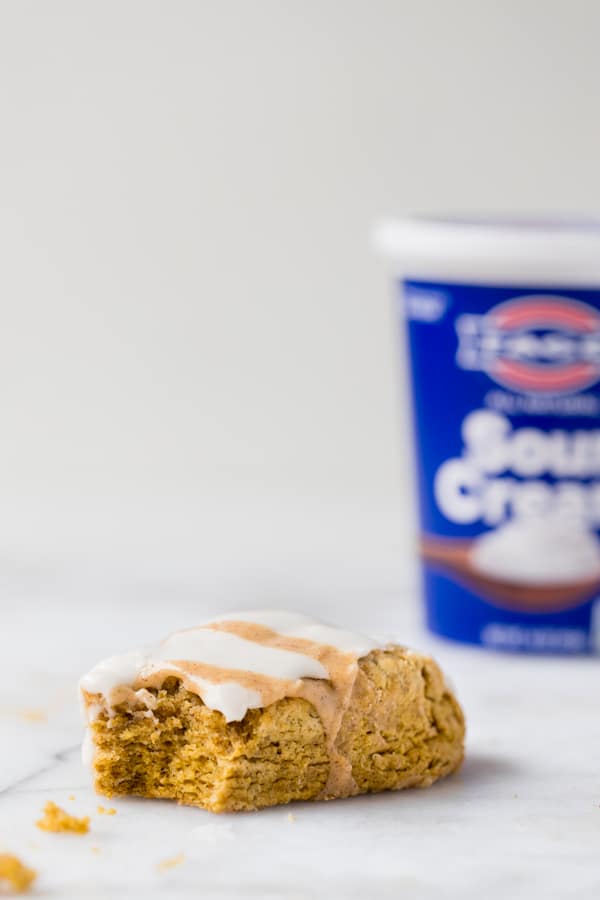 These scones are fairly sweet with having 2 types of glaze, so the sour cream is a great way to tone down the scone while still maintaining great flavor.
I love using FAGE Sour Cream because it's so creamy and so good. It's all natural, has simple ingredients and is gluten free too! It's the perfect addition to these indulgent scones.
The FAGE Sour Cream comes in 8 oz. and 16 oz. containers. Be sure to visit FAGE's website to find it in store near you!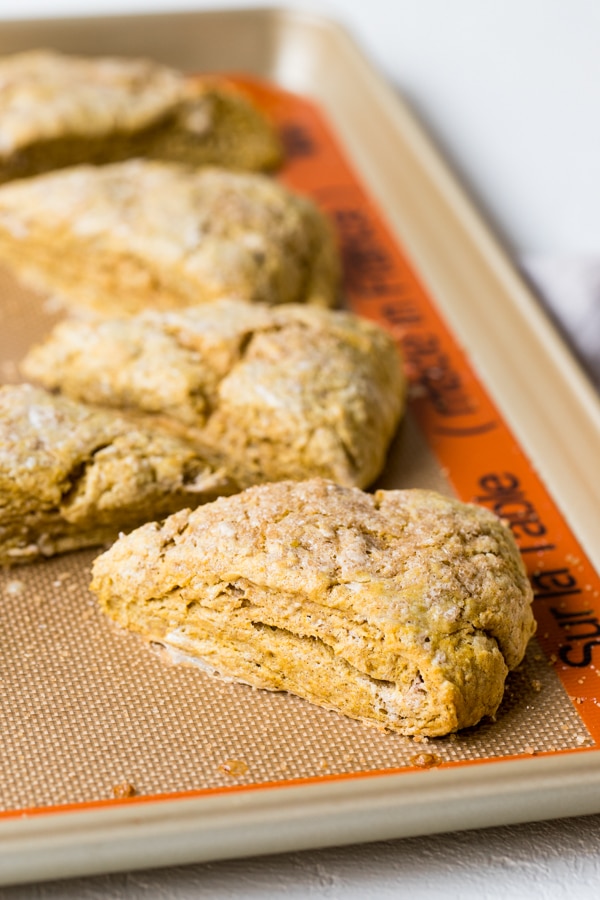 How to make this Pumpkin Scone Recipe
Preheat the oven to 400°F.
Mix the dry ingredients together in one bowl and cut the cold butter in using a pastry blender.
In another bowl, whisk together the brown sugar, pumpkin puree, egg, FAGE sour cream and vanilla extract.
Combine the dry ingredients into the wet ingredients using a rubber spatula.
Form the dough together, cut into 8 triangles and chill in the fridge.
Bake and cool completely. Top with glaze and enjoy!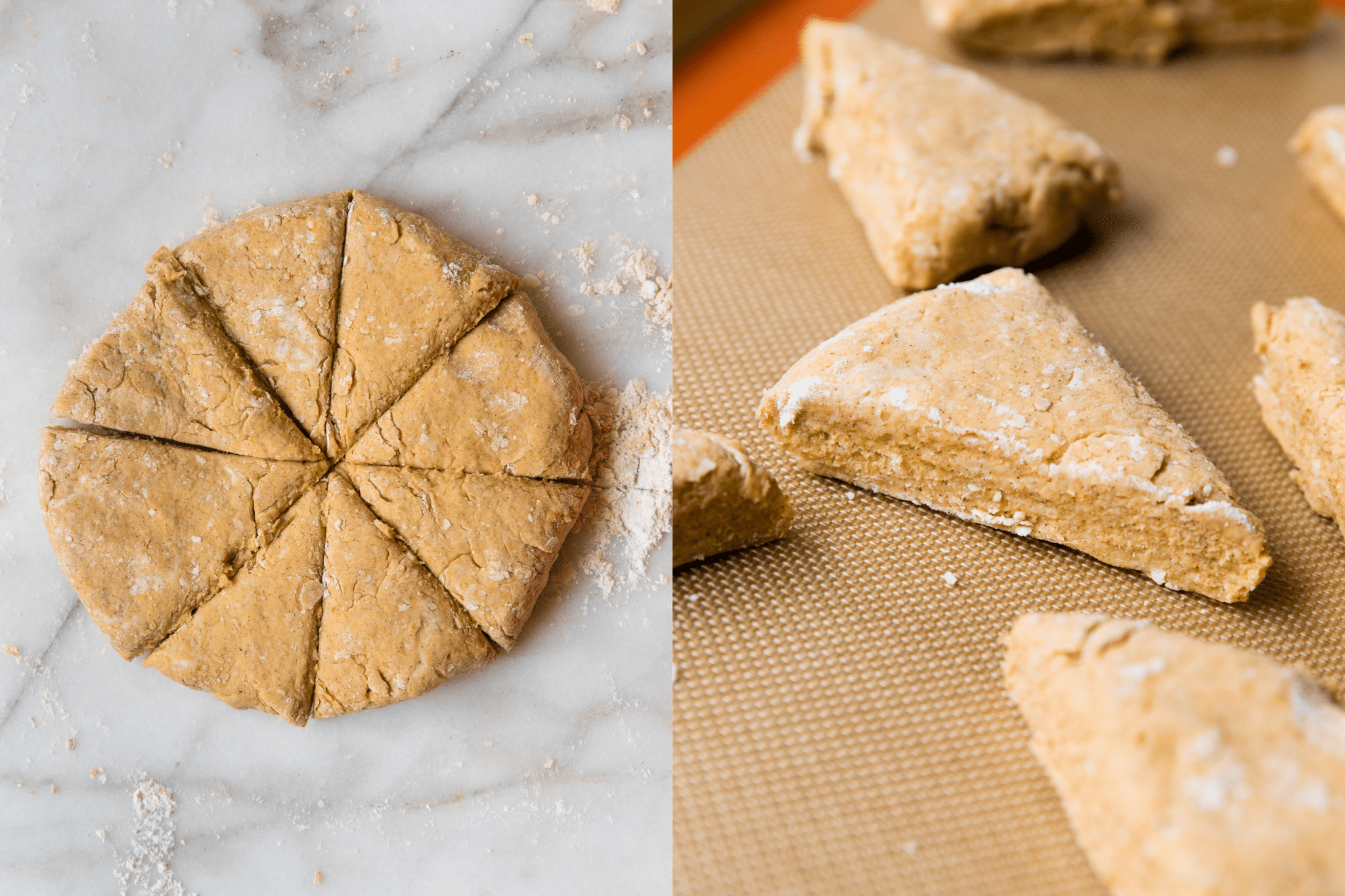 Scone Baking Tips
Chill the dough before baking: This helps to ensure the dough stays cold so the butter doesn't melt before you bake the scones. All they need is ~15-20 minutes in the fridge! Trust me, the extra step is worth it!
What I like to do it cut the dough into triangles, place them on a Silpat mat on a baking sheet, and place them in the fridge. Be sure to clear some space before you carry the baking sheet to the fridge door!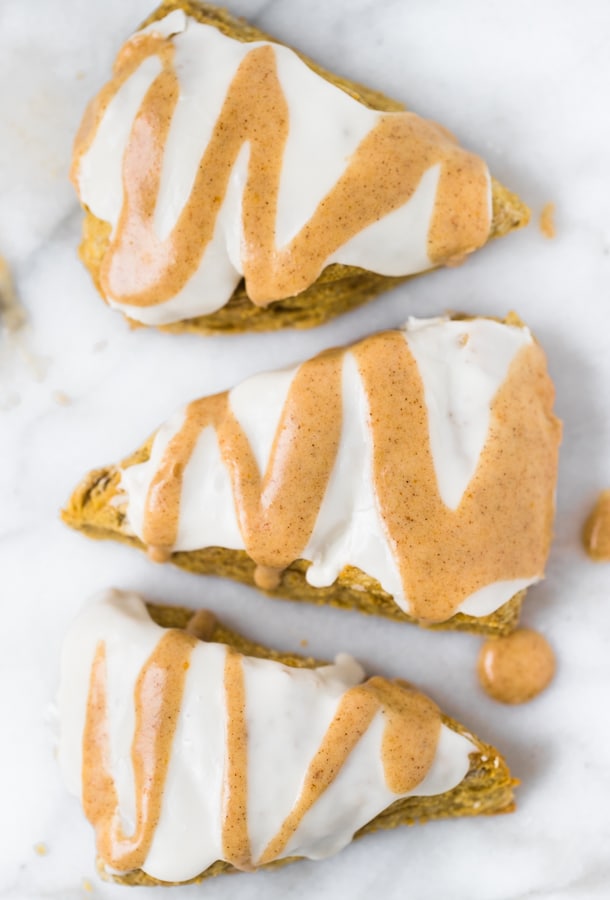 Work fairly quickly with the dough so the cold ingredients stay cold.
Mix until combined, do not over mix. Work with ease and do not to overwork or knead the dough. Overworking it will results in tough, flat scones and we want big and soft!
The dough may be a little sticky and that's OK. Be sure to work on a lightly floured surface and you can add a little bit of flour to help form into a ball, but do not add too much.
Cut the butter into the scones using a pastry blender.
Cut the scones into squares using a bench scraper for clean cuts.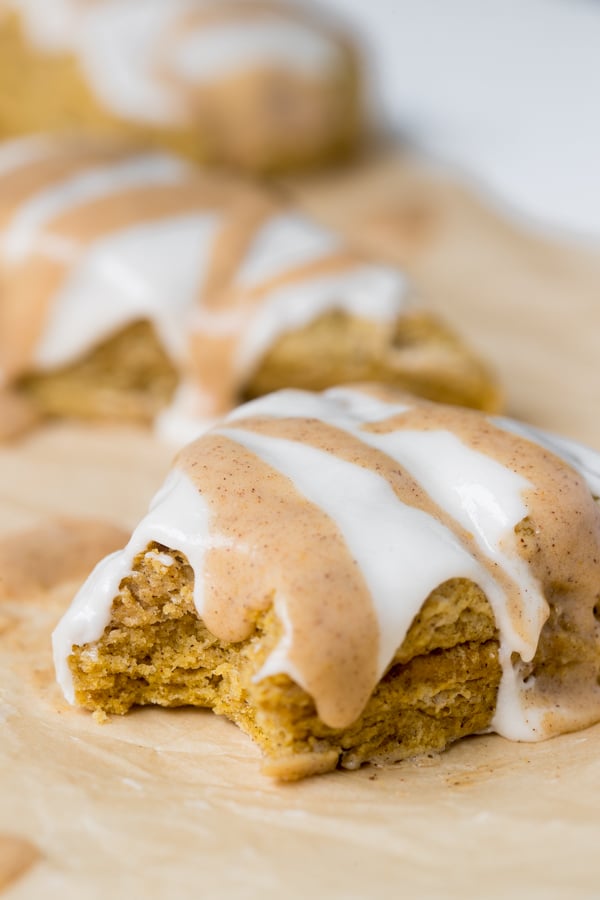 HUNGRY FOR MORE? If you try this recipe, why not leave a star rating in the recipe card right below and/or a review in the comment section further down the page? I always appreciate your feedback! You can also follow me on Pinterest or Instagram. Sign up for my email list, too!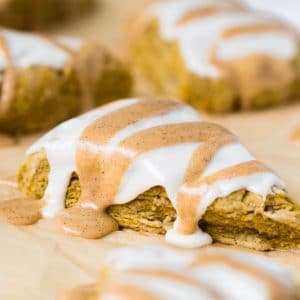 Perfect Pumpkin Scones
These Pumpkin Scones are perfectly flaky, filled with pumpkin pie spice and made with 2 types of glaze! They are the perfect Fall treat.
Ingredients
Dry ingredients
2 1/2

cups

All-Purpose Flour

2

tsp.

baking powder

1/2

tsp.

baking soda

2 1/2

tsp.

pumpkin pie spice

1/2

tsp.

salt

1/2

cup

cold butter, unsalted, diced into 1/2 inch pieces
Wet Ingredients
1/2

cup

FAGE Sour Cream

1/2

cup

100% Pumpkin Puree, chilled*

1/3

cup

brown sugar, packed

1

large

egg

1

tsp.

vanilla extract

2

Tbsp.

heavy cream (to brush on the tops)
White Glaze
1 1/4

cup

confectioners sugar

2

Tbsp.

heavy cream

1

tsp.

vanilla extract
Pumpkin Glaze
1

cup

confectioners sugar

1

Tbsp.

100% pumpkin puree

1

tsp.

pumpkin pie spice

3-4

Tbsp.

heavy cream
Instructions
Preheat the oven to 400°F. Line a baking sheet with parchment paper or a Silpat baking mat.

In a medium bowl, whisk together the flour, baking powder, baking soda, pumpkin pie spice and salt.

In another bowl, whisk together the sour cream, pumpkin puree, brown sugar, egg and vanilla extract.

Using a pastry cutter, mix butter into the flour until pea-sized coarse crumbs form. Add the wet ingredients into the dry ingredients.

Combine using a rubber spatula until slightly incorporated. Turn out dough onto a slightly floured surface and fold just until combined in a ball and flatten out into a circle. Dough may be sticky, use a little flour as needed.

Shape the scones by cutting them into 8 triangles using a bench scraper.

Place the scones on the baking sheet and chill in the fridge for15-20 minutes. (Prior to baking, brush scones with heavy cream and sprinkle with coarse sugar, if desired).

Bake for ~14-16 minutes or until lightly browned on top.

Once the scones have cooled, combine the ingredients for the white glaze in one bowl, and pumpkin glaze in another. Whisk until no lumps remain. Spoon desired amount of white glaze on the scones first and then drizzle the pumpkin glaze across the top.

Scones are best the day of, or store in the fridge for 2-3 days.
Notes
Freeze cooled scones without frosting in a plastic baggie for up to 3 months.
If you don't have pumpkin pie spice mix, make a homemade pumpkin pie spice! Combine 4 tsp. ground cinnamon 2 tsp. ground ginger, 1 tsp. ground cloves and ½ tsp. ground nutmeg. Use 2 ½ tsp. for the scones.
To make mini scones, divide the dough in half and make 2 circles. Cut each circle into 8 triangles so now you have 16 mini scones. Bake at 400°F for ~10-12 minutes.
Hi, I'm 
Tawnie

!

Welcome to my tiny "korner" on the Internet! I am a Registered Dietitian Nutritionist who loves cookies as much as kale. (OK, maybe I like cookies a little bit more but shh, don't tell anyone). I am so glad you're here! Follow along for hassle free, realistic and approachable recipes.

More about Tawnie

I'd love to see what you made!!
Share it with me on Instagram or Facebook and tag me @krolls_korner or use the hashtag #KrollsKorner!