Valentine's Day M&M Cookies
Chocolate | Published on Feb 10, 2019 | Last modified on May 5, 2020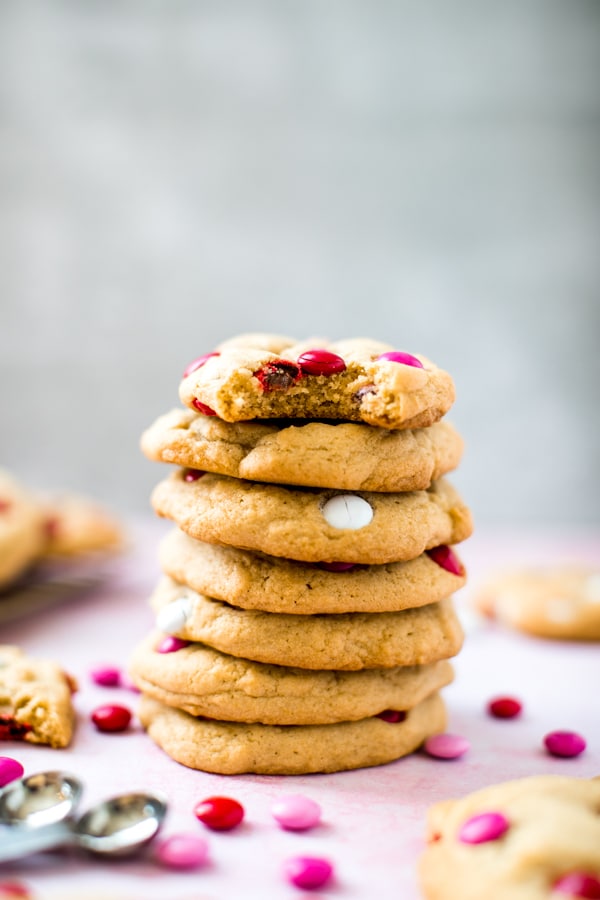 Chewy M&M Cookies are loaded with milk chocolate M&Ms, are ultra soft, chewy and thick!
Valentine's Day isn't really Valentine's Day without some type of yummy dessert. These perfectly baked cookies are studded with soft and melty milk chocolate M&Ms and are incredibly chewy.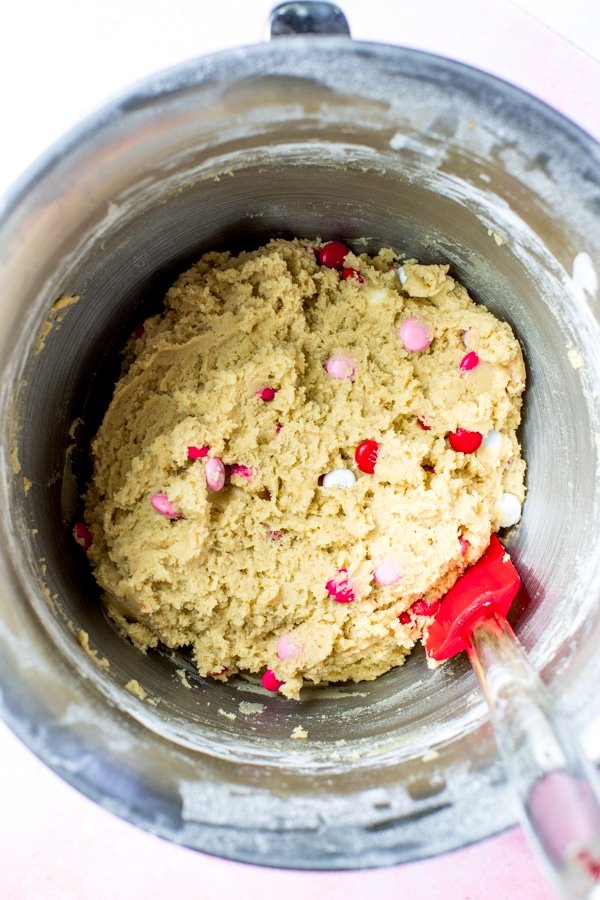 My secret to the softest, fluffiest cookie? I have a few…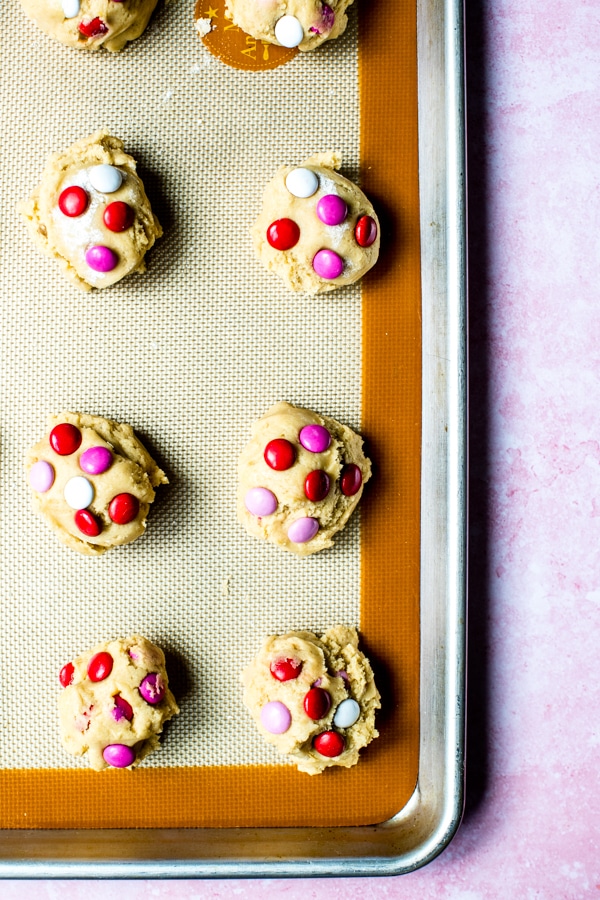 Bake with duck eggs instead of chicken eggs: Yes, I said duck eggs!
If you can get your hands on duck eggs, I recommend baking with them! Where to get them? Either a friend, your local farmers market, or even your local Whole Foods should sell them. If you can't find duck eggs, chicken eggs work just fine too, don't worry 🙂
But why the duck eggs?
Many bakers comment that duck eggs have a higher fat content that make cakes rise higher and when making meringues they turn out more stable and can get A LOT more volume.
Duck eggs can make baked items fluffier than chicken eggs (POINT PROVEN WITH THESE COOKIES) – you will be amazed. You substitute one duck egg per chicken egg in the recipe, even though the duck eggs are bigger!
Due to the higher yolk ratio to egg white in duck eggs they contain more fat which in turn makes baked goods richer.
"They are also a good addition to gluten free baking—what your baked good loses in structure by omitting gluten can be partially gained back with the denser albumen (egg white protein)". -Jamie Oliver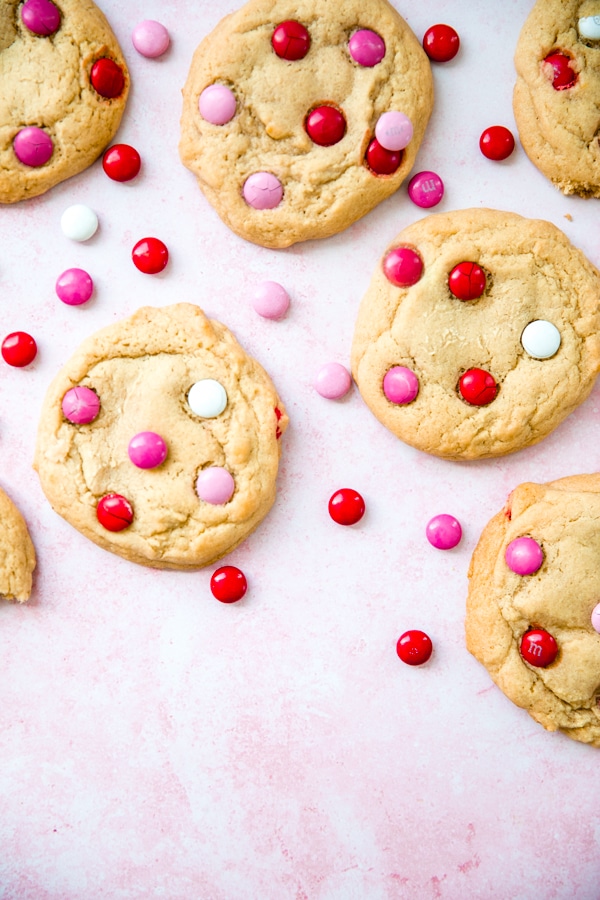 Other tips for baking cookies:
Cream the butter: Using the paddle attachment of your stand mixer, cream the butter. I take the stick of butter from the fridge, cut it into cubes and cream it.
Do not over beat the eggs or mix the flour too long: When mixing in ingredients, try not to forget about what's being mixed! Keep a close eye, and mix just until your ingredients become incorporated.
Use a Silpat or silicone baking mat: Nice to have, but not completely necessary to make the cookies.
But, I do think this is a game changer for you or the baker in your life. Cookies will never stick again or spread out too thin and it helps add to the fullness of the cookie! Target sells them for around $8 or if you want a Silpat they run around $20ish.
Use an ice cream scooper with a thumb press to scoop out some BIG cookies! I know many people use a melon baller or a Tablespoon to measure cookies but the ice cream scooper with the thumb press works wonders.
When scooping, be sure to give the cookies enough space to bake on the cookie sheet. Bake only 6 cookies at a time. (This recipe makes 8 large cookies)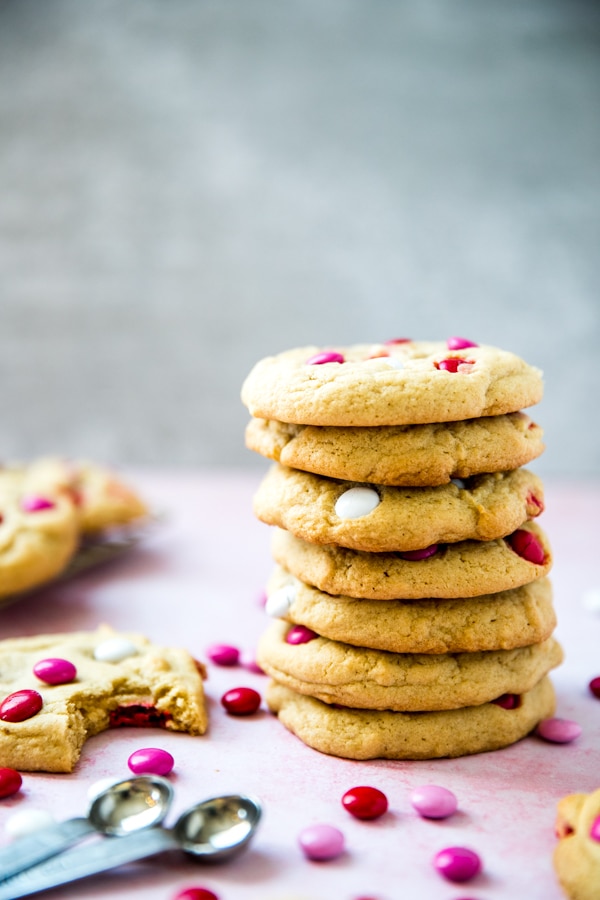 What kind of M&Ms did you use?
To make these Valentine's Day theme cookies, use the "Cupid's" seasonal M&Ms.
Not Valentine's Day but still want to make these bomb cookies? Cool! Just use regular M&Ms – or chocolate chips! Christmas time? Use the Christmas theme M&Ms!
Best temperature for baking cookies?
I suppose this could go up for debate. But this recipe 350° F. In my oven, these cookies take 12-13 minutes. Just until they rise enough with lightly browned tops! DO NOT OVER BAKE.
Note: All ovens, preferences, etc. vary so don't get too hung up on minutes on a clock; watch your cookies and bake until it's done. Honestly, you can't go wrong with under-baking these just a bit!
Once the cookies are done, leave them on the cookie sheet for 10 minutes. Then dig in!
Can I make the cookie dough in advance?
Yes – prepare the dough in advance and shape into the size cookies you prefer (Remember, the bigger the better!) If you leave the cookie dough in one large mass in the mixing bowl it tends to dry out.
The dough can stay in the fridge 3-4 days before baking!
Can I make these cookies into bars instead of cookies?
I have never tried that but I am sure they will turn out just fine! Use a 9×13 inch oven safe baking dish – bake time will most likely increase. Check doneness with a toothpick!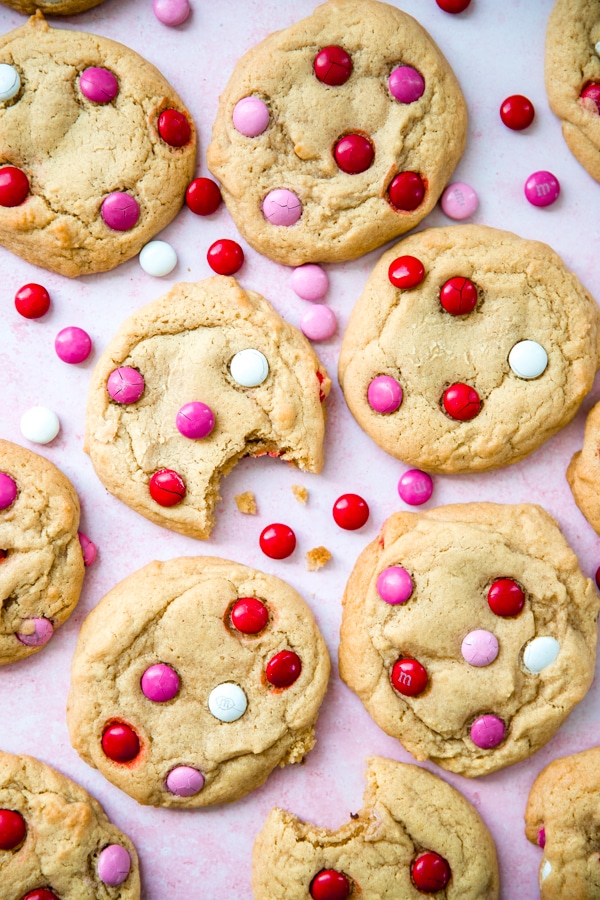 Chewy M&M Cookies! These cookies are chewy, fluffy and irresistibly delicious! #krollskorner #m&mcookies #cookies
Click To Tweet

Kroll's Korner on Pinterest
Tap here to pin recipes from Kroll's Korner for later! You'll find healthy (mostly) recipes that are realistic and easy to make. Happy Pinning! xo

Free eBooks: Muffin But Goodness & Instant Pot Dinner Recipes
Thank you so much for reading & supporting Kroll's Korner! This post includes affiliate links for products I actually use in my own home and personally recommend. Should you make a purchase using one of these links, Kroll's Korner will earn a small commission at no extra cost to you, which helps me continue to bring you great original content. Thank you!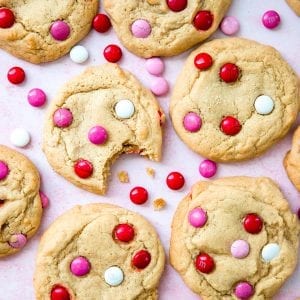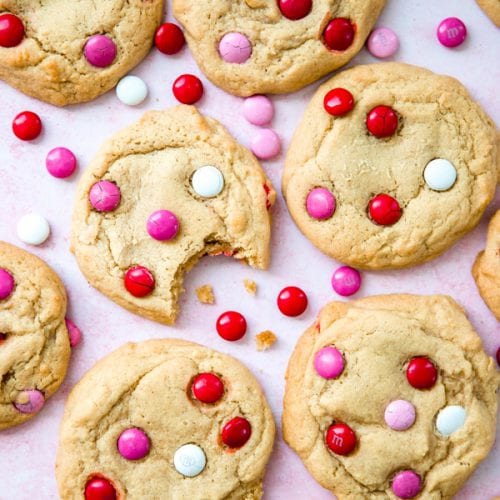 Valentine's Day Cookies
These Valentines Day M&M Cookies are chewy, thick, and ultra soft!
Print Recipe
Pin Recipe
Rate
Servings:
8
large cookies
Ingredients
1

stick

butter (8 Tbsp.), cold

1/2

cup

brown sugar, packed (light or dark)

1/4

cup

granulated sugar

1

large

egg*, room temperature

1

large

egg yolk (no whites)

1

cup

All Purpose Flour

3/4

cup

Cake Flour

1

tsp.

corn starch

1/2

tsp.

salt

1/2

tsp.

baking soda

3/4

cup

M&Ms, chocolate chips or chocolate chunks
Instructions
Cut the butter into squares and using the paddle attachment of a stand mixer, cream the butter. Then add in the brown sugar and granulated sugar and cream again until just combined.

Then add in the egg and egg yolk. Be careful not to over mix.

In a medium sized bowl, sift together the flours, baking soda, salt and corn starch. Then on low speed, slowly add in the flour mixture. You may need a rubber spatula to help get it all incorporated. Once mixed, turn off the mixer and fold in the M&Ms or chocolate chips of choice.

Using an ice cream scoop, scoop out the dough on to the sheet pan, no more than 6 cookies on one pan. (Recipe will make ~8 large cookies)

Bake in the oven for 12-14 minutes, or until cookies are lightly browned on the top. (Note* these cookies are best under baked! Remove them from the oven about 1 minute before you feel like they are done). Remove from oven and let the cookies rest on the cookie sheet for 10 minutes then transfer to a cooling rack and enjoy!
Notes
Eggs: If you have access to duck eggs, try baking with them! If not, chicken eggs work just fine.
To make the Easter edition, follow the same directions but swap the M&Ms with the Easter pastel color M&Ms.
Note* these cookies are best under baked! Remove them from the oven about 1 minute before you feel like they are done.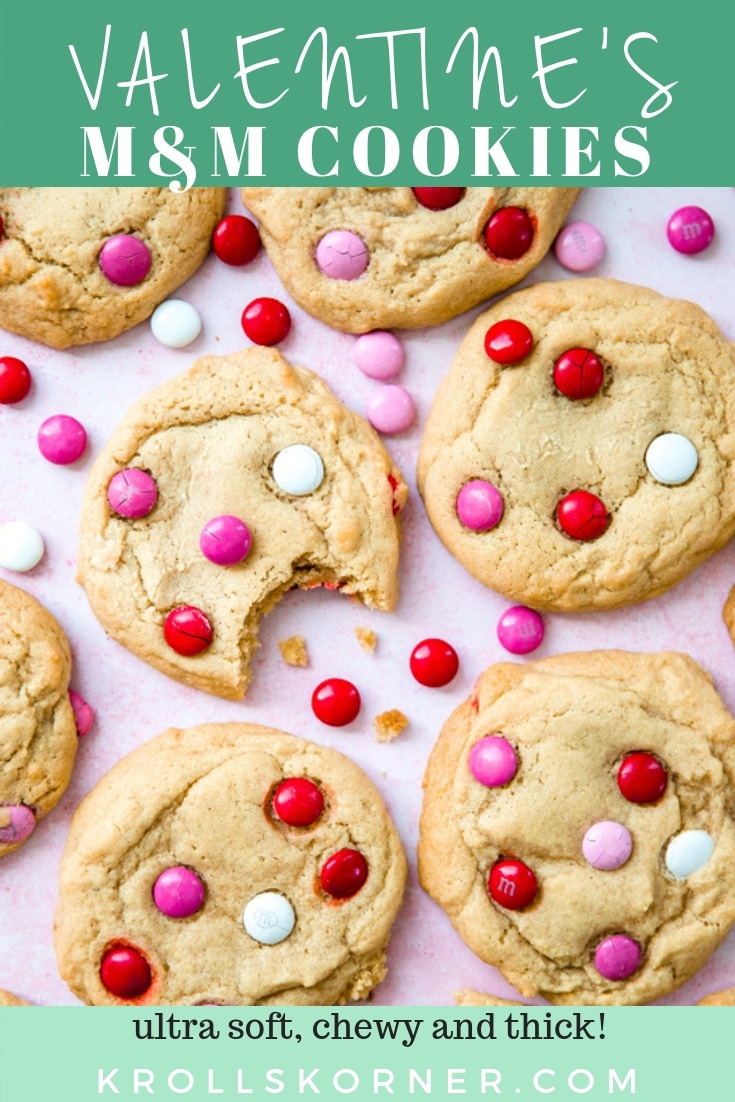 If you're looking for more Valentine's Day theme recipes I am sure you will love these Valentine's Day Roasted Potatoes!

I'd love to see what you made!!
Share it with me on Instagram or Facebook and tag me @krolls_korner or use the hashtag #KrollsKorner!