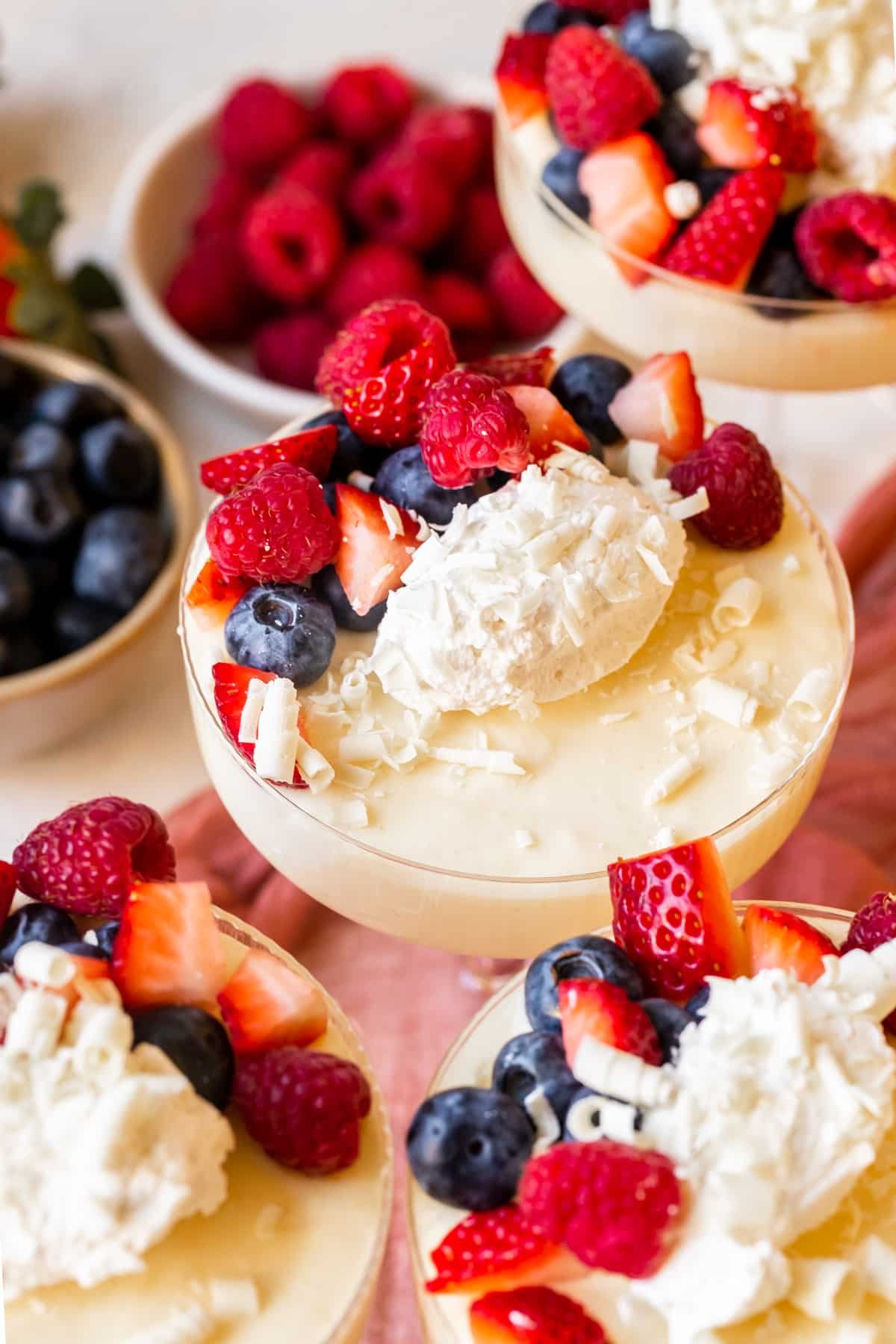 White Chocolate Mousse is elegant and bursting with white chocolate flavor and you're going to be obsessed!
I remember the first time I made mousse I was intimidated, but I quickly found out that it really is a lot of fun, and pretty easy to make.
At the center of it all, it's the whipped cream that is folded into the melted white chocolate that makes it purely decadent, and thanks to the egg whites the texture is so extra light and fluffy that once you taste it you will be dreaming about my White Chocolate Mousse.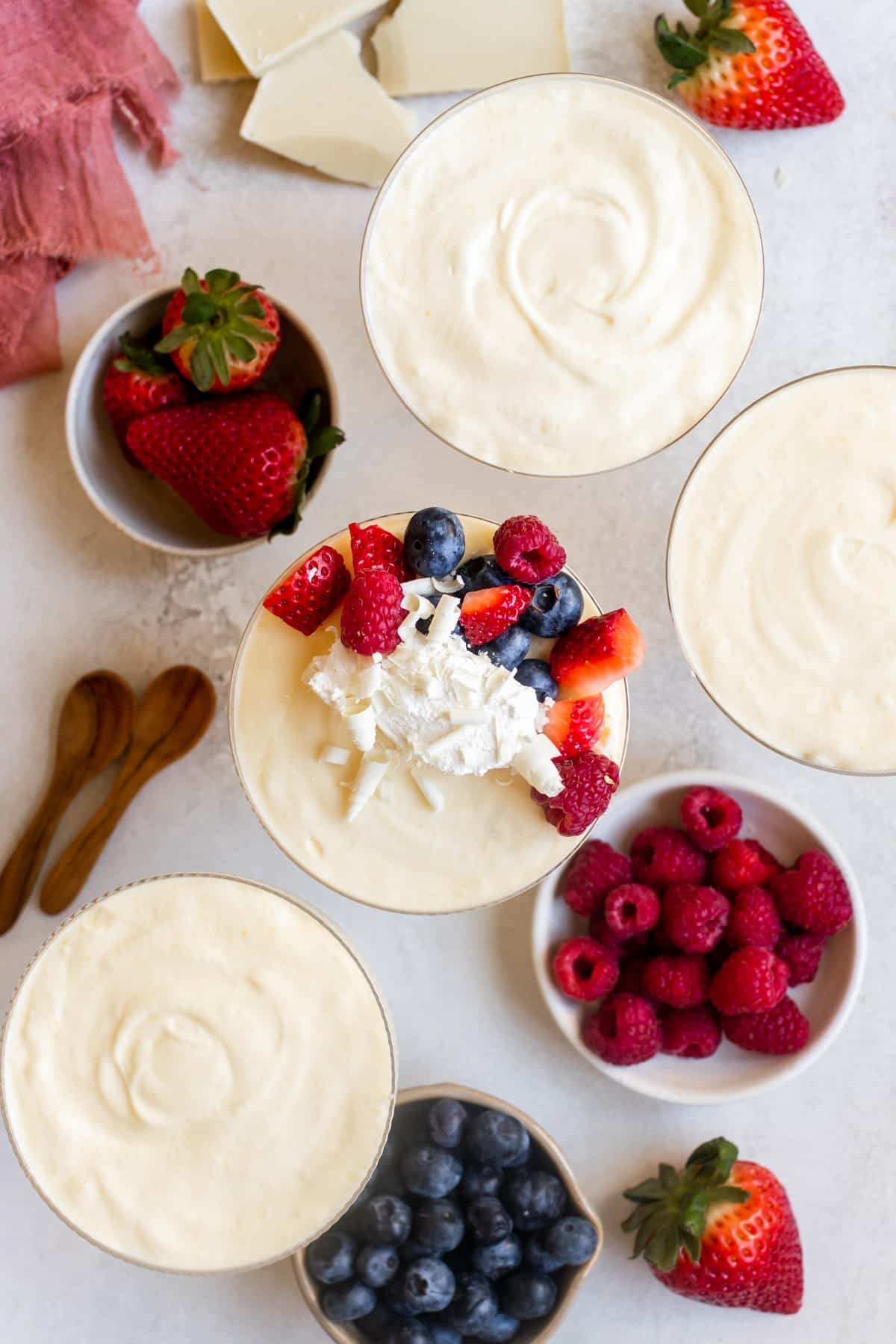 If you love this mousse you'll have to try my vegan and egg free chocolate mousse and my pumpkin mousse.
One of the other reasons that I have come to love mousse so much is that it is such a versatile dessert. And it's great for date night or if you're hosting a dinner. It confidently stands out with it's light and fluffy texture with the perfect touch of sweetness from the white chocolate, but it can also be the "best supporting ingredient".
White chocolate mousse can act as the filling in a cake or combine it with cubes of my Small Batch Brownies and layer them with the mousse to make a White Chocolate Mousse Brownie Parfait. Mmmm….Chocolate on chocolate. If you weren't craving chocolate before you started reading this recipe, I hope you are now!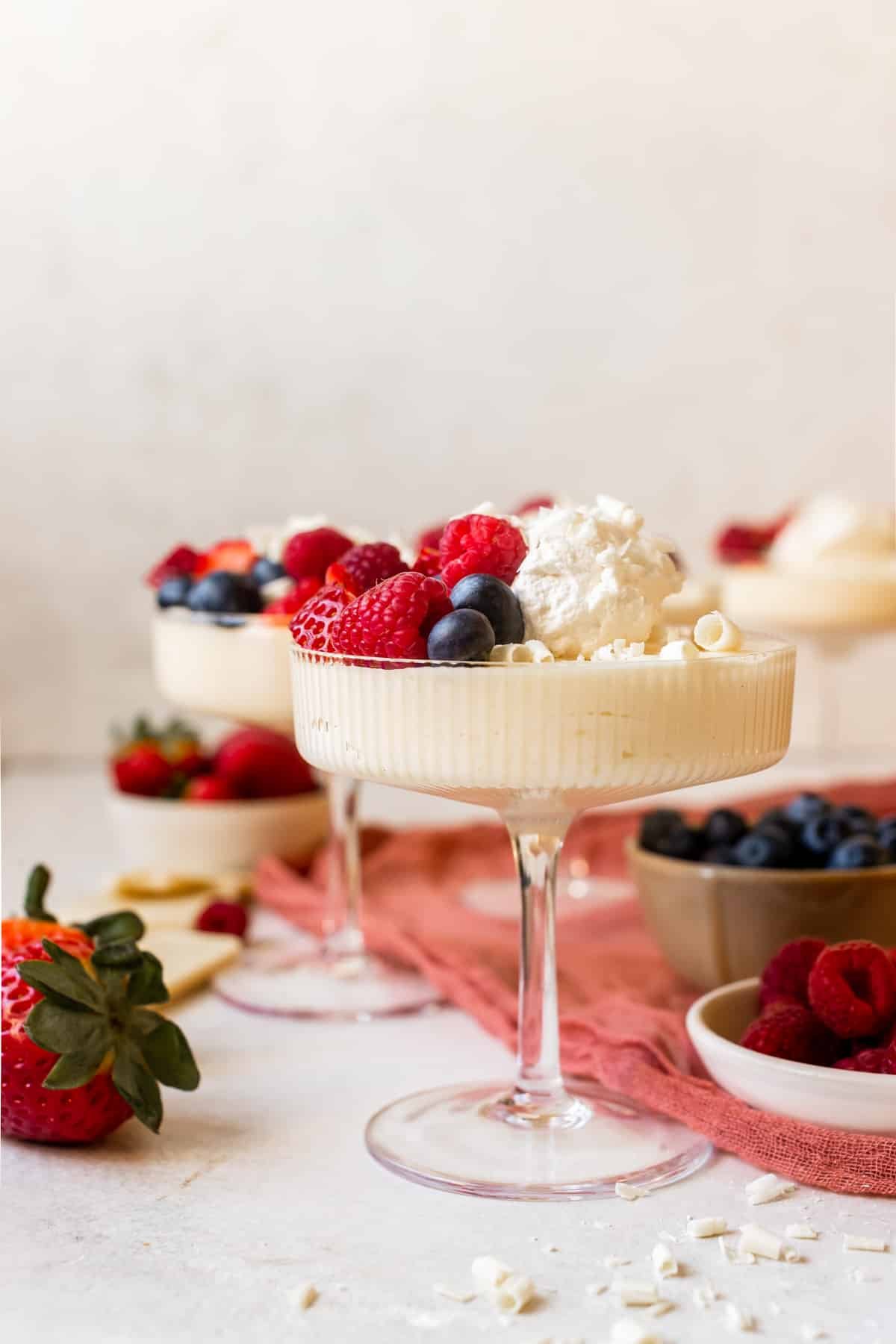 What is the difference between Mousse and Pudding?
Pudding gets it's thick consistency by being cooked. You don't cook mousse.
Pudding is more solid, where the addition of air to the mousse mixture makes a fluffier consistency and lighter texture.
Reasons Why You Will Love My White Chocolate Mousse
With just a few ingredients, you can whip up my White Chocolate Mousse in no time.
The fluffy, lightly whipped texture makes such a smooth dessert you won't want to stop eating it until it's all gone.
It's the perfect make-ahead dessert.
It is so versatile that you can make many mousse variations, plus use the mousse as an ingredient in other desserts.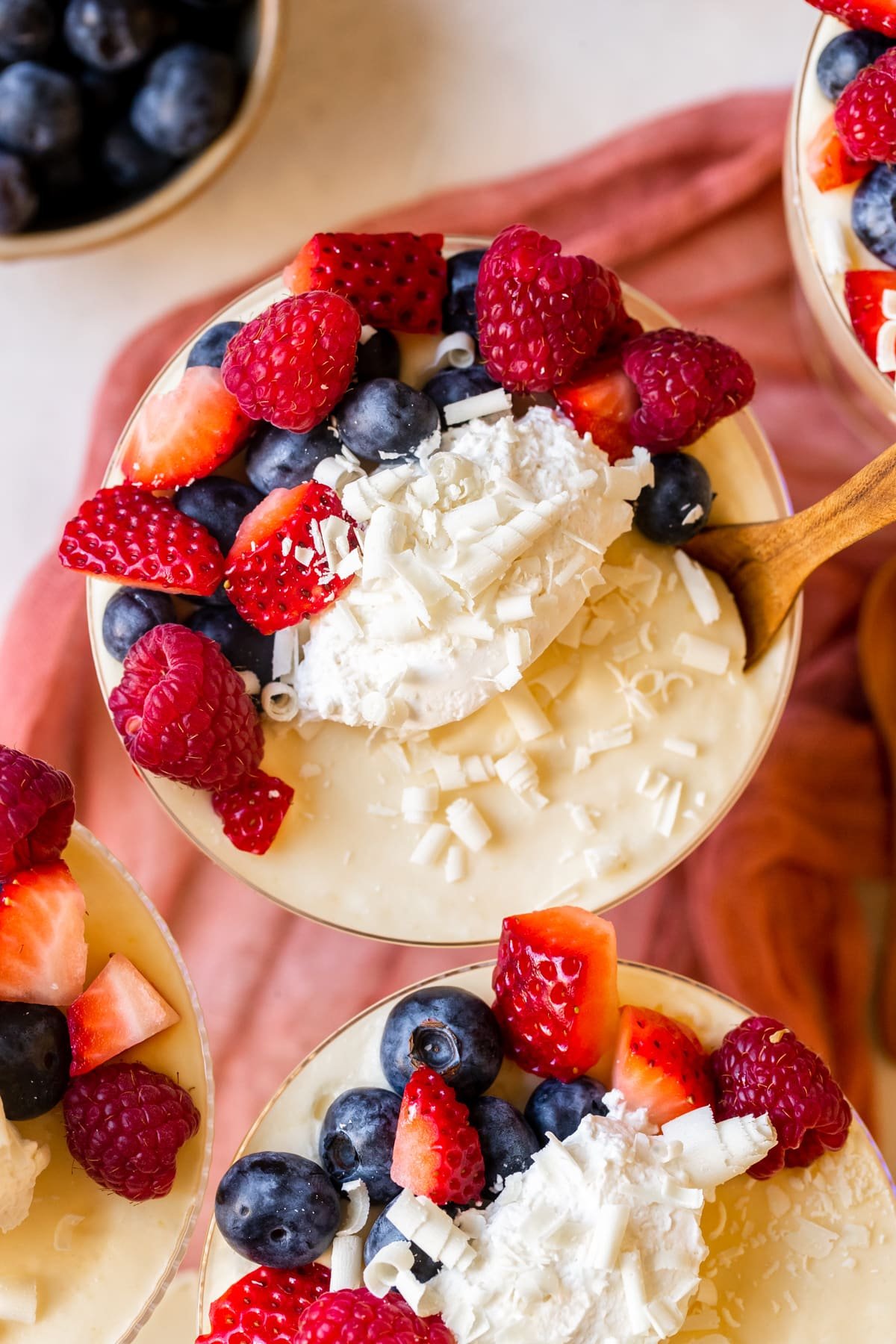 Ingredient Notes
Unsalted butter: I like to melt a little butter with the white chocolate to make it smooth.
White chocolate: Make sure you use high quality white chocolate and not chocolate chips. And be sure it's cooking chocolate, and not eating chocolate. You can find it in the baking isle.
Heavy cream: it is important to have a high fat content in the heavy cream you are whipping. A lower fat content will produce a watery mousse. Make sure you are using heavy whipping cream with at least 35% fat content.
Egg whites: You'll beat the egg whites until firm peaks are achieved. Firm peaks are like "medium" peaks. Not soft, not stiff, but just that sweet spot in the middle. Make sure when you separate the white from the yolk you do not get any yolk in the egg white. If you do, you will have a difficult time getting the white to whip up into the meringue.
Egg yolks: I like to separate my egg yolks and egg whites when the eggs are cold from the fridge, but then leave them out at room temperature because it's easier to introduce air into the eggs at room temperature.
Granulated sugar: To get the absolute best sweetness to the mousse I like to add just ⅓ cup of sugar and it also helps with aeration.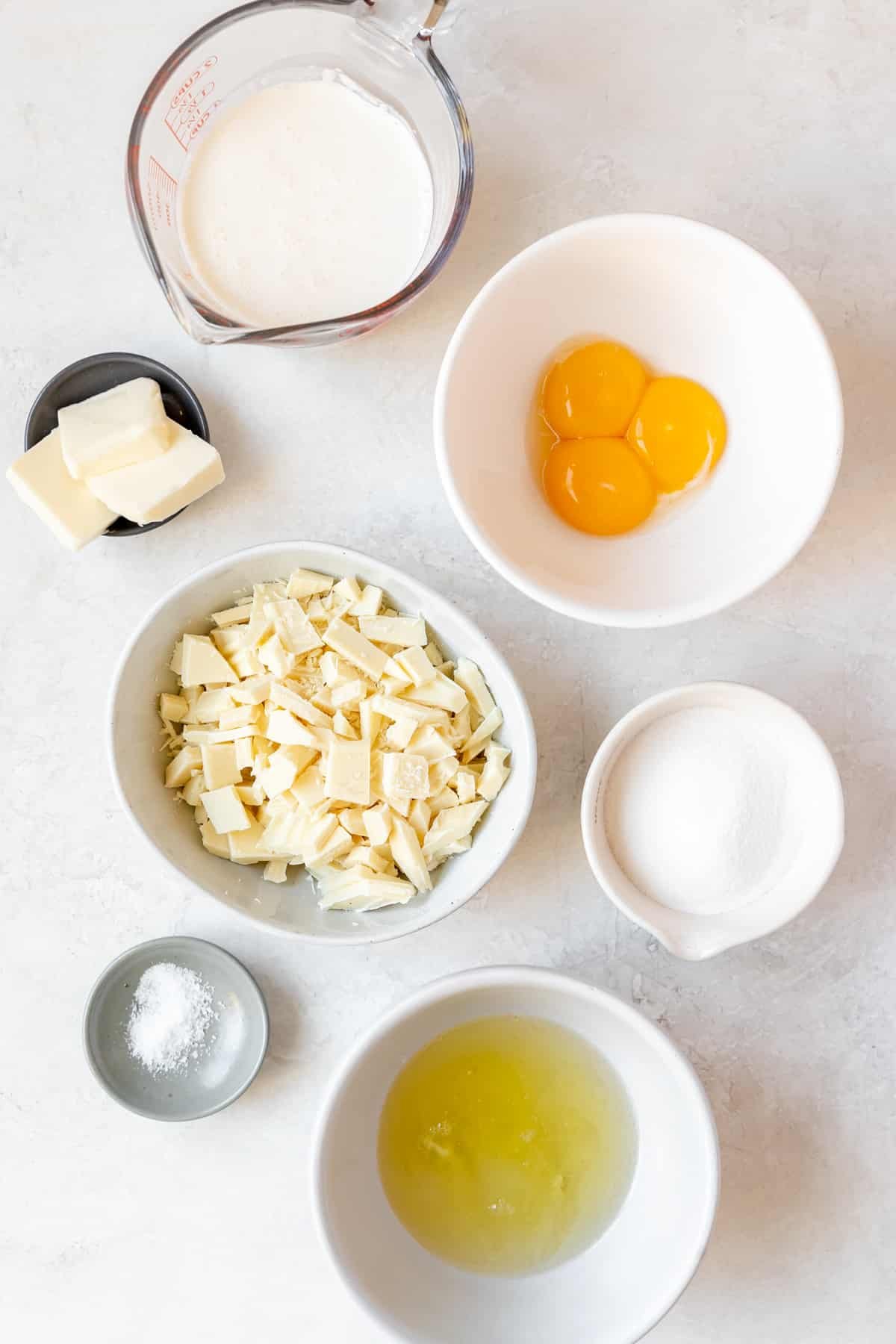 Step by Step Directions
Scroll down to the recipe card for the full and more detailed step by step directions.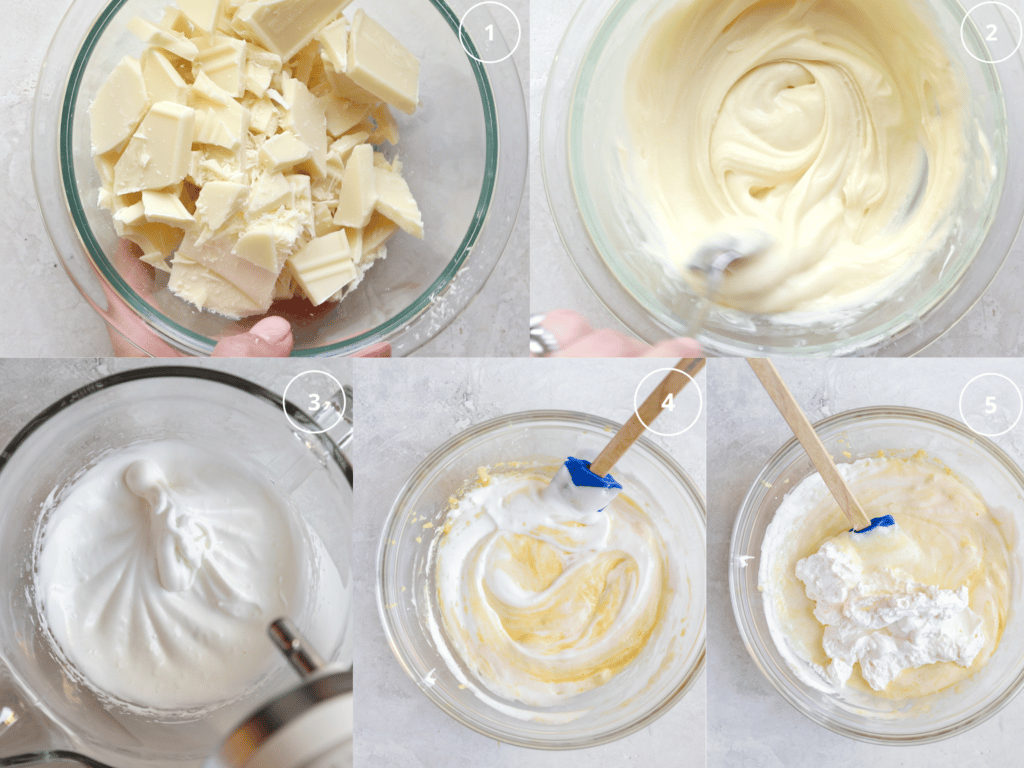 Melt the white chocolate in the microwave until smooth and silky.
Once the white chocolate has cooled slightly, whisk egg yolks in.
Beat the egg whites and sugar until firm peaks form.
Gradually and gently fold egg whites into white chocolate.
Beat the heavy cream until stiff peaks form (but don't make butter!)
Gently fold into the white chocolate.
Divide into glasses and refrigerate overnight (or at least 4-6 hours).
Garnish with berries, chocolate shavings, more whipped cream and enjoy.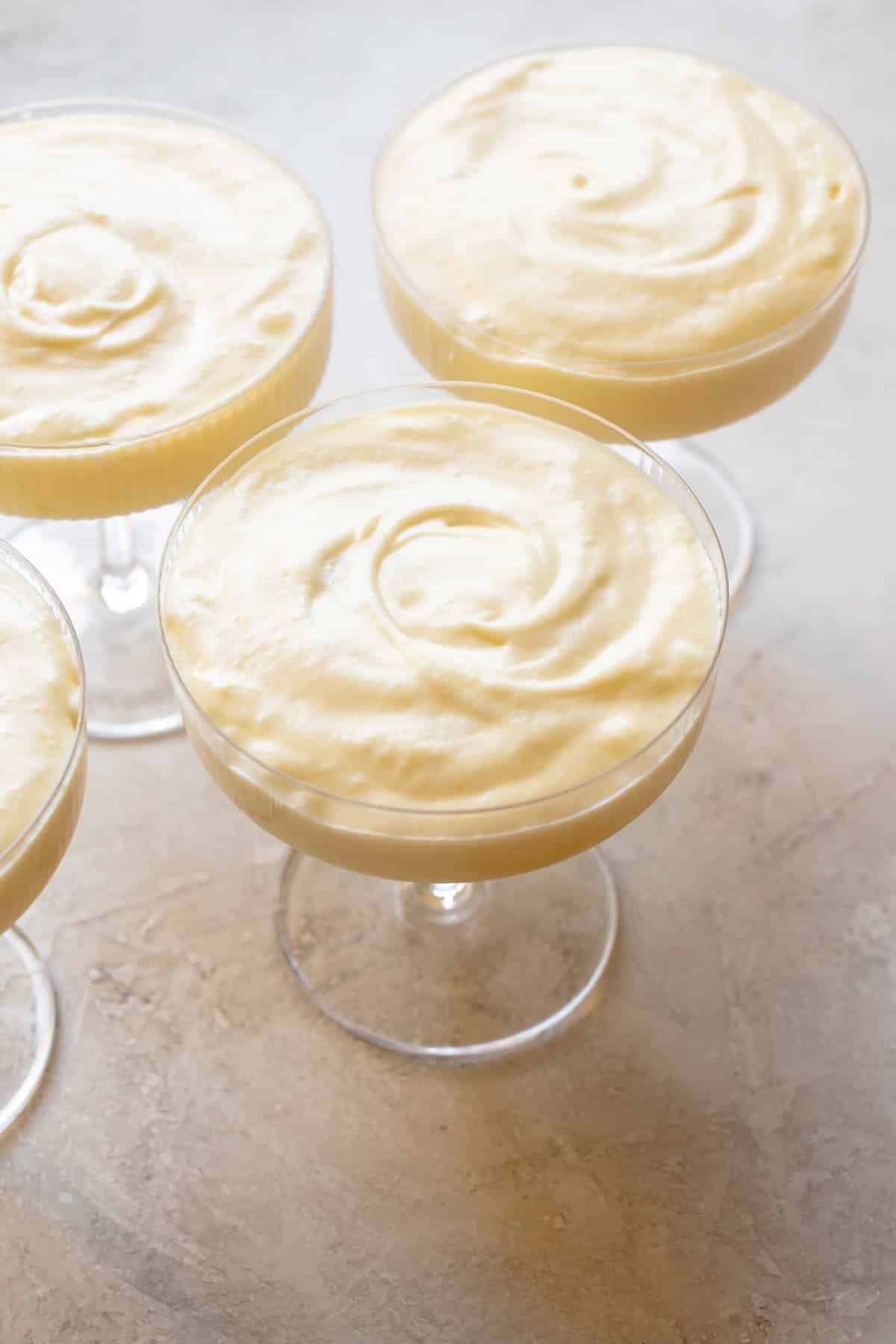 Tips and Variations
The secret to whipping the cream is the stiff peaks. They will give a full texture to your mousse.
It only takes seconds for whipping cream to go from smooth and creamy to grainy and broken. Pay attention to your whipping time and do not over whip.
Swap the white chocolate with semi-sweet or bittersweet chocolate for a chocolate mousse variation!
Use a spatula when folding the whipped cream into the chocolate, butter and egg yolk. Folding will keep you from mixing in the cream, which will ruin the texture. By using a spatula it will keep you from making streaks in the mousse.
Melting white chocolate can be simple, or you can just make a mess. If you're using a stove, the key is to use low heat so the chocolate doesn't seize. The microwave works just fine, heating in 20 or 30 second intervals and stirring in between. Reference the video and photos for extra guidance if you need. You should have a creamy chocolate to easily fold your eggs whites and whipped cream into.
Make sure the cream you are using is fresh, and it is chilled before whipping. Quality ingredients will produce a quality mousse.
Room temperature (68°F to 72°F) egg whites will whip up faster but cold eggs are easier to separate. The best practice is to separate the egg yolks and whites while they are cold, and them place the whites and yolks in small containers to allow them to come to room temperature before adding to the recipe.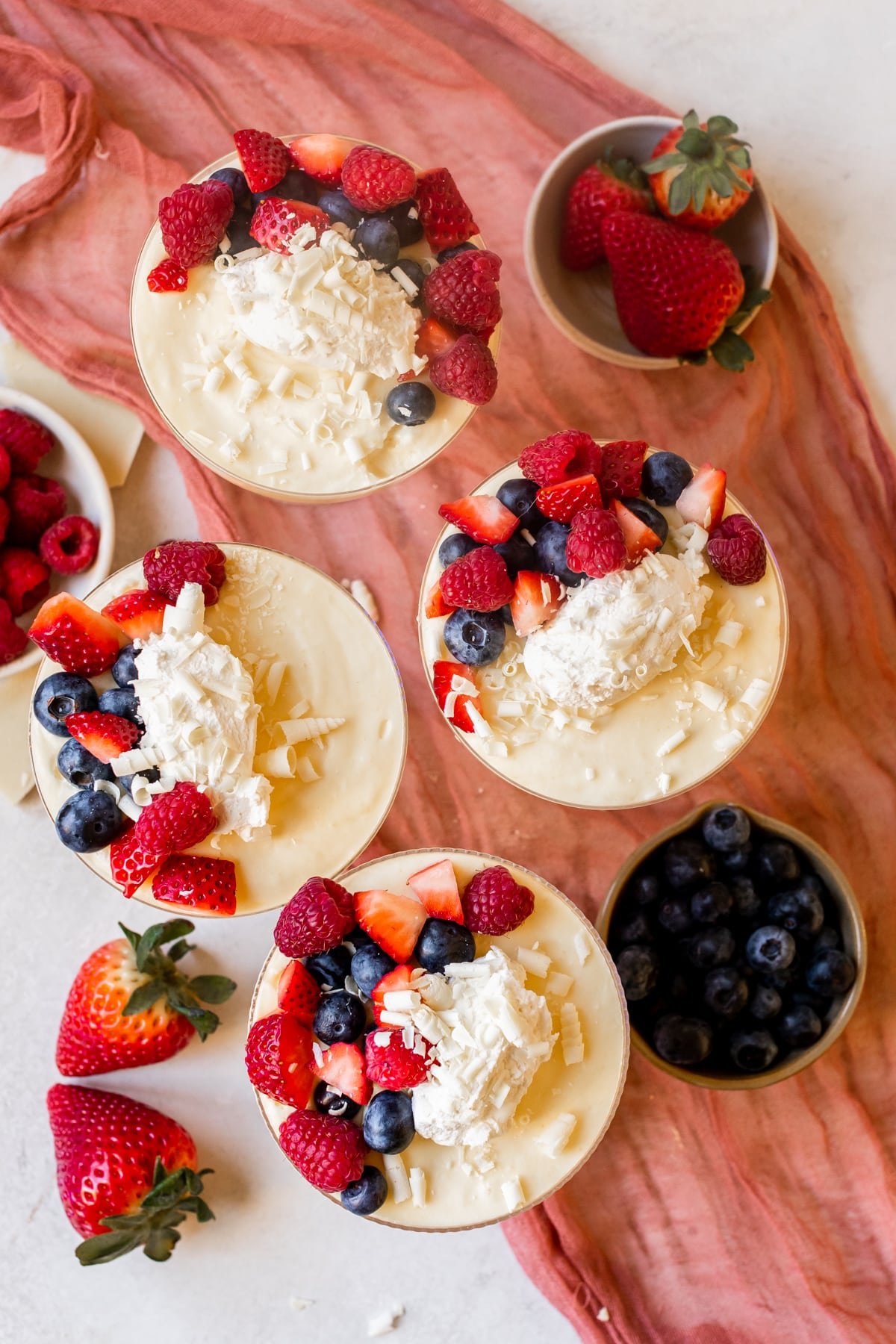 FAQ
Do I have to use eggs in mousse?

Eggs provide emulsifying properties and contribute to the texture of white chocolate mousse. In my recipe they are separated, with the yolks being cooked with the chocolate and sugar to make a custard-like cream sauce and the egg whites are aerated into a frothy meringue.
Are raw eggs safe in the White Chocolate Mousse?

Please note that the raw egg white should not be served to at risk individuals such as pregnant mothers, the elderly, infants and young children, or immunocompromised individuals due to the risk of salmonella and other infections.
How long can I store White Chocolate Mousse in the refrigerator?

This is a great make-ahead dessert, but I would only keep the Mousse for up to 3 days. Make sure that you store it in an air tight container.
How do I keep lumps out of the mousse?

The separation of the egg yolk and egg white is the correct mixing process to keep lumps from forming.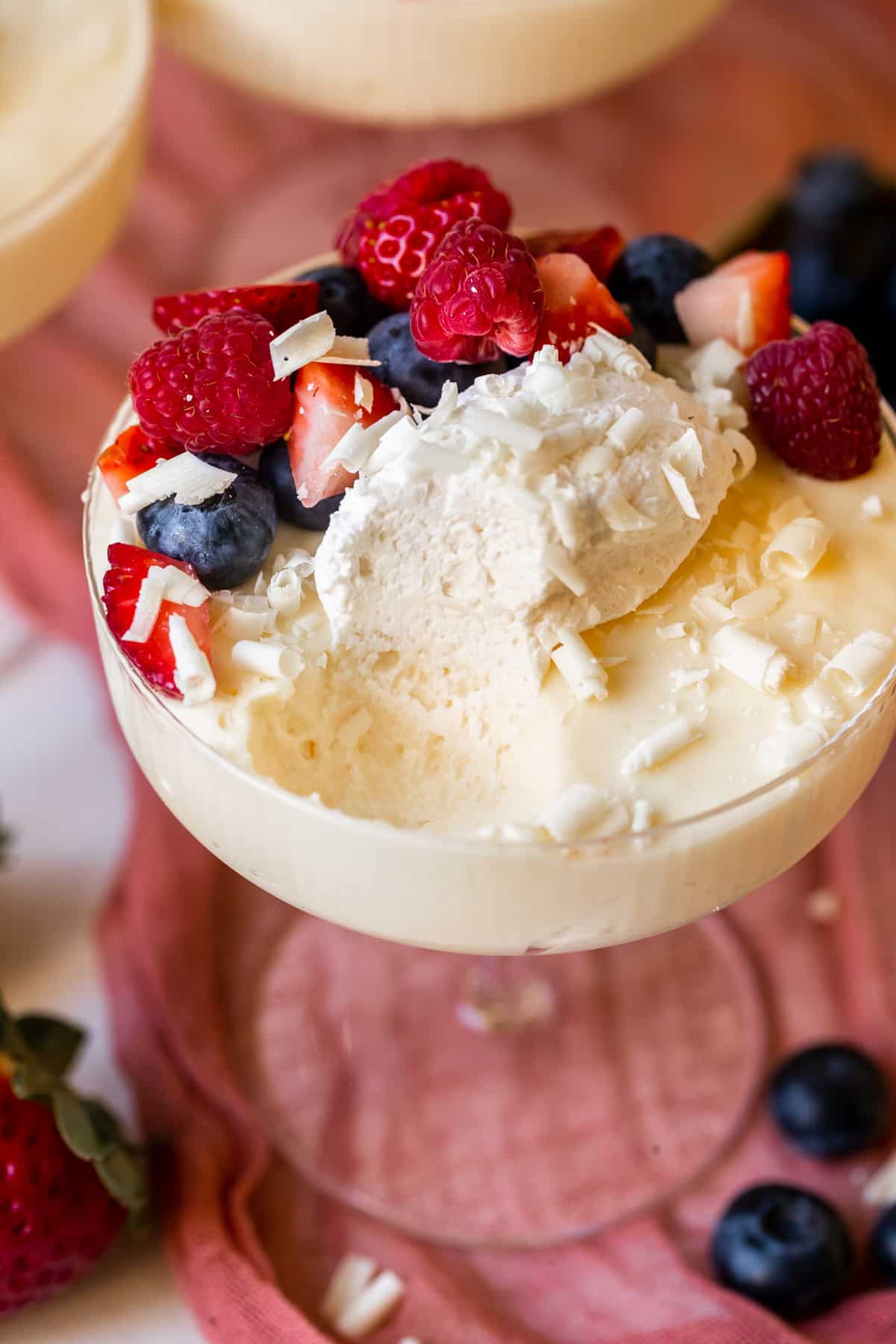 Before You Begin! If you make this, please leave a review and rating letting us know how you liked this recipe! This helps our business thrive & continue providing free recipes.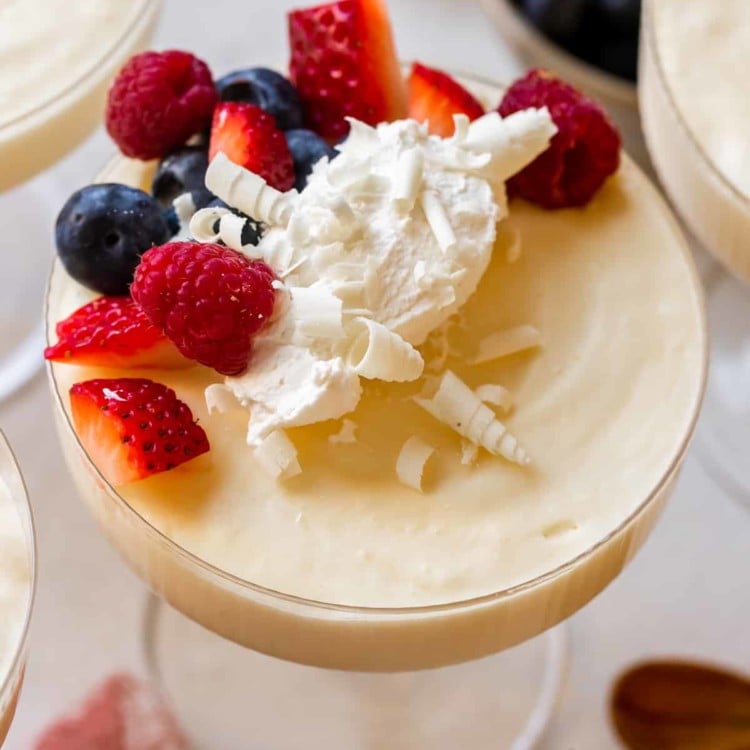 This White Chocolate Mousse is an easy yet impressive dessert. It's a great make-ahead dessert and delicious with homemade whipped cream, fresh berries and white chocolate shavings on top.
Ingredients
For the mousse
8

oz.

white baking chocolate, chopped (look for a high quality baking bar).

3

Tbsp.

unsalted butter, room temperature

pinch of salt

1

cup

heavy cream, chilled

3

large

eggs, yolks and whites divided

1/3

cup

granulated sugar
For the whipped cream
1

cup

heavy cream, chilled

2

Tbsp.

powdered sugar

1

tsp.

vanilla extract
Last step! If you make this, please leave a review and rating letting us know how you liked this recipe! This helps our business thrive & continue providing free recipes.
Instructions
Melt the white chocolate, butter and a pinch of salt in a microwave safe bowl in 20-30 second increments, stirring in between, until smooth and melted.

Allow the white chocolate to cool for a few minutes. Then whisk in the egg yolks, one at a time, until combined. Set aside.

Beat the egg whites and sugar for about 4-5 minutes on medium-high speed just until firm (but not stiff) peaks form.

Gently fold in about ⅓ cup of the egg white mixture into the chocolate mixture with a rubber spatula. Repeat until all egg whites are added. Set aside.

Beat the heavy cream until stiff peaks form, but don't make butter!

Gently fold the whipped cream into the white chocolate mixture just until combined.

Divide into 4 glasses and refrigerate for at least 6 hours or ideally overnight.

Prior to serving, make the homemade whipped cream. Add the cream, powdered sugar and vanilla to the bowl of a stand mixer with the whisk attachment. Beat on medium-high speed until medium peaks form, about 3-4 minutes.

Add the whipped cream and fresh berries on top of the mousse and serve immediately. Enjoy!
Notes
Raw eggs: it is not advised for pregnant woman and babies to consume raw eggs.
Storage: Keep refrigerated and it is best enjoyed within 2-3 days.
Separate the egg whites and yolks when the eggs are cold, but then let them come to room temperature. They will beat better and incorporate into the mousse best at room temperature.
To make the chocolate shavings, I like to use a potato peeler on a piece of chocolate and it's the perfect finishing touch.
Be sure to use cooking chocolate, and not eating chocolate. Chocolate will seize and not be pleasant to work with if you don't use a high quality chocolate bar.
Nutrition Information
Serving:
1
serving
,
Calories:
495
kcal
(25%)
,
Carbohydrates:
61
g
(20%)
,
Protein:
12
g
(24%)
,
Fat:
74
g
(114%)
,
Saturated Fat:
45
g
(281%)
,
Polyunsaturated Fat:
3
g
,
Monounsaturated Fat:
20
g
,
Trans Fat:
0.4
g
,
Cholesterol:
310
mg
(103%)
,
Sodium:
208
mg
(9%)
,
Potassium:
332
mg
(9%)
,
Fiber:
0.1
g
,
Sugar:
61
g
(68%)
,
Vitamin C:
1
mg
(1%)
,
Calcium:
215
mg
(22%)
,
Iron:
1
mg
(6%)