The Best Blueberry Cinnamon Rolls
Breads | Published on Sep 16, 2019 | Last modified on Dec 28, 2019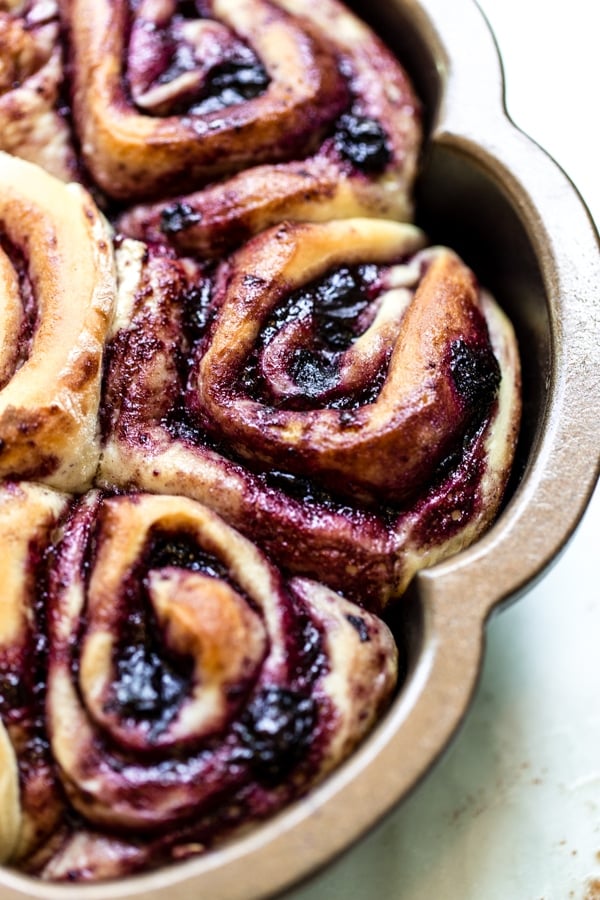 Cinnamon Rolls from Scratch: Elevate your cinnamon rolls by adding blueberries to the mix. These soft cinnamons roll from scratch are extra soft and have the most delicious blueberry filling. Your entire family will love them!
This post has been sponsored by The US Highbush Blueberry Council. All thoughts and opinions are my own. Thank you for supporting the brands that keep Kroll's Korner running!
Creating these cinnamon rolls from scratch:
Have you ever made homemade cinnamons rolls before?
Contrary to popular belief, they aren't hard to make. The take a little more time than, let's say, cinnamons rolls you buy in a can but if you have a slow afternoon and feel like baking these fluffy and soft cinnamon rolls are for you!
The cinnamon swirl with the blueberry filling sets this recipe apart from the rest. Plus, the recipe makes extra sauce so you can spoon some on top when serving to your guests, friends or family!
Blueberry Nutrition & Facts:
Blueberries are a staple in my house because they are a good source of fiber, are a convenient food that can be eaten on the go and are a good source of Vitamin C.
Fiber is an important nutrient that aids in our digestion and may help with keeping us satiated.
Vitamin C is an antioxidant that helps the body absorb iron from plant-based foods.
The Body also needs vitamin C to make collagen, a protein required to help heal wounds.
Did you know fresh blueberries last at least 10 days in the fridge and frozen are best used within 10 months?
Like fresh blueberries, frozen blueberries are a good source of fiber, and only have 80 calories per cup.
Did you know frozen blueberries are picked at the peak of ripeness and are individually quick-frozen? This helps to preserve their taste, durability and nutritional components.
Cinnamon Rolls From Scratch Ingredients
For the blueberry sauce
Fresh blueberries (or frozen works too!)
Orange Juice
Sugar
Corn starch & water
For the dough:
Butter
Milk
Flour
Yeast
Sugar
Salt
Water
Egg
For the cinnamon sugar filling
Brown sugar
Cinnamon
Butter
Optional Lemon Glaze:
Powdered sugar
Lemon juice
Milk (or heavy cream or half & half)
How to make cinnamon rolls from scratch:
In a small saucepan over medium heat, combine the blueberries, sugar and orange juice . Cook until blueberries begin to break down and then add the corn starch/water mixture. Cook until mixture thickens. Blueberries won't be completely broken down, that's how it should look! Remove from heat and set aside.
For the dough, heat the milk in a small saucepan just until it bubbles, then remove from heat and stir in the butter until it melts. Let the milk and butter cool for 5 minutes.
In a bowl of an electric mixer with the flat beater, combine 2 1/2 cups flour, sugar, yeast, sugar and salt. Add in the milk and butter mixture, water and egg. Beat well.
Add in the remaining flour ½ cup at a time. Dough will be thick. When dough has pulled together, switch out the flat beater for the dough hook and knead dough for 5 minutes.
You will know when the dough is ready when it feels tacky but doesn't stick to your fingers. If still sticking, add 1 Tbsp. flour and knead again.
Cover dough with plastic wrap or a warm cloth and let rise on the counter for 40 minutes. Dough will double in size.
Then on a lightly floured surface (I like to use a marble slab) roll out the dough into 12×9 inch rectangle. I like to use the 13×9 inch baking dish as a guide.
Use a pastry brush to slather the dough with butter (leave a ¼ inch boarder) and then combine the cinnamon & brown sugar and generous sprinkle on the dough.
Spread ½ cup of the blueberry sauce over the dough. Carefully roll the dough up into a log as tight as possible and pinch the edges to seal. Dough is very soft, work gently and carefully. It's okay if some of the filling oozes out!
Trim off the uneven edges and cut clean slices with a sharp knife – you will have about 12 cinnamon rolls from this batch. Place then cut side up in your 13×9 inch baking dish sprayed with non-stick baking spray. Cover loosely with plastic wrap and let rise again for 20-30 minutes. Dough will once again double in size!
Bake in the oven at 350° F for 18-20 minutes or until lightly golden. Remove from oven and let cool (If you can wait!). Once cooled, you can whisk together the ingredients for the glaze and drizzle over the top with more of the remaining blueberry sauce.
Why the dough is sticky/loose and how do I handle it?
If you follow the directions exactly from above and take the dough straight into make the rolls your dough will be very loose and sticky.
The rolls won't look perfect in shape, but that's OK!!
Sprinkle flour both on top and under the dough to help work with the dough, and to help ease your frustration.
Plus, some of the blueberry sauce might ooze out. That's OK too, there is plenty leftover to spoon on top when you serve them.
How to reheat cinnamon rolls:
This is a question I get asked often. Because cinnamon rolls come out of the oven soft and pillow-like, but once they set they become rock hard.
Reheat them in a toaster oven or in your oven at 350° F for 10 minutes or in the microwave for about 45 seconds.
How to store cinnamon rolls:
Cover them with foil and store on the counter and eat within a few days.
Or, cover and place in fridge. They will harden this way so be sure to use the reheating instructions above when you want to snack on one later!
The Best Blueberry Cinnamon Rolls – I'm kicking off the Fall baking season with @littlebluedyamos and sharing how to make this blueberry filled treat! #ad
Click To Tweet
Can I make cinnamon rolls in advance?
Yes! You can prep your cinnamon rolls all the way up to rolling them and putting them in your greased pan. Then let the cinnamon rolls proof in the refrigerator until you're ready to bake the next day.
OR…
Simply assemble them in the greased pan like you would if you were baking right away, cover tightly with plastic wrap, and freeze. When you're ready to bake, remove them from the freezer, and allow them to thaw to room temperature. This may take 1-2 hours. Then bake according to the recipe instructions!
I hope you all enjoy making these blueberry cinnamon rolls, and be sure to head on over to https://www.blueberrycouncil.org/ for more information and recipes with blueberries!
More blueberry recipes you'll love:

I'd love to see what you made!!
Share it with me on Instagram or Facebook and tag me @krolls_korner or use the hashtag #KrollsKorner!