Instant Pot Pumpkin Applesauce

Let's face it. Instant Pots are taking over the world. Not zombies, but Instant Pots. haha! I kid. Kind of…
There really hasn't been one single recipe I've made in the Instant Pot that hasn't blow me away. Every time I use it I'm more and more impressed.
Some people are resistant to this trendy kitchen gadget because it seems intimidating. And TRUST ME I felt the same way. When I bought it I was so hesitant to try to get to know it!
I say just give it a shot! Maybe a second chance is what your Instant Pot needs! Let me guess, you tried using it once and hated it…and now it's been shoved in the way back of your cupboard for 6 months? Let's bust it back out and make this Pumpkin Applesauce!
If you're new to the Instant Pot, or even a veteran, this Pumpkin Applesauce is a great place to start. You wash, peel and cube the apples. Place them in the Instant Pot with a few other simple ingredients, and let them cook on manual for 5 minutes!
INSTANT POT TIP YOU MUST KNOW!
When securing your lid and choosing your settings, before you walk away…make sure the knob on top is turned to SEALING and NOT VENTING!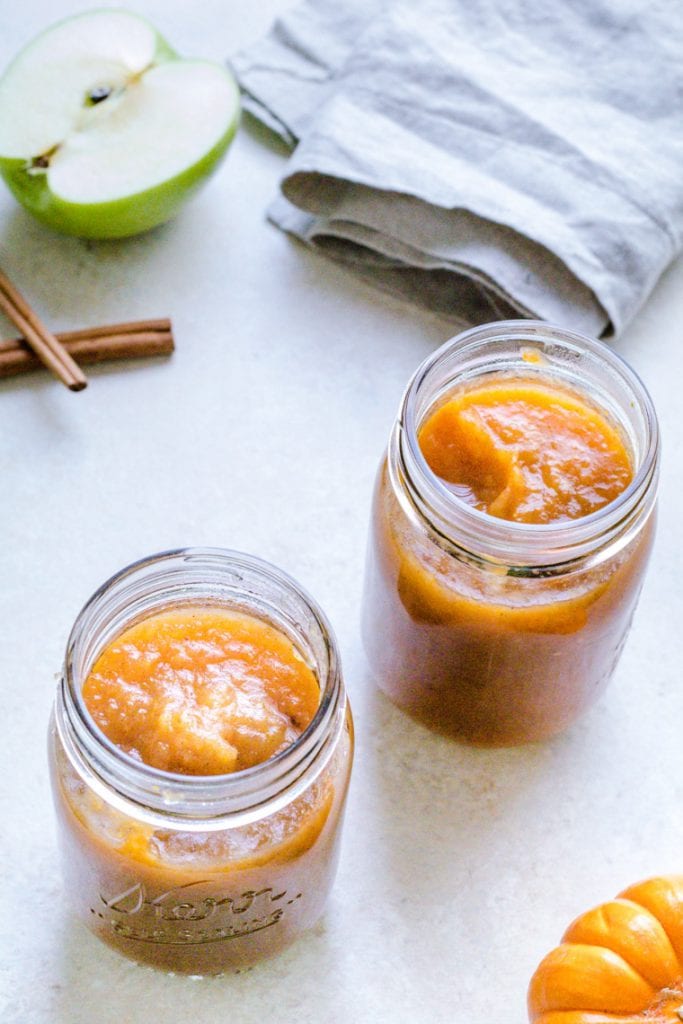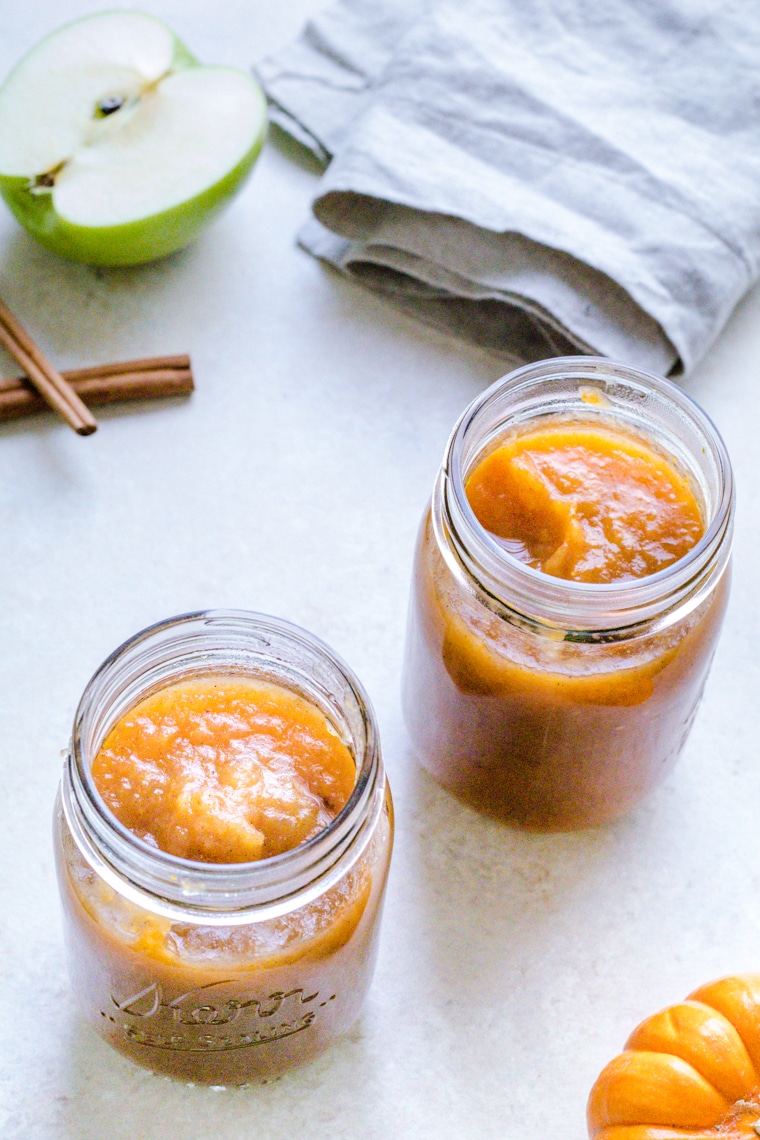 Are you supposed to peel the apples or can you leave the skin on?
For this Instant Pot applesauce, I like to peel the apples. It's totally just preference. And a time saver if you leave the skin on! For some of my other stove stop applesauce I like to leave the skin on. Like this No Sugar Added Homemade Applesauce! I like to place a scoop my homemade applesauce on my morning oatmeal bowl – so yummy!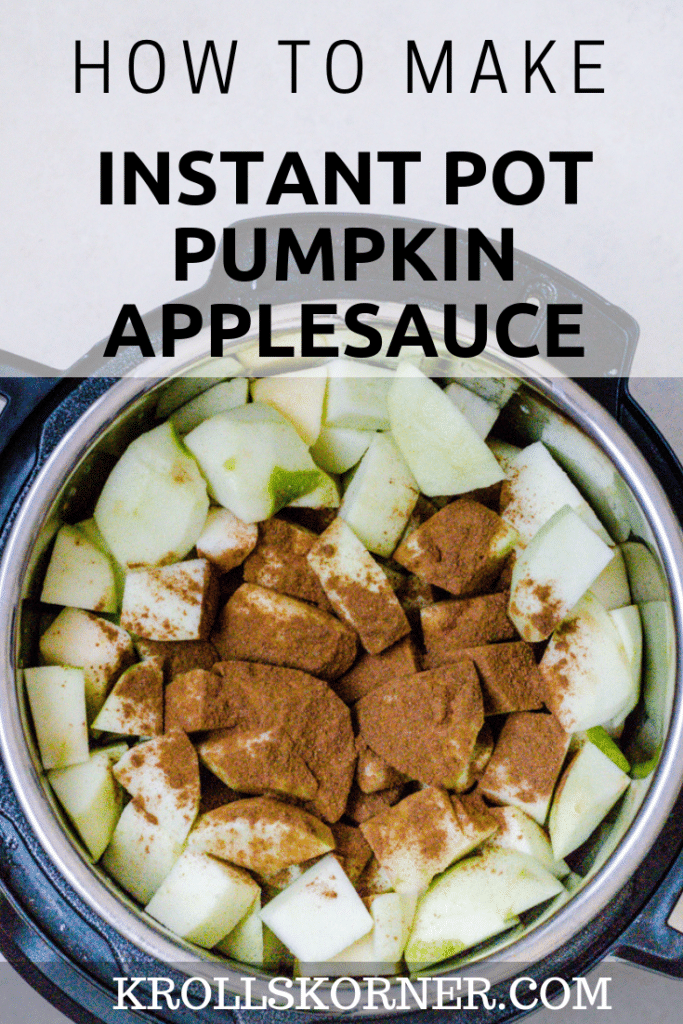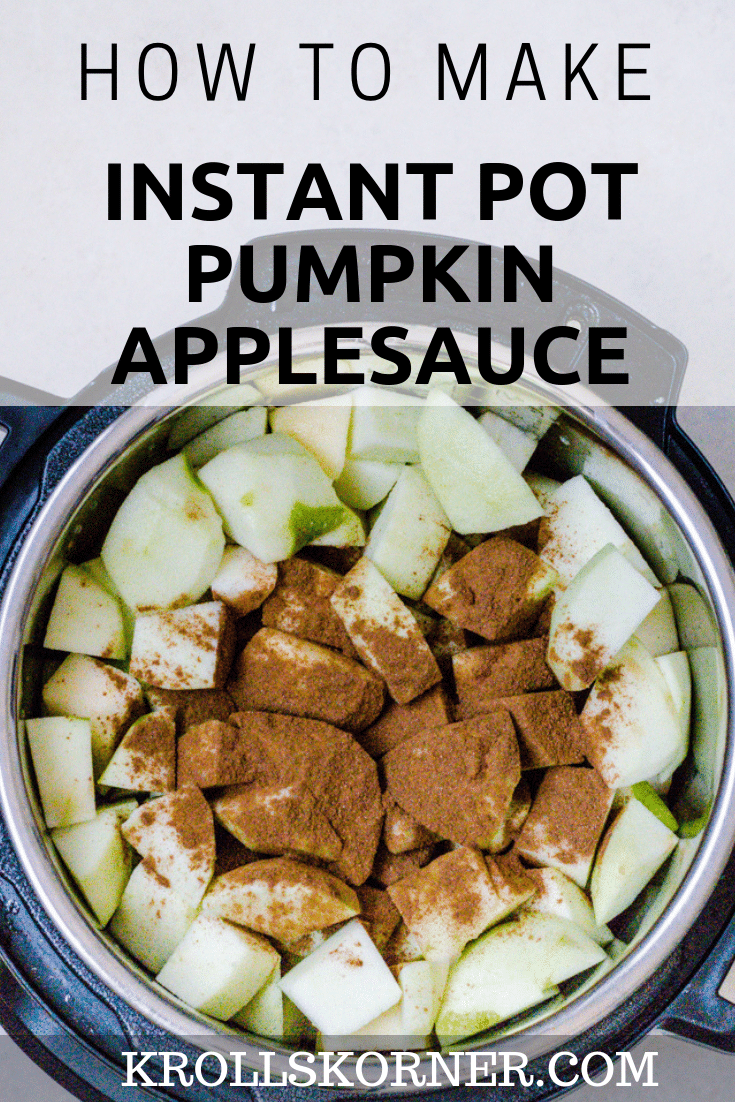 How do I mash the apples after they are done?
The Instant Pot does an amazing job at cooking down the apples. Once you take the lid off and give the apples are stir, you will have smooth applesauce. In some of my other applesauce recipes I've made, I've had to use a blender or immersion blender to get it to the consistency I prefer! You'll see with the Instant Pot no blender will be required, it turns out very smooth!
What apples are the best apples for homemade applesauce?
Tough to answer – but the ones I recommend are Granny Smith and Honey Crisp (or Pink Lady!). I love using a combination of 2 varietals – the flavors of the two together are out of this world! You can play around in the kitchen with apples that work for you – there is no wrong here!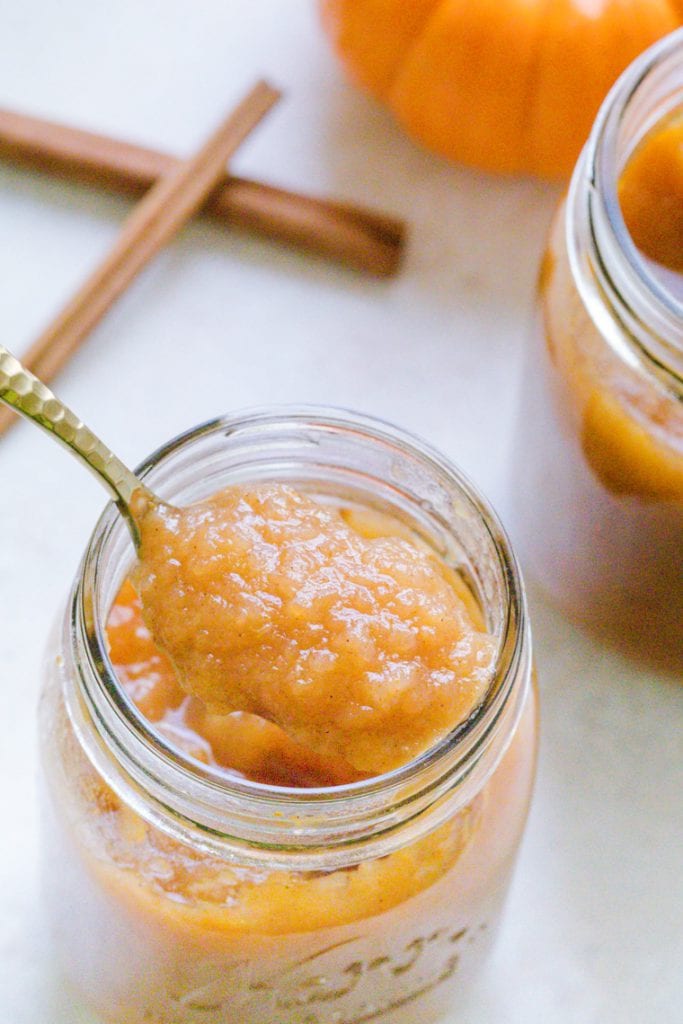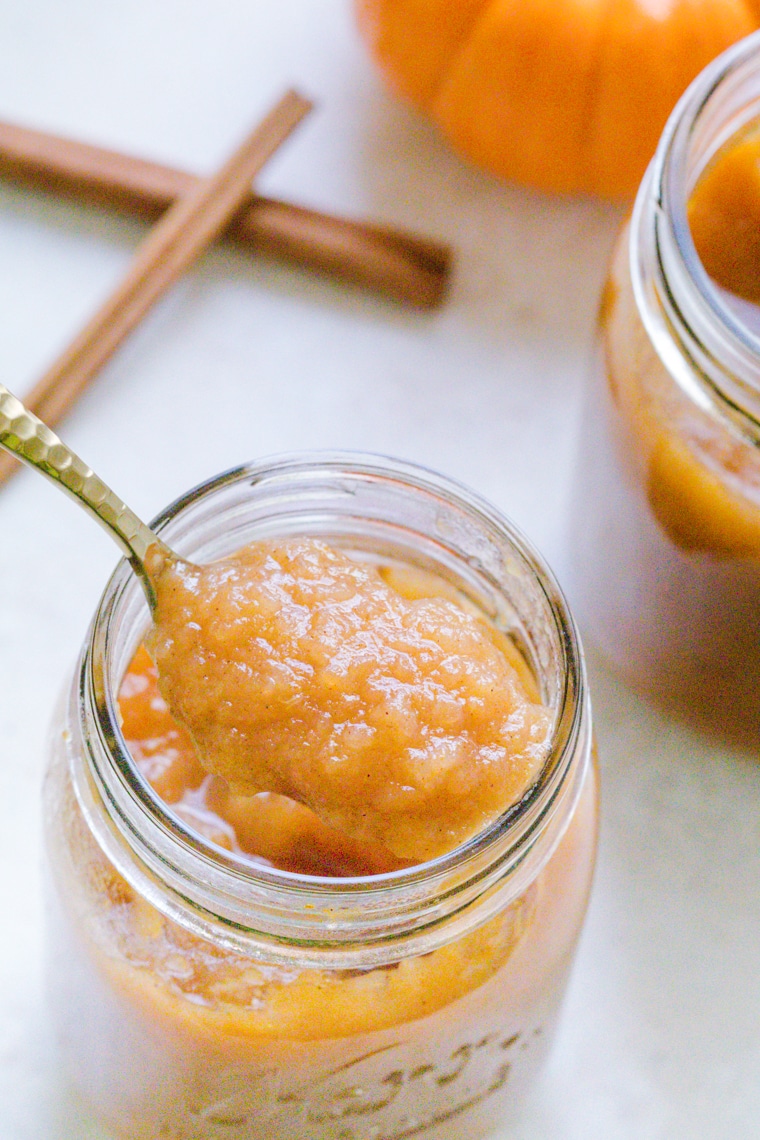 Is this recipe a no sugar added applesauce?
Yes! I find that since apples hold so much of their own natural sweetness it is not necessary for any added sugars. Some people add in honey or granulated sugar to their recipes though. Instead of adding in sugar, I like to use other spices to add flavor.
In this recipe I chose pumpkin pie spice and using the canned 100% pumpkin puree gives it a perfect Fall flavor. You won't even miss the added sugars!
What do you eat applesauce with?
This Instant Pot Pumpkin Applesauce recipes is delicious with…wait for it…VANILLA ICE CREAM! Yes, I said it. Right after I was talking about no added sugars! haha.
My boyfriend says the applesauce tastes like pumpkin pie filling! This is also a great snack by itself, on oatmeal, as a yogurt topping, you can bake with it, or add it to smoothies!
What kitchen appliances do I need to make this?
For this recipe, I am using the Instant Pot. However, this can also be made in your slow cooker or crock pot. You'll need to leave the apples in the slow cooker for 3-4 hours on low and 5-6 on high. You also may need to use an immersion blender, food processor or potato masher afterwards to get the apples to the consistency you prefer!
What can I use if I don't have pumpkin pie spice?
Essentially pumpkin spice is a blend of Allspice, Cinnamon, Nutmeg, Cloves and Ginger. If you have those spices on hand – mix Something you may not know about cinnamon is that there are different types.
Yep! There is a Ceylon cinnamon and a Cassia cinnamon. Cassia is the one you probably pick up at your grocery store. (If it is Ceylon it is usually labeled and it is more expensive). Ceylon has a sweeter, more delicate flavor than cassia does, which can be a great cinnamon to use for making a desserts.
Speaking of Ceylon cinnamon, you may have heard it may help improve your blood pressure and blood sugar levels. Some studies have shown it may curb blood sugar by lowering insulin resistance. I have even heard of some people who take cinnamon supplements for this as well. As always, please consult with your doctor before self-diagnosing!
Last thing about cinnamon: I love having cinnamon extract on hand, as well as cinnamon sticks! Cinnamon sticks are great to toss into the applesauce when cooking, and I even like to toss on in my tea! Who knew there were so many different types of cinnamon and ways to use it?! I'm going to have to find some cinnamon trees in Fresno to stock up!
What type of Instant Pot should I get?
Tough to answer. Depends on why you need it. I have a 6 quart instant pot (aka electric pressure cooker) DUO60. It is not the newest version but it certainly gets the job done! Pressure cooking using the Instant Pot has been all the craze for a while now. The Instant Pot came out in 2010 – CRAZY – but I didn't start to hear about it until about 2015.
Health Benefits of apples:
Rich in antioxidants
High in fiber, which may help improve cholesterol levels
Rich in vitamin B and C
Zero fat, sodium or cholesterol and low in calories
This recipe…
Tastes like pumpkin pie filling – I swear!
Goes great on toast, yogurt, oatmeal or even in a smoothie.
Has no added sugar (woo!)
Not overly sweet
Great for toddlers or kiddos!
Uses fresh lemon juice
Has only 5 ingredients
Will be your favorite new way to enjoy applesauce!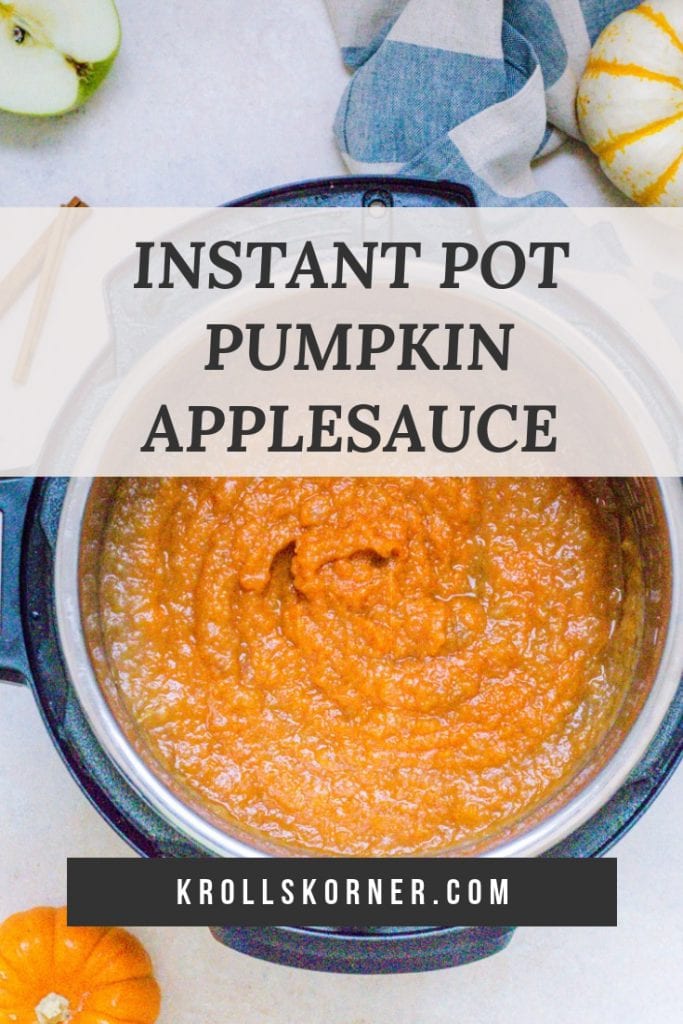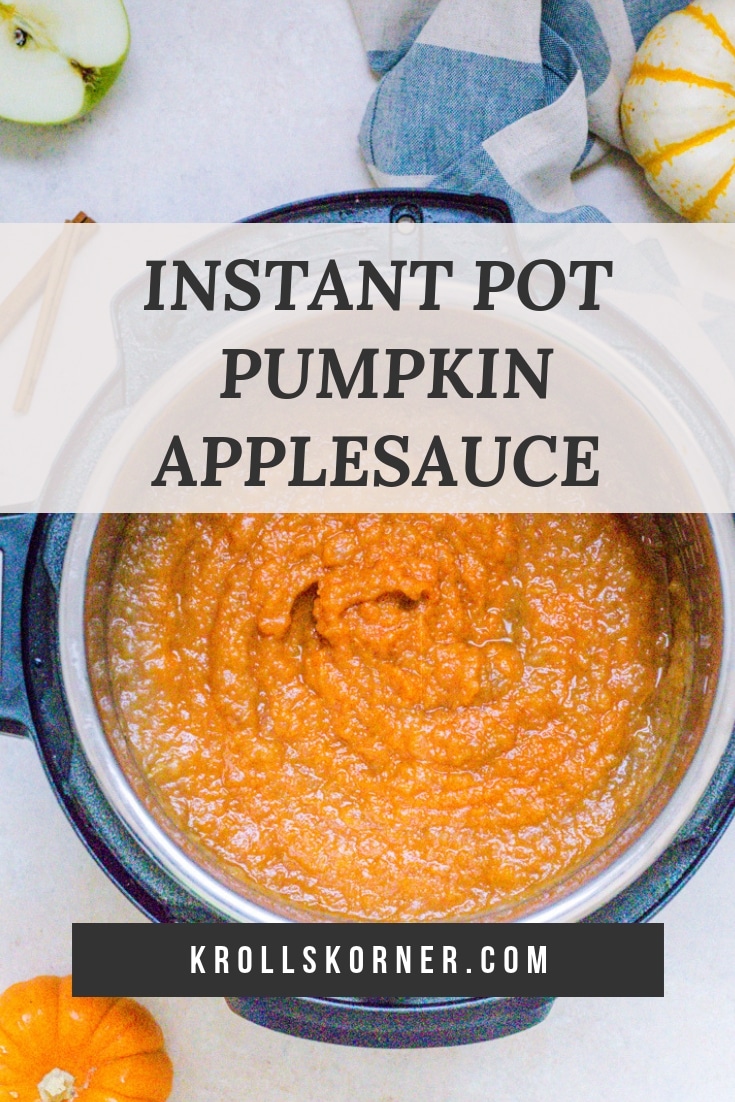 Grab your Instant Pot and let's do this!
Before You Begin! If you make this, please leave a review and rating letting us know how you liked this recipe! This helps our business thrive & continue providing free recipes.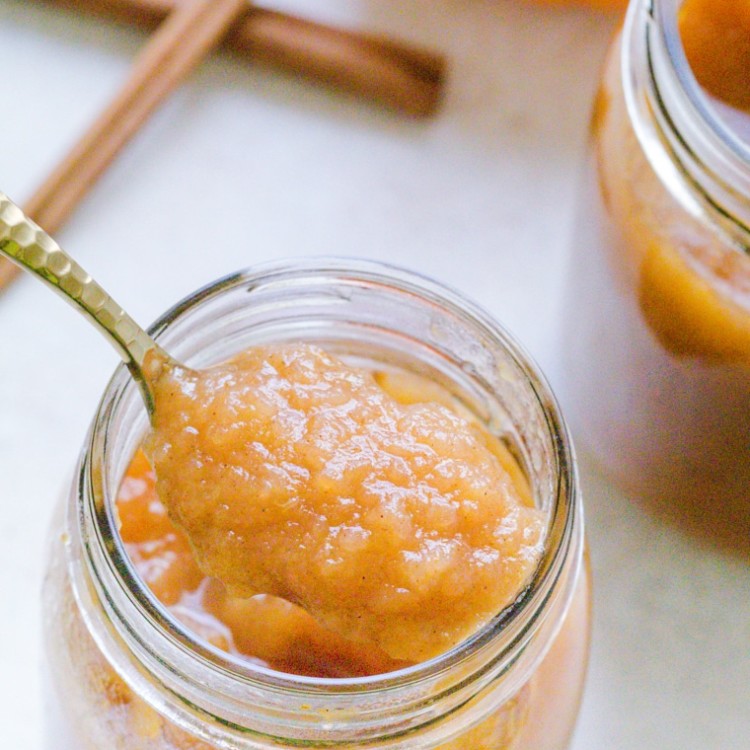 Instant Pot Pumpkin Applesauce
INSTANT POT Pumpkin Applesauce is so EASY and tasty! Only 5 ingredients and no added sugars, yet bursting with all the Fall flavors. Store in mason jars in the fridge for a quick snack!
Ingredients
10-12

large

apples (I used a mix of Granny Smith and Honey Crisp)

3/4

cup

filtered water

1

Tbsp.

Pumpkin Pie Spice

1

lemon, juiced

2

tsp.

vanilla extract

2/3

cup

100% Pumpkin Puree

((not pumpkin pie filling))
Last step! If you make this, please leave a review and rating letting us know how you liked this recipe! This helps our business thrive & continue providing free recipes.
Instructions
Wash, peel and roughly chop apples into cubes. Discard the core. Take the trivet out of the Instant pot and place the apple cubes in the Instant Pot.

Add in the water, pumpkin pie spice and lemon juice to the apples and gently stir.

Plug in the Instant Pot, place the lid on and secure it. Turn the vent to SEAL.

Press the manual mode and dial the time to 5 minutes HIGH pressure. The Instant Pot will take about 8-9 minutes to come to pressure, then it will start the countdown from 5 minutes.

Once the 5 minutes is over then the Instant Pot counts UP. Let the Instant Pot count up for 10-15 minutes (this is called natural release). Using a towel or a pot holder turn the knob to VENTING and let the steam release. Always have enough distance away from the Instant Pot when doing this since the steam releases quickly and is very hot.

Remove the lid, and stir the applesauce. Lastly, stir in the pumpkin puree! Store in an airtight container in the fridge once it cools.
Notes
Easily leave out the pumpkin if you want regular applesauce.
Nutrition Information
Serving:
0.5
cup
,
Calories:
93
kcal
(5%)
,
Carbohydrates:
24.2
g
(8%)
,
Protein:
0.6
g
(1%)
,
Sodium:
2.4
mg
,
Potassium:
203.1
mg
(6%)