Easy Homemade Cranberry Applesauce
Appetizers & Snacks | Published Nov 6, 2017 | Updated Aug 20, 2019 | By Tawnie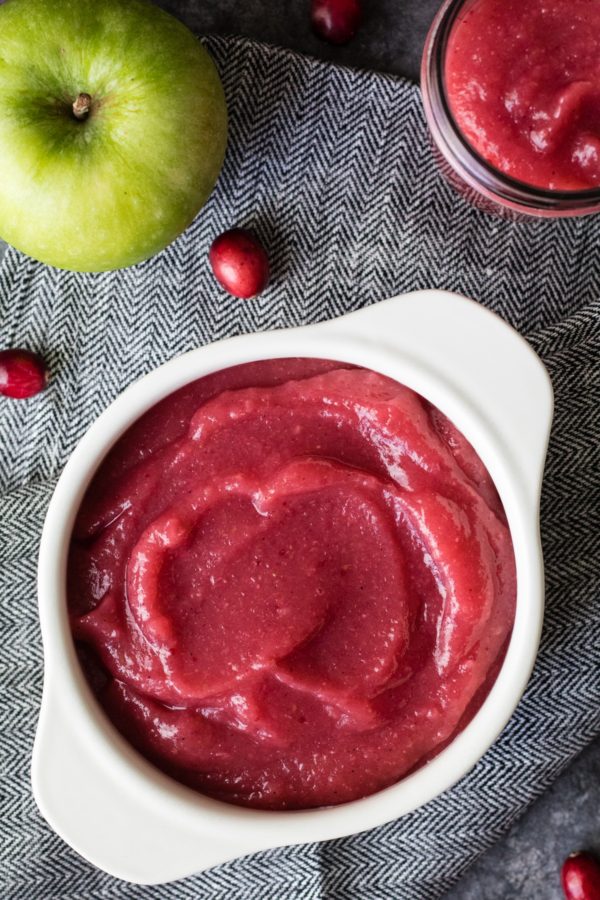 Cranberry applesauce is a fun way to enjoy applesauce during the holidays! This "cranapplesauce" will make your mouth water and your home smell divine!
The only time I seem to cook with fresh cranberries is in November. But I want to change that because they are so amazing. It's almost like every time I cook or bake with them I ask myself, "Why don't I do this more often?!" From this cranberry applesauce to cranberry-ginger sauce and cranberry scones the possibilities are endless. I want to make it all!! Back to this cranberry applesauce though. Oh. my. god. I think I found Heaven on Earth.
Not only is this cranberry applesauce beyond delicious…the fresh cranberries are very healthful for us too. Cranberries are loaded with phytonutrients which have antioxidant and antimicrobial benefits. Woo!
I've made homemade applesauce two ways: chunky and pureed. I personally prefer to leave a few apple chunks in the applesauce however I have found the majority vote is smooth, pureed applesauce. After the apples and cranberries cook down for about 35-40 minutes, use an immersion blender to get the desired applesauce consistency.
This applesauce is festive and makes for a great snack. Pair with a handful of almonds or cheese and you'll be good to go. This cranberry applesauce is delicious warm (I microwave for ~15-20 seconds) or chilled.
Let's talk about the nutritional benefits of cranberries: A well-known benefit associated with cranberries is their ability to help maintain a healthy urinary tract and prevent UTIs. Beyond those benefits, cranberries also may help reduce inflammation in our bodies and help protect against cardiovascular health risks. Additionally, cranberries are rich in fiber and vitamin C. Using fresh cranberries – like in this recipe – can be somewhat intimidating at first. So, if you are buying dried or canned cranberries be mindful of the added sugars! It is all about how you consume fresh, frozen, or canned cranberries in your diet. Think beyond trail mix…try them with baked chicken, in wild rice or quinoa, or in your morning oats!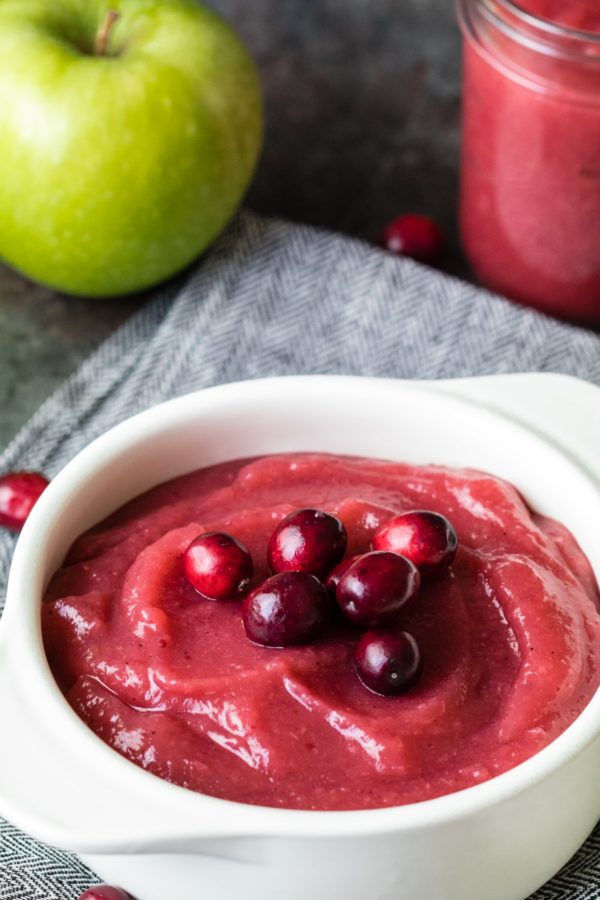 [Tweet "Celebrate #Friendsgiving with cranberries! This cranapplesauce will make your mouth water and your home smell divine! |Krollskorner.com"]
Hope you enjoy this homemade cranberry applesauce!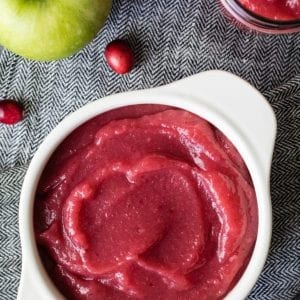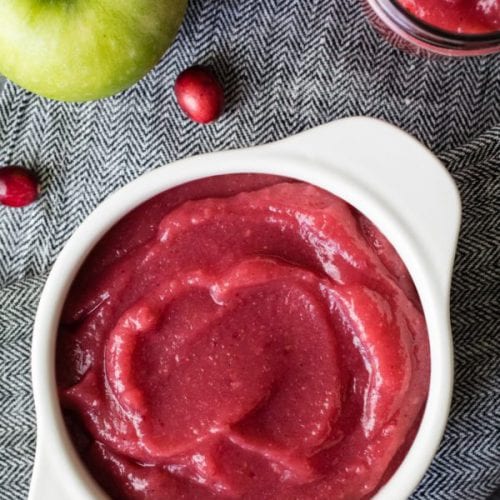 Easy Homemade Cranberry Applesauce
This ruby red cranberry applesauce is a festive way to enjoy applesauce during the holiday months!
Ingredients
10-15

Granny Smith Apples

peeled, cored and chopped

1.5

cups

fresh cranberries

1/2

cup

white sugar

3/4

cup

water

Juice from 1 fresh lemon

2

tsp.

lemon zest

2

tsp.

fresh ginger

minced

1

cinnamon stick

1/2

tsp.

salt

1/2

tsp.

cinnamon

pinch

of nutmeg
Instructions
In a large sauce pan, cook all of the ingredients over medium-high heat from 20 minutes. Then continue to cook on low until apples get mushy and to the consistency you prefer. May use an immersion blender to get a pureed applesauce. Or, you can mash the applesauce with a potato masher!

Serve warm or chilled. Keeps in fridge covered up for 5-7 days.
Hi, I'm 
Tawnie

!

Welcome to my tiny "korner" on the Internet! I am a Registered Dietitian Nutritionist who loves cookies as much as kale. (OK, maybe I like cookies a little bit more but shh, don't tell anyone). I am so glad you're here! Follow along for hassle free, realistic and approachable recipes.

More about Tawnie

I'd love to see what you made!!
Share it with me on Instagram or Facebook and tag me @krolls_korner or use the hashtag #KrollsKorner!