Sheet Pan Chicken Nachos
Appetizers & Snacks | Published Feb 3, 2019 | Updated Aug 20, 2019 | By Tawnie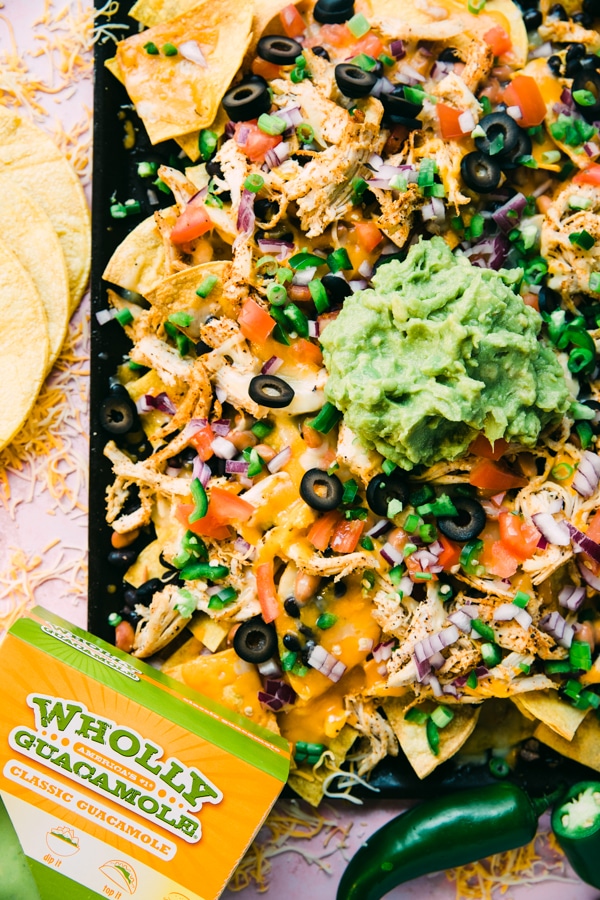 Sheet Pan Chicken Nachos loaded with guacamole are the perfect appetizer for game day or hosting guests!
Disclosure: I created this blog content in partnership with WHOLLY GUACAMOLE® I was compensated for my work, and all opinions are solely my own.
Super Bowl is today and I cannot believe it! Let's be honest, how many of us foodies are there JUST for the food and couldn't care less about the game?! (I'm guilty!)
I always look forward to the person who makes the nachos. And this year, I'm the person bringing the delicious nachos, so I don't have to wonder if there will be any there this year! I'm not sure if Super Bowl can even really be a Super Bowl without nachos. For me, they have to be fully loaded and have plenty of guacamole on top!
I'm solving your nacho appetizer needs with this super simple and tasty nacho recipe. Let me show you how you can make the BEST sheet pan nachos to your Super Bowl party!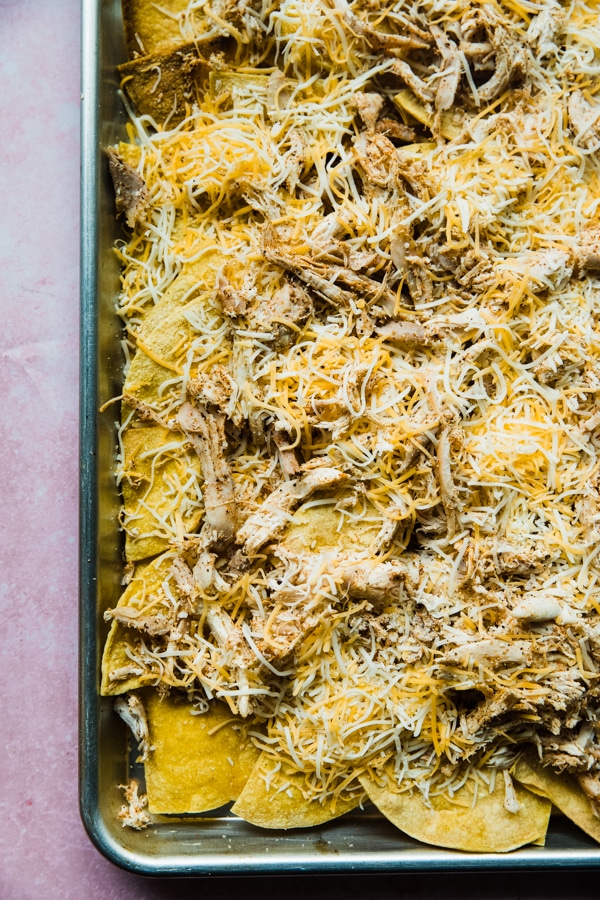 Did you know…
It's no secret that guacamole is a fan favorite when it comes to game day entertaining. Over half of Americans (55 percent) are likely to eat guacamole on game day, but we know that dealing with avocados can be a gamble. All the ones I find in the grocery store these days are either mushy or too hard, I can never find the one that's "just right!"
Avocados are not always ready when you need them; in fact, 38 percent of Americans have wanted to make guacamole but were unable to do so because the avocados weren't ready yet or too ripe. Nearly 70% of avocado users throw away all or part of an avocado because it's unusable?!
Why Wholly Guacamole makes game day easier:
Wholly Guacamole products can save you from the hassle of tricky avocados, which can throw a flag in your game day plan. There's no need for mashing or prep, so it's convenient and always ready to go when you need it, leaving more time to focus on the game. Wholly Guacamole is available nationwide at select stores and online at Walmart.com and MexGrocer.com.
Wholly Guacamole offers easy peel-and-serve guacamole trays that are perfect for pairing with your favorite veggies and chips or adding a flavorful punch to game day recipes, like this Easy Sheet Pan Nacho recipe! Find more delicious game-day recipes by visiting the Wholly Guacamole website!
Wholly Guacamole makes great-tasting guacamole using real ingredients and hand-scooped Hass Avocados, and it has NO added preservatives!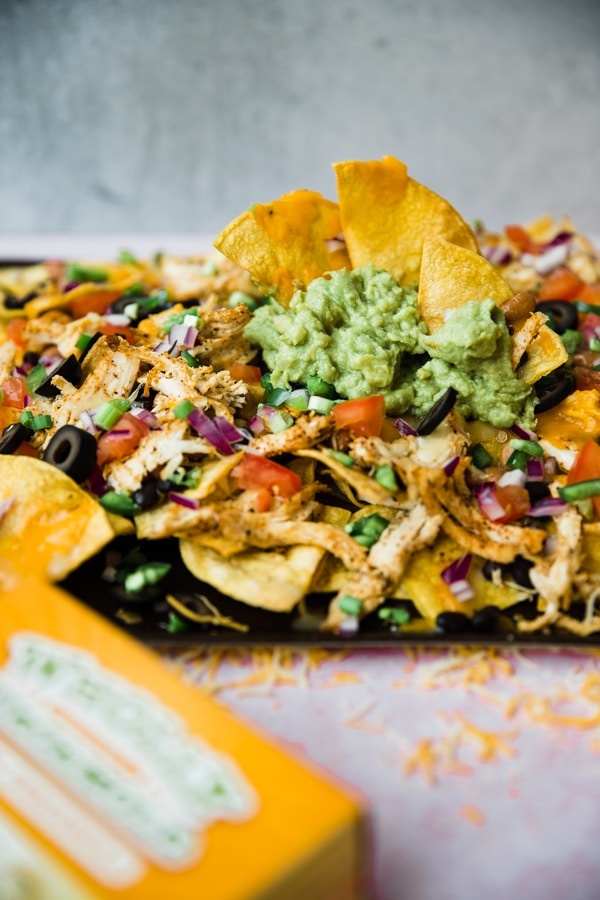 How to make homemade chips for nachos:
Use corn tortillas!
Cut them in quarters and spray PAM on a baking sheet. Lightly spray each side of the tortilla with PAM as well.
Preheat the oven to HI broil. Bake the tortilla in batches. You don't want the sliced tortillas to be stacked on top of each other because they won't get crispy! HI broil for 2 minutes on each side, and then work on to your next batch. Sprinkle the chips with a little salt when removed from the oven.
Nutrients in Guacamole:
Thanks to the avocado, guacamole provides several wonderful nutrients for our bodies!
Vitamin K (can improve body's ability to absorb and use calcium)
Vitamin A (may help to boost immune system)
Healthy fats and essential fatty acids for our bodies!
I hope you love this recipe and have an amazing Super Bowl!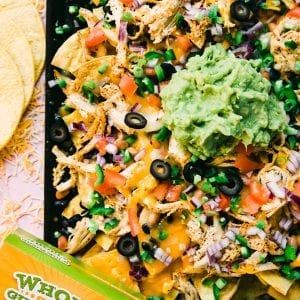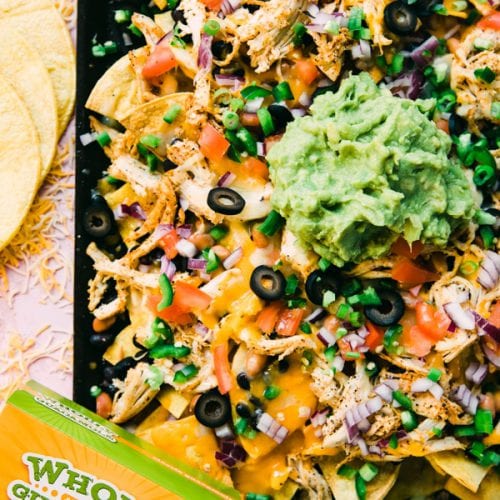 Sheet Pan Chicken Nachos
Game Day will be complete with these nachos loaded with guacamole!
Ingredients
1

lb

yellow corn tortillas, quartered

1

lb

rotisserie chicken, shredded

1

Tbsp.

taco seasoning

1/2

tsp.

salt

1/2

tsp.

pepper

8

oz.

shredded cheddar cheese

1

cup

black beans

1

cup

pinto beans

16

oz.

WHOLLY GUACAMOLE®
Your favorite toppings. Here are some of my ideas:
Olives

Jalapenos

Green onions

Tomatos

Red onions
Instructions
Make your own homemade tortilla chips! Arrange tortilla wedges in a single layer on baking sheet coated with cooking spray. Lightly coat tortillas with cooking spray as well on each side. Broil 2 minutes on each side or until lightly browned and crisp. Remove pan from oven.

Next add taco seasoning, salt and pepper in chicken and mix well to season chicken. Layer chicken, cheese and beans on top of chips and bake at 350 degrees F for 5-7 minutes, or until cheese has melted over chips.

Add the Wholly Guacamole in the center of the chips and then add your favorite toppings to the nachos!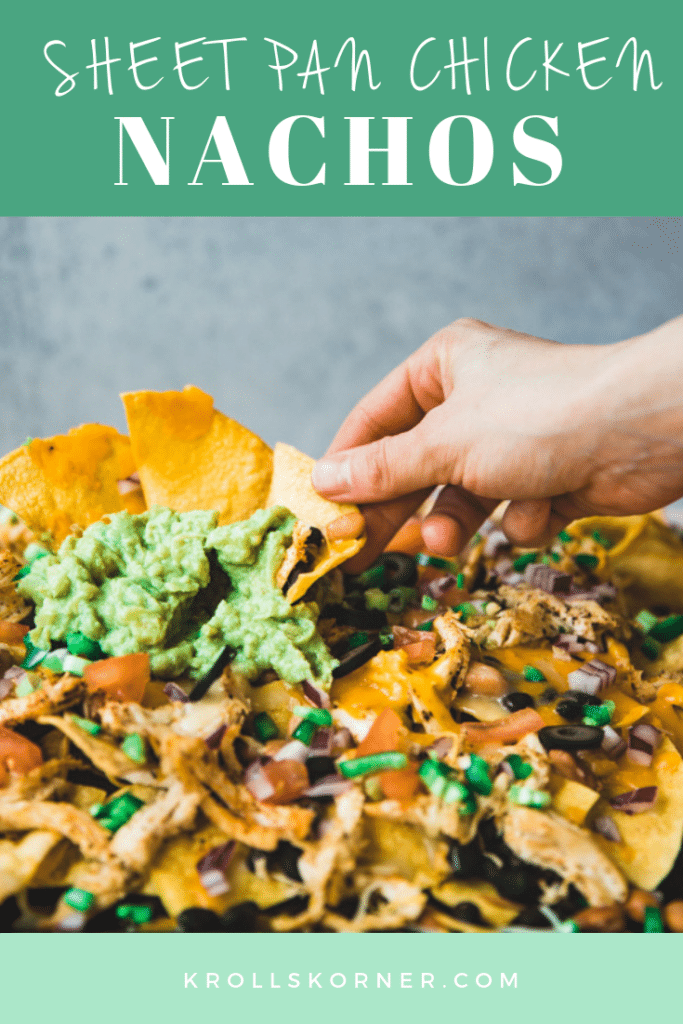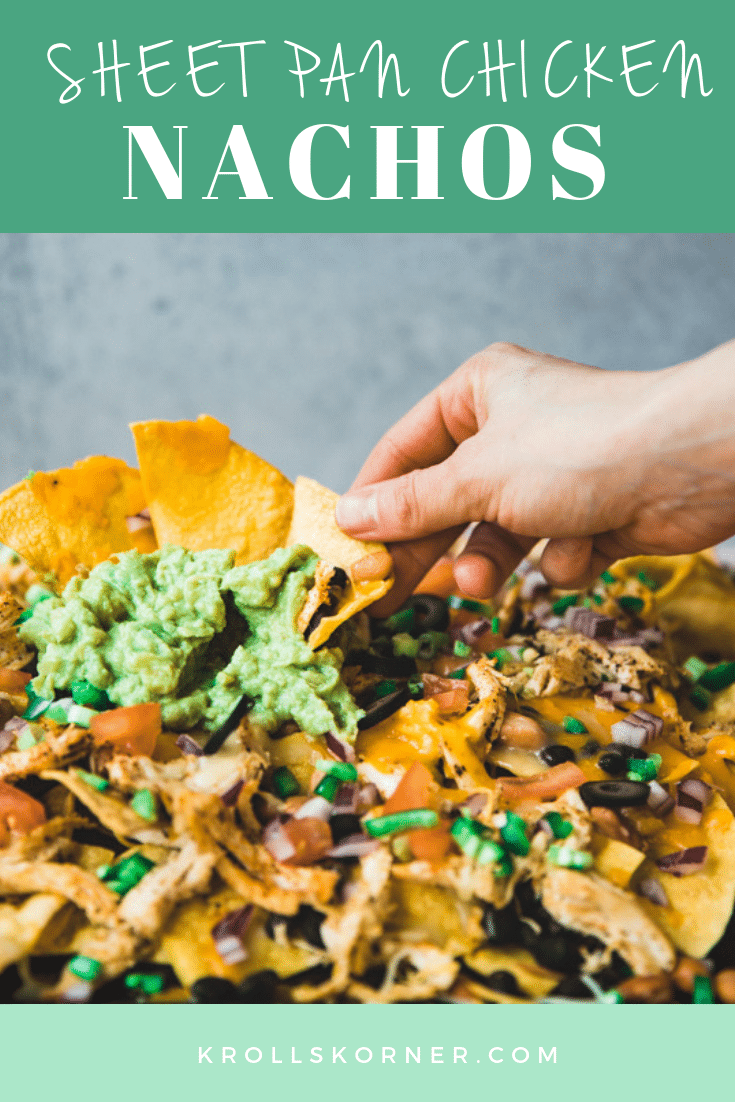 Hi, I'm 
Tawnie

!

Welcome to my tiny "korner" on the Internet! I am a Registered Dietitian Nutritionist who loves cookies as much as kale. (OK, maybe I like cookies a little bit more but shh, don't tell anyone). I am so glad you're here! Follow along for hassle free, realistic and approachable recipes.

More about Tawnie

I'd love to see what you made!!
Share it with me on Instagram or Facebook and tag me @krolls_korner or use the hashtag #KrollsKorner!