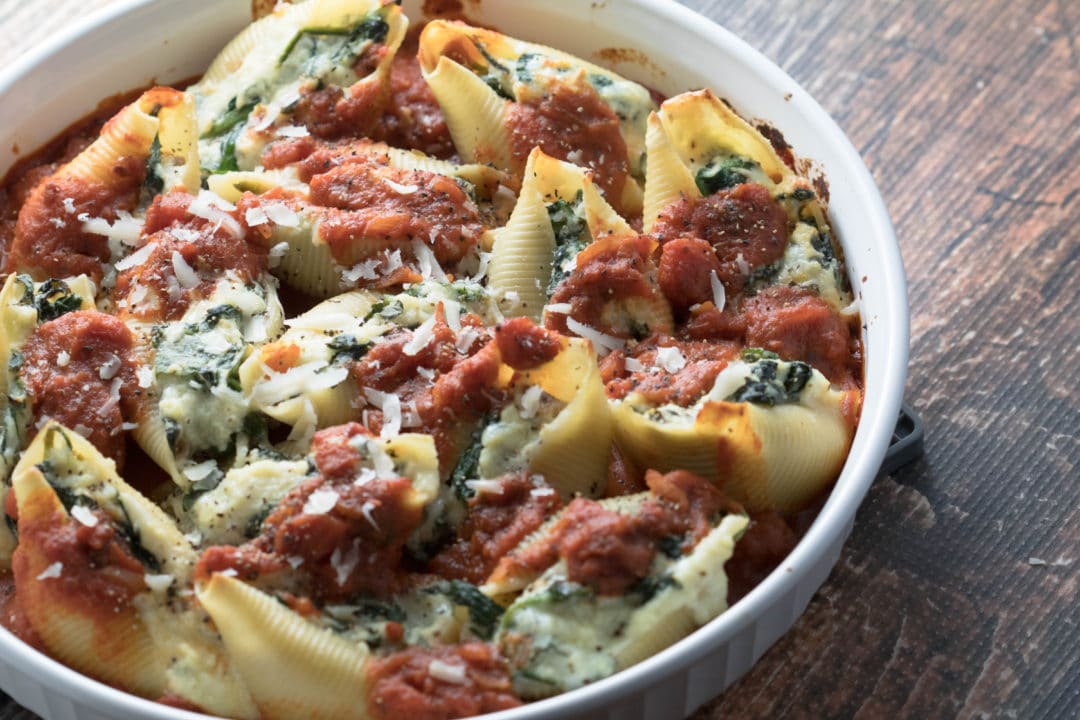 Ricotta and Spinach Stuffed Shells will be sure to make your friends and families taste buds happy!
Talk about delicious! I am so happy with how these shells turned out the other night. I like to play around with a couple different recipes and make my own so that is what happened here. I wanted a vegetarian option but then also wanted to make some with meat. So I cooked some of these shells with Italian sausage and the others purely ricotta cheese and spinach. This recipe is very easy, fast, and will leave you and your loved ones satisfied.
Worried about this recipe not being "healthy" enough? I like to promote eating all foods in moderation. Having these stuffed shells won't ruin your diet, limit yourself to 2-3 shells, and then fill up on something else…perhaps an edamame salad or another salad/vegetable of your choice. Enjoy little things you do like to eat so you are not left feeling deprived or end up binge eating later on.
Before you cook: Make sure not to cook the shells too long, because they will cook a little more when placed in the oven. You don't want your shells to fall apart!
Ricotta & Spinach Stuffed Shells
2015-02-06 10:48:55
Delicious and easy dinner!
Ingredients
16 jumbo pasta shells
1.5 Tbsp. EVOO
2 cloves fresh garlic, minced
1 jar or 1 1/4 cup marinara sauce (I used homemade pasta sauce)
Italian Sausage (optional)
12 oz. ricotta cheese (skim-milk)
1 cup shredded mozzarella
1/2 cup grated Parmesan, plus more for serving
1 egg
1 teaspoon of garlic powder
1Tbsp. fresh basil
4 cups chopped spinach
Salt and pepper TT (to taste)
Instructions
Preheat oven to 375 and cook shells al dente, drain and set aside. Run cold water over the shells to halt the cooking process.
Heat olive oil in pan for about 1 minute, and then add in garlic, cook for 1-2 minutes. Then add in spinach & cook for 3-4 minutes or once leaves wilt and turn bright green. Remove from heat and let cool.
In a bowl mix together the ricotta, spinach, egg, mozzarella, Parmesan, basil, garlic powder, salt and pepper until combined. Line about 1/2 cup of the pasta sauce into the bottom on a 8x8 inch baking dish. Stuff each pasta shell with a heaping Tbsp. of the spinach/ricotta mixture and place in dish. *If using Italian sausage, put ground sausage in first, then cheese mixture on top.
Cover the shells with the leftover red sauce and bake, covered with foil, for about 25 minutes.
Remove the foil and then cook for another 10 minutes. Serve warm with Parmesan sprinkled on top.
Krolls Korner https://krollskorner.com/
Enjoy! 🙂