Pumpkin Pie Protein Overnight Oatmeal
Breakfast | Published on Sep 10, 2017 | Last modified on Sep 19, 2019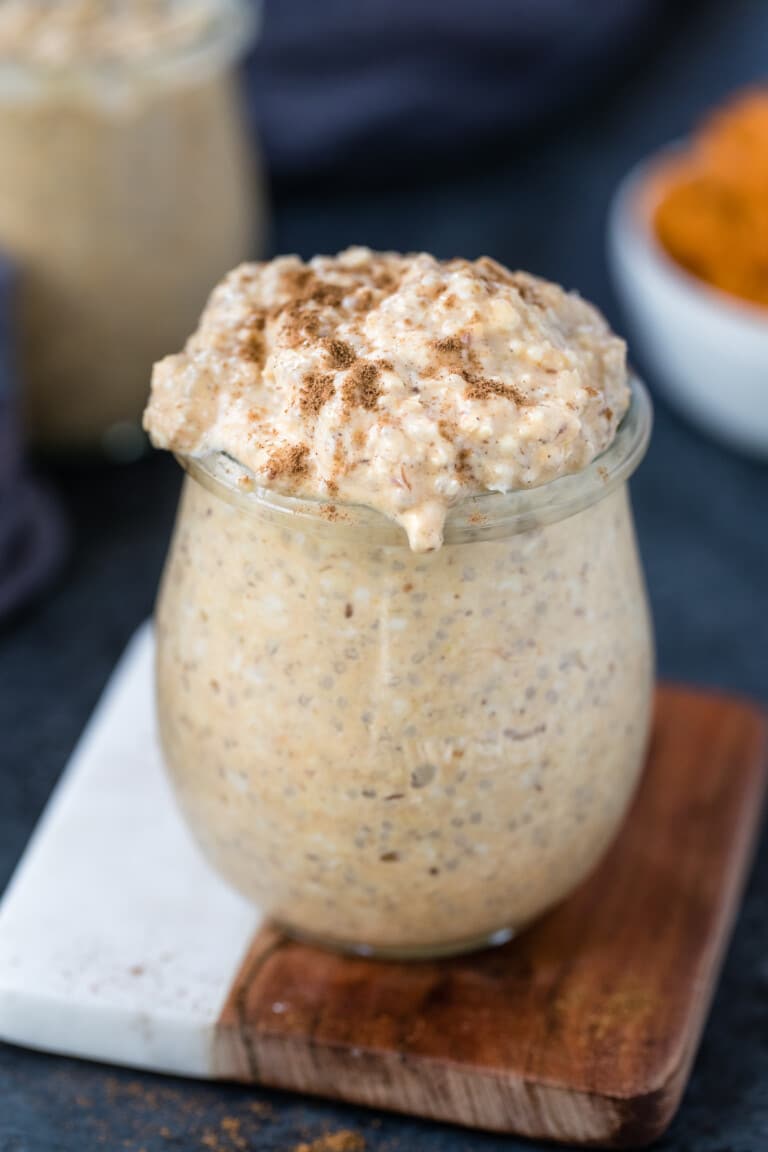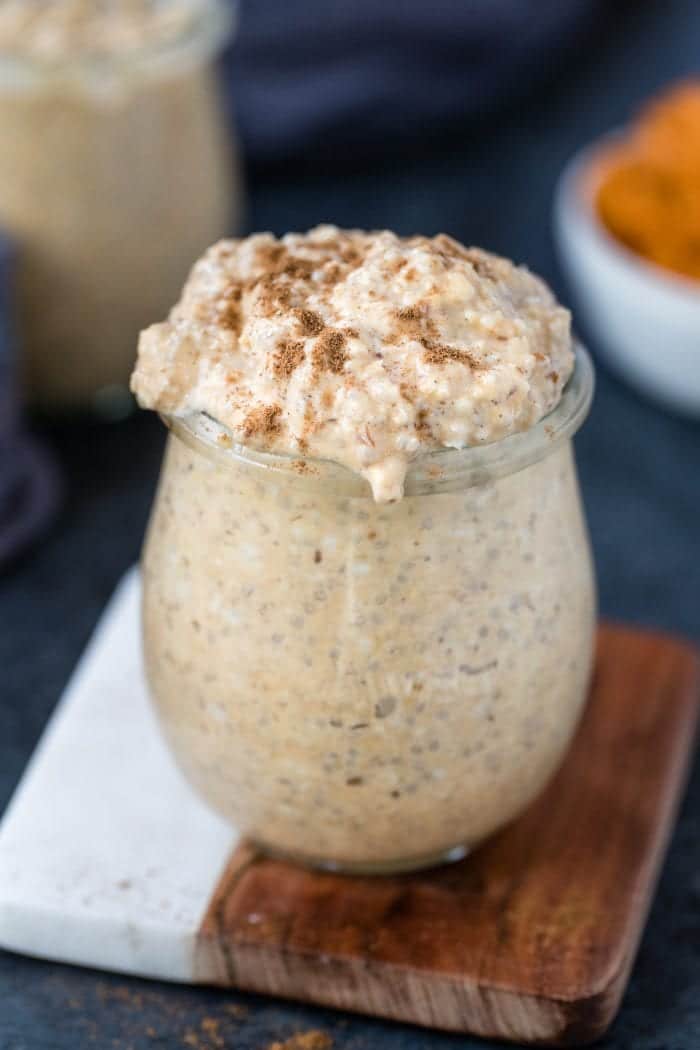 Pumpkin Overnight Oats are perfect for those busy mornings! Plus, pumpkin screams Fall — it's a must have! 
Creating these pumpkin overnight oats
Overnight oats are great for a healthy breakfast "fast food." You can grab it out of the fridge and off you go! There are endless varieties of overnight oats you can make & this recipe is only one option.
These pumpkin overnight outs are SO good and they're SO simple to make too! When I had my mom try it out she said, "Oh my gosh, it tastes like pumpkin cookie dough…where is the vanilla ice cream?!"
This is a perfect breakfast to prepare the night before especially if your mornings seemed rushed.
What are overnight oats?
If you've never made overnight oats before, you're missing out! They're essentially a mixture of oats, milk, yogurt, and your choice of spices. You mix everything together, then pop the oats in the fridge overnight (hence the name) and in the morning the oats have soaked up all the liquid and are super soft.
This particular recipe is a high protein overnight oats recipe. I added vanilla protein powder to my overnight oats to add flavor and ensure I stay full all morning long.
Pumpkin Pie Protein Overnight Oats are perfect for Fall & those busy mornings! krollskorner.com
Click To Tweet
Health benefits of oats
These pumpkin pie overnight oats benefit you in a multitude of ways. Oats — the star ingredient — are particularly good for you. Here's how oats can benefit your body:
Eating oats helps lower LDL (bad) cholesterol and may help reduce the risk of heart disease.
Oats help you feel fuller longer (due to the fiber content). This may help control your weight.
Oatmeal and oats may help lower blood pressure.
Oats may help reduce your risk of type 2 diabetes –> soluble fiber helps control blood sugar.
Oats help cut the use of laxatives, without the side effects associated with medications.
Oats are high in beta-glucans. This is a kind of starch that stimulates the immune system and inhibits tumors. This may help reduce your risk of some cancers.
Early introduction of oats in children's diets may help reduce their risk of asthma. (Good to know right?!)
Oats are higher in protein and healthy fats, and lower in carbohydrates than most other whole grains.
Oats contain more than 20 unique polyphenols called avenanthramides, which have strong anti-oxidant, anti-inflammatory, and anti-itching activity.
Pumpkin overnight oats ingredients
To make this healthy overnight oats recipe, here's what you'll need:
100% pure pumpkin puree
Old-fashioned
Almond milk
Plain Greek yogurt
Pumpkin pie spice
Cinnamon
Chia seeds
Ground flaxseed
Vanilla extract
Salt
Vanilla protein powder
Optional toppings: maple syrup, walnuts, or pecans
How to make pumpkin overnight oats
In a medium sized bowl, mix together the pumpkin, yogurt and milk. Add all remaining ingredients and stir until combined. Divide the oats between two mason jars. Place the lid on and place in the refrigerator for a minimum of 1 hour or overnight.
Enjoy these overnight oats with protein powder in the morning with your favorite toppings! You may want to add more milk if the oats are too thick for your preference. Let me know your thoughts and if you try the recipe out!
Are oats gluten-free?
Oats are naturally gluten-free, but may be contaminated with gluten during growing and processing. Look for oats certified gluten-free if you are sensitive to gluten or have Celiac disease.
Can I make these pumpkin overnight oats dairy-free?
Yes, very easily! I personally love my overnight oats with Greek yogurt, but you're welcome to use your favorite non-dairy yogurt instead. If you have a favorite brand of non-dairy yogurt, please leave me a comment below so I can try it out in my next batch of pumpkin pie overnight oats.
How long do overnight oats last?
These pumpkin overnight oats will last up to 5 days in the fridge. Note that the oats will continue to soften the longer they sit in the fridge.
Tips for making pumpkin overnight oats
If you don't have almond milk on hand, you're welcome to use another kind of unsweetened milk in this protein overnight oats recipe (dairy or non-dairy milks may be used).
I don't recommend substituting quick oats or steel cut oats in this recipe. Old-fashioned works best for overnight oatmeal.
And make sure you're buying pure pumpkin puree at the store and not pumpkin pie filling. Pumpkin puree is unsweetened and packed with health benefits!
More easy breakfast recipes:
PIN this Pumpkin Pie Protein Overnight Oat Recipe for later!

I'd love to see what you made!!
Share it with me on Instagram or Facebook and tag me @krolls_korner or use the hashtag #KrollsKorner!