Instant Pot Halloween Deviled Eggs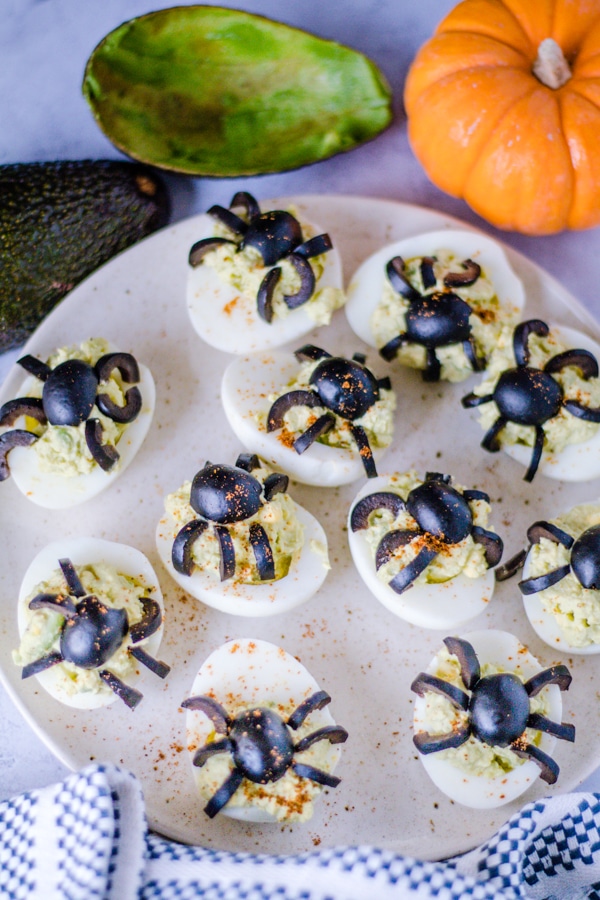 These super healthy and delicious Halloween Spider Avocado Deviled Eggs are so fun and everyone will love them this Halloween!
I've been kind of obsessed with olives ever since I went on an Olive grove tour with the California Olive Committee!
Now that it's Halloween…I've realized there are so many cute Halloween recipes that use black olives to decorate. Genius idea!
If you're an olive fan like me, you know olives have a place other than on combination pizza. The culinary uses for them is endless! And yes, eating them off of your fingers is always acceptable in my house too!
I made these deviled eggs as a spin off version of these Easy Avocado Deviled Eggs on my blog! In that recipe, I said to make your deviled eggs on the stove. If you are intimidated about making hard boiled eggs or have issues peeling hard boiled eggs, I wrote a whole post on how to make the perfect hard boiled egg to help!
If you have an Instant Pot…you'll fall in LOVE with making your eggs in it. It's probably the easiest thing I've done all month! haha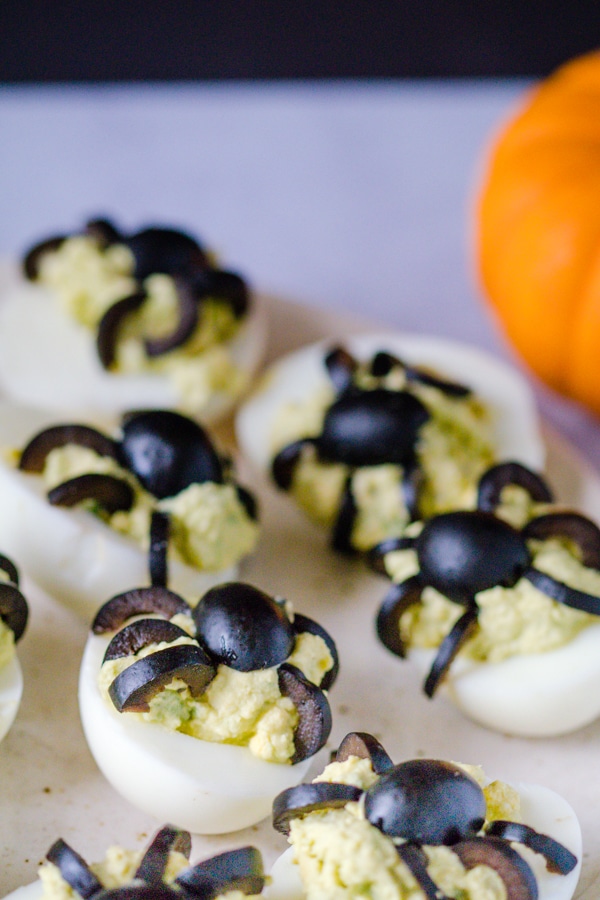 HOW TO MAKE HARD BOILED EGGS IN THE INSTANT POT:
Grab 6 eggs!
Put the trivet in your instant pot. (It's probably already in there!) A steamer basket works well too if you can't find the trivet. Pour 1 cup water in the Instant pot.
Place your eggs carefully on the trivet/steamer basket. Be sure they are not touching.
Secure the lid and plug the Instant pot in. Turn the Instant Pot to manual and cook for 8 minutes. Make sure valve is on sealing and not venting. Once the Instant Pot starts to beep and time is done, use tongs to turn the valve to venting to release the pressure yourself (AKA Quick release). You don't want your eggs to be sitting too long!
Immediately remove them and place in an ice bath. I just take a large bowl, fill with some ice cubes and pour cold water in! After a few minutes, you will be ready to peel the eggs! The shell comes off unbelievably easy!
ARE DEVILED EGGS EVEN HEALTHY FOR ME?
YES. I use Greek yogurt instead of mayo. I also use avocado in these ones to make them even creamier and for a boost of healthy fats! Typically deviled eggs are loaded with a lot of fat and excess calories (which can be okay in moderation) but these ones are a high protein snack and nutrient dense! And don't forget – yolks are where the nutrition is at! No one will know these
[Tweet "Healthy Halloween Avocado Deviled Eggs made with Greek yogurt and avocadol! #krollskorner #halloween"]
Can I make deviled eggs in advance?
Personally, I like to make this recipe the same day I serve it. It really doesn't eat up much of your time. The most time consuming part of this recipe is cutting the olives and making the cute spiders on top!
BUT if you wish to make in advance, keep the yolk mixture and egg whites separate. Also, be sure to add in a tsp. or so more of lime juice to the egg/avocado filling so the avocado doesn't brown! As far as leftovers go, if these don't all get eaten at the party…try to consume them with in the following 3 days!
More Halloween recipes:
Before You Begin! If you make this, please leave a review and rating letting us know how you liked this recipe! This helps our business thrive & continue providing free recipes.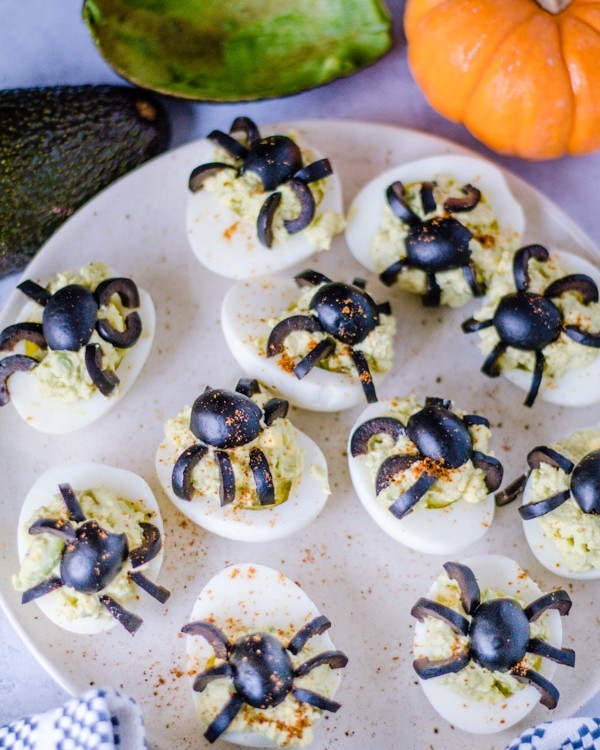 Instant Pot Halloween Deviled Eggs
A HALLOWEEN appetizer you'll fall in love with! These spooky Spider Deviled Eggs are a healthier version since they are made with avocado, Greek yogurt and topped with California Ripe Black Olives!
Ingredients
6

eggs

1

large

Hass avocado

1/3

cup

Greek yogurt, plain

1

Tbsp.

Lime juice

1/2

tsp.

garlic

1/2

tsp.

Dijon mustard

pinch

Salt and pepper to taste

pinch

Paprika for garnish

1/2

cup

Black olives for decoating
Last step! If you make this, please leave a review and rating letting us know how you liked this recipe! This helps our business thrive & continue providing free recipes.
Instructions
Make hard boiled eggs using the Instant Pot. Directions are above in the post! Or, make them any way you know how.

Once the eggs are done, cut the eggs in half and carefully remove the yolks. Place in a medium sized bowl and smash with the avocado and remaining ingredients (except Paprika and olives)

Place the egg yolk/avocado mixture in each egg white. Cut olives in half to make the spider body. Then slice the other half in small slivers to make the legs. Garnish with paprika. Cover and refrigerate or serve immediately.
Nutritional information is provided as a courtesy and is automatically calculated. It should only be construed as an estimate rather than a guarantee. Ingredients can vary and Kroll's Korner can't make any guarantees to the accuracy of this information.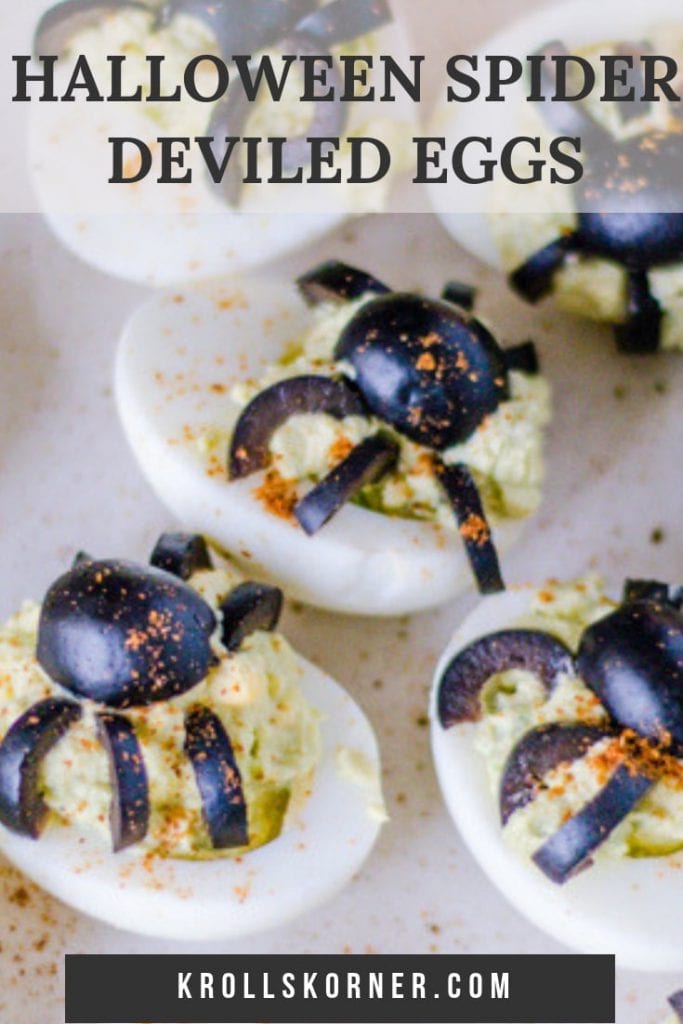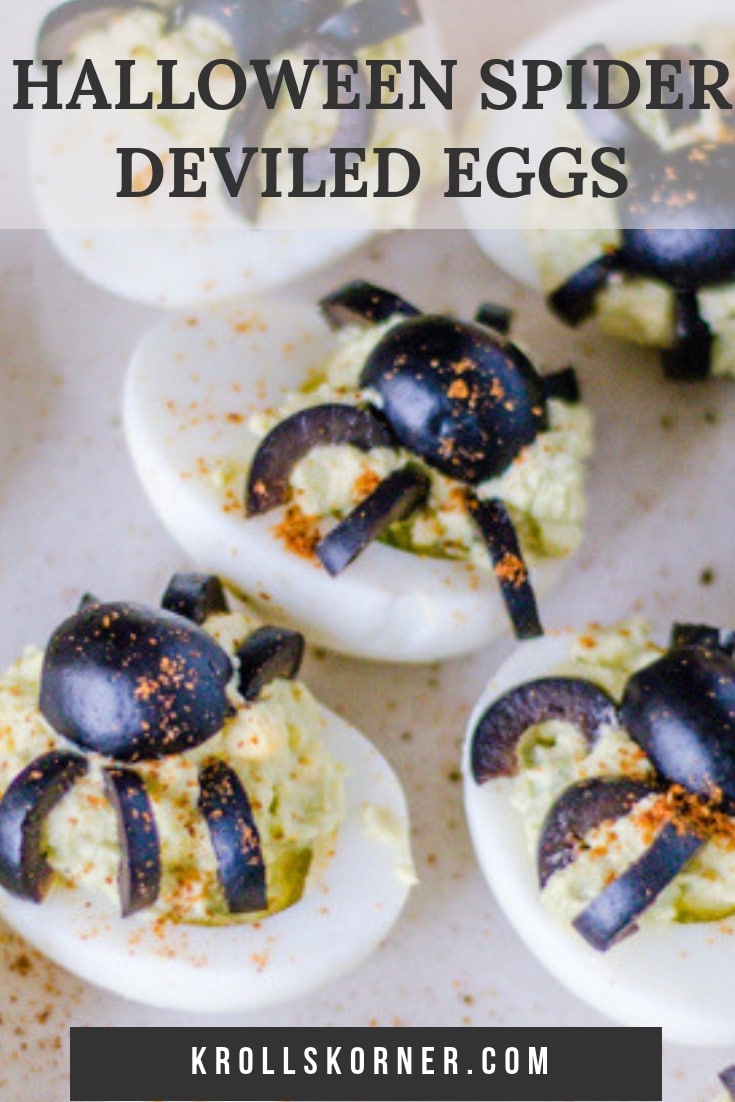 This recipe is…
Budget friendly
EASY and FUN to make!
Uses the Instant Pot to make hard boiled eggs, also very easy!
Fun for Halloween
Easy to peel
Can easily be made ahead
Healthy and tasty
The best deviled egg recipe ever!
For Halloween this year I didn't go to a party or anything. I plan to dress up at home and pass out candy to the kiddos – I always love seeing their outfits!
Growing up – our family tradition was ordering pizza for dinner on Halloween night. All the cousins and siblings would strap on roller blades, mom and dad would give us large pillow cases and we would skate around the neighborhood collecting as much candy as we possibly could! The only worries we had in the world were 1. Making sure you got your favorite candy and 2. Dreading the wait for mom to scan the candy for the thumbs up to eat it. Those were the days…
What is a fun Halloween memory or tradition you have? I'd love to hear in the comments below! Have a great Halloween!