Healthy Halloween Treat: Banana Ghosts
Chocolate | Published Oct 29, 2018 | Updated Aug 20, 2019 | By Tawnie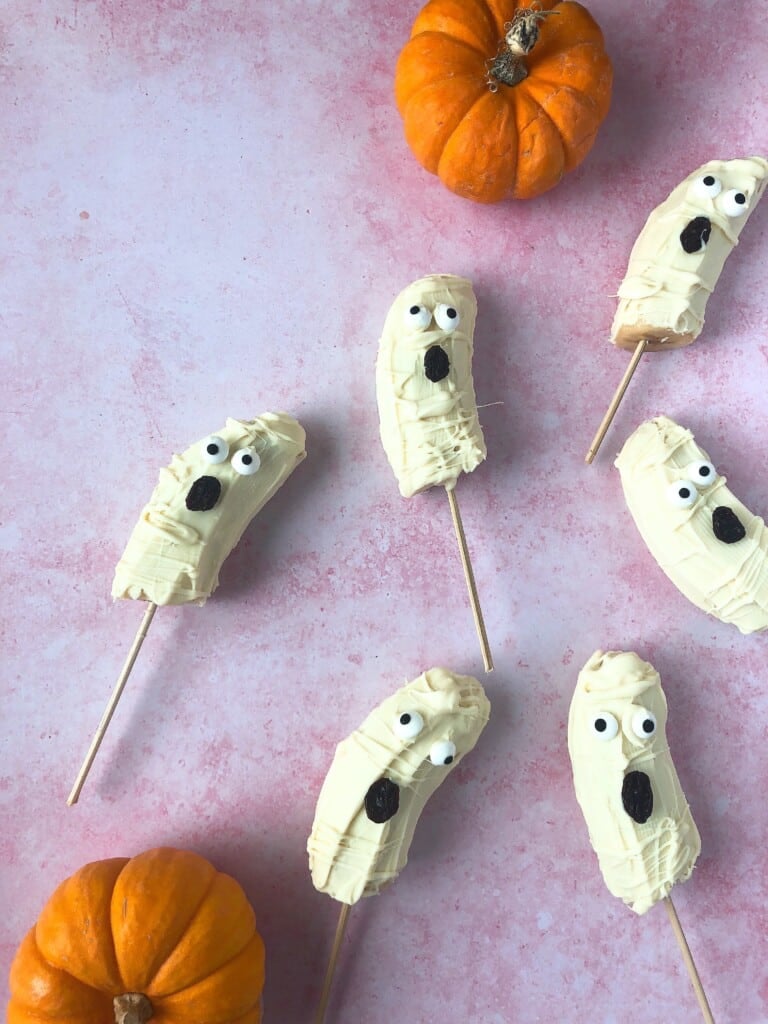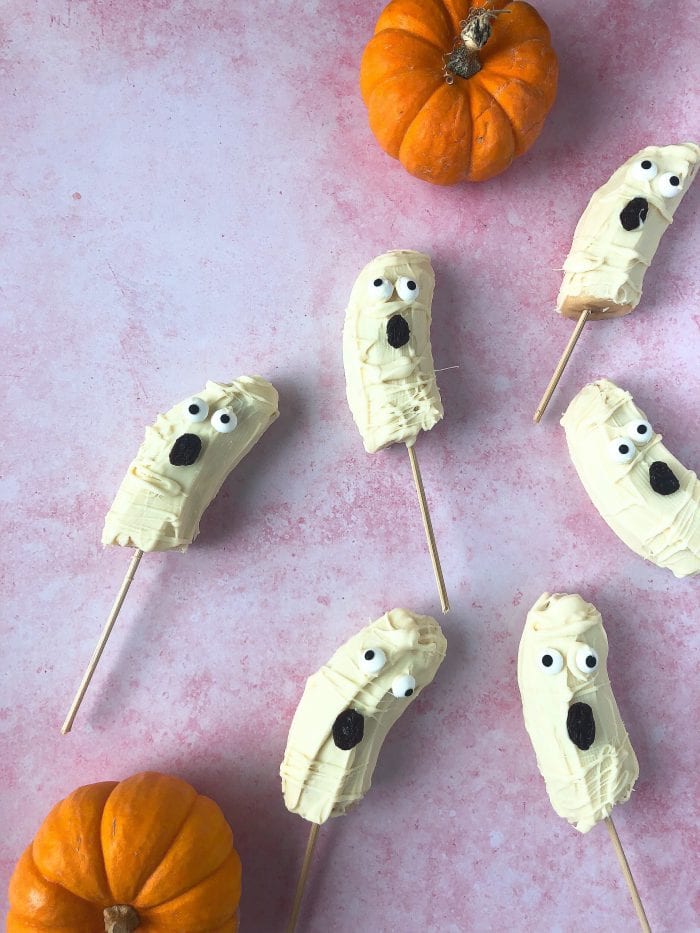 Confession: I'm not crazy about Halloween.
OK, wait. I'll semi take that back…
I just love Christmas more!! I give Halloween a little love by dressing up, lighting a Fall candle in the house and decorate the porch with some pumpkins. I actually even splurged and got a seasonal door mat (It was on sale).
In addition to that…Halloween treats are just too fun and cute to make! These Healthy Halloween Banana Ghosts are on repeat right now. I can't get over the delicious combo of white chocolate and frozen banana!
I've received such great feedback from these guys on Instagram I had to throw them on the blog. Fun for kids and just down right tasty!
HOW TO MAKE HALLOWEEN BANANA GHOSTS
Step 1: Cut the bananas in half and stick them on a popsicle stick or a bamboo skewer. Make sure not to stick it too far…it'll poke through the other end of the banana!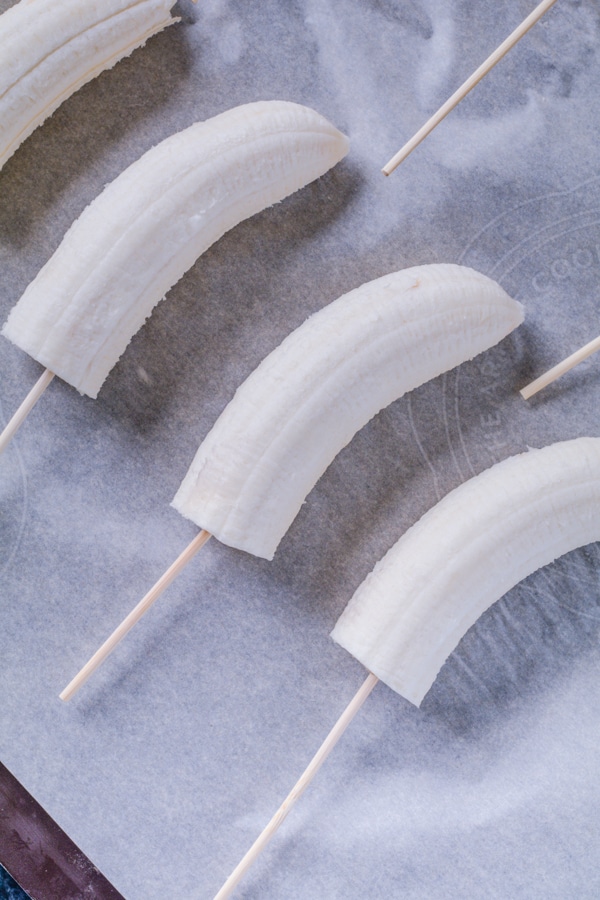 Step 2: Place on a cookie sheet lined with parchment paper and place in the freezer for 1-2 hours.
Then Step 3: Melt white chocolate (I like to use white chocolate baking chips) in the microwave for about 1 minute, or until melted. Dunk bananas in the melted chocolate and use a knife to spread around the chocolate on the entire banana.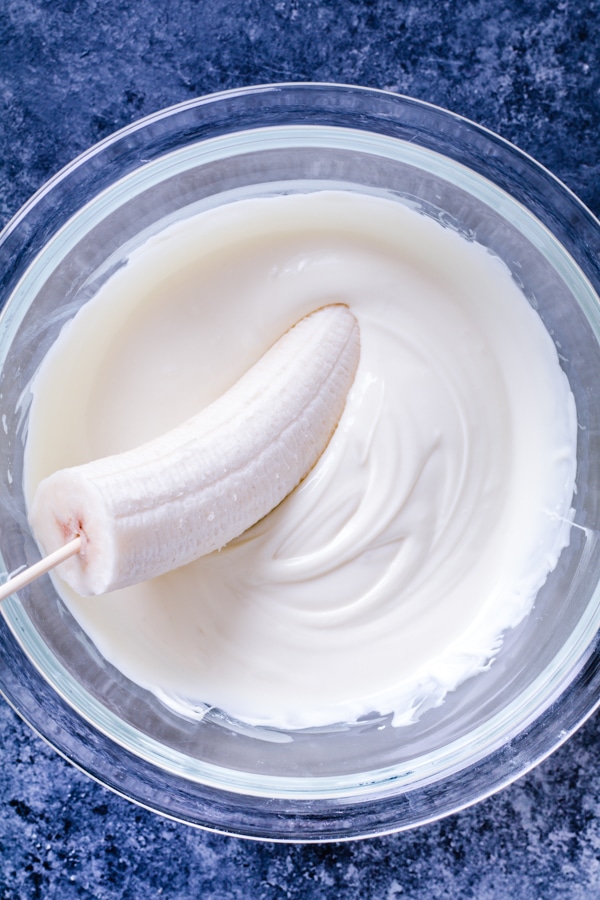 Step 4: Before the chocolate hardens, place the candy eyes on the banana and the raisin for the mouth. Or drizzle a little chocolate on the bottom so it acts as glue for you to be able to stick it on!
Step 5: If there is any remaining chocolate you can drizzle across bananas. Freeze again for another 30. Then enjoy!
HOW RIPE SHOULD MY BANANA BE?
This is totally preference. How do you like your banana if you were to simply grab a banana on the go? I don't like spots on mine. And you want to be carefully it's not too mushy/ripe. It should be juuuuust right! 😉
WHAT CHOCOLATE IS BEST TO USE?
White Chocolate for baking. It will say on the package if it is meant for baking purposes. Or, dark chocolate works too if you don't have white on hand!
WHAT IF I DON'T HAVE CANDY EYES?
You can use raisins to make the eyes too, or even chocolate chips.
This recipe is…
Easy to make
Fun for kids and the family
Perfect Halloween treat
Uses minimal ingredients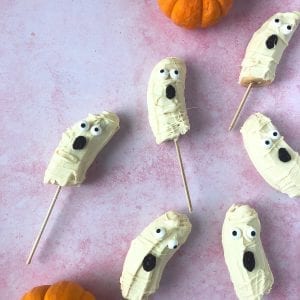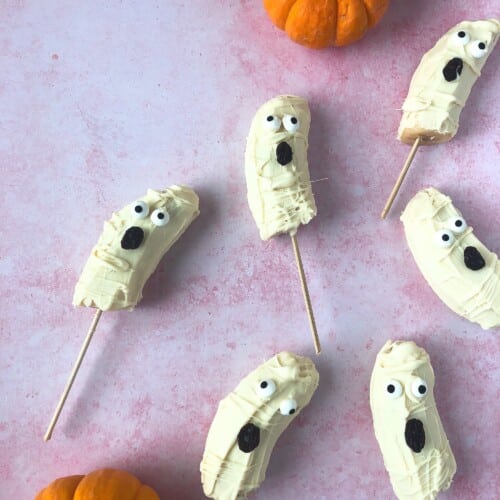 Healthy Halloween Banana Ghosts
Healthy Halloween Banana Ghosts for the WIN! These Halloween treats are fun to make, great for the kids to get involved in the kitchen, and taste incredible!
Ingredients
4

medium

bananas

3/4

bag

white chocolate baking chips

16

candy eyes

8

raisins (for the mouth)

8

bamboo skewers or popsicle sticks
Instructions
Cut the bananas in half and place on the skewers or popsicle stick. Place on a baking sheet lined with parchment paper and freeze for 1-2 hours.

Then melt chocolate chips in a microwave safe bowl for 1 minute and 30 seconds. Stir chocolate to smooth out.

Dip the frozen banana in chocolate, and use a knife to spread it around entire banana.

Add the candy eyes and raisins for the mouth. If there is any remaining chocolate drizzle it on top of bananas. Then freeze again for at least another 30 minutes. Enjoy!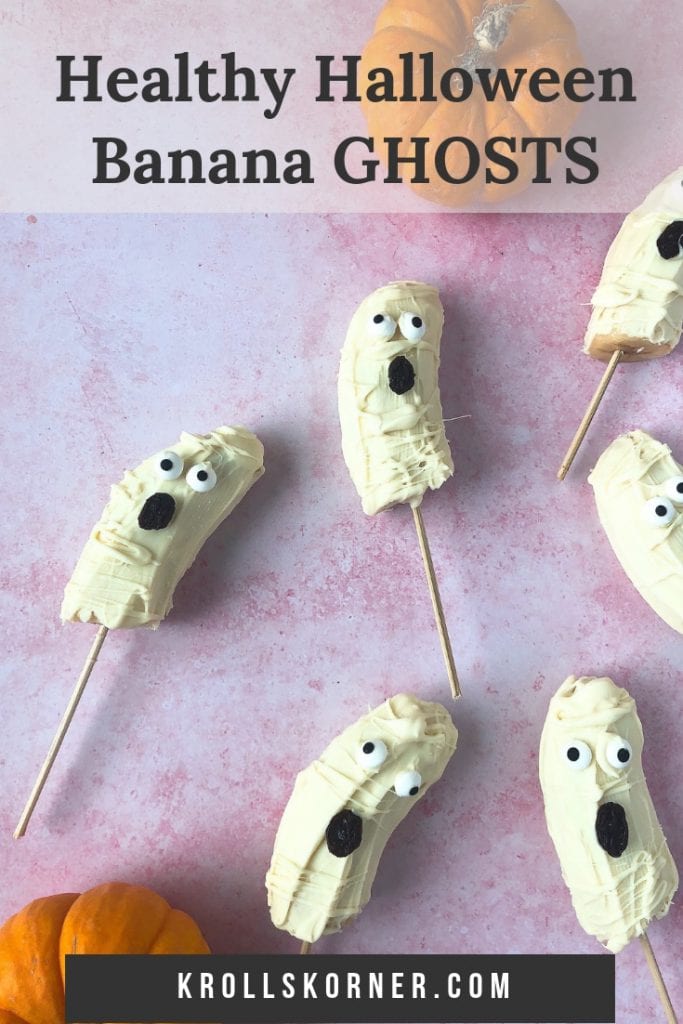 Hi, I'm 
Tawnie

!

Welcome to my tiny "korner" on the Internet! I am a Registered Dietitian Nutritionist who loves cookies as much as kale. (OK, maybe I like cookies a little bit more but shh, don't tell anyone). I am so glad you're here! Follow along for hassle free, realistic and approachable recipes.

More about Tawnie

I'd love to see what you made!!
Share it with me on Instagram or Facebook and tag me @krolls_korner or use the hashtag #KrollsKorner!