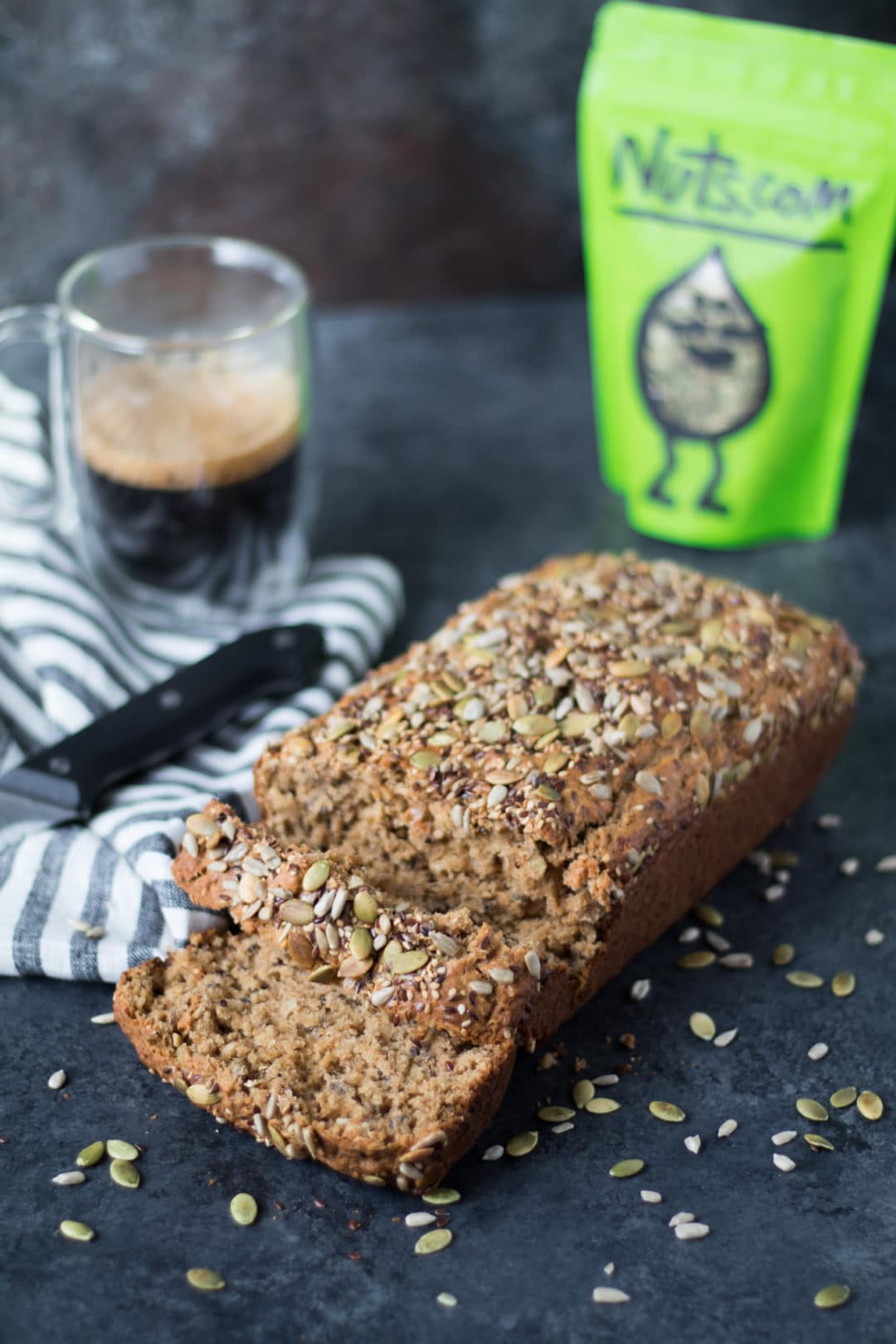 Have you made a Sprouted Seed Bread before?! If not this is an easy recipe to start with. Sprouted Seed Bread has the perfect crunch and hint of sweetness that will leave your mouth watering & begging for another slice!
Disclosure: I created this blog content in partnership with Nuts.com. I was compensated for my work, and all opinions are solely my own. Thank you for supporting the brands that keep Kroll's Korner up and running!
March is National Flour Month so I wanted to take the time to talk about sprouted whole grain flour! What the heck is it and why should it be a staple in your pantry?!
(*Note: this information is derived from Nuts.com)
Sprouted 100% Whole Grain Flour is an easily digestible source of vitamins and antioxidants and offers a healthy alternative to those sensitive to traditional flours. Traditional grains are stripped of most of their nutrients during the refining process where the bran and germ are removed. This is done in order to preserve the grain for a longer period of time. By allowing the grains to go through the sprouting process, natural grain starches are converted into vegetable sugars, making it easy for the body to absorb vital nutrients from the grain.
Sprouted grains have increased proteins, vitamins, and other essential nutrients. In fact, sprouted grains contain as many as 10 to 20 times more nutrients than processed grains! Studies have shown that the benefits of sprouted grain products not only include increased vitamins and minerals, but can also directly reduce the risk of obesity, high blood pressure, heart disease and diabetes.
Sprouted Whole Grain Flour is great for this Easy Sprouted Seed Bread recipe. I love it because it is suitable for use as a one for one replacement to all-purpose flour in most recipes. Use it to add nutrients to homemade pasta, breads, and pizza crusts by using Sprouted 100% Whole Grain Flour from Nuts.com!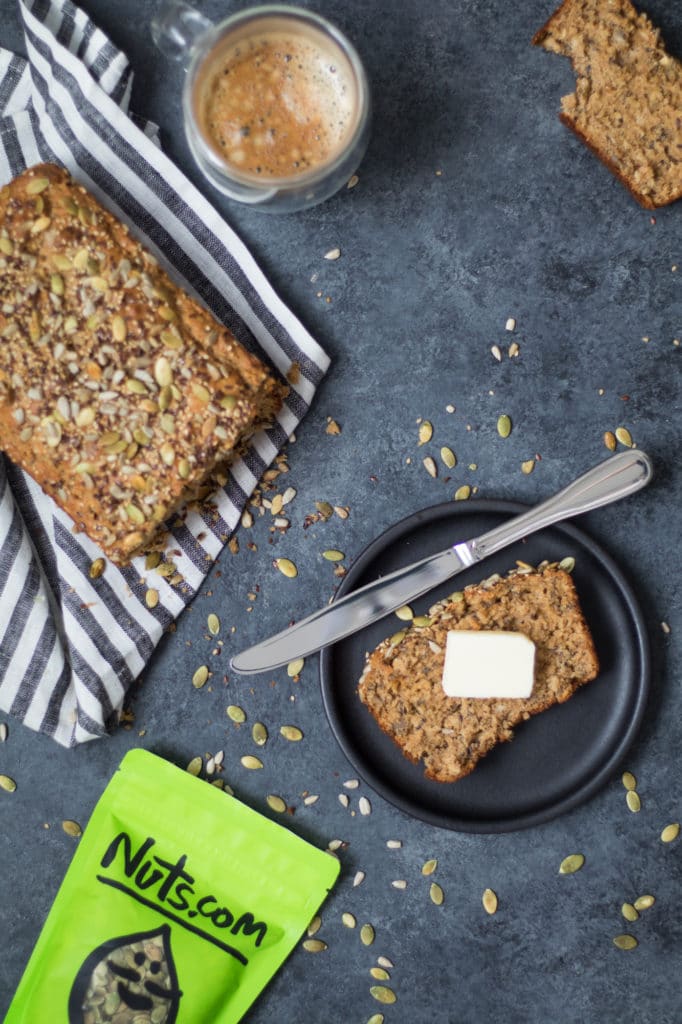 This bread is versatile because you can enjoy it as is, or preferably with a slab of button on it while it is still warm (holy yum).
OR you can even enjoy it the savory route with an egg on it – just use it like toast in the morning! So yummy and packed with nutrients and just a little bit of sweetness.

Nuts.com offer a variety of foods from nuts (to point out the obvious) to dried fruits, chocolates & sweets, coffee & teas, and pantry staples you need for cooking & baking! Ditch the hassle of rushing to the grocery store and order online with ease.
Toast to your Tuesday and make this easy peasy Sprouted Seed Bread!
Happy Baking!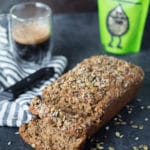 Easy Sprouted Seed Bread
Sprouted Seed Bread has the perfect crunch and hint of sweetness that will leave your mouth watering & begging for another slice! I like to enjoy with peanut butter, or with an egg on top!

Print
Ingredients
1/3

cup

sunflower seeds

1/3

cup

Pepitas, sprouted

from Nuts.com

3

Tbsp.

Flaxseed

3

Tbsp.

Sesame seeds

2

cups

Sprouted Whole Grain Flour

from Nuts.com

1/2

tsp.

baking soda

1/2

tsp.

kosher salt

from Nuts.com

1

Tbsp.

baking powder

3

large

eggs

1 1/2

cups

buttermilk

1

cup

rolled oats

1/2

cup

avocado oil

1/3

cup

dark brown sugar

2

Tbsp.

honey
Instructions
Preheat oven to 350°F. Coat a 9-by-5-inch loaf pan with PAM. Pour the wet ingredients into the dry ingredients; stir and fold together until combined. Scrape the batter into the prepared pan. Sprinkle with the reserved seeds. Bake until golden brown and a toothpick inserted into the center of the loaf comes out clean, 45 to 55 minutes. Let cool in the pan for about 30 minutes before turning out onto a wire rack to cool completely.

In a medium skillet over medium to low heat, combine sunflower seeds, pepitas, flaxseed and sesame seeds. Toast until lightly brown (about 5 minutes) you'll start to hear them begin to pop! Reserve 3 Tbsp. of these seeds to top on bread before baking.


In a large bowl, add sprouted flour, baking powder, baking soda and salt - whisk to combine. Add in seeds you just toasted. Then in a separate small bowl, whisk eggs & then whisk in buttermilk, oats, oil, brown sugar and honey. Top with reserved 3 Tbsp. seeds. Fold wet into dry ingredients and mix well.


Pour into prepared pan, bake for ~45-50 minutes. Enjoy!!
Recipe Notes
Inspired from EatingWell.
Last but not least, thank you Nuts.com for sponsoring this post! My readers love seeing new products and innovative brands like yours!