Apple Cinnamon Rum Monkey Bread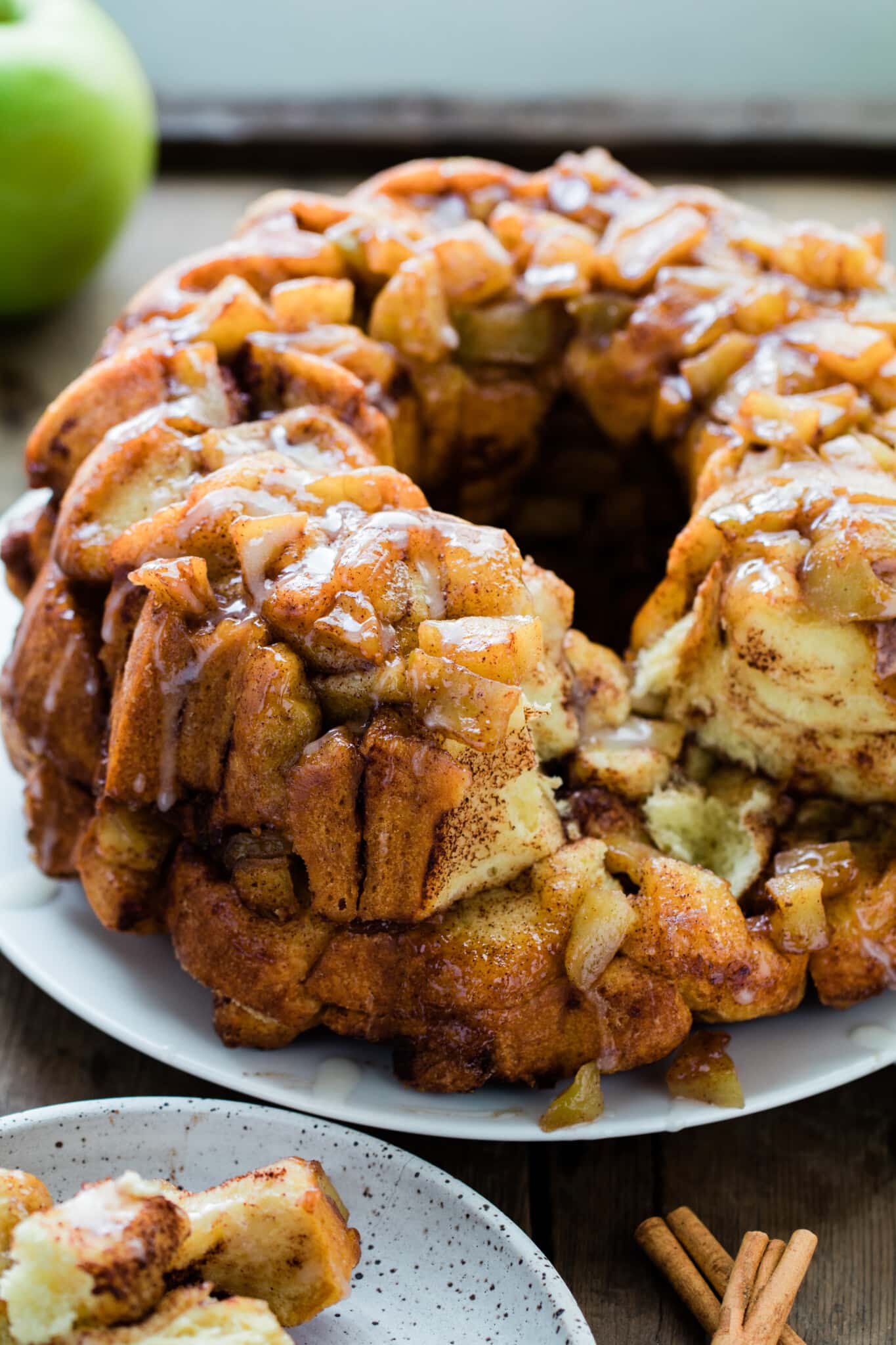 The holidays are all about traditions, right? Often times, these traditions fall around food.
My mom makes Monkey bread, or pull apart bread, every Christmas morning. We open our stockings, head to the tree and then she brings out the warm, cinnamon-y monkey bread that none of us can get our hands off of.
I think one Christmas morning she made an egg bake, and it was tasty, but we wanted the monkey bread back!
In honor of this tradition, I wanted to share a recipe of my own. I made this bread an "adult" version by adding rum, but you can of course leave the rum out if you wish.
I am almost positive my mom used a Pillsbury recipe, which is where I got the inspiration from for this recipe too.
It's just too dang easy and too good not to use their cinnamon rolls! Plus, with all of the hustle and bustle of the holiday season easy recipes are always best.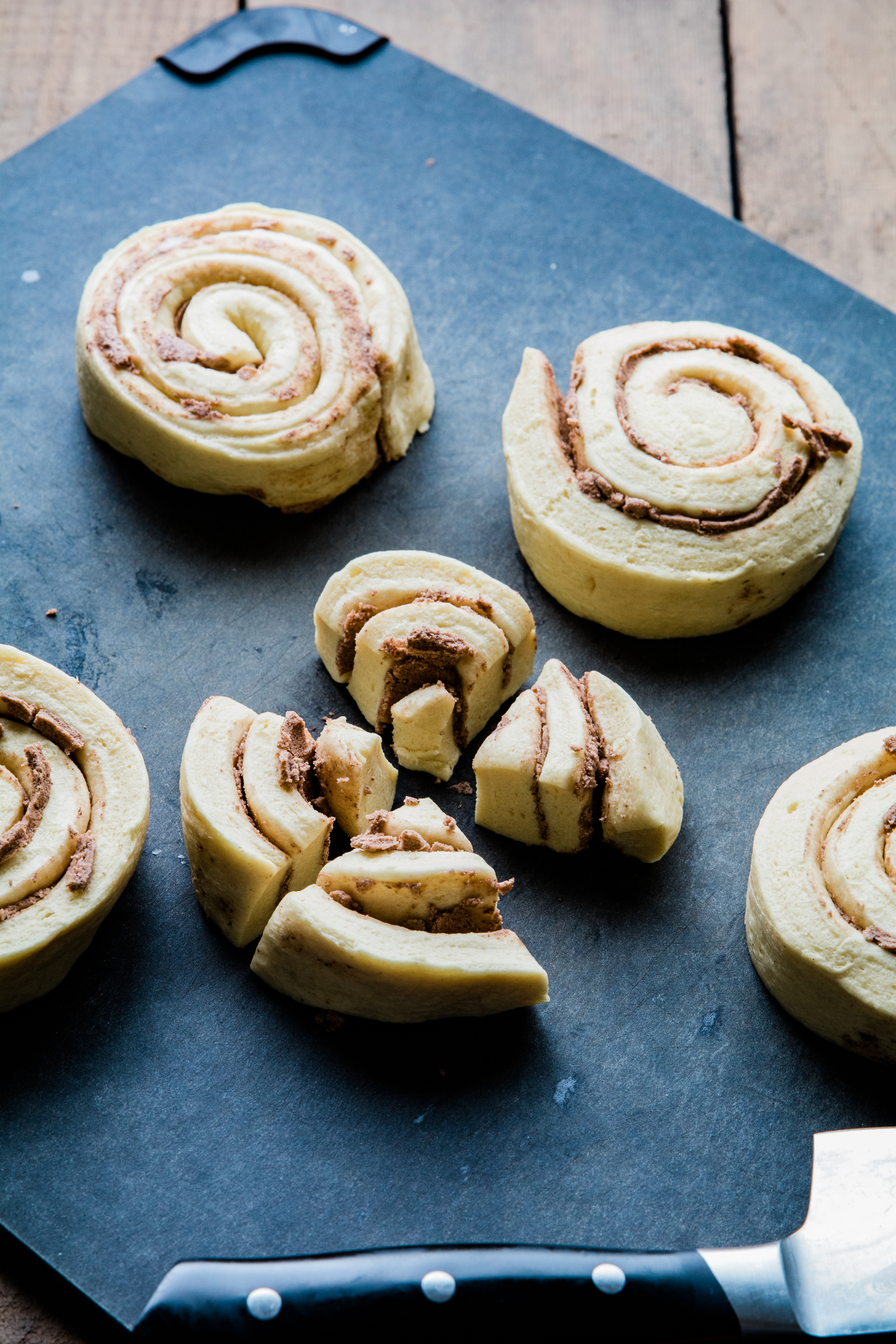 What you'll need for this recipe:
Pillsbury Grand Cinnamon Rolls (the 17.5 oz size)
Granny Smith Apples
Brown Sugar
Cinnamon
Rum
Butter
That's it!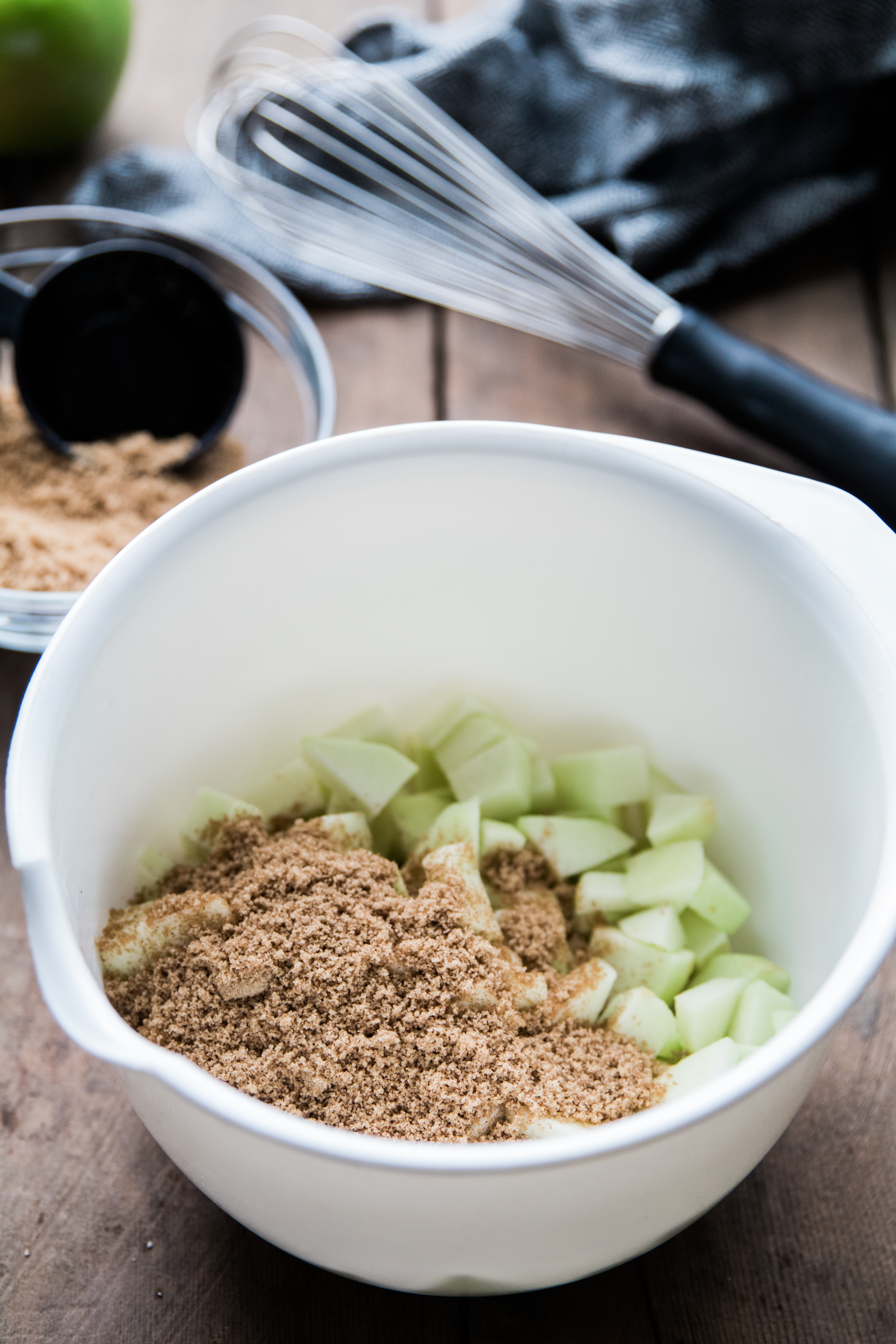 Other options: Using canned apples instead of fresh. Using whisky instead of rum. Using granulated white instead of brown. It's totally customizable! I've even added in raisins & nuts before too!
This recipe makes A LOT of monkey bread. I'd say if your family has 8-12 people this would be enough for everyone.
And it's so easy to make which I always love. Prep time is minimal and during the 45 minutes it's in the oven everyone can open their stockings!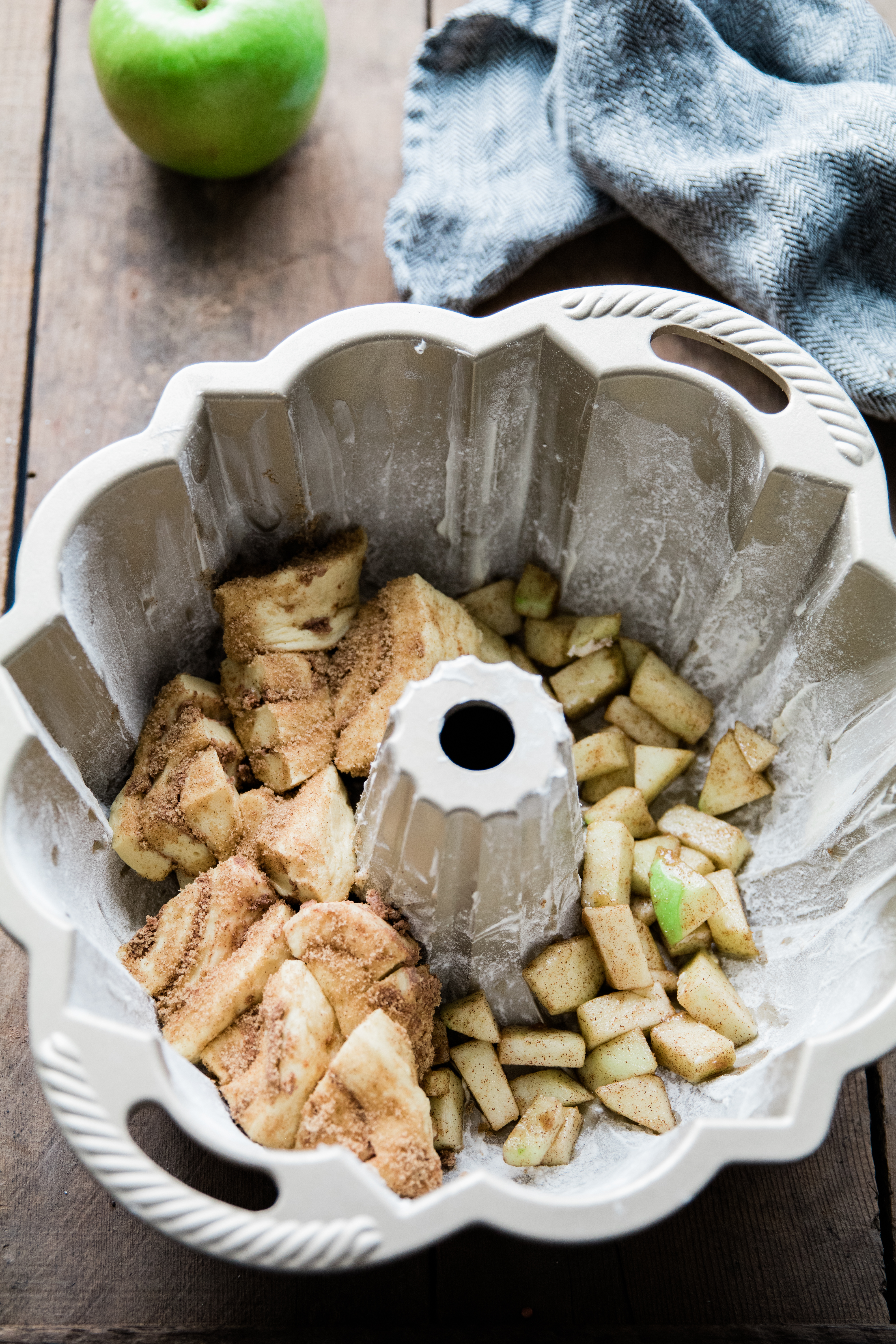 If the monkey bread doesn't disappear the day you make it, it can last up to 2 days. After that, it starts to get a little hard and not very tasty. But trust me, there won't be very many leftovers!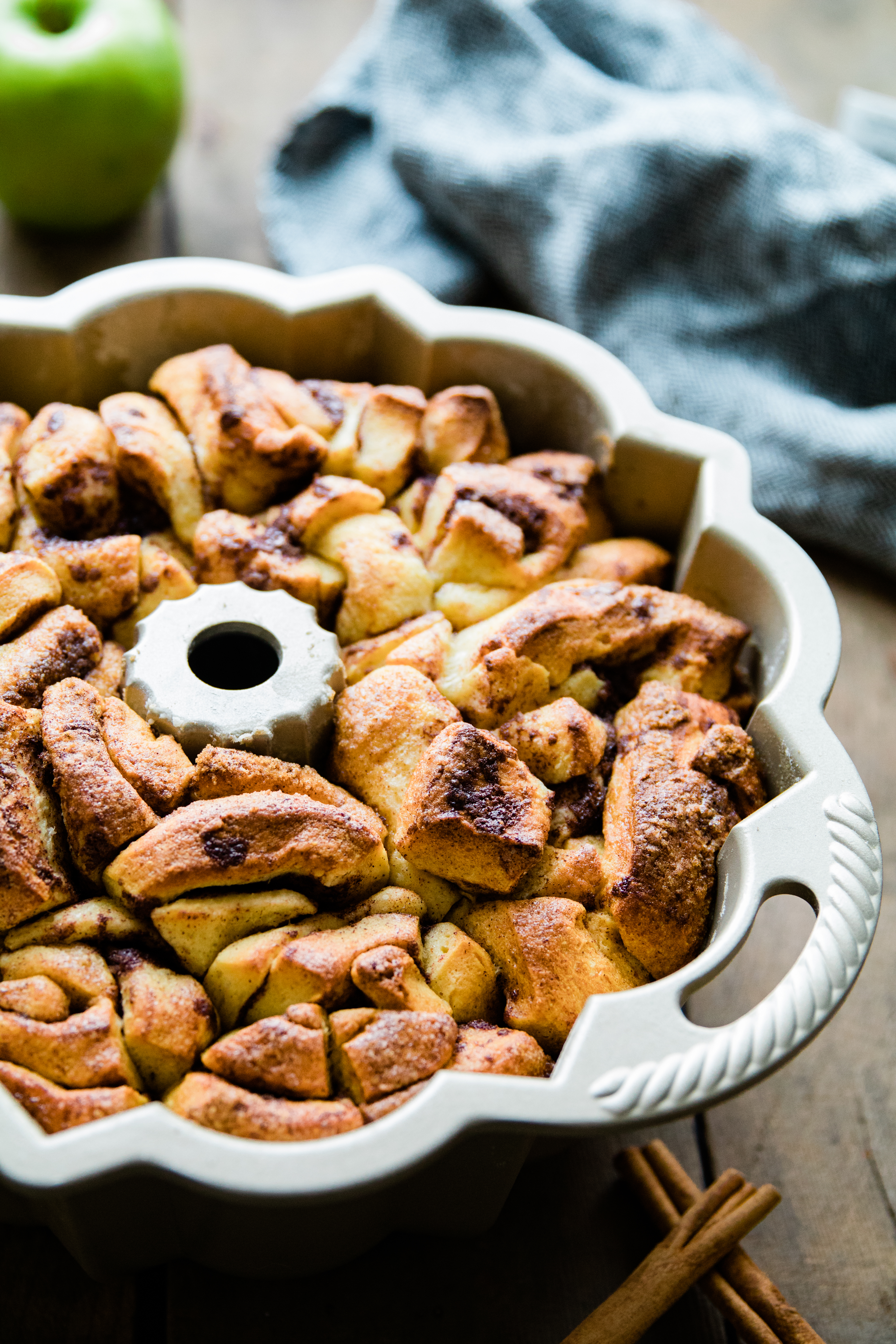 What if I don't have a bundt pan?
You can make this in a loaf pan, baking dish as well, or a round cake pan.
This can be enjoyed at breakfast or for dessert too. I like to serve it warm with vanilla bean ice cream – it's kind of like apple pie, right?! I feel like I've been eating a lot of chocolate lately so this recipe is a nice break from that!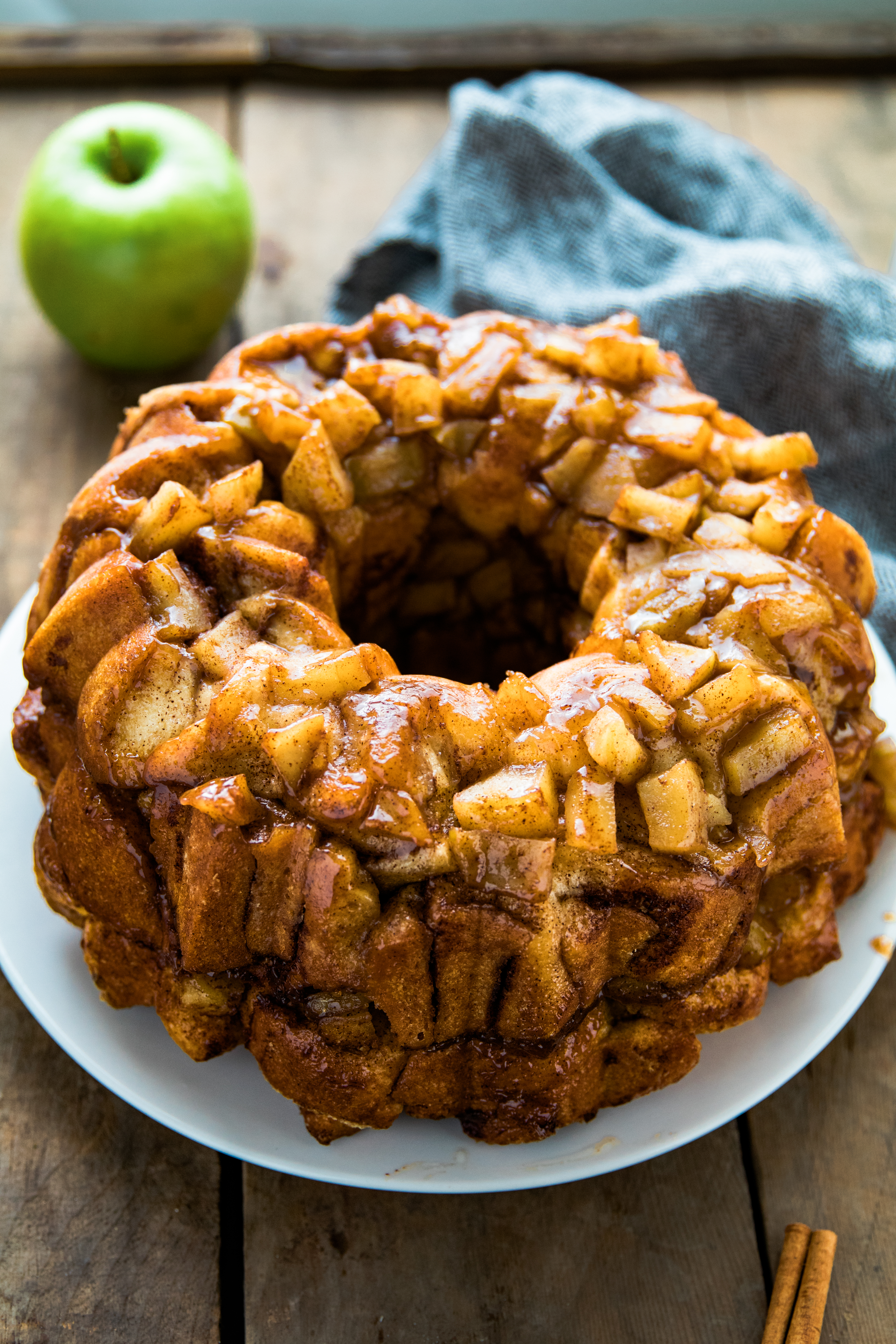 In preparation for this recipe, I came across other names people call monkey bread.
It's also referred to as Monkey puzzle bread, sticky bread, Hungarian coffee cake, golden dumpling coffee cake, pinch-me cake, bubble loaf, bubble bread, or pull-apart bread! I had never heard of bubble loaf, that one cracked me up!
Make them into MINIS!
Feeling overwhelmed this?? Grab your muffin tin and make them into individual mini monkey breads! The recipe is the same, just adjust the cooking time since you are cooking smaller monkey breads.
Can I cook this in the crockpot instead?
Yes! That is how my mom sometimes made it as well. You just need to be sure there is enough liquid so the bread does not stick or dry out. I would double the butter and the rum, add 1-2 Tbsp water, and cook on high for 2 hours.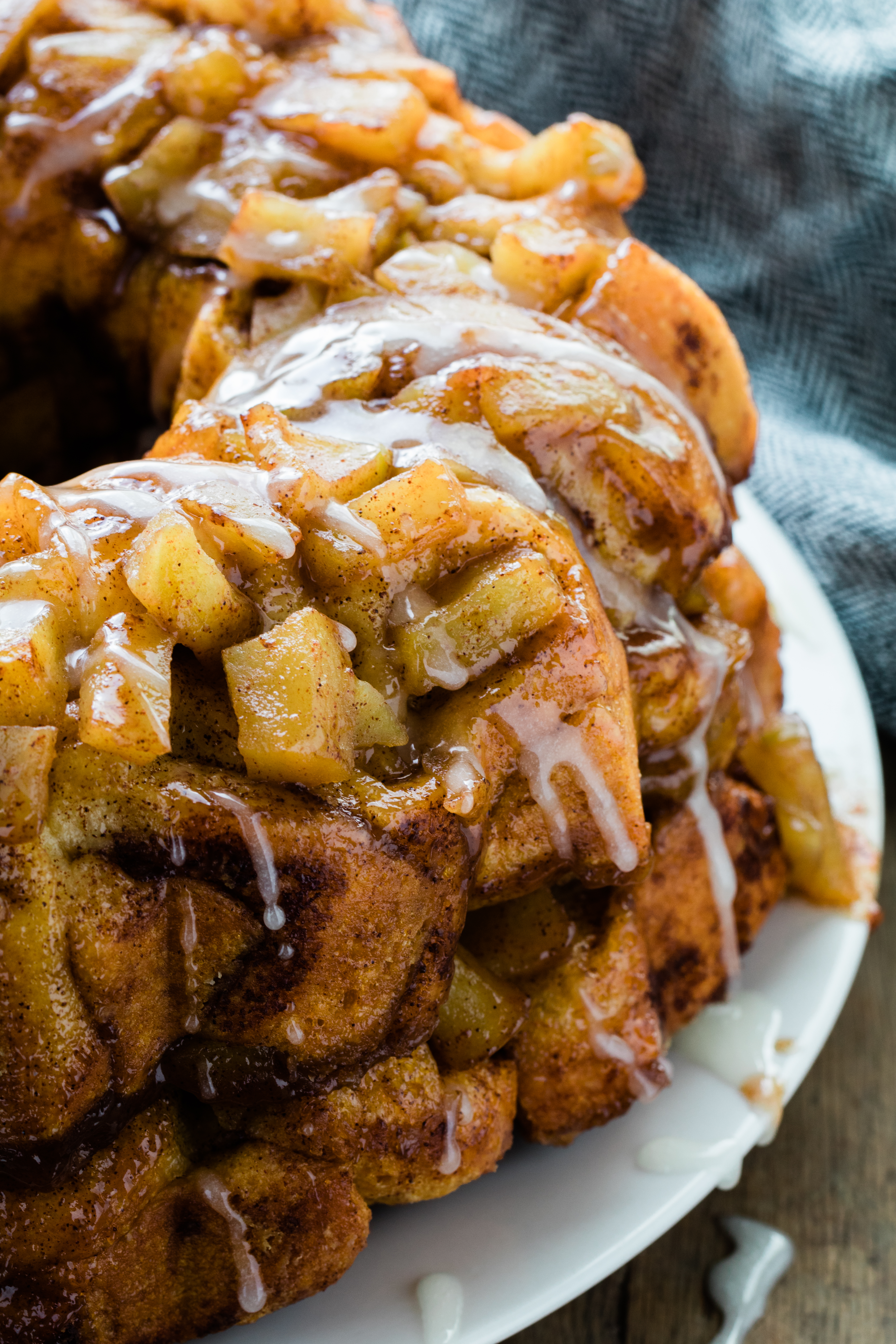 Drooling yet?! Let's get to baking!
Before You Begin! If you make this, please leave a review and rating letting us know how you liked this recipe! This helps our business thrive & continue providing free recipes.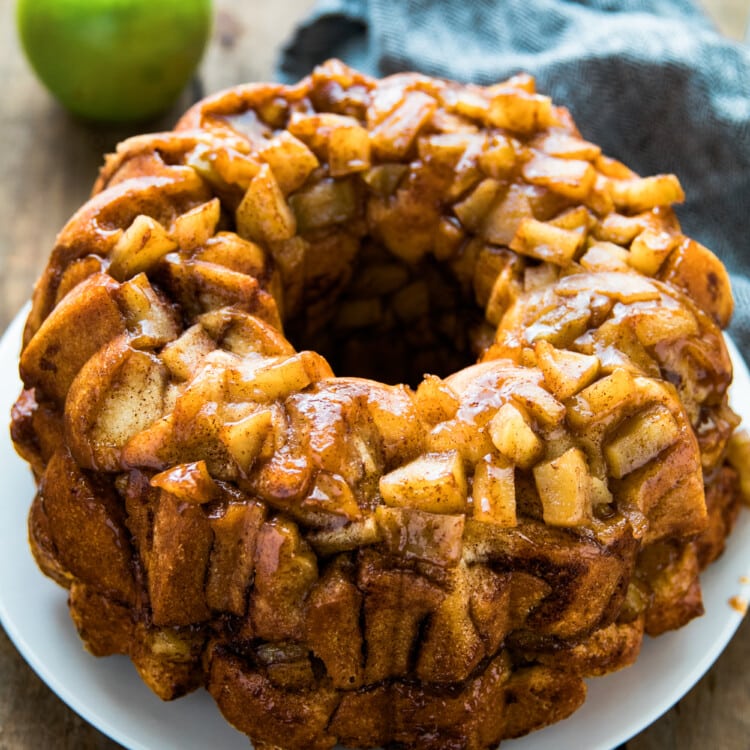 Apple Cinnamon Rum Monkey Bread
A delicious Christmas Morning treat! Apple Cinnamon Rum Monkey bread filled with brown sugar cinnamon.
Ingredients
3

(17.5 oz.) cans

Pillsbury Cinnamon Rolls (Grands!)

(save the glaze)

2

large

Granny Smith Apples, peeled and diced small

3/4

cup

brown sugar, packed

2

tsp.

ground cinnamon

1/3

cup

unsalted butter, melted

3

Tbsp.

Rum
Last step! If you make this, please leave a review and rating letting us know how you liked this recipe! This helps our business thrive & continue providing free recipes.
Instructions
Grease the bundt pan by spraying evenly with nonstick baking spray or you can spread softened butter all around the inside of the pan, and shake 1-2 Tbsp. flour around to coat. (Pro tip: Save your butter wrappers and use them to grease the loaf pan).

Open the cinnamon roll packages (reserve the frosting for later) and separate the rolls. Cut each cinnamon roll in fourths, place in a large bowl and set aside.

In a small bowl, combine the brown sugar and cinnamon together. Set aside.

Place diced apples in medium sized bowl. Mix 1/4 cup of the brown sugar mixture into the apples and stir.

Mix the remaining brown sugar mixture with the cinnamon roll pieces. Coat them evenly.

Place half of the apples down in the bundt pan first, followed by half of the cinnamon roll pieces. Add the remaining apples and followed by the rest of the cinnamon rolls in an even layer.

Mix melted butter and rum together, pour on top of monkey bread.

Bake for 45 minutes. Once done, remove from oven and let cool for 10 minutes. Carefully flip bread onto a plate and drizzle with reserved frosting. Enjoy warm!
Notes
Recipe inspired by Pillsbury