Cinnamon Crumb Cake
Cakes & Pies | Published Feb 1, 2023 | Updated Jan 31, 2023 | By Tawnie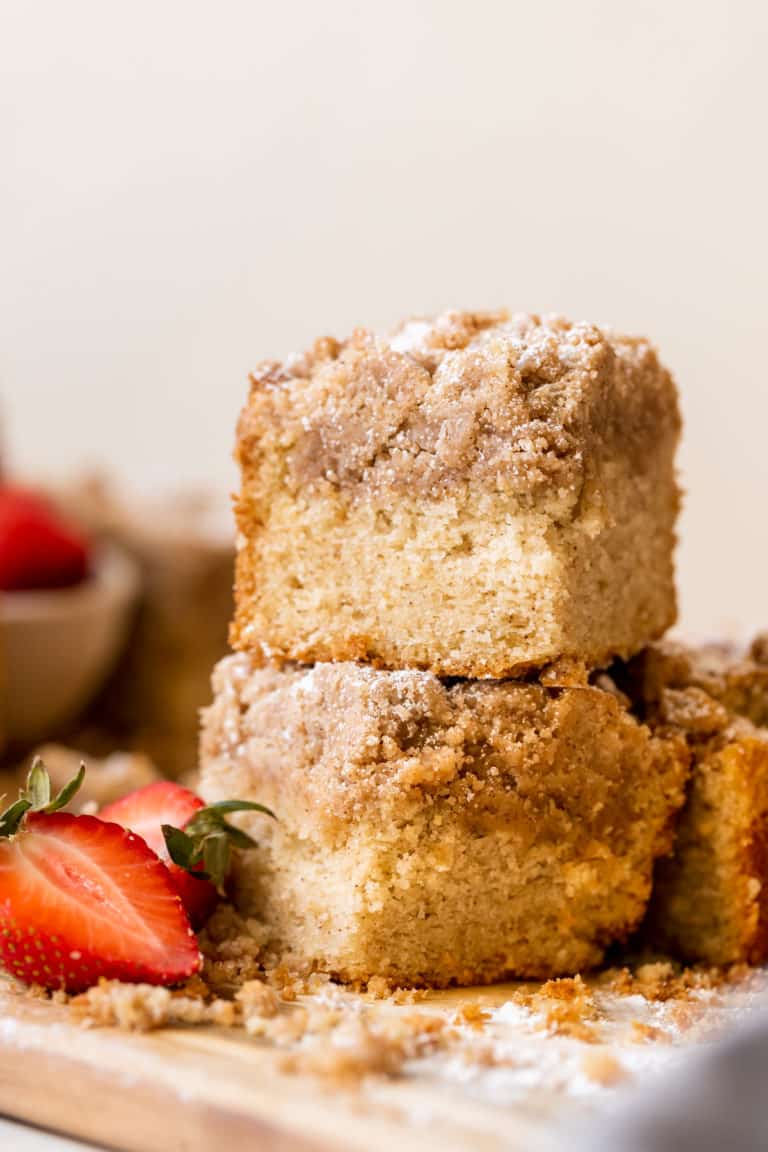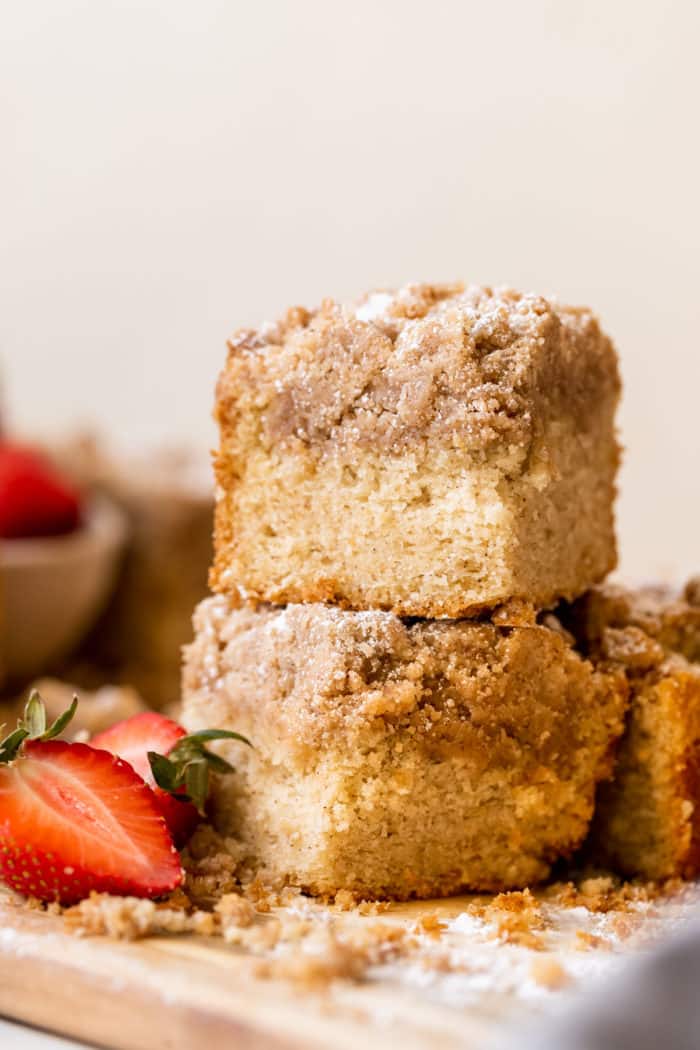 The irresistible, extra thick, cinnamon brown sugar crumb topping is just the beginning of this fun-to-eat New York style Cinnamon Crumb Cake.
I've more than doubled the thickness of the buttery crumb topping. I didn't want just a small crumb, so you'll be happy with the generous crumb on this recipe. I also made it a point to create a super moist, melt-in-your mouth cake layer. It has just the right amount of butter, vanilla, sour cream and sweetness to get you craving more of this crumb cake.
Making this cake was such a fun project. And I hope it will be for you too as it is the February Kroll's Korner Baking Challenge recipe this month!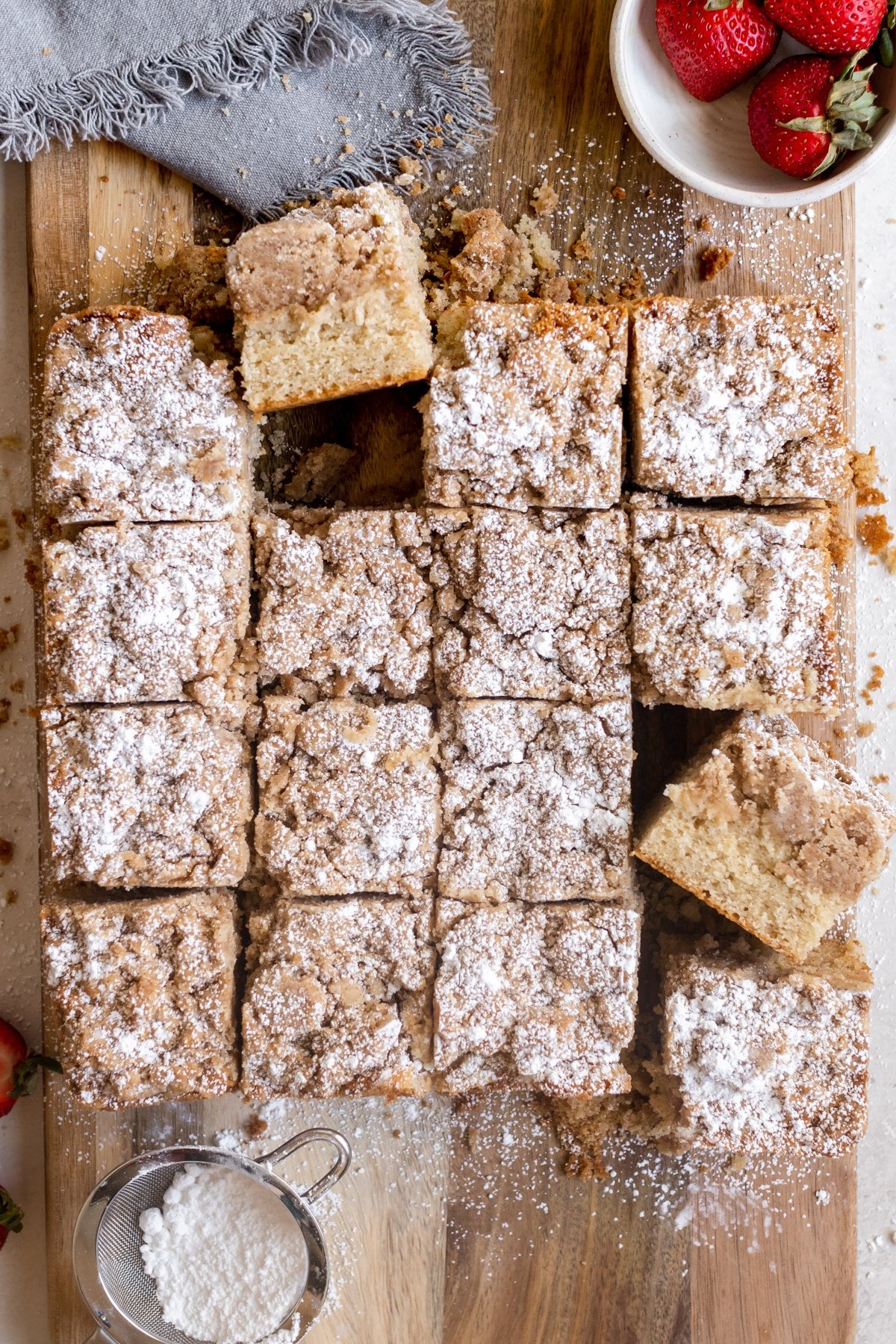 I found using a 9×9 inch cake pan was the best for this recipe. I used an aluminized, non-stick pan, not glass. The size of the pan to get the perfect height of the crumb and cake is just as important as balancing out the ingredients to get the perfect size to the crumb, crumble and crumb to cake ratio! Note: this recipe was tested in an 8×8 inch pan, but overflowed in the pan and the middle did not cook through.
I really wanted a moist cake layer and a thick crumb layer for this recipe. There is just nothing worse than a dry, crumbly cake in my opinion! I've worked out all the kinks, so you don't have to, to make the most delicious Cinnamon Crumb Cake.
Reasons Why You Will Love My Cinnamon Crumb Cake
It's a great crowd-pleasing dessert.
It's the perfect treat for breakfast, brunch, served with coffee, or after dinner with scoop of ice cream.
It is easy to make.
It is so moist that if you have stored it properly, it will be just as moist 2 to 3 days after baking!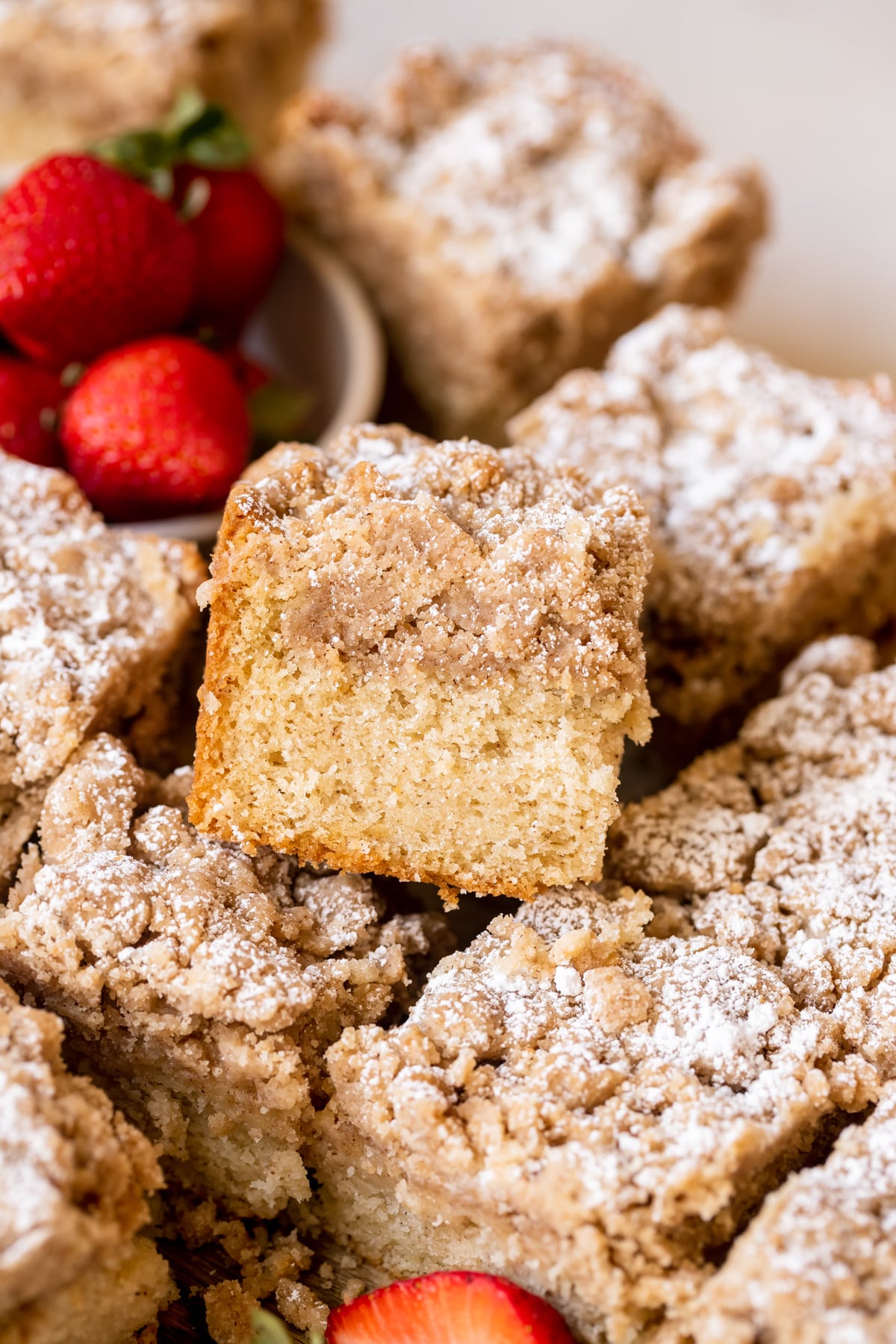 What is the difference between crumb cake and coffee cake?
The biggest difference between crumb cake and coffee cake is the crumb. With Crumb Cake, the crumb is bigger and you have so much more crumb that you can pick off the large chunks of crumb and pop them in your mouth (it's like getting two desserts in one). On a Coffee Cake, the crumb size is much smaller so you can't really pick off the crumb. Since we have so much more crumb on a crumb cake, there is more sugar in the recipe, so the crumb cake is sweeter than the coffee cake.
Ingredient Notes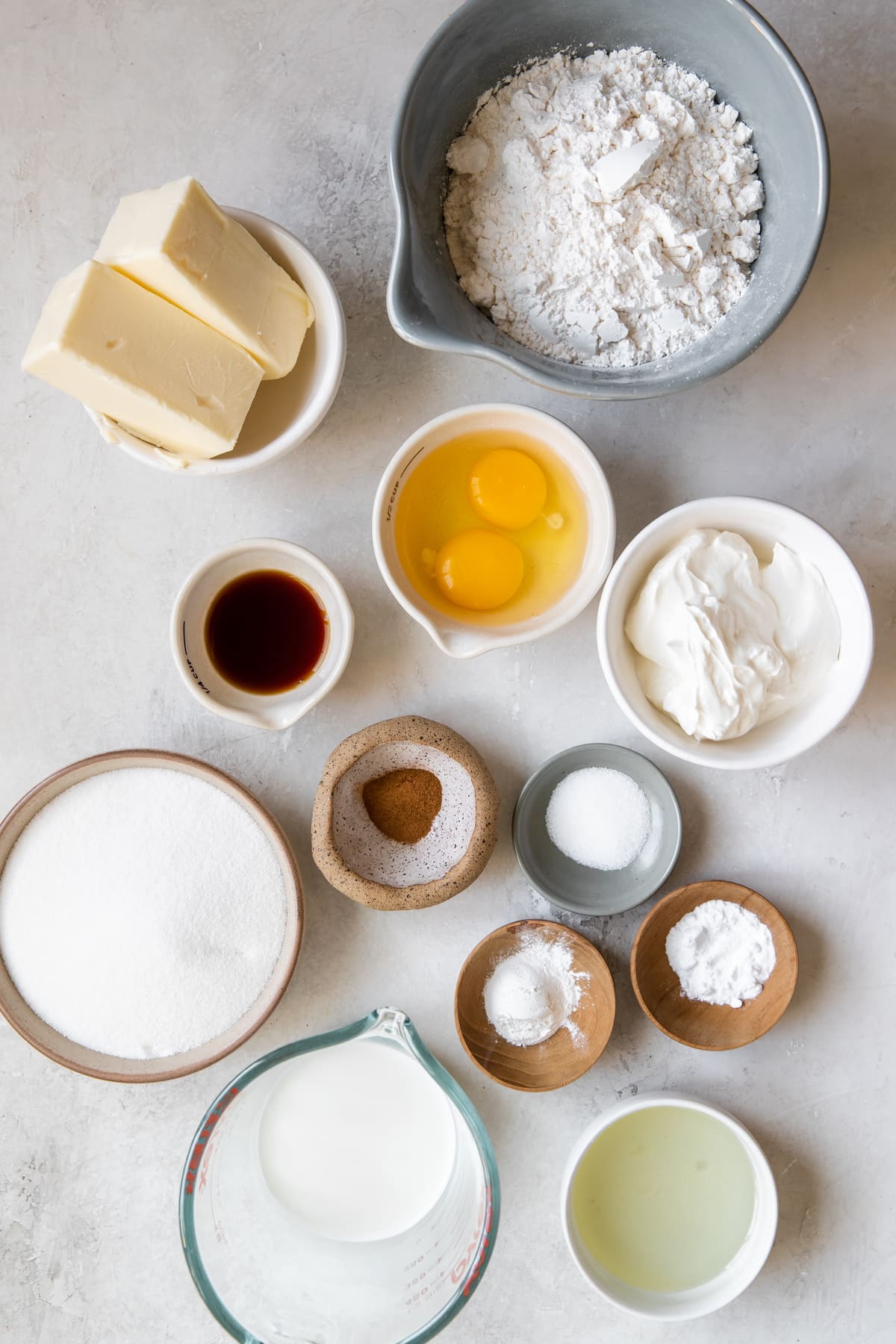 Cake flour: If you know me you know I love baking with cake flour. Especially for this recipe. Using cake flour will create soft and tender cakes.
Baking powder: This lightens the texture of the cake by enlarging the bubbles in the cake batter.
Baking soda: Interacts with acids in the recipe creating carbon dioxide which creates bubbles. These bubbles cause the batter to rise.
Cinnamon: gotta have some cinnamon in a Cinnamon Crumb Cake!
Kosher salt: The fine grain of Kosher salt is great for baking, because it disperses quickly into ingredients
Unsalted butter: Room temperature to mix together easily. The butter in the crumb topping will be melted.
Eggs: room temperature so they mix more evenly into the cake.
Sour cream: the creamy texture of sour cream makes the cake more moist than if you just used milk. I haven't tested this recipe with Greek yogurt but I think that would be a fine substitution.
Whole milk: the purpose of using whole milk is that the fat content makes the cake more moist, so it is always best to use whole milk when a recipe calls for milk.
Vegetable oil: The cake will be loftier, will have more of a crumb, and will be more moist. This was something I added into the cake after a few rounds of testing to really help with the moist texture!
Confectioners sugar for topping: A light dusting adds the finishing touch to this delicious cake.
Step by Step Directions
These are just brief step by step directions. Be sure to scroll all the way to the recipe card for the full detailed instructions.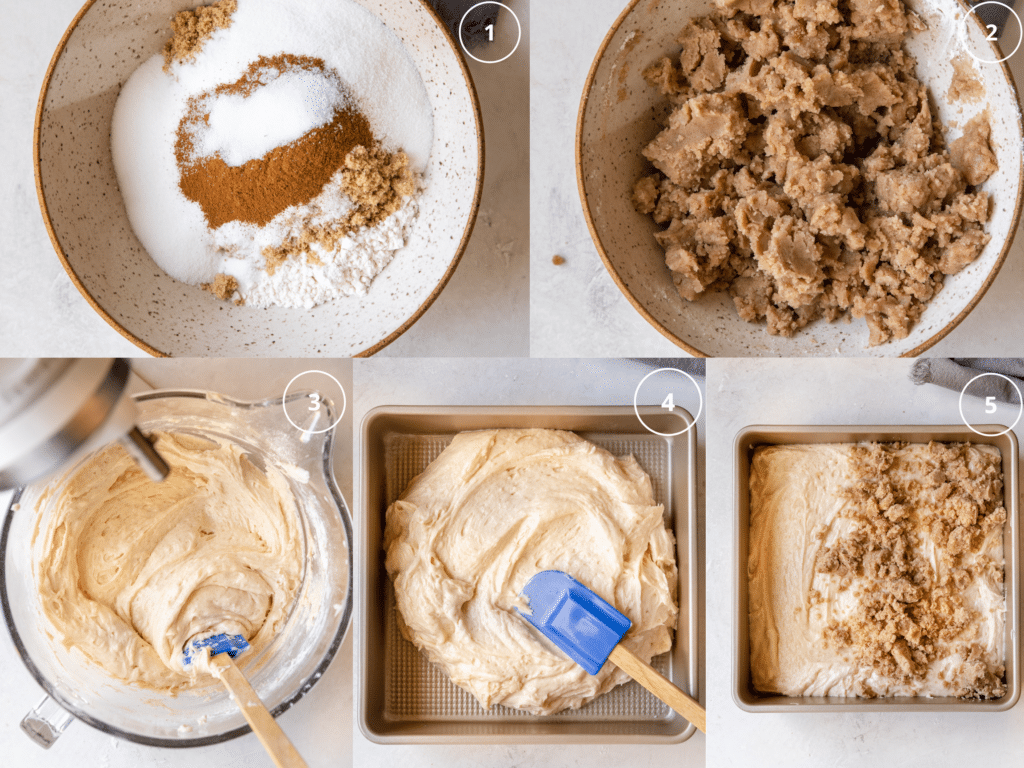 Make the crumb topping first and set aside.
Make the cake layer next.
Spread cake layer into a 9×9 inch cake pan.
Crumble the crumb topping over the top of the cake batter.
Bake for 45 minutes or until a toothpick inserted in the center comes out clean.
Let cool completely. Dust with powdered sugar, slice and enjoy!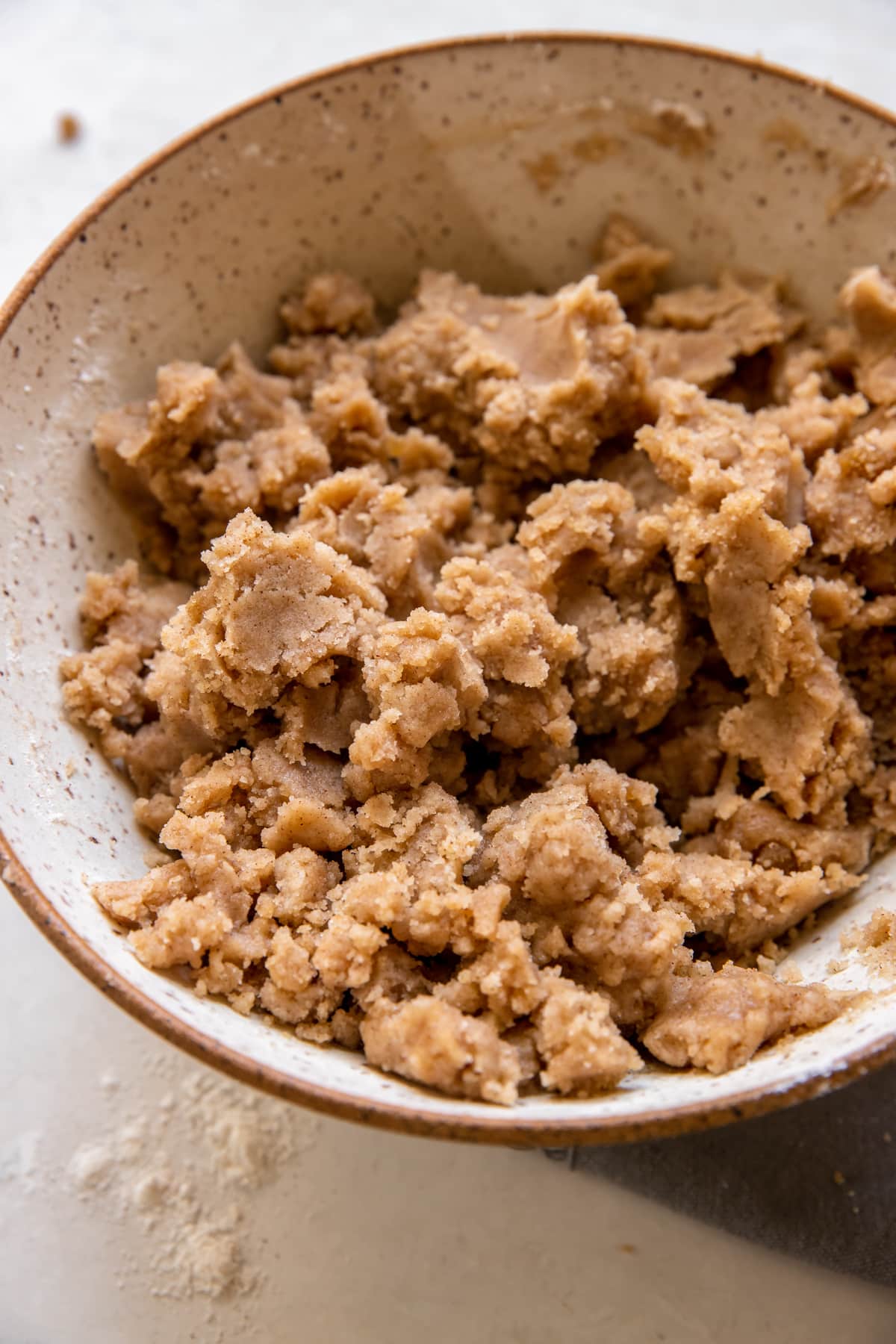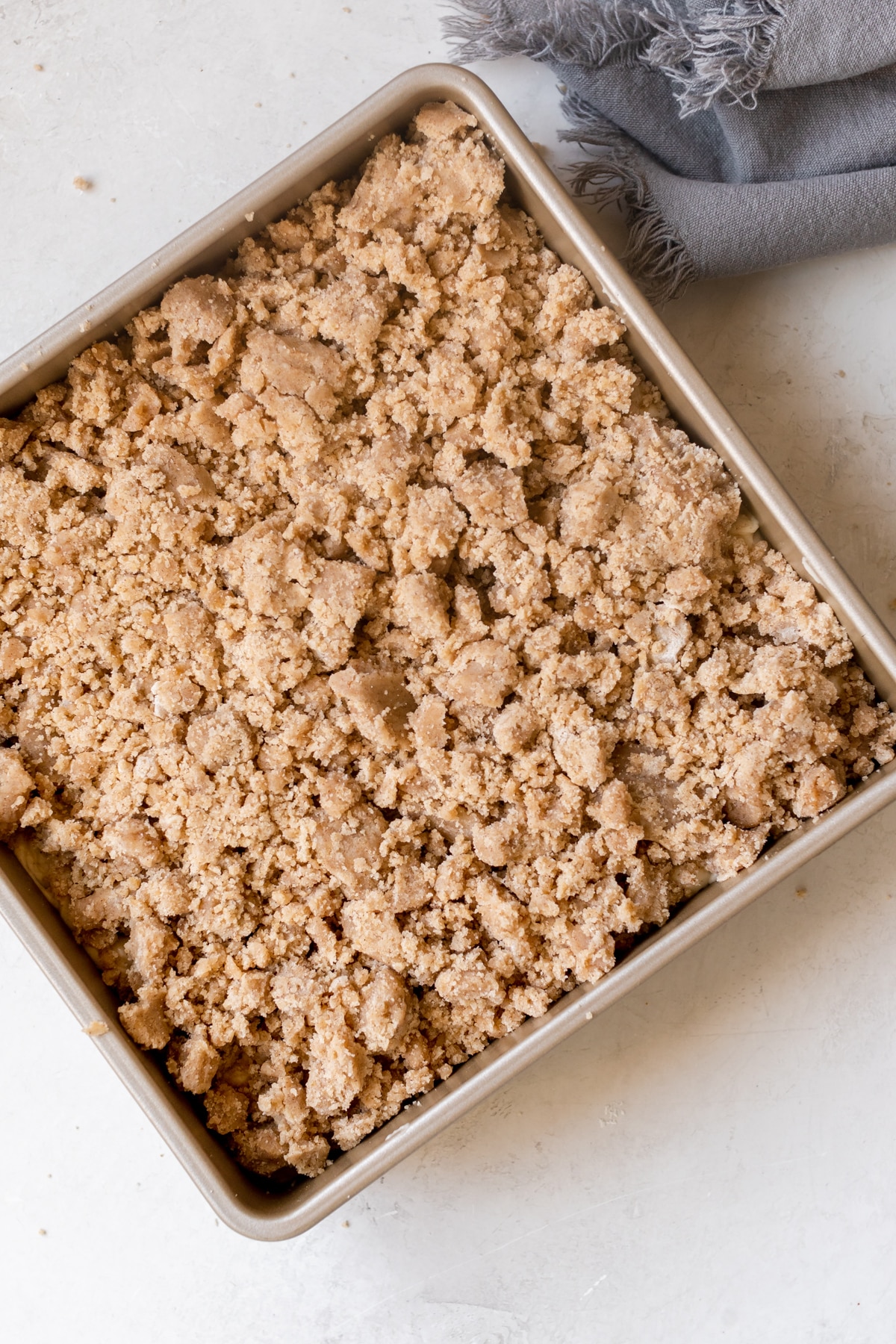 Tips and Variations
When mixing in the dry ingredients, be sure to keep the mixer on low speed.
Careful not to over mix the crumb topping or the cake batter.
There are so many options when it comes to customizing your crumb cake: Raspberry, blueberry, apple, peanut butter, chocolate, or salted caramel.
For the perfect soft and moist crumb cake do not over bake.
When adding the crumb topping gently press the topping on top of the batter just so it sticks.
Make sure all your ingredients are at room temperature so they will mix easily and quickly.
It's important to measure your flour accurately.
Make sure your brown sugar for the crumb topping is soft and moist.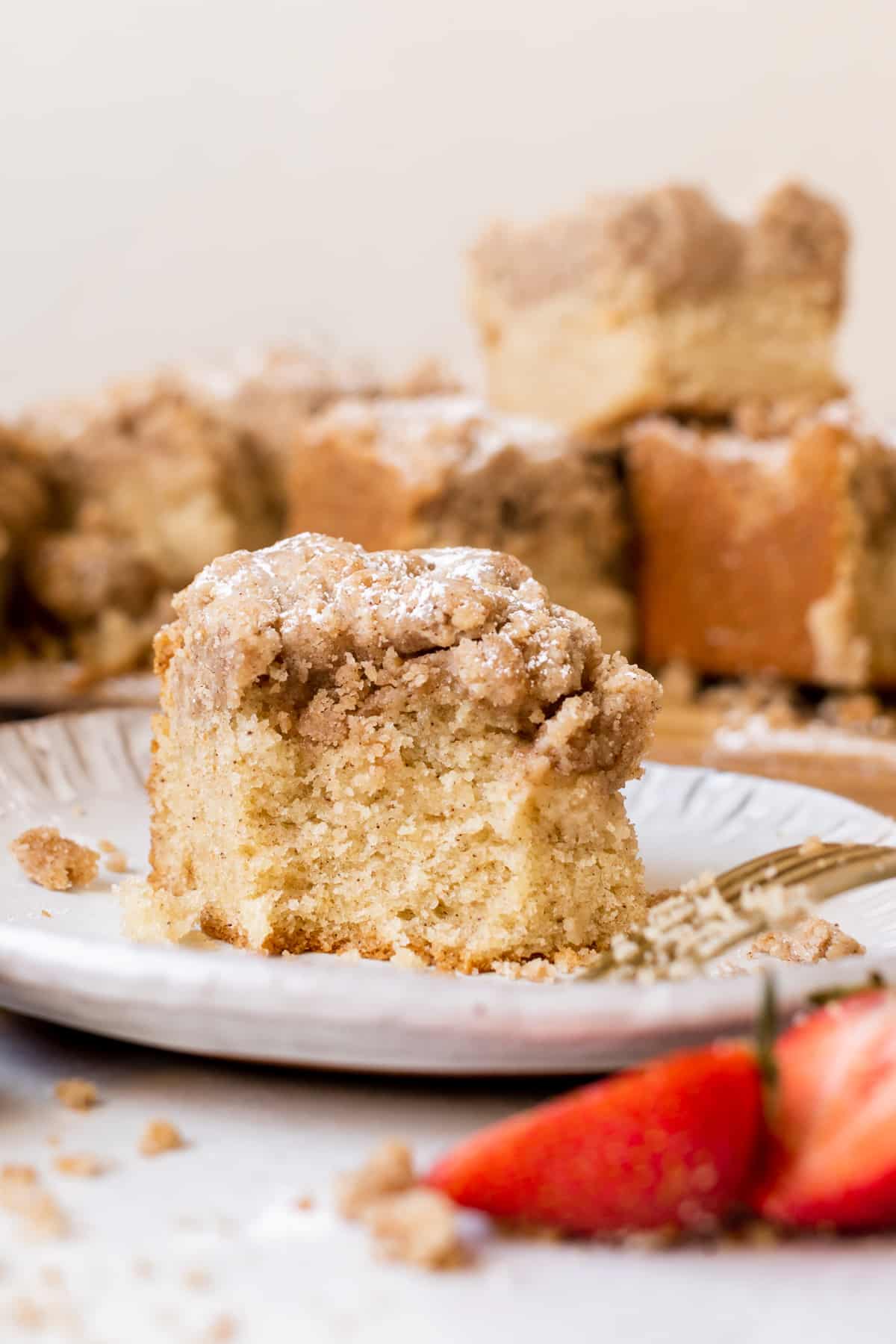 FAQ
Why is my crumb topping soggy?
This often happens if the crumb topping is over mixed or the melted butter was too hot when you mixed it in.
How long does crumb cake stay fresh?
Stored in an air tight container on the counter, it will stay fresh for 2 – 3 days.
Can I freeze crumb cake?
Yes, my Cinnamon Crumb Cake recipe is freezer friendly. Just wrap it once it has cooled and store in an air tight container and pop it in the freezer for up to 2 months.
Can I bake it in a 9×13 pan?
I haven't tested this recipe in a 9×13 inch pan. But, I am sure it would work, they cake and crumb would just be thinner and you would need less bake time. I did test this recipe in an 8×8 inch pan and it overflowed, so I wouldn't recommend that.
What type of pan should I use?
I found using a 9×9 inch cake pan was the best for this recipe. I used an aluminized, non-stick pan, not glass. This recipe has not been tested in a glass pan. If using glass, the bake time will be longer.
HUNGRY FOR MORE? If you try this recipe, why not leave a star rating in the recipe card right below and/or a review in the comment section further down the page? I always appreciate your feedback! You can also follow me on Pinterest or Instagram. Sign up for my email list, too!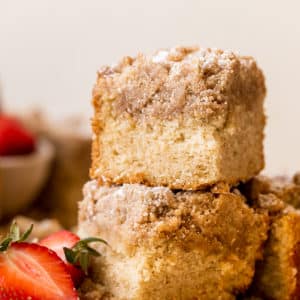 Cinnamon Crumb Cake
This Cinnamon Crumb Cake is super moist, full of cinnamon flavor, has the best crumb to cake ratio and is really easy to make. Perfect for brunch with tea or coffee, or of course for dessert!
Ingredients
For the crumb topping
1

cup

unsalted butter, melted and slightly cooled

3/4

cup

dark brown sugar, packed

3/4

cup

white granulated sugar

1

Tbsp.

ground cinnamon

1

tsp.

salt

2 1/2

cups

all purpose flour, divided
For the cake
3

cups

cake flour, spooned and leveled

1

tsp.

baking powder

1

tsp.

baking soda

1

tsp.

cinnamon

1

tsp.

salt

1

cup

unsalted butter, softened to room temperature

1

cup

white granulated sugar

2

large

eggs, room temperature

2/3

cup

sour cream, room temperature

1/3

cup

whole milk, room temperature

2

Tbsp.

vegetable oil

1

Tbsp.

vanilla extract

powdered sugar for garnish
Instructions
Preheat the oven to 325°F

Line a 9×9 inch aluminized steel cake pan with parchment paper or grease with baking spray. Set aside. (Note: This recipe was not tested in a glass cake pan).

Make the crumb topping first: whisk together 1 ½ cups of flour, both sugars, cinnamon and salt. Mix in the melted butter until mostly combined. Then slowly add in the remaining 1 cup flour until large crumbles form. I like to use my fingers to make large clumps and careful not over mix. Set aside.

Make the cake next: whisk together the cake flour, baking powder, baking soda, cinnamon and salt in a medium sized mixing bowl. Set aside.

Using a stand mixer fitted with the paddle attachment, cream the softened butter and granulated sugar until creamy and fluffy. About 3 minutes on medium high speed. Scrape down the sides once or twice as needed.

Turn the mixer down to medium low speed and add in the eggs. Then, add in the sour cream, milk, oil and vanilla. The batter will look curdledl at this point but it's ok.

Add in the dry ingredients on low speed. Stopping to scrape down sides of bowl as needed. Batter will be thick.

Spread into the prepared pan. Tap the cake on the counter a couple times to release any air bubbles.

Add the crumb topping, keeping most of the crumbs large and whole, and press down gently.

Bake for 45-50 minutes or until a toothpick inserted in the very middle comes out clean. Careful not to over bake.

Let cool in the pan completely. Dust powdered sugar on the top. Slice and enjoy! (I think this is best enjoyed the very first or second day. And I love popping it in the microwave for a few seconds to get warm again!)
Notes
Stored in an air tight container on the counter, it will stay fresh for 2 – 3 days.
Nutrition
Serving:
1
slice
|
Calories:
466
kcal
|
Carbohydrates:
58
g
|
Protein:
8
g
|
Fat:
35
g
|
Saturated Fat:
21
g
|
Polyunsaturated Fat:
2
g
|
Monounsaturated Fat:
9
g
|
Trans Fat:
1
g
|
Cholesterol:
121
mg
|
Sodium:
582
mg
|
Potassium:
134
mg
|
Fiber:
2
g
|
Sugar:
32
g
|
Vitamin C:
0.2
mg
|
Calcium:
96
mg
|
Iron:
2
mg
Hi, I'm 
Tawnie

!

Welcome to my tiny "korner" on the Internet! I am a Registered Dietitian Nutritionist who loves cookies as much as kale. (OK, maybe I like cookies a little bit more but shh, don't tell anyone). I am so glad you're here! Follow along for hassle free, realistic and approachable recipes.

More about Tawnie

I'd love to see what you made!!
Share it with me on Instagram or Facebook and tag me @krolls_korner or use the hashtag #KrollsKorner!