Surf 'N Turf NY Steak & Shrimp (Whole Foods Market)
Beef & Pork | Published on Jun 17, 2016 | Last modified on Aug 20, 2019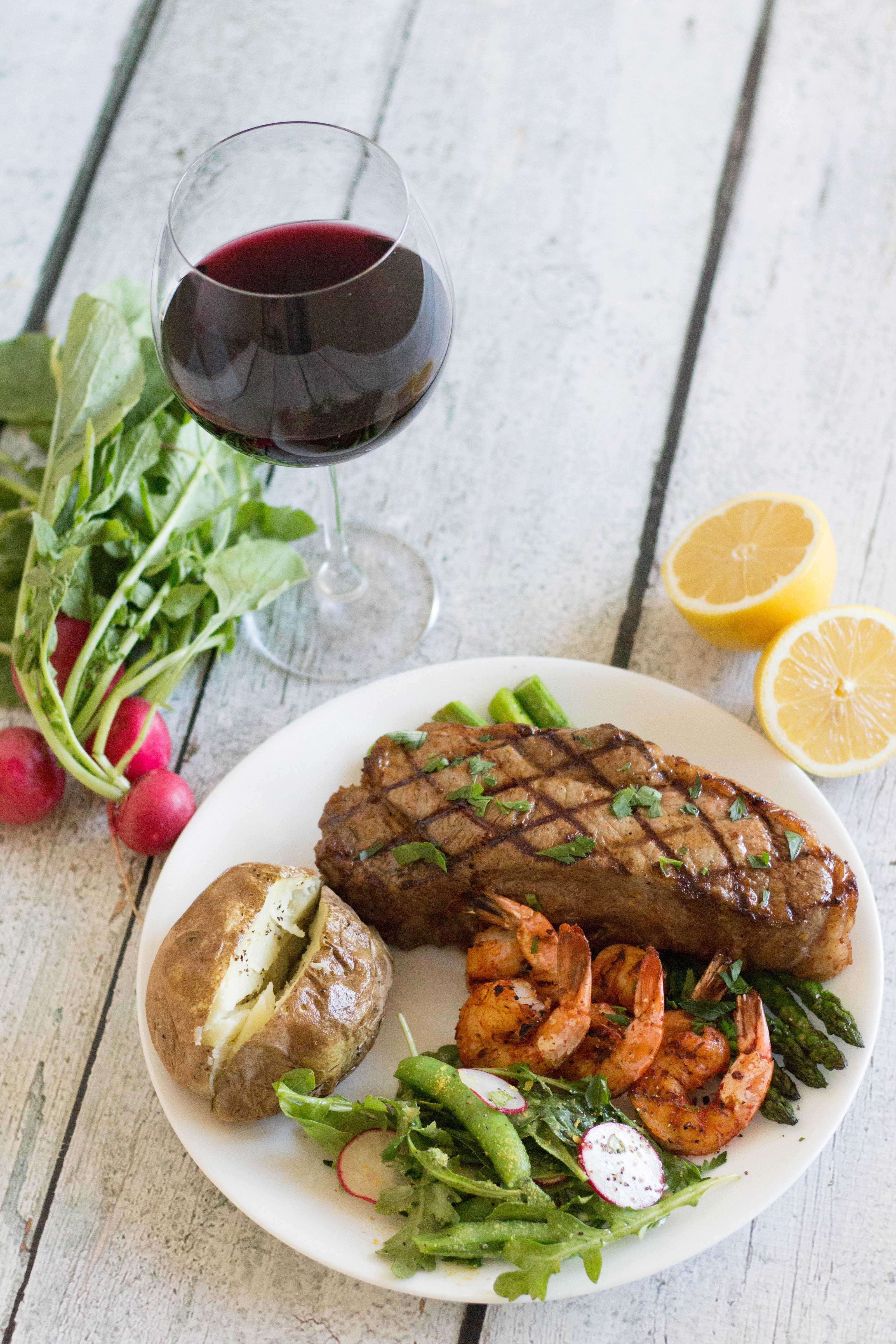 Disclosure: I was compensated for my time by the Whole Foods Market Marketing team for writing this post. All opinions expressed are my own.
I wanted to be sure to post this recipe just in time for Father's Day weekend. Many of you out there will probably be enjoying time with family and friends outside by the grill so you HAVE to try out this surf 'n turf recipe!
Recently, I partnered up with Whole Foods Market here in Fresno to provide recipes…basically a Registered Dietitian's DREAM!! 🙂 The staff at Whole Foods is always so accommodating and helpful, and my favorite part is the food is always at peak freshness.
Here are a couple 'before' pictures of the recipe mmmmmmm!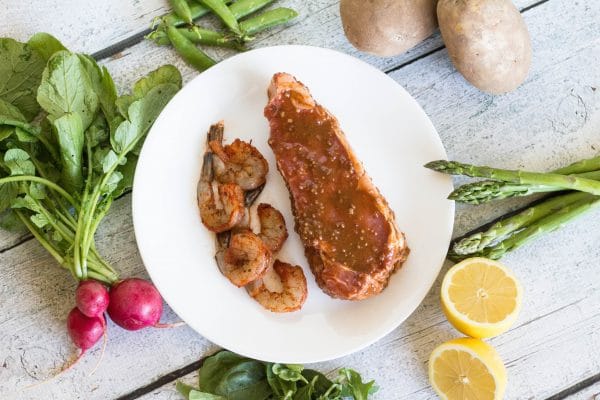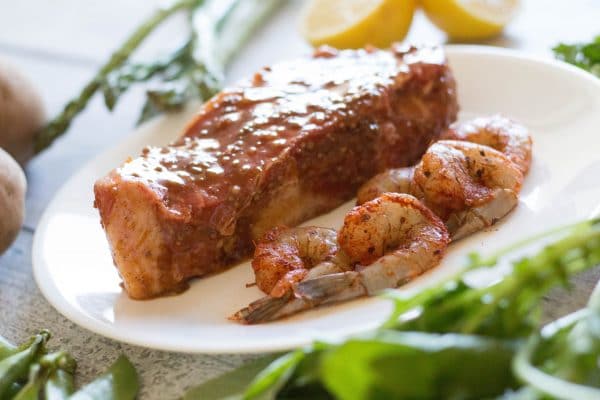 Whole Foods: Did you know…?
When shopping for the ingredients, I found out some new things about Whole Foods Market. First off, their seafood department will season and marinate your catch with amazing and delicious options!
The seafood department will also clean and debone your fish for you as well – talk about a time saver!
In the meat department, they are also able to season and marinate any cut of meat for you…as well as custom cut to your hearts desires. And the best part is this is all FREE of charge!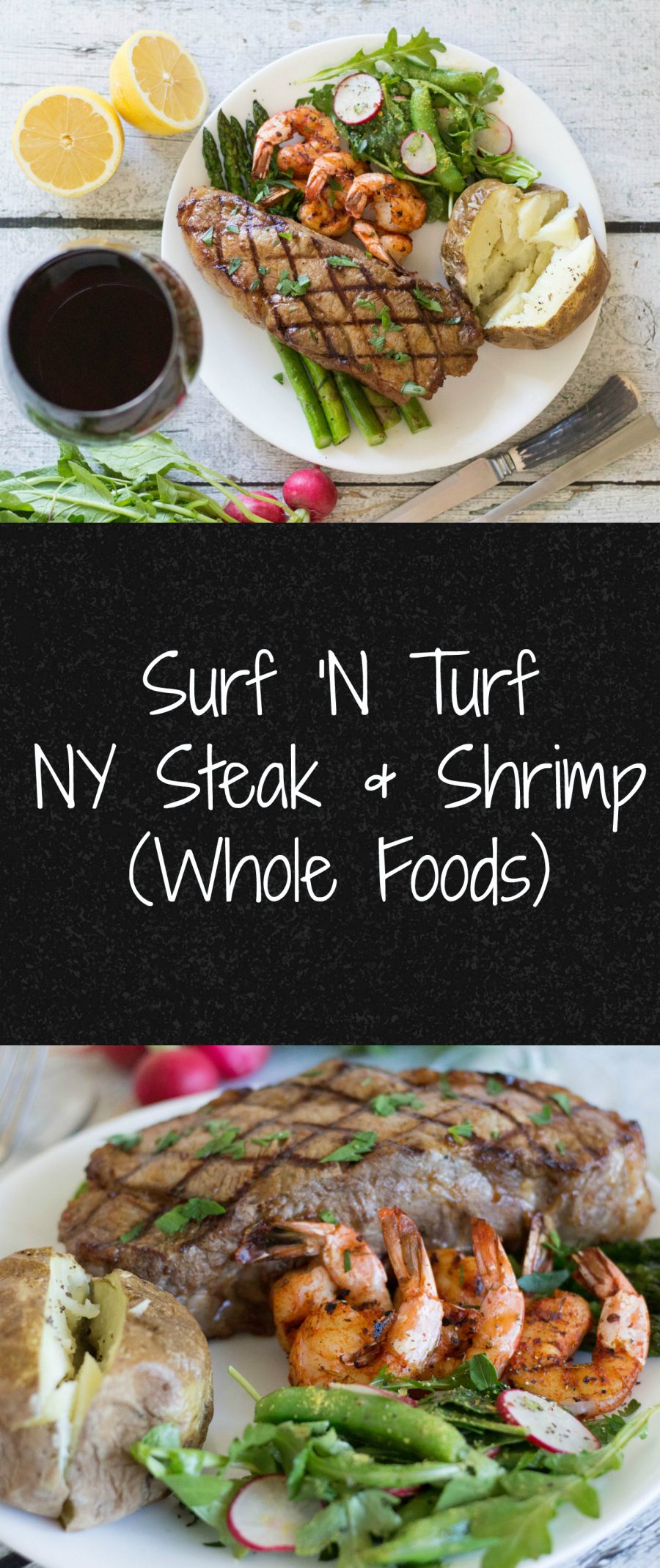 This meal is certainly a hearty meal, but you can also change it into a light summer meal as well. You have the option of omitting the potato and simply making a salad with steak and shrimp on top and the asparagus on the side. I figured since this weekend is Dad's weekend, he'll probably want a potato! PS – Happy Father's Day to all the papa's out there. I'm wishing my Dad the happiest of Father's Day up in Heaven <3
[Tweet "Whole Foods Market sets you up for Grilling Season! Try out this Surf 'N Turf recipe for Father's Day weekend! |Krollskorner.com"]
On the shrimp, I asked Whole Foods Market to marinate it in a Cajun Seasoning. For the NY Steak, I chose Theo's Steakhouse Sauce which was so amazing!!! I highly recommend Theo's sauce – it is all natural, no MSG, and has no preservatives. Per Tbsp. it has 30 calories, 170mg sodium, 2g sugar and 3g carbs. Those are pretty competitive nutritionals for a marinade compared to many others on the market! The Cajun seasoning was simple yet perfect: it is simply a blend of sea salt, paprika, onion, garlic, and Paprika extract. Yum!
I hope you find time to grill this weekend or at least sometime this summer. Whole Foods Market has all of the essentials you will need!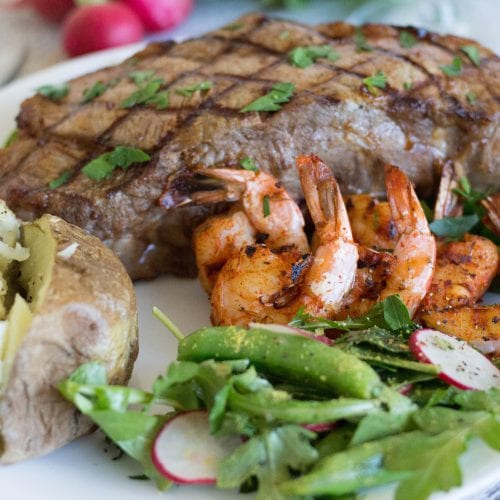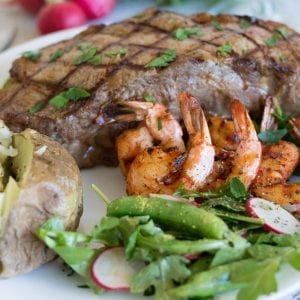 Ingredients
1/2

pound

uncooked shrimp - marinated in Whole Foods Cajun Seasoning

1

NY Steak - marinated in Whole Foods Theo's Steakhouse Grilling Sauce

1

bunch of asparagus

2

Russet potatoes

1

bunch of radishes

1

salad mix of baby spinach and arugula

Parsley for garnish

~15 Sugar Snap Peas

Nutritional Yeast

For the dressing: Refer to my Spring Kale Salad dressing: https://krollskorner.com/recipes/kale-and-blueberry-spring-salad/
Instructions
Preheat oven to 425 degrees F.

Heat grill. You may use an outdoor grill or I simply used a Lodge grill pan on the stove.

Cook shrimp for just a few minutes on each side. Shrimp does not take long to cook and the last thing you want is for it to get chewy! Remove and set aside on plate.

For the steak, sear steak on each side so it gets the nice grill marks. ~2 minutes each side. Then place in oven for 10-15 minutes. Perhaps longer depending on how you like your steak cooked. I prefer mine medium rare! Be sure to cook to an internal temperature of 145 degrees for 15 seconds.

While the steak is cooking, you can cook the potato in microwave for convenience. For the asparagus, I simple cooked on the stove in a large frying pan with 2 Tbsp. EVOO and a dash of salt and pepper. You also may cook on the grill as well!

Bring a small pot of water to boil and cook the sugar snap peas in water for 3-4 minutes then drain and rinse with cold water to halt the cooking process. You can find my salad dressing recipe here: https://krollskorner.com/recipes/kale-and-blueberry-spring-salad/ Toss the arugula and baby spinach salad mix with the dressing. Thinly slice the radishes and top on salad with the sugar snap peas. Lastly I topped the salad with nutritional yeast.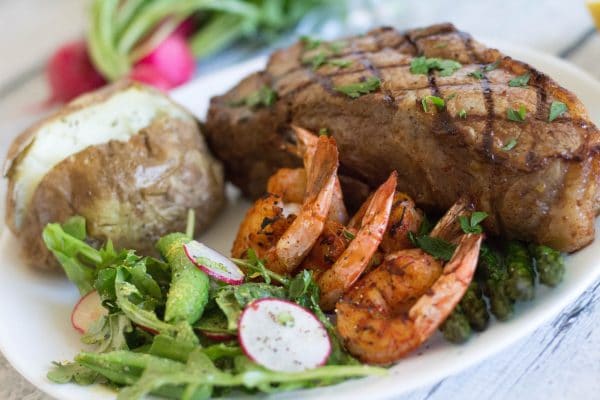 I'd love to see what you made!!
Share it with me on Instagram or Facebook and tag me @krolls_korner or use the hashtag #KrollsKorner!