Pappardelle Bolognese
Beef & Pork | Published Feb 8, 2023 | Updated Feb 6, 2023 | By Tawnie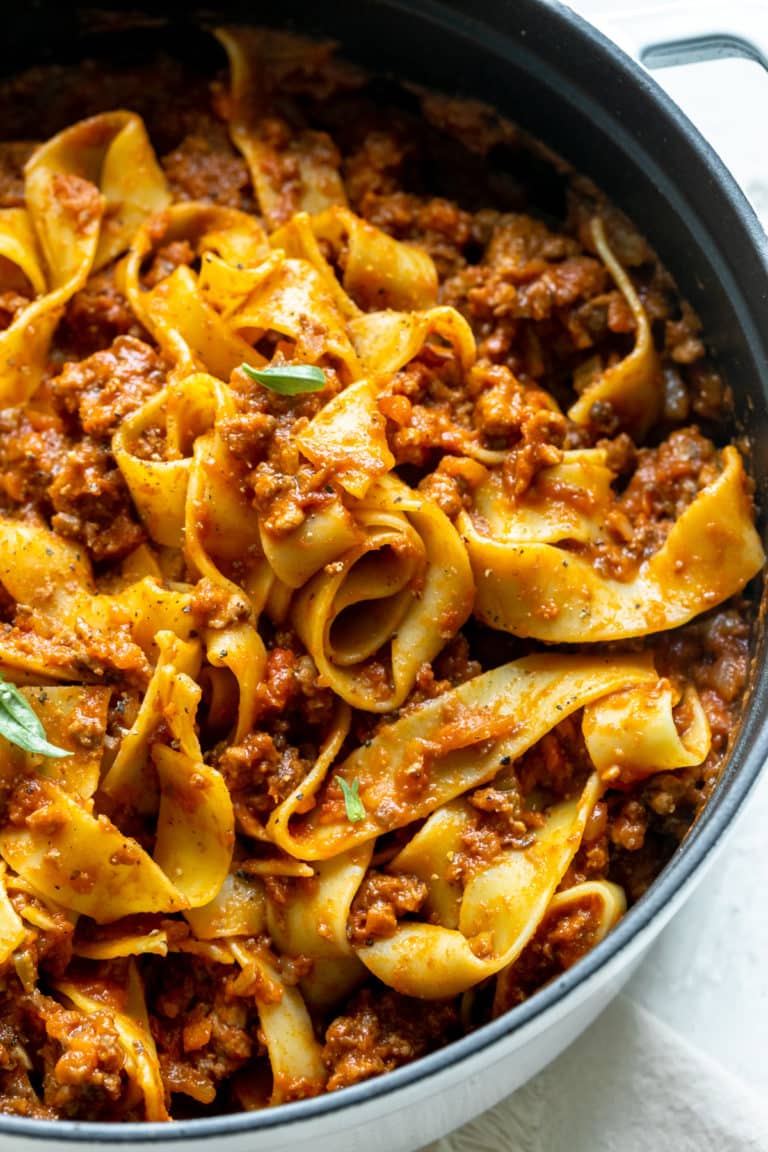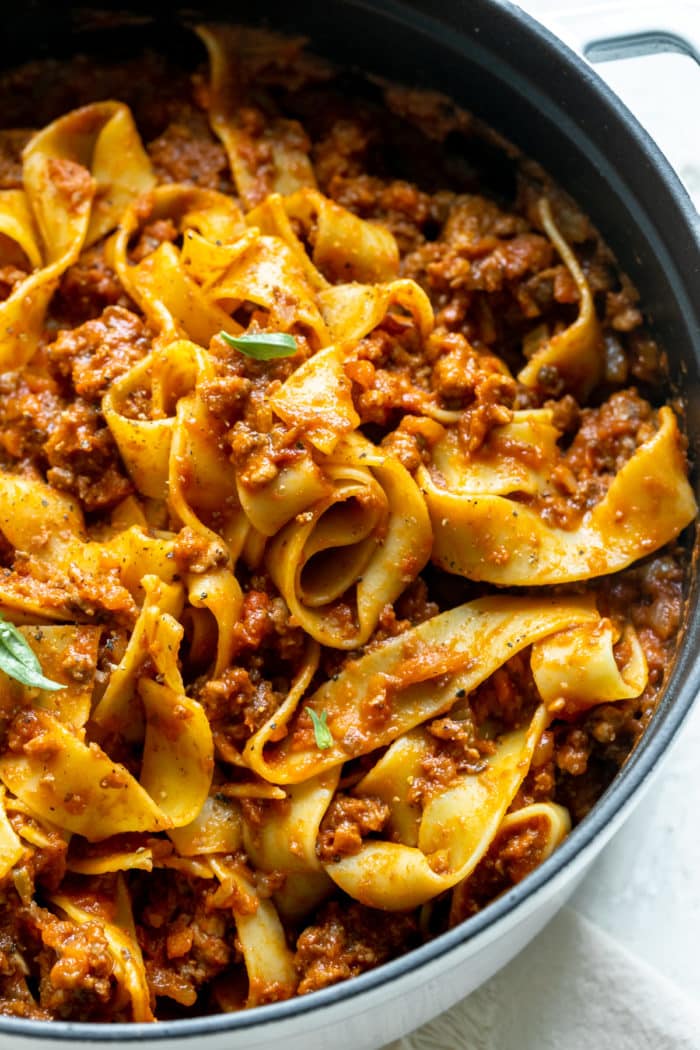 My Pappardelle Bolognese is the date night meal you are looking for because it is the perfect match! The large, bouncy, pappardelle pasta pairs exquisitely with the rich and meaty bolognese sauce.
The sauce has a hearty combination of ground beef, ground pork and pancetta which all come together to create a flavorful, classic sauce.
The bolognese is totally worth the time you put into preparing it, and because this sauce is so bold in flavor, you will feel that it is celebrating your evening right along with you.
Other date night pasta recipes you will love are: shrimp scampi Alfredo, baked pasta and meatballs, and this chicken baked ziti.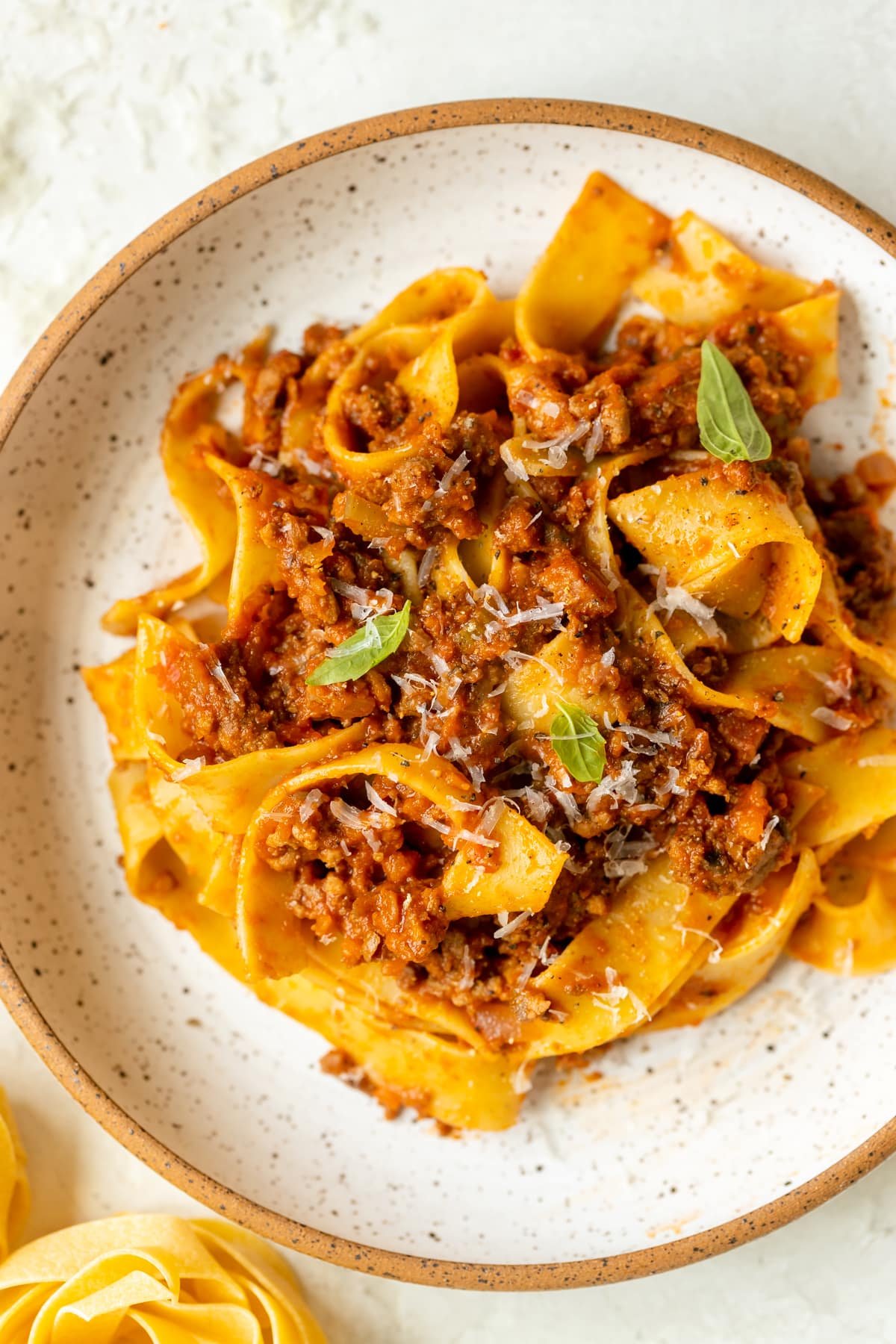 The base of the sauce has onions, carrots, celery and mushrooms which add earthy flavors to the sauce. The bolognese really gets bulked up with the meat added in which takes it from a meat basic sauce to a hearty triple-meat sauce. The crushed tomatoes add a lovely texture and the aroma of the perfect blend of spices will transport you to Italy. Just simmer for an hour and swirl in a touch of heavy cream at the end. The cream lends a rich body to the sauce that completes my bolognese.
As you ladle the sauce on to the the al dente pappardelle, the long pasta ribbons gently support the weight of this hearty sauce. Now your pasta is ready for a generous dusting of freshly grated Parmesan cheese to complete this wonderful Italian meal.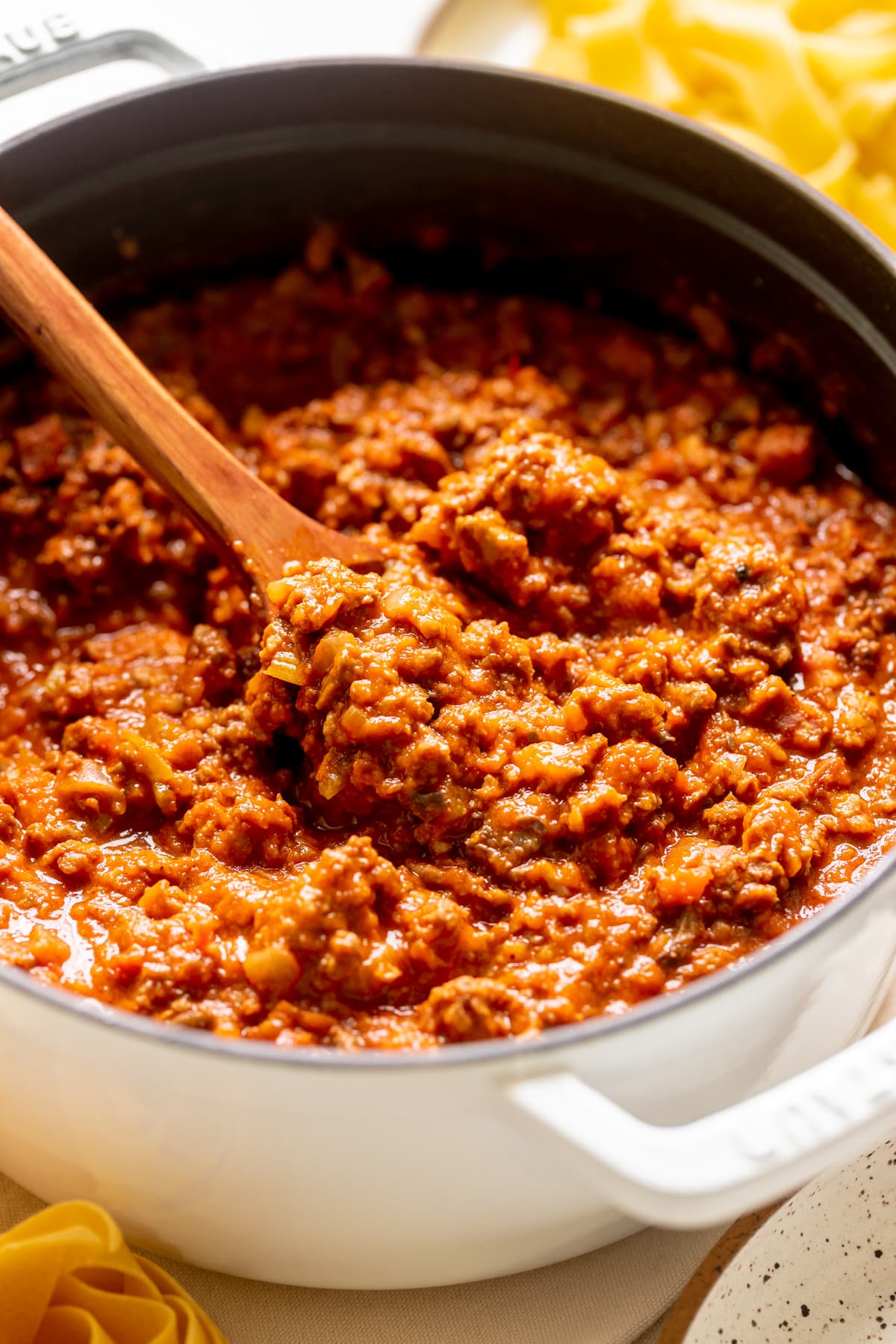 The name Pappardelle originated in Tuscany, from the Tuscan dialect, and the verb "pappare" which means to eat with childish joy and pleasure. So, get your forks ready to find joy and pleasure in every bite.
Reasons Why You Will Love My Pappardelle Bolognese
It's a comforting, delicious meal and once you make it, it will be sure to become a year-round meal.
It's all made in the Dutch oven so there is minimal clean up!
It's versatile. Use different ground meats like veal, lamb or ground turkey, bulk it up with more veggies, or serve over a different noodle shape.
It's super comforting, cozy and an ideal date night dinner with a glass of red wine.
It's protein packed and full of big, rich flavors.
Pasta and meat sauce…who wouldn't love it?!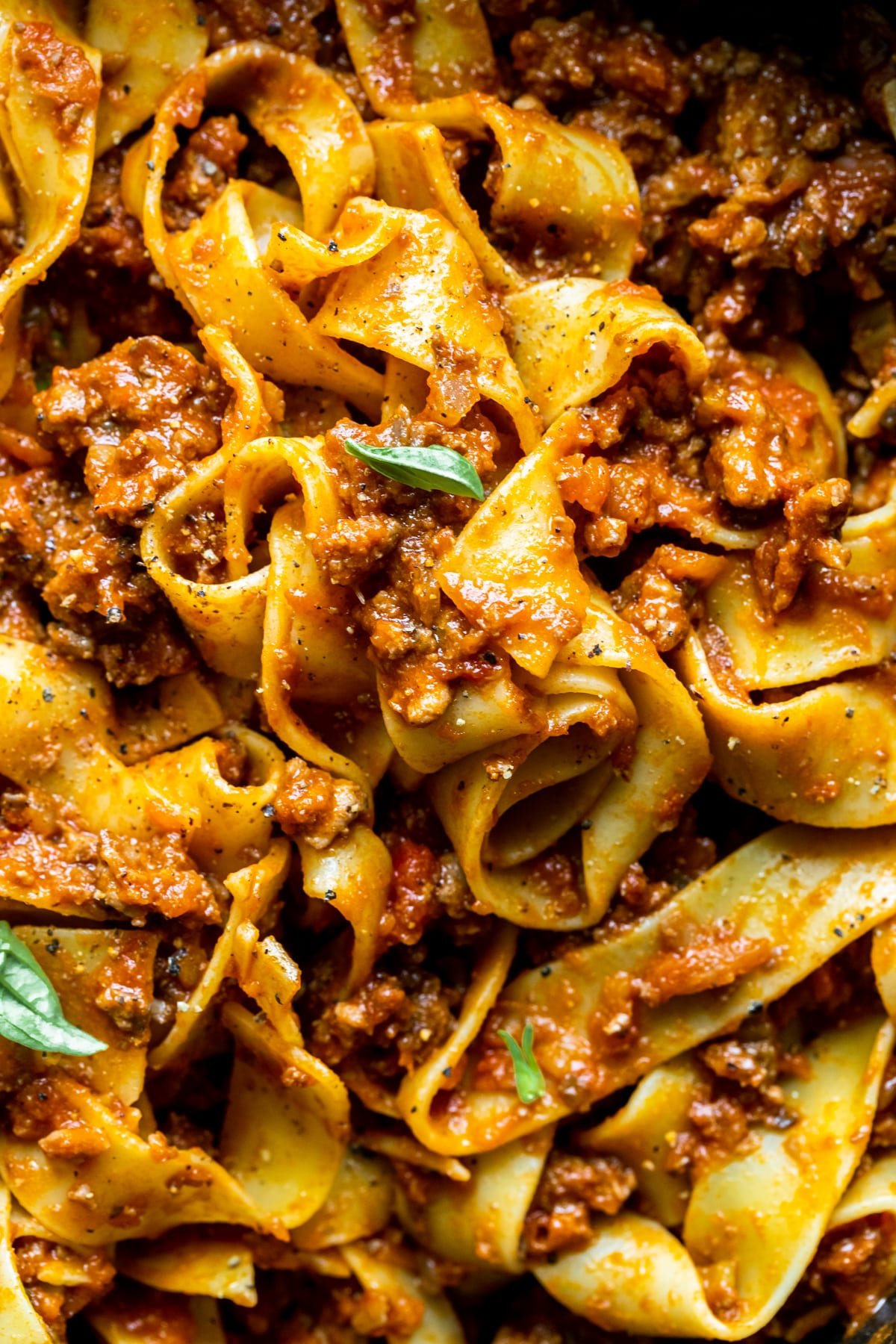 Ingredient Notes
Yellow onion: The strong flavor of yellow onions mellow out during cooking. Be sure to finely chop the onion so your sauce isn't too chunky.
Carrots: Carrots add natural sweetness to the sauce. Finely dice them or use a box grater to grate them into small shreds.
Mushrooms: I like using white mushrooms. Use a box grater to get them into a fine, chopped texture.
Kosher salt: the wider salt grain helps salt food in a more gentle way than table salt.
Chili flakes: I like adding in chili flakes just to give your sauce that extra kick. Leave out if sensitive to spice.
Freshly grated nutmeg: This adds to the lovely authentic flavor of your bolognese. You can find whole nutmeg in the spice section of most grocery stores and I use a microplane to grate it into the sauce.
Tomato paste: Adding tomato paste helps hold the flavors together in your bolognese sauce.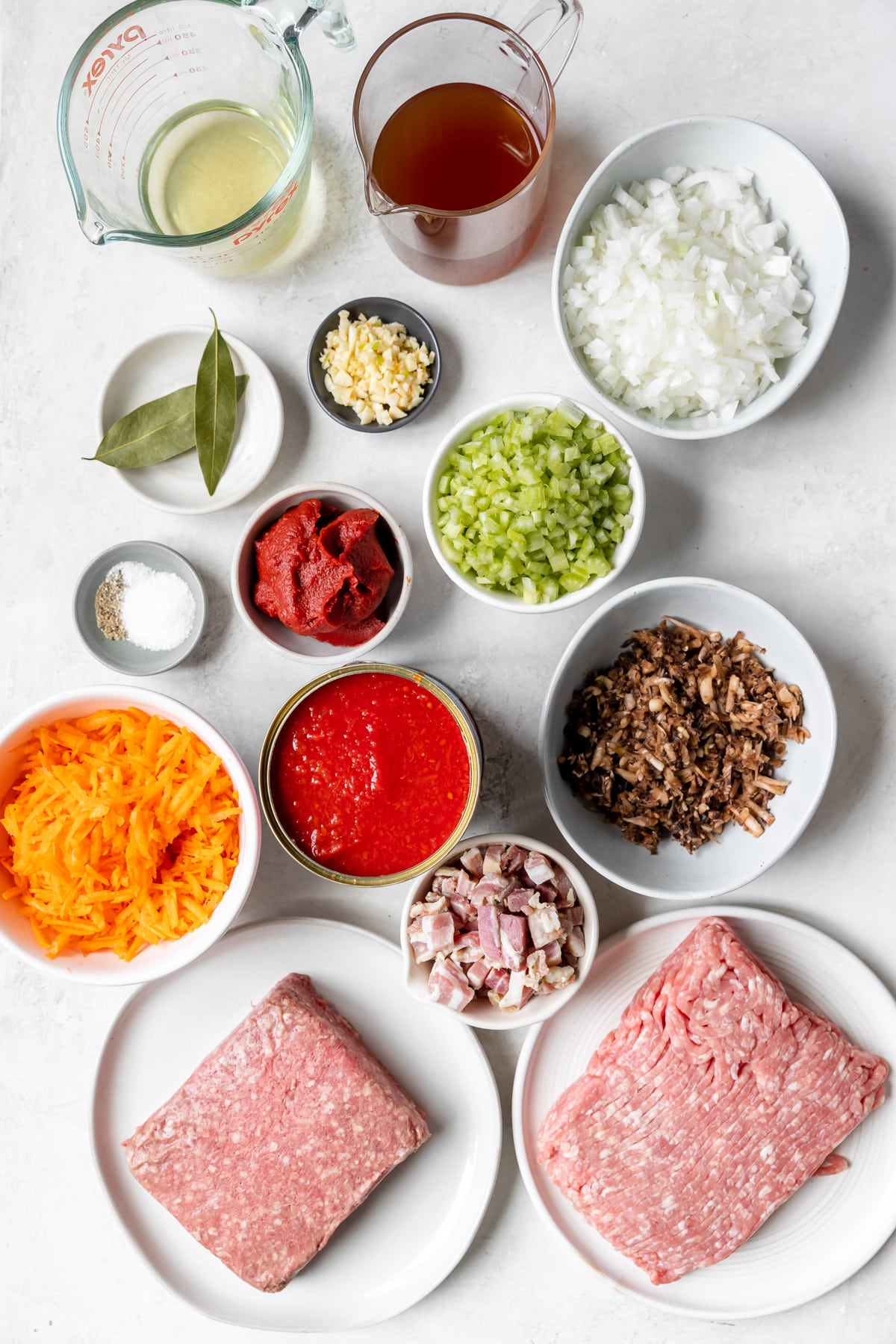 Ground beef & ground pork: I like using a blend of both beef and pork for a great combination of flavor and fat.
Pancetta: I love the depth of texture and flavors that pancetta adds to the bolognese sauce. It's more of an authentic bolognese ingredient, feel free to leave out if you'd prefer.
White wine: White wine adds a subtle flavor to the sauce. You could also use red wine if preferred.
Crushed tomatoes: I love the texture of crushed tomatoes or passata. If you only have whole tomatoes on hand, try breaking them up prior to adding into sauce or even blitzing in a blender first, then adding them in.
Beef broth: Adds more depth of flavor and a silkiness to this yummy sauce.
Heavy cream: This is optional but I really like adding in the cream for a thicker, richer sauce with a slight pink color. You can also use whole milk.
Step by Step Directions
For the full instructions, scroll to the recipe card down below.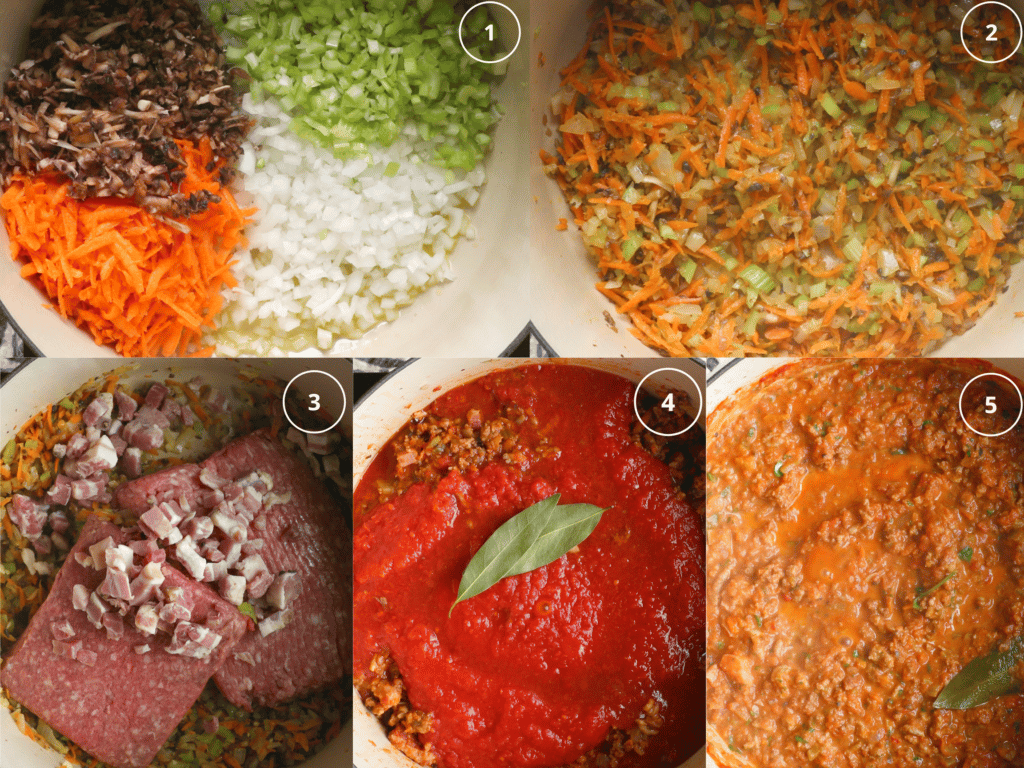 Chop and prep all of the veggies and seasonings you need.
Heat oil in a large Dutch oven and saute the veggies for 6-7 minutes.
Add in the meats and cook until no longer pink.
Drain any excess grease.
Add in the seasonings, then the tomato paste & wine.
Add tomatoes, beef broth and bay leaves.
Simmer 1 hour.
Add heavy cream and parsley.
Simmer at least 30 minutes.
Serve over pappardelle and garnish.
Tips and Variations
Great make ahead meal! If you are making this for a weeknight meal, you can always prepare the bolognese the day before to get extra simmer time. It is the ideal make ahead or meal prep meal, as the layers of flavors continue to deepen over time.
What to serve it with: Pappardelle Bolognese pairs well with so many options: caprese salad, roasted broccoli, garlic bread, a simple green salad, roasted asparagus, etc.
Use red or white wine: I used white wine in this recipe for a more subtle flavor, but if you want a more bold flavor added to the hearty bolognese then pick your favorite red. One rule of thumb that I like to follow is always use a wine that you like to drink as well!
For even more depth of flavor, add in sun dried tomatoes and let them simmer along with the crushed tomatoes.
Stir often while simmering the sauce to keep it from sticking.
Taste and adjust seasonings as the sauce cooks: The key to the best bolognese sauce is to build upon layers and layers of flavors.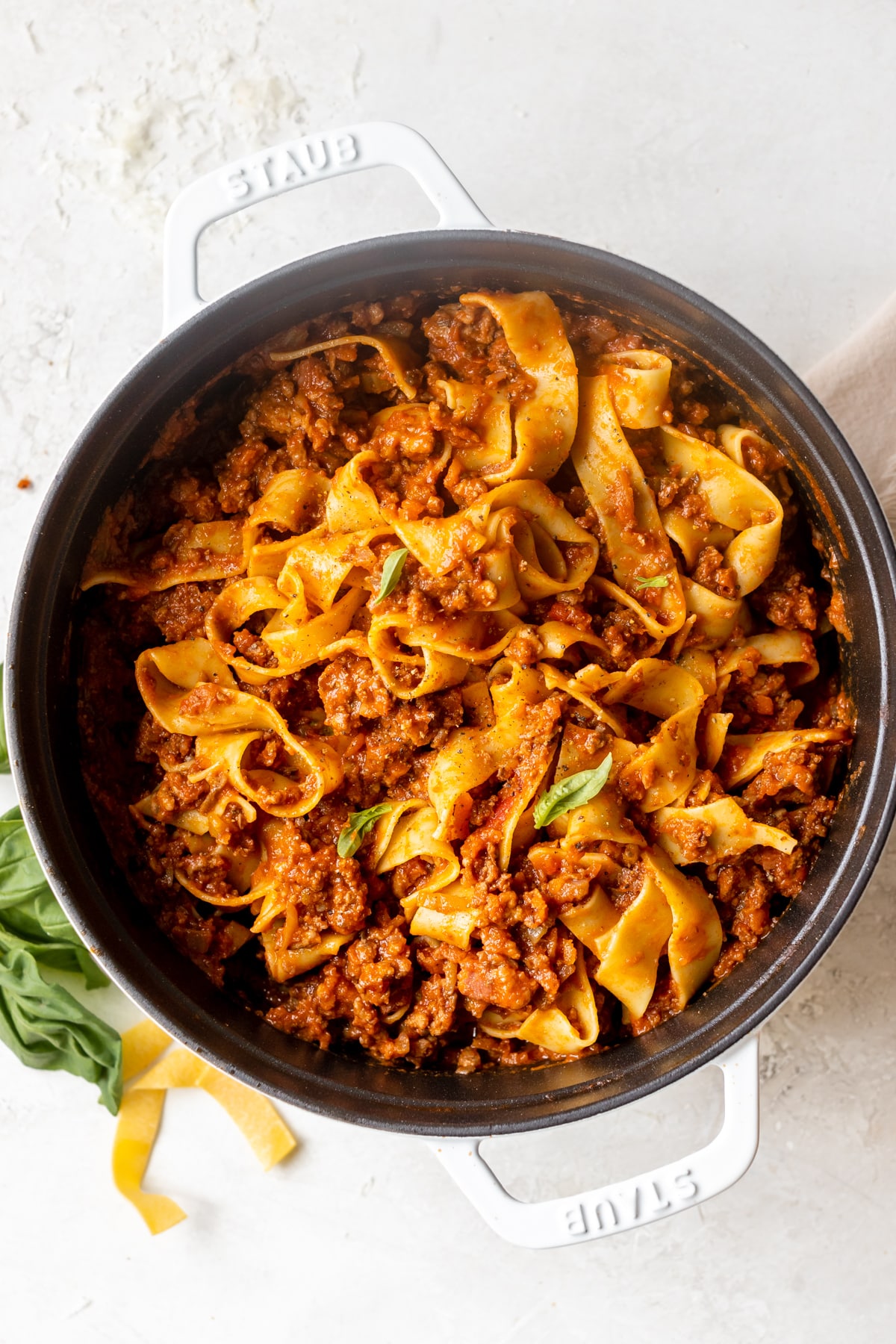 FAQ
What other pasta can I use if I don't have Pappardelle?
The closest substitute for Pappardelle is tagliatelle. It is another egg pasta that is a wide, flat noodle. Any long noodle will work really, and I wouldn't use any tiny pasta shapes.
I can't find Pancetta, what can I substitute for it?
Sometimes it is hard to find Pancetta, so in that case, I look for a thick cut bacon that is not flavored or smoked. Or you can leave out altogether and the sauce will come together just fine.
What can I substitute for red or white wine?
You can use more beef broth or even pomegranate juice.
How long does bolognese last?
Once brought to room temperature, and stored properly in an air tight container bolognese sauce will last for up to 4 days in the refrigerator. You can also freeze your bolognese that is stored in an air tight container for up to 3 months.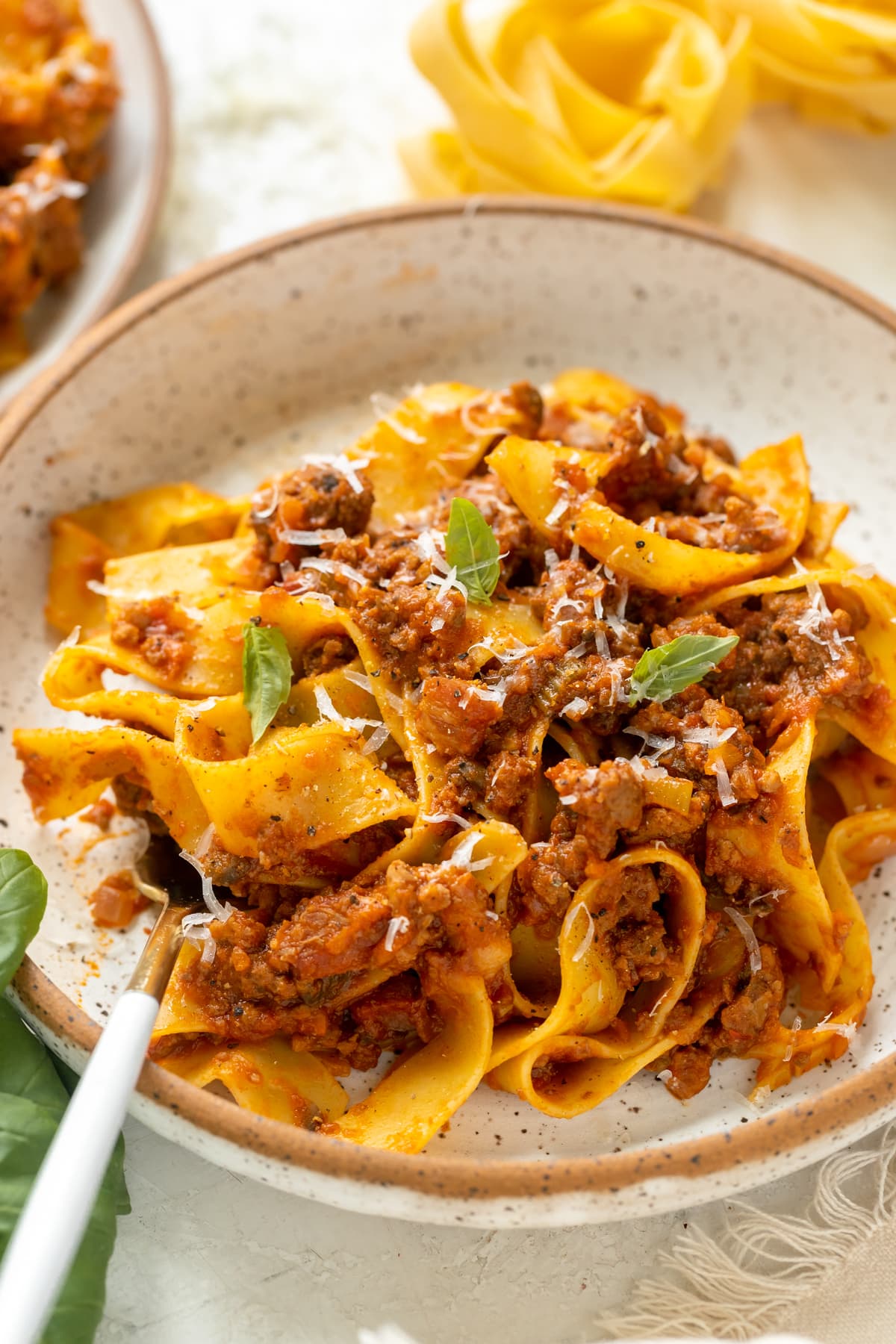 HUNGRY FOR MORE? If you try this recipe, why not leave a star rating in the recipe card right below and/or a review in the comment section further down the page? I always appreciate your feedback! You can also follow me on Pinterest or Instagram. Sign up for my email list, too!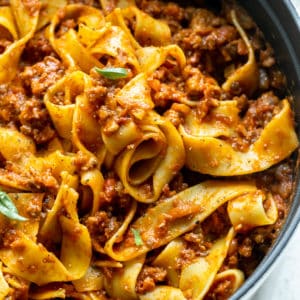 Pappardelle Bolognese
This hearty pappardelle bolognese is made with pancetta, ground beef, and ground pork. It's really easy to bring together and simmered on low for depth of flavor. Serve with big, bouncy pappardelle noodles and a heavy dusting of freshly grated Parmesan cheese.
Ingredients
2

Tbsp.

olive oil

1

medium

yellow onion, finely diced

2

large

carrots, grated or finely diced

3

ribs

celery, finely diced

8

oz.

white mushrooms, grated or finely diced

3

cloves

garlic, minced

1

lb.

ground beef

1

lb.

ground pork

4

oz.

pancetta, diced

1

tsp.

kosher salt, plus more to taste

1/4

tsp.

black pepper

pinch of chili flakes

freshly grated nutmeg

6

oz.

tomato paste

1/2

cup

white wine or red wine

1,

28 oz. can

crushed tomatoes

2

bay leaves

1

cup

beef broth

1/4

cup

heavy cream

1/4

cup

fresh flat leaf parsley, chopped

1

lb.

pappardelle pasta, cooked

parmesan cheese, for serving
Instructions
Heat the oil in a large pot or Dutch oven over medium heat.

Add the onions, carrots ,celery, and mushrooms. Cook until soft, about 6-7 minutes, stirring occasionally. Add the garlic and stir for about another minute.

Add in the ground beef, ground pork and pancetta. Cook until no longer pink, drain any excess grease.

Season with salt, pepper, chili flakes (if using) and a pinch of nutmeg.

Add the tomato paste and stir to coat the veggies and meat. Then add the wine and cook for 1-2 minutes.

Add in the crushed tomatoes, beef broth and bay leaves and stir. Bring to a boil, then reduce to a simmer, with the lid off, for 1 hour. Stir occasionally.

Add in the heavy cream and parsley, add more salt and pepper to taste, and simmer for 30 more minutes.

Remove and discard the bay leaves. Serve over cooked pappardelle pasta. Garnish with parmesan and enjoy!
Notes
Storage: Once brought to room temperature, and stored properly in an air tight container bolognese sauce will last for up to 4 days in the refrigerator. You can also freeze your bolognese that is stored in an air tight container for up to 3 months.
Nutrition
Serving:
1
serving
|
Calories:
683
kcal
|
Carbohydrates:
50
g
|
Protein:
32
g
|
Fat:
38
g
|
Saturated Fat:
14
g
|
Polyunsaturated Fat:
4
g
|
Monounsaturated Fat:
17
g
|
Trans Fat:
1
g
|
Cholesterol:
146
mg
|
Sodium:
523
mg
|
Fiber:
4
g
|
Sugar:
6
g
|
Vitamin C:
9
mg
|
Calcium:
74
mg
|
Iron:
4
mg
Hi, I'm 
Tawnie

!

Welcome to my tiny "korner" on the Internet! I am a Registered Dietitian Nutritionist who loves cookies as much as kale. (OK, maybe I like cookies a little bit more but shh, don't tell anyone). I am so glad you're here! Follow along for hassle free, realistic and approachable recipes.

More about Tawnie

I'd love to see what you made!!
Share it with me on Instagram or Facebook and tag me @krolls_korner or use the hashtag #KrollsKorner!