Ritz Cracker Christmas Cookies
Chocolate | Published on Nov 26, 2018 | Last modified on Nov 9, 2019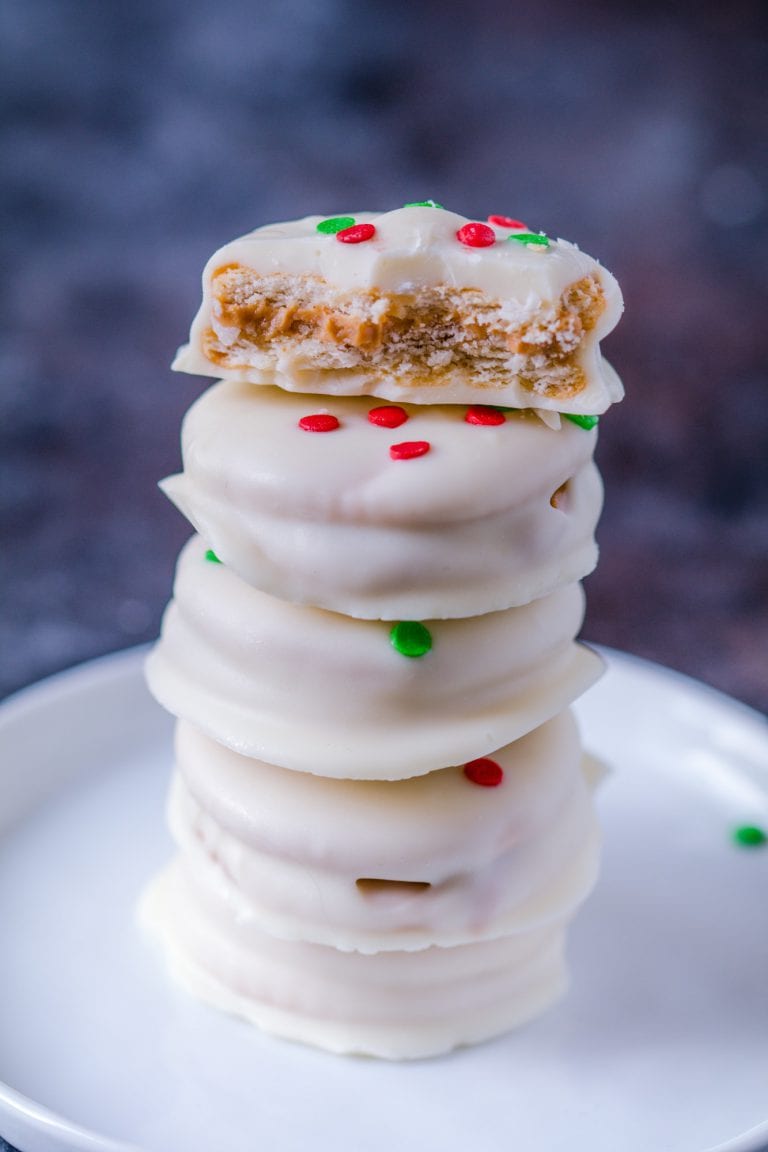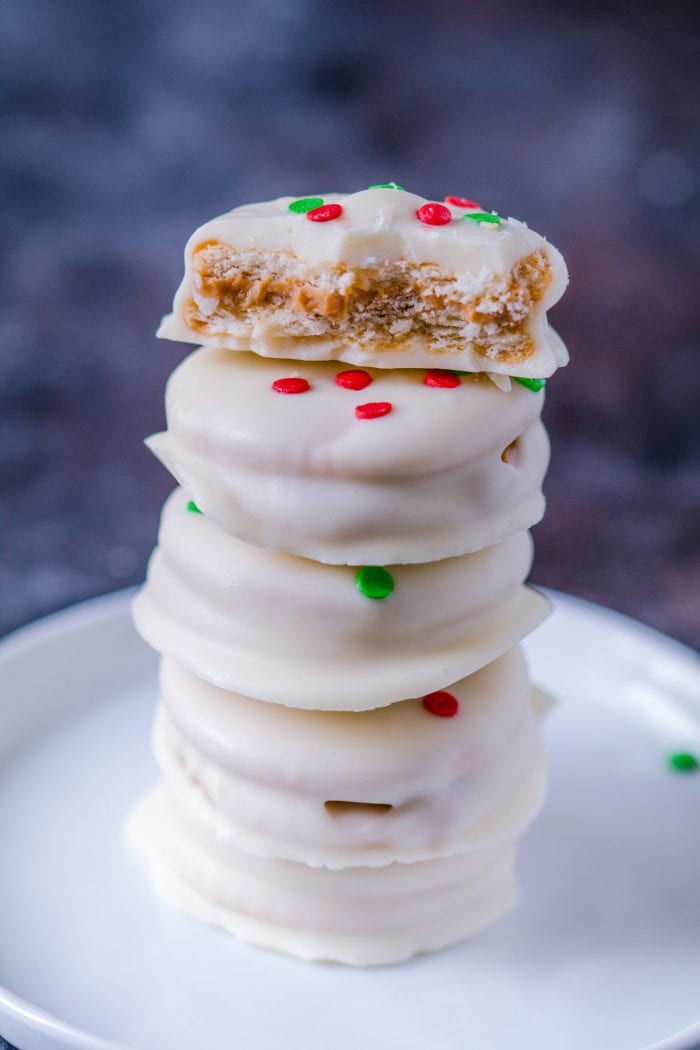 You'll love these white chocolate covered Ritz Cracker Almond Butter Cookies because they are simple to make and perfect for Christmas!
If you are a fan of chocolate and almond butter these fool-proof, super easy cookies are perfect for you!
They are one of my favorite treats to bring around during the holiday season and everyone always loves them. They are the perfect combination of chocolate and almond butter.
These sweet and salty treats require no baking sheets or stand mixers.
It helps if you have a double broiler to melt the white chocolate, but if not, you can melt the chocolate chips or candy melts in the microwave in a microwavable safe bowl. I use a Pyrex and cover with a paper plate so the chocolate doesn't splatter. I heat my chocolate for 2 minutes andI stir every 30 seconds.
What if I don't have almond butter?
I love making these cookies using almond butter but if you do not have any on hand any nut butter works well.
I've used creamy peanut butter and soy nut butter as well since Cam is allergic to nuts. Cashew butter or even a sunflower butter would be delicious as well.
What kind of white chocolate should I use?
My favorite to use: Ghirardelli White Chocolate Baking Chips or their white chocolate candy melts. If your chocolate isn't melting properly, add in a little coconut oil and it should smooth out.
Gluten free?
Ritz Crackers do have gluten, so unfortunately if you are gluten free these crackers aren't ones you should pick up at the store. However, they are many circular shaped crackers close to Ritz flavor that you could use instead! Browse your grocery store to find the best ones for you.
Need a new Christmas Cookie recipe to bring to parties this year? These cookies are easy and super delicious! #krollskorner #christmascookies
Click To Tweet
Are these cookies dairy free?
Not if you use the Ghirardelli White Chocolate. However, Enjoy Life Foods and Nestle both have allergy friendly chocolate on the market that you can use to make these dairy free friendly!
How do you store these cookies?
If you make them right before the party you can make them, place in fridge and then take them over when you are ready. Or, if you want to snack on them throughout the holiday season keep them in your freezer and pull one out when you want a treat!
Leave me a comment below to tell me all of your 2019 recipe needs/requests!
Now on to these cookies…you'll love how fast and easy they are to make!
Did you make these cookies? Let me know what you think and I always love when you tag @krolls_korner on social media!
PIN THESE RITZ CRACKER ALMOND BUTTER CHRISTMAS COOKIES FOR LATER!
My friend Lorie over at Lemons and Zest also has a delicious cookie recipe similar to this one! Go check her blog out too!

I'd love to see what you made!!
Share it with me on Instagram or Facebook and tag me @krolls_korner or use the hashtag #KrollsKorner!