Classic Strawberry Shortcake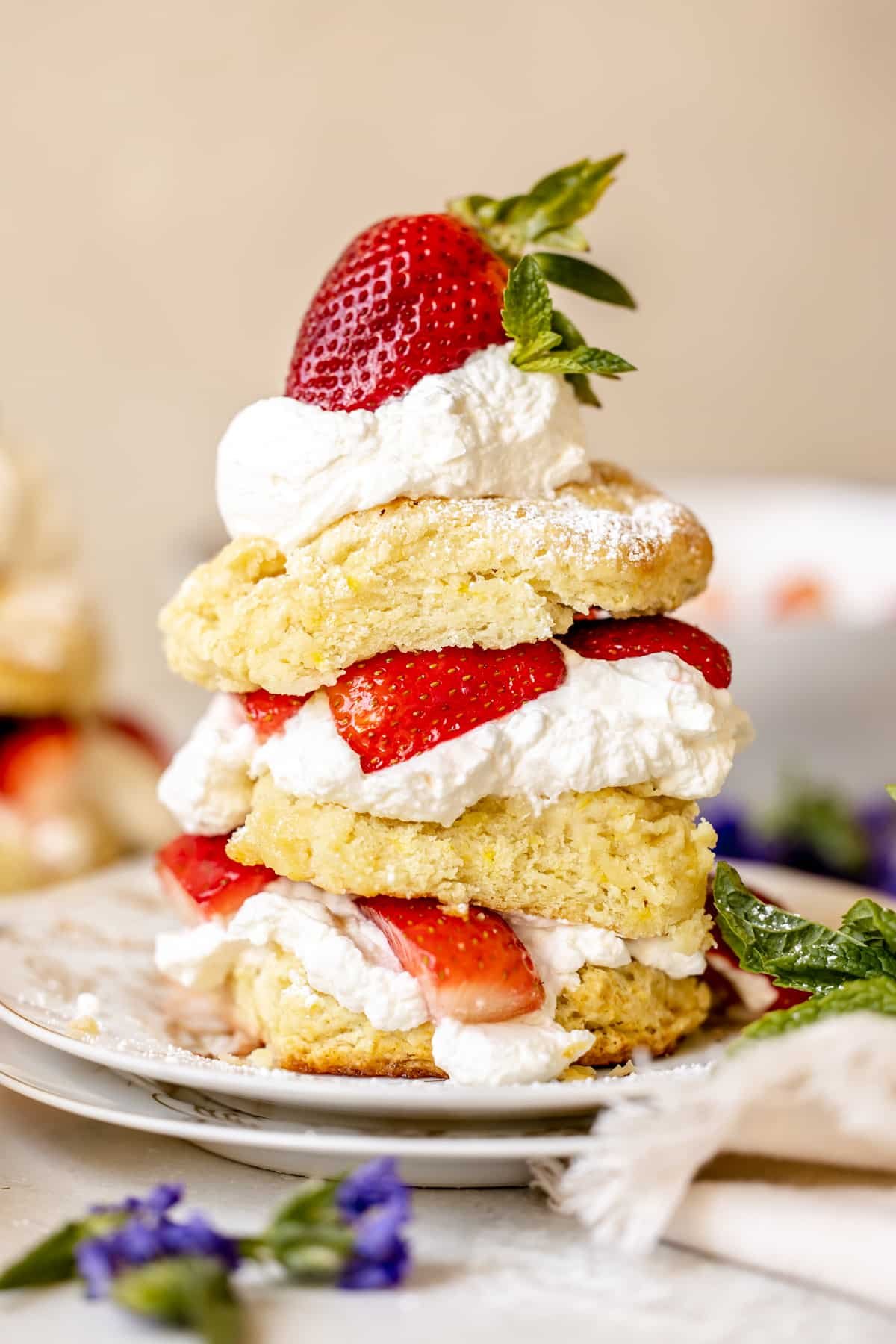 This Classic Strawberry Shortcake is a gorgeous dessert that screams Spring and Summer! It's made with vibrant, juicy strawberries, a homemade whipped cream and buttery, tender shortcakes.
These Strawberry Shortcake Cookies and Strawberry Scones are some of my other favorite desserts to make this time of year.
And pssst, this is the April Kroll's Korner Baking Challenge recipe of the month! 🤗
Strawberry Shortcake is actually quite simple. It's broken down into 3 components: the strawberries, the biscuit/shortcake, and the whipped cream.
My fool proof recipe features fluffy, melt-in-your-mouth shortcakes, sweet, freshly sliced strawberries that are macerated with sugar and lemon juice producing a light syrup that spills over mountains of berries and the homemade fresh, fluffy whipped cream.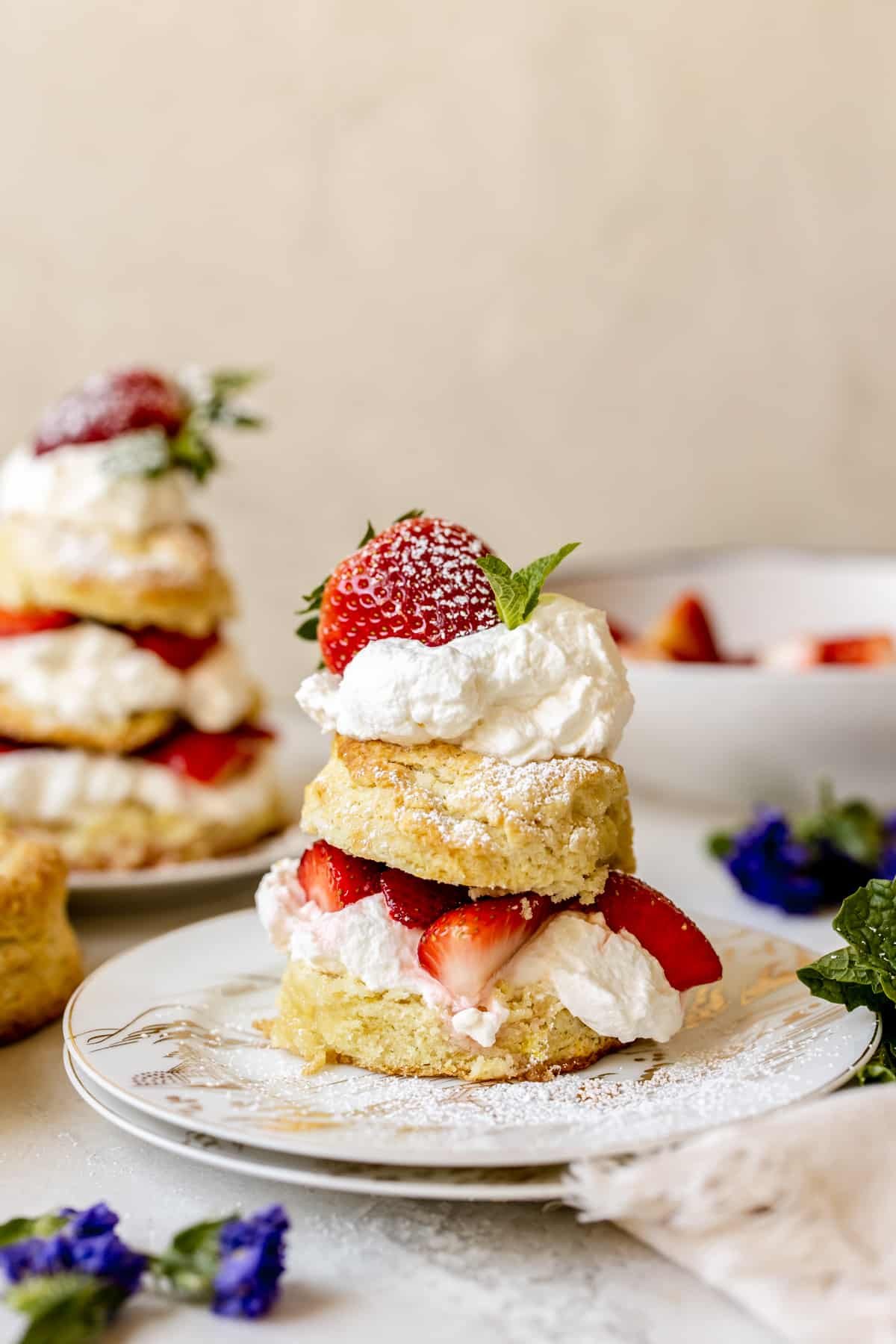 It all gets sandwiched together to create this mile-high, impressive, drool-worthy dessert.
The secret to my Classic Strawberry Shortcake is making the shortcakes with a lemon infused sugar. It is simply granulated sugar mixed with fresh lemon zest; just rub it between your fingertips and this helps release the lemons natural oils into the sugar to infuse more lemony flavors into the biscuits. The lemon notes really explode with flavor in each bite of the tender and moist, flaky layers of shortcake.
April begins strawberry season and there is no better way to showcase these sweet treats then when they are piled high on top of my buttery, lemony sweet biscuits that are filled with sweet whipped cream and then topped with coarse sugar and finished with a light dusting of powered sugar and a fresh mint sprig.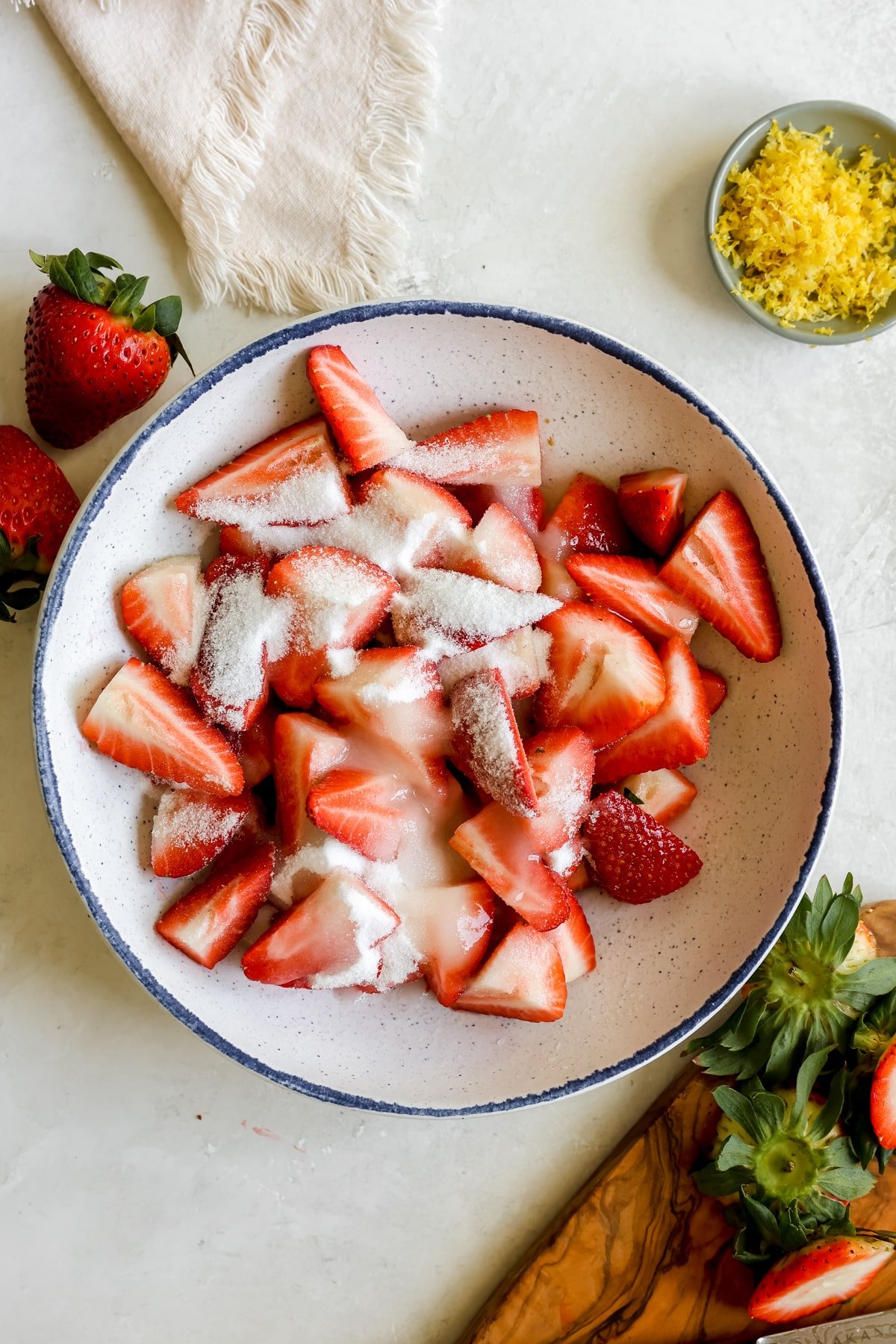 Why this recipe works
No chill time; it's a quick recipe!
Everything can be made in advance so when you're ready to serve, it's easy peasy!
The strawberries are macerated which helps sweeten the berries just a bit more. This compliments the dessert perfectly (and only takes 30 minutes!)
It is so fresh and flavorful.
The dough for the shortcakes require no special equipment.
Ingredient Notes
For the ingredient measurements and entire recipe, be sure to scroll down to the bottom of the blog post where the recipe card is located.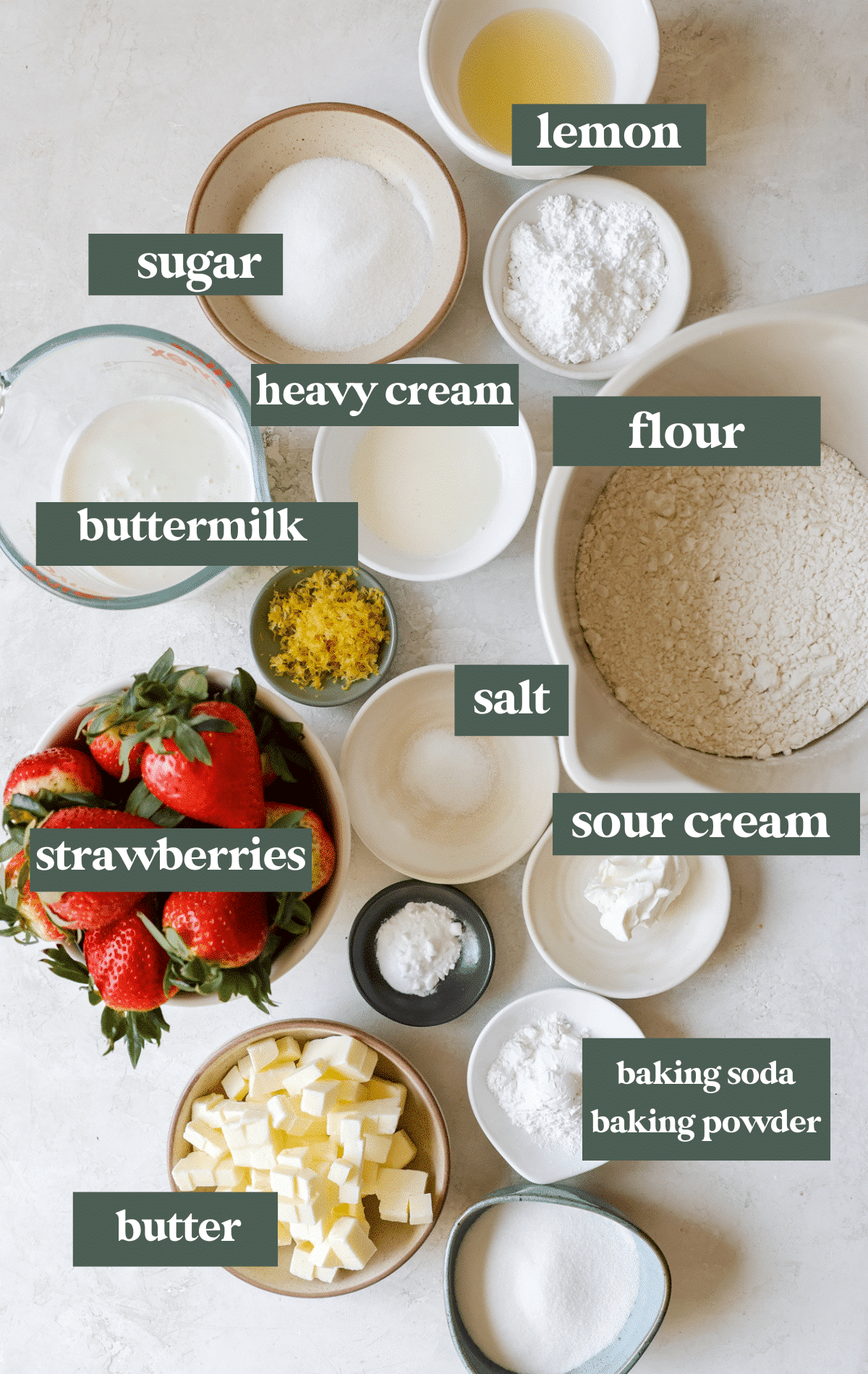 Flour: I like to use All purpose flour. It is so dependable and great for this recipe.
Sugar + lemon zest: Adding lemon sugar to the biscuit dough as a zing of citrus to the biscuits and pairs perfectly with the sweetness of the strawberries. Feel free to omit the lemon if you prefer.
Baking powder: be sure to the baking powder accurately. Too much and the air bubbles in the batter will be too large and break causing the batter to fall and the cakes will have a fallen center. If you don't use enough baking powder the biscuits will be tough and have a compact crumb.
Baking soda: baking soda adds additional leavening and helps give the biscuits a golden brown top and bottom.
Salt: Salt has a binding effect on gluten, therefore it adds strength to the flour plus it adds flavor to the biscuits. I just a fine salt. If using kosher salt, you can add a bit more salt.
Unsalted butter, cold: The colder your butter, the flakier your biscuits. I like to cut into them cubes and then add them in, or you can slice into thin 1/2 Tbsp. pieces.
Buttermilk: By using buttermilk, your biscuits will have that "buttermilk tang" and the flakey layers will be tender. The buttermilk reacts with the baking soda to make them fluffy and tall.
Heavy cream, cold: Adding just a bit of heavy cream adds a little more fat to the biscuits and makes them more moist.
Step by Step Directions
For the full recipe instructions, scroll down to the bottom of the blog post to the recipe card.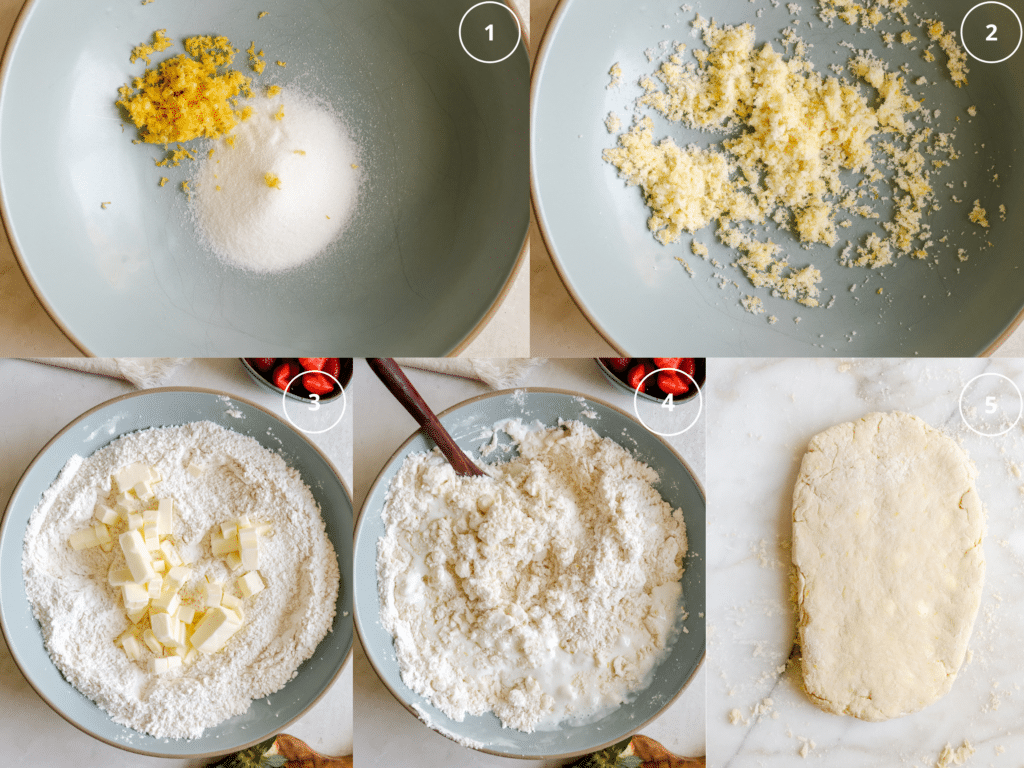 Wash, quarter and hull the strawberries. Mix with lemon juice and sugar. Place in the fridge.
Make the shortcakes: combine dry ingredients, cut in the butter, add wet ingredients, bring the dough together gently, cut into biscuits using a 2 1/2 – 3 inch circular biscuit cutter and bake.
While they're baking, make the whipped cream.
Assemble the shortcakes while they're still warm!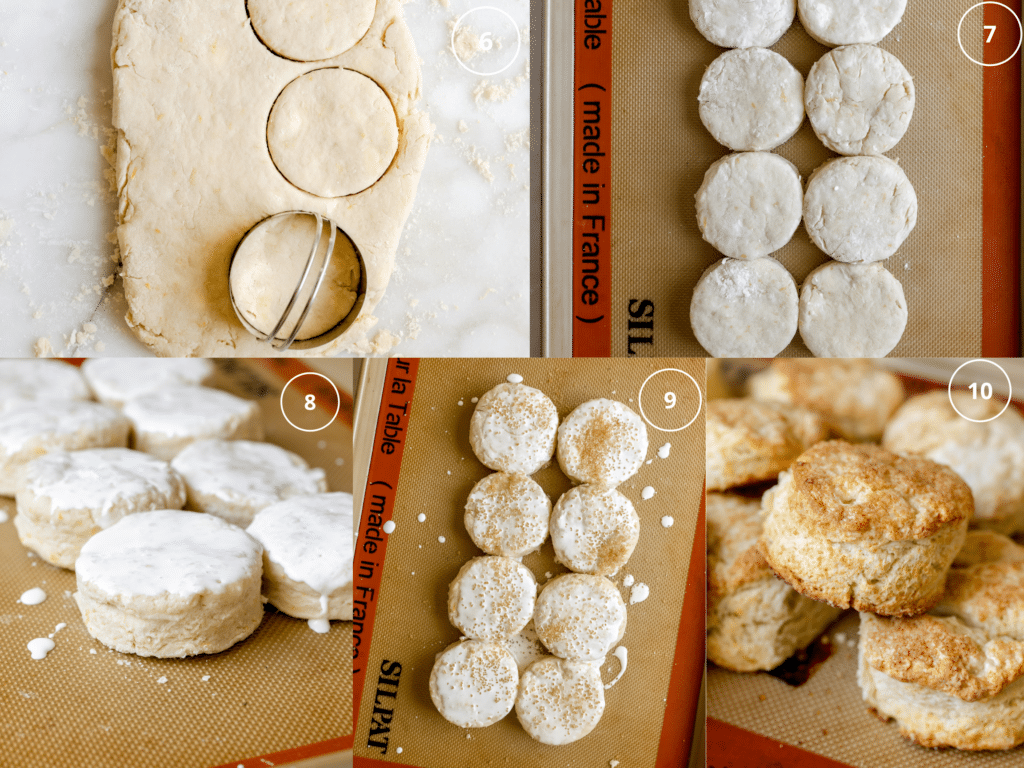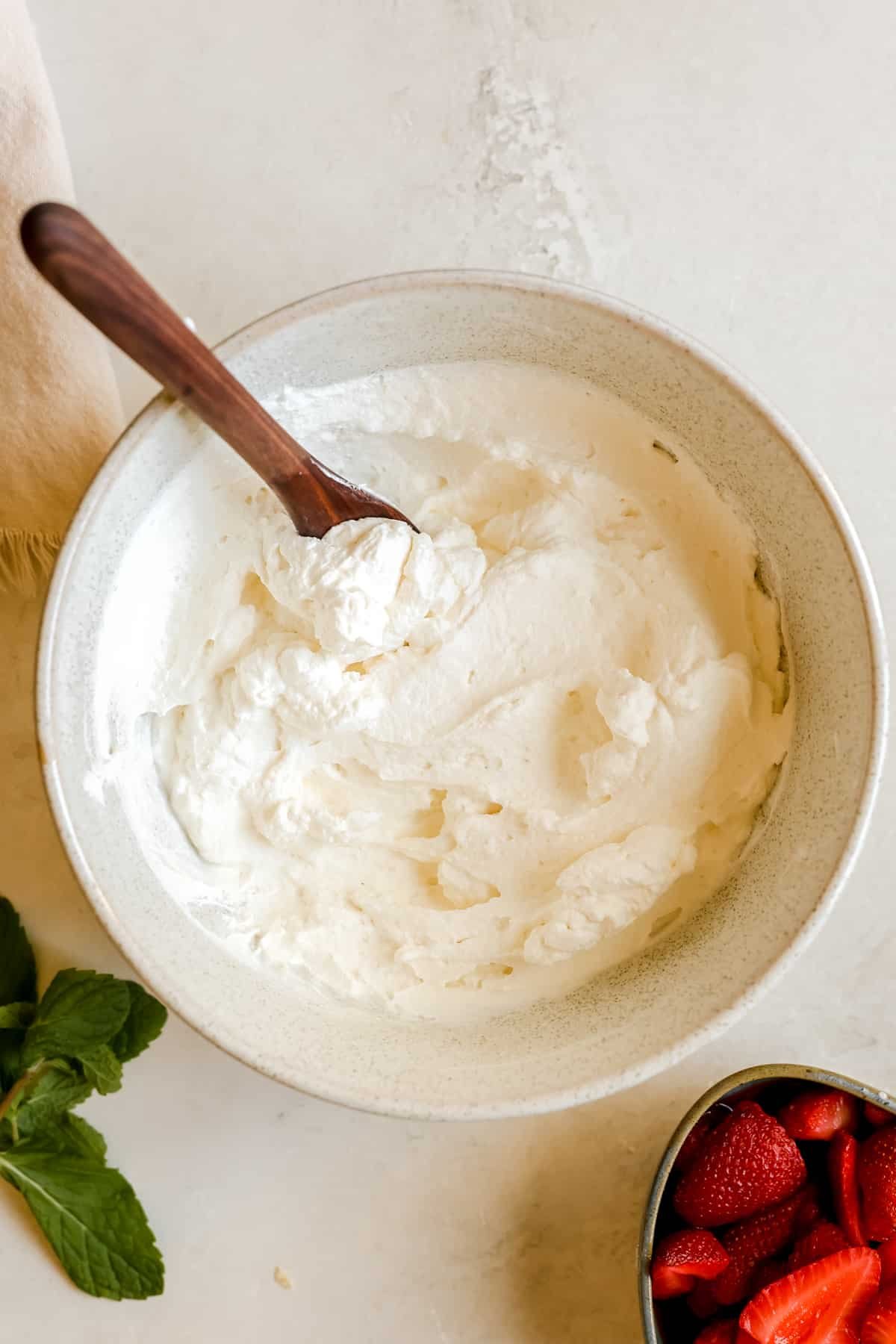 Expert Tips and Variations
Prep the strawberries in the sugar and lemon juice the night before so that step is already checked off your list.
Instead of granulated sugar, you can also macerate the strawberries using brown sugar, powdered sugar, honey or maple syrup. You can also add spices like ginger and cinnamon to macerated fruit, as well as herbs, vinegar, ginger, or flavored extracts like vanilla or mint.
Spoon and level flour: When measuring flour, I like to spoon it into a dry measuring cup and level off the excess using the back of a knife. If you scoop directly from the bag the flour will compact, which will result in dry biscuits.
Press the biscuit cutter straight down into the dough (no twisting). If you've made biscuits before you know if you twist it seals the edges and the biscuits won't rise and puff up.
Flour the biscuit cutter in between cuts to help with any sticking.
If you feel your biscuit dough got warm when cutting the butter, pop it in the fridge for a few minutes to get it chilled again.
Remember shaggy dough = good dough.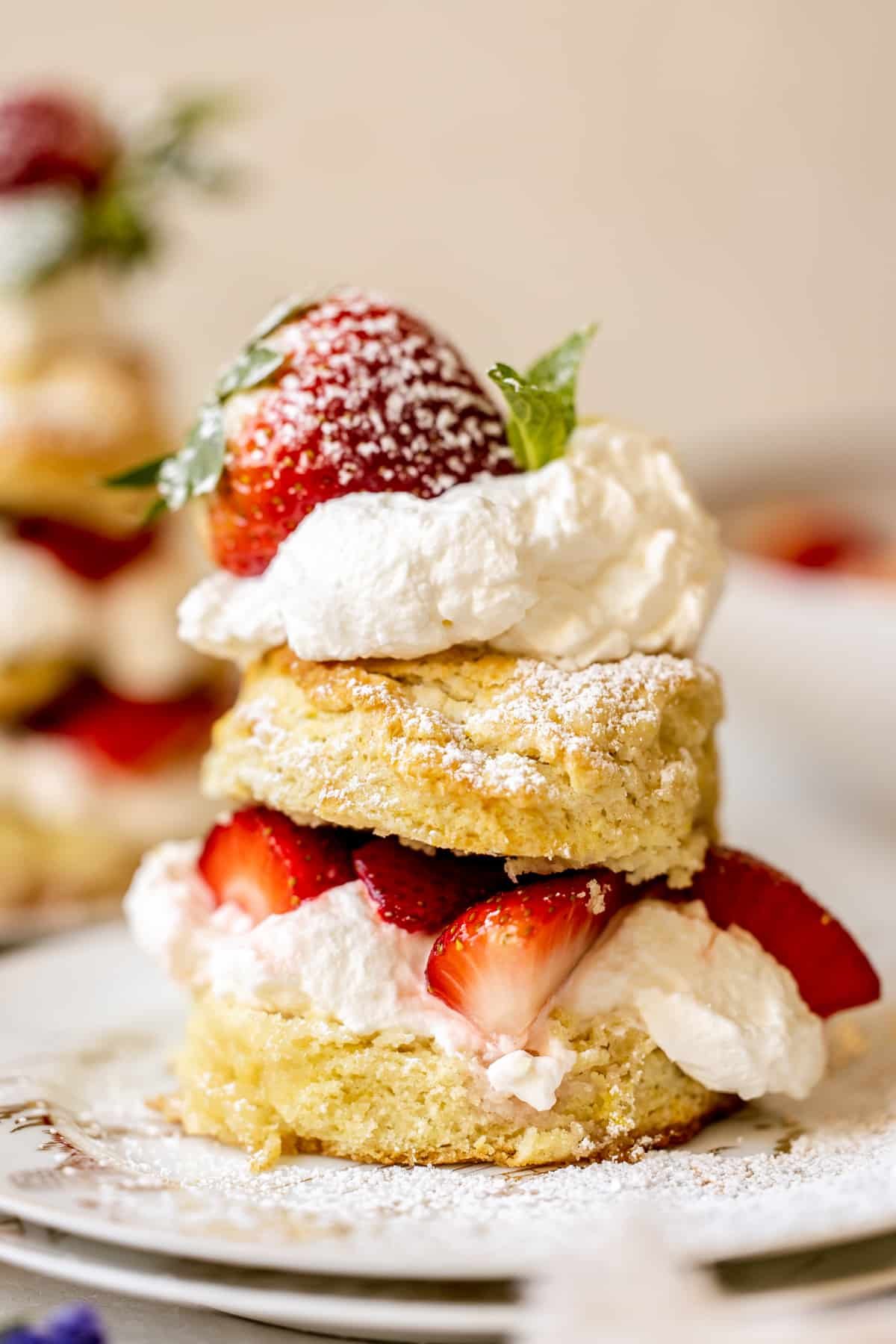 Gently form the scraps of the dough together, these biscuits from the scraps are never as "pretty" as the first ones cut/don't rise as high but it's okay because they will be piled high with strawberries and whipped cream.
Place biscuits next to each other on the baking sheet: when the biscuits are touching, as opposed to being a few inches apart from each other, it helps them bake up nice and tall. It also prevents lopsided biscuits.
Brush the tops of the shortcakes with heavy cream prior to baking to help them bake golden brown. Add a sprinkle of sugar on top too for crunch and sparkle.
Save any small or little strawberries to garnish on top of the shortcakes.
If you have any leftover macerated strawberries, serve them over ice cream for another simple dessert option.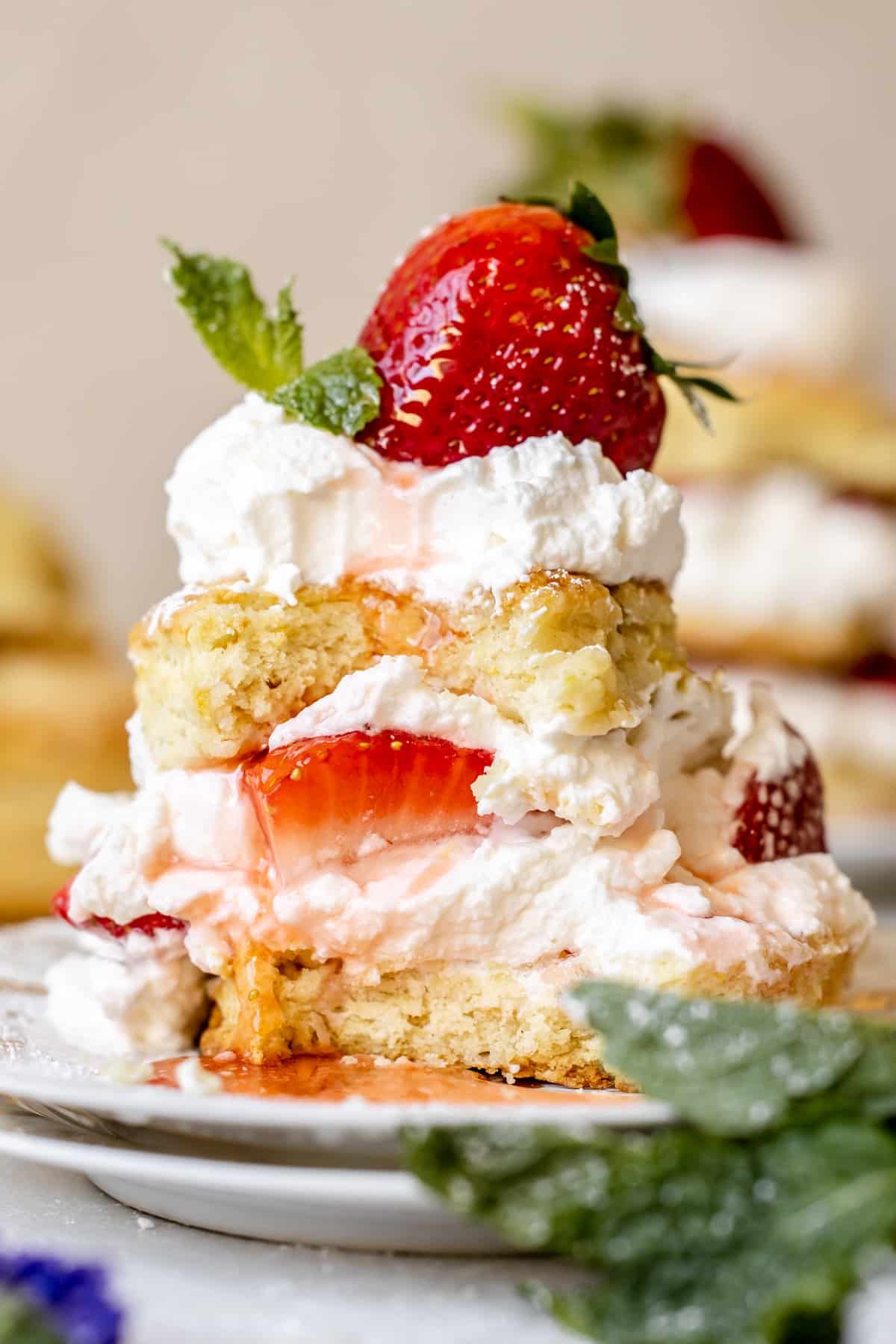 FAQ
How long should I macerate the strawberries?

Because strawberries are a softer fruit, it only takes about 30 minutes to soften the berries, and get the sweet strawberry syrup. I just pop them in the fridge while I prepare everything else and they're perfect by the time the dessert is ready to be assembled.

I have leftover shortcakes, should I refrigerate them?

You can store them in an air tight container for up to 2 days on the counter, but if you need to store them longer, I like to keep them in an air tight container in the refrigerator for up to 5 days. If you freeze them, store them in an air tight container and you can keep them for up to 1 month.

How do I keep my Strawberry Shortcake from getting soggy?

ssemble the cake right before serving. If you assemble the dessert too early, the cake will become soggy as the strawberry juices will soak into the cake.

Can I freeze macerated strawberries?

Yes! You can freeze them in an airtight container for up to 3 months, or store in the refrigerator in an air tight container for up to 3 days. Another fun storage option is to pour the syrupy fresh fruit into ice cube containers. Once frozen, you can drop the fruity cubes into your favorite drink, sparkling water or champagne.

More Fruit Desserts To Try:
Before You Begin! If you make this, please leave a review and rating letting us know how you liked this recipe! This helps our business thrive & continue providing free recipes.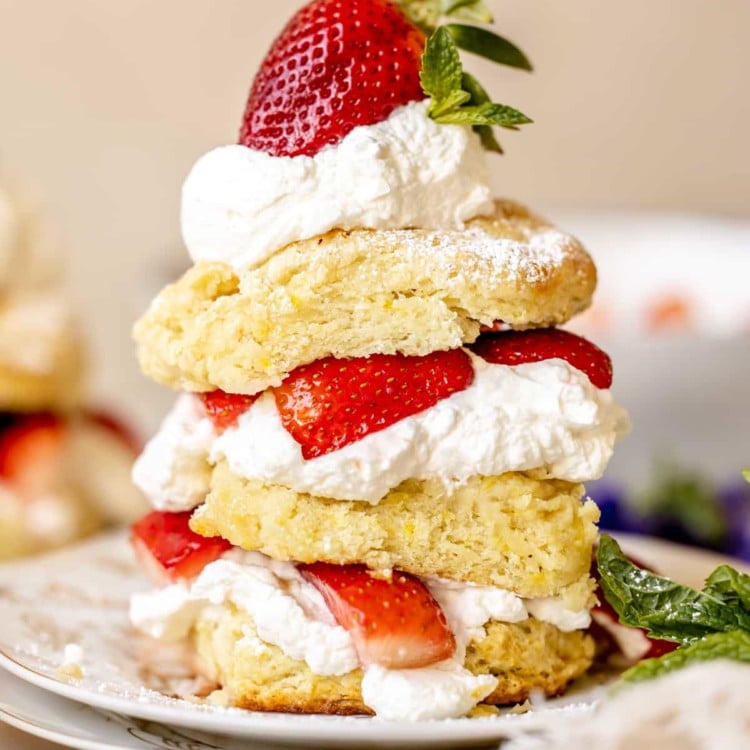 Classic Strawberry Shortcake
This Classic Strawberry Shortcake features fluffy, melt-in-your-mouth shortcakes, sweet macerated strawberries and homemade whipped cream.
Ingredients
For the strawberries:
1 1/2

lbs.

fresh strawberries

(you can probably get by with just 1 lb. strawberries but I love to load them up on each shortcake so I use 1 1/2 lbs. 🤗)

1/3

cup

sugar

2

Tbsp.

fresh lemon juice
For the shortcakes:
3

Tbsp.

sugar

2

tsp.

lemon zest (zest from 1 lemon)

3

cups

all purpose flour, spooned and leveled

1

Tbsp. + 1 tsp.

baking powder

3/4

tsp.

baking soda

1/2

tsp.

fine salt

10

Tbsp.

unsalted butter, cold

1

cup

buttermilk, cold

1-2

Tbsp.

heavy cream

coarse sugar, optional
For the whipped cream:
1

cup

heavy cream, cold

2

Tbsp.

powdered sugar

1

tsp.

vanilla extract

1

Tbsp.

sour cream
Last step! If you make this, please leave a review and rating letting us know how you liked this recipe! This helps our business thrive & continue providing free recipes.
Instructions
Wash, hull and quarter the strawberries. In a mixing bowl, combine the strawberries with the sugar and lemon juice. Refrigerate until juices develop, at least 30 minutes.

Preheat the oven to 425°F. Line a baking sheet with a silicone baking mat or parchment paper and set aside.

Combine the sugar and lemon zest together in a large bowl. Rub the sugar and lemon zest between your fingertips to create a lemon sugar. This helps release the natural oils and infuse more lemon flavor into the shortcakes.

Add the flour, baking powder, baking soda, and salt. Whisk to combine.

Cube the cold butter into small pieces and add to the dry ingredients. Work the butter into the flour with your hands/fingertips until it's crumbly. See video for guidance. If you have warm hands and feel the dough got too warm, pop it in the fridge for a few minutes to chill.

Create a well in the middle of the flour and stream in the buttermilk, mixing together with a fork, wooden spoon or rubber spatula. Mix just until it begins to come together and a shaggy dough forms. We don't want to over mix it here, overworking the dough will result in dense, tough cakes. We want fluffy cakes!

Pour the dough onto a clean, lightly floured work surface. Gently knead the dough, folding it over itself about 6-8 times until it comes together. You can use some extra flour on your hands as needed. Pat the dough into a rectangle, about 3/4-1-inch in thickness.

Using a 2 3/4-3-inch biscuit cutter, press the cutter straight down into the dough (do not twist). Bring together the scraps and continue pressing the biscuit cutter down into the dough. You should have ~8 shortcakes.

Place the shortcakes on the prepared baking sheet. Line them up next to each other. When the biscuits are touching, as opposed to being a few inches apart from each other, it helps them bake up nice and tall. It also prevents lopsided cakes.

Brush the tops of the cakes with heavy cream and a sprinkle of sugar, if using. Bake for 15-18 minutes, or until the biscuits are golden brown on top. Remove from the oven and cool.

Prepare the whipped cream: Using a hand held mixer or electric mixer with a whisk attachment, beat the heavy cream on medium-high speed until soft peaks begin to form, about 1-2 minutes. Then add in the powdered sugar, vanilla extract and sour cream and beat until medium peaks form.

Assemble the shortcakes: slice the cakes in half, add a layer of whipped cream, strawberries on top then the other cake on top. Top with more whipped cream, strawberries and a dusting of powdered sugar. Serve immediatley and enjoy!
Notes
Make ahead! The biscuits can be made 1 day in advance and kept at room temperature in an air-tight container or frozen for up to 3 months. The strawberries can be made the night before, just keep in mind the longer they macerate the more syrup and juices they form and they get softer. The whipped cream is best made fresh but can hold up for up to 1 day in the refrigerator.
If not serving right away, keep all components separated and assemble right before serving.
Nutrition Information
Serving:
1
cake
,
Calories:
532
kcal
(27%)
,
Carbohydrates:
63
g
(21%)
,
Protein:
8
g
(16%)
,
Fat:
29
g
(45%)
,
Saturated Fat:
18
g
(113%)
,
Polyunsaturated Fat:
1
g
,
Monounsaturated Fat:
7
g
,
Trans Fat:
1
g
,
Cholesterol:
80
mg
(27%)
,
Sodium:
603
mg
(26%)
,
Potassium:
265
mg
(8%)
,
Fiber:
3
g
(13%)
,
Sugar:
24
g
(27%)
,
Vitamin A:
998
IU
(20%)
,
Vitamin C:
53
mg
(64%)
,
Calcium:
193
mg
(19%)
,
Iron:
3
mg
(17%)
Nutritional information is provided as a courtesy and is automatically calculated. It should only be construed as an estimate rather than a guarantee. Ingredients can vary and Kroll's Korner can't make any guarantees to the accuracy of this information.