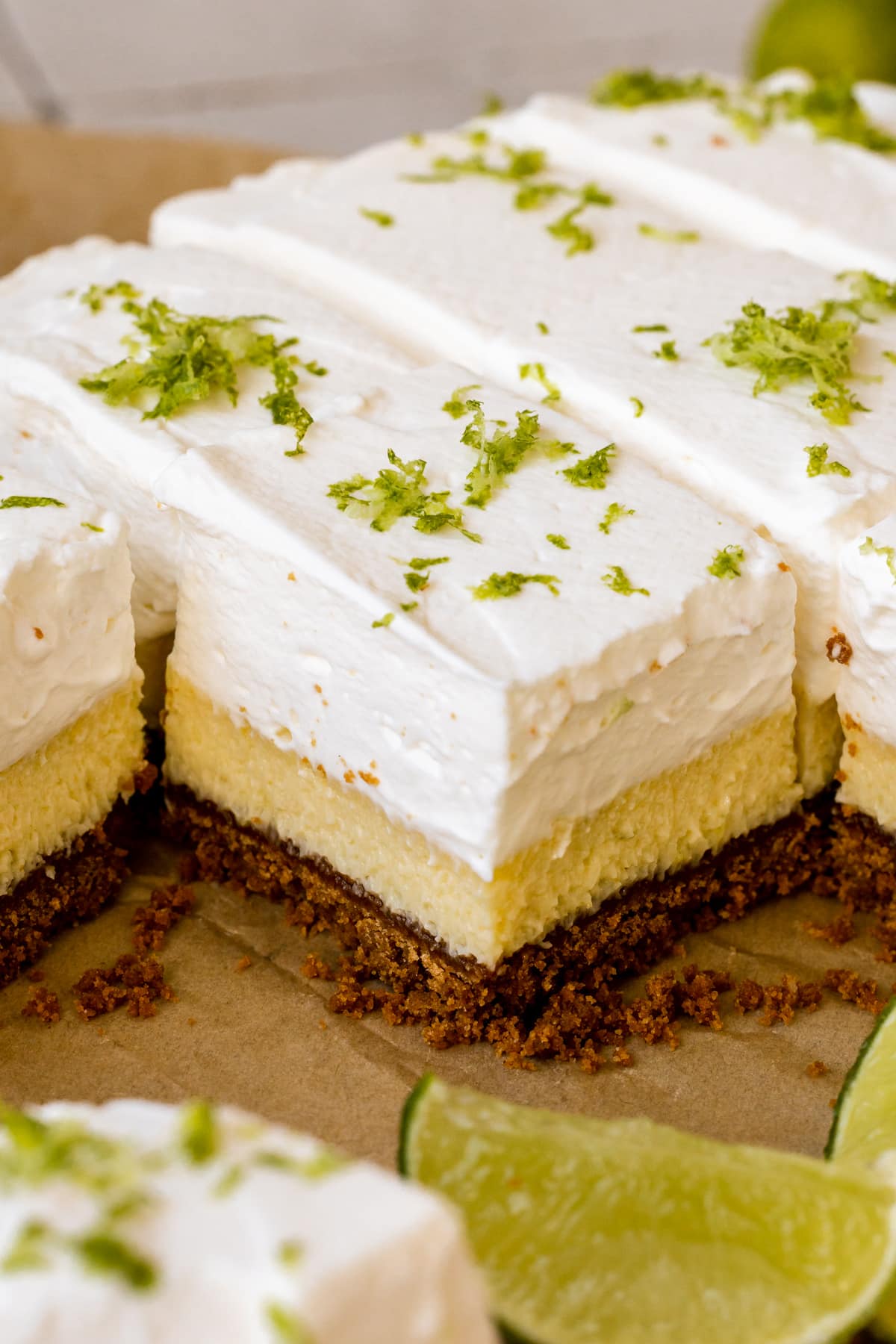 Key Lime Pie Bars are a classic Spring and Summer dessert that are on repeat in our house!
Small aromatic limes are the reason we love a classic Key Lime Pie, and my Key Lime Pie Bars have just risen the bar on yumminess.
If you are looking for some more summer time dessert, these are reader favorite citrus desserts you will love: Lemon Crinkle Cookies, Orange Pound Cake, or these Orange Cinnamon Rolls.
There are three layers of cooI and creamy, sweet and tangy, crisp and citrusy flavors that make up the deliciousness of these bars.
The flavors will transport you to springtime in the Florida Keys. Why the Florida Keys you ask? Well, I didn't know this until I started recipe testing these bars, but key limes were commercially grown in the Florida Keys (which is how they got their name) until the 1920s when a hurricane took out most all of the groves, and then farmers replaced the small, sweet lime with the larger, seedless Persian Lime. The original Key Lime Pie was made from the sweeter Key Lime, and that is what you will find in my Key Lime Pie Bars.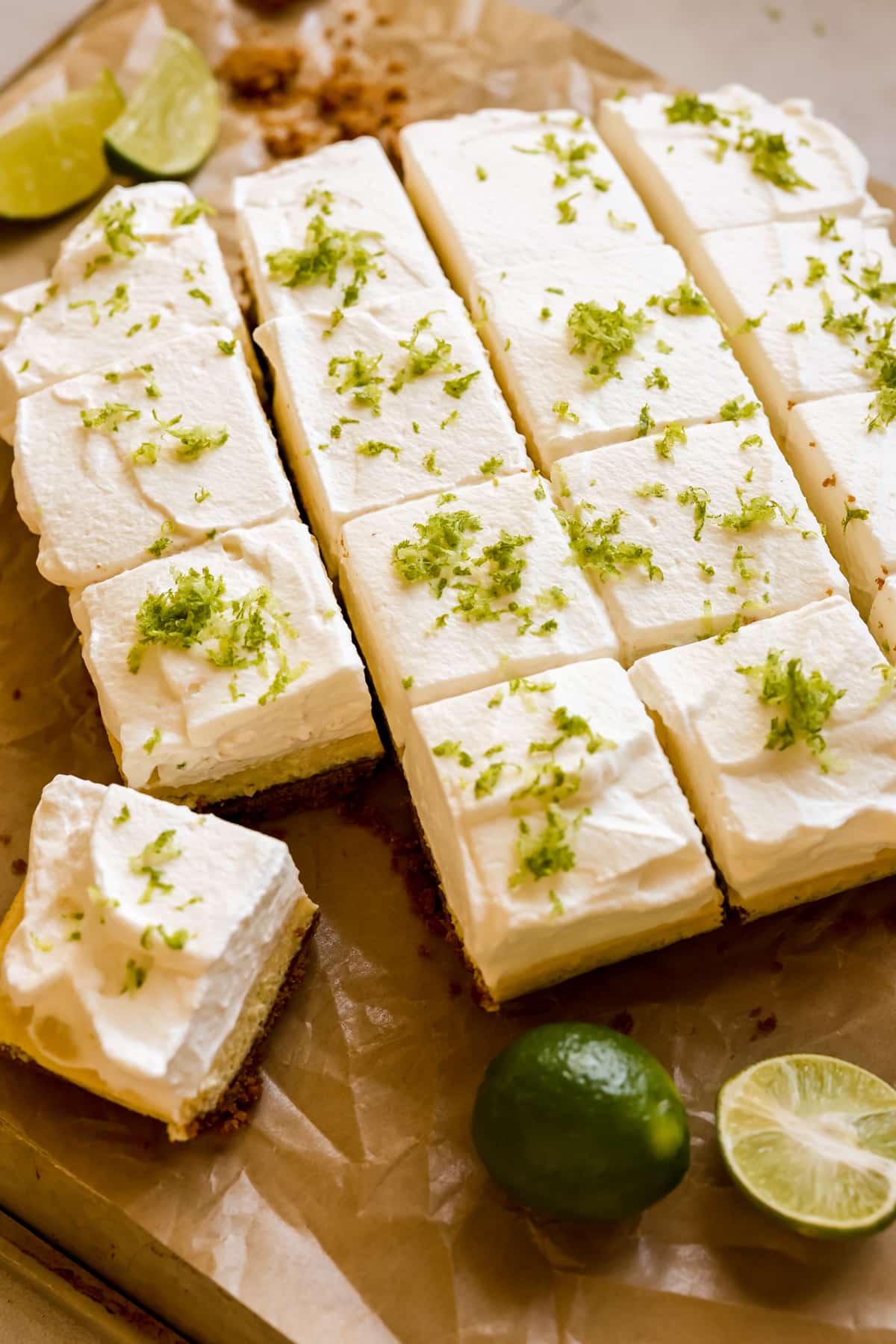 Usually Key Lime Pie is made with a graham cracker crust, but I wanted to make something with just a bit of a twist, so for the bottom layer of this bar I'm using the buttery-crisp, caramel flavor Biscoff cookies. Blended with butter, the Biscoff cookie makes a perfectly crisp crumb for the four ingredient zesty filling made with eggs, Key Limes, sweetened condensed milk and just a pinch of salt.
I just love the smooth, creaminess of the whipped cream topping too. I find that the rich creaminess from the whipped cream balances out the tart pie nicely as opposed to using a meringue.
These Key Lime Pie Bars are a sensational citrusy dessert and I can't wait for you to try them!
Why this recipe works:
They are cool and refreshing
Few ingredients, and surprisingly easy to make
You can prep the crust as well as the lime filling the day before!
It's a classic recipe for Spring and Summer!
Ingredient Notes
For the ingredient measurements and entire recipe, be sure to scroll down to the bottom of the blog post where the recipe card is located.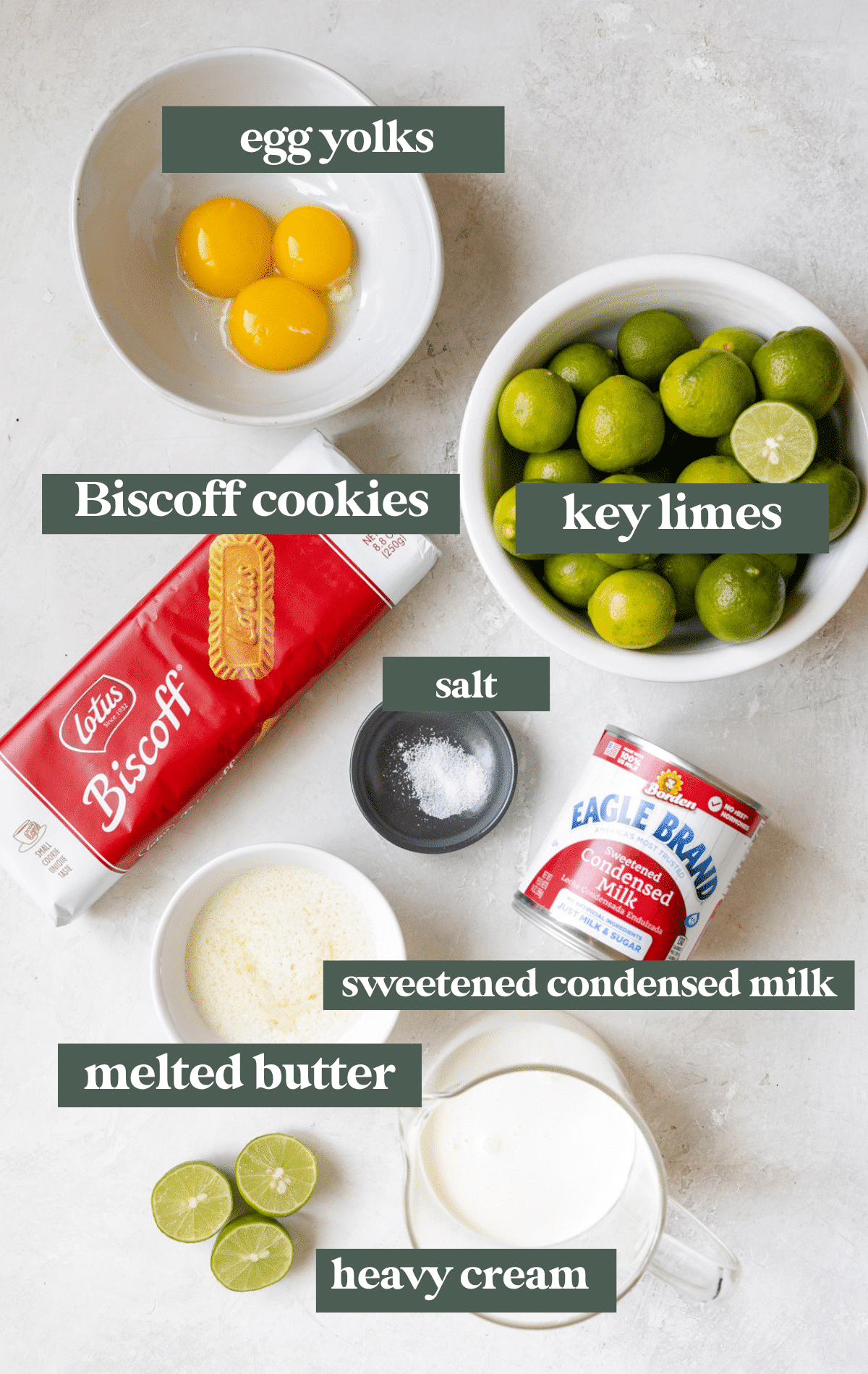 Biscoff cookies: The caramelized flavor and buttery goodness make a tasty, buttery crust that compliments the tangy sweetness of the lime filling:
Butter: I like how the butter is just the right amount so that it doesn't overpower the tangy flavor of the filling.
Egg yolks: Using just the egg yolks makes for a smooth custard
Sweetened condensed milk: his is a key ingredient in my key lime bars. It adds a wonderful flavor and color to the filling.
Lime zest: Key lime zest has a wonderful citrusy flavor.
Lime juice : Even though it takes more Key limes to get the juice you need, it is absolutely worth the extra effort to squeeze a few more.
Pinch of salt: This small amount of salt will help bring out the sweetness in these Key lime pie bars.
Heavy cream: Because of it's high fat content, the cream will whip easily and hold stiff peaks.
Powdered sugar: There is cornstarch in powdered sugar so it helps the whipped cream last longer and hold it's shaper longer too. Giving you a better looking dessert even after a few days on the refrigerator.
Vanilla: Adding pure vanilla extract to whipped cream makes a world of difference to the flavor. I would never leave it out.
Sour cream: Sour cream adds a bit of tartness to the cream to help balance out the sugar.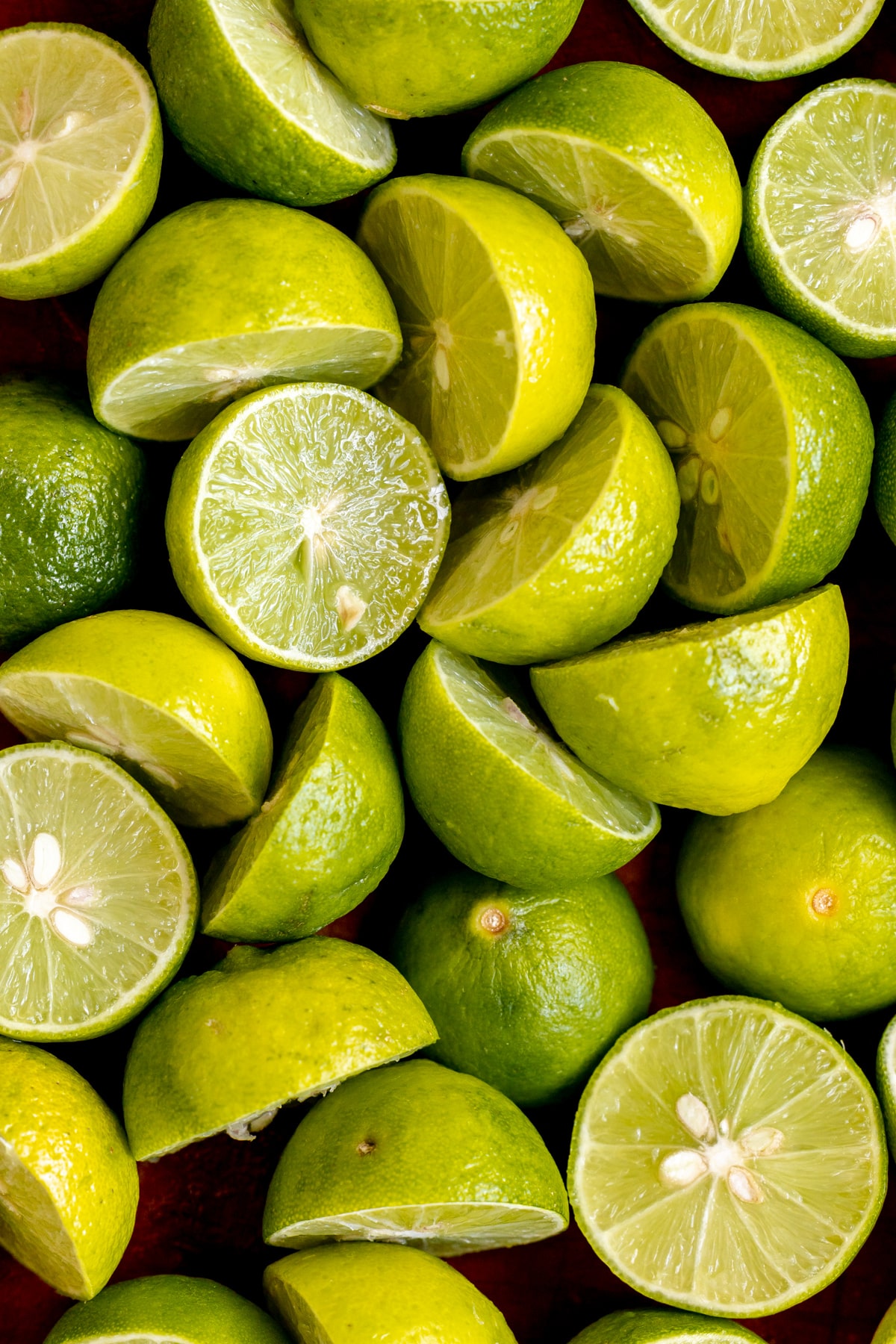 Step by Step Directions
For the full recipe instructions, scroll down to the bottom of the blog post to the recipe card.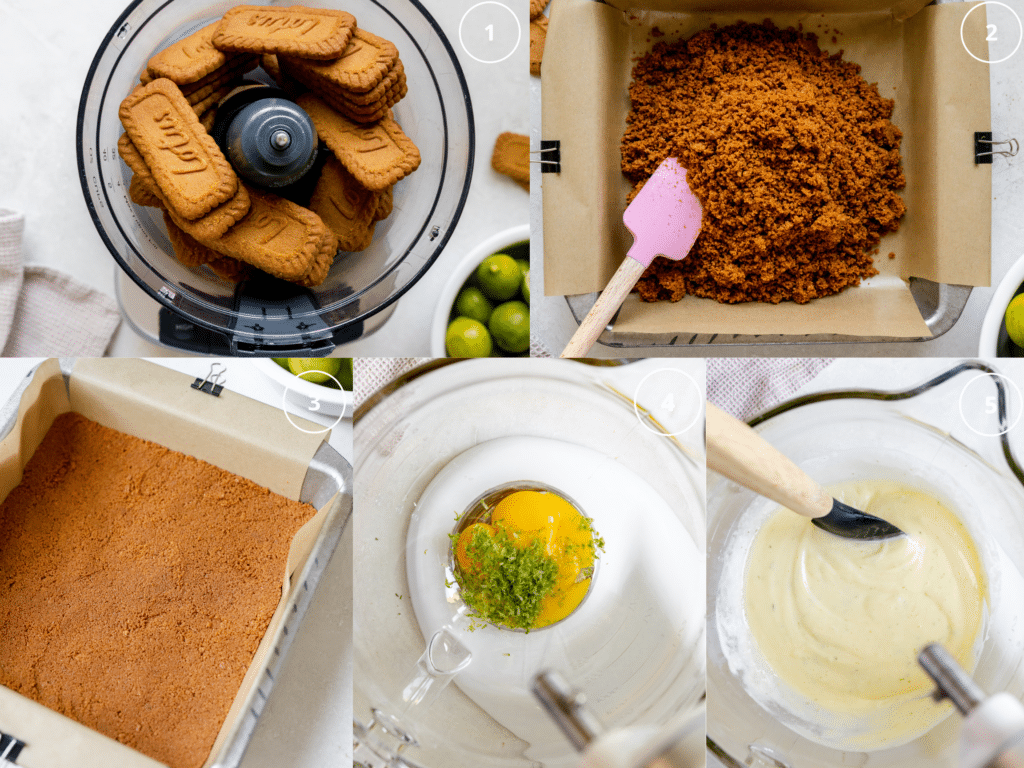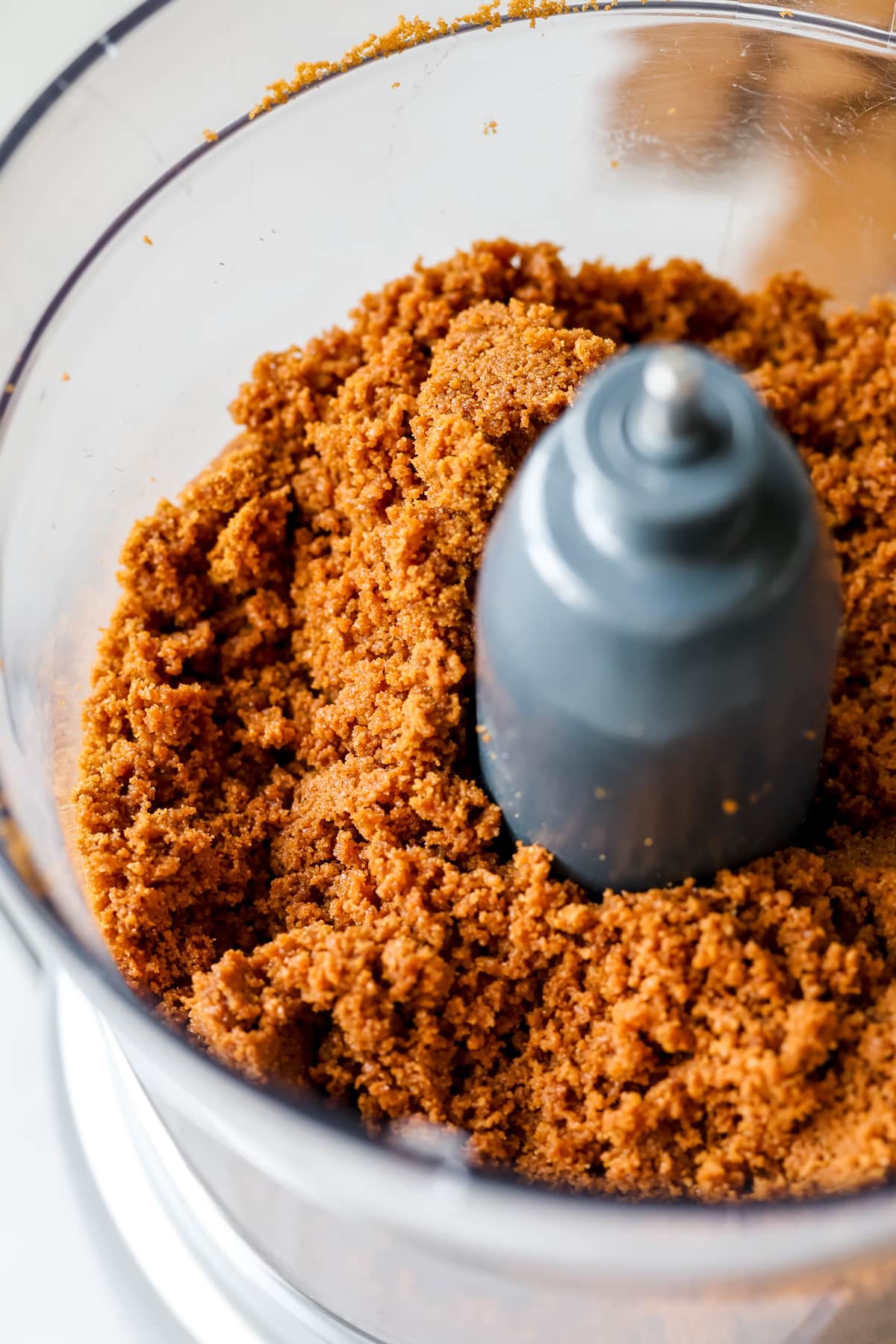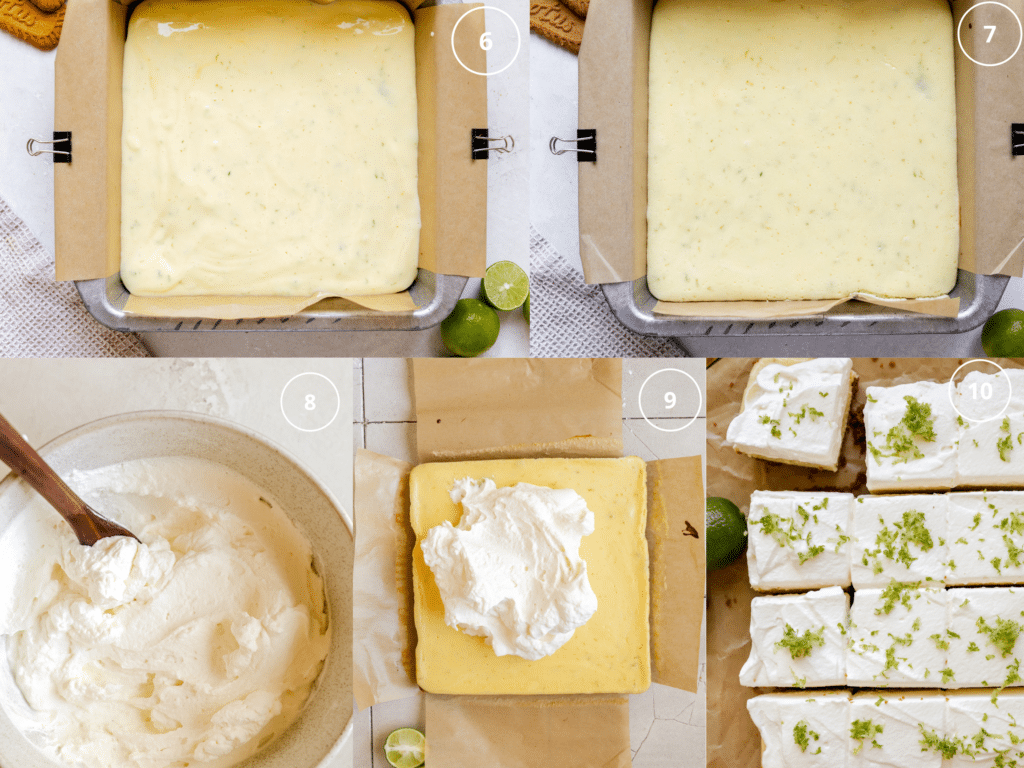 Make the crust.
Bake the crust until golden brown.
Make the filling.
Pour filling onto crust and bake.
Chill.
Make the whipped cream topping.
Spread on top of bars. Chill again.
Slice and serve!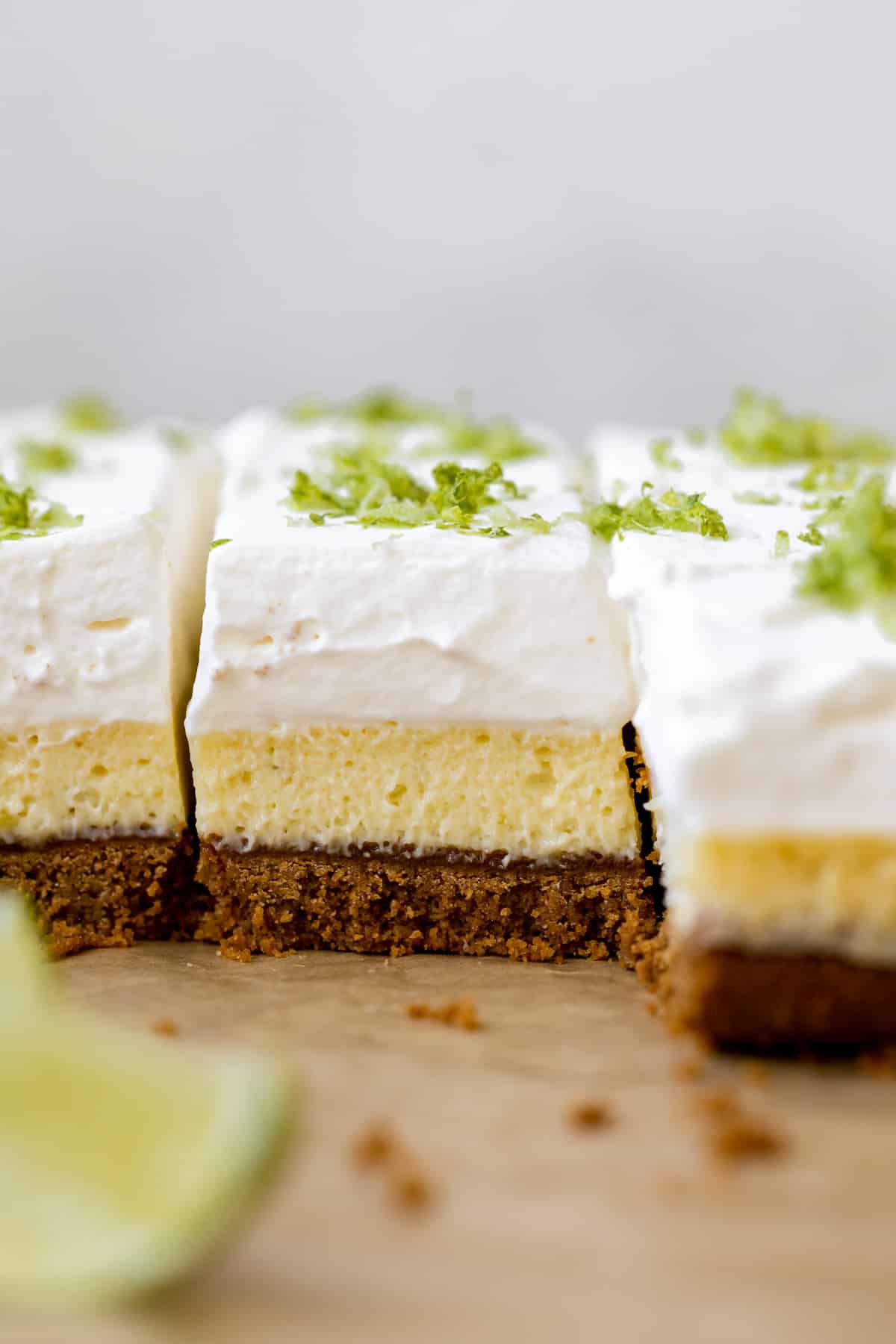 Expert Tips and Variations
If you prefer the flavor of Graham Crackers, you can easily substitute at a 1:1 ratio graham crackers for the Biscoff Cookies (about 2 cups crushed graham crackers).
To get a clean cut on the bars, cut straight down, and wipe the knife between slices.
Do not use bottled lime juice. With such few ingredients, using quality ingredients really matters here. Stick to the real thing, and you will make an amazing dessert.
However, if you don't want to juice a million tiny key limes to get 2/3 cup of juice, you can use bottled key lime juice in a pinch. BUT I find it can be a little bitter, so once again using fresh, quality ingredients is important for best results.
When lining the pan, give yourself extra parchment paper for handles. It makes it so much easier to remove the bars from the pan.
If you will be serving the bars later, you can always wait to top the bars with the whipped cream right before serving.
If you want to make this with lemon juice to make a lemony dessert, replace the zest and juice with the same amounts.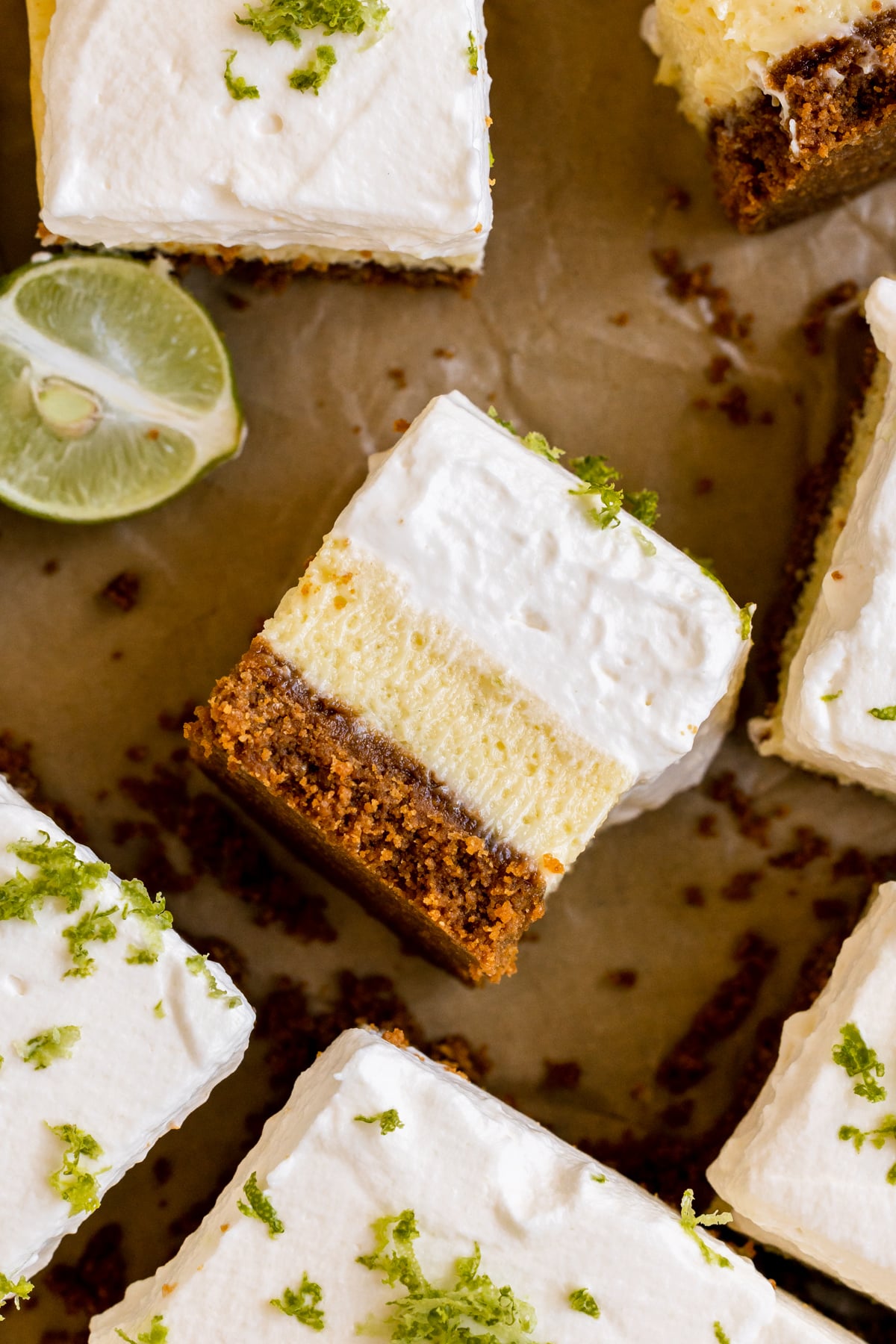 FAQ
What are Key Limes?

Compared to the Persian lime, the rind is thinner and has a sweeter zest. There is still a tartness to the lime and the rind, but this smaller lime has a better flavor, in my opinion! There are more seeds in key limes and are more fragrant. Because of their amazing flavor, the Key lime definitely makes for a sweet and tart dessert.
How do I keep the crust from getting soggy?

Pre-baking the crust is the key, and then letting it cool before adding the filling.
Can I freeze Key Lime Pie Bars?

The whipped cream topping does not freeze well, but you can store the left over bars in the refrigerator in an airtight container for up to 3 to 4 days.
Can I use Persian limes if I can't find Key Limes?

Yes you can, but you may find the bars will be a bit more tart.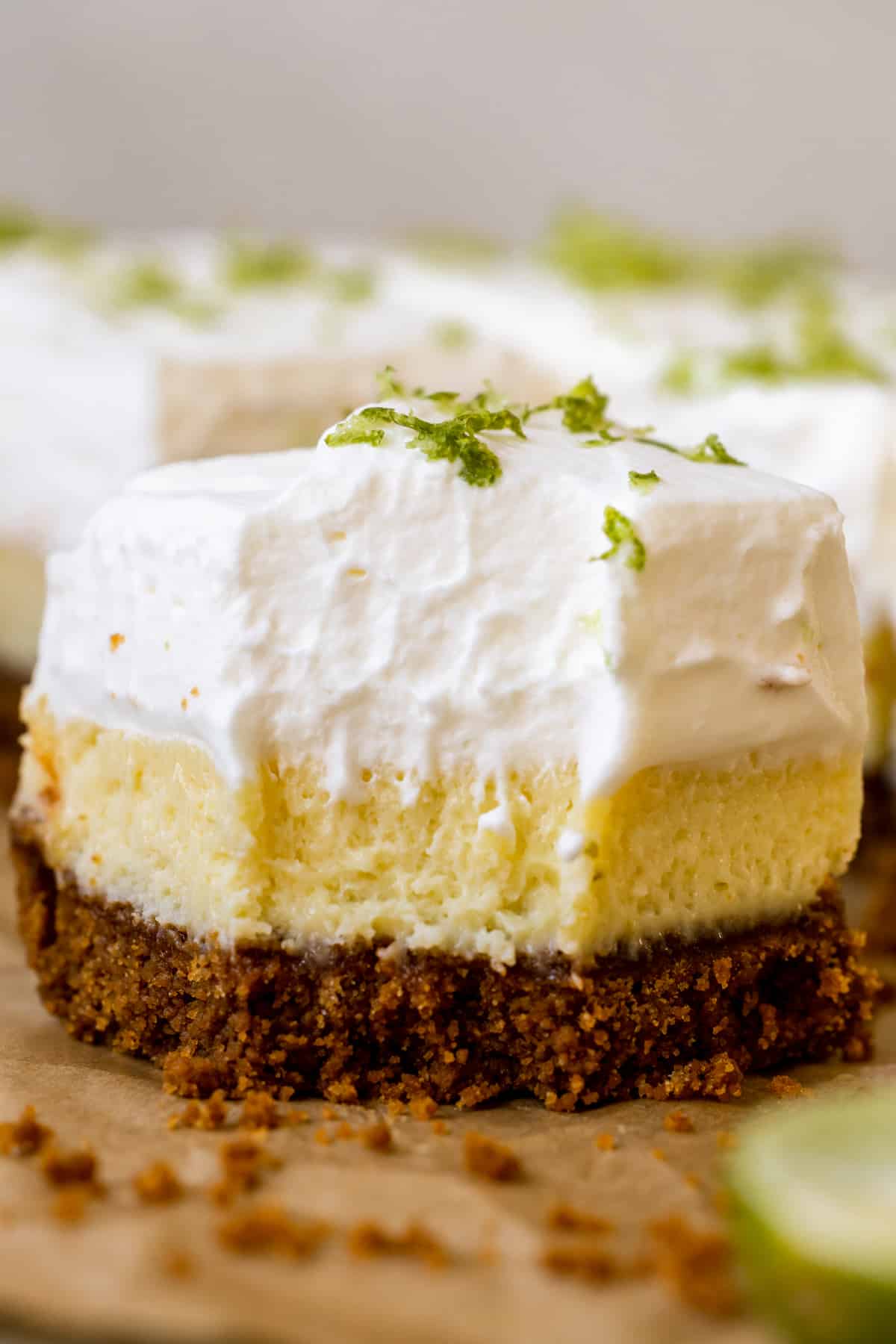 Want More Citrus Desserts?
Before You Begin! If you make this, please leave a review and rating letting us know how you liked this recipe! This helps our business thrive & continue providing free recipes.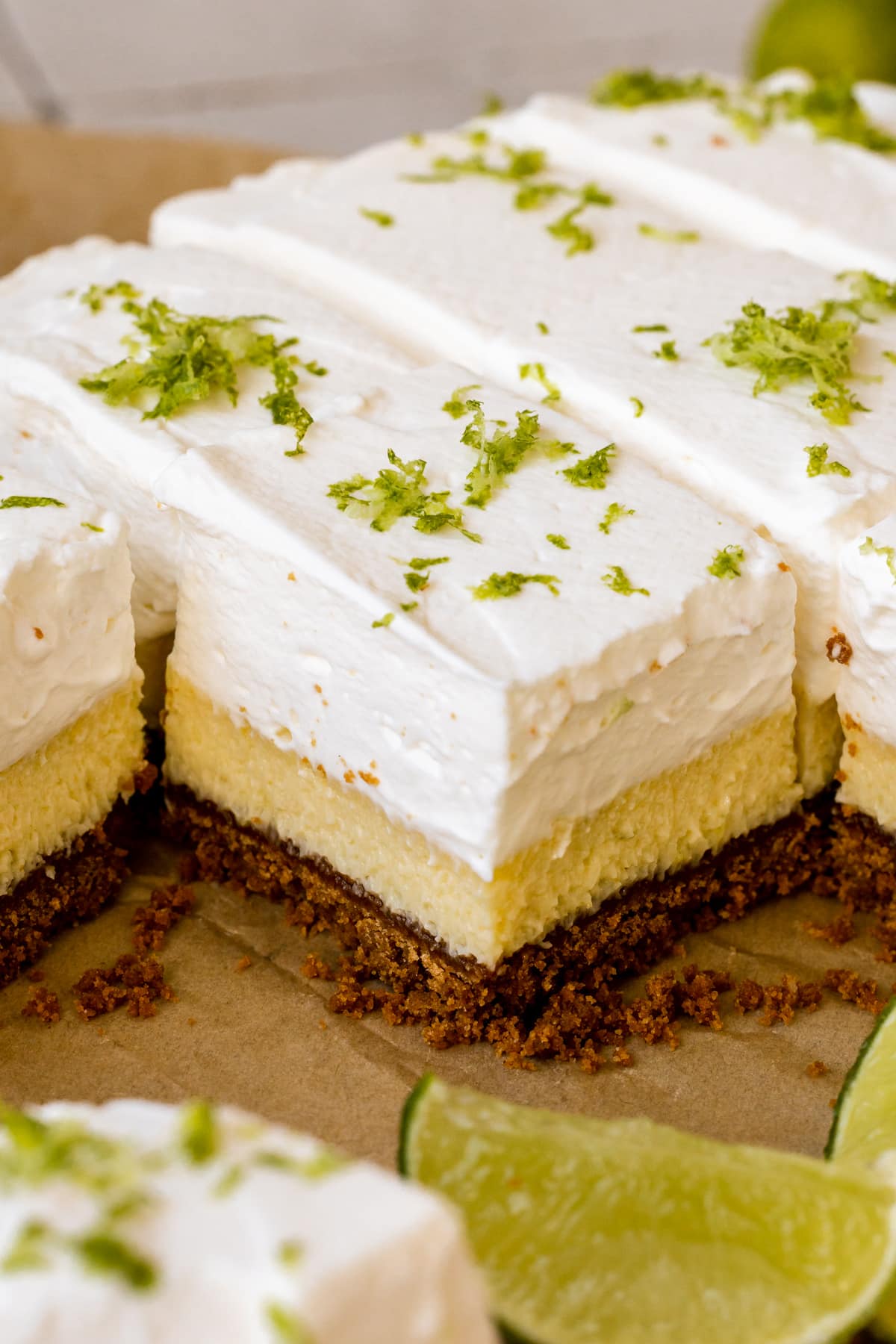 These classic, creamy, tart-sweet Key Lime Pie Bars feature a Biscoff cookie crust, a creamy & easy to make filling and a thick layer of homemade whipped cream on top. A gorgeous dessert for Spring and Summer!
Ingredients
For the crust
1,

8.8 oz. (250g) package

Biscoff cookies

5

Tbsp.

butter, unsalted and melted
For the filling
3

large

egg yolks, room temperature

2

tsp.

key lime zest

1,

14 oz. can

sweetened condensed milk

2/3

cup

key lime juice

pinch of salt
Whipped cream
1 1/2

cups

heavy cream, cold

1/4

cup

powdered sugar, plus more as desired

1

tsp.

vanilla

1

Tbsp.

sour cream
Last step! If you make this, please leave a review and rating letting us know how you liked this recipe! This helps our business thrive & continue providing free recipes.
Instructions
Preheat the oven to 350°F. Line a 8×8 pan with parchment paper.

Make the crust: Add the Biscoff cookies to a food processor and process until crushed and relatively smooth, stream in the melted butter and pulse until combined. It will look a little coarse and sandy but will come together perfectly for the crust. (If you don't own a food processor, you can put the Biscoff cookies in an airtight bag and pulverize into crumbs using a heavy-bottomed skillet or a rolling pin).

Pour into the prepared pan and press into an even layer with a flat bottomed glass or measuring cup.

Bake the crust for 10 minutes. Remove and set aside while you make the filling.

Zest the limes, and juice the limes.

Beat the yolks and zest on high speed with the whisk attachment on an electric mixer for 2-3 minutes. It will slightly thicken and resemble a Hollandaise sauce.

Add the sweetened condensed milk and beat again on high speed for 1-2 minutes. It will now begin to look thicker and have more volume.

Turn the mixer off. Add in the lime juice and pinch of salt and stir with a rubber spatula just until combined. Be sure to get any zest that may have stuck to the whisk attachment and stir it back into the filling so it doesn't go to waste!

Pour the filling onto the crust and smooth out the top.

Bake for 10-15 minutes or until the center is mostly set, but with a slight jiggle. A little wobbly in the center is OK!

Remove from the oven and cool to room temperature. Then, refrigerate for at least 3 hours or overnight.

Homemade whipped cream note: This makes a lot of whipped cream for a thick layer on top which I love! If you want less, only use 1 cup whipped cream and a little less powdered sugar. Using a hand held mixer or electric mixer with a whisk attachment, beat the heavy cream on medium-high speed until soft peaks begin to form, about 1-2 minutes. Then add in the powdered sugar, vanilla extract and sour cream and beat until medium peaks form or desired consistency is reached. Taste and add more powdered sugar if needed.

Spread the whipped cream on top of the chilled key lime pie bars in an even layer. Place back in the fridge for another 30 minutes prior to slicing. Garnish with more zest on top, and enjoy!
Notes
If you cannot find key limes, regular limes (Persian limes) work well too. Just do not use bottled lime juice, it won't give your pie the best flavor.
If you don't want to juice a bunch of tiny key limes to get 2/3 cup key lime juice, bottled key lime juice may be used in a pinch. BUT I find it can be a little bitter, so using fresh, quality ingredients is important for best results.
You can use graham crackers for the crust, too. 2 cups, crushed will be plenty. I would add a touch of cinnamon to add warmth to the crust if using graham crackers.
Store in the fridge for up to 3-4 days.
Nutrition Information
Serving:
1
bar
,
Calories:
317
kcal
(16%)
,
Carbohydrates:
33
g
(11%)
,
Protein:
5
g
(10%)
,
Fat:
17
g
(26%)
,
Saturated Fat:
11
g
(69%)
,
Sodium:
158
mg
(7%)
,
Sugar:
29
g
(32%)
,
Vitamin A:
7
IU
Nutritional information is provided as a courtesy and is automatically calculated. It should only be construed as an estimate rather than a guarantee. Ingredients can vary and Kroll's Korner can't make any guarantees to the accuracy of this information.