Healthy-Ish Birthday Cake Pops
Desserts | Published May 8, 2021 | Updated May 29, 2021 | By Tawnie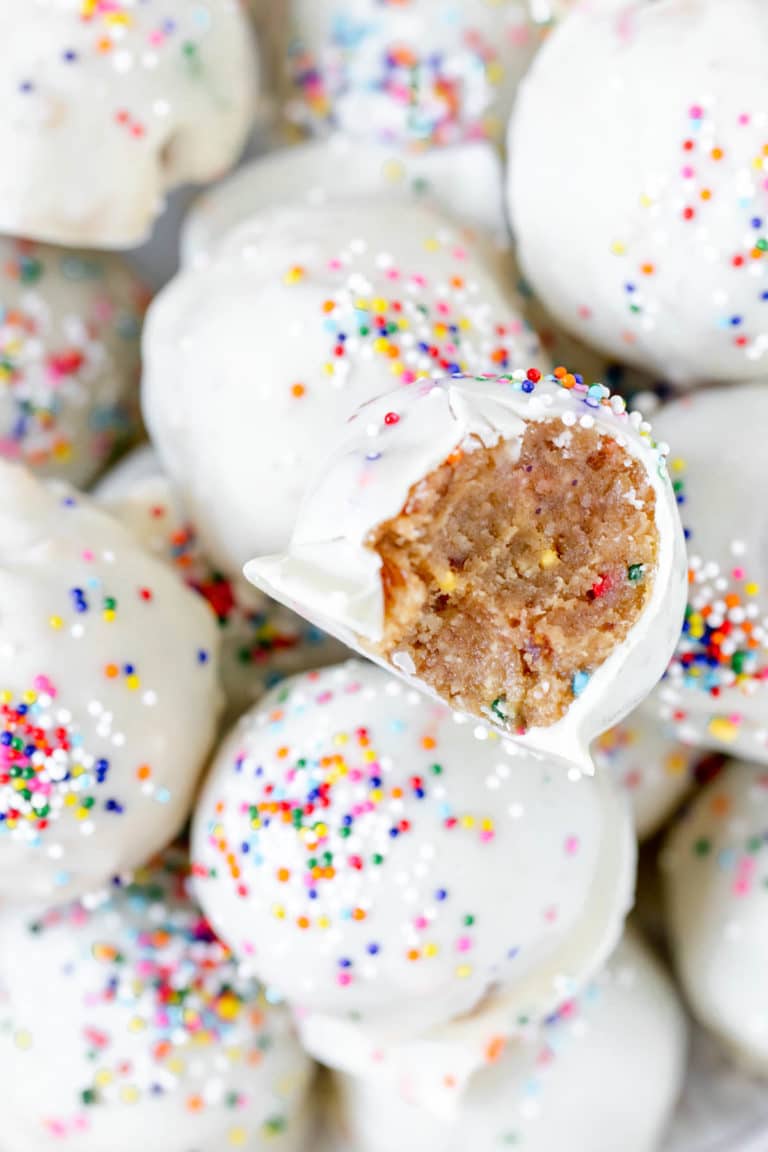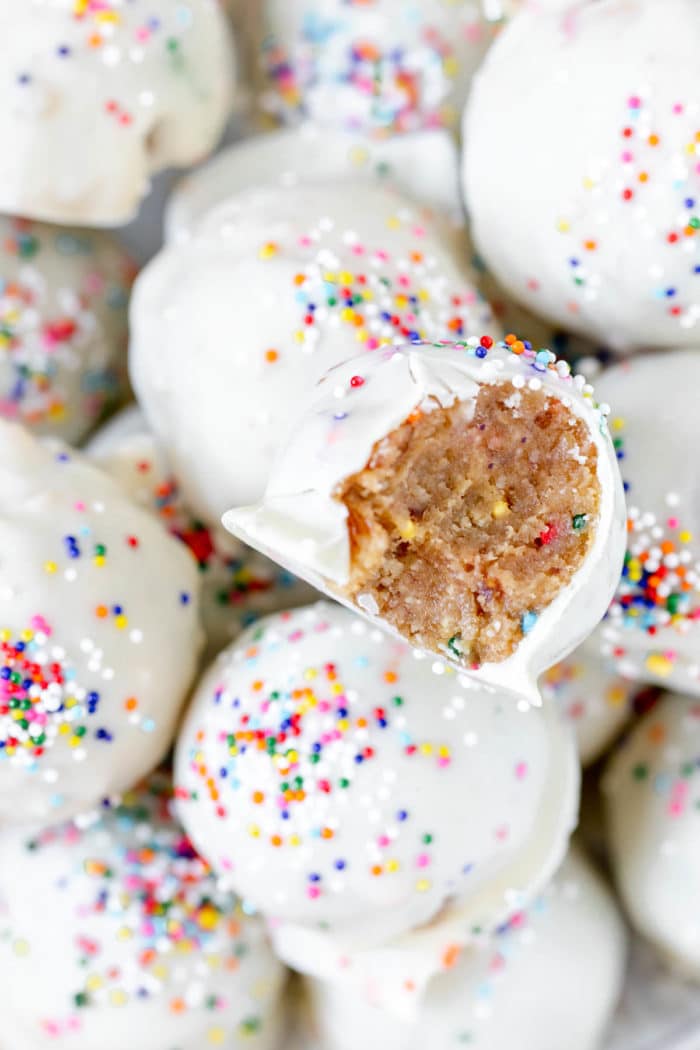 Birthday Cake Pops are a super fun no-bake dessert and my spin makes them a tad bit healthier!
There are Golden Oreos and white chocolate involved, hence "healthy-ish," but the other ingredients like the Medjool dates, cashews and almond meal turn these cake pops into somewhat of an energy bite recipe too.
The colorful sprinkles alone make me feel so happy!
I like to think of these as being acceptable for a snack or dessert and certainly not only reserved for birthday celebrations!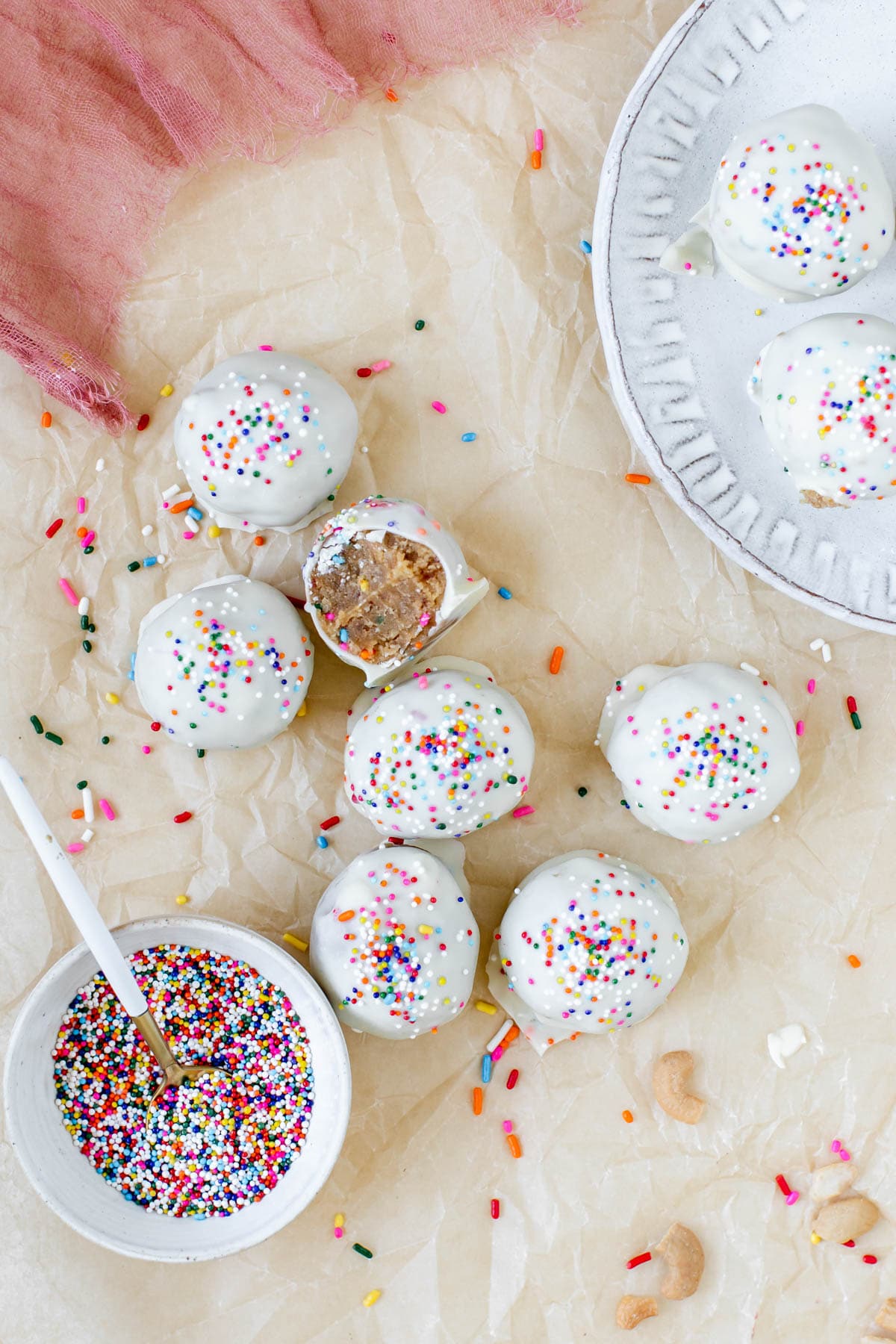 You can keep them stashed in the freezer for a yummy birthday inspired snack to have any time. You can find me regularly snagging one out of the freezer for a mid-week treat!
You'll love that there is actually no cake you need to make for this recipe which means no waiting around for the cake to cool completely. All you'll need is a little freezer time with this recipe which gives you a chance to do some dishes or fold a load of laundry!
Ingredient Notes
No cake mix required for this recipe! Here is what you'll need: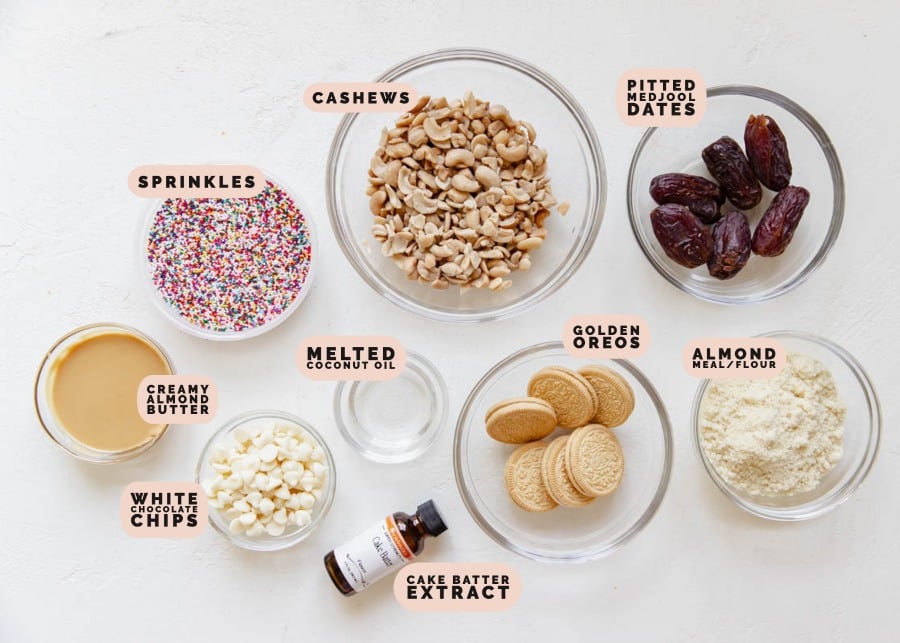 Almond butter: You can switch this out for something more subtle too like cashew butter. Just make sure it's a creamy nut butter. Other options include: peanut butter, hazelnut butter or even a sunflower butter!
Medjool dates: Medjool dates are having a big moment and I love using them to add natural sweetness to recipes. They're super tasty and full of potassium and fiber so they are like glorified candy!
Cake batter extract: This extract gives these cake pops that nostalgic birthday cake flavor we all love. If you don't have any, I'd recommend using vanilla extract and maybe even a splash of almond extract too!
Cashews: you can use the cashew pieces or whole cashews, both will work. I make these with unsalted cashews.
Almond meal: almond meal is made from ground almonds and almond flour is blanched and finely ground almonds. You can use either interchangeably for this recipe, it won't matter much!
Golden Oreos: Feel free to substitute these for rolled oats if you'd like a healthier version! ~1/2 cup should be plenty. Note: flavor will be less sweet overall!
White Chocolate: Instead of a cream cheese frosting you'd find on a typical cake pop recipe, this recipe uses white chocolate chips. You can use a sugar-free white chocolate if you prefer.
Rainbow sprinkles: Let's talk sprinkles!

I like to use the jimmies rainbow sprinkles for mixing into the cake pops (these are sprinkles in the short rod shape). Jimmies bleed minimally so they are great for mixing in your goodies.
For decorating, I like to use the rainbow nonpareils to sprinkle on top of the white chocolate. Nonpareils are the tiny multi colored ball shaped sprinkles and their colors do bleed a lot which is why they are used simply for decorative purposes in this recipe.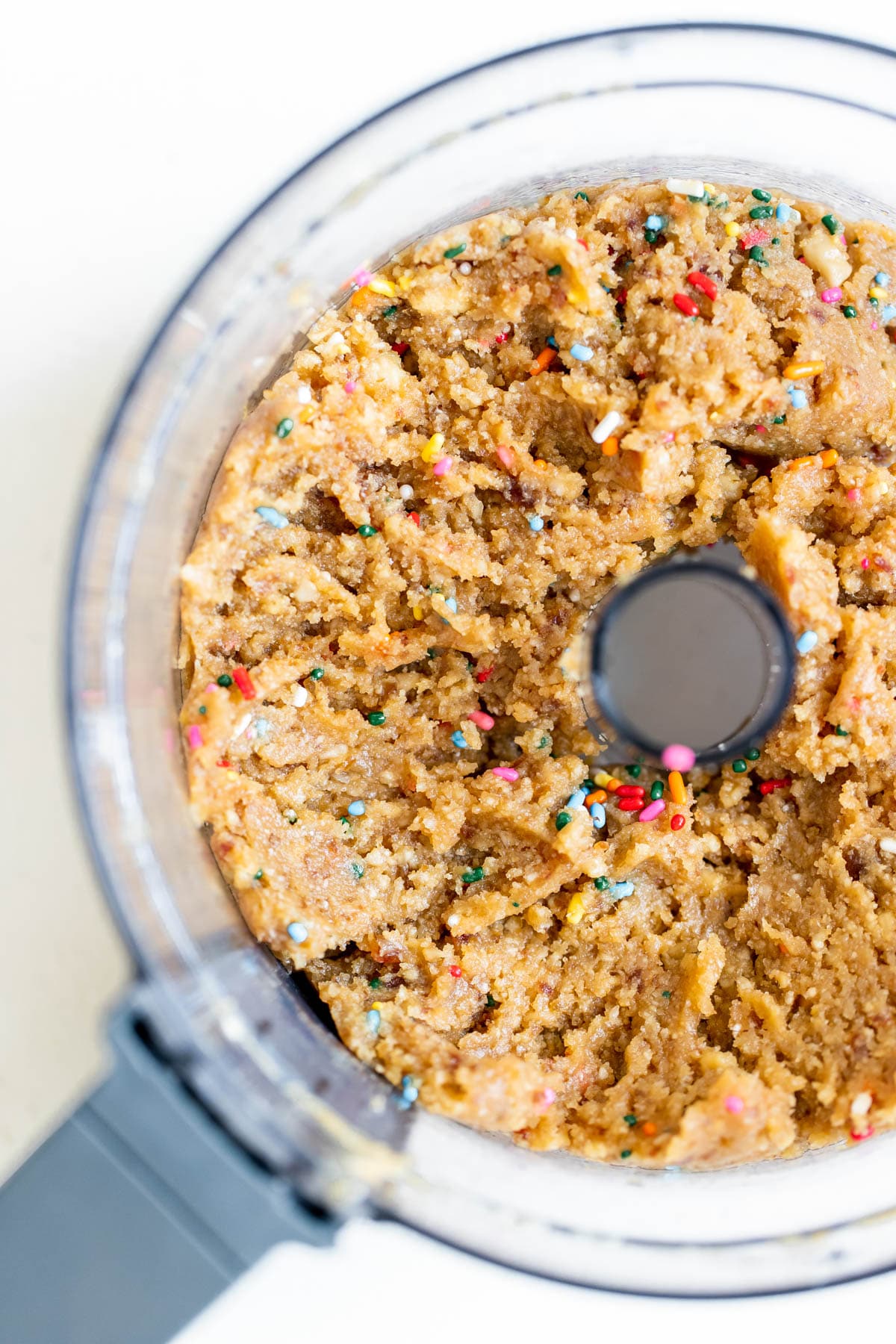 Step by Step Directions
Soak the cashews for ~1 hour. This helps soften them and makes them easier to process.
Pulse Oreos in food process until a powdery consistency forms. Set Oreos aside.
Blend cashews and dates until combined and a paste-like consistency forms.
Then add in the Oreos, almond meal, almond butter, coconut oil and cake batter extract. Blend.
Stir in the sprinkles.
Roll into balls. Makes ~14. Place in freezer about 10 min.
Melt white chocolate and coconut oil. Dunk each ball into white chocolate and garnish with nonpareils.
Freeze again and enjoy!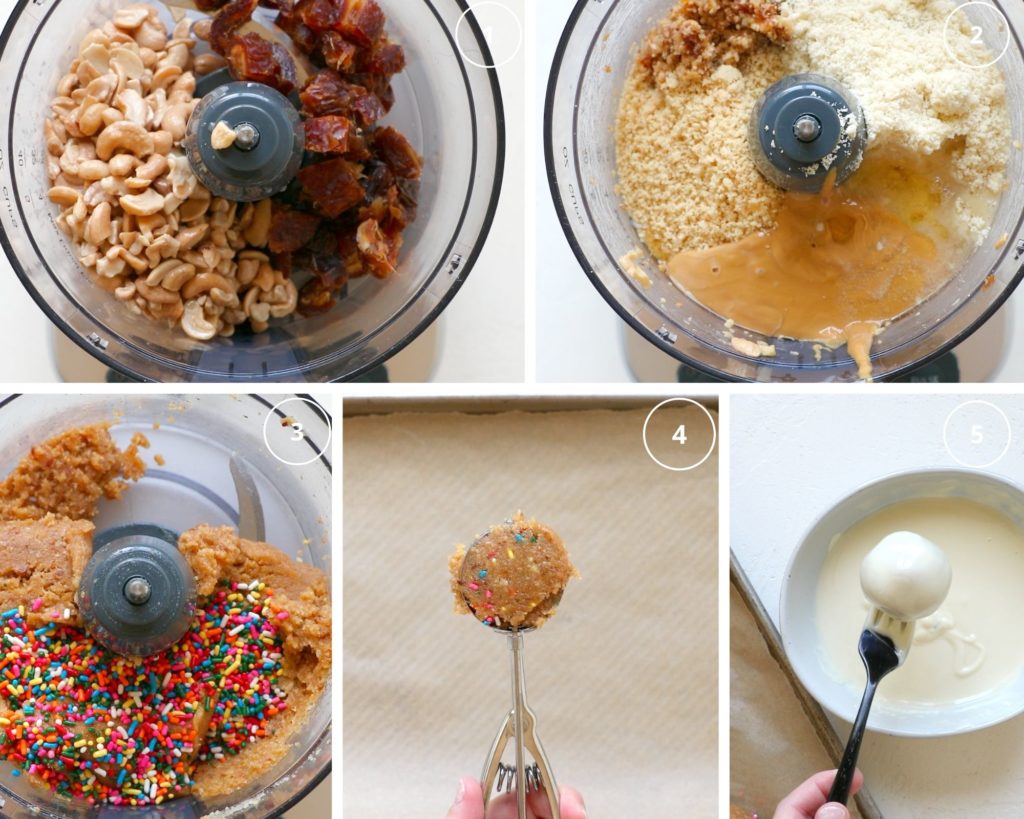 Expert Tips and Tricks
When dipping the cake pops in the white chocolate, use a fork instead of a spoon so the excess chocolate drips off. Then, when transferring to the parchment paper, use a toothpick to slide it off the fork.
For a nutritional boost you can add in chia seeds, flax seed, or even a scoop of your favorite vanilla protein powder.
Stir in shredded coconut for a fun coconut birthday cake twist!
You can use a double boiler to melt the white chocolate, I've just found the microwave is quick and easy!
Frequently Asked Questions
Can I turn these into birthday cake pops with sticks?
Yes! You can buy some cake pop sticks and use those. I would only push each ball about halfway through and then dip the cake ball into the melted white chocolate. Gently tap the stick against the edge of the bowl to allow excess coating to drop off. Decorate with sprinkles and place upright into a styrofoam block.
Can I use a candy coating?
Yes. Feel free to use candy coating, candy melts or vanilla almond bark for dipping the cake pops in.
Why is the chocolate coating on my cake pops cracking?
If you notice your cake balls crack once you drunk in the melted chocolate here's what could be happening. The cake pops are too cold and the chocolate is too hot, or vice versa. The sudden change of temperature is what causes the cracks. Room temperature cake pops and slightly cooled melted chocolate can help prevent these cracks from occurring.
Can I make these ahead of time?
Yes! These are great if prepped in advance. Store in the fridge or freezer and enjoy whenever you want a quick snack or treat.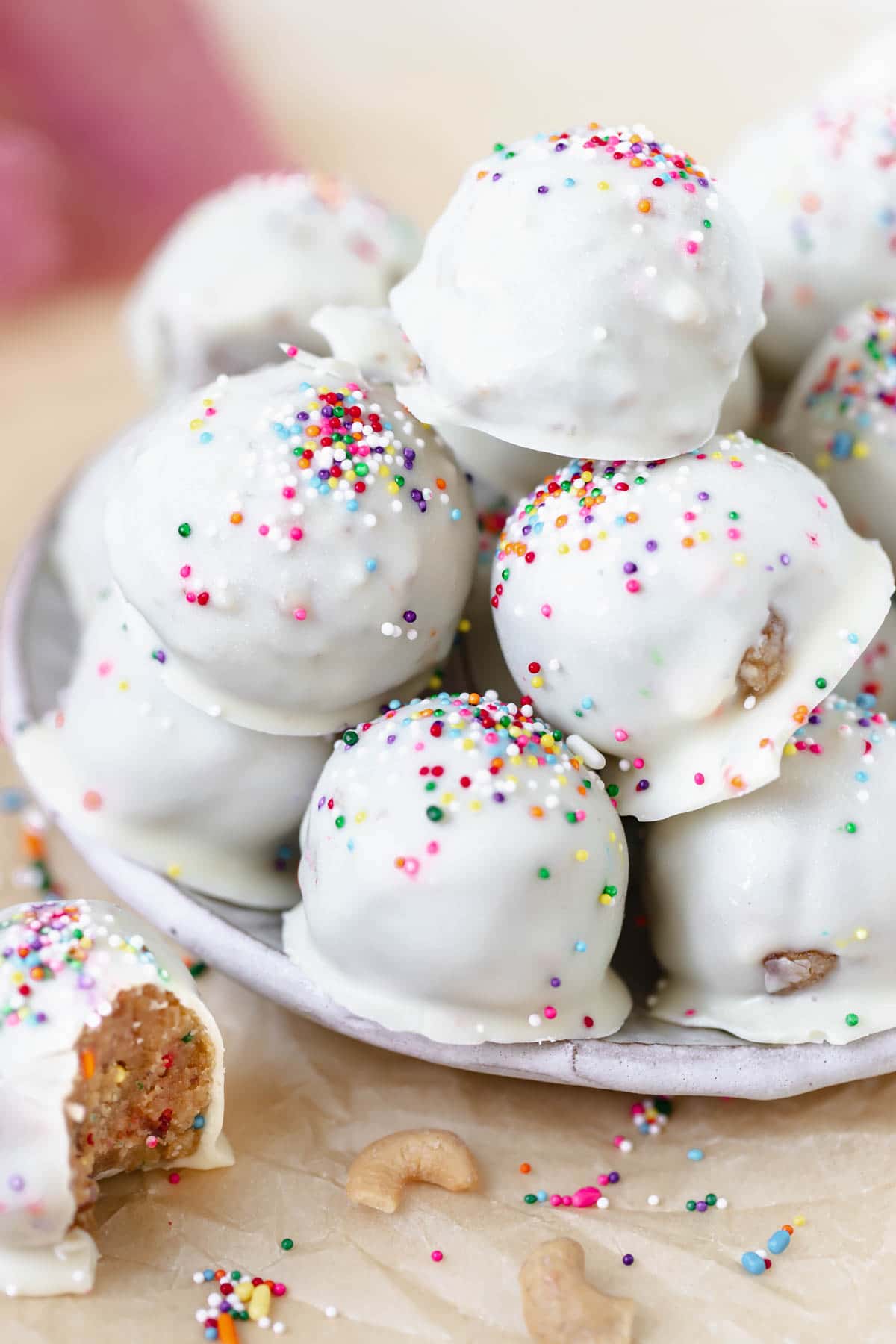 HUNGRY FOR MORE? If you try this recipe, why not leave a star rating in the recipe card right below and/or a review in the comment section further down the page? I always appreciate your feedback! You can also follow me on Pinterest or Instagram. Sign up for my email list, too!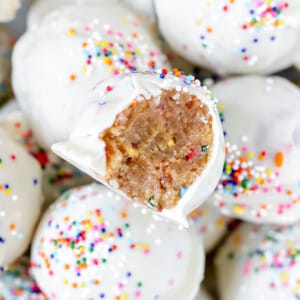 Healthy-Ish Birthday Cake Pops
These No Bake Birthday Cake Pops taste just like birthday cake, but with a healthy twist! Made with simple ingredients and festive for birthday's but can be enjoyed year-round!
Ingredients
1

cup

cashews, unsalted

6

Medjool dates, pitted, chopped

6

Golden Oreo Cookies, crushed*

3/4

cup

almond meal

2

Tbsp.

creamy almond butter

2

Tbsp.

coconut oil, melted, divided

1

tsp.

cake batter extract

2

Tbsp.

rainbow sprinkles*, plus more for garnishing tops of cake pops

pinch of salt, optional

1 1/4

cup

white chocolate chips, melted
Instructions
Pour cashews in a medium bowl with lukewarm water, enough to cover them by a half-inch. Allow to soak for at least an hour and then drain. (Soaking cashews makes them easier to process).

Add the Golden Oreos to the bowl of a food processor and process until crumbly. Remove crushed Oreos and wipe the food processor clean.

Add the cashews and dates to the food processor and process until somewhat of a paste forms together.

Then add in the crushed Oreos, almond meal, almond butter, melted coconut oil and cake batter extract. Process until well combined.

Add 2 Tbsp. sprinkles and stir to combine.

Remove the food processor lid and blade and use a cookie scoop to form into balls. Place balls on a parchment paper lined baking sheet and freeze balls for about 10 minutes. (You will have ~14 balls)

In a microwave safe bowl, melt the white chocolate chips and 1 Tbsp. coconut oil in 30 second increments, stirring in between, until the chocolate is melted. This shouldn't take longer than 1-2 minutes.

Using a fork, dip each ball into melted white chocolate. Lift ball up out of the chocolate and let the excess chocolate run off. Pro tip: use your other hand and tap the hand holding the fork to tap the chocolate off. Sprinkle each cake pop with more sprinkles before the chocolate hardens. Place balls back on parchment paper. Repeat with remaining cake pops.

Freeze again for 10 min then enjoy! Best kept stored in the freezer. (See recipe notes for storage).
Notes
If you prefer to not use Oreos you can substitute it with 1/2 cup oats or oat flour.
I like to use the tiny rainbow sprinkles that look like rods (aka Jimmies) to stir into the batter, and then garnish with nonpareils.
Turn these into actual cake pops by using lollipop sticks or cake pop sticks.
If you notice cracks in your chocolate once you dip the cake pops here's what's happening: The sudden change of temperature is what causes the cracks. Room temperature cake pops and slightly cooled melted chocolate can help prevent these cracks from occurring.
Storage: keep these cake pops stored in an airtight container in the fridge for up to 1 week, or in the freezer for up to 3 months. Allow cake pop for sit on the counter for ~5-10 minutes if enjoying straight from the freezer. I love the texture of these best when they are stored in the freezer!
Nutrition
Serving:
1
bite
|
Calories:
246
kcal
|
Carbohydrates:
22
g
|
Protein:
5
g
|
Fat:
17
g
|
Saturated Fat:
6
g
|
Cholesterol:
3
mg
|
Sodium:
34
mg
|
Potassium:
147
mg
|
Fiber:
2
g
|
Sugar:
16
g
|
Vitamin A:
5
IU
|
Vitamin C:
1
mg
|
Calcium:
58
mg
|
Iron:
1
mg
Hi, I'm 
Tawnie

!

Welcome to my tiny "korner" on the Internet! I am a Registered Dietitian Nutritionist who loves cookies as much as kale. (OK, maybe I like cookies a little bit more but shh, don't tell anyone). I am so glad you're here! Follow along for hassle free, realistic and approachable recipes.

More about Tawnie

I'd love to see what you made!!
Share it with me on Instagram or Facebook and tag me @krolls_korner or use the hashtag #KrollsKorner!