Lemon Blueberry Pancakes with Blueberry Maple Syrup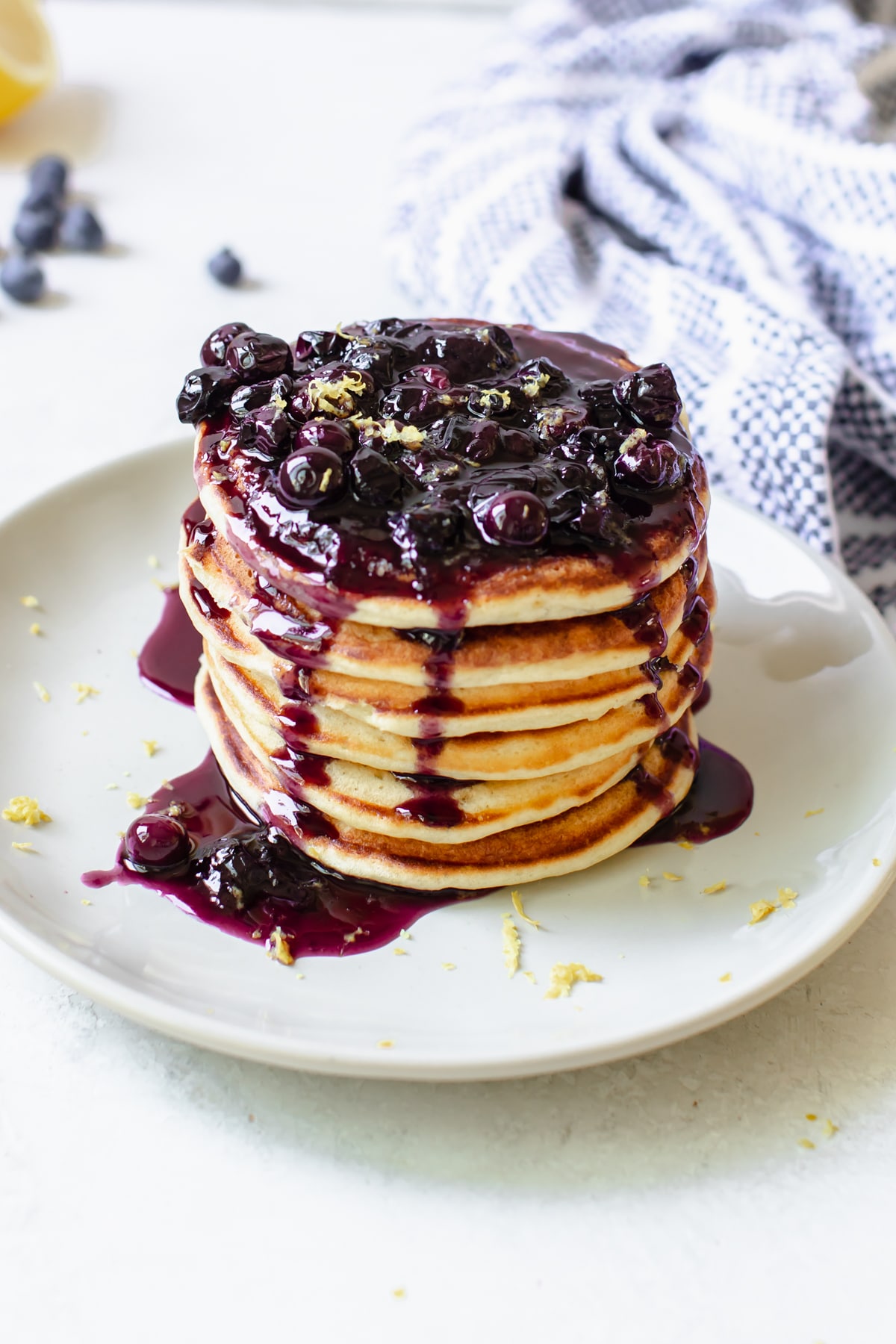 Things to love about Lemon Blueberry Pancakes: fluffy, light and full of flavor!
Simple enough for weekdays, yet these homemade pancakes feel indulgent enough for weekend brunch too!
Pancakes are always so comforting and remind me of home and weekend mornings. My mom is the master of buttermilk pancakes, and when we stumbled across this recipe we HAD to make a version of it!
I think most people would agree with me about loving a fluffy pancake…and boy are these fluffy.
There is something magical about adding buttermilk into pancakes that makes little pillows of heaven.
Then adding in the slight flavor of lemon with a sweetness of blueberry makes for a perfect pancake.
I could not resist munching on these blueberries when making these. So fresh and flavorful! Not to mention they are loaded with antioxidants and are heart healthy.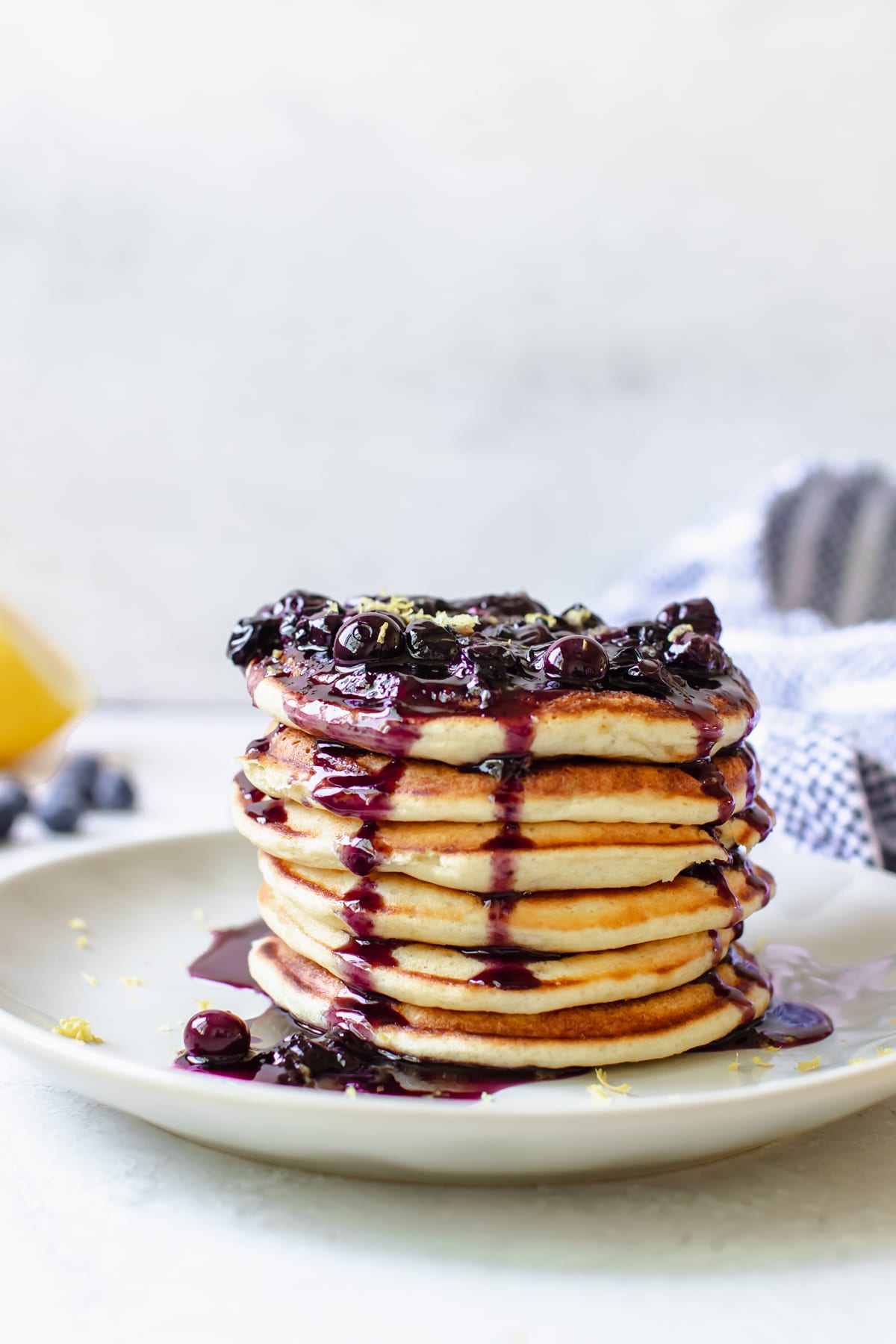 Ingredients you will need for these lemon blueberry pancakes
For the pancakes:
All-Purpose Flour: I've made these with white-wheat flour too and they turned out delicious. If you need a gluten free option, I recommend Bob's Red Mill 1-1 gluten free flour.
Sugar: A little sugar helps not only for flavor but helps to create a soft pancake and helps give you those crispy edges.
Eggs: I stand by seperating yolk and whites and beating the egg whites with a hand mixer until you get soft peaks. Beating the eggs whites and folding them in is extra work, but it will help to make your pancakes fluffy & soufflé-like! Right before cooking, fold in the egg white peaks into the batter, it's like folding in clouds! (see the video)
Buttermilk: I love adding buttermilk to pancakes. The acid in the buttermilk actually kickstarts the baking soda into action for extra height and helps to create a fine and tender crumb.
Whole Milk: I like to add a little milk in addition to the buttermilk for a soft, tender pancake.
Grated lemon zest and juice: add more zest for more lemony flavor! I find that the zest of 1 lemon is usually enough.
Other ingredients needed: vanilla extract, baking soda, baking powder, salt and butter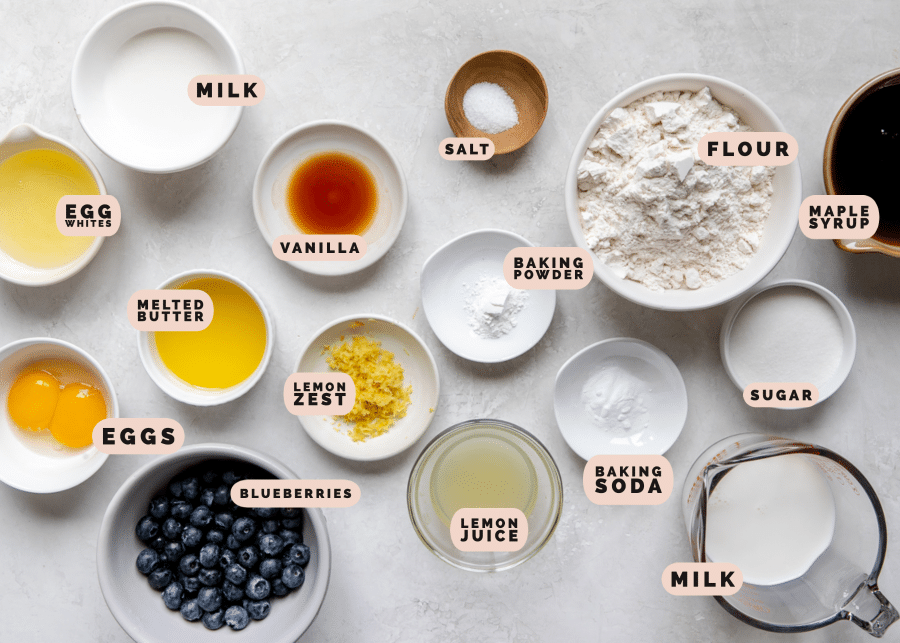 For the blueberry maple syrup:
Blueberries: I usually use fresh blueberries but you can use frozen as well.
Maple Syrup: I recommend using real maple syrup, and not the pancake syrup.
Butter: A subtle buttery flavor goes a long way in this syrup
Cornstarch + water: whisking cornstarch and water together creates a slurry used to thicken the syrup
Lemon Juice: the lemon juice balances out the flavors
How to make Lemon Blueberry Pancakes
Mix the dry ingredients: In a large bowl, mix flour, sugar, baking soda and power, and salt.
Mix the wet ingredients: In a small bowl, whisk together egg yolks, buttermilk, milk, lemon zest, lemon juice, vanilla and 2 Tbsp. melted butter.
Using a hand mixer or stand mixer on high speed, beat egg whites until they form soft peaks.
Pour the buttermilk mixture into flour mixture; stir to blend. Add egg whites and fold in gently.
In a large non stick skillet over medium heat, melt a tablespoon of butter. Pour batter into size of pancake you prefer (I use ~1/4cup). Cook until golden brown on each side.
In a saucepan over medium heat make the blueberry sauce. Full directions are below.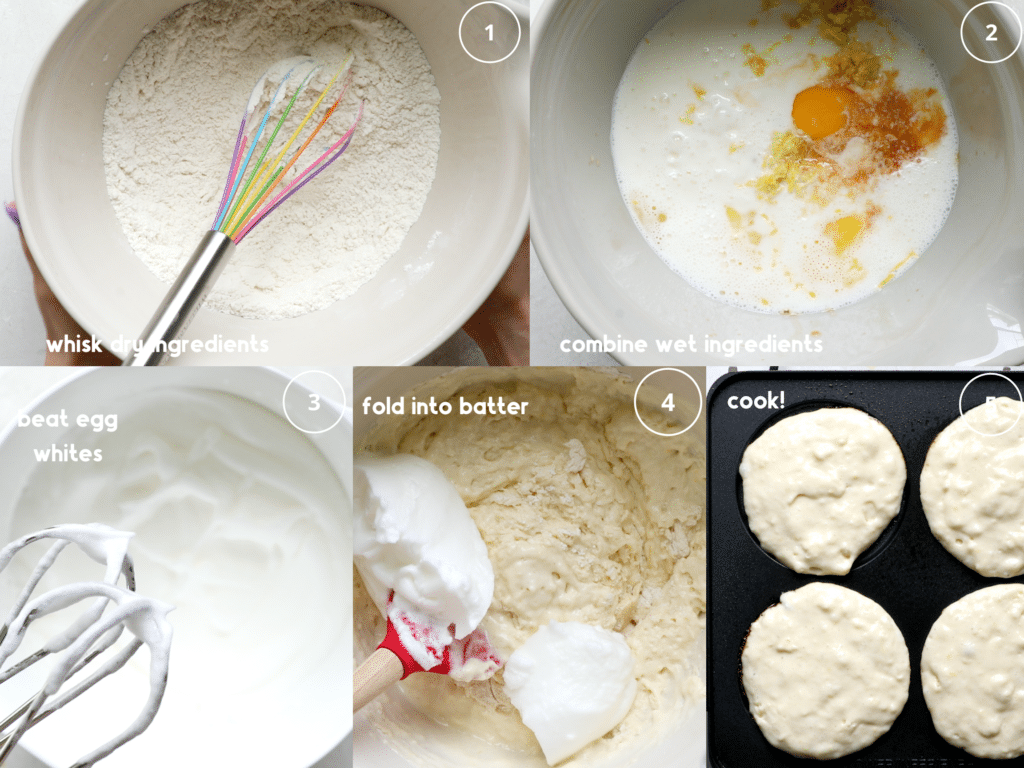 Tips and Variations
Careful not to over mix the batter: When mixing the liquid ingredients into the dry, mix just until the ingredients are incorporated. Don't over do it. Over mixing can result in a tough and chewy pancake instead of a light, tender one.
Some lumps are OK – they magically disappear when they cook on the griddle.
We love this pancake & waffle iron. It comes with pancake plates and waffle plates that you can switch out. It's amazing! Here is a link: Belgian Maker with Pancake Plates & Waffle Iron
If using a regular pan: we love this Square Griddle (nonstick). Keep your pan at the right temperature: I call it the Goldilocks method. The pan cannot be too hot and the heat also can't be too low.
I let the pan heat on medium heat and let it get hot for about 1-2 minutes. Then test out the pan with a little bit of water or a small pad of butter to see if it's hot enough.
Lightly grease the pan with butter or canola oil so it coats the pan and scoop the batter onto the pan right after so the butter or oil doesn't burn. If using butter, can burn easily so I like to carefully wipe the pan clean between batches and add new butter.
FAQ
Can I freeze these lemon blueberry pancakes?

Yes! Freeze the pancakes separate from the blueberry maple syrup. Place pancakes inside a heavy-duty freezer bag and freeze. Use the frozen pancakes within 1 to 2 months for best quality.
You can reheat your pancakes in the toaster, microwave or oven when ready to enjoy!
How do I know when to flip pancakes?

They're ready to flip when the bubbles on top pop and form holes that burst open. Flip away!
What pan should I use for making pancakes?

Any wide heavy bottomed pan or griddle works well. If the pan you cook them in is too thin, the pancakes have a tendency to burn.
Other breakfast recipes you will enjoy:
Before You Begin! If you make this, please leave a review and rating letting us know how you liked this recipe! This helps our business thrive & continue providing free recipes.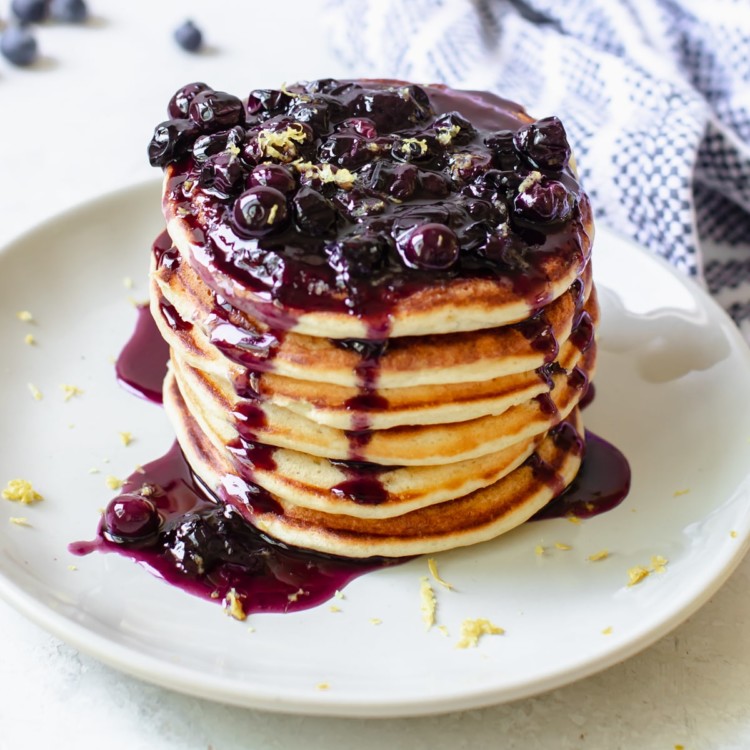 Lemon Pancakes with Blueberry Maple Syrup
Bright, fresh lemon pancakes made with a next-level blueberry maple syrup. These pancakes are lightly sweetened, fluffy and bursting with lemony flavor!
Ingredients
For the pancake batter:
2

cups

All-Purpose flour

1/4

cup

granulated sugar

1

tsp.

baking soda

1

tsp.

baking powder

1/2

tsp.

salt

2

large

eggs, yolks and whites separated

1 1/2

cups

buttermilk

1/4

cup

whole milk

2

tsp.

lemon zest (or more for more lemon-y flavor!)

1/4

cup

fresh lemon juice

1

tsp.

vanilla extract

1/4

cup

butter, divided
For the blueberry syrup:
2

cups

blueberries

1

cup

maple syrup

2

Tbsp.

butter

1

Tbsp.

cornstarch + 1 Tbsp. water

1

tsp.

lemon juice
Last step! If you make this, please leave a review and rating letting us know how you liked this recipe! This helps our business thrive & continue providing free recipes.
Instructions
In a saucepan over medium heat make the blueberry syrup: add the blueberries, maple syrup and butter to a medium sized saucepan. Heat for about 5 minutes or until syrup begins to bubble and simmer. Stir together the cornstarch and water in a small dish, and whisk into the syrup. Add a squeeze of lemon, stir. Simmer until syrup thickens. Set aside while you prepare the pancakes.

Mix the flour, sugar, baking soda, baking powder, and salt in a large mixing bowl.

Whisk together the egg yolks, buttermilk, milk, lemon zest, lemon juice, vanilla and 2 Tbsp. melted butter in a medium bowl.

Beat the egg whites using a stand mixer with a whisk attachment or a hand mixer until soft peaks form, ~2-3 minutes.

Pour the wet ingredients into the dry ingredients and stir to combine. Add the egg whites and fold them in gently. (You can gently stir some blueberries into the pancakes batter too, but I just love spooning the blueberry syrup on top)

Heat a wide heavy bottomed pan or griddle over medium heat and melt a tablespoon of butter.

Drop the batter evenly on the pan (I use ~1/4cup). Cook for 1-2 minutes or until the little bubbles appear, then flip. Continue cooking until both sides are golden brown. Repeat with remaining batter. Wipe the skillet clean and add a dab more butter between batches.

Serve the pancakes immediately with blueberry syrup on top and enjoy!
Notes
Make buttermilk from scratch if needed: Pour 2 Tbsp. lemon juice or white vinegar into a measuring cup. Pour 2 cups whole milk in, stir and let sit for 5 minutes. Use as directed in recipe.
Store pancakes in the refrigerator for up to 5 days or freeze and enjoy within 2 months. (Store separate from the syrup).
Recipe adapted from Sunset Magazine.
Nutrition Information
Serving:
1
pancake
,
Calories:
215
kcal
(11%)
,
Carbohydrates:
38
g
(13%)
,
Protein:
4
g
(8%)
,
Fat:
5
g
(8%)
,
Saturated Fat:
3
g
(19%)
,
Polyunsaturated Fat:
1
g
,
Monounsaturated Fat:
1
g
,
Trans Fat:
1
g
,
Cholesterol:
39
mg
(13%)
,
Sodium:
272
mg
(12%)
,
Potassium:
149
mg
(4%)
,
Fiber:
1
g
(4%)
,
Sugar:
21
g
(23%)
,
Vitamin A:
205
IU
(4%)
,
Vitamin C:
5
mg
(6%)
,
Calcium:
93
mg
(9%)
,
Iron:
1
mg
(6%)
Nutritional information is provided as a courtesy and is automatically calculated. It should only be construed as an estimate rather than a guarantee. Ingredients can vary and Kroll's Korner can't make any guarantees to the accuracy of this information.